If you're looking for a fun and creative way to get your child to spend more time outdoors and away from technology, you'll love browsing through our guide to choosing a bow and arrow for kids. Archery is a great hobby for children – especially those who fancy themselves as the next Katniss, Merida, or Hawkeye.
With one of these child bow and arrows, you can make their dream a reality, and help them stay active at the same time – what's not to love?
But, with so many bow and arrow sets out there, choosing the one best suited to your child becomes difficult. That's why we have prepared some advice on finding the safest and best bow for your child below. You'll also find reviews of ten of the best options out there, so there is sure to be something here for your new archer!
Considerations When Choosing Childrens Bow and Arrows
As noted above, there are a few things that should be kept in mind when choosing between the different bow and arrow sets on offer. This will ensure you find something safe, suitable, and fun for your child to use. Let's take a look at some of the main factors parents should think about.
Draw Length & Weight
The draw length is how far the child can pull back the bow. This is calculated by taking the child's arm span from fingertip to fingertip then dividing this number by 2.5. The resulting number is your child's draw length.
The draw weight refers to the amount of force required to pull back the string, and this is roughly related to the weight of the child.
Children weighing 50-70lbs should choose a bow with a draw weight of under 15lbs.
Those between 70-100lbs should use a bow with a draw weight of 15-25lbs.
Kids between 100-130lbs require a bow with 25-40lbs draw weight.
Finally, children weighing 130-150lbs require a draw weight ranging from 40-50lbs.
Right or Left Handed
It is necessary to know which eye and hand are dominant in your child in order to get a bow that suits their strongest side. If you are not sure which eye is dominant, there are a few ways to test. However, in most cases, the dominant eye corresponds with the dominant hand.
Child's Age and Size
As mentioned above, you will need to calculate the appropriate draw weight and length for your child. This is related to their height and weight. Make sure they are big enough to comfortably handle the bow and load it up, too.
Type of Bow
There are different types of bow out there, so think about the purpose of the bow. Perhaps you are simply looking for a new toy for your child to play with, or maybe they are looking to take up archery as a sport. Maybe you wish them to learn how to hunt using a bow. In any case, think about why you are buying the bow and arrow set and which type is best suited for those needs.
Additional Accessories
If you are looking to buy a complete archery set, some youth bows also include a target to shoot at and a quiver to store the arrows in. This is a great way to introduce children to archery and means you won't have to buy any other supplies separately.
Top Sets for Kids
Now we've seen how to choose the best bow for your child's needs, let's take a look at our top ten picks.
1. Nerf N-Strike StratoBow
The first of our bow and arrow sets for children is the StratoBow from Nerf's N-Strike range. It uses foam darts rather than arrows, so it is a safe choice for beginners who need to work on their aim! There are 15 darts included and they can be fired a maximum distance of around 85 feet. The StratoBow fires the darts one after another without having to reload, so it is perfect for rapid-fire!
The bow is easy to use and even children as young as four years old can have fun with it. Kids are sure to enjoy a Nerf battle with their friends with this great bow.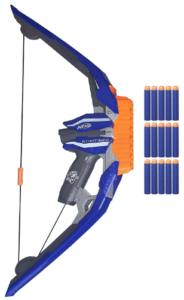 2. Nerf Dude Perfect Signature
The next bow and arrow set we have chosen is another Nerf bow. This is Nerf's largest bow, measuring a massive 42 inches long. Therefore, it is best suited to older children aged around ten years old and above. The two included arrows can be fired a massive distance of 105 feet, and there is also a target included to practice hitting. The arrows also make a fun whistling sound as they fly through the air, which really adds to the fun.
The Nerf Sports bow is great for performing stunt shots, such as those seen by Dude Perfect. So, if your child enjoys watching their videos, they are sure to love practicing the tricks on their own with this awesome bow.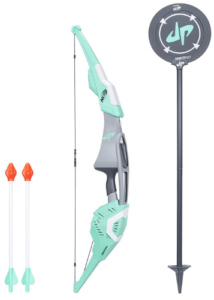 3. Marky Sparky Faux Bow
The next archery set for kids is this Marky Sparky bow, which is capable of shooting a great distance of over 200 feet. The bow has fiberglass elements, so it is lightweight as well as high quality. There is a clip-on quiver that attaches to the side of the bow and this is capable of holding three arrows.
The arrows are safe for kids to shoot at any target because they are foam-tipped. So, they can bounce safely off the target without causing any damage.
The long shooting distance of this set means it is excellent for use in the backyard or at the park. The bow has finger guards on the bowstring and there is an arrow rest for lining up the shot. The arrows are very durable and can travel at a great speed. So, this is a great set for children who are interested in taking up archery – it allows them to get a feel for things but without being in any danger. Children around 8 years old and above will enjoy this bow and arrow.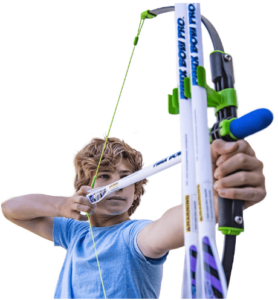 4. Joyin Kids Bow and Arrow Set
The next archery set we have picked out comes with everything a child needs to get started. As well as the bow, you also get 9 arrows, a quiver, three foam targets, and one plate target. This bow is sure to be a hit with kids because it lights up so it can even be used at night! Three AAA batteries are required to make the lighting feature work.
The included suction cup arrow set is safe to use and can easily stick to the target after hitting it. This set can be enjoyed by children as young as three and is sure to see many years of use. It's a perfect, inexpensive pick for younger children looking to get a taste for using a bow and arrow before upgrading to something better quality.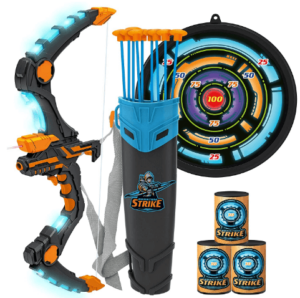 5. Bear Archery Bow
If your child is serious about learning to use a bow arrow, they are sure to appreciate this model from Bear Archery. It comes in a choice of six different color schemes, so you can find the one your child will like the most. The draw weight of the bow is 15 – 25 pounds, whilst the draw length is 13.5 inches. Also, the bow measures 26 inches from axle to axle, so this is a good pick for children aged around 8 and over.
This kids compound bow comes with a range of high-quality accessories, such as a whisker biscuit arrow rest, finger rollers, an arrow quiver, and two safety-glass arrows. There is also an arm guards to ensure your child is comfortable when shooting with the bow.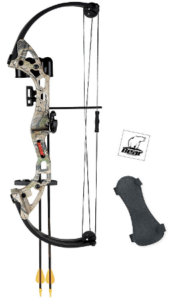 6. CenterPoint Youth Bow and Arrow
Archery for kids is made simple with this set from CenterPoint. The bow has a draw length of up to 26 inches and a draw weight of 17 – 21 pounds. The axel-to-axel length of this model is 33 inches. These specs make it best suited to older kids around 12 and up, who are beginners.
The compound bow is designed for optimum hand placement for right handed shooting. It is a good-quality bow with all-weather strings and a range of accessories including two arrows and an arm guard. The speed of this bow is 70 fps (feet per second), which is a great speed for a tween beginner.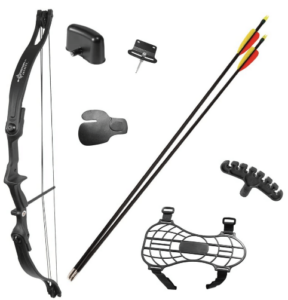 7. Disney Merida Kids Archery Sets
This inexpensive Brave bow and arrow set is a great pick for younger children who want to be just like Merida from Disney's Brave. The suction cup arrows can be shot at a target, or the bow can simply be carried as part of a fancy dress costume – the color scheme and detail make it excellent for this purpose too.
The bow set is sized just right for little princes and princesses as young as 5.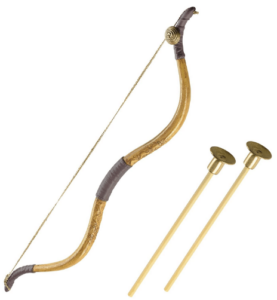 8. Kiddie Play Kids Archery Set
This next bow and arrow set comes with a target for the suction cup arrows to be shot at, so it's great for helping kids improve their aim. There are three arrows included and they will stick well to the target so kids won't get frustrated. The size of the set is ideal for kids in the 5 – 9 age range, so it's sure to see plenty of use. The pieces are made from strong ABS plastic that can withstand some rough play from children in this age group.

9. Disney Rapunzel Toy Bow and Arrow
The second of our Disney Princess bows and arrows is a Rapunzel themed set which is also great fun for dressing up or for playing with. There are three suction cup arrows included as well as an arrow quiver and the bow itself, which is beautifully decorated.
The arrows can travel up to 10 feet, depending on how far the string can be pulled back, and they are therefore ideal for indoor and outdoor use. Loading up and shooting the bow is easy, making this an excellent buy for young children around 3 years and up.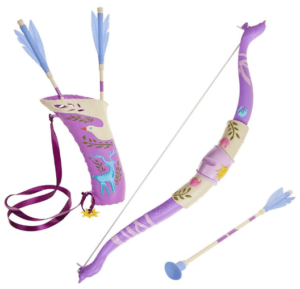 10. Toysery Kids Bow and Arrows
Our final bow and arrow set features flashlight lights and comes with six arrows with suction cups for sticking to the target, which is also included. It is recommended for kids in the 6 – 12 age bracket and is great for indoor or outdoor use. LED lights are used to make the bow light up, and batteries even come included.
So, kids can even practice their archery skills at night! Smaller children will love this bow, and the string tension is adjustable as they get stronger.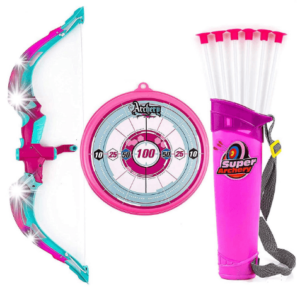 Overall Best Bow and Arrow for Kids
After looking at some of the best bow and arrow sets for kids, we have picked out the one which stands out as the best overall. The Bear compound bows, at #5 on our list, is a great choice for kids who want to get into youth archery or even learning to hunt.
It has some great specs and comes with all the essential accessories for getting started with. The bow is made from quality materials and has an adjustable draw weight so it can grow with your child as they get stronger.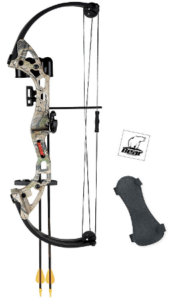 Best Budget Buy
If you are looking for an inexpensive option for younger children or beginners who might not be serious about learning to play archery or hunt, the KiddiePlay set is one of the best bows. It comes with everything they need to get started and can be used indoors or outdoors for more flexibility.
The bow arrow set is easy to set up and it is excellent for developing hand eye coordination, whilst having fun at the same time. It will appeal to quite a wide age range, although it should be used under adult supervision of course. The set includes a target to practice with so kids can work on improving their aim with the rubber tip arrows.

Take a look at these also: