There's little argument about the many possible benefits of owning a ballet bar of your own for your kids. What was once the domain of dancers is now an essential item of fitness equipment for anyone wanting to find their inner lean, lithe self!
You just need to do a quick internet search to reveal a wealth of workouts that you can do anywhere, anytime with a portable ballet bar of your own.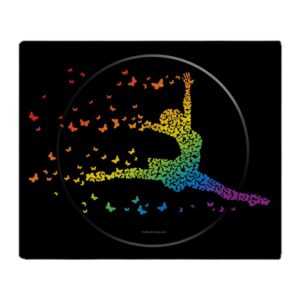 A few things to look for in a portable ballet bar:
– Sturdy: Choose durable wood and ensure that the elements are all made of quality attachments. You need the portable ballet bar to be able to support almost your full weight! The frame should be robust as well!
– Portable: The easier it is to pick up your bar and go the better! This means easily foldable parts and a comfortable carry case.
– Reasonably priced: There's no point in spending a fortune on something you are only going to use every now and then. The prices vary, but you can generally expect to pay anything between a few dollars for the most basic model, to a few hundred dollars for the more sophisticated (and somewhat less portable!) versions. As long as you have decided on a budget beforehand, it should be pretty clear which ones suit your needs the best.
Browse online for the best model and be sure to look up any reviews that may have been written on the subject. Once you have bought your portable ballet bar, be sure to stock up on videos, books and any other material you might need to get you started on a fitness regime with your new ballet bar.
Spoil yourself to a good portable ballet bar and reap the benefits of a ballet workout and the resultantly beautiful slim body!
              Instructions In Using Wall Mounted Ballet Bar
Setting up a wall mounted ballet bar in your house can be one of the best treat that your daughter can obtain. This ballet bar will provide a great time where they can have the opportunity to stretch and warm themselves up even if they are inside their home. This will eventually help them to practice their daily dance routines. Not only that, it will also help them boost their confidence.
Furthermore, having a ballet barre at home will also decrease the cost of the daily expenses of the family in paying ballet companies and ballet tutors. The best thing is that you can watch your daughter perform her favorite dance routine at the convenience of your home.
Whenever you have a wall mounted ballet barre inside your home, you should be very careful. Some of the things that you might want to check if the ballet bar is really mounted on the wall. There are a lot of cases reported that whenever they are practicing at home suddenly the screws that connects the ballet bar from the wall begun to shake and eventually been destroyed, causing accidents and injuries.
Be sure that you have read the manufacturer's guidelines if you put up a mounted bar. Be sure also that you have accomplished and completed all the possible requirements in order for it to be effective. Lastly, make sure that the wall must be strong enough to at least hold all the members of the family whenever they try to lean on the wall mounted ballet bar.
                        Advantages of Portable Ballet Bar
According to this source, there are two classifications of Ballet Bar, first is that of a fixed ballet barre, the second is of the portable ballet bar. Usually, the fixed ballet bars can be seen on building and exercising companies.
On the other hand, Portable bar is widely used and commonly seen on parks. Moreover, there are many advantages that this kind of bar can provide for persons who want to avail of it.
One of the characteristics of a Portable ballet bar is that it has a bar on both sides. This structure would now allow the owner to adjust the height of the bar to whatever height preferred.
Of course, because of its main uniqueness as portable, you can use and bring it to whatever place you want to practice or exercise your ballet techniques.
However, this does not mean that the bar is already weak because of the fact that it does not have any support to cling to, the said portable bar is not only adjustable but it is also sturdy, strong and durable in its simplest form.
Furthermore, this bar can be easily be assembled and dispersed. Actually, whenever you want to disband the bar you don't need many tools to do it.
What is more interesting is that you can even transport it even in a small car. Not only that, this also means that you can practice you ballet styles at the convenience of your home.
Now that you have all these details try your own portable ballet barre now and enjoy the passion of using it.