Kids love to run about outdoors with their favourite play equipment, and it's a great way for them to burn off some energy and keep fit. It's great for them to get some fresh air and spend some time away from TV screens and mobile gadgets. Playing outdoors is a great way for parents to spend some quality time with their children – it's the ideal way to improve everyone's mood.
There is so much choice in outdoor play equipment for kids that it can be difficult to know what to choose. Here, we have chosen a few different types of toys and equipment so you're sure to find something to suit your space, budget and needs.
Considerations: How to choose Outdoor Equipment for Your Child
Choosing outdoor equipment for your child is a big decision – they will play with it for many years so it's important to choose something they will enjoy. Think about the style of toy your child would be interested in. You should think about where the equipment will be used and carefully check the dimensions to ensure there will be enough space to safely set the toy up without it being too close to anything else.
Safety is also a big concern when choosing some outdoor toys for your child. Make sure the item you choose meets current safety standards. Also ensure the equipment is assembled and installed properly to ensure your child won't injure themselves. This may involve anchoring the equipment to the ground, so be sure you have the means to do this if required.
Also look at the age, height or weight restrictions on the product before buying. Make sure your child isn't too big or the equipment may not be strong enough for them to use. Also make sure they aren't under the minimum recommended height or age, as it could mean they won't be ready to use the equipment properly, and may fall or seriously injure themselves.
You should think about how you will store the equipment when it is not being used for long periods, particularly over the winter. Some plastics can become brittle if left in the strong sunlight for too long. It can also be difficult to clean large outdoor toys if they are left out in the elements, so it's worth trying to keep them covered if possible.
Grow'n Up Seesaw
This seesaw is ideal for children aged 3 years and above. It can hold up to 99lbs on each seat, meaning your child will be able to have many years of fun with the seesaw before becoming too heavy. The toy moves both up and down like a traditional seesaw, as well as being able to rotate around 360 degrees. Children can choose which way they want to go, but make sure there's nothing they can crash into if they decide to go for a spin!
The handles have easy grips, so even 3 year olds will be able to keep safely in their seat. The legs ensure the seesaw will stay well balanced and won't tip over, no matter how enthusiastic your kids become! It is made of metal, so it will last well if it is looked after.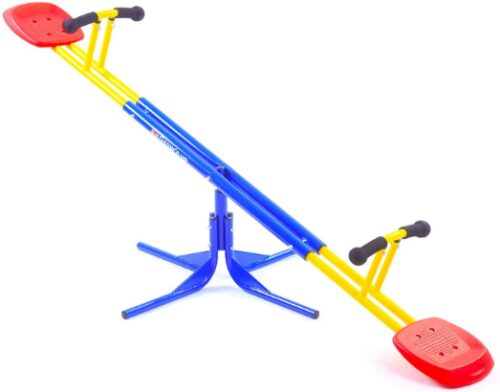 Step2 All Around Playtime Patio
This unique toy is great for kids of any age who love playing imaginative games. It features a range of activity stations to keep kids amused for hours. It's also great for sharing with friends or siblings – there is enough space for everyone to play without fighting or arguing over toys.
The canopy is great for keeping your child safe – they won't get burnt in the sun, and they can also play outside when it's raining without getting soaked. There is a built-in sand and water table, which comes with toys and accessories, including a cover to keep everything clean when playtime is over.
There is also a toy grill, for your child to 'make' dinner for their friends. This is great for encouraging imaginative play – your child will love to come up with new scenarios every day. The patio set comes in a nice, neutral color scheme sure to blend into any backyard setting.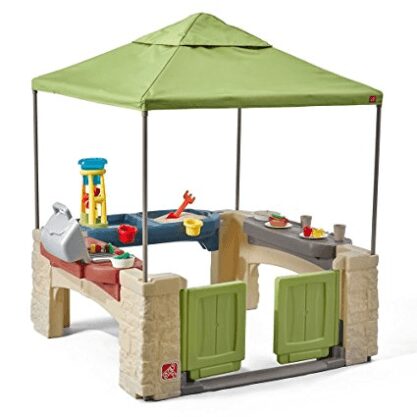 Ironkids Outdoor Playground
This outdoor play frame is great for kids who love to keep busy. There is a range of different activities to keep children of all ages entertained time and time again. Kids will also be able to get fit by playing with this playground equipment – there are activities to work different muscles.
The backyard playground is great for large families or those who often have friends over to play. There are 4 different activities, which can keep 6 children occupied at a time. There is also a sunshade to add some protection for when the weather is hot.
The frame is made of metal to ensure it will last many years of heavy use. The slide and trampoline are not attached to the mainframe, so they can be set up in another area if space is limited, or could even be used indoors when the weather gets bad.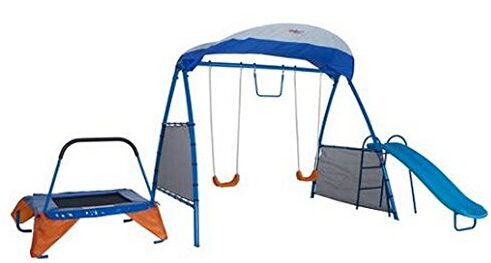 Step2 Clubhouse Outdoor Climber
This is a great climbing set for toddlers and younger children. It has loads of fun features to keep little ones entertained, including slides and crawl tunnels. The Step2 climber is perfect for getting your little one active – they will be able to strengthen their muscles by climbing and crawling, whilst having great fun at the same time.
Young children will love to play imaginative games using this play frame. There are windows and a steering wheel so they can play at being the captain of a pirate ship, or anything else they can come up with. Toddlers who are just learning to climb can even use this toy – the steps are easy to climb up and there is an easy-grip handle to help them out.
The frame can support weights of up to 240 pounds, meaning several young kids can play together at once. Mom and dad could also get in to play too if necessary!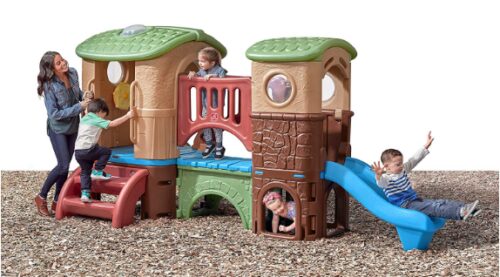 Step2 Extreme Roller Coaster
This unique outdoor toy is perfect for kids who are looking for something different. It's suitable for children aged over 3 years old, and weighing under 75lbs. The track is 9' long, but you will need a decent amount of space to allow for the car to continue rolling, especially on harder surfaces.
There are loads of safety features to give parents peace of mind. The ramp features anti-slip steps so your child can easily push the car back up after each ride. The car has handgrips and footrests, as well as a high seat back, to ensure your child is sitting properly every time.
The backyard roller coaster encourages children to develop many important skills, such as taking turns and sharing. Your child will also build strength and coordination by pushing the car back up and learning how to climb in and push themselves off. This toy is sure to be an instant hit with your kids, as well as the neighbors!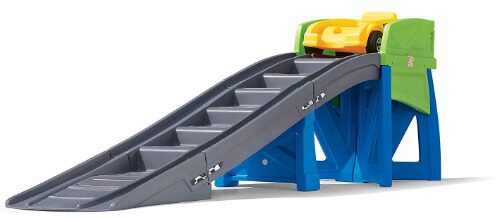 Web Riderz Swing
This huge nest swing is perfect for the whole family to have fun outdoors. It can hold up to 600lbs, meaning it's perfect for several kids to play on, or mom and dad and a couple of children. It can swing and spin in any direction – all you need is a sturdy tree or a playground frame to hang it from.
The web swing seat comes in a choice of 4 colors, so there's sure to be something to match your backyard style. The materials used are UV-proof, so the swing won't become damaged when hanging outside. The product comes ready assembled and simply needs hanging up safely and you're ready to go.
There are many accessory packs available to help hand the web riderz web swing safely and securely, so do some research to find one which will suit the location you plan to hang the swing.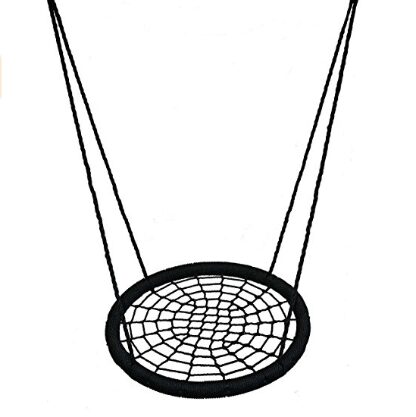 Step2 Skyward Summit Climber 
This step 2 climber is an ideal backyard climbing frame and is perfect for kids who love to climb on everything and anything! There are 4 different climbing surfaces to ensure your child will be challenged each time they play. There's a platform at the top for your child to look out to parents and friends to celebrate their summit!
This rock climbing wall can have 4 children playing on this outdoor climber at once, making it perfect for larger families, or for using on playdates. The plastic frame can support up to 320lbs – kids will have years of enjoyment with this fun toy. The frame is around 80" tall, meaning it's still challenging for kids who are taller than average to climb.
A climbing frame such as this is great for developing vital skills in young children, as well as strengthening various muscles. The materials used are great quality and can withstand being left outside, as long as they are cleaned regularly.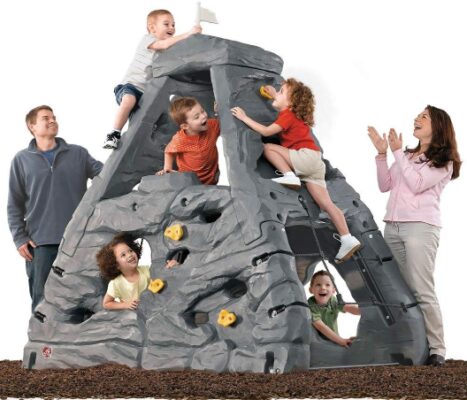 Backyard Discovery Swing Set
This kids' outdoor playset is perfect for children of all ages, from 3 right up to 10 years old. There are several activities to keep up to 9 children occupied at once. This makes it perfect for use at family gatherings, or for families with a few young children.
The set is made from 100% cedar wood, which is rot-resistant to withstand several years outdoors. It also features a protective coating, which is chemical-free and safe for children. Plastic parts are UV-resistant to ensure they won't become brittle in the sun. The backyard playset is great for smaller spaces, whilst still offering many of the larger and more expensive products.
Kids will reap many benefits from using this backyard toy. There is a 'snack window' on the bottom level for your child to create their very own restaurant to serve their favorite foods to friends and parents. There's also a bench built-in for your child to have a rest when they're finished playing.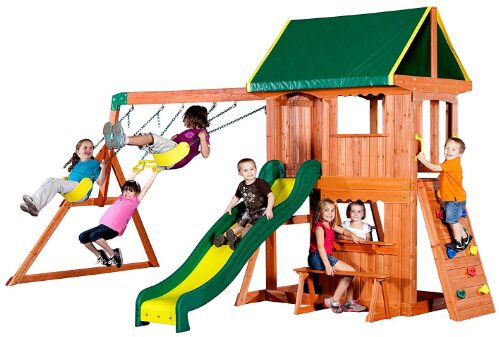 Gonge Riverstones
These stepping stones are perfect for children of all ages to practice their balance skills. There are two sizes available, either the Riverstones pictured here or the Hilltops, which are higher. These provide more of a challenge for children who have mastered the smaller set.
The stepping stone toy set is great for encouraging imaginative play. Kids will love to hop from one to the next without touching the ground – pretending there is hot lava or a river running beneath them. You could even use the Gonge Riverstones in conjunction with other outdoor toys to make a fun obstacle course for the kids to race around.
Kids will have years of fun making up new games with these stepping stones. They're great for young kids' physical and mental development too, making them excellent value for money.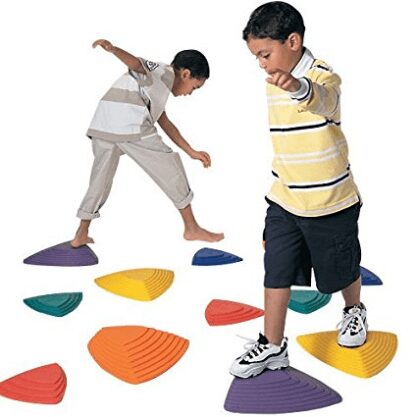 Best Overall Pick
For kids who love to climb, the Skyward Summit climbing toy is a great investment. The size of the toy means it can be used by kids from around 3 or 4 years old right up to pre-teens. Kids will also love to hide out in the space under the climbing frame, to have a rest after reaching the summit!
The range of different climbing surfaces ensures the toy will keep kids challenged and entertained for years to come. They will also get stronger and fitter by regularly climbing, making it great for your kids' health, too.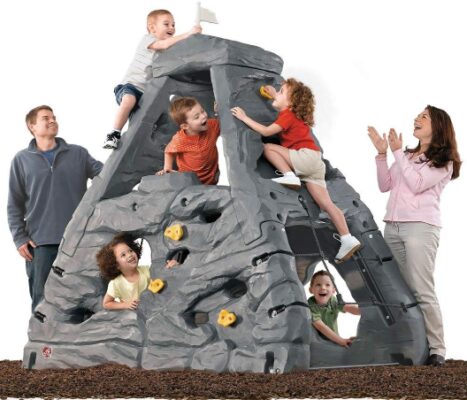 Best Budget Pick
Step2's Playtime Patio is perfect for parents who are looking for a cheaper, yet still entertaining, a toy for their backyard. The set is great for stimulating little one's imaginations and can be used in all weathers, making it very versatile and flexible.
The patio play set has parent-friendly features, too. The neutral color-scheme won't disrupt the appearance of the backyard, and the cover for the sand and water table reduce the need for cleaning.
The set is ideal for parents to play with their young children – kids will love to make something for mom and dad to eat with their grill! It's also great for several kids to play together and share, teaching them how to co-operate with each other.