Making sure your child is protected by the suns harmful rays is one of the most important aspects of summer. As a parent, you want to be able to sit back and relax during the height of the day, whilst also knowing your baby is guarded due to the application of a trusted sunscreen. In this article, we'll take a look at an extensive list of sun screens for children, including their SPF ratings, water and sweat resistance, ingredients with regards to the sensitivity to young skin, and whether they will leave stains on clothing or not. We'll obtain what is the best sunscreen by reading the following sunscreen reviews.
Considerations When Choosing Kids Sunscreen
The SPF rating of any sunscreen is of primary importance when deciding which to use. The misconception with sunscreens is the higher the factor, the better protection from the sun. This isn't true when a factor 50 cream only has a two star UV rating, but a factor 30 has a three star rating. So ensure you check the back of the bottle for the best protection.
When choosing a sunscreen for your infant or young child, you want to factor in the ingredients, as to whether it is a natural sunscreen. Does the cream contain natural ingredients, or is it full of potentially harmful substances? You'll want to check for water resistance too, as kids are usually in and out of the pool and numerous re-applications are time consuming and tricky.
Finally, you may want to check if the cream you intend to buy is a cruelty-free sunscreen, which can be checked by a logo or affirmation printed on the bottle's label. Many are now removing harmful ingredients that are killing the coral reefs, so it may be an idea to watch out for that too.
Best Sunscreen for Kids in 2023
1. Babyganics SPF 50
This first lotion is an all mineral sunscreen that boasts natural ingredients, is fragrance free and claims to be the best sunscreen for the developing skin of a young child. It is also water resistant for up to 80 minutes and protects the skin from a broad spectrum of both UVA and UVB rays.
Rather than the sticky and thick cream you find from some manufacturers, this sunscreen comes in a handy, portable stick. The wide nozzle gives for even and easy coverage, and it's ideal to pop in your bag for the beach.
Unfortunately, there is a lack of customer reviews for this product, so you may want to ask friends or family if they've found it useful and protective.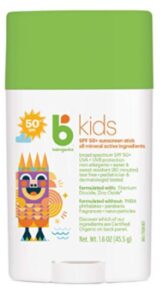 2. Thinksport Kid's Safe Sunscreen

This refreshing company not only offers a top rated, mineral based sunscreen, but also the education and insight into honest, correct application and responsible sustainability. Paraben free and water resistant for up to a full 80 minutes, Thinksport doesn't leave an oily residue and doesn't come with a distasteful odor.
The reviews for this cream speaks for themselves, with numerous 5 stars from happy and recurrent customers who mention the high Environmental Working Group rating, a pleasant odor and the reliability. Like with any cream, the consumer should use a patch of skin to test for any allergic reactions, as there have been a few complaints of this.


3. Sun Bum Original 
Sun Bum comes in an attractively simple and trendy bottle design. Encased in a wooden patterning with an emblem of a monkey on the front, it boasts to protect the consumer from a wide spectrum of both ultraviolet A and B rays. A hypoallergenic sunscreen that is enriched with vitamin E, which is a moisturizing antioxidant that can in fact prevent premature aging. This cream ranges from SPF 15 to 70 and has been tested and recommended by the Skin Cancer Foundation. Sun Bum, you'll be pleased to know, is not only vegan, it is also paraben free, oil free and most importantly cruelty free.
Customer reviews are pleased with it too, with 77% of over 2000 people giving it a five star rating.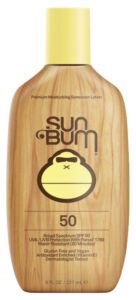 4. Blue Lizard Australian Sunscreen 
Another mineral sunscreen, Blue Lizard offers a resistance to water so your children can enjoy their summer. It's also great for sensitive skin, due to being free from any fragrance inducing ingredients, as well as parabens. A neat feature of this suntan lotion, is the smart cap technology; teach your children about the safety of using sunscreen, as they watch the cap turn blue as a reminder for a fresh application. Smart! Not only is this sunscreen recommended by dermatologists, but is also rated as number one recommendation by pediatric doctors. Consumers mention the thickness of the cream, that comes with so many mineral sunscreens, but rave about its effectiveness and lack of odor.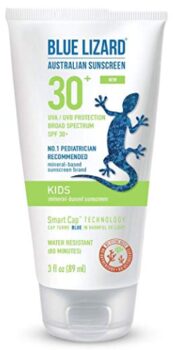 5. La Roche-Posay Dermo Sunscreen 
Tested by both dermatologists and pediatricians, this fragrance free suntan lotion offers the highest level of water and sweat resistance. Rich in vitamin E, it claims to leave sensitive skin feeling soft and smooth, instead of sticky and oily. One complaint about this sunscreen is the fact it can stain clothing, so it's best to be extra careful when applying to the skin. Despite most customers being happy with the workability of the product, there is a small percentage who claimed it didn't work and at the end of the day we're suffering with sun burns. One customer also commented on the pain that comes when it goes into the eyes. It's good to be mindful of all reviews.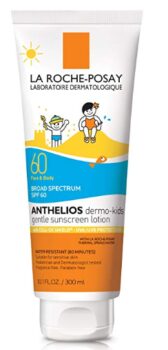 6. Supergoop Everyday Sunscreen
Despite the interesting name, Supergoop is anything but a gloopy mess. This natural sunscreen spray boasts ingredients like bran for soothing qualities, beta carotene rich sunflower that protects skin from the harsh environment and rosemary leaf extract, which provides an antioxidant rich calming effect on the skin.
This company urges you to wear an SPF lotion every day when leaving the home, due to the sun constantly penetrating the clouds, even on an overcast day. They have a range of easy to apply products, such as lightweight mists or mousses. Like many sunscreens on the market, they're also water resistant too.
Customers are content with this every day use lotion, as it not only protects but moisturizes their skin, making it feel more like a beauty product than the chore that is associated with sunscreen applications.

7. All Good Kids Sun Lotion 
Many newer sunscreens on the market are removing damaging ingredients, making them friendlier to our beautiful coral reefs, and All Good Kids is no exception. With a long lasting water resistance of 80 minutes, this sunscreen claims to be a non – greasy alternative to others. It's last listed ingredient is water, and first is aloe, meaning it's a better product for the skin in terms of soothing properties. It also includes camomile, is gluten free and vegan, so you can be rest assured that no animals have been harmed for testing matters.
With it's SPF 30 suntan lotion offering a broad range of protection from both burning and aging ultraviolet rays, most customers are leaving positive reviews of an easy application and no burning having occurred during use.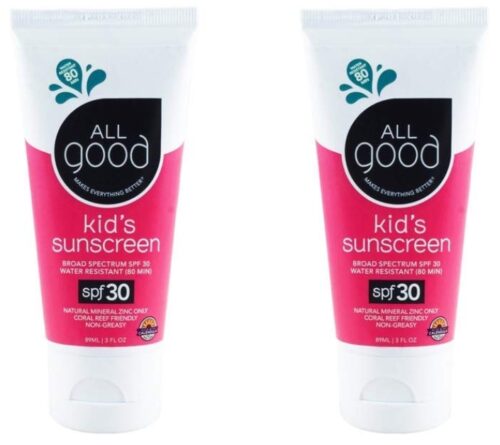 ,

8. Banana Boat Kids Sunscreen Stick 
One downfall of many sunblocks is the potentially damaging and inconvenience of them running into the eyes alongside perspiration. This handy stick, which is perfect for application to the facial regions, won't do that! It's wide applicator makes for easy applications and it's compact size means it's perfect to have with you at all times, whether in your handbag or baby bag, there's no excuse to leave it behind.
Banana Boat doesn't leave a residue and as reviewed by some consumers, applies smoothly and easily. Practicality is important, and this sunscreen provides 80 minutes of water resistant time. They have also removed coral killing products, so are doing their bit to be eco-friendly. A downside to this product is it's more of a chemical based suntan lotion, as opposed to the many mineral based ones on the market.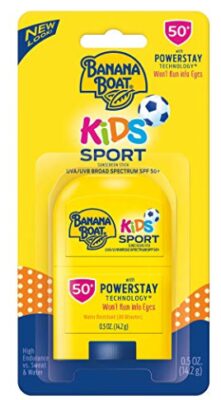 9. Coppertone Tear Free Sunscreen SPF 60
A mineral sunscreen that claims to be kind to eyes with their "no tears" statement on the bottle, Coppertone provides ample protection for your child against the sun. It's water resistant up to the longest length of time of 80 minutes and is also recommended by pediatricians. With only one review of five stars, it's tricky to know if it has a broader positivity for other consumers. It also doesn't list its ingredients on the site, but after a bit more research you may be able to find it elsewhere. A quick search will tell you that it's oil free, but unfortunately not safe for coral reefs as it contains harmful ingredients.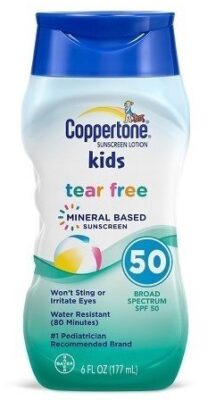 10. TruKid Water-Resistant Sunscreen
A natural sunscreen that provides protection for all types of skin, that doesn't leave a white residue and is also kind to sensitive such as eczema. TruKid suntan lotion ticks many boxes, being reef safe, free of any harsh chemicals and parabens and tested by dermatologists for sensitive skin types. It's water resistant, meaning your child can continue to happily play without you worrying.
This mineral sunscreen is sustainably sourced and is also cruelty free, giving you peace of mind that you're helping the environment. Some kind ingredients inside jojoba oils, antioxidant vitamin E and soothing aloe extract. TruKid claims to be an award winning suntan lotion, meeting the ingredient standards of Environmental Working Group.
The reviews speak for themselves for this sunscreen, with many happy customers speaking of its practicality, safety and chemical free ingredient list.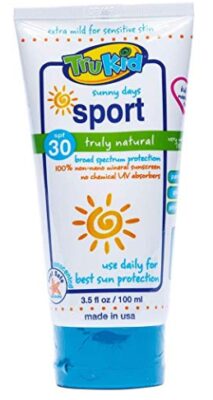 ,

Overall Best Buy
When choosing the best baby sunscreen, you want to consider the reliability of the product, as well as the safety of it's ingredients, it's practicality and convenience.
I feel that "Sun Bum" ticks all of these boxes, with the label of "bestseller" on Amazon and over 2000 reviews. It's a natural sunscreen that is also hypoallergenic, gluten free and moisturizing, so your child or infant's skin won't be laden with harmful ingredients. It's easy to apply and you're safe in the knowledge that you're helping the environment by using a lotion that isn't a concoction of damaging chemicals, so not only will your children's health thank you, but so too will the coral reefs.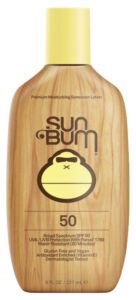 Sun Safety Tips for Kids

It's best to keep babies younger than 6 months of age out of direct sunlight entirely. Children older than 6 months can be easily protected by the use of clothing and suntan lotion. Wearing a sunhat and sunglasses will protect your child's sensitive skin and eyes from the suns ultraviolet rays, as well as the heat that comes with it. It's also sensible to find some shade as a precaution, as avoiding the direct sunlight is always preferable. Trying to reduce the amount of exposed skin by wearing clothing or UV swimsuits is a practical idea without reducing the summer fun.
How Often Does the Sunscreen Need to be Re-Applied?

Although some suntan lotions claim to be one application only, it's always a sensible idea to reapply as the day goes on, as well as in between swimming sessions. Sunscreen should be applied at least half an hour before exposure to the sun, to allow the protective ingredients to absorb into the skin. Reapplication should take place every two hours or so, and it should always be the same amount as the initial application. Some lotions state the amount required for ample coverage, which is measured in ounces.
Which SPF Should I Choose and What Does This Mean?

SPF stands for "sun protection factor" and is usually followed by a number, ranging from 2 (the lowest strength) to 50+, which indicates the strength of the cream. The suntan lotion protects against the UVB rays of the sun, but can also inhibit vital vitamin D absorption for children. It is recommended to use no more than SPF 30 for children. So long as the UVB rating is high, your child should have sufficient protection against burns. Of course, this is subjective to parental choice, using a higher SPF isn't harmful to your child.
The SPF level you use can vary dependent on the child's skin tone. A darker skinned child may not be prone to burning, whilst a fair skinned child, who burns easily, would need a higher factor. So be aware of this when considering your sunscreen.