Snowcones and snowballs are one of the most interesting things in a kids' summer party because of how delicious and relaxing they are. With the wide variety of machines in 2023, you no longer need to leave your home to enjoy these delicious treats. Snow cones are a delight for both kids and adults alike. You can surprise your kids or friends with a homemade snow cone if you get the right machine. The article will explain some of the best snow cone maker machines in 2023.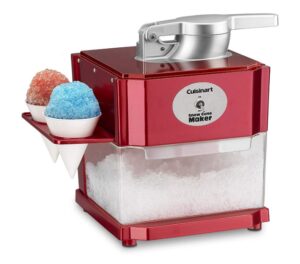 Considerations When Choosing a Snow Cone Machine

There are plenty of machines that you can use to make snowballs. There are many brands in the industry and each one of them may have something different to offer. If you are trying to buy one, there are a few things to consider. A machine that works well for one person may not work for another. Whether you want to buy a machine for commercial or domestic use, the following are some of the things to consider.
· The Product Brand
Some brands are better than others. Always check the brand of a machine before making your purchase. Go for brands that have a good reputation. A well-established brand is likely to last longer than an unknown brand with negative reviews. If you are unsure of the right brand, consider getting reviews from your family or friends.
· The Design
The machines are available in different designs. Choose one that is attractive and easy to use. It should be easy to clean and complimentary to the design of your kitchen.
· Quantity of Production
The type of machine you choose should depend on the number of snow cones you want to produce. If you are buying it for a business, consider buying a machine that can take care of the high demand.
Best Snow Cone Makers in 2023
1. Nostalgia Retro Snow Cone Maker
This snowball maker is great for making delicious shaved ice drinks. Its design is beautiful and very easy to use. All you need to do is secure the lid and the snow will start flying. You can use it to make over 20 snocones. This snow cone maker runs on 120 volts and uses 30 watts. The cutting blades are made with stainless steel. It has a side shelf which you can use as a prepping station. The machine has a safety switch to keep your hands safe. The chamber is clear from all angles making it possible to watch your ice pile from all angles.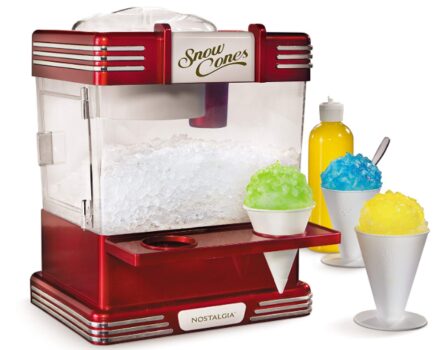 2. Zeny Ice Shaver Machine
This machine is popular because of its versatility. It is suitable for use at home, during your kids' parties and during festivals. It does not matter whether you need a snowcone machine for domestic or commercial use. The Zeny Ice Shaver Machine will always be amazing. The shape is beautiful and it is very efficient. The construction is 100% waterproof stainless steel. You can use it for long periods without worrying about rust. The motor can produce 143lbs of shaved ice per hour to meet high demands in a short period. The ergonomic design makes it easy to clean and it has a heavy cast base to provide you with stability.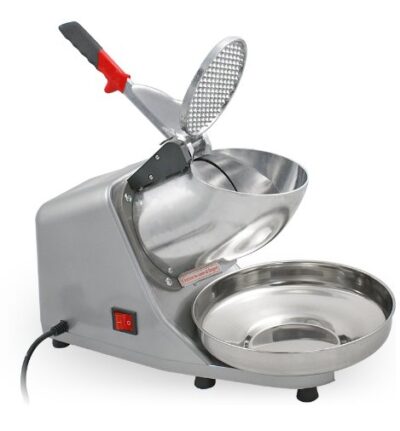 3. Nostalgia SCM502
This machine is great for parties as it can hold up to 20 snocones at a time. The chamber gives you 360° degrees views at all times. It has precision-cut stainless steel cutting blades that will shave your ice cubes efficiently. You can use the side shelf as a prepping station as it holds two snow cones at a time. Its small size makes it the perfect snowball machine for use at home. It comes with a safety switch to keep your hands safe. If you are looking for a machine to use in small parties or for family use, it may be a perfect choice.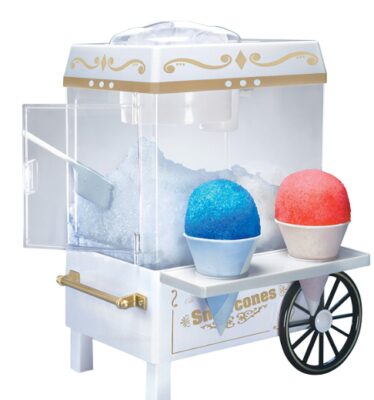 4. Small World Toys Slush Machine
This machine from Small World is perfect because of its simplicity. It allows your child to mix up a variety of frozen treats. It is fun, innovative, and appropriate for use at home. It is great for children of age eight and over and requires no batteries. The machine is great for promoting a healthy lifestyle in a fun way. Its measurements are 6'' diameter and 9'' H. The machine comes with two color changing spoons, two color changing cups, and ten paper cones. Like other Small World machines, it is fun and the quality is high.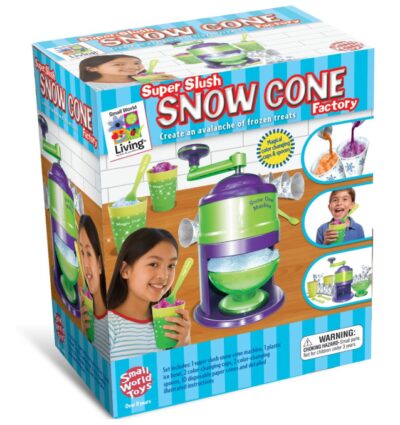 5. Cuisinart SCM-10
One of the most impressive features of this machine is its sleek design. It can make four to five snowcones in under a minute. For your safety, the professional motor and blade mechanism has an interlock safety feature. Its simplicity and safety make it easy for your kids to use. All you need is your favorite syrup and ice and you will have some delicious treats in no time. The machine comes with 4 BPA-free plastic cones and 12 paper cones. Storage is easy due to the two fold-down cone holders. The machine is small and lightweight so you can easily move it around during a party. It has a removable ice bin for easy cleaning.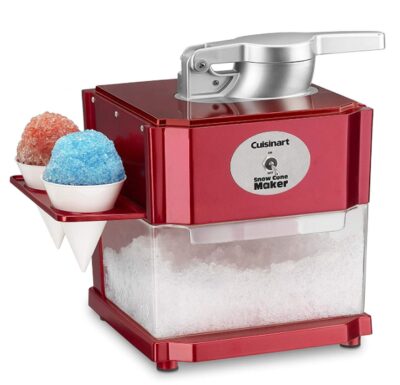 6. Frozen Delights Snow Cone Maker
This gadget is appropriate for children of all ages. It uses a simple push operation and the design is beautiful. The machine from Frozen delights is made with a sturdy stainless steel motor. The motor is powerful and the blades are strong so you can have your delicious snowball without waiting for too long. It is a great machine for your children's parties, pool parties, and barbecue. The small size of this snowcone maker makes it ideal for use at home and during parties when you need to move it around frequently.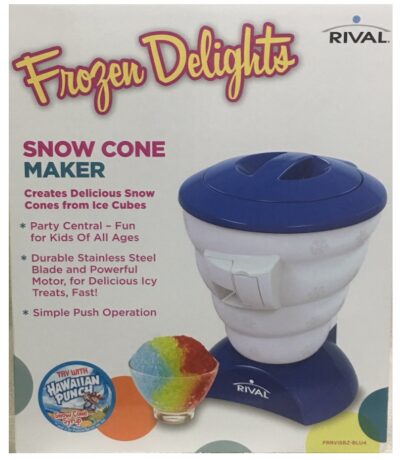 7. Shaved Ice Machine with Syrups
This machine allows you to shave your own fluffy snow at home. It comes with everything you need so you can have the perfect ice cones every time. The machine comes with snow cone cups, round block ice molds, spoon straws, and bottle pourers. It is blended with three perfect flavors. Shave your fluffy snow in the snow cups and add your favorite syrup. The bottle pourers will make it easy for you to drizzle your favorite syrup over ice without spilling. The stainless steel blade is made to ensure precision when cutting. This Hawaiian Shaved Ice Machine is great for making refreshing treats for your kids.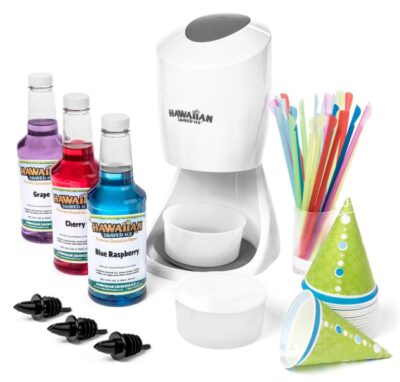 8. Blizzy Cone Maker with Silicone Cups
This beautiful machine comes with an 80 Watt motor for high efficiency. It includes a Blizzy Electric Ice Shaver, four metal cone holders, four silicone cone cups, 44 plastic straws, and 20 paper cone cups. It is a great machine for use during kids' parties because of its safety features, simplicity, and portability. It works well with standard size ice cubes. The machine is not only great for children's parties but also adult beverages. The machine is FDA and UL. The stainless steel shaving blades create perfect flavors in no time.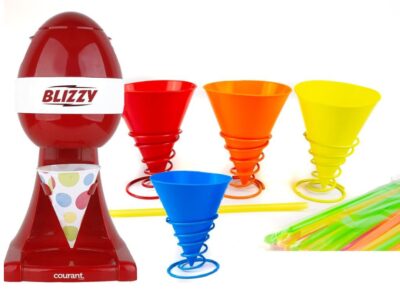 9. Nostalgia Coca Cola Cone Maker
This beautiful machine is only appropriate for use at home. It is not a heavy duty machine so you may not use it for commercial purposes. Let your kids use it for fun little projects at home. It holds enough ice to make up to 15 cones at a time.
It is very easy to use and it has a built-in safety switch. The countertop model is convenient for placement in your kitchen. It comes with two 8 oz. plastic cones and a scoop. The stainless steel cutting blades make it possible to shave the ice fast. Consider using this machine with any Nostalgia Snow Cone kits. It comes with a cone shelf that can hold two snow cones.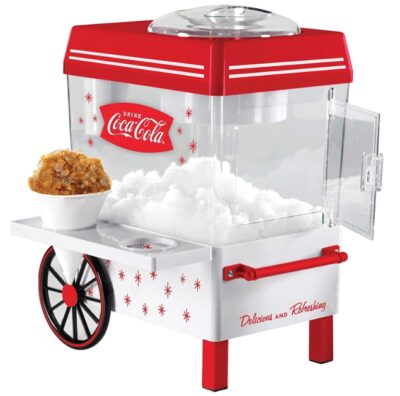 10. Super Deal PRO Commercial Ice Shaver
This machine is appropriate for both commercial and home use. It is popular for its simplicity, adjustable ice texture, and quiet operation. It has a low center of gravity to minimize shaking and a 250W motor that can shave more than 264 lbs of snow per hour. It is low maintenance and very easy to clean. The large diameter ice outlet makes it very easy to take the ice. It has a nozzle at the base to ensure that your ice does not spill out. You can use the machine to make cones, margaritas, and frozen cocktails of your choice. It is a great purchase for use by both kids and adults.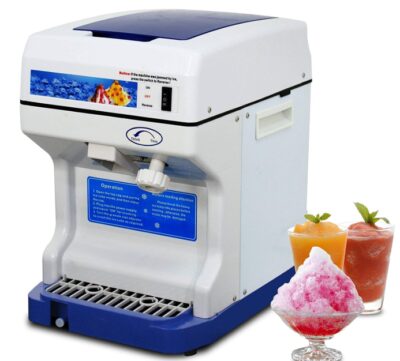 Overall Best Buy
While all the machines are great, the Cuisinart SCM is the best overall buy. It can make a lot of ice in a short period and the working mechanism is a simple on-off switch. It is appropriate for use by both children and adults. Parts that come in contact with food are removable so you can clean them. They are also made with BPA-free material. The small size makes it appropriate for placement on your kitchen counter.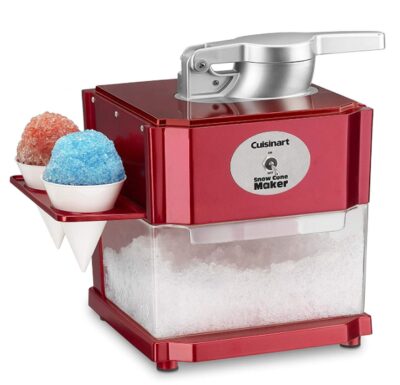 What are the Different Types of Snowcone Machine?
When trying to decide the right type of gadget, you must understand how the different machines work. If you want shaved ice or a snowcone, you must focus on your needs. Some machines are appropriate for commercial use while others are appropriate for use at home. Different machines will give you different levels of fluffiness. The cones are less fluffy than shaved ice. The type of machine you choose depends on the needs of your home and family. Some of the most popular ones include the Cuisinart model, Zeny shave ice machine, and Nostalgia Retro shaved ice maker.
What Age are These Machines Suitable For?
Different machines may be appropriate for children of different ages. Whether you have kids or you are simply a kid at heart, you will always find the right gadget to meet your needs. Apart from being great for your home use, they are also a great way to entertain your kids and their friends at parties. The Nostalgia Retro SCM is safe and appropriate for use by children of age seven. The Zeny Ice Shaver Machine is also appropriate for use by children at that age. The Super Deal PRO Commercial Ice Shaver should be operated by adults or older children because its operation demands a little more precision than the other machines.
What Flavors of Cone Can I Make?
The type of flavor you chose for your snowcone depends on your tastes and preferences. You can find the flavors in either concentrate or ready to use form. If you plan on using your machine for commercial use, it is important to understand the popular flavors so you can keep your visitors happy. The most popular flavors include; cherry, blue raspberry, lemon-lime, cotton candy, mango, strawberry, bubble gum, coconut, and black cherry. Consider playing out with the different flavors to achieve a unique one. If, for example, your children enjoy the banana flavor, consider adding strawberry banana flavor or cherry banana flavor to see which one you like the most.
When Can My Child Use Their New Gadget?
There are plenty of occasions where your child can use their new gadgets. Whether you are looking for a fun way for your children to add some life to their small group gatherings, family game nights, small summer parties, or sleepovers, the gadgets will do the trick. With the right machine, you will have your favorite shaved ice dessert ready in no time. Play around with the different flavors that your kids like. The gadgets make excellent birthday presents. If your kids have allergies, go for syrups that do not contain dairy, soy or eggs.
With the right sno cone machine, you can make your treats everywhere. Most of them can fit well on your kitchen countertops. The right commercial shaved ice machine may be appropriate for use for making frozen cocktails in bars of restaurants.