Most kids have dreams of doing great things and changing the world. Some dream of putting on a beautifully-made costume and having super powers that will help them eradicate the bad guys and make the world safer.
Toys are thrilling and awe-inspiring ways to help kids feel closer to their dreams of being a real-life superhero. There are loads of action figures just like the superheros of kids' dreams, and that is what we are going to review here.
When we were growing up, we had dreams that we would one day be like these superheroes and action figures. We had these icons in our toy collections. They lined up our toy shelves and filled our toy boxes. They even created a lasting impression on us – many adults still enjoy watching the latest superhero movies.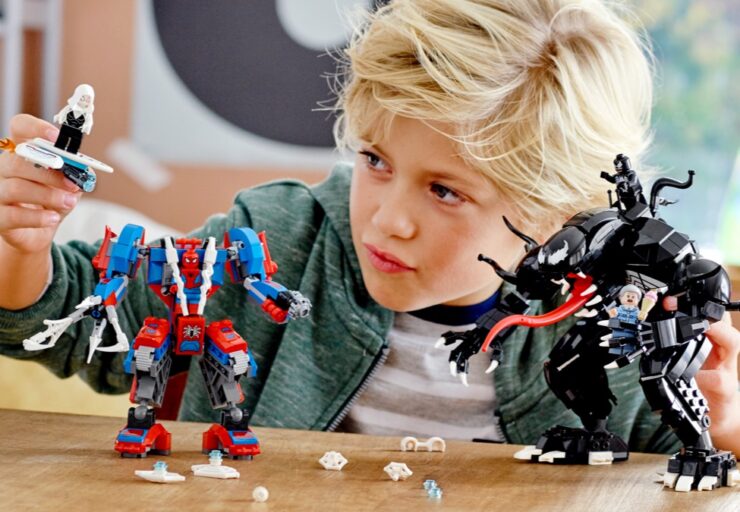 Kids' favorite toy superheros are numerous and range from DC Comics to Marvel Comics – both of which have created plastic action figures for some decades now. There is a lot of debate over which company makes the best depiction of popular superheroes, as there are many different brands to choose from.
Action figure toy collections date as far back as the seventies and reflect the variation in cultural opinion of action figures, the growing collectors market and the cost-effective options created during the last period of global economic crisis.
Yes, these superhero toys and action figures are true reflections of our historic times. Here, we are going to concentrate on some of the most recent offerings so you can find a toy your child will love to play with over and over again.
Best Toys and Actions Figures
Now, we will review some of the best superhero toys available for sale today, to help you find something your child will love, no matter who their favorite hero is.
1. DC Super Hero Girls Action Figure
Give your daughter the opportunity to fulfill her inner heroic dreams with these DC Super Hero Girls action figures. The pack contains three action figures – Wonder Woman, Supergirl, and Batgirl. Each of them is 6 inches high and wears their signature clothing and accessories. The superhero girl figures are made of long-lasting plastic and are posable for maximum fun and realistic play. They all have great expressions to tell a story in a creative manner.
Each of the three action girls is dressed ready for action in a non-removable outfit that depicts their iconic details. Wonder Woman takes the lead in her red and blue colored superhero suit with blonde wing symbol, crown and detachable lariat of Truth.
Batgirl wears her mauve and sapphire superhero suit with yellow bat-shaped wings and emblem, yellow boots and gauntlets. Meanwhile, Supergirl wears her blue outfit, tall red boots and detachable red cape so she is prepared for combat.
These super girls will serve as a huge source of inspiration to young girls. They are great ways to help kids discover their unique capacities and are ideal for adding to a collection as well as playing within a range of fun and imaginative scenes.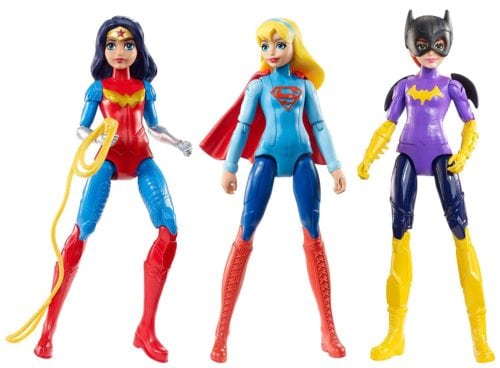 2. Marvel Black Panther Titan Hero Series 12-inch Erik Killmonger
Marvel's Super Hero depiction of Eric Killmonger shows him causing severe combat disarray. This superhero toy is a 12-inch representation of his heroic actions in the Titan Hero Series. The inspiration for this iconic figure comes from the Black Panther movie. It aims to show the speed, strength, and line of attack Killmonger is known for when engaging in battle with his enemies.
To give your kids the much-needed fun and have a feel for the heroic acts of Killmonger, you may want to purchase the Titan Hero Power FX pack which is available separately. The port can be used to power the iconic figure in order to trigger special character sounds and phrases from Black Panther movie!
The Titan Hero Series Erik Killmonger superhero toy gives your kids the chance to imagine Killmonger pulling his enemies down. Purchasing the pack and figure lets the kids create and replicate the original film scene with Black Panther movie sounds and phrases.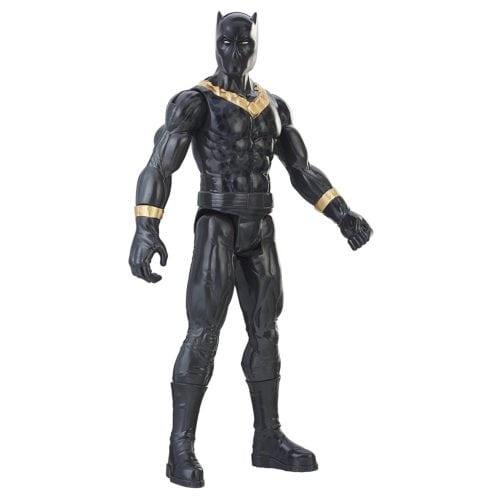 3. Mattel DC Super Hero Girls Wonder Woman 6″ Action Figure
Use this DC Super Hero toy to let your young superheroes train to become astounding future heroes and develop a spectacular personality. This teens' superhero toy depicts the iconic Wonder Woman icon, a very courageous woman born with leadership qualities – sure to inspire your kids.
The toy can serve as a source of inspiration and help your kids uncover their hidden heroic abilities. It can be used as a great toy for routine school days or for use in action-packed explorations.
With this superhero girls Wonder Woman action figure, you can inspire your youngster to start learning to master her super powers. It will also help her to develop the capacity to conquer the gauche challenges of growing up.
In essence, the toy will inspire courage in these kids and give them a cause to believe in their inner power and ability to conquer even the most difficult situations in their lives. There are other figurine girls sold separately – you can collect them all to unleash your child's inner capacity for super-heroic fun experiences.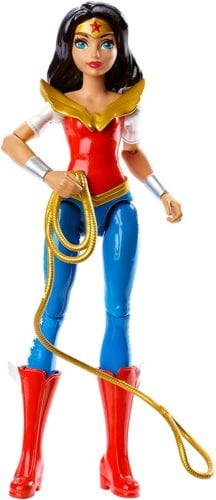 4. Mattel DC Super Hero Girls Harley Quinn 6″ Action Figure
This Harley Quinn figure stands at 6 inches tall, and is adorned with accessories that makes her look just like the original character. There are other options available if your child prefers other characters, so they can choose their favorite hero or collect them all! The action figures are suitable toys for girls aged 6 years old and above.
Each of the DC Super Hero Girls is dressed for action in a non-detachable iconic outfit with accessory details. The action figures come wearing their signature colors kids will instantly recognize, and also have their iconic symbols, such as Wonder Woman's Lasso of Truth, Bumblebee's wings and Poison Ivy's vines.
Aspiring heroes will love acting out scenes with these figures, which are powerfully posed and ready for action! They're also fully articulated ensuring they can be moved around, making for more realistic and enjoyable play. These superhero girl figures are made from durable plastic to ensure they can stand up to hours and hours of play.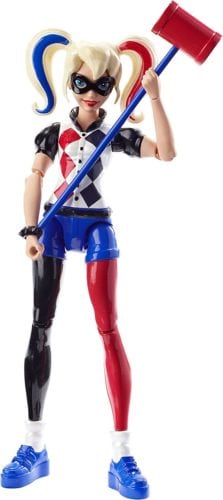 5. Mattel DC Batgirl 6″ Action Figure
This Batgirl toy comes in a 6 inch size and is made using durable plastic to ensure it is long-lasting. The plastic construction also means the toy can easily be taken out and about, without risking getting damaged. Girls will love Batgirl's outfit – she looks just like she does in the comics.
This toy will turn any normal day into an action-packed adventure – girls will feel inspired by their hero and it's great for encouraging them to become more self-confident.


6. Mattel Super Hero Girls Ultimate Collection

These DC Super Hero Girls each stand at 6 inches tall. This superhero girls' ultimate collection is made up of Wonder Woman, Supergirl, Harley Quinn, Batgirl, Katana, and Bumblebee. These DC Super Hero girls' collectible figures will help your little girls to discover their inner heroic ability.
Each mini figure is designed with unique details and features, motivated by a much-loved teen of Super Hero high. Each of the superhero girls comes with distinctive poses to make it more similar to the original character. These collections make great Super Hero Girls party supplies and party favors.
These amazing toys give your aspiring superhero little girls the outstanding ability to reproduce scenes from the original film. Each of them is outfitted in their iconic suits and comes with varieties of pose articulations to make it much more fun and make captivating and engaging play possible.
They are great superhero toys for kids but may not be the best for collectors as they are not well detailed. Your kids will absolutely fall in love with them and they withstand a good deal of manipulation, making them excellent for younger children.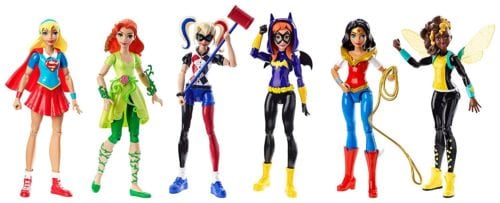 7. DC Collectibles The Flash Kid Action Figure
This DC flash kid action figure is designed to help kids catch the mighty speedster that moves with the speed of the lightning. It is a great addition to the DC TV collectibles line and produced like Keiynan Lonsdale to help your little one recreate his or her favorite moments from the show with the very minutest detail revealed.
This superhero action figure is just a collectible. It is not made like toys that your little kids can play with or manipulate. However, it is an action figure that would remind your kid of the original actor in the popular CW series, The Flash.
It reproduces the image or portrait of the actor, Keiynan Lonsdale. It is designed in a 6.7″ tall figure and comes with 3 pairs of hands, to make replacement is easy if one hand is broken. This is a great pick for older kids who are looking for a cool display piece or an item for their collection.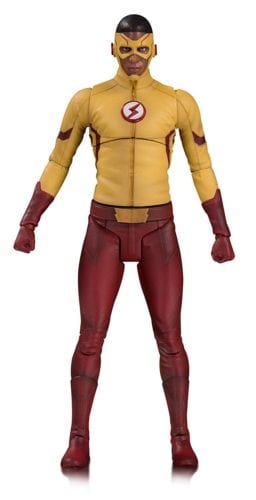 ,

8. Mattel DC Super Hero Girls Katana Action Figure Doll
This Mattel Katana action figure helps your child to discover her inner superhero ability. The Super Hero action doll will definitely inspire your child greatly, particularly young girls who prefer to play with female heroes. The toy is a 12 inch DC figure, wearing an action-ready suit that resembles that of the iconic features of the original DC Super Hero figure but with contemporary trends.
The Katana action doll is dressed in a magnificent warrior outfit made up of a chic gray, black and scarlet tunic paired with gray leggings. It is also adorned with awesome accessories to capture the original story and make it more fun. Simply put, this stylish martial arts action figure appears spectacular.
She has long, dark hair with a red stripe, knee-high laced boots and shiny body armor. She also comes holding her sword to ensure she is always ready for combat. Girls are sure to feel inspired and confident when they play with this action doll – she's sure to make a regular school day feel like an adventure.
With her expert martial arts moves and a cutting-edge sense of style, Katana is an inspiring hero for girls of all ages. Not only this, the doll can also be posed in a variety of ways in order to recreate favorite moments from the web series.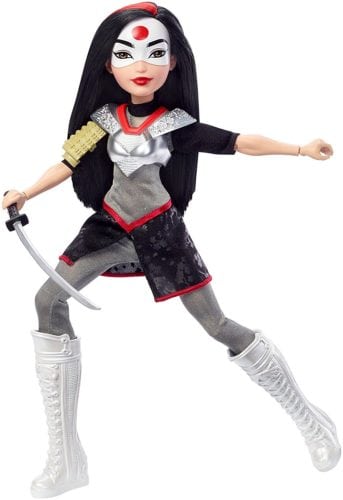 9. Playskool Heroes Hulk Figure with Tread Racer Vehicle
This Playskool Heroes set comes with a Hulk figure and his color-coordinating vehicle. The vehicle can be used with the Action Figure Racing playsets, however these need to be purchased separately for more fun.
This kid's superhero toy allows little heroes to experience high-speed action! The Tread Racer is small yet sturdy, so it is simply perfect for toddlers. There are also other characters and vehicles to collect, so kids can expand their Action Figure Racing team to make it even bigger and faster.
Parents can be sure of the quality of this toy as it is made by a respected manufacturer and is officially licensed. Hasbro manufactures this product under license from Marvel, so you can rest assured that the toy can stand up to being played with over and over again.
The only complaint about this toy is that younger children might find it a little difficult to put the figure inside the vehicle. However, they will quickly learn how to do it, and will have so much fun when they do!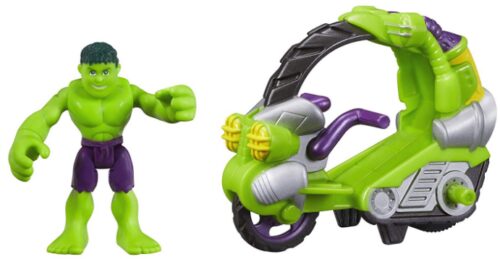 10. Mattel DC Super Hero Girls Poison Ivy 6″ Action Figure
The DC Super Hero Girls Poison Ivy is one of the six superhero action figures from DC. Each of these superhero girls is sold individually, so it's great for girls who enjoy collecting. For this reason, this figure makes a great gift, as girls can add to the collection on future birthdays or special occasions.
The action figure was the inspiration of the great students of DC Super Hero High. This action hero figure comes in a 6-inch scale just like the other five. The Poison Ivy action figure is made with durable plastic to ensure it stands up to the test of time, and it is also articulated to allow multiple poses to be made.
In addition, the iconic dressing of the action figure with magnificent accessory details depicts the original character ivy vines. When playing with this toy, your little heroes will have fun trying to discover their own unique capacity and master the basic acts of living like a hero in different ways.
This kids' superhero toy makes a great collecter's piece for fans of the Marvel female heroes. It looks great displayed in your little hero's room and is also durable enough to be played with on a daily basis.


11. Spider-Man Marvel Ultimate Titan Hero Series Figure
This Spider-Man Marvel Ultimate Titan Hero Series Figure is designed to recreate the image of the original Spiderman, Peter Parker, who had a single bite of a radioactive spider and gained super-human power and amazing ability to craw on the wall like a spider.
The figure depicts Spider-Man in his signature blue and red costume complete with mask. The action figure is 12-inch sized and sure makes an amazing adventure for kids. Besides, it's also an iconic part of pop culture.
This Marvel Spider-Man is one of the best kid's superhero toy and is great for all ages, even toddlers. The head, shoulders and waist are adjustable but not all of the joints are movable. However, the toy is very strongly built and can withstand a good amount of kid's manipulation and abuse. So, it's the perfect toy for toddlers who aren't subtle with regards to playing with their toys.
It's one of our favorite superhero toys for 3 year old boys and girls, but also looks great on the desk of an adult or older child.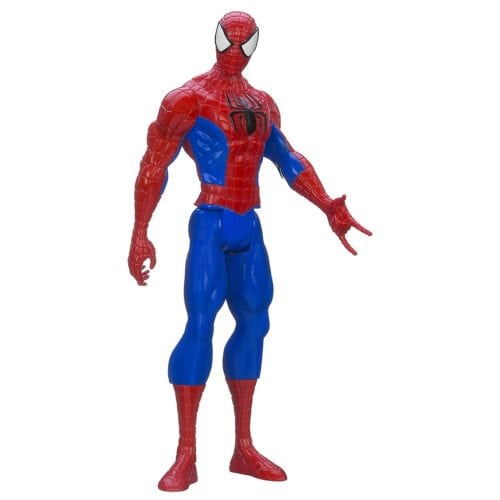 Check out also: Best Marvel LEGO Sets
12. Avengers Marvel Infinity War Titan Hero Power FX Iron Spider
The Marvel Avengers, Infinity War Titan Hero Power FX Iron Spider is one of our favorite superhero toys for 4 year old boys and above.
This toy gives your kid the opportunity to imagine Spiderman the web-slinging hero displaying his numerous moves. It is 12 inches tall and can be used together with the Titan Hero Power FX pack. When kids link up the pack with the titan hero power FX iron spider, it lets them power up their figure and this enables them to trigger different specific sounds and phrases of the original super-hero.
Linking up the pack with the figure, kids can activate the phrases and sound in the original movie like 'Whoa, heads up!' and 'Web shooters engaged!' They will also be able to imagine Peter Parker making use of his technological initiated spider crawling ability in Avengers: Infinity War with sounds and phrases inspired by the movie.
The Titan Hero Power FX pack and the Titan Hero Series figures are sold separately but they are compatible with one another. Kids will have loads of fun with the advanced suit and special gear that this figure comes with – it is great for imaginative play!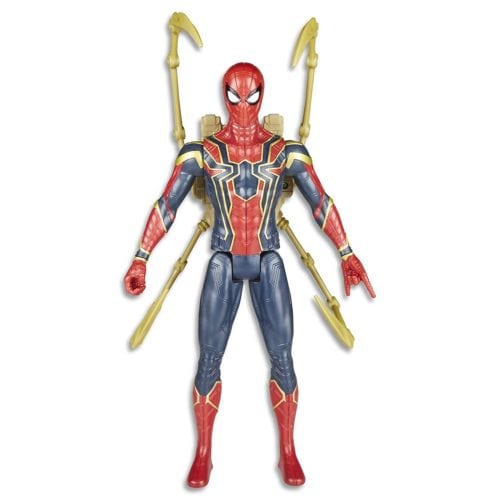 13. Ben 10 Ben & Grey Matter Basic Figure
Fulfill your kid's dream by giving them this great, fun toy to play with. It is a highly articulated and detailed toy which is poseable and bendable. The toy comes with 10 points of articulation, meaning it can be put into a variety of poses.
This superhero toy is a great choice for any fan of Ben 10, whether they want to play with it or simply use it as a cool display piece in their bedroom.
Although the toys are small, they are well articulated and offer great fun for your kids as they manipulate different poses of Ben and Grey Matter. We like how Grey Matter comes in a small size, but has a huge inner ability. This is great for inspiring kids and helping them remember that no matter how they look on the outside, they can still be a super hero on the inside.
The Ben action figure is a highly detailed original sculpture standing at around 5 inches tall. You can purchase all Ben 10 Aliens and all the characters on the Cartoon Network's animated series if your child is a true fan and wishes to collect all their favorite characters.
This toy collection will inspire and activate the inner Superhero capacity of your kids and remind them of the original scenes from the cartoon. Some of the figures come with accessories that would make it added fun to your kids.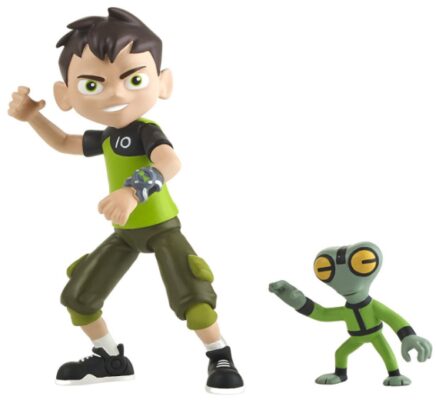 14. Playskool Heroes Captain America Figure

This Playskool Heroes Captain America figure comes with a Shield Racer vehicle, and the figure can of course ride the vehicle which is great fun for younger children! The figure functions together with Action Figure Racing playsets but you have to purchase these additionally, so this piece is great for starting a collection.
The pack contains the figure and vehicle but to give your little hero the chance to slam into speedy action with this Captain America figure, you may want to also buy the racing playsets.
The tough figure is small in size – just right for your little kid. The Captain America figure sits on the vehicle about to race into action holding a shield on his arm. As the Action Figure Racing team gets bigger, it gives your child additional fun. You can also offer this Captain America Racer vehicle to a child as a gift. It makes a great gift for a child that that is a superhero enthusiast! It can also make a great birthday gift for a child.
Playskool heroes are great superhero toys for kids and many kids love to own many of these playsets. The good part about this superhero toy set is that it is free from choking hazards as the small parts aren't detachable from the character. This makes the set a great toy for little kids. Some kids may have a hard time getting the hand of the figure properly attached to the handlebars. Apart from this, your child would love to use the set to act like Captain America.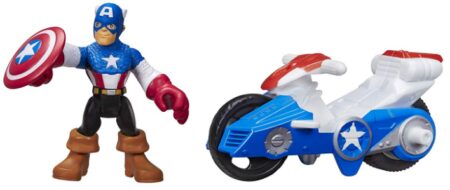 15. Mattel DC Super Hero Girls Bumble Bee 6″ Action Figure
Let your kids discover their inner Super capacities with this Bumble Bee action figure. It comes in 6-inch size just like the other superhero girls in the set. The great thing about this toy is that it is well articulated in great detail.
It is highly poseable with a creative storytelling structure, giving your kid the chance to replicate the original moves of the action figure. It is made using durable plastic and is of course prepared for Superhero spectacular actions and transportable play.
The Bumblebee action figure is well-clad in her action-ready, non-detachable outfit. The outfit is designed to replicate the features of the original icon in the DC Superhero series. You can find the iconic yellow and black features with basic bee stripes and Bumblebee wings, just how she looks in the comics.
The varieties of details and articulation of this toy make it possible for your child to reproduce her favorite moments from the web series.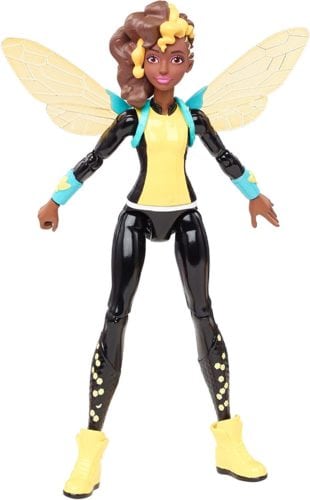 16. Marvel Legends Series 6-inch Deadpool
The Marvel legends series come in 6-inch size, like this Deadpool figure which is highly articulated and has careful details to replicate the original character. The figure also comes with accessories which can help kids use their imagination to act out some superhero adventures.
The Marvel Legends Series figures are each sold separately, meaning kids can easily start collecting if they are very interested in these characters. This pack contains nine accessories as well as the figure, for added fun play.
This kids superhero toy is suitable for kids aged 4 and above. Not only is it sturdy and long-lasting, it also looks amazing. Your kid is sure to be inspired by this Marvel Legends figure.
This Deadpool action figure has a 90s era-inspired design, which makes an excellent addition to your child's Marvel Legends Series. It is designed with two short swords, which are perfect, but other features are sculpted together with the figure. It is of a similar size to other Marvel Legends like Captain America, Black Panther, Iron Man and Star-Lord Action figures.

17. Marvel Avengers Electronic Iron Man, 12-inch
The Marvel Avengers Electronic Iron Man figure is a 12 inch sized action figure with 5-point articulation to make easy manipulation for different poses possible. This gives your kid's hero extra fun-filled play.
With this superhero icon in his hands anywhere he goes, your child can imagine Iron Man clad for action as he embattles together with the Avengers. The pack comes with the iconic figure and the users' guide.
The electronic Iron Man figure speaks thrilling phrases from the original scene that the kids can activate whilst manipulating the poses to recreate their favorite scenes from the movie or make up their own new adventures.
To activate the sounds, simply press on Iron Man's chest. You'll then hear the action figure declare phrases such as, "I am Iron Man". This detail and sound give your little superhero the chance to make images of what it takes to prepare to battle the bad guys as a world-famous superhero.
The Iron Man superhero toy allows the kid to imagine being part of the astonishing Avengers combat action. Your kids will definitely fall in love with the toy, which makes a good birthday or Christmas gift for kids and can turn into one of your little hero's most favorite toys. This is one of the best superhero toys for 6 year old boys and girls, and it also comes at a great price for the features it has.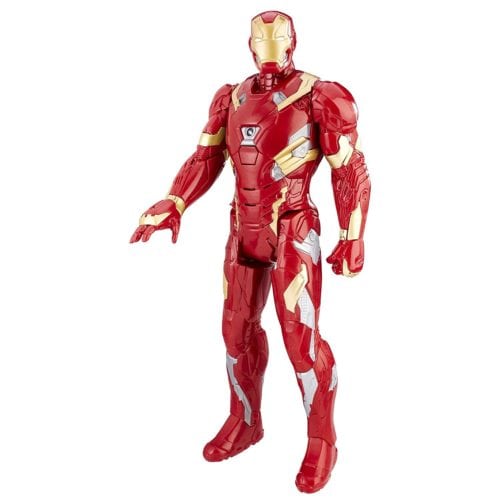 Best Budget Pick
We have chosen the Poison Ivy Action Figure as the best budget superhero toy on the this list because it fits the bill in all ways. The best kids superhero toys not only need to make fun play possible, they also need to be durable enough to withstand the abuse kids might throw at them.
Not only will these toys help kids to recreate scenes from the original film or cartoon, they should also be a great source of inspiration for the child. The Poison Ivy figure is durable and fun, and will also help kids feel confident in themselves as well as providing hours of fun play.
And of course, it comes at a great-value price, yet is made from high-quality materials which ensure it can stand up to the test of time.


Best Overall Pick
All the kids' superhero toys and action figures we have on this list are great and are sure to give your kids fun-filled play opportunities. They also inspire your kid to find their inner capacity for heroic deeds.
We have chosen the Ben 10 figures as the best overall because these action figures come with a good amount of articulation and detail giving your child the ability to recreate the original scenes with the different poses. Kids will love playing with these figures at any time, whether it's after school or when they're out and about.
This toy is perfect for any young fan of Ben 10! Not only is it fun to play with, it also looks great on display in a child's bedroom.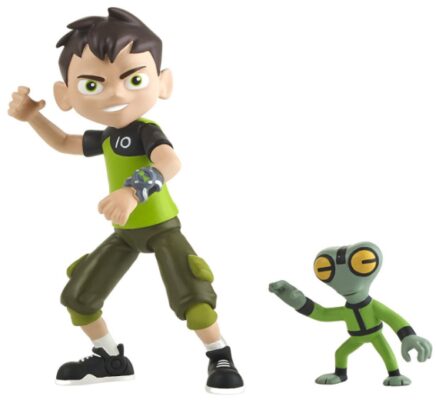 Take a look at these: