When your little baby boy is turning the big '1', you will no doubt be looking for special baby's first birthday party ideas. Well, you've come to the right place as here we have rounded up some of the best 1st birthday party ideas – you will find everything you need to know about planning the perfect party for your little boy. Whether you need help with a party theme, choosing the perfect decorations or even deciding on what type of party to have to celebrate the big day, you can find our awesome birthday party ideas for your little boy here.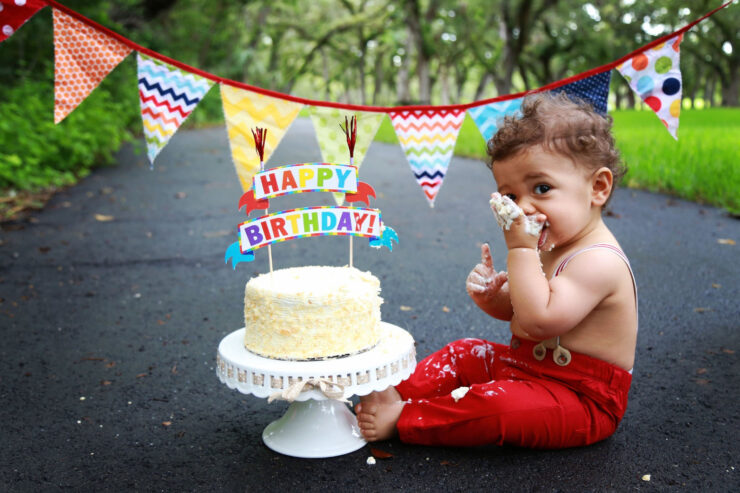 Considerations When Organizing a First Birthday Party
There are a few things to consider when planning a 1st birthday special party – if it is your first time doing so you will have even more to think about! One of the first things to decide on is how much you want to spend on the party. Some venues can be quite expensive to hire, and you will also have to think about decorations, food and of course a cake! Don't worry, as we have plenty of ideas below if you are looking for 1st birthday gifts and party ideas on a budget.
Also think about numbers. Your little boy won't remember the party as he gets older, so you perhaps don't need to invite everyone you know along for the big day. In fact, your baby will be more likely to get tired and overwhelmed if there are too many guests. You need to know numbers to allow you to plan the menu too, as well as how many plates and napkins you will need to provide.
Venue is another important consideration when it comes to planning the perfect party. If space allows, you might wish to have the party at home, or even in the backyard if your baby is lucky enough to have a summer birthday. If you decide to hire a venue, be sure to check availability well in advance to avoid disappointment.
Finally, you might wish to set a theme for your party. There are loads of cool first birthday party themes to choose from, whether it's your baby's favorite animal or cartoon character or something totally different. Alternatively, you might prefer to keep it simple and go for one of the classic 1st birthday party themes such as traditional blue and white color scheme.
How to Plan a First Birthday Party Checklist
Now that you know what to consider when planning a party, let's move on to look at everything you need to do to ensure the big day is a success. Whether you need to decide on the perfect 1st birthday party invitations or are looking for the best 1st birthday party supplies, you will find tips on everything you need below.
Unique First Birthday Party Ideas
Perhaps the first stage in planning the perfect party is setting a theme. The possibilities are endless when it comes to first birthday party themes for boys, it really depends on what they are interested in. Some of the most popular 1st birthday party themes are dinosaurs, the jungle, Paw Patrol and Mickey Mouse Clubhouse.
Sesame Street 1st Birthday Party Ideas
This set is simply a must-have if your little boy is a fan of Elmo and co! It consists of balloons of various shapes and sizes featuring all of your child's favorite characters. They will be thrilled when they enter the party room and see these! They're a great size and will last well when filled with helium.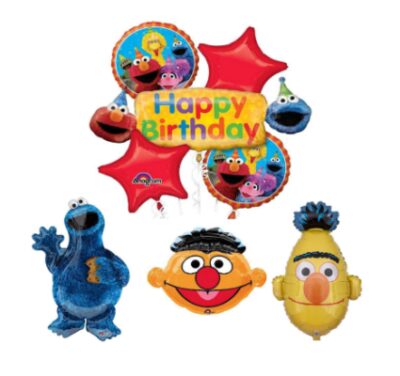 Cookie Monster Birthday Outfit
Continuing on the Sesame Street theme, this cute onesie is simply adorable for the little birthday prince! If you are looking for Cookie Monster 1st birthday party supplies, this has got to be the top of the list!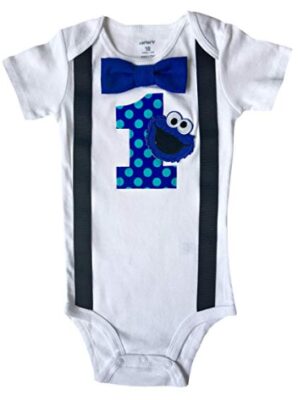 Mickey Mouse Party Set
One of the most popular 1st birthday party ideas for boys is Mickey Mouse Clubhouse, and it's easy to see why. The supplies are easy to find and who doesn't love Disney?! If your little one is a fan of the cartoon, you are definitely going to want to look into Mickey Mouse Clubhouse party ideas for 1st birthday! This set is a great start, it includes everything you need to decorate the table as well as some party favors.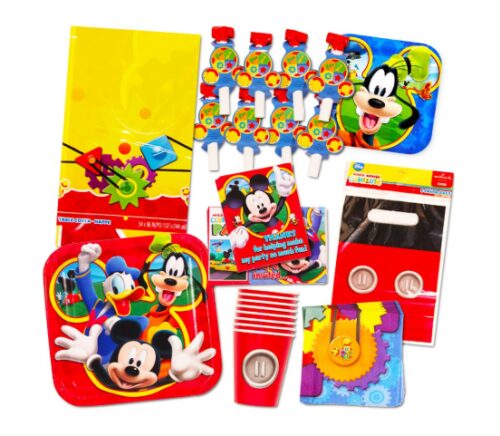 What to Do for 1st Birthday Party?
The first thing to decide is what you actually want to do to celebrate your child's birthday. Planning a party for one year olds can actually be pretty tricky, as they can't do much – you can't take them to the bowling alley or ice rink as you would with an older child!
One of the best first birthday party activities is visiting an indoor adventure playground or soft play center. These usually have areas designed for younger children, so they can play safely without older kids bumping into them.
Another popular way to celebrate a 1st birthday is a simple party at home. Invite some of your best mom friends and their children and prepare some simple snacks. Get all your child's favorite toys out and put on some music and bang – you have a party!
Where to Have a First Birthday Party?
Somewhat linked to the point above, once you know what you want to do to celebrate the birthday, you will also want to find some of the best places to have a first birthday party. We've already suggested some ideas above, but it might be possible to find some first birthday party places who can take care of organizing everything for the big day. However, this type of party might be better when your child is a little older and can understand what is going on.
If you were planning a party in the park or in the back yard, this might not be possible in winter. Fortunately, there are some great places to have a 1st birthday party in winter! Why not try searching for simple venues to hire nearby? Think church halls or even a private room in a local restaurant – you might be lucky and not have to do the cleaning up if you hire such a space!
How to Plan a First Birthday Party?
Now you've sorted a venue and a theme, it's time to start planning properly! It's at this stage you'll want to think about sending out invitations. You can find some to match your chosen theme or even get creative and make your own if you are feeling creative!
Safari Jungle Invitations
These cute invites are perfect for a jungle-themed party for your little boy. They come in a pack of 20 and include envelopes. You can also find matching thank you notes to make life easier after the party is over.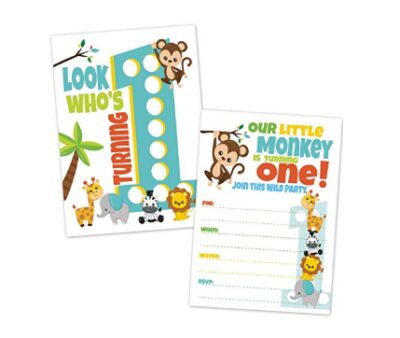 1st Birthday Decoration Set
You'll also want to think about first birthday party decor at this stage. You can find some great bundles which include everything in a matching set – plates, cups that have "1st birthday" written on them, a table cover, banners and blue foil balloons! There are loads of great options available depending on the theme you have chosen. It's also possible to make first birthday party decorations – your baby might even like to get involved with some painting and making a mess!
If you wish buy some themed decorations, this set makes life easy as it includes everything you need to decorate the party room and even comes with a 1st birthday party hat for the birthday boy. It's great value for money, too!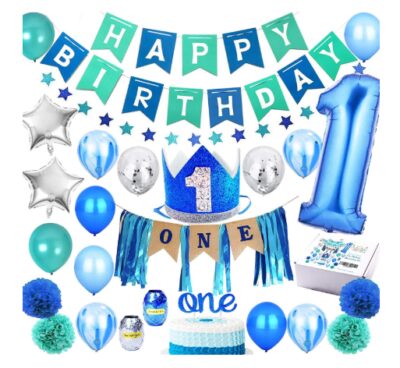 Once you know how many people will be attending, it's time to start planning the party menu.
1st Birthday Party Food Ideas
Everyone knows party food is the best part of any birthday party! Unfortunately, all parents know how fussy young toddlers can be at times! It's best to keep things relatively simple when it comes to first birthday party food. Your child's favorite fruit, small yogurts, baby snacks such as puffed corn and rice cakes are all excellent. Small triangular sandwiches will also be a hit at a 1st birthday party, especially if it takes place over lunchtime.
Of course, no party is complete without a birthday cake! There are loads of great options when it comes to finding the perfect cake. You'll likely want one to match your chosen theme. It can be bought from a supermarket, ordered from a bakery or professional cake maker or of course, home made! Budget and the time you have available will likely determine which option you should go for.
What to Put in 1st Birthday Party Bag?
Once you know how many guests are coming, you might wish to think about party bags. There are a few nice 1st birthday party favor ideas, although there is no need to go overboard as 1 year olds won't really understand what is going on! Here are some ideas:
1st Birthday Candy Wrappers
These candy wrappers are excellent for making your child's party bags truly unique! They are designed to fit Hershey's standard bars, and also make an excellent memento for a memory box.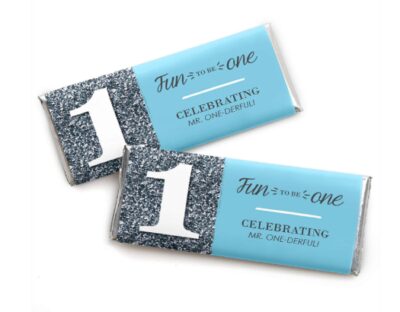 Rubber Bath Squirties
These cute toys make great party favors for little kids and can be used every day in the tub, unlike most favors which are quickly forgotten once the party is over. They are safe for 1 year olds to use too, unlike most party toy favors which have small parts and are only suitable for older kids.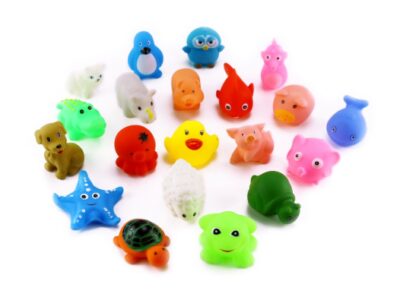 1st Birthday Party Favor Box
Now you have some ideas for great favors, you'll need something to put them in. These party bags are great – they are sturdy and look really modern. So, they'll look stylish sitting on your party table, leaving guests keen to know what's inside!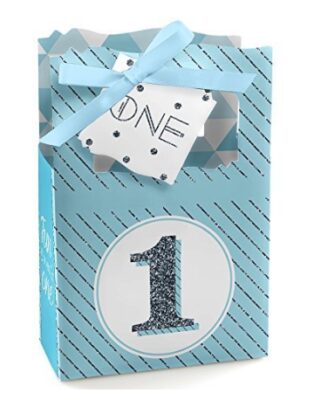 What Games Do You Play at a 1st Birthday Party?
Games are a staple at any kids party, but what are ideal 1st birthday party games? There aren't a whole lot of games which can be played and understood by one year olds, but nonetheless there are some fun 1st birthday party activities you can try.
Blowing bubbles is a great way to entertain kids this age, either using bottles or an electric bubble machine. Do take care the floor doesn't get too slippery. Popping and chasing bubbles is one of the best, awesome fun games for a 1st birthday!
A ball pool is another fun activity to set up at your child's party. You can use a small inflatable kiddie pool filled with colorful balls, or choose a pop up tent instead. If your budget can stretch a little, a small bounce house can be great fun for toddlers to play with at a birthday party.
Story time is another great first birthday party game, perfect for winding down when the kids are starting to get a bit tired. Or, you can bring props and puppets and make your story exciting and full of action!
On a similar note, singing your child's favorite nursery rhymes is perhaps one of the best 1st birthday party games for all ages to enjoy. Babies love listening to adults singing and trying to copy the words and actions. If there are older kids at the party, they will love showing how clever they are by singing all the words!
Classic Children's Songs
This 1st birthday music CD is excellent for parties, as it has all the nursery rhymes your child knows and loves. It's also available in MP3 or streaming format, so you can play it no matter what kind of sound system is available at the party venue.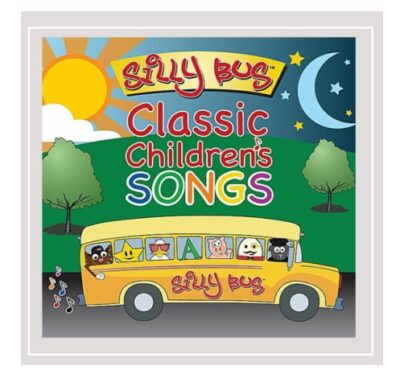 First Birthday Party Supplies

There are a few essentials for any party – paper plates and cups, party balloons and other decorations and perhaps a special outfit for the first birthday party boy. You might wish to choose plates and cups to match your theme – there are loads of great options available. In fact, you can find 1st themed party accessories to fit just about any theme you have in mind.
Boys First Birthday Supplies Set
This set includes everything you need to cater for your party – just add the food! There are matching plates, cups and napkins all decorated with a number 1, as well as color-coordinating cutlery.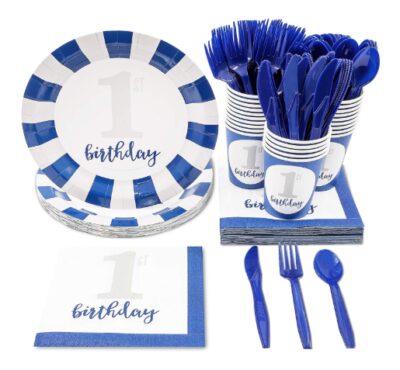 When it comes to balloons, you might wish to choose some larger ones to decorate the space as well as some smaller ones for the kids to play with. Some feel balloons aren't safe for babies, but with close parental supervision they can be a lot of fun. Young kids simply love to watch colorful balloons floating around! Another popular trend is using balloons for bouquet wall decorations – this makes an excellent backdrop for taking adorable photos of your baby and their friends.
Simple Joys 1st Birthday Boy Outfit
If you want to choose something special for your newly-turned 1 year old to wear, there are a few possibilities. You can find shirts with various slogans referring to turning one, 1st birthday crowns and even a themed 1st birthday baby bib for your child to wear with pride when they tuck in to their delicious party food!
We like this set as it includes everything your child needs to wear on the big day, and is made from 100% cotton for comfort. There are also two bibs included – perfect for little boys who enjoy their food!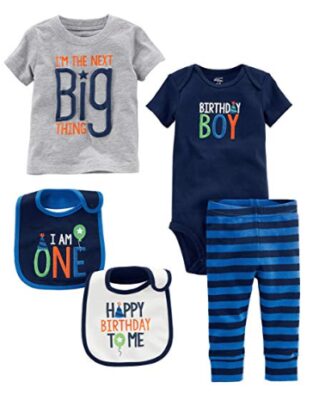 If you are having a cake smash, you might need some extra supplies. Of course, you'll need a suitable cake and you might wish to choose a cute 1st birthday cake smash outfit to take some adorable pictures of your baby on the special day. Don't forget extra cleaning supplies, too!
How to Celebrate First Birthday Without a Party?
Many parents choose not have a party for their child turning one, and this can be a good idea. There are plenty other ways to mark the occasion without having a party. A special day out with mom and dad and perhaps the grandparents or your child's best friend is a great idea. Some suggestions are a local zoo or animal park, the beach, or even going for a special meal at McDonald's! You don't have to spend a fortune, just enjoy spending time together as a family and making memories.
Considerations when organizing the party
Theme and location – As a parent having had a few 1st birthday's will, my children, I understand sometimes the stress involved with an organization. This is why finding a location that caters and takes all the stress away from it being at home can suit some parents. There are loads of venues and depending on where you are you can get an ideal setting to make his special day amazing. Here are some you might have heard of:
PLAY Boutique
Playdate PDX
Jenni and Tommy's Kids Unplugged
The Little Gym Portland
Pied Piper Cafe
Imagine: Play
Munchkin Playland
munchkin playland play area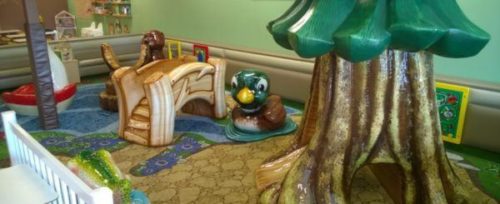 Once you have decided on a place the theme is crucial. There are some classic 1st birthday party themes that make the party special. Some favorites of mine are:
in the night house garden
Noah's ark
Farmhouse fun
Flying high
Circus time
Thomas the Tank Engine
Sending invitations
Having an official invitation makes the day more special and in my experience having a 1st birthday party invitation makes it a must-attend cause it's gonna be amazing kinda-feel. Sometimes the invitations can be simple and one bought from the mall or hand-made, but realistically we have enough on our plates to have time for making individual invitations. Here are some I think are fantastic and lovely.
Cupcake Invitations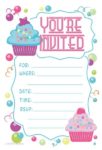 This is a classic invitation and everyone will appreciate the thoughtful gesture, which to few do these days…
Mickey Invitations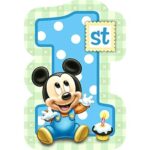 Mickey is a Disney favorite and everyone likes the happy face of Mickey. When this comes through the letter-box the impression is made and the diary is filled-up with your special day…
Turtle Invitations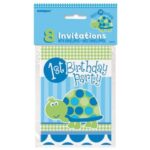 Maybe the ninja turtles are a little too mature a topic for a one year old child, but the simplicity of a turtle invitation hit home the theme and nature of the party..
How to make things safe – Make things safe is important and this means all choking hazards and toys that could cause issues need to be put away. A good rule that many professional party organizers use is if it's small enough to fit in a toilet paper tube then it's not safe for babies to play with.
What food will be on the menu – Making sure you have a clear understanding of the types of people you invite will make decisions about food easy. Some have specific dietary requirements and others none, but ask if anyone is allergic is always crucial and will help avoid a disaster.
Games and activities – There are loads of games to play that can get the adults and kids involved, which makes for a special day. Some awesome fun games for a 1st birthday are:
Baby parade – get them a musical instrument to play. Babies love shakers, bongos and anything that makes noise really. Once they have some type of instrument then get everyone walking and shaking/drumming at the same time and let the party begin…
Baby bubble games – A classic game that makes them go crazy with joy. Simply blow some bubbles and get trying to catch them. This makes a 1st birthday special…
Stop and Freeze games – play some music and then when it stops, so must they. This is really fun and easy to do…
Colorful ball pit – Buy loads of balls and create a space to put them all in and watch the madness unfold. 1 year up to adults love this game and everyone has a great time. You can sometimes blow up a small kids pool and fill up with the balls.
Crush Proof Plastic Ball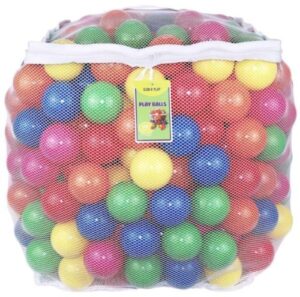 Pass the bean bag – This is another simple but bright and colorful way to get interactive with your guests and with music playing in the background this will be a winner. Just simply get everyone in a circle and let the fun begin…
Decorations – There are loads of themed decorations and you're sure to find one your little one will love. You will find a theme then it's time to find the tableware, decorations, and party gear/accessories. There are loads of things to consider and for those new to parenting here is a small list to help you get an overview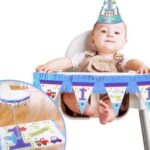 Napkins – Don't forget to buy these and no having could mean a lot of messy faces that spoil the baby photos.
Plates – Plates come in all shapes and sizes, ones to keep and ones to throw away, so whatever style, shape and theme you want you'll easily find one to suit.
Cups – Sometimes you can get cups that have "1st birthday" written on them or even printed ones with you babies smiling face on them.
Confetti – The more of it the better and although cleaning it can be a problem this is not to stop you going OTT with them.
1st birthday Cake smash outfit – Having a special cake for them to blow out is one thing, but really they want to touch it, feel it, eat it and get messy whilst tasting it…
Candle – Having a candle they can blow out is important and the bigger the candle the better for your child.
Party Hats – Everyone at the party should have 1st birthday party-hat on and make the fun-fantastic.
1st Birthday crown – Every 1st birthday boy should have a crown on their special day and some really are made to stand-out.
1st birthday plush crown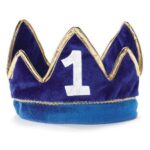 Chair or high chair covers – There are loads of ways to make the party a special one and decorations everywhere make the day unique.
First birthday baby bib – all the cake and food gets messy, so why not have them clean and mess-free with a themed 1st birthday baby bib.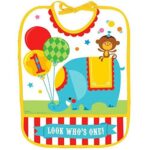 Party Music – Why not get your own 1st birthday music CD to play anywhere, so the fun begins and dancing continues.
Balloons – Every child including most of us love playing with balloons and the more the merry they say. Party balloons make the party come life and there are themed ones every special day. There are blue foil balloons, balloons for bouquet wall decorations and the usual assorted color balloons, so whatever your final theme for the party there is a balloon to make things come alive.
Wild one's balloon birthday decoration kit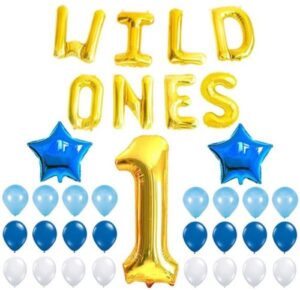 Your little boy is turning one and he means the world to you and the whole family, so the question is now "how to make this one special?". The 1st birthday is sometimes challenging and you want to make sure everything goes just right.
There are loads to consider and getting organized means getting busy, sending invitations, getting food and the menu sorted, plus all the 1st themed party accessories to make it special. The list could go on and on and that's why I have put together some considerations as well as awesome birthday party ideas for your little boy, which we hope you found helpful.