Toys are for playing but what if the kids can learn from them too? Now the manufacturers are making toys that improve the brain functioning of kids. In addition to this, children can also learn different things from them.
For example, there are toy sets that have alphabets in different colors. This makes the kids learn about alphabets, their shapes and different colors. Thus, children will be able to develop a better understating of these things.
Here are some of the suggestions for you.
Cool Sets for Kids
1. 29 pcs fidget toy set for kids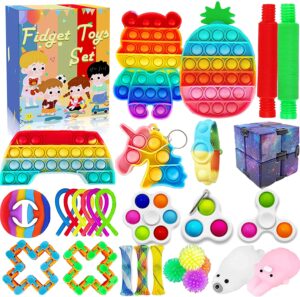 This is the best toy set that you can get for your kids. It has all the latest toys that are present in the market. They offer multiple functions. Firstly, you will have the pop fidget in different shapes. One is a bear shape, the second one is a pineapple, a pony head and a gaming remote. And then a small wristwatch shape. All these pop fidgets make children learn about colors and shapes.
Apart from these, there are other toys, like pressing balls and puzzles. All these toys are also meant to release stress and anxiety. Therefore, even if you are playing with your kids, you will be able to relax. You can spend some time with your kids and will also have a stress-free time. The fidget spinners might be to your liking.
The most amazing thing for you is that this set is quite budget-friendly. You will get a pack of 29 toys. So you do not have to buy many things. A single set will be enough for your kid. Even if you have two kids, they will be able to play together with all these toys. Or you can give it as a gift to someone else. So if a birthday is coming up and you are unsure of what to buy, you can choose this as a gift.
2. Educational insights shape beanbags for toddlers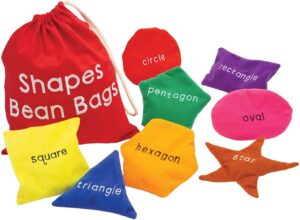 If you are thinking of buying something for learning and educational purpose, this can be your best choice. You will get a bag full of smaller beanbags in different shapes and colors. Every shape is written on the bag. There will be a set of 8 beanbags. All the shapes are quite smaller and made for small hands. So the children will be able to handle them easily.
You can set time for them to play and it will be meaningful too. Every set will have a square, hexagon, triangle, circle, pentagon, star, rectangle and oval. Children will be able to remember the shapes and colors while they play. Thus, they will start remembering things from an early age. These educational toys are so good for children they offer them a fun learning experience.
Apart from these, you can also play other games with them. For example, you can try the toss and catch a game. Children will have to toss the beanbag in the air and catch it again. This will improve the motor and cognitive skills of children. In addition to this, children will be able to maintain their body balance and learn about this too. These things will imprint in their mind and act as subconscious things.
3. V-Tech Smart Shots Sports Center

This is a small football and basketball court. So if you have a baby boy and you want him to learn things from an early age, you can try using it. Of course, this is a toy and children won't play as in real games but it is still quite good. This gaming setup is designed for toddlers therefore, this is enough for them. It will offer a rich playing and learning experience to them.
Apart from the gaming zone, there are other features too. The first one is the shape buttons. There are different shapes like a prize cup, a ball, a team and others. They will make your kids learn about shapes. Furthermore, every button has a different function. So when they press a button, a particular thing will happen. This will improve the memory and brain performance of your children.
There is a number option too. So with every single goal, the number will change. Thus, the children will be able to remember the numbers and their shapes. So this game will teach them, balancing, improve their balance and also some maths. The football game will let the kids kick the ball. Thus, they will be able to improve their motor skills and body balance and improve their subconscious mind.
4. Hand 2 mind Sensory Fidget tubes toys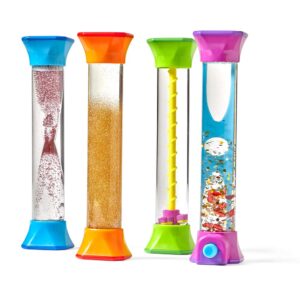 This is a set of 4 tubes filled with exciting surprises. These playing tubes act as a problem solver for children. There is no stress on kids because there won't be any screen. But the different colors and glitters and characters will make the playtime a fun time and exciting event for children. And while they are playing, you can also relax with them.
They will be mesmerized as things move up and down. Two of the tubes have glitters with different shapes. One has a cylindrical shape and the second has a conical shape. Thus, children will be able to remember shapes and colors. Both of these tubes have different glitter colors and thus, the option of teaching them colors. These will improve the sensory skills of your kids as they play with their toys.
These playing tubes also act as occupational therapy. So whether you want to get it for your kids or want to gift it to someone's kid, you can go with it. These tubes relieve anxiety and calm the children. Furthermore, they are quite easy to use. Children won't need any special skills. And even if you are using it by yourself, you won't need any special skills. The glitters and particles move smoothly downwards. Thus, the children will be focused on the downward movement of particles instead of being stressed.
If these weren't enough, check out some other picks from Amazon also: