Travelling with your little ones can be stressful. Even when you're travelling to an exciting destination, the constant attention you'll need to give your children may suck some of the fun out of the journey. But it doesn't have to.
The key to travelling with kids is to bring great products with you that will keep them preoccupied, pacified, and safe. The best travel products for your young ones are those that are easily transportable, but which don't sacrifice quality for size or collapsibility.
Here are some of our favorite products that will make travelling with children and babies much easier.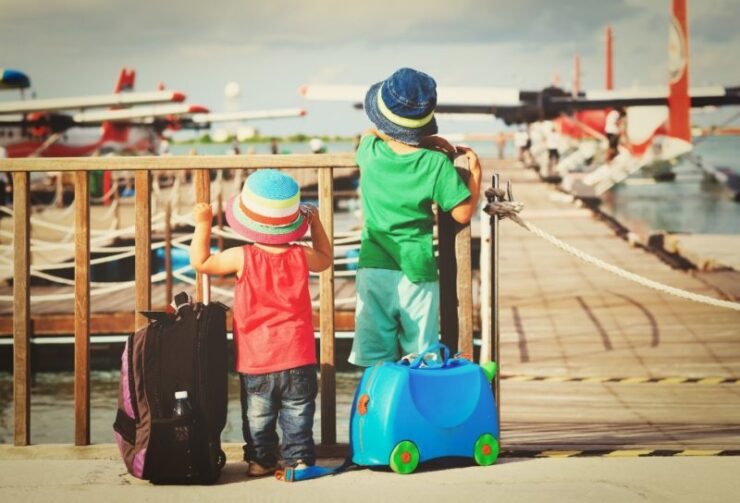 Airplane Restraints for Children
There are many car seats on the market that are made compatible for airplane seats. But car seats are tremendously difficult to carry on a plane. The aisles are narrow and the seats are small. Plus, it's a real chore to carry when you're also carrying carry-on luggage.
If your child is age 1 and over, and weighs between 22 and 44 pounds, an airplane restraint system might be the perfect travel item. The CARES Child Aviation Restraint System is a light and durable strap that hooks into the airplane seat. It's ergonomic and there's no bulky car seat you have to carry. When the plane lands, you can quickly detach the restraint and wrap it up—you can easily fit it into your backpack or purse.
If your child is younger than 1 year old, you should definitely opt for a convertible car seat.
Airplane Goody Bags
Here's a travel item for anyone who's flying with a baby. Bring goody bags filled with small sweets or snacks. These aren't for your baby—they're for the surrounding passengers.
Many parents don't like the idea of giving goody bags to compensate for a crying baby. BA crying baby is natural, isn't it? Shouldn't people be more patient and kind? Absolutely. Unfortunately, we don't live in a perfect world and there's a good chance you'll encounter some less patient and less kind individuals on the flight. Giving goody bags to surrounding passengers is a good way to appease those particular individuals. Your flight is going to be far more stressful if you have to contend with a rude passenger who's constantly complaining to you about your infant.
A cellophane bag is perfect, especially this one that has "Thank You" printed at the top. You can fill the bag with whatever you like. We recommend that you fill it with small chocolates or candy. Cellophane bags are usually small enough to fit into a backpack, or you can bring them in a small grocery bag (once you've given them out, you can stuff the grocery bag away).
Baby Rocker
Here's another item for those travelling with an infant. No matter where you're going to—to a different state or to a different city—you'll want to have a comfy space for you baby to lay out. Obviously, a crib is a very difficult item to bring on a trip. So get a portable baby rocker instead.
Guava Family manufactures the Lotus Bassinet, which is a soft and portable rocking crib that you can easily fold up and transport. The crib folds into a backpack carrier, so it's easy to walk with. It's also small enough to take with you as carry-on luggage, and to squeeze into the backseat of your vehicle. Wherever you bring your baby, rest assured knowing you'll have a rocking crib to stop your baby from crying and to help put your baby to sleep.
Tablet
Bring a tablet to entertain children who are a little older. Parents swear by tablets. You're able to load movies, TV shows, and games that will keep your kids preoccupied and entertained if you're on a long flight or car ride. Be sure to load the tablet with as many different kinds of entertainment as possible, because children tend to get bored of each one very quickly.
There are lots of different tablets on the market that are budget-friendly and optimized for kids. See this list of the most popular tablets.
If you're going camping, just be sure to take away the tablets until the car ride home! You want your kids to learn how to enjoy the great outdoors.
Packing Cubes
Packing can be quite a hassle when you're travelling, especially if you have kids! Most kids don't have the patience or organizational skills to pack their own bags—unless they have the right bags! Use packing cubes to pack all of your children's luggage.
Packing cubes simplify the packing process for children. With a little assistance, your children will be able to organize their own bags and learn some important organizational skills. Packing cubes usually come in a variety of bright colors that children love.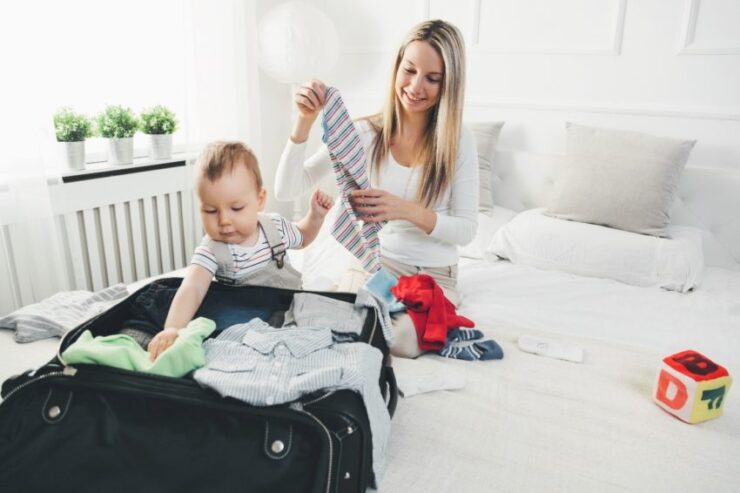 Are there any products you feel are necessary for travelling with children? Tell us about them in the comments!