Many young kids are fascinated with fire trucks and love to see them zooming past outside. In fact, any emergency vehicle seems to be a common interest for youngsters. That's why choosing them a fire truck toy to play with is a great idea. They will have hours of fun pretending to be a firefighter – these toys are great for developing the imagination. With toy fire trucks coming in a wide range of different styles, it can be difficult to choose the most appropriate. That's why we have picked out a whopping 30 different fire truck for kids for you to browse through, and have also provided some helpful buying tips and advice to help you pick out the one your child will love the most.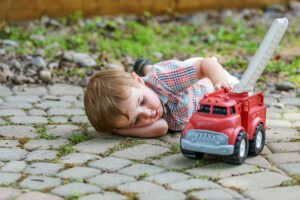 Considerations When Choosing Toy Fire Trucks
There are a few factors to think about which will help you choose the toy your kid will love the most. First, the type of toy. There are many different styles on offer, so think carefully about the type of toy your child typically enjoys playing with. You can find remote control models, small and detailed trucks, large, chunky ones perfect for outdoor play, LEGO model trucks that have to be built before playing or even a ride on fire truck perfect for developing your child's gross motor skills.
Also, think about the age of the child who will be playing with the toy. Some of these fire trucks for toddlers and younger children to use, whereas others are more age-appropriate for older children. Check with manufacturer guidelines before purchase to ensure the toy will be suitable, and not potentially dangerous for your child.
Check the materials used to make the toy to ensure it is safe for your child to play with. It's best to choose a well-known manufacturer or a toy with many good reviews from fellow parents to ensure the quality is good enough.
30 Top Fire Truck Toys for Kids
It's now time to take a look at 30 of the best fire trucks for kids on the market today. You can find all different styles of toys here, so there is sure to be something your child will love, no matter what you are looking for.
1. Green Toys Truck

First up we have this large, sturdy truck that is ideal for either indoor or outdoor use. The truck has a ladder that can be raised up and rotated through 360 degrees, and there are also removable ladders on either side of the truck too. So, it's perfect for all those important rescue missions. This is a great pick for environmentally-conscious parents as it is made from BPA, phthalate and PVC-free recycled materials. What's more, the coloring is achieved through soy inks, and all materials meet FDA food safety standards, so you can be sure your child will be safe when playing with this. The truck can easily be cleaned if it gets dirty when used outside – it is dishwasher safe or can be wiped clean with mild soaps.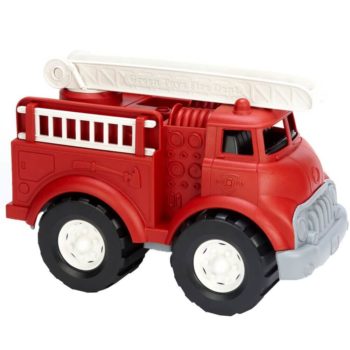 2. Funerica Truck with Sounds and Lights

This truck is sure to entertain your child every time they play with it – it has flashing lights and plays realistic siren noises. There are three different sound effects to choose from, and the truck also comes with a set of different firefighter figures to help put out the fires! The ladder is extendable for even more fun, and there is a cabin at the top for one of the figures to stand in. The truck has friction-powered wheels, so it can move over most surfaces easily and quickly when it is pushed. The truck is made in the 1:20 scale and offers great value for money.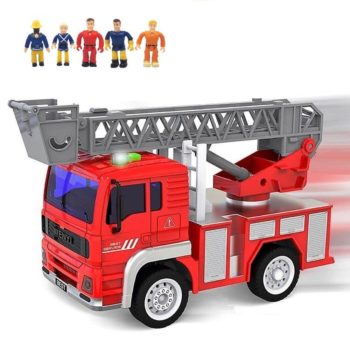 3. Sounds & Lights Truck

Here we have another truck which plays sounds and lights, similar to the one above. This one has four different sound effects to choose from – the engine starting, driving, bugle and siren sounds. So, kids can role-play a whole variety of different situations. It also has lights both inside and outside the truck, which adds to the fun. There are five Fireman Sam figures included with different firefighter uniforms on. The ladder can be raised up and also swivels, to ensure the firefighters can always put out the fires easily. The truck will go far and fast when given a push, thanks for the friction wheels.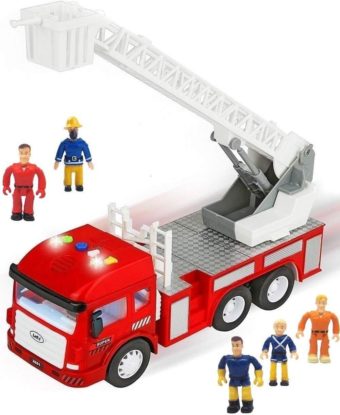 4. LEGO Duplo Buildable Truck

LEGO is popular with kids of all ages, but some of them can be difficult to build. That's why the Duplo range is great. This model has only 26 pieces, and they are large and chunky, with most of it already assembled. So, kids from the ages of around 2 – 5 years old can enjoy this set. It comes with the fire engine with moving parts, a small house, a figurine and a 'fire' to put out. The crane on the truck moves and the figure can stand inside and hold the hose, so kids are sure to have hours of fun using their imagination to act out fun scenarios with the Minifigure. The pieces of this set are interchangeable with other LEGO Duplo models, so if your child already has a collection they can build creatively by combining the sets.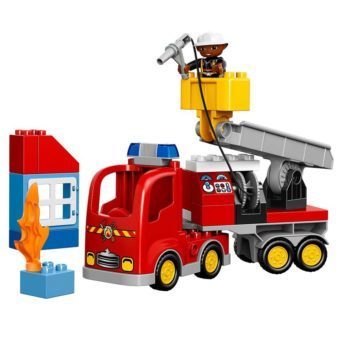 5. Paw Patrol Marshall's Truck

There's a good chance Marshall is your child's favorite firefighter, and if he is, then they are sure to love this cool toy. The set comes with a Marshall figure, dressed in his signature uniform and helmet, ready for some fire fighting action! The truck has a moving ladder which Marshall can climb to help him on important rescue missions. The toy is officially licensed by Nickelodeon, so you can be sure it is of great quality and built to last. It's perfect for any little Paw Patrol fan!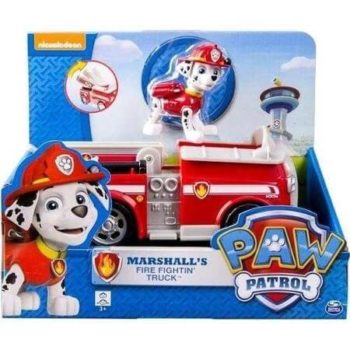 6. Toy State 14″ Fire & Rescue Vehicle

Next on our list of the top fire truck toys, we have this nice 14-inch model from Toy State. It has some buttons which help it perform a variety of fun and exciting functions which are sure to delight your child. For starters, it can drive forwards and in reverse at the touch of a button – kids will love to watch it go and then chase after it! There are also buttons that play fun and life-life sound effects and phrases, and there are even lights, too. The ladder can both extend and swivel, to ensure little firefighters can always complete their missions properly and safely. Kids will love the realistic details on this truck and are sure to want to play with it over and over again!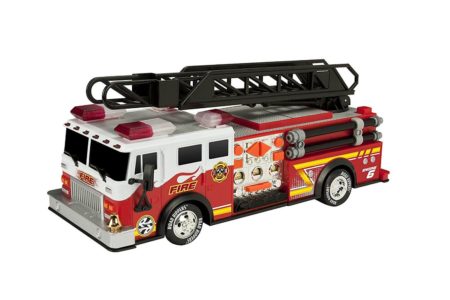 7. Kid Galaxy Squeezable Firetruck for Kids

This soft and squeezable kids fire truck is a little different from the ones we have looked at so far. It is a great pick for younger children, as they won't injure themselves on any sharp edges, and it also won't damage the walls or furniture if it is crashed into them, parents will be glad to know. There are flashing lights on the sides of the truck and on its hood, which are sure to appeal to your child. It comes with 3 AA batteries to power the lights, so you don't need to provide these. The toy also plays siren and engine sounds with the touch of a button, and the buttons are easy for even young children to operate. This is perfect for kids aged 2 years old and upwards.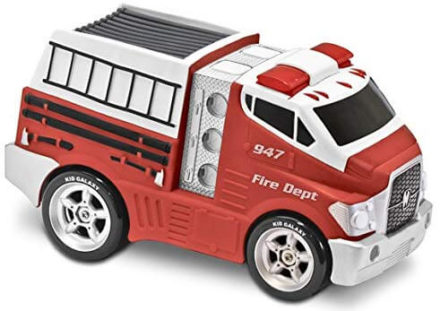 8. WolVol Electric Firetruck

This toy fire truck is battery-powered so it can move around on its own. It can move forward and backward and even spin 360 degrees, and if it crashes into something when it is traveling, it will simply change direction and continue onwards. The truck is covered in flashing lights in a wide array of colors – sure to mesmerize your child every time they play with it. It also plays horn and siren sounds as it drives around. Three AA batteries are required to keep the truck moving independently.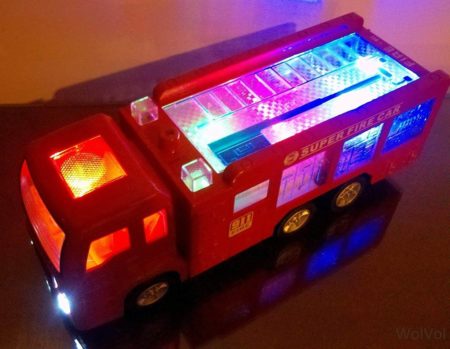 9. Kid Galaxy First RC

Remote control fire truck toys are always fun, and this one is perfect for beginners thanks to its simple controls. The remote is shaped like a steering wheel and is easy-to-hold, and it has just two buttons to maneuver the truck. So, it can be enjoyed by children as young as two years old. The truck is a good jumbo size and is made from soft materials so it won't cause damage to any walls or furniture in the event of a collision. The top speed of the RC toy isn't very high, but that means it is great for beginners to learn to control.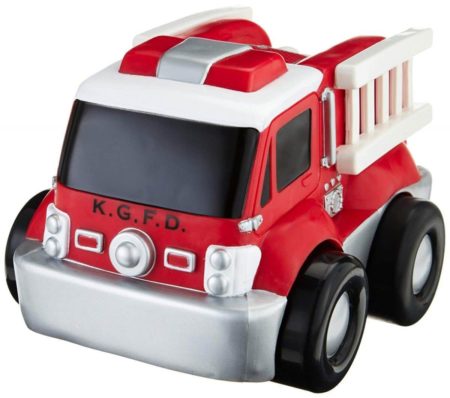 10. Gizmovine Friction Power Truck
This attractive toy has loads of cool and fun features to ensure it will keep your kid entertained for a long while. It offers four different life-like sounds and has flashing lights on its roof, too. The rotating, extending ladder has a rescue basket at the end, which makes acting out rescue missions even more fun. The truck is made from durable materials, which means it is equally fun to play with outdoors on the lawn as it is to use in the playroom. This truck is made in a 1:16 scale, so it is a great size, and the friction power action means it will roll forwards easily when pushed. It even comes with batteries included so they can start playing straight away.


11. Liberty Imports RC Fire Engine

Our next pick is another remote-controlled truck, this time it's the 13-inch long one from Liberty Imports. It has a control range of up to 30 feet and has an easy-to-use controller with switches for forward/reverse and steering left/right. The ladder can extend up to 17 inches as well as rotating through 360 degrees. The plastic this truck is made from is crash-resistant, so it's not a problem if your child is still a beginner when it comes to driving RC vehicles. The truck is, of course, also equipped with lights and sirens. It takes five AA batteries in total, so make sure you have some ready because your kid is sure to want to start driving this truck straight away.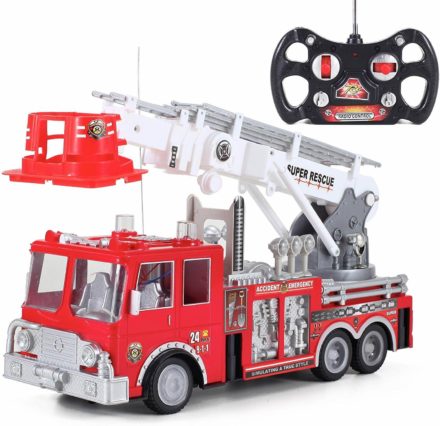 12. Liberty Imports My First RC

If you like the RC fire truck above but your kid is too young for it, how about this simple one from the same brand instead? It has a steering wheel-shaped controller with just two buttons – one for forward and one to turn whilst reversing. The remote is easy for little hands to hold, in fact, this toy is suitable for toddlers as young as 18 months old. The firefighter figure is removable for additional play opportunities. Different areas of the vehicle can be pressed to make fun sound effects, such as the steering wheel, roof button and pushing the driver into his seat.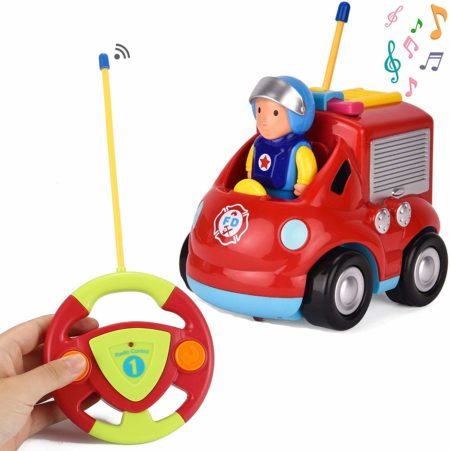 13. WolVol Electric Truck

Our next pick is this cute-looking truck from WolVol. It has a smiling face and big eyes which are sure to attract your child's attention. The car will drive around independently, and if it bumps into any objects, it will change direction and keep moving. The lights and sounds will play as it moves around, but parents will be glad to know it is possible to turn off the sounds and just have the lights flashing! There are different buttons to explore which will teach kids about the different rescue departments, and the sounds their vehicles make. The truck can be used in English and Spanish, so it's perfect for introducing your child to a second language.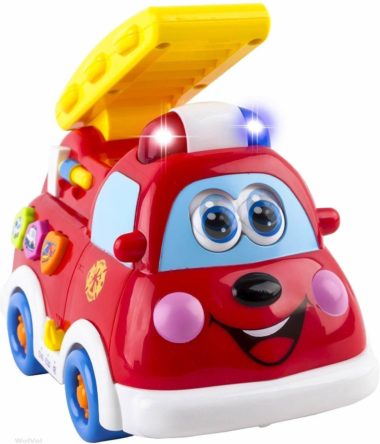 14. Fisher-Price Lift 'n Lower

Fisher-Price's Little People range is always extremely popular with young children, which is why we have chosen to feature this fun Lift 'n Lower firetruck toy. It plays loads of fun sounds and phrases which teach children about fire rescue services, as well as opposites and colors. So, you can be sure they will always learn something new when they play with this toy. It comes with a boy and a girl firefighter, as well as a cute dog dressed in a fire helmet. The figures can slide up and down the ladder, and doing so will activate the sound and light effects. You can also press a figure into the driver's seat to hear more fun phrases played from the Little People fire truck.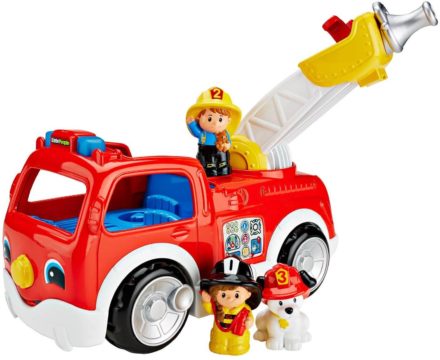 15. Bubble Blowing Fire Engine

If you're looking for something a little different, this unique bubble-blowing fire engine is just what you need! It has a funnel on top and comes with a bottle of bubble solution to fill it with. Then, just switch it on and watch as the bubbles come pouring out the top, sure to give your child endless hours of entertainment! It has fun LED lights and siren sound effects, too. It will automatically drive around and has bump-and-go technology so it will keep going regardless of what it crashes into.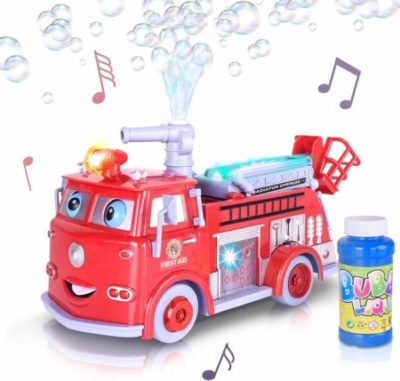 16. Tonka Mighty Motorized

Tonka is one of the best-known names when it comes to toy trucks for kids, and this awesome firefighter truck is a great buy. It lights up and plays realistic sound effects and even has a motorized ladder. There is a panel of buttons on the side of the truck to access these fun features. The truck is made from durable plastic, and the ladder can be extended to twice its original length, as well as moving around electronically.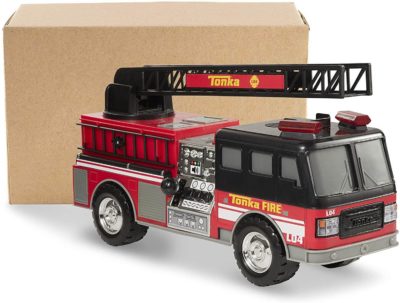 17. Toy State Rush & Rescue
This 14-inch long truck has a range of fun, electronic features that make it really appealing to children. Not only does it have sounds and lights, like many other toys like this, but it also has the ability to drive forwards and reverse at the touch of a button! There are different shaped buttons on the side of the truck which allow kids to easily make the truck perform these functions. It also has a large ladder and spoken phrases and music, as well as firetruck sound effects.


18. Big Daddy Fire Rescue Playset

This playset comes with everything a kid needs to set up their very own emergency rescue scene! It has two fire rescue trucks, as well as a range of other vehicles and accessories such as firefighter figures, road signs and even a gas station to get the vehicles ready for their rescue mission. The trucks are made from die-cast metal as well as plastic to ensure they are high-quality and built to last. Kids will have hours of fun with this set, which is great for their imagination and also for developing a sense of empathy as they think about how the firefighters respond. It's in a smaller 1:87 scale, so this is not one for very young children, under the age of 3.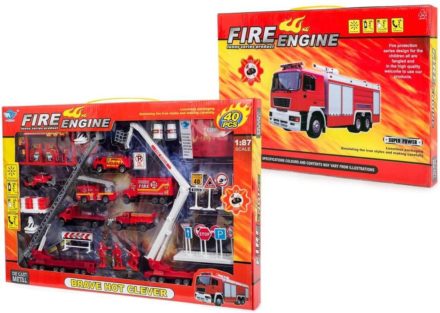 19. Tonka Rescue Force

Next up, we have another pick from Tonka, this time it's the Rescue Force truck, which comes in at 12-inches long. Like many other similar toys, this one plays sounds and lights up to keep your child interested. It takes 3 AA batteries, which come included when purchased. The sounds and lights work together, so it's not possible to have one but not the other. The ladder can be moved for more imaginative play, but unfortunately, the doors can't be opened.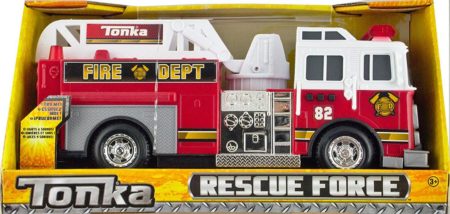 20. Hess 2000

This truck looks a little different from the typical red of many firetrucks, and it has a huge ladder that can reach a length of up to 22 inches. It also has real, working head- and tail-lights, as well as emergency lights too, of course. As well as the lights, the truck has horn and siren sound effects to further add to the fun. There are two removable side ladders, which can join together to make a longer ladder. Furthermore, the truck has stabilizers to keep it from tipping over when the ladders are in use, just like a real firetruck!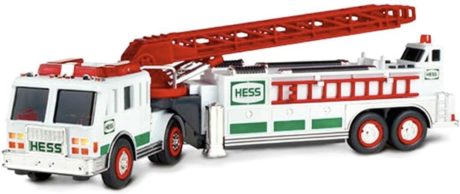 21. Liberty Imports Pop-Up Tent

Here we have something a little different. If your kid is longing for their very own firetruck to go inside, this could be the next best thing! The pop-up tent is very easy to set up and can be stored away after playtime just as easily. It has two holes on the roof for kids to have a lookout, and the back has an opening flap to allow them easy access to the inside. The tent is made from durable material which is easily wiped clean, parents will be glad to know. The length is 44 inches whilst the height and width are both 27 inches – perfectly sized for toddlers and young children.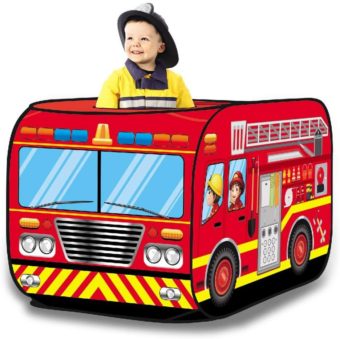 22. Die-Cast Two Pack Trucks

These metal die-cast trucks come as a pack of two, each around five inches long. The have pull-back-and-go action so they will travel far on their own after being pulled back. The materials used to make these trucks are high quality, so you can be sure they will be able to withstand some rough play. The ladder on one truck can be adjusted to various lengths up to 20 inches, and also rotated through 360 degrees. The other truck is fitted with a fire hose. These trucks don't need batteries, instead using friction power to move forward.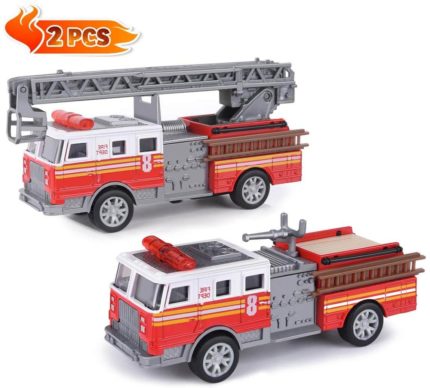 23. Top Race Fire Engine With Water

If your child would love fire engine toys that really shoot water, this one from Top Race could be just what they need. It can move around on its own, turning around when it meets any obstacles. It also has blue and red flashing lights, just like the real thing, and also plays siren sounds at a reasonable volume. The extendable ladder can reach 12 inches long as well as rotating through 260 degrees. There is a funnel on top for pouring the water in, and it can be shot a distance of up to 6 feet at the press of a button. The truck is ideal for 5 years old and above, and it takes 3AA batteries.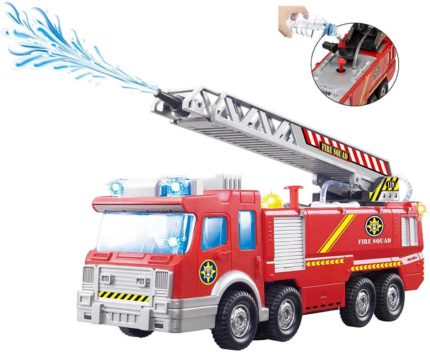 24. Fisher-Price Mickey Mouse Firetruck

If your child is a Disney fan, this is probably the perfect fire engine to choose for them! It comes with a cute Mickey Mouse figure riding at the top of the ladder! The toy is decorated with Mickey-themed details, such as his hands holding the side ladders, and his pet dog Pluto sitting in the back of the truck. When the truck is pushed around, it plays fun Mickey sounds and phrases, as well as siren sounds. The firefighter Mickey figure can be taken out of the truck for more play opportunities. This is a great set for kids aged 2 – 5 years old and it needs three LR44 batteries for the sound effects, which are included.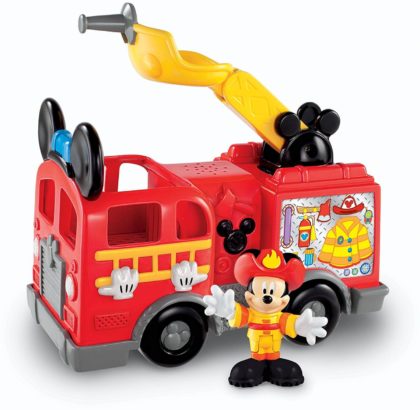 25. LEGO City Fire Ladder Truck

There are thousands of different LEGO sets out there, but if you're buying for a kid who loves emergency rescue vehicles, this is surely the one to choose. It is suitable for kids aged from 5 – 12 years old and has just over 200 pieces to build and play with. The pieces in this set can be used to build the truck, and you can also find a male and a female firefighter as well as a 'fire' to extinguish. There are some fun accessories included, and the truck has a hose attached to the side which can be pulled out. The ladder on top is also extendable to allow the Minifigures to reach burning buildings more easily!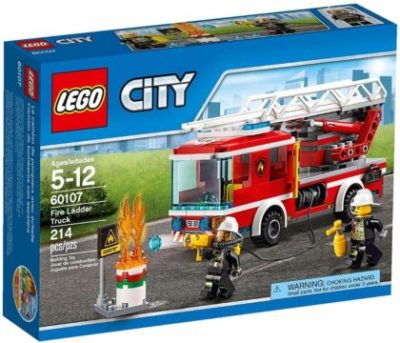 26. Bruder Mack Granite

This Bruder fire truck for child is a great size and is a highly-detailed model that is sure to bring years of joy to your little one. It's made from quality ABS plastic which won't fade in color over time. It's possible to make the truck make sounds and light up, or these components can be removed to have a quieter toy. There are four buttons to create different sound effects, if required. Some of the nice details on this model include opening doors and hood, movable mirrors, and stylish chrome elements.
The truck can really shoot water – there is a tank inside which is easily filled. The ladder has a rescue basket at the top and can be extended to a length of four feet using a wheel. There are support legs on the side of the truck to keep it stable when a rescue operation is underway. The truck is fitted with a storage area for firefighters to keep their tools neatly stored.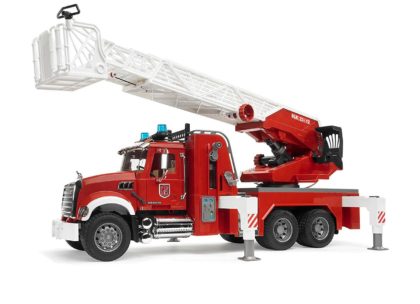 .
27. InStep Pedal Car

Next up we have something a little different, a fire truck ride on toys car. It's suitable for kids aged three years and up and is made from solid steel for a retro look and feel. There are rubber tires and chrome hub caps and the steering wheel which makes the car easy to control. There are also pedals inside to keep it moving forward. The maximum weight capacity of the ride on car is 70 pounds, so it is sure to give many years of enjoyment before being outgrown.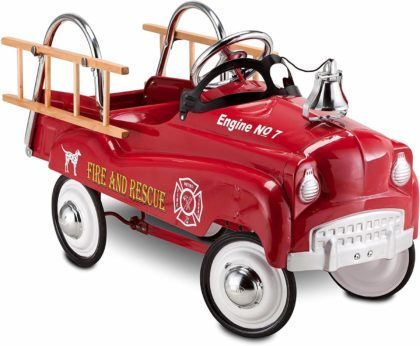 28. Dickie Toys Truck with Water Pump

This Dickie Toys fire rescue truck is highly detailed and sure to impress your kids. It is packed with fun features, starting with the light and sound effects, rotating and extending ladder with a rescue basket, and accessories for helping put out the fires. These include hand-held fire extinguishers and safety cones, perfect for helping kids use their imaginations more when playing. Kids will love the life-like details on this model! The working pump is a lovely feature they are sure to want to use over and over again.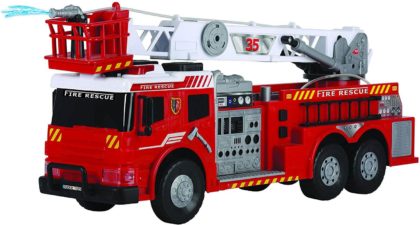 29. FDNY Gift Set Vehicles

Our penultimate pick is these five die-cast metal FDNY vehicles. They are officially licensed, so you can be sure they are great quality and highly-detailed. As well as the two firetrucks, this set comes with an ambulance, a helicopter, and a fire car. Kids will love the FDNY logos on the vehicles, and they are perfect for kids aged 3 years and up.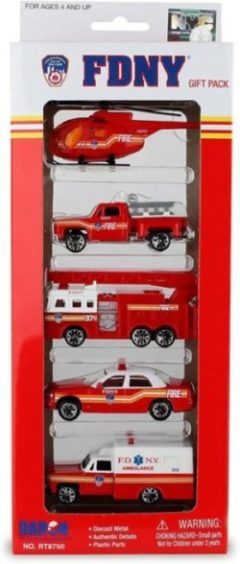 30. Emergency Vehicle Transporter

Finally, we have this transporter filled with four emergency rescue vehicles – two firetrucks, a helicopter, and an airplane. The transporter is 15 inches long, whilst each of the smaller vehicles is 4 inches long. The toy plays music and other sounds, and also has lights to make it even more attractive to your child. The transporter has a ramp to allow the other vehicles to be placed inside so they can easily be transported to the scene of the emergency. The firetrucks are friction-powered so they can move fast and far, whilst the others can only be pushed around.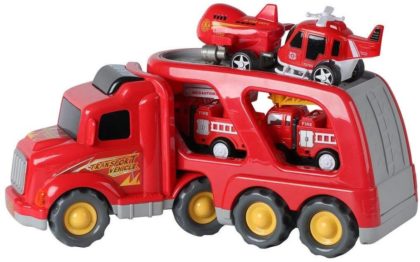 Best Buy Overall
The Bruder truck is our favorite of all the fire engines toys reviewed here, for many reasons. It is a great size and has loads of stunning details, so it's sure to be well-loved and played with for many years to come. It is made from high-quality and durable materials to ensure it remains in great condition until outgrown by your child. This kids fire engine is just like the real thing, with the details and features it has, such as the sounds, lights, chrome-effect details, and the large, extending ladder.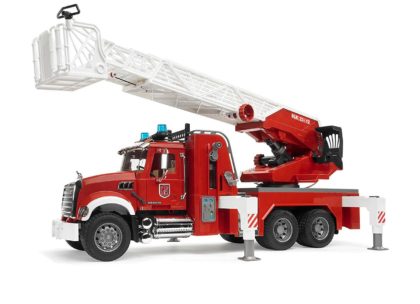 Best Budget Buy
If you are looking for a cheaper option that is still packed full of epic features, we recommend truck #20 on our list. It is a nice size and looks great, sure to attract your child's attention time and time again. They will love the huge ladder, which makes any rescue mission easier!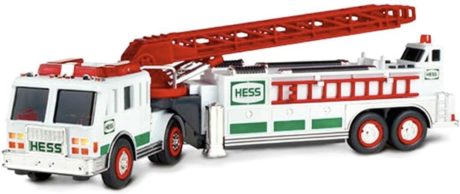 How Much is a Toy Fire Truck?
The toys we have picked out here vary greatly in price depending on the brand, size, features, and more. The cheapest toys come in at around $10 – $15, whereas the most expensive can cost upwards of $100, for the ride-on trucks. The more expensive toys which can't be ridden on tend to come in at around $50 – $60, for the larger trucks which are packed full of fun features. The range of price points should ensure there is a toy above to suit all budgets, and you can check out our best buy and best budget buy to help ensure you get the best value for money depending on how much you have to spend.
Where Can I Buy a Fire Truck Toy That Shoots Real Water?
Some of the trucks picked out above can really shoot water, which is great fun for kids! We have highlighted in the reviews which trucks have this fun feature. These toys are best used outside because it's likely your child will want to spray the water all the time once they have discovered their new toy is capable of doing so!