G.I Joe is a popular series of action figures that were first released in the '60s in the U.S and later developed into a film series in 2009. A.K.A the American heroes, G.I Joe dolls have built upon the idea of the traditional action figure and have developed characters that can navigate battle on land, sea and even in the air. If you've decided you want to buy a G.I Joe action figure of your own, gift one to a friend or perhaps add one to your existing collection, there are a few considerations you should keep in mind…
Things to Consider if Buying a GI Joe Figure
Date released:

G.I Joe action figures are historical and have been around for a long time. If you want to invest in one of your own, think about whether you're buying it to collect or rather for entertainment. If you anticipate that the action figure will be played with rather than kept on a shelf in its box, go for a newer version. There are plenty to choose from as you'll see in our recommendations list!
A Single figure or a pack?

The range of G.I toys is vast, you're going to have lots to choose from including vehicles too. The Rise Of The Cobra series is particularly popular and worth looking at, a cool helicopter can take to the sky to battle whatever it encounters or go for a sea vehicle which can take on the highest tides to defeat enemies.
Budget.

Whether you're buying your first G.I Joe action toy or if you're an avid collector, price tags come into play. Have a look into what you can get for your money's worth, especially when it comes to collectibles as there is always the opportunity to profit in the future. The older series may come at a higher price tag but if kept in good condition they can be sold at a later date to a collector.
Do your research if you're choosing a collectible.

Action figures are collectibles and if you're looking to add to your own, there is lots of choice! G.I Joe toys vary in worth but some of the most notably valuable ones include the 1983 Duke as well as the 1967 Nurse Doll to name just a couple.
Best GI Joe Toys in 2023
With so many G.I Joe figures out there, it wasn't an easy list to compile. We've searched high and low to gather our favorite toys from this series for you. Hopefully, they'll soon become your favorites too whether in the toy box or high on a collector's shelf. Let's take a look at which G.I toys we're loving in 2023…
1. Arctic Ambush Set
This 50th-anniversary action toy set includes both a Snow Job and Arctic B.A.T figure. Both of these action figures set off to battle on ice coated and snowy cliffs deep in an arctic ambush. Packed full of adventure, this set is great for hands-on play as well as collecting. It's sure to bring endless hours of imaginative scenes and is fully kitted out with battle accessories, equipment and more. Check out Snow Job's winter camouflage clothing which adds an extra bit of flair to his gear and, why not make a replica of your own?
2. Night Viper Figure
Get your adventure thinking cap on with this Night Viper G.I Joe figure. Kitted out with the latest gear, take on enemies even in the darkest of nights with special night vision! Including over 7 accessories and battle-ready clothing, choose your weapon of preference and take the Night Viper on some nighttime fighting adventures!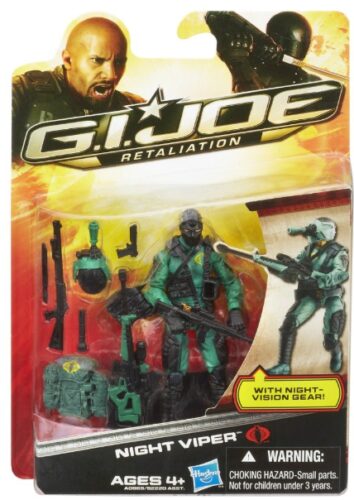 3. 50th Anniversary Mission Accepted Set 
Released to celebrate G.I Joe's 50th anniversary, this special set boasts both an iconic Duke and Tombstone figure as they go head-to-head in battle. Who will you pick to become victorious? Either way, this set is sure to make an impact from the very start with electric blue packaging and 14 weapons and accessories for ultimate fun.
4. 50th Anniversary Night Marksmen 
If you're a fan of rare collectibles, look no further. This G.I Joe set features two exclusive figures that are worth collecting. Released to celebrate the line's 50th anniversary you'll find a Low-Light and Night-Viper figure in the box, both of which wear striking clothing and have many accessories to add on, ready for battle. These Night Marksmen are truly one-of-a-kind and come at a reasonable price too making the set worthwhile in all aspects from fun to the price tag.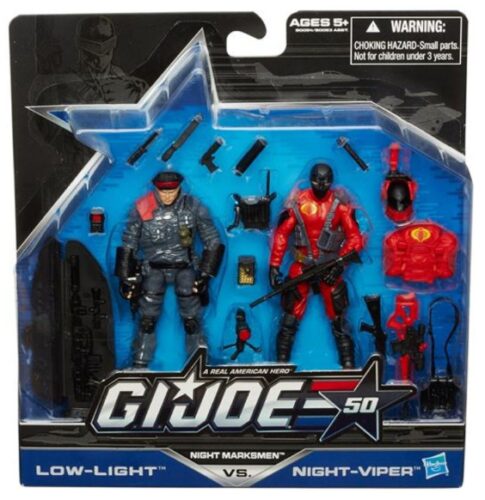 5. 25th Anniversary Snow Job
If the packaging isn't desirable enough to grab your attention, this G.I Joe set features a 25th-anniversary limited edition Snow Job figure. Also known as 'The Arctic Trooper', this doll is fully equipped with clothing and can  take on ice, snow and more. Choose the Snow Job G.I Joe toy if you're ready to take to the landscape that nobody else dares to explore. Find enemies amongst blizzards and show them what you're made of!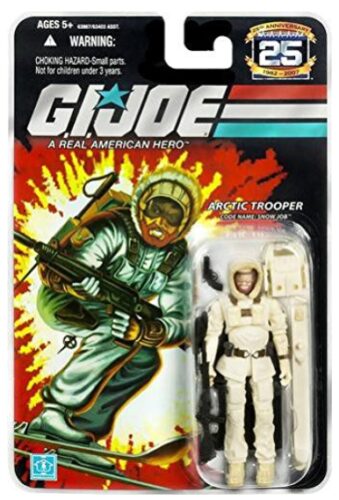 6. 50th Anniversary Heated Battle Pack

It is getting hot, hot, hot with this G.I Joe Heated Battle Pack. Why not create your own fiery fight scenes with this 50th-anniversary pack? Featuring a Blowtorch and H.E.A.T Viper toy, create your own epic battle scenes and fight it out using explosive weapons. Don't forget to use the fire extinguisher if things get too heated during combat.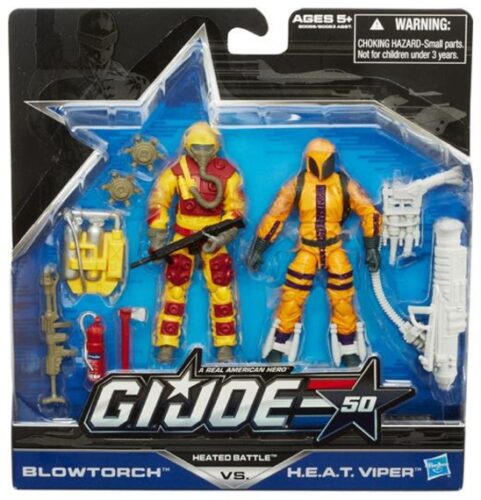 7. Duke First Sergeant 
Released to celebrate 25 years of G.I Joe, this set features the infantryman specialist action figure known as Duke First Sergeant. The classic figure comes with a variety of weapons, a backpack and even a stand for those who want to display the collectible toy. A classic that is a must if you're a collector, add this to your collection now…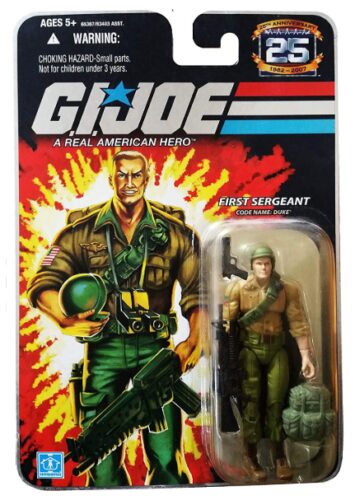 8. Storm Shadow Figure
The international hero G.I Joe figure known as Storm Shadow has a unique swivel arm for extra grip on his bow and arrow during battle, making him one of the most agile toys out there. At a lower price bracket than usual, why not consider buying this toy to add to your fighter collection?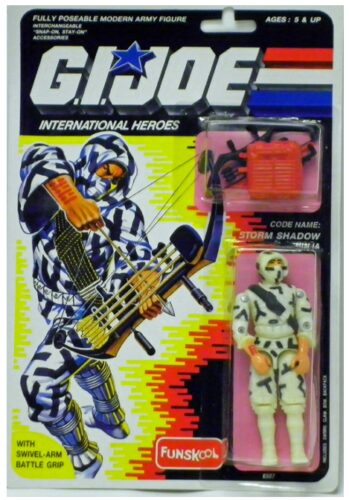 9. Gung Ho Marine
Gung Ho is an icon in himself and is one of the best G.I Joe figures hands down. With an impressively muscular build, a cool outfit and the ability to defeat enemies in a minute, there are plenty of reasons to choose this marine action toy. Released for the manufacturer's 25th anniversary, Gung Ho is a great addition to any classic toy collection.
10. Heavy Conflict vs Stiletto 
Celebrate 50 years of the infamous G.I Joe toy series by Hasbro with this Heavy Conflict vs Stiletto set. Boasting a wide range of accessories including a stand, bullets, a machine gun and even a tripod too! There's plenty to enjoy within this set and it's sure to encourage imagination too.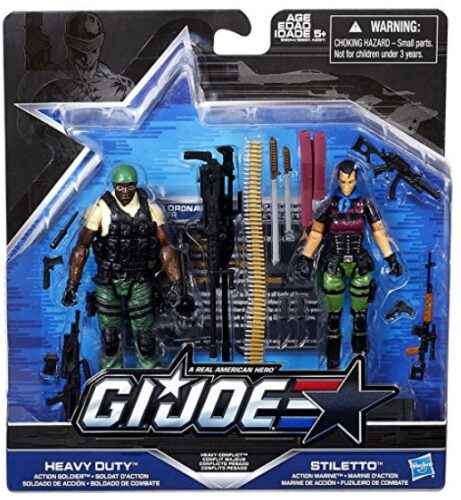 11. Retaliation Blind Master 
Ninja moves at the ready, G.I Joe action toy brings the Retaliation Blind Master to the battle scene… Ready to unleash never seen before moves, the toy comes with a special shield for protection which features hidden blades to surprise attack enemies and stun them before being swiftly defeated. The set also includes a wide range of unique weapons, perfect for sneaking up into battle and a camouflage mask too.
12. The Ultimate Guide to GI Joe Book 
If you're a dedicated G.I Joe fan surely you already have your hands on this guide book and, if not you should certainly invest! Learn everything you need to about G.I Joe's history and equip yourself with the knowledge to confidently choose your figures for battle and more! This book would also make a perfect gift for any child who follows the series.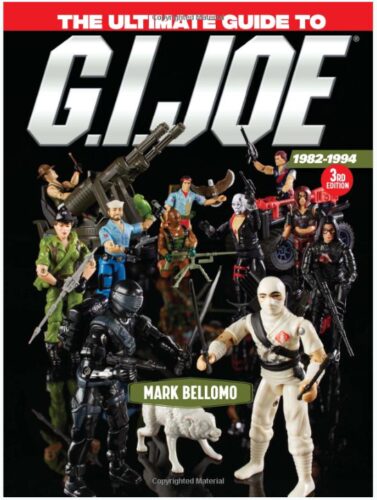 13. GI Joe: Real American Hero DVD Set 
Get the complete first series of G.I Joe on DVD for yourself, family or friends. There's more than one reason to choose this set if you're a fan of the toys. Sit back, relax and brace yourself for some awesome battle scenes with all of your favorite action figures!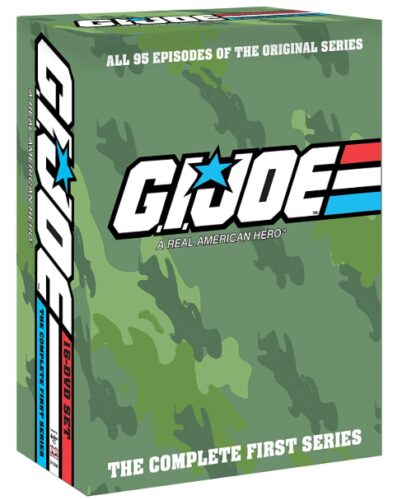 14. Silent Strike Set

Strike your enemies silently with this toy box set. The 50th-anniversary exclusive figures include the infamous Joe Skystriker as well as an impressive H.I.S.S. and, of course, a streamlined plane to take to the sky speedily, battling above. How will you choose to play out your battle in the skies with this G.I Joe set? The possibilities really are endless.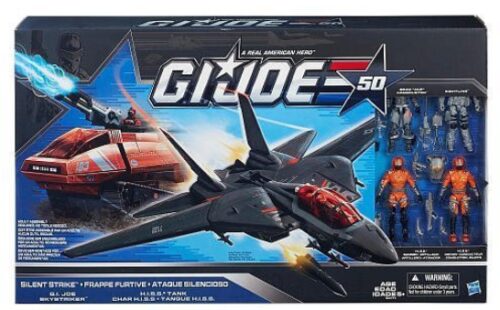 15. Danger at The Docks

A rare G.I Joe set, that really is one-of-a-kind. Inside the box, you'll find two figures: Flint and Cobra Eel ready for battle on the sea. Cobra Eel is part of an expert underwater demolition team and is as agile deep in the sea as any marine animal. Flint is a military specialist and no fight phases this hero as he navigates the landscape in his vehicle fully equipped with a swiveling missile launcher. Which epic character will you choose to battle with? Or, perhaps you'll choose to battle them both head-to-head on both land and sea.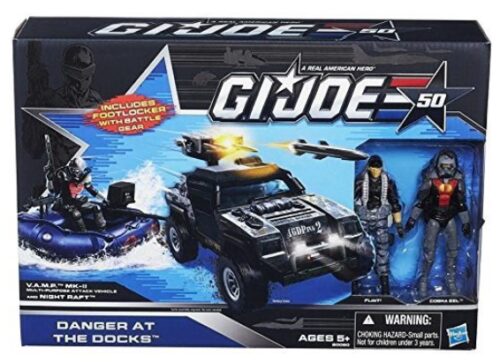 16. Night Raven Vehicle

Lights and sound bring the Night Raven G.I Joe Air Viper to life! This set includes the intimidating Night Raven as well as an Air Viper figure to take to the skies and launch missiles from the cockpit at enemies. Zoom into battle using the vehicle's lock and load firing action, the Night Raven also features an impressive drop-down cockpit as well as retractable landing gear.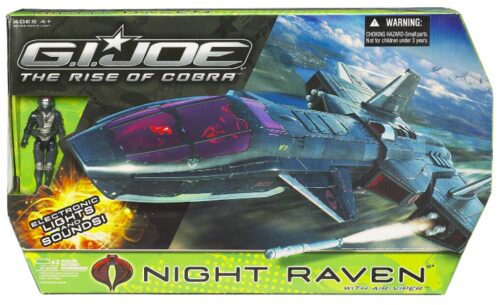 17. Cobra Fang Boat

Battle on the sea in the Cobra Fang Boat with a knockout torpedo launcher that precisely targets and fires at enemies even at top speeds! The vehicle comes with a Swamp-Viper figure responsible for maneuvering the boat on tides, firing missiles at the push of a button and defense.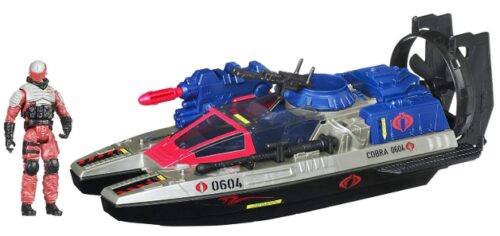 18. Australian Jungle Fighter

This Australian Jungle Fighter as part of the Timeless G. I Joe collection is one to add to the shelf. As a reproduction of the original 60's figure, this toy features fighting accessories such as grenades, a machete and is kitted out in WWII clothing, ready for action deep in the jungle. Why not add this special G.I Joe toy to your collection now?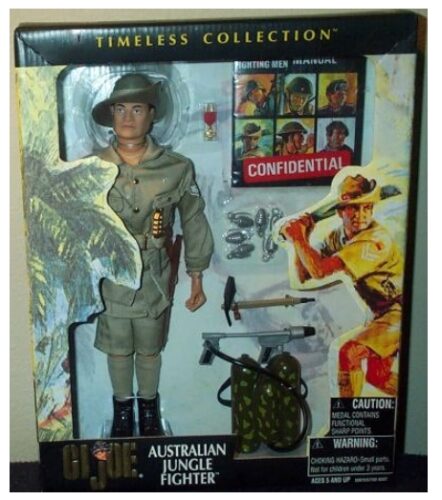 Overall Best GI Joe Toys

As you've seen there are lots of G.I Joe figures out there to choose from, whether you're looking for a vehicle set or want a new collectible to add to your existing collection, making the decision isn't going to be easy with so much choice. If our recommendations haven't helped you narrow the search, we're about to reveal our top pick and, it may be a surprise!
At a mid-range price and standing out for us due to the figure's distinct clothing and name: Blind Master, is our number one G.I Joe toy from the selection above. With what we can imagine as natural agility and surprise moves using only physical force, the Blind Master is as awesome as any ninja gets. And, if the aesthetic of this G.I toy isn't enough on its own, the figure comes with unique weapons including a samurai sword, a mask for disguise and much more for the imagination to conjure up many epic fighting scenes…
Which G.I Joe action figure is your favorite from the list above?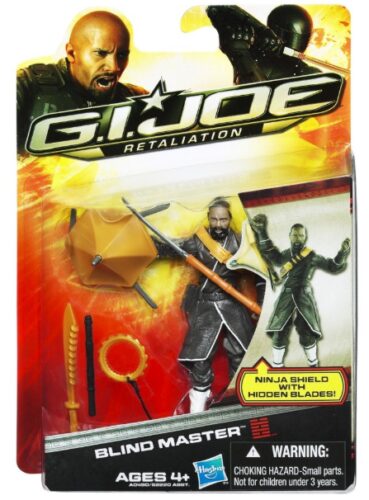 How Many GI Joe Movies Are There?

The G.I Joe figures evolved into a film series in 2009 and is best known as a military science fiction action series when it comes to a genre. The first film, G.I Joe: Rise Of The Cobra, was directed by Stephen Sommers and released in August of 2009. As the debut film, it was a success and was received extremely well making a whopping $302.5 million in box offices. Its cast included Channing Tatum who played Duke as well as Rachel Nichols as Scarlett.
Following the success of the first ever G.I Joe film, in 2013 Retaliation was released in both 3D and IMAX 3D, directed by Jon M. Chu it made $375 million worldwide which saw a significant increase in revenues in comparison to the first G.I Joe movie. The plot was based around the story of a terrorist organization battle against the Joes, framing them as traitors. Dwayne Johnson played the character Roadblock in this hit alongside global superstar Bruce Willis as General Joseph Colton.
A third film is to be released in 2023: Snake Eyes, which is being directed by Robert Schwentke.
When Did GI Joe Come Out?

In terms of the toy series, Hasbro released the first ever action figure back in 1963 and began with 4 characters which represented the 4 branches of U.S military: Action Soldier, Action Sailor, Action Pilot, and Action Marine. A few years later, Hasbro released Action Nurse to extend upon its original collection. Toy designer, Stan Weston was responsible for developing the doll's initial appearance back in the '60s in a bid to change the stereotype that boys 'shouldn't engage with such toys' at the time. Named an action figure rather than a doll, the G.I Joe series was an instant hit and, was later developed into the Adventure Team throughout the '70s, the Hall Of Fame collection in the '90s and the Timeless Collection later during the '00s.
Today there is notable development in terms of the action figure's appearance, having modernized throughout history. G.I Joe action toys have grown in height and have become more complex in terms of their accompanying accessories too.
What Age Group Did GI Joe Target?

Whilst there is a lot of concern around children playing with such toys as the G.I Joe figures, the good news is most of the toys are suitable even for younger children. For example, the Gung Ho marine action toy is appropriate for children aged 5+ and has minimal choking hazards. However, though many of the G.I Joe toys are suitable even for young ages, it's always important to specifically check with the retailer and thoroughly check the packaging before allowing a child to play with these toys to avoid accidents from occurring.
Generally speaking, you can start to introduce this type of action figure toys to children at around the age of 4 years.
What Can Army Figures Teach my Child?
G.I Joe characters have the ability to teach a child many things and we're about to take a look at what can be learned from interacting with army figure toys. You may be surprised!
Cooperation. Many army values are centered around working together as a team and often through acting out scenes with toys such as G.I Joes, children learn that throughout life there are times when you must work together to succeed. Army toy figures can bring children together as they work together on the same teams to defeat enemies.
Real life technology. Army figure toys generally come equipped with weapons and even vehicles as seen in the G.I Joe toys. Different modes of transport and their development can be learned about through interaction with such toys. For example, many of the vehicles are adapted to different types of landscape, air, and even water. Engaging with such toys can teach children about the different modes of transport in everyday life and even how they are powered if adult steps in to engage with the play scenes too.
Imagination. Whilst not specific in terms of learning knowledge, children greatly develop their imaginative skills through interacting with and playing with action figures such as the G.I Joe toys. Whether they're busy planning out tactics for a battle scene or are developing character's personalities, there is lots of exploration to be had when it comes to imagination…
Logical skills. This is especially prevalent when older children play with action figures as they will likely be more into the battle element of playing with army figures. Imagining and planning out battle scenes develops logical skills that are revolved around tactics, maneuvering and more.
Should You Buy a G.I Joe Toy?
As you've learned from this article, there are many reasons to buy a G.I Joe action figure from the potential of future profits when it comes to collectibles to helping a child develop their imagination. In short, if you're a parent there is a lot of positives that can come from interaction with the G.I Joe action figures for your child and yes, you should at least consider buying one!
The great thing about the G.I Joe series is that the action figures are not tied to a specific gender or area within the military making them a diverse toy choice. Whether you're looking to buy a new toy for your own son or daughter or want to start a collection of your own, there is endless fun to be had.
If you're unsure of whether a G.I Joe toy is the right choice for you, think about the possibilities not only when it comes to learning from army action figures but also to the profit that could be made. After all, the series is going to continue to be an iconic one across the U.S in the future too…