Kids are naturally active, which is a habit that should be encouraged as it offers several health benefits. Kids grow fast and when puberty comes, which can be as early as 9 years, it changes things drastically. Body odor is one of the major signs that your child is starting puberty. Although this is a perfectly natural part of child development, it can cause unpleasant situations for young children. Smelling nice will definitely boost your child's confidence; a confident child is a happy child.
Luckily, there are several ways to help control your growing child's body odor, one of which is practicing good hygiene. This includes bathing daily, showering after sweat-including activities, as well as wearing clean clothes and underwear every day. You also need to watch your child's diet to see if something they eat is contributing to the bad odor. Another popular and effective solution is using deodorants. The market is filled with several different types of deodorants for kids, which can make it a bit difficult to choose the right one. Since kids have sensitive skin, choosing the right deodorant is crucial for their safety. Here's a guide to help you make an informed decision.
Things to Consider When Choosing Kids Deodorants
Sweat is usually the underlying cause of body odor. Although antiperspirants can be effective, they come with potentially harmful side effects. Sweating is a natural biological process that helps remove toxins from the body; as such, it should not be interfered with. There are several things to look for when buying kids' deodorant, one of which includes white marks. Kids tend to be more self-conscious when they enter their teenage years. White marks from a deodorant can embarrass them, making it an unpleasant experience. Plus, they can also stain clothes; therefore, select a deodorant that doesn't leave white marks. Other things to consider include:
Ingredients Used
Most cosmetics are filled with harsh chemicals, making it normal for parents to have health and safety concerns about deodorants. Ingredients found in conventional deodorants have been linked to long-term health problems, especially to those with sensitive skin. Some of the ingredients to avoid include:
Triclosan: This chemical was banned in antibacterial soaps but it's still found in many deodorants. It has been linked with unusual hormone activity and could contribute to obesity, infertility, and early puberty.
Aluminum: This causes yellow stains on white shirts. Studies also show that it can interfere with hormones and damage genetic formation, not to mention, it can cause breast cancer. Most deodorants are labeled 'aluminum-free' but still contain potassium alum. While this is a natural chemical, it's still a type of aluminum and as such, carries the same risks.
Simple alcohols: Although simple alcohols have bacteria-fighting properties, they can also damage the skin's protective lipid barrier, causing irritation.
Parabens: This artificial preservative has been linked to some cancers and may interfere with estrogen levels.
Artificial dyes and fragrances: Certain chemicals in the artificial dyes and fragrances used in deodorants can cause allergic reactions in kids.
Using deodorants with organic or all-natural ingredients such as coconut oil or other vegetable oils, zinc oxide, baking soda, aloe, natural waxes, astringent ingredients like witch hazel, hops extract, kaolin clay, and much more, can keep your child feeling fresh all while protecting their health.
Easy application
Ease of application is another important factor to consider when shopping for kids' deodorants. Avoid messy pastes and sprays and go for the invisible kind. This will save your child from the embarrassment of having white marks on their shirts. In addition, sprays are unsafe; not just for the environment, but also to the kids as the aerosols can be inhaled. Depending on your personal preference, roll-ons and deodorant sticks work best.
Long Lasting
Trying to fit in middle school or high school is tough enough. And, with all the hormonal changes that come with puberty, your child shouldn't have to stress over reapplying deodorant midday. Plus, reapplying deodorant every now and then can lead to skin irritation. It's important to choose one that can keep them smelling fresh all day. Most deodorants are labeled '24-hour protection'. Don't automatically trust that; rather, check out customer reviews to find out whether the deodorant actually works.
Now that you have an idea of what to look for when buying kids' deodorant, here are some of the best choices to get you started.
The 5 Best Deodorants for Kids
1. Deodorant Tom's of Maine
If you are looking for the best deodorant for girls then you might want to consider this product. Tom's is known for providing quality products all while being mindful of their environmental footprint. This wicked cool deodorant for girls is part of the 'Made to Matter' collection that uses all natural ingredients to create the best organic deodorant for young girls. It provides 24-hour odor protection and offers a fragrance that reveals its natural essence. The fact that no animal ingredients are used in this deodorant stick makes it desirable to vegans. The absence of parabens means that you can rely on its safety.
Pros
Alcohol-free
Aluminum-free
Phthalates-free
Easy to use
All natural ingredients
Fragrance-free
Not sticky
Con
Doesn't last as long as you'd like it to on more active days and the long-lasting formula contains zinc, which some kids are allergic to.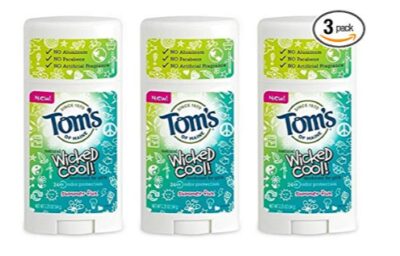 2. Kidz Roll-On Natural Deodorant
Aimed at kids and tweens, Keep it Kind Fresh Kidz is another great deodorant available in the market. This product is uniquely designed for girls and is tailor-made for their body types. It contains natural ingredients only, which inhibit the growth of bacteria that cause body odor. This deodorant offers 24-hour odor protection, its aesthetically pleasing, does not mark or stain clothing and has an attractive floral scent thanks to its vanilla and lavender ingredients. Keep It Kind Fresh Kidz Girls deodorant contains no harmful chemicals, making it safe for girls as young as 7 years and even those with sensitive skin. In addition, this natural roll-on deodorant can be used alongside other skin care products, adding a nice smell to the equation.
Pros
No aluminum
No parabens
Alcohol-free
It's dermatologist-tested
Specifically designed for young girls
Doesn't clog the sweat pores
Cruelty-free
Friendly to all skin types
Long-lasting effect
No harsh sulfates
It's vegan
Con
Some users found the scent too strong, which may not be ideal for those with allergies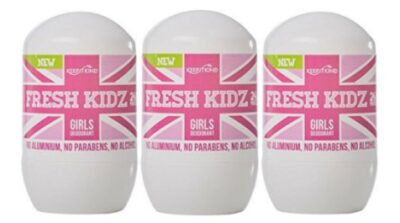 3. Organic Underarm Deodorant Stick
SoapMe With Nature hand-makes all their products and their 'Don't Sweat It' deodorant stick container is packaged in recyclable BPA Free tubes, which makes it eco-friendly. Don't Sweat It is a toxin-free deodorant with a sweet scent and absolutely no synthetic ingredients. This deodorant stick works to kill bacteria that causes bad odor, leaving your child smelling great. The deodorant is cruelty-free and safe for all skin types. It's made of purely natural organic ingredients such as non-aluminum baking soda to help eliminate smells, organic coconut oil for anti-fungal and anti-bacterial healing properties, essential oils for natural scent, natural arrowroot powder for moisture absorption, and much more.
Pros
Absolutely no bad stuff –aluminum-free, gluten-free, corn-free, paraben-free, no artificial colors, SLS-free, propylene-glycol free, soy-free, fragrance-free, phthalate-free, no silicone oil, and mineral oil-free, making it safe for your child and the environment as well.
Easy application
Offers 24-hour odor protection
Made of natural ingredients
Cons
Some users found that it stains clothing
Some users found that it doesn't last long on hot or active days


4. MAGSOL kids deodorant
Magnesium deodorant is great for all kids, especially those with sensitive skin. It has no aluminum and contains only 4 ingredients: therapeutic grade essential oils, beeswax, pure food grade magnesium oxide, and almond oil. All the ingredients are selected to maximize functionality, which is to eliminate odor, eliminate skin irritation, nourish the skin and enhance physiology. The sweet almond oil is filled with anti-oxidants rich in vitamin A, B, D and E. Beeswax, naturally sourced from bees, is a natural skin protector, moisturizer, and emollient that's free of everything you don't need. This deodorant is formulated so you can smell good naturally.
Pros
Free of aluminum, paraben, synthetic fragrances, baking soda, triclosan, and phthalate
100% Natural Ingredients
Easy to apply
Cons
Some users found that it doesn't last long enough on active days
Some users found the scent overwhelming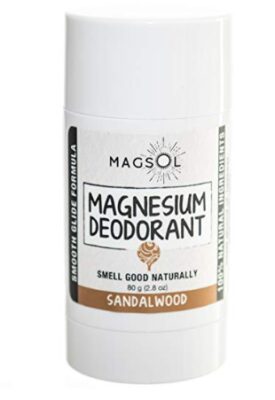 5. Kids All Good Deodorant
All Good is another great natural deodorant for kids that fight odor-causing bacteria with naturally occurring enzymes and essential oils. This deodorant has no harmful chemicals and contains all natural ingredients, including arrowroot powder that absorbs moisture and dries your child's underarms, as well as aloe vera and homegrown calendula to soothe sensitive skin. The Tea Tree and Basil deodorant is unscented, making it ideal for those with allergies.
Pros
Nothing harmful –aluminum-free, no parabens, no phthalates, GMO-free, no propylene glycol, gluten-free, and vegan.
Easy to use
Fight bacteria naturally
Offers 24-hour odor protection
Non-irritant
Con
Some users found that it didn't offer maximum odor protection on active days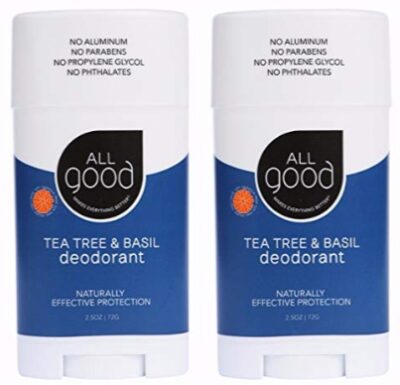 Alternatively, if you're still skeptical about exposing your child to ingredients in purchased deodorants, why not make your own deodorant at home. Use a variety of natural ingredients such as essential oils, baking soda, and coconut oil. There are several DIY recipes available online. A simple concoction might include a ¼ cup of baking soda, 4 tablespoons of coconut oil, ¼ cup of arrowroot powder, and ¼ teaspoon of essential oils (tea tree or lavender). Mix all the ingredients, melt them, and then pour the mixture in a used deodorant tube. Homemade deodorants are mild; as such, may not be as effective. Your child may need to reapply the deodorant on hot days or after physical activity.
Conclusion
These are just but a few of the best kids' deodorants to help keep your child feeling and smelling fresh and clean all day, every day. Sometimes, even the best deodorant may not be enough. Extreme sweating and body odor may be due to some underlying medical conditions such as hyperhidrosis and bromhidrosis. Therefore, if your child is experiencing these conditions, seek medical advice. Hopefully, this guide will help you determine which deodorant is best for your child.