Minecraft is a popular video game that all kids enjoy playing, as it is a game that allows kids to build an exciting virtual reality world and experience endless adventures. While playing this game there will be no limits to the level of imagination that kids can use while they enjoy exploring this building block world. Kids love that this game allows them to escape from their busy day to day lives and that they can create their own game based on their own rules, allowing them independence and freedom in a safe environment.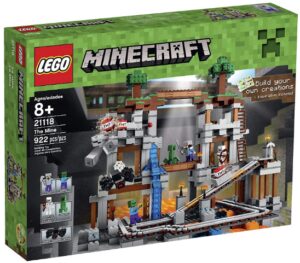 What better gift to get for any Minecraft fan than one of the many great official Minecraft gifts that are available? As there are a great variety of gifts with a Minecraft theme to choose from parents will often ask what are the best Minecraft gifts for kids? The best of these Minecraft gifts will encourage play time away from screens and also enable families to spend important quality time together. When choosing the perfect gift for kids you should make sure that the product you choose is suitable for you kids age, with many products specifying an age range that it is recommended for. There are a great variety of gifts, toys and games to pick from along with lovely Minecraft themed household gifts, so it may be that you are looking for the perfect item to brighten up a kids bedroom or a practical school item that they will find appealing so enjoy using.
There are a wide range of Minecraft toy gift ideas for you to choose from so this article will take you through the most popular to help you find the ideal gift for your kid.
Top LEGO Minecraft Gifts
1.  LEGO Minecraft The Mine 21118
If your kid is a Minecraft Fan then this great Lego Minecraft The Mine Set is the perfect gift idea. This fantastic set will allow kids to build an impressive 12 inch tall model of The Mine that they can use to create many exciting adventures. There are also 5 great mini figures and cool accessorizes included for the ultimate play experience. Lego is the ideal toy to encourage kids to spend time away from screens and the popular theme of this game will be loved by many kids over the age of 8 years old. There are 922 pieces included in this Lego set, so there are endless building opportunities and role pay options created, while they enjoy building The Mine. This will quickly become a favorite Minecraft toy with all kids and will be a gift that they will spend many hours playing with.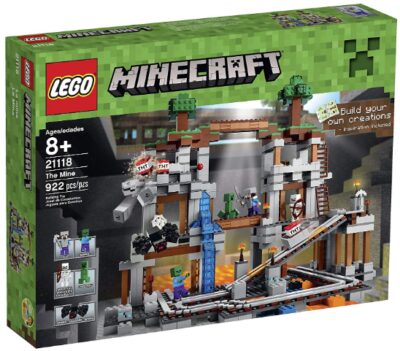 2. Minecraft UNO Card Game
This Uno Minecraft game is a perfect gift for kids who enjoy Minecraft and as it is based on a popular kids card game it is easy to play. It is a great game to share with the whole family as 2 to 10 players can join in and as it is suitable for kids over the age of 7 years old it makes it the ideal game to play while enjoying spending quality family time together. The player who wins the game is the first one to reach 500 points but you must also remember to shout Uno before you put your last card down, making this a quick paced and exciting game for all to play. There is an exciting twist with this Minecraft version because if you pick the Creeper card then the other players have to pick up 3 more cards. Kids will also enjoy the Minecraft characters and themes that appear on the cards making this an appealing game for all kids who love Minecraft.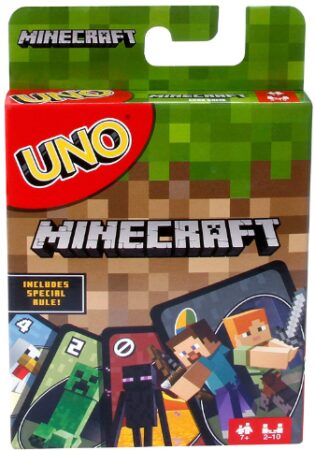 3. Minecraft Backpack for Kids
For a practical gift that is suitable for every kid who enjoys Minecraft you should look at this lovely JINX Minecraft Creeper Kids School Backpack that has appealing green patterned coloring. The design of the backpack is based on the Creeper character from Minecraft, so this bag will be instantly recognizable by every fan of the Minecraft video games. This practical backpack is suitable for kids to use for school and other activities as it has multiple pockets, including a padded laptop section and a mesh water bottle pocket. The padded straps are adjustable so the backpack will also be comfortable for kids to wear. This 18 inch backpack is a great Kids Minecraft gift idea that will make them popular in the school playground.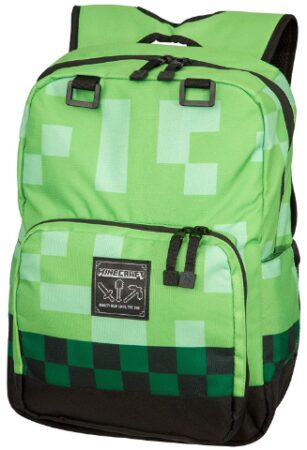 4.  Minecraft Survival Pack
Bring the video game Minecraft to life with this great Minecraft Survival Kit, which kids will enjoy playing with. This is the perfect action figure set that will start off every kids Minecraft collection. This set includes an articulated Steve figure, along with a workbench, wood pickaxe, wood sword, bed and chest, that together would make a lovely display set or is also ideal for encouraging kids to enjoy role play. All kids over the age of 7 years old will get a great deal of enjoyment out of this action figure set and with other Minecraft sets to collect this toy is perfect enabling kids to spend hours creating exciting Minecraft games. This is a top Minecraft gift idea boys and girls will enjoy playing with.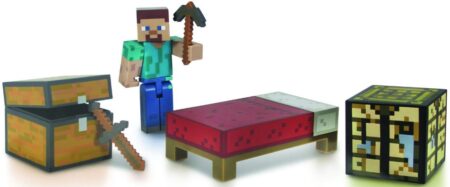 5. Mojang Minecraft Steve Plush Pillow
Every Minecraft fan will love to receive this cuddly Steve Plush Pillow Buddy that makes the perfect travelling companion for taking with you on long journeys. Kids will find this popular Minecraft character appealing and will enjoy using this comfy pillow for resting on car, train and plane journeys. Even adults will love having this Pillow Buddy to hand when they want to get some much needed sleep while travelling. At 16 inches this Steve Pillow Buddy is the perfect size to provide a great functional pillow, while the Steve character gives pillow an appealing Minecraft theme. This pillow is easy to care for with spot cleaning, which will ensure that this lovely pillow stays looking great for a long time.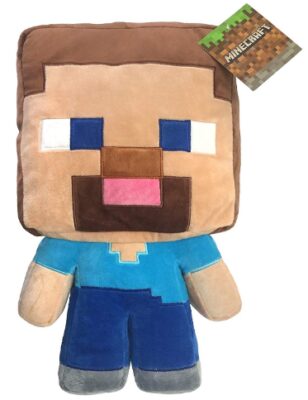 6. JINX Minecraft Baseball Hat
This Minecraft Snapback Baseball Hat is a great Kids Minecraft clothing gift idea that all video gaming fans will enjoy wearing. This 100% cotton hat is perfect for all outdoor adventures while the embroidered Creeper image on the front of the hat and the Minecraft logo on the back will make the wearer stand out. This hat is perfect for both girls and boys as the cap is in a neutral black color with contrasting green under the brim of the hat and for the eyelets, which is the recognizable color scheme for the Minecraft video game. The hat is the ideal fit for most kids as it has an average head circumference of 54.5cm, though the hat can be easily adjusted using the snap closure found on the back of the hat. A simple gift idea that all Minecraft gaming fans will love to wear.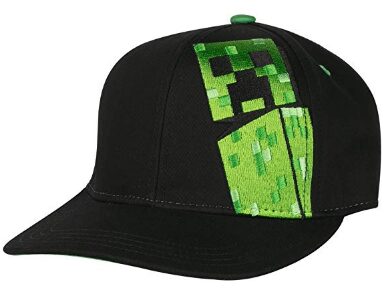 7. Minecraft Creeper Bed Set
Add some exciting Minecraft decoration to your kids room with this lovely Minecraft Creeper Twin Bed Set. With a bright and fun Creeper design pattern that is highly appealing to kids you can be certain that the green and grey color of the bed set will match all room decors. This fantastic bed set comes with a reversible comforter, fitted sheet, flat sheet and pillow case, so everything you need for a great nights sleep. The fabric is breathable and the whole set is hypoallergenic, so is perfect for young kids to use throughout the year. Parents will find that this bed set is easy to keep clean and looking like new with the fade resistant fabric that can be machine washed and tumble dried for convenience. Kids will never again not want to go to sleep at night once they have this exciting Minecraft Bed Set.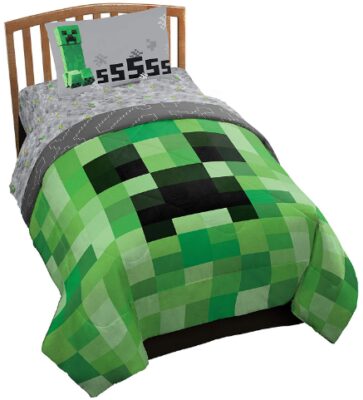 8. Minecraft Card Game
If you are looking for the perfect Minecraft gift for girls and boys that will reduce their daily screen time, then this Mattel Games Minecraft Card Game is the perfect option. This exciting game is suitable for kids over the age of 8 years old and is for 2 to 4 players so is great for sharing with family and friends. Playing this game is the ideal way to encourage your kids to socialize while allowing them to play with a Minecraft themed game that all kids will enjoy. To play this game kids will have to mine resource cards so that they can collect points from the craft cards, which they can either buy or reserve. For added excitement craft cards can become tool cards with special powers and there are sneaky Creeper and TNT cards for players to watch out for. Kids will love this exciting game that can be played with time and time again.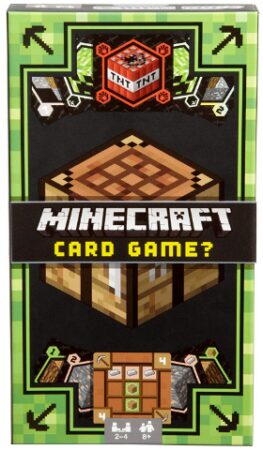 9.  Minecraft: The Island: An Official Minecraft Novel
Every Minecraft fan will love the Minecraft The Island Novel that brings the exciting video game to life in book form. Minecraft The Island is the first official Minecraft novel in the exciting Minecraft book collection, so after kids have read this book there are plenty of other thrilling adventures to follow. Recommended for kids aged between 8 to 12 years old, this fantastic book is the ideal gift for all kids who love adventure and is perfect for encouraging children to read and develop their literacy skills. Max Brooks the author of this New York Bestselling novel is also the author of the popular book World War Z, so you can be sure this is going to be a great book that kids will enjoy spending time reading.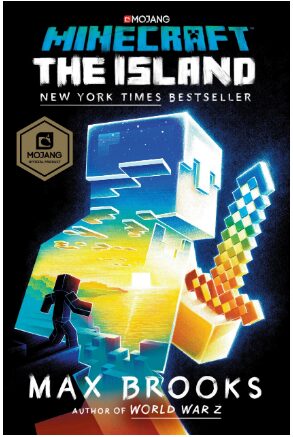 10. Minecraft TNT Block Square Mug
This JINX Minecraft TNT Block Square Mug is the ideal gift idea for all Minecraft gaming fans and it is perfect for kids to use while playing the Minecraft video game and will keep the player hydrated. This appealing mug is plastic, so is suitable for kids over the age of 3 and is BPA free so is safe for kids to use for their drinks. It has an unique square shape and bright TNT design making it instantly recognizable by all kids who play Minecraft. This official Minecraft mug is one for collectors too as it comes in classic Minecraft packaging, so is perfect for displays. This great functional mug will quickly become the only mug that kids want to drink from.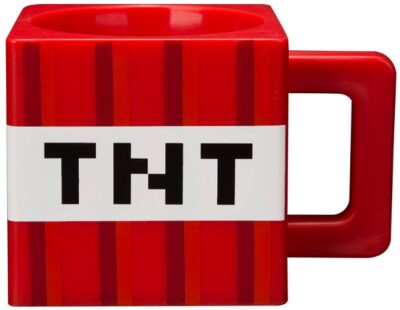 11. Pixel Miner Party Favors Sets
If you are planning a Minecraft party for a kid who loves gaming then this Pixel Miner Birthday Party Favors Set is the perfect option for you. This great set will really take the stress out of party planning with these party bags coming complete with plenty of Minecraft themed gifts. Kids will love the party balloons, wrist bands, vinyl stickers and random building block toys that all come with the exciting Minecraft party bag. There are enough supplies in this 41 piece set to make party bags for up to 8 guests and with a pair of bonus pixel sunglasses for the birthday kid no one will leave disappointed. This is the only Party Favors Set that you will need to throw a successful party for your kid.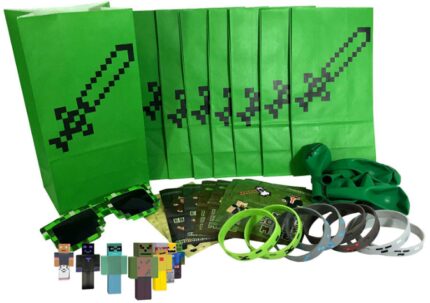 12. Minecraft Transforming Pickaxe and Sword
For the ultimate Minecraft role play toy gift you should consider this great Minecraft Transforming Sword Pickaxe Toy that will provide all kids with endless play options. This amazing 2 in 1 toy can be quickly and easily changed from a sword to a pickaxe, making it a versatile toy when playing Minecraft themed role play with friends. These are the 2 most useful Minecraft tools to have in your possession and kids will love that they can swap and change between the 2 different tool designs. Suitable for kids over the age of 6 years old, this exciting toy will provide all of the necessary inspiration for adventurous play ideas with friends.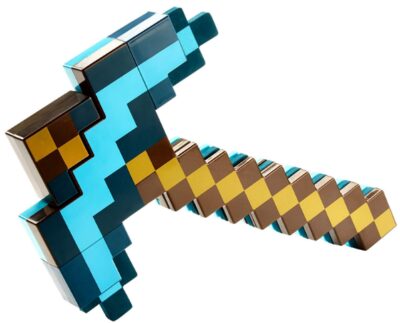 13. LEGO Minecraft Building Kit The Skull Arena 21145
Another great Minecraft set by the popular toy manufacturer Lego that kids will love constructing. This Lego Minecraft The Skull Arena is an exciting build for all kids aged between 7 and 14 years old that will provide hours of fun. Kids will love recreating battles in the Skull Arena where they can play against an opponent to try and claim the golden apple. There are 2 exciting Minecraft mini figures, each with a unique Minecraft skin, included with this fantastic Lego set, along with a surprise killer rabbit. This great 198 piece Lego set would make the perfect Christmas gift idea for all kids who enjoy playing the Minecraft video game.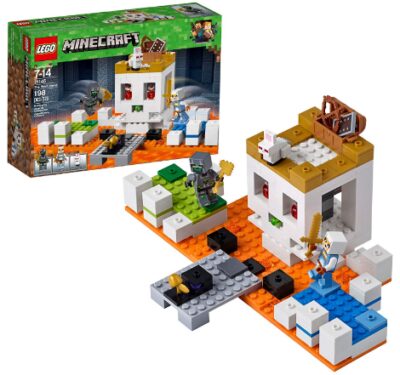 14. Minecraft Stickers gift set Idea
For a fun Minecraft gift for younger kids you should look at these appealing Minecraft Stickers, which are perfect for every Minecraft fan. All kids enjoy playing with stickers and there are many exciting activities where they can be used including; craft activities, decorating an item or for use with a reward chart and kids will especially enjoy the great variety of Minecraft related sticker options that come with this sticker set. A lovely Minecraft gift that is ideal for using to spend quality time with your kids and with 295 stickers included in this 4 page set there are hours of fun to be had with this great gift.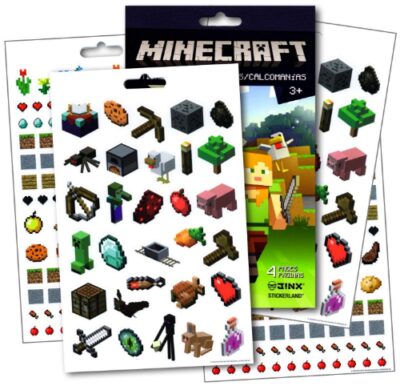 15. Limited Edition Minecraft Xbox One S 1TB Console Bundle
This Xbox One 1TB Limited Edition Console with Minecraft Bundle is the perfect gaming gift for any kids who are looking for an introduction into the world of the Minecraft video games. The Xbox is a favorite gaming console with all kids and for an added bonus this fantastic Xbox console comes in the Minecraft theme colors of green and brown that every fan of the game will love. This console also comes with an additional surprise of the Creeper controller that is perfect for using to play Minecraft. In addition to this fabulous Xbox console there is also the full downloaded Minecraft game with skins package included with this bundle making this the ultimate gift idea for every kid.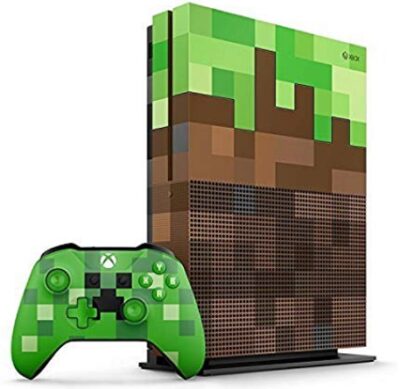 16. LEGO Minecraft 21149 Building Kit with Alex BigFig and Chicken
Lego always makes a great gift for every kid and you will not go wrong with this great Minecraft themed set of Lego Minecraft Alex BigFig with Chicken. All kids over the age of 7 years old will love building this exciting set and creating role play scenes with the finished figure. For added excitement Alex can raise and lower her Minecraft sword by using the lever, creating the perfect figure for Minecraft adventures. This 160 piece set is great for building together as a family, enabling good quality family time away from any screens and for additional fun the resulting Lego figure can be combined with other Lego Minecraft kits to create the ultimate Minecraft world for battles and adventures.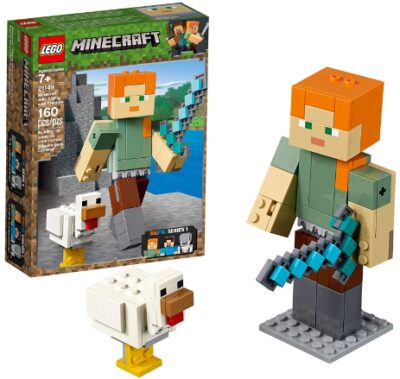 17. Minecraft Periodic Table of Elements
These Periodic Table is a fun educational Minecraft gift idea for Minecraft gaming fans. With these 27 official element blocks, kids can use them to bring the world of Minecraft out of their screens and into your home. These 1 inch blocks have been made to scale so that they can be used along with the Minecraft mini figures, which can be collected separately from this set. The set can be used alone to create the official Minecraft periodic table or to form exciting landscapes. Otherwise for additional fun, the set can be expanded with the Minecraft Stop-Motion Movie Creator. This great Minecraft set is the perfect idea to encourage imaginative play.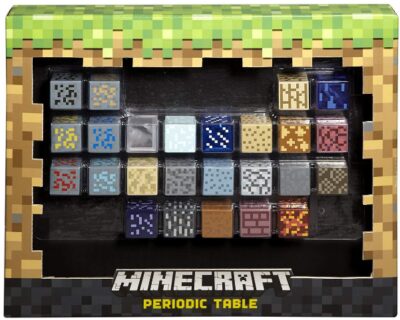 18. Minecraft Potion Bottle that changes Color
If you are looking for an exciting Minecraft related kids gift idea then this ThinkGeek Minecraft Color Changing Potion Bottle is a perfect choice for both boys and girls. This exciting potion bottle lights up and changes between 8 different colors including; indigo, light blue, cyan, green, peach, yellow, red and white providing a great range of lighting effects for every room. At 7 inches tall it is the perfect size for kids to use to create a fabulous Minecraft light display. The light uses 2 AA batteries that are not included with the set and there is a clever 3 minute time out to preserve battery life. All kids will appreciate this lovely Minecraft gift that will make a lovely feature for their room.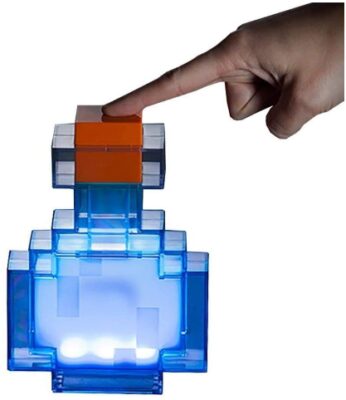 19. Mining Craft Theme Backpacks
For the ultimate party bag you should look no further than these great Pixel Party Favors Drawstring Backpacks that make the perfect reusable party bag. If you are hosting a Minecraft themed gaming party then what better bag to give to guests then a video gaming style bag that will be loved by all kids. There are 6 Minecraft Drawstring Bags included in the set and they can be washed and used for many different purposes for long lasting use. These 12 by 14 inch bags are also lightweight so can be used by young kids making them the ideal bag for eco-friendly party bags.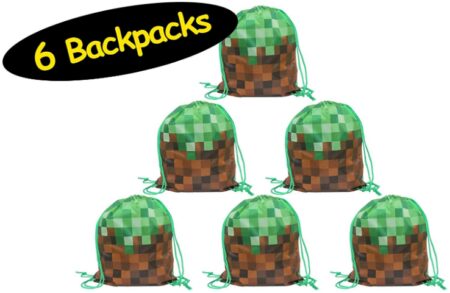 20. Minecraft Wallet
This JINX Minecraft Creeper Face Nylon Bi-fold Wallet is the perfect first wallet for all young gaming fans. All kids will enjoy the Minecraft theme of this stylish green wallet and with Creeper on one side and the Minecraft blocks on the other there will be no other wallet to beat this one. This wallet is also practical for kids to use as it has a money pocket, 5 card pockets and an ID window pocket and the bi-folding design is ideal for kids to carry. This wallet will allow kids to gain independence when out and about as well as being great for using for role play and teaching kids about money. An official Minecraft gift idea that is durable and long lasting so is perfect for kids to use.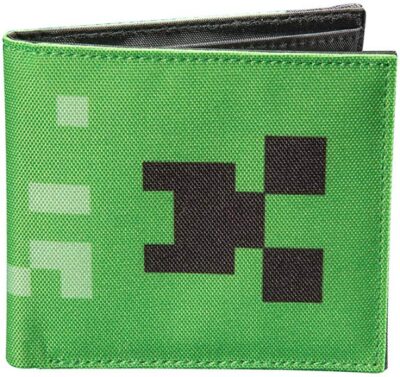 Best Overall Pick
This Lego Minecraft The Mine Set is our best overall pick as it is an exciting Lego build that allows kids to enjoy Minecraft away from any screens and enables kids to develop their building skills and enjoy imaginative play, which are important for all kids development. This amazing 922 piece Lego set enables all kids over the age of 8 years old to build a replica of the The Mine and with 5 mini figures also included in the set there are endless adventures to be had. Kids love Lego and these sets are perfect for providing hours of fun.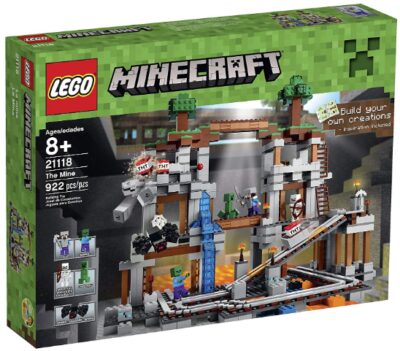 Best Budget Buy
Our best budget buy is this great Minecraft Creeper Twin Bed Set that will make the perfect addition to every kids bedroom. Kids will love the Creeper design that is ideal for brightening up their room. The set includes a reversible comforter, fitted bed sheet, flat sheet and pillow case, so has everything need for a complete bed set refresh. Parents will love that this set stays looking as good as new with the fade resistant fabric and it is easy to clean making it low maintenance for busy families.