Kids these days are split between gaming and sport. They are far happier moving around on the field than being cooped up indoors staring and shouting at a screen. However, youth football is a serious game and a sport that requires safety-first. I know that the using the right football helmet can be the difference between life and death. Some children play this game without the proper gear on and can cause some serious injuries, which is why I have put together a review of some of the best youth helmets that are currently out at a price that is affordable.
Costs
There is a huge range of prices and some helmets really can be better in terms of style, appearance, colors, sheen-look and temperature modification, but where they are all the same is the standard of safety, which you'll be glad to know is regulated.
Accessories
A lot of helmets come without the face mask and if you're wanting one with, then be sure to read all the items descriptions when purchasing from trusted websites like Amazon etc, because they don't come as standard always.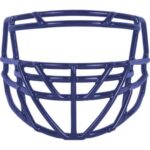 Rawlings Momentum Helmet
This is the low-end budget helmet and is great for those first timers who are eager to get outdoors and play, it's simple in appearance and has a standard mask that comes with it.
I would recommend this to anyone who is unsure if their boy or girl actually wants to commit to the sport because there are a wide range of prices and less at the beginning is better.
I found I started to get a little frustrated after my kids took a few karate lessons and wanted the uniform, so I bought it and then a week later he decided otherwise, which was an expensive and unnecessary purchase, especially so early on in the learning process. This is a great helmet for a first-buy-item and will not leave you feeling anything like I did.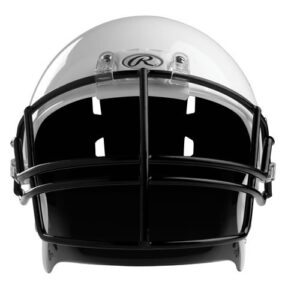 Kids Schutt Sports Helmet
This helmet is about comfort as well as safety and won't disappoint if you're looking to be stylish on the field and have comfort too, which usually don't come together that often, speaking as a lady which likes her heels.
The pillow-like feel is amazing and jaw pads help those hard impacts be a little less sore, its much better than a basic helmet, if comfort is a high priority. This is a helmet the coaches would recommend and I'm sure you kid too.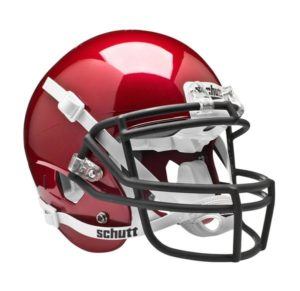 Xenith Youth X2e Helmet With Facemask
This helmet boasts as being one of the tops of the range and can handle being knocked around, whilst still looking great! The youth standard of play is becoming better all the time and with this, the comfort that is needed is essential for hours of field play.
This helmet is a great buy and a friend said the padding that is through-out it helped a friend's son dizzy spells stop almost instantly just by switching helmets, so if you have a little extra in the budget it is well worth the money.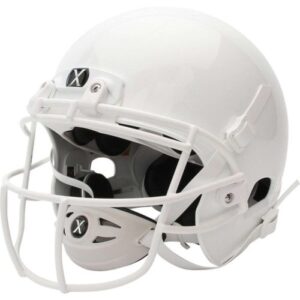 Riddell Youth Speed Football Helmet
This high range helmet will make your boy stand out in the locker room and field, it'll keep up with the Joneses and make him one of the boys. The padding and inner lining keeps his head snug and comfortable, helping with those hard-hitting opponents.
This easy to adjust straps means fitting to a few different shapes and sized heads have never been easier, because some don't come with that option, but thankfully this one does!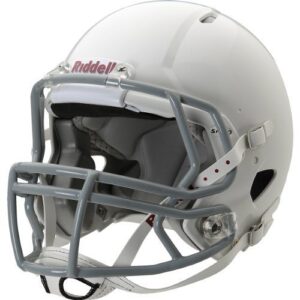 Schutt Sports Youth Vengeance DCT
This twist and release system is a great added feature and allows for an easy off and on whilst playing out on the field, especially on those hot days where a couple of minutes breather is just whats needed.
The young ones using these are a little more focused on winning and want to go hard, it's a great helmet. The sheen look is great for spotting and helps the teammates see from afar.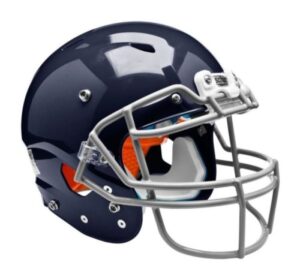 Best Overall Pick
The Riddell youth speed football helmet is one I would personally go for if money wasn't the issue, simply because of the comfort it provides, which makes the game more enjoyable for your kid. The look is stylish and its ready for action both on the field and in the locker room, it's a real beauty!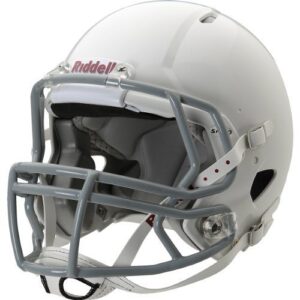 Best Budget Pick
The Rawlings momentum plus football helmet with facemask is a good budget helmet and does everything a basic helmet should, it provides protection against impact and after all that is really what helmets are trying to do. However, if your kids are a seasoned player and this isn't his first time then I would look into getting one of the others. Otherwise, the budget pick won't let you down and he will be safe and secure on the field of play.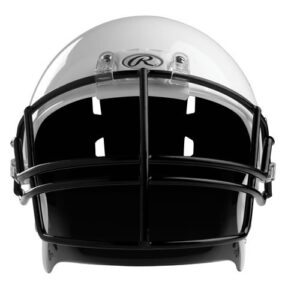 Why is buying a Helmet Important for Youth?
Ideally, they could be outdoor socializing, laughing and making new friends. This means they are gonna be getting ruffled up, sweaty and with a few bumps and bruises, which is fine! However I didn't want any broken bones, neck injuries or fractures because my boy means the world to me, so I've put together some great helmets for you and hope that it helps in reassuring your good choices when it comes to decision-making time.