Are you trying to find a gift for a boy who loves football or plays the game? There are loads of ideas here all football themed. Football is one of the most popular sports that kids enjoy following and playing, with most kids having a favorite team that they enjoy supporting. If your kid loves football, then they are sure to enjoy receiving a unique football-related gift.
For kids who play football, either on a team or with their friends, there is an excellent range of football equipment that they will enjoy using. This equipment will often aim to keep kids safer while playing football games and reduce the incidence of any injuries, so it will provide reassurance to parents that their kids have maximum protection when out enjoying football.
Any kids who are devoted to following their favorite team or players will enjoy a fabulous gift in their team's favorite colors. There is plenty of gift choice to pick from, including players' uniforms, room decorations, and pillows. Often there may also be the option to have these beautiful gifts personalized.
This article will take you through the best football related gifts for boys, so if you are struggling to choose an excellent gift for your football loving kid, then these wonderful products will help you to decide.
Considerations when choosing boys football gifts
Are these gifts are suitable for boys of all ages? There are many football ideas for toddlers, young kids, and teenagers to choose from. Many of these football related gifts come in a junior version making them suitable for kids to use. Clothing and accessories will usually be available in specific kids sizes to ensure they fit correctly and provide maximum protection.
Are there any football stuff for kids that will keep them safe when playing outdoor football? Many football equipment gifts will help to keep kids safe when playing games and when participating in training sessions. There is an excellent range of football shoes, gloves, football helmets and protective equipment available, which are all designed to keep kids injury-free when playing football.
Can football gear be used indoors? Some football gear can be used indoors, so if you are looking for a gift to use inside, then there will be plenty of gifts to choose from. There is a lovely range of household accessories, so kids can decorate their room in their favorite team's colors or even enjoy dressing up as one of their favorite players. Kids enjoy collecting football cards, which should be considered as well.
Best Football Gifts for Boys
1. Franklin Sports I-Color Mini footBall
This Franklin Sports I-Color Ball makes a fun football themed gift that is great for entertaining young kids. The mini football has exciting pictures for kids to color in, and there are even ten brightly colored marker pens included in the set. Once the football has been transformed with colorful decoration, it functions as a proper ball, so kids will love using it to play football with their friends. This I-Color Ball is one of the top unique football gifts for boys age 3 and above, and parents can be sure that this the perfect activity to keep all football-loving kids occupied for hours.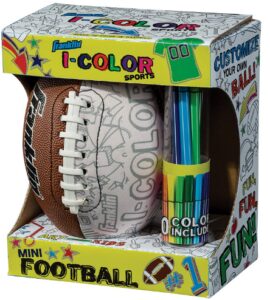 2. Personalized Football Drink Bottle
This Personalized Football Drink Bottle is a great gift idea for any kids who love playing american football. The bottle can be personalized with any name in a variety of colors, so kids will never misplace their sports bottles again. There is also a cool football graphic featured on the bottle, which football-loving kids will find appealing. The 28oz plastic bottle is BPA free and has a flip-up lid with straw for easy use, so it is perfect for using during a football game and ensures kids stay hydrated. Kids can also choose the color of their bottle for ultimate personalization, which makes this bottle one of the top football gifts ideas for boys.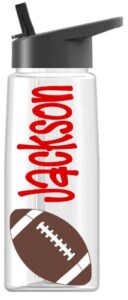 3. Football Helmet Night Light
When searching for unique gifts for boys who like football, parents should take a look at this fantastic Football Helmet Night Light. The night light features each kid's favorite team logo, so all football fans are sure to love this special gift, which is perfect for decorating their bedroom or study space. For an extra special touch, the helmet can also be laser engraved with a name, number, or even a special message, so kids will treasure this gift for years to come. The 3D LED night light features 16 colors, which can be fixed as a static color or left to change gradually, and the lamp can easily be controlled by a single touch or by using the handy remote control that is included. This fantastic night light makes the perfect gift for all kids who love football.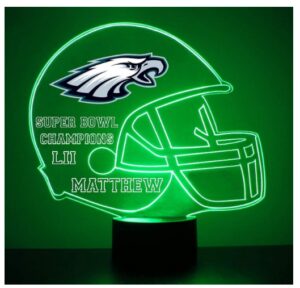 4. Personalized Football Pillowcase
All football-loving kids will want to decorate their room with football-related items and toys, so this Personalized Football Pillowcase is a perfect choice. The white pillowcase has a neutral color, so it is ideal for all boys and girls, and the cool football graphic featured makes this a special gift for all kids. To make this a unique gift, kids can also have their name added to the pillowcase. This pillowcase is practical as well as fun, as the microfiber material makes this a soft, comfortable pillow for anyone who uses it. Kids will enjoy this amazing football pillowcase as it is one of the most exciting themed gifts for boys.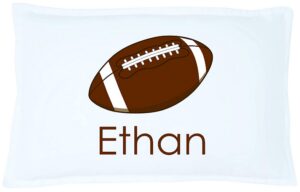 5. Classic Football Beanie Hat
This Classic Cuff Beanie Hat is one of the best essential football gifts for 8 year olds that will grow with them for long-lasting use. The fine-knit material that this hat is made from is breathable and is perfect for protecting kids from the cold weather. For added appeal, each black beanie hat has a famous football team name embroidered on the front, which all kids who enjoy playing football will appreciate. This top-quality beanie hat is ideal for any outdoor activity, and when not in use, it is easy to fold away into a jacket pocket for convenience. Kids will love wearing this hat when out and about and showing off their favorite football team.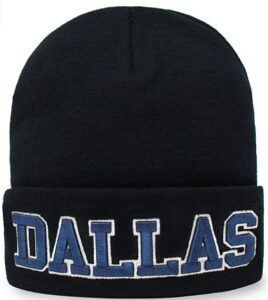 6. Under Armour 395 Football
It can be challenging to decide on the perfect gifts for kids football teams to use, but this Under Armour 395 Football will make the choice easy. This great football comes in a junior size, in addition to the official size, making this football ideal for younger kids to play with. Kids will also love the fantastic composite cover that makes this ball easy to handle with its optimal grip. This football is the best ball for young players to use when playing games as they will appreciate the soft feel from the 1ply soft backing, making this an attractive, high-quality football that will get plenty of use. When searching for the best junior football, this is the perfect option that all football teams will love.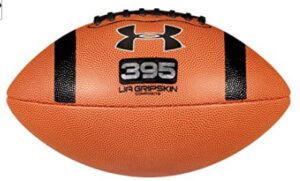 7. Nike Football Gloves
Every aspiring football player needs a pair of professional Nike Football Gloves to make them stand out from the crowd, and these Vapor Jet 5.0 Gloves are sure to do this. These gloves are attractive in their white and chrome finish, which gives them a top-quality look, but they are also practical and comfortable to wear. The woven back of the gloves is stretchy and breathable, so there will be no more hot sticky hands. There is lightweight padding over the base of the thumb to provide additional protection, and the stitching over the pinky finger has been carefully placed to avoid the glove rotating. These stylish gloves with Magnigrip palm material come in a range of sizes, so make one the best football gifts for teens that they will also enjoy seeing their idols wear.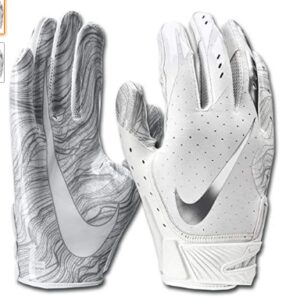 8. Franklin Football Sports Uniform Set
This Franklin Sports Uniform Set makes the perfect gift idea for every young Tennessee Volunteer's fan, as they can dress up to match one of their favorite players. There is a helmet, chin strap, jersey, and pants included in this set, so kids can enjoy looking the part. For an extra special touch, there are iron-on numbers also included so that kids can personalize their jersey with the number of their favorite player. This fabulous football uniform matches the colors of the Tennessee Volunteers, so it is excellent for all kids who are fans of this team. However, there is also a range of uniform sets for other popular teams, making this one of the best football gifts for 5 year olds that all boys will enjoy wearing.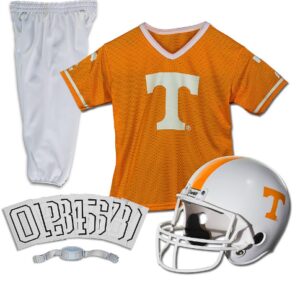 9. Battle Fangs Football Mouthguard
Safety is important when playing active football, so this Battle Fangs Football Mouthguard is an essential gift for all football players that provides ultimate protection for the mouth and teeth. Kids will also find the fearsome fang appearance of this blue and white mouthguard appealing, making this one of the most exciting football gifts for 6 year olds that parents can be sure they will wear. The highlight of this wonderful gift is that is can be molded multiple times to give the perfect fit for every mouth, and this mouthguard can also be used with braces, so it is suitable for all kids to use. Parents will love that this cool mouthguard set will protect their kid's mouths when playing games, making it a top choice of gift.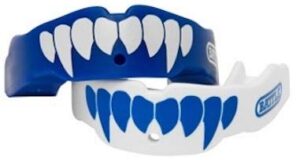 10. Tackle Buddy Inflatable Punching Bag
This Tackle Buddy Inflatable Punching Bag is one of the top cool football gifts for kids that will provide plenty of entertainment and is great for sharing with friends. At 40 inches tall, this inflatable punching bag is the perfect size for kids to play with, and for added fun, the bag is weighted for stability and to enable it to bounce back. There are many designs of Tackle Buddy to choose from, so all football fans will love playing with the punching bag that replicates one of the players from their top football team. This punching bag is the perfect toy for kids to practice tackling safely and will provide them with hours of entertainment.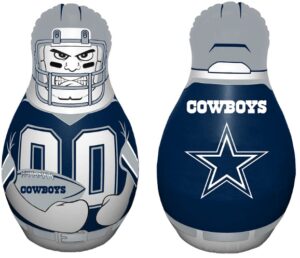 11. Shock Doctor Lip Guard
The Shock Doctor Lip Guard provides all football players with the top protection and comfort while playing football. All kids will love this stylish lip guard, and there is a fabulous variety of colors to choose from, so all kids will find their favorite lip guard in the Shock Doctor Collection. The large air channel that the lip guard features ensures a 10% increased flow capacity, and the reinforced outer frame provides maximum protection, so this will be a top choice for all parents whose kids play football. This excellent lip guard also meets national and state regulations, so it is one of the best gifts for kids who love football.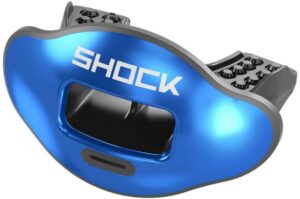 12. Wilson NFL Football
This fantastic Wilson NFL Football makes one of the best gifts for boys who love football, as the junior size allows younger kids to join in with the football game. For easy use and handling, this great football has a synthetic cover with tacky material, which provides the perfect introduction to football for young kids. The junior size of this fantastic football makes the game safe for kids between the ages of 9 and 14 years old to play until they are old enough to progress to the official sized ball. Kids will love this great gift as it makes the perfect first football for all football fans.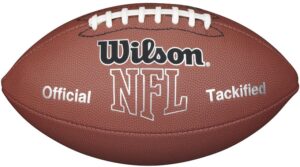 13. Franklin Sports Football Receiver Gloves
All kids who enjoy football will love these Franklin Sports Football Receiver Gloves, which are both stylish and practical. Each pair of Franklin Sports gloves are officially licensed and feature the logo of famous football teams, so kids can choose their favorite team's gloves when playing serious football. These gloves make it easy to catch every ball with the tacky silicone palm that also covers the thumb and forefinger for extra coverage. For comfort, the polyester backing is breathable, so it will enable kids to wear these gloves for a long duration of time, and kids will also find the gloves are flexible so they can move their hands freely. There is an easy to use neoprene wrist closure to ensure a good fit, so kids will love wearing these fantastic gloves, making them one of the top football gifts for 7 year olds.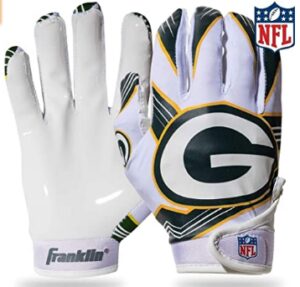 14. Under Armour Football Shoes
When looking at gifts for boys who like football, these Under Armour Football Shoes are always a top choice. They are high quality and look appealing too, so kids will be able to play their best football game once they have a pair of these amazing shoes. For comfort, the tongue is meshed with open holes for breathability, and the footbed contains 4D foam to allow the foot to mold into the shoe for maximum support. The whole shoe has been designed to be lightweight, which is ideal for junior players, but none of the quality is lost in the fantastic high performing cleats. These shoes are the football shoe to consider for every young football player.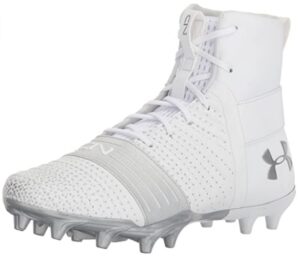 15. Customize Your own Football Jersey
One of the best gifts that a football fan can receive is a personalized item of clothing in their favorite team's color, making this Rocket Bug Football Jersey a popular choice for all young kids. This short-sleeved jersey comes in a variety of colors including, vintage purple, heather, and black, providing a great variety of options. Kids can also have their name and favorite player number printed on the back in white, child-safe vinyl, to make this a unique gift idea. There are sizes available for kids from 1 to 11 years old, so there is sure to be the perfect size jersey for all young kids. The cotton jersey is high quality and made to last, so it is one of the top personalized football gifts for kids that will be enjoyed every time they wear it.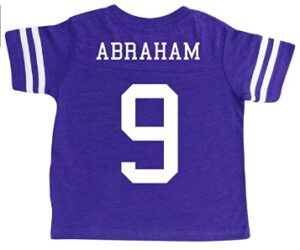 16. Sports Unlimited Football Shoulder Pads
When looking for gifts for kids who enjoy playing football, then these Sports Unlimited Shoulder Pads are an essential buy. Parents will love that these shoulder pads are perfect for keeping their kid's injury-free, but that they are also comfortable, so kids will enjoy wearing them. Each pad has a double layer of foam for ultimate comfort and protection, and the cushioning continues below the pad to provide additional back support for added safety. The pads are breathable and lightweight, so kids will forget that they are wearing them, and they are suitable for players of every position, making these fantastic shoulder pads the only ones every kid needs when playing.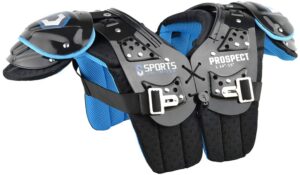 17. MadSportsStuff Football Socks
These fantastic MadSportsStuff Football Socks are brilliant, cheap gift for boys who like football, as they are fun but also perfect for athletic activity. Kids will love that these socks come in a variety of exciting color combinations so that they will match every kid's favorite football outfit, but these socks are also practical for all sporting needs. These socks will wick away moisture and are breathable to keep feet cool and dry, and they also have incredible cushioning to protect against ankle and arch fatigue when playing sports. All sports players will also enjoy that these socks have antimicrobial properties that protect against odors. These great socks make brilliant football party gifts kids will love.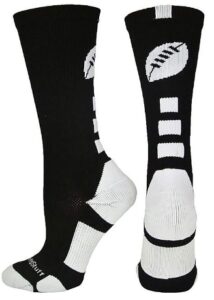 18. Rico Industries NFL Watch
There are many different football-related gifts for boys, but you will not beat this Rico Industries NFL Watch for quality and style. Both boys and adult football fans will enjoy wearing this lovely watch, which is suitable for casual and formal wear, so it is perfect for every occasion. The watch uses Japanese Precision Quartz Movement, making it reliable, and is water and shock resistant to 3 ATM, so it is durable. Football loving kids will enjoy that their watch features the logo of their favorite team and matches their team colors, ensuring that they will never take their special watch off. This watch is functional and long-lasting with a flexible rubber strap and a stainless steel case backing, so this will be a gift that all boys with treasure for years to come.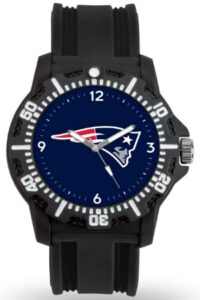 19. Under Armour Breathe Trainers
When choosing your football kids gifts have a look at these practical Under Armour Breathe Trainers that are perfect for all football games. Kids will love that these great football trainers look stylish and come in a variety of exciting color combinations, while parents will like that these trainers are durable and perform well. These trainers have some exciting features, including a breathable mesh upper panel and a comfortable die-cut EVA footbed, for ultimate support. Kids will also find that the rubber molded cleats provide brilliant tractions, so they are perfect for playing football in all weathers. These trainers are a great value football shoe that will be loved by all kids who enjoy football.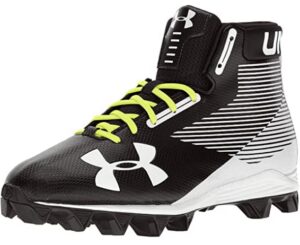 20. Fanheads Football Helmets
These Fanheads Football Helmets make great football Christmas gifts for boys that are perfect for them to wear when dressing up or going to parties. There are a variety of styles and colors to choose from, so kids can build their helmet to match their favorite team's outfit. These helmets are easy to construct and fit both kids and adults by merely adjusting the strap, so everyone will love joining in and wearing their team's helmet. This football helmet set is a fun, great value gift idea that all football-loving kids will enjoy.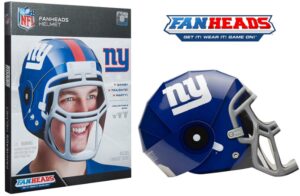 Best Overall Buy
Our best overall buy is the Under Armour 395 Football as it is a top-quality football that comes in a handy junior size, allowing young kids the opportunity to join in with football games. This ball has an excellent grip, so it is easy for kids to handle with its composite cover, and the 1ply soft backing provides a quality feel to the ball. All kids will love playing with this fantastic football.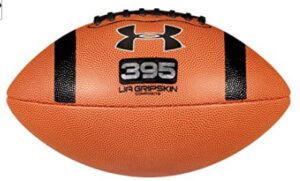 Best Budget Buy
The Rocket Bug Football Jersey is our best budget buy as it is a great value gift idea that all kids who love football will enjoy wearing. This lovely jersey comes in several popular team colors, so kids will be thrilled to match their favorite team's uniform. Kids are also sure to get plenty of wear from this excellent quality jersey. The highlight of this lovely jersey is that it can be personalized with a name and number, which will make this jersey a treasured gift. These are deal cheap gifts for boys who like football!