The 90's are back in a big way. Not only is it in the clothing, the music and the TV cast reunions. We're looking at the 90's to give us inspiration on our newest haircuts, styles and accessories. Here are 10 iconic 90s hairstyles that are still popular and we believe you will love.
1. The Rachel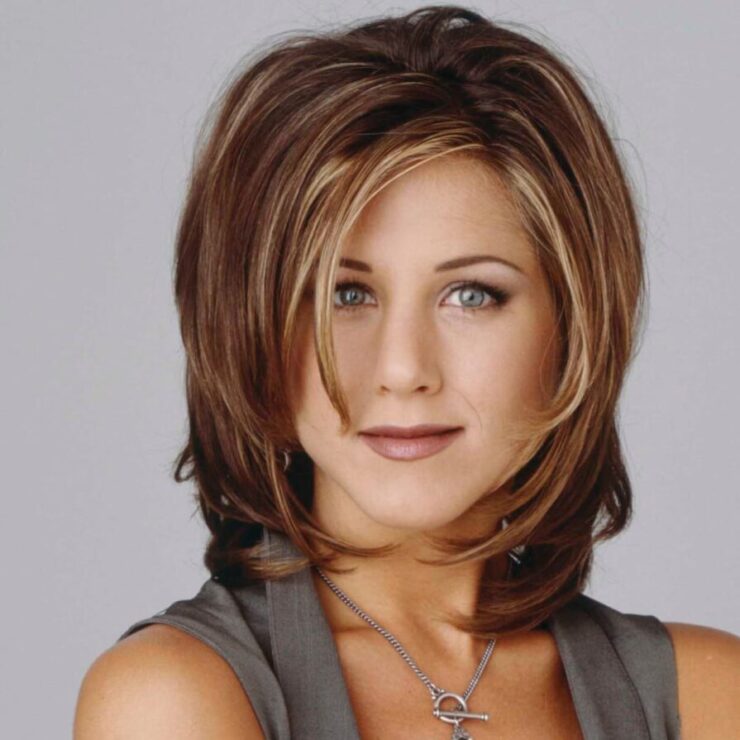 The voluminous shoulder-length style with long layers was popularised in the '90s when it was seen on Rachel Green (Jennifer Aniston's character in hot US comedy Friends). Rachel, although never as loved by the actress herself, is having a return and has been seen on the likes of Hailey Baldwin, Rosie Huntington Whiteley and even Jennifer Lopez.
The Rachel can be cut in a variety of lengths. The key to this look is cutting two tiers of layering, these layers can be of any length and as soft as you like. The goal is to balance the volume of your hair and create razor texturing. You can either create the cut by using the razor, or use the razor to add texture to the cut after it's blocked out with scissors.
The top tier should fall to the length you want your shortest layers to be. According to All Things Hair, keep the tiers delineated to ensure that the Rachel effect is created. The bangs are then cut to be rounded yet long. This style works better on those who don't have coarse curly hair texture. It may also be difficult to execute if you have fine hair, as the blow drying straight may be damaging.
2. Box Braids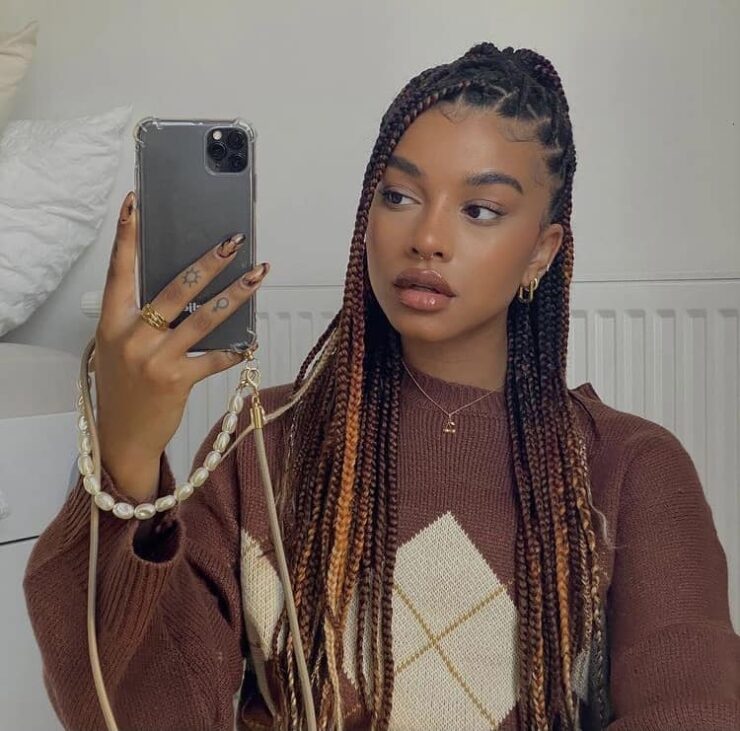 Think Janet Jackson in Poetic Justice. Protective hairstyles will never go out of style, and we especially love box braids or as they are sometimes known, jumbo braids. Box braids, especially when done with a weave of with hair extensions, can give you long locks with next to no product or heat required.
Use a lightweight yet moisturizing cleaner and towel dry your hair. Prep your hair with a leave-on conditioner, ensuring that all knots are gone. Using a rat-tail comb, divide the loose section of hair into smaller grids. Take a strip of weaver or extension, holding it in the centre so it looks like an upside down U shape. Lay each side of the weave or extension on top of each side of your natural hair. Both left and right sections should have weave laying on it.
You can either go directly into braiding, using your natural hair as the third section, others may prefer twisting. Hold the hair snugly on the right side and begin twisting it in one direction. Repeat on the left side with about two to three twists. Once the weave is secure into your natural hair, split the grid into three and begin braiding a three-strand braid until you reach the ends. Use a styling oil to add shine, once the hair has been sealed at the ends with hot water.
3. Chunky Highlights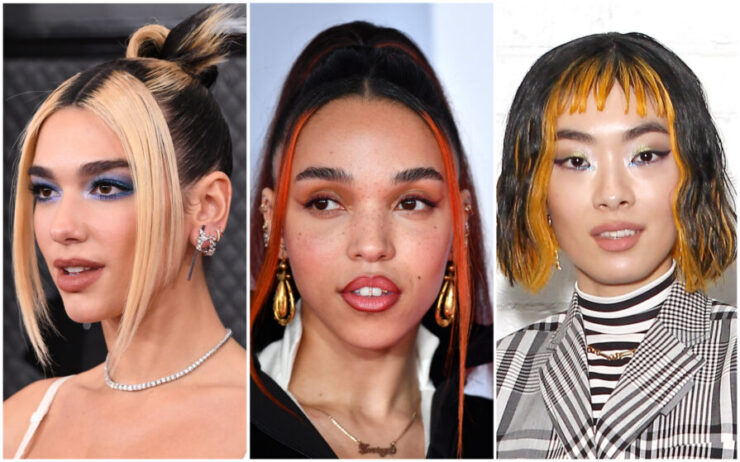 Geri Halliwell was the queen of chunky highlights, but lately they have been seen on the likes of Bella Hadid, Doja Cat and Dua Lipa. Chunky highlights will enhance your natural hair color, revitalize your balayage or simply shake up a monochromatic look.
When choosing chunky highlights, consider your hair texture and where the highlights will set when you style your hair. For bolder lines that creates a cool contrast, foil back-to-back slices of hair lightener and dark contracting colors.
When coloring big chunks of hair, especially when using blonde, it's important to keep your hair healthy and strong. Use regular conditioning hair masks and keep heat use to a minimum, plus invest in high quality strengthening serums of oil.
4. Supermodel Blowout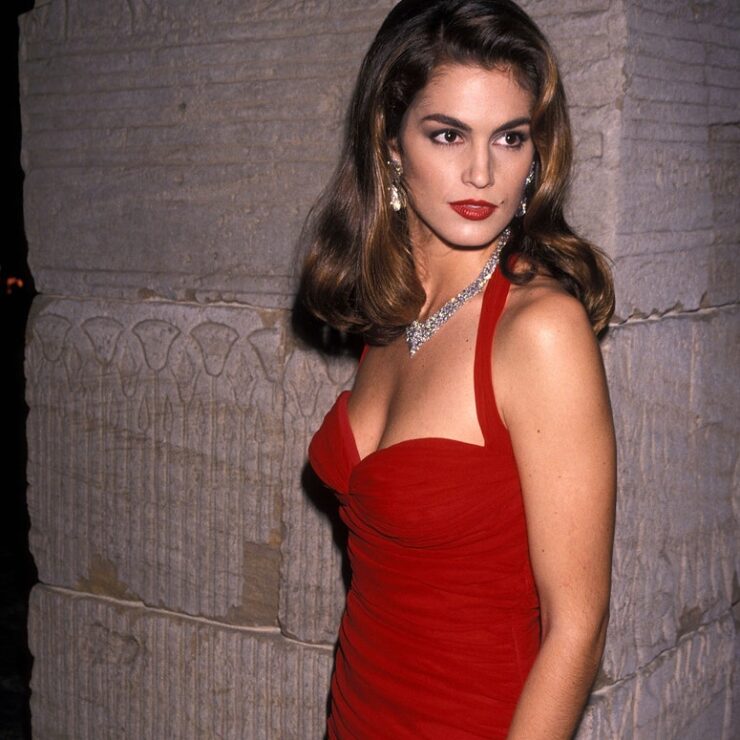 Made famous by Cindy Crawford, the iconic 90's blowout has recently been a favorite of the new generation of supermodels, including Bella Hadid and Gisele as well as starlets like Selena Gomez.
Remove an excess moisture from your hair by blow drying it on a medium setting until damp. Softly use your fingers instead of a brush, always pointing the nozzle down to seal each cuticle. Blow drying your hair from the top down will help it avoid frizz.
Divide hair into top, sides and back sections. Start by taking a 2 inch section of hair at the nape of the neck, using a medium round brush to smooth the hair straight. The idea is to lift the roots and create body. Flick your wrists whilst brushing will help create bounce at the ends.
As you complete each section, roll the pieces into a loose curl and secure with a clip. One your hair has cooled down and is dry, shake it out and run your fingers through it gently. Mist with hairspray for a flexible hold that doesn't lose bounce.
5. Wispy Updo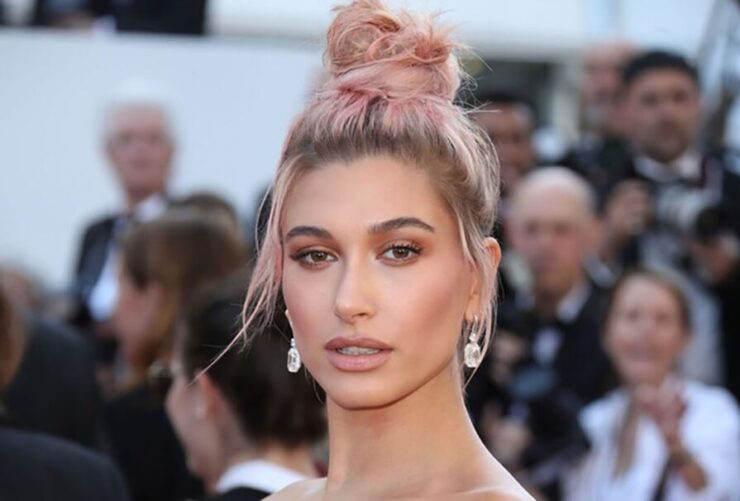 Take a classic hairstyle and pull down strands so it frames your face. Think Gwyneth Paltrow or Alicia Silverstone in Clueless. If you have layers, this looks especially chic. Add butterfly clips to your updo to give it a real 90s throwback.
To get it a 2023'st update, look to the likes of Kendall Jenner, Karlie Kloss and Dua Lipa. Avoid the pin-straight strands found on Kirsten Dunst, instead try a softer romantic look. These wispy tendrils are created by using a combination of heat and hairspray. To create a soft bend, using a curling tool.
6. Outwards Flipped Ends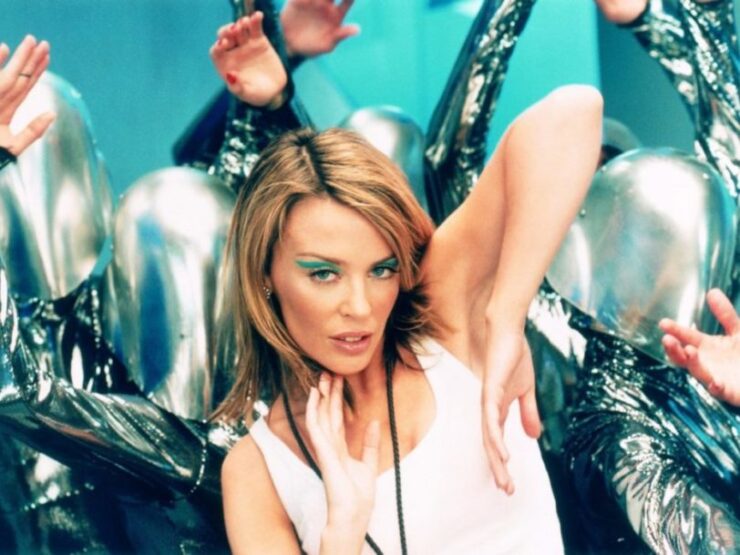 A new favorite of both Selena Gomez and Kim Kardashian, flipped ends are a 60's throwback that was regularly worn by Emma Bunton and Kylie Minogue in the 90s.
Flipping the ends of your hair is very easy, all you need is a large barrel curling iron. Simply curl the hair outwards in sections and apply styling gel to keep it held in place. Use hairspray on your hair before curling it with the barrel. Once the ends have cooled down from the heat, break up the curves with a round brush.
7. Feathered Bangs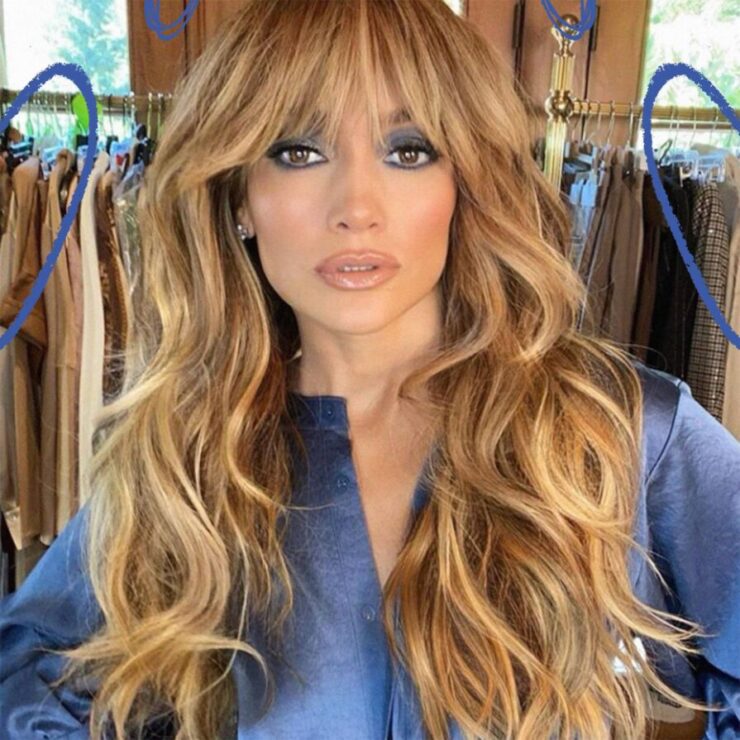 We can't think of Saved by The Bell without remembering how cute Tiffani Thiessen looked with her feathered bangs. They are a wispier alternative to the heavier bangs we have seen in recent years, and are very flattering to different face shapes.
To achieve the feather bangs look, your hairstylist will cut your bangs against the part. To achieve the feathered effect, they will make vertical cuts instead of horizontal cuts. To style this look, brush them out with a blow dryer to add more volume.
8. Butterfly Clips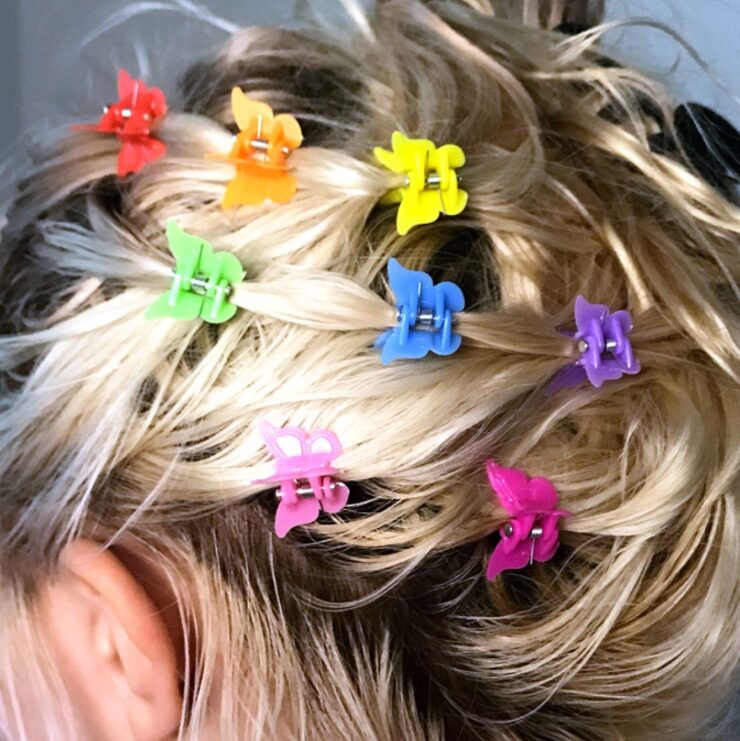 More recently known as a claw clip, this cute hair trend is gaining popularity on the runways. Not only are they incredibly stylish as an accent for updos, but they also can hold up buns and half updos.
Butterfly clips are great for allowing you to fox twists of your hair. These small clips, which come in a range of shapes and sizes, are great at keeping hair under control. Place them in the center of a bun to keep flyaways in place as well as adding a focal point.
Scatter butterfly clips through your braids, a favourite look of Hilary Duff, to add a whimsical finish. If your bangs get in the way, pin them back with a medium-size butterfly clip. Although in the classic 90s style they were shaped like butterflies, modern clips can look like stars, animals or even simple geometric shapes.
9. Crimps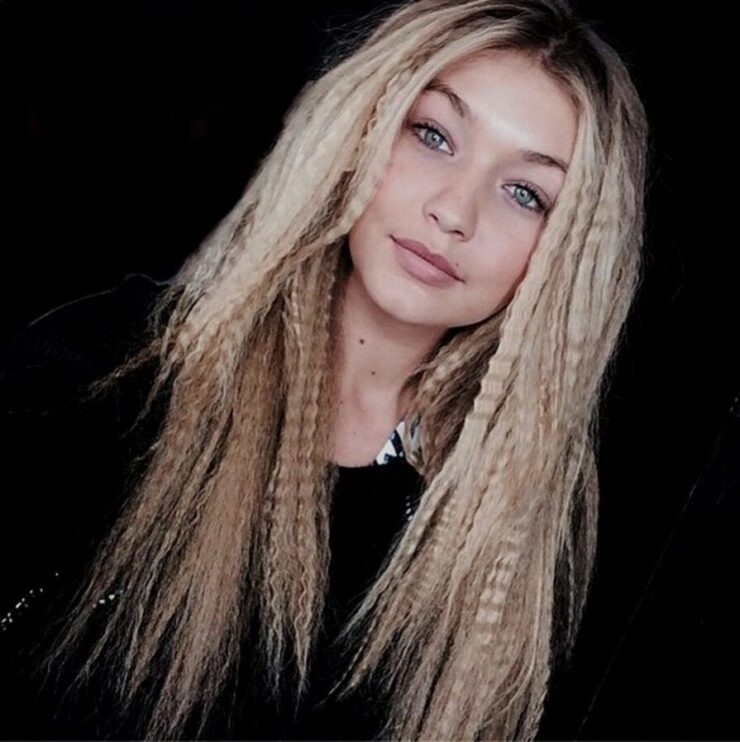 Worn by the likes of Britney, Tyra Banks and Tia Carrere, crimped hair has made its way back onto red carpets. The crimps worn in the 80s and 90s were shaped with sharp indentations, held together with spritz and aerosol. It's a great way to give flat hair more character.
The modern takes on crimping is a little bouncier. The style seen on the likes of Beyonce aren't as sharp and heavy. Crimps work best on layered haircuts and can be incorporated into different hairstyles. We love crimps on ponytails half updos.
Whilst we love the too much is not enough approach to crimps, the modern results are much more understated. Try crimping a few strands before pulling them back in a sleek ponytail.
10. Pixie Cut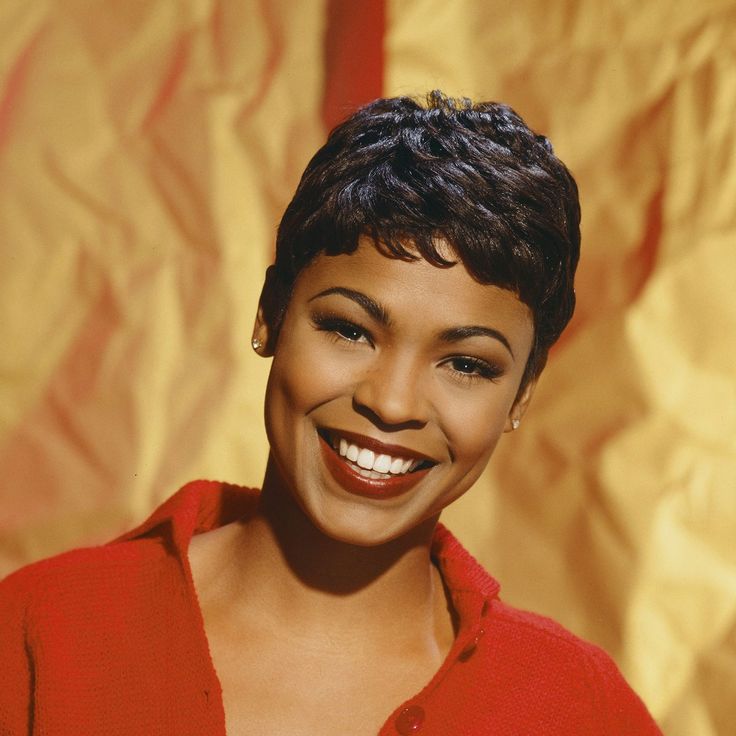 Some of the most iconic women of the 90s wore pixie cuts. Demi Moore, Winona Ryder, Toni Braxton and mostly iconically Linda Evangelista all made pixie cuts a must-have cut of the 1990s. Although a pixie cut requires some commitment, it can seriously highlight your cheekbones.
Wearing a pixie cut with soft and side-swept bangs can flatter a square jaw and make the cut look less severe. Avoid using too many products, it can make it look greasy. A dime-sized amount of product is enough to add texture to a pixie cut. Beach spray on dry hair is a better way to make your hair look textured without it being weighed down by the product.