If you're stuck for present ideas for a young boy, we guarantee you that an ATV will go down a treat. What's not to like? They can enjoy the thrill of the outdoors in this cool ATV.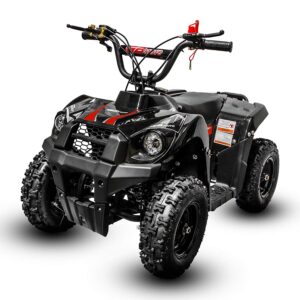 This guide contains an option for all age ranges too! There are age-appropriate ATVs for children aged 4 Years old.
"What exactly is an ATV for kids?" you may be asking. In layman's terms – it's a kid-safe quad bike. ATV stands for All-Terrain Vehicle, meaning they're built to endure off-road conditions. They can make exploring the wilderness much more exciting and much less exhausting. 
Which is brilliant because kids love quad bikes: they're fun, fast & much safer than their two-wheeled cousins. On top of this, they're a great excuse to get outside and enjoy the outdoors. 
Quads for kids generally have much smaller engines than traditional quad bikes, this is to keep them safer for children who are new to the experience. 
They can have much smaller frames too, in order to make for more comfortable riding experience. Some do not even use traditional engines and are battery operated. Although these are more geared towards younger children. 
What is an ATV?
ATVs are 4 wheeled vehicles with off-road, low-pressure tires installed. They have a seat in the middle that is straddled by the driver, who can utilize handlebars to turn left or right. 
The additional wheels mean that ATVs are completely stable when stationary or moving at low speeds. This is great for young kids who don't have the stability yet. An alternative product that offers a different riding experience is the dirt bike. 
Electric ATV For Younger Kids Aged 3 to 9 Years Old
If you're shopping around for an ATV for your child who's a little bit on the younger side, you should probably look into getting a battery operated, electric ATV. 
These have the advantage of having much less power so that younger riders can get used to the feeling of riding without scaring themselves.
ATV Brands
There is a huge range of brands actively manufacturing ATVs at the moment. Some specialize in children's ATVs. Others are larger, more popular manufacturers in the adult ATV industry, who have simply released a range of child friendly vehicles.
Some Brands To Consider:
Honda

Uenjoy

X-pro

Superrio
Top ATV for Kids in 2023
1 . Razor Dirt Squad
Every kid who enjoys the outdoors will make great use of this beginners quad bike! 
This Razor Dirt Squad ATV Is perfect for kids ages 9 years old and up! It can carry a maximum rider weight of 54kg. It is battery operated, so makes considerably less noise than a gas powered engine. 
The thick wheels and solid suspension make for an incredibly comfortable ride for your kid. This quad bike is perfect for going on long walks with your kid, if you're looking to prevent them getting tired out, this may be an awesome option for you.
The compact, sleek design looks very cool and modern, so if your kids friends already have ATVs this one will really stand out. 
The compact design also means that it is easily stored, and can be stored horizontally or vertically.
Children between the ages of 9 years to 12 years old will get plenty of use out of this. It has shatter-resistant plastic coatings and is heavily weatherproofed. Meaning you won't have to buy a new one the second it gets a little rainy outside. 
In conclusion, this quad bike is a perfect starter ATV for young kids and will keep them happy and engaged.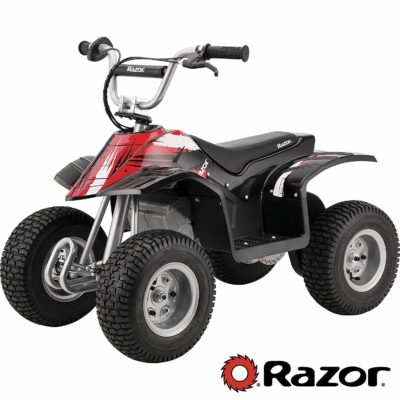 2.
Peg Perego Polaris
This lightweight, battery operated ATV is designed for use amongst younger children!
It's perfect for 6 year olds and up.
It has two forward gears and a reverse gear. Meaning you can teach your kid about the basics of the different gears available in real, manual vehicles!
It has large, traction treaded wheels to provide grip and stability when your kid is turning corners. It operates on a 12v battery so the motors do not turn too quickly, meaning you don't need to worry about your child escaping at high speeds!
You can opt to have it assembled before dispatch, or you can assemble it yourself on arrival. If you like the educational aspect of having multiple gears, you'll love assembling it with your kid. 
You may get some enjoyment out of letting your child watch you actually build this, explaining the individual parts as you go along. That is of course as long as you know what you're doing. If you don't you can always opt to have it assembled before delivery.
The light, citrus colored design looks amazing in the sun, which is likely where you'll see the most use out of this.
 In summary, if you're looking for an ATV for a child a little bit on the younger side & may be an educational experience too, this quad is perfect for you.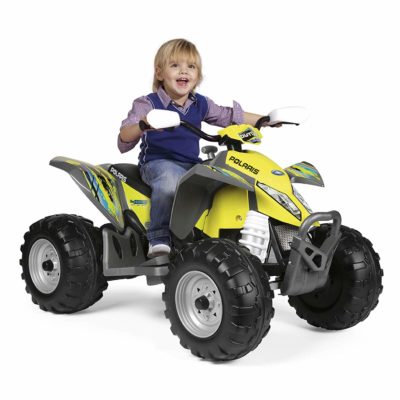 3. Razor 500 DLX
The razor 500 DLX is perfect for older riders. If your child is between the ages of  12 to 15, chances are this will light their faces up with joy.
It has a large, thick suspension with REAL pneumatic tires. It handles very well in difficult terrain despite still only being a battery-operated engine. 
It can even reach up to running speed on flat terrain, anywhere between 12 to 15 mph! This means your kid can have the thrill of going faster than the average juniors bike, but without encountering the dangers of high speed adult quad bikes.
The real metal components paired with the real tires and frame make this feel very authentic, which your child is sure to get some serious enjoyment out of. In many ways this feels the most like a real quad bike but scaled down slightly for younger riders. 
The only real difference is that it operates on battery power, making it much quieter than it's petrol operated counterparts.
It will run for around 60 minutes on a full charge.
When it does come you will have to assemble the handlebars but that couldn't be any easier, it's only 4 screws.
Our only additional advice is that your child should definitely be wearing safety equipment as always when riding this ATV.
To conclude our review, we'd say this is perfect for kids who are a little bit older (a 12 year old will love it) and looking for a more authentic experience.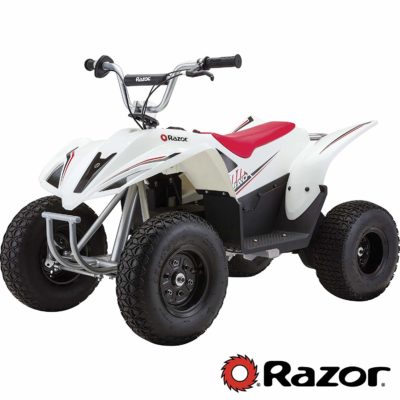 4.
Best Choice Products ATV
This futuristic looking, big rimmed ATV comes in multiple colours. It is available in red, green and purple. Does your kid have a favorite sports team that uses one of these colours? Then that's perfect! 
If not you can try to figure out which colour they'd prefer. Having that additional layer of individuality in your purchase will allow your child to appreciate it that little bit more.
It's also covered in exciting decals, which you can totally add too by letting your kid pick out some stickers for another layer of personalization!
This quad bike is built with younger children's safety in mind. It's top speed is just 2 mph, meaning younger kids can ride around safely on it without building up too much momentum. 
This product was clearly designed with fun in mind as it features a bunch of realistic features such as a working horn, engine sounds, bright LED headlights and even music!
It even has a cool little dashboard with a faux rev counter and speedometer!
If you have a child on the younger side of things, then this product is absolutely ideal for you.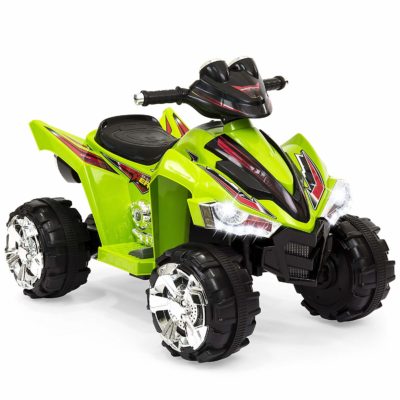 5. TaoTao TFroce
The TaoTao TForce is a much bigger, more adult style model. It's ideal for teenagers.
It has a real, gas powered engine, with a power of 110ccs! The engine is an air-cooled, 4 stroke, 1 cylinder automatic. It also has an electric start meaning it's easy to use as well as having plenty of power. It can even hit 30mph!
Not only is the engine automatic, it also has a working reverse, which can save a tremendous amount of effort in backing up an otherwise relatively heavy vehicle.
It has a speed governor which can be used to restrict the speed as low as 5mph. If safety is a priority for you this feature is incredibly handy!
The racks up front and back can be used for storage. If your teenager is a little bit more industrious and can be trusted with tools, they can bring a toolkit with them. Meaning they can make on the spot repairs provided an adult is supervising and they have the correct level of knowledge.
The huge wheels grant it considerable traction in awkward terrain. Meaning it is by all rights capable of on and off road activity.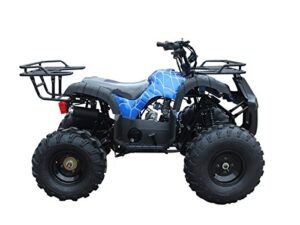 6. Sonora Mini Quad
The sonora mini quad is perfect for girls who love the outdoors! With a slick pink camo design and real working headlights, it feels super authentic and is really fun to ride.
Despite being battery operated, running at a power of 24v, this little quad can reach up to 10mph! It also has a parental speed control key, where you can reduce this speed to 5mph. Making it perfect for a much wider range of ages!
It can accommodate up to 150lbs, so it is highly recommended as an entry level ATV for kids who're starting out. 
The tires are rubber and will do just fine outdoors. Its perfect for the yard or going camping.
The slightly faster top speed when the limiter is turned off is ideal because it means that your child will not "grow out" of this vehicle too quickly. 
In terms of other safety features it also has a foot switch which must be held down in order for turning the throttle to do anything. This means that it's very difficult to make it move without actually fully sitting down on the vehicle. 
It also has bright headlights increasing visibility in the slightly darker winter months.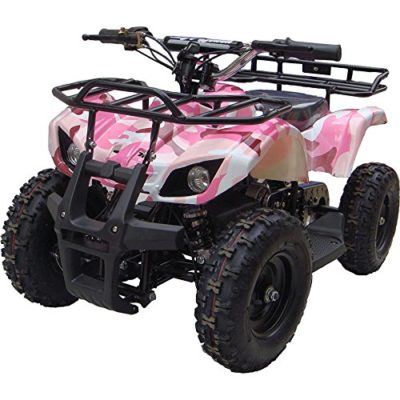 6. Mountopz 110c ATV
This 110c juniors ATV comes with an air cooled, single cylinder 4 stroke engine. The transmission is automatic which makes riding this very easy as there's no need to fiddle around with a clutch.
This is perfect for kids who are a little bit older and love the outdoors. Is the idea of a real engine on a juniors quad too scary for you? Mountopz has solved that issue entirely. It has a remote control engine shut off and an optional speed restrictor. So you can be absolutely sure your kid isn't going any faster than you'd like them too! 
It's smaller design and reasonable carrying capacity make it perfect for kids who love adventuring! The refillable engine means that it can be taken on much longer journeys than an electric ATV can (stopping for fuel is much quicker than stopping for a 6 hour charge!)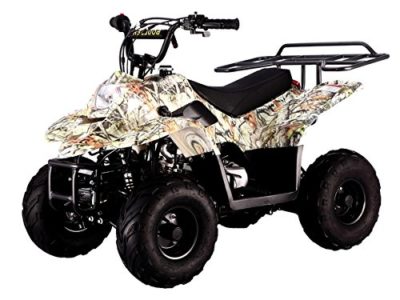 7. ZH Quad ATV
This ZH Quad ATV is awesome for younger kids! It also has a configurable speed meaning it can be sped up to keep things interesting as they get a little bit bigger.
As you can see from the image it has a nice, sleek, pointed dark design which kids will find awesome. Whether your child is pretending to be a race car driver or a superhero – this quad bike will deliver.
This is designed with 3 to 5 year olds in mind. It will not travel at an unsafe speed and is very comfortable and enjoyable for younger children to ride.
It has horn and IC sounds as a feature. It can also be switched between 2mph and 4mph. It's entirely rear wheel drive too, which gives it a very car-like feel.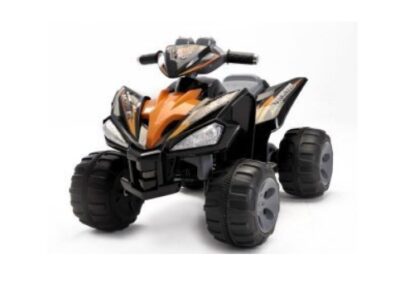 8. Yamaha 
YFZ450R
This stylish Yamaha childrens ATV has a strong selling point – it's made by a company that actually make REAL ATVs. It's also stylized after one of their own real quad bikes – the Yamaha YFZ450R.
It gets a full 4 hours of continuous usage before the battery is fully depleted and is recommended for children aged 18 to 36 months! 
This toddler friendly design is recommended for both indoor and outdoor use, meaning bad weather need not stop your child having fun on his quad bike. The plastic wheels work great on carpeted surfaces.
It's also very easy to assemble and comes with a parent manual and even a rider manual!
If you're looking for a kid friendly vehicle and you're worried about larger designs for your toddler, this is absolutely perfect for you.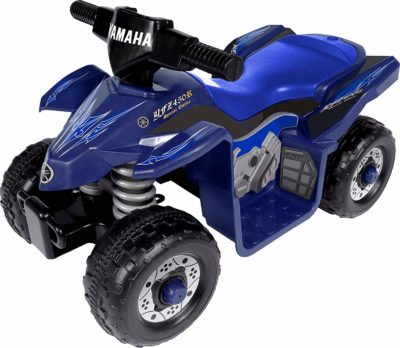 9. Motor HQ 125cc
This 125cc Quad Bike is definitely one for the older kids. It can reach top speeds of 35mph but also has a speed govern that can govern it down to as low as 5mph.
If your child is looking for a motorcycle or a dirt bike we would always recommend getting them started on a quad bike first.
It comes in a metal crate and assembly is pretty easy.
In terms of the price… It is well worth it. The bike costs more but provides a fantastic driving experience, is extremely durable and can even hold a grown adult so it will last for ages!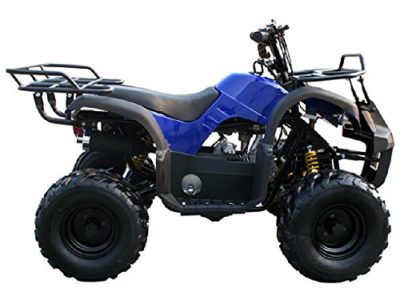 10.  Eunjoy ATV Quad
This electric powered ride on toy is the perfect quad for kids aged 3 to 8. Why?
Well they can control the ATV by using the foot pedal to move forward or backwards. This will help their hand eye co-ordination.
There is two speed settings, high-hare and low-tortoise. This provides a smooth cruising experience.
The ATV has speakers that allow a music playing device to be plugged in via usb or mp3 port. Another great feature is the sound the atv produces when starting up, just like a real car would. Kids also need to use a key to start it.
The ATV has a suspension system installed which helps produce a vibration free ride. There is a handle bar at the back making it easy for the adults to carry about.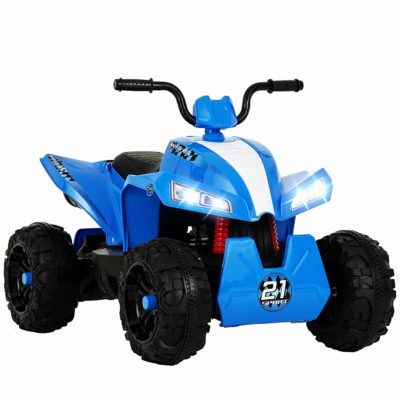 11. Power Wheels Jurassic Dino
Does your child love jurassic park? Have they spent ages playing with power wheels? If so this dinosaur themed ATV will be perfect for them. It has a max speed of 6mph and rides well. They will be having adventure filled races in the back yard imagining all the dinosaurs round about them. Just like the movie.
The front mouth also opens and shuts.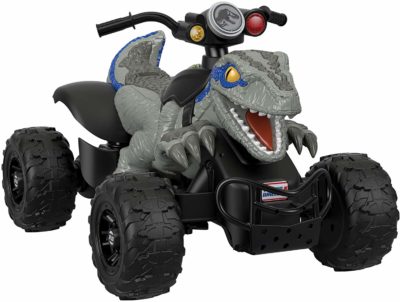 12.
V-Fire
Monster
The V-fire monster is a great quad for older children and young teenagers.
It has a power output of around 6500 rpm and has a top speed of 24mph. Its a gas powered ATV and holds around 1.8 litres of fuel. It can handle all terrains well and weighs about 75 pounds so it won't topple too easy due to the weight.
Front and rear disc brakes provide this 40cc bike ultimate stopping power it needs. The monster quad is made of high-strength steel therefore it is a tough kit and will last a lot of abuse from rough terrain.
There is a throttle regulator that allows you to adjust the speed control to ensure your kid's safety.
The headlights are for decoration purposes and do not light up.
And the quad comes in 4 colours, these are:
As you can see from the image it looks sturdy and great. Your child will fall in love with this easily. It costs is in the mid-range so it is not the cheapest.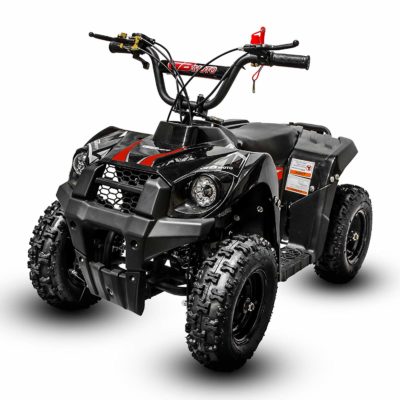 13. Honda Camo Utility
This is a great present for a little girl who loves the outdoors.  This is an officially licensed Honda product. Therefore it is designed to the highest quality. It has a great pink camo paint on the exterior making it a fantastic gift for your daughter who wants to play in the garden like her brothers.
There is a 3 light-up dash buttons to encourage engagement.
And this product only costs around typically around $40 to $100.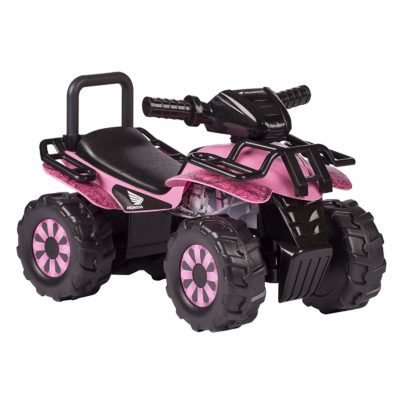 14. Titan-G ATV 4-Wheeler
The Titan-G ATV 4-Wheeler is perfect for older children who are ready to get a bit of speed. The high torque engine is capable of producing top speeds of 21-25 mph. Perfect for children aged 14 and up. 
It has an automatic transmission so young drivers don't have to worry about a hand operated clutch.
The quad has thick tyres that provide better traction and allow users to maintain control as their racing around the track.
The quads shock suspension cushions the bumpy ride and provides a more comfortable riding experience.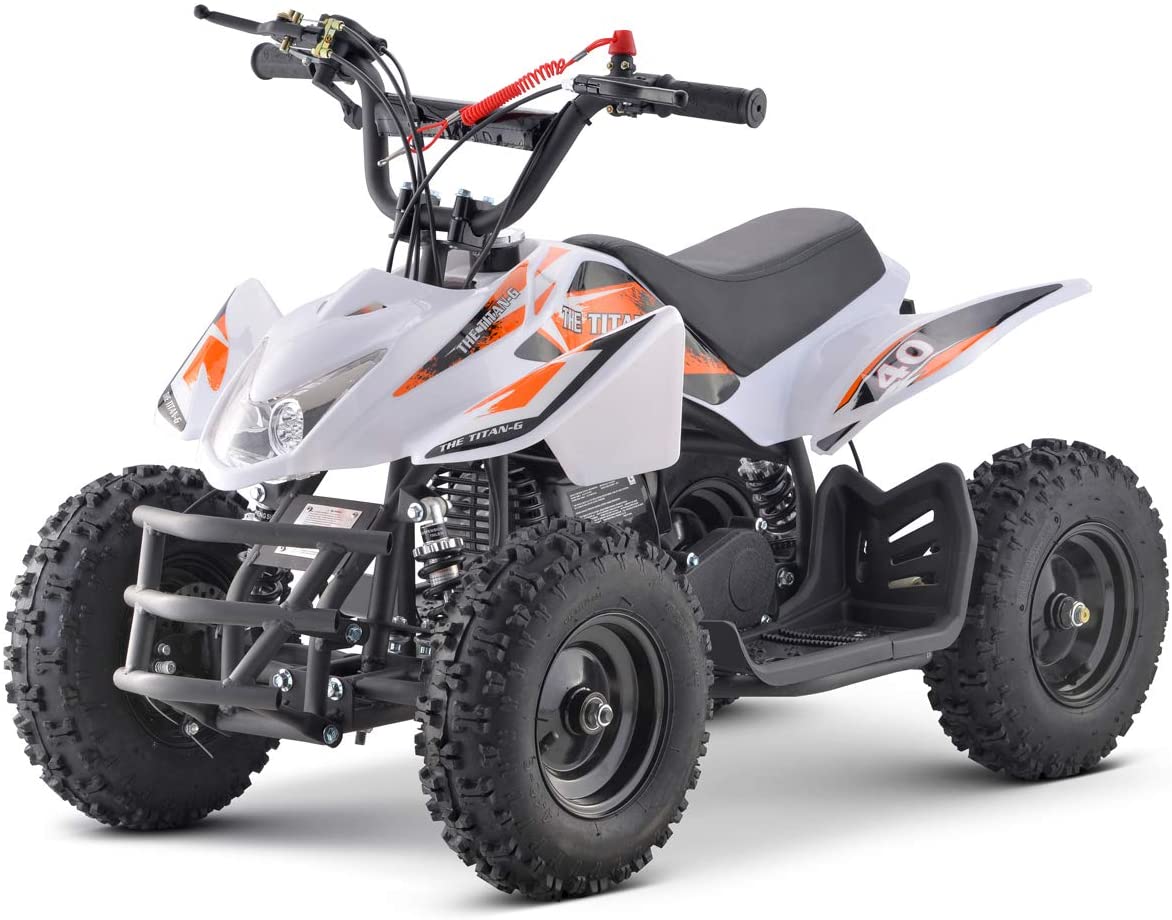 15. 150CC Coolster ATV
This is a junior bike and should not be used by children. It has some serious power at its disposal and therefore should only be used by am experience rider. This 150cc bike has a top speed of 40 mph. 
Its fully automatic, drum breaks in the front, working headlights. It has forward, neutral and reverse. Its great for trail riding.
The exhaust produces a nice authentic deep sound. It comes in a crate, you have to put the wheels on but theres not much to it.
This is the latest and greatest for the avid junior rider. You can limit the speed on this too.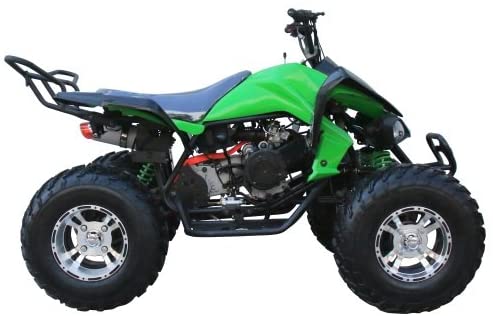 Where Should You Ride Your ATV?
Ride on toys provide a thrilling experience, but where can you ride them?
The greatest aspect of an atv is being able to ride it off-road.
If you're looking to see your child's face spark up with joy, you could always surprise them with their ATV at an actual location where they can immediately ride it.
Whether this be your back garden, a relatively flat piece of terrain in your local woods or a nearby field you're allowed to roam freely in. 
Are ATVs safe for children and youth?
This depends on the type of ATV. A fully powered (50+cc engine) adult ATV should never be ridden by anyone under the age of 16.
Under 16's generally do not have the fine motor skills or level of comprehension required to operate these powerful vehicles.
However a great magnitude of ATVs have been designed with children in mind. Smaller, battery operated ones that move very slowly and simply "simulate" the feeling of riding an ATV exist for younger kids.
Slightly more developed children can also enjoy intermediate/training ATVs. ATVs with a real engine – capped at 40cc's.
40cc's is perfect for getting the feel of operating a real quad bike, without subjecting you to the risks of a high powered engine. Kids quad bikes also tend to have a relatively low top speed.
Some sitting around the 13mph mark. This is actually slower than the average running speed for many adults.     
ATVs are for the whole family
ATVs are safe, I'm sure you've been questioning that in your head the whole time you've been reading this article.
You, the kids, your partner and anyone else in the family can make some fantastic and thrilling experiences exploring the outdoors.
More than half of the kids in the USA aren't getting enough exercise. It is recommended they get at least 420 minutes per week of physical activity, and yes, riding an ATV counts.
Your adventures do not have to stop altogether because you've got a family. In fact, you would be a bad parent if you did. Encouraging your children to seek thrilling experiences and be adventure hungry is essential for growth and who's best to teach them? YOU! Make great memories, teach them safety and bond.
Riding ATVs is quite a physical experience
You're doing your heart and lungs a favour the second you step outside. The best thing about ATVs lies in the name All Terrain Vehicle… Yes, you can ride over low water crossings, bumpy embankments or scoot over asphalt. And while doing so you're consistently engaging your core, mentally focusing and remaining in control. Thus burning a bunch of calories.
Plus you know you're doing your heart and lungs a favor when you head outside for a jog or you join in a local
Some handy safety tips to consider when your children are out enjoying their quad bikes:
Always wear adequate protection.
Even if you've picked the perfect quad bike for your kid and you're riding on flat terrain – it never hurts to be prepared. It's perfectly possible for a child to fall off of a stationary bike, so hand and head protection is always a good call. Do not opt for a bicycle helmet either, you must have a government certified safety helmet. 
Don't Allow Passengers

Many quad bikes are not designed for passengers, especially childrens ATVs. It may seem like a cute idea to let a sibling ride along, but most of these bikes are designed for 1 person at a time. Allowing more than 1 person to hop on can damage the stability of the bike, increase wear on the suspension and is overall a bad idea.
Only Opt For Four Wheeled ATVs
Whilst the classic three wheeled ATVs may look beautiful, they're not as stable. They have more weight on the back end and this makes them much easier to tip back when going up an incline.
Do Not Ride On Roads Or Highways
These smaller ATVs are not powerful enough to quickly clear out of the way of oncoming traffic. They lack the engine power to keep up with the pace of traffic also. Their smaller size also presents a visibility limitation – meaning drivers are less likely to actually see the vehicle. 
Please ensure you stay well clear of roads or highways when you and your children are out having fun on these vehicles. They're called All-Terrain-Vehicles for a reason: they can be ridden without a road. 
Consider taking an ATV Training Course.


Having a solid grasp of the fundamentals of operating an ATV will allow you to impart this knowledge effectively on your children.
It will also allow you to quickly spot any mistakes or bad habits they display when riding. This could potentially prevent future difficulties as they progress to more powerful bikes as they grow older. 
An ATV training course will help you learn all the controls, safety practice, understand the main causes of accidents and more.
Never ride will tired, intoxicated or otherwise impaired:

This will go without saying to most parents, however it's still very important to stress. Never ride whilst you are in a state where your reaction times are impaired.
This could impose your ability to quickly react to situations in which your child is in danger. You may feel that it's unlikely you'll encounter these situations whilst out with your child, but it is absolutely not worth gambling with your children's livelihood (or indeed your own)
How to Choose the Right Bike for your Child
Age Guide:
Ages 3-9: Small, battery operated, slow moving atvs are your best bet at these ages. Allowing children to fully enjoy the ATV experience without being subjected to any of the dangers. 
Ages 10-15: Child friendly, engine operated ATVs exist for children in this age bracket. With a hard cap of 40cc, these let your children get used to operating a real vehicle, with a relatively low top speed. 
Ages 16+: Depending on local and national laws, this is the stage where you can begin to explore granting your children greater responsibility when it comes to the power of the bike they have access too. Obviously your own discretion is required – if your kid is still displaying bad habits on the smaller bike, moving them up to a bigger one will not fix this issue.
Electric vs Gas:
When buying an ATV you have to consider the fuel it uses. These are the two main types of fuel. For younger children we highly recommend sticking to electric powered devices as it provides a much safer experience and they're easier to use. They also don't require much maintenance and can be easily charged up (no expensive fuel).
If you think your child is ready, a gas powered device packs some power and is more durable. They can explore rougher terrain and will give your child that thrilling experience they desire. Adults should ensure their children know the dangers of gas powered ATVs and ensure they drive with caution.
It is really up to you if you think your child is ready for a gas quad bike or not.
Other things to consider can include:
The weight of the bike: 
Whilst lighter bikes may be easier to manoeuvre and transport around. Heavier bikes can have a greater level of stability and will be less likely to roll. 
The Suspension:
Better suspension means less kinetic energy is transferred to the operator of the motorbike when encountering bumps/drops on the terrain. This can actually reduce stress on the spine and is generally healthier than riding with rigid suspension. Good suspension also increases the ease of handling the quad bike in rough terrain. 
Rearview Mirrors:
Some ATVs do not come with these included, luckily they can be purchased and attached separately for fairly cheap.
My son wants to get into motorsports
Great! To start kids off on the right path, its imperative to teach them the basics. Start them off with a small quad bike and get them to understand the basics of safety. Let them get a feel of handling the quad before you let them run wild on a track.
Most ATVs with a 90cc engine able to be shut off or allow you to regulate the throttle from a distance using a remote control.
Once a child is used to adult supervision and can show they can be trusted on a quad, you can let them on a track.
Choosing the right Safety Gear
Wearing the right safety clothing and gear is ESSENTIAL for any driver. Young kids can still hurt themselves on quad bikes even if the speed has been capped at a low MPH. As a rule of thumb, you should try and cover every part of your body if you're riding a gas powered quad bike.
The electric bikes for kids aged 5 and below don't move fast enough to require any safety gear. Gas bike riders should always get into the habit of wearing proper gear and you should drill this into them at a yoiung age.
Now the bikes are expensive, adding all the accessories & safety equipment on makes them even more expensive. But how much is the safety of your Childs life worth to you? Its priceless, exactly.
So what equipment do you recommend for kids?
Okay so children (and adults) should wear the following:
Helmet
Goggles
Boots
Elbow Pads
Gloves
Jersey And Pants
Chest Protector
Knee Pads
Now if you're going to be taking your child to an official track we recommend you get them a collar too. Accidents can happen on any sort of trail, misjudging a corner, too fast on mud etc etc. If the rider is well protected they can be lucky enough to walk away bruised and shaken up.
NOW, if you're looking to save money. Try buy everything online as it will be much, much cheaper.
Helmet
Recommended: we recommend getting them the Fox V1 Helmet. Now you should only buy a helmet online if you know your childs size, we recommend going somewhere locally to try them on first.
However, I do not recommend buying one without knowing their size. If you don't know what size helmet your kid needs, you should bring them somewhere they can try them on first.
Approximate Cost: $110-160
Ensuring the helmet fits properly is essential and when picking one for a kid and it can be a highly difficult experience. Why? Well helmets are heavy and your child will be full of excitement and joy. They have a hard time understanding if the helmet fits them correctly.
The four parts of a helmets are the outer shell, the impact liner, the padding and the chin strap. Get your child to move their head up and down and see if the helmets moves with them. If it does, great, it fits! You also want to try and see if you can squeeze a finger between their cheek and the helmet.
If the hemet was bit too big the helmet will move around.
Do not waste your money on a cheap helmet, they lack the proper ventilation your kid needs to be comfortable. Spend the extra cash so their riding experience is enjoyable.
The cheaper helmets may look cool and fit nice but due to the ventilation issues your child might not enjoy riding as much. We've seen it before, children get uncomfortable, lose focus and want off the track.
This can be an expensive lesson as you'll end up having to buy another one.
Goggles
Recommended: Grab the Fox Youth MX Goggles found here on Amazon.
Approximate Cost: $25-35
These are another essential piece of kit. The above ones are great and will protect your child's eyes from the dust, sun, dirt and whatever else the wheels kicking up into the air on the track.
A good pair of goggles will make sure there isn't any exposed skin between the helmet and goggles frame.
The fox youth MX goggle has a smart venting system that helps keep the air circulating providing a comfortable riding experience.
Boots
Recommended: Get these O'Neal Boots.
Approximate Cost: $90-110
Your Childs feet will be growing fast, so order a pair thats slightly bigger so you have a little bit longer out of the boots.
Chest Protector
Recommended: We recommend theLeatt 2.5 Chest Protector found here or theWebetop Kids Dirt Bike Body Chest Spine on Amazon.
Approximate Cost: $40-70
The first item, the Leatt is recommended for children aged 3-7. The chest protector is very small. Larger or older children should opt for the Webetop Kids Chest protector.
Both made with breathable materials that also provide protection to our body effectively. Protects the chest, spine, shoulder and waist. 
This will disperse every point of impact to this area and evenly disperse it reducing serious injuries to the body.
Knee And Elbow Pads
Recommended: The JBM Knee and Elbow Pads found here on Amazon.
Approximate Cost: $16
Made of premium material, these are a good cost effective option. These come with wrist guards too. Whenever your child falls, what do they do? Put there hands out to protect them. The wrist and hands will then take all the force and could fracture or break.
There are a lot of small bones in that area and bones that are prone to nasty breaks, like the scaphoid. Wrist guards can save 2-12 months in a cast. Do not miss out on them.
This set provides great protection for the shins, wrists etc. They provide impact resistance, made of breathable materials and have adjustable buckles.
Gloves
Recommended: I recommend the HML Youth Kids Gloves found here on Amazon.
Approximate Cost: $15
Again, protect those hands. There normally the first things to get cut up in impact. The above gloves provide a good amount of padding and protection. Plus it can get cold outside, this keeps their hands nice and warm so they enjoy the riding experience.
These are affordable, well made gloves.
Jersey And Pants
Recommended: Fox youth is a great brand so again, we highly recommend their Fox Youth Jersey and Fox Youth Off-Road Pants.
Approximate Cost: Jersey $25 – Pants $70
Now with all clothing the goal is to ensure it provides the safety needed and also look cool enough so that your child wears them. 
The pants are thicker and therefore more expensive. This is done so your child gets more protection from the heat of the engine. It is WELL worth it to prevent any burns in case your child accidentally touches the piping hot engine. 
They last longer and will take a while for your child to grow out of.
Get a jersey that is 1 or 2 sizes bigger so that it will fit over your Childs chest protector.