Every year, as the first day of the new school year approaches, parents look for gift ideas that are suitable as kids presents that can be given when their kids start back to school. This is the perfect opportunity for parents to encourage kids to embrace every learning opportunity with an educational gift or even to help kids prepare for school with a gift that will be useful to them during their school day. There are many great gifts to pick from for boys and girls of all ages, from great back to school gifts for preschool kids through to gifts for kids starting college.
The very first time a child goes to school is special time for both the child and their parents, so if you are looking for gift ideas for first day of kindergarten to celebrate this event then there are plenty of options to choose from. A popular gift option is one of the wonderful first day of school books that are perfect for parents and kids to share and enjoy together. These books are also perfect for preparing kids for their first day at school, which can help stop kids feeling anxious about this big change and allow them to settle more quickly into the new school routine. Alternatively, you might want to get them a gift that they can enjoy at school as there is a great selection of bags, snack boxes and drinking bottles for you to pick from. This special gift will also give every child comfort as they go through their school day.
To help you select the perfect gift for your school age child this article will take you through the top 5 back to school presents and gifts, so you are certain to find a special gift that every kid will love.
Considerations when choosing gifts for kids going back to school
What ages are back to school presents and gifts suitable for?
There are many suitable gifts for all kids who attend school, which starts with a lovely selection of back to school gifts for kindergarten students and progresses through to gifts that are suitable for college students. This means that you will find the perfect gift for every child no matter what grade they are studying. If you are buying a gift for a younger child then it is important to check that the item is suitable for their age so you can be sure they will get maximum enjoyment from their gift.
Are these gifts suitable for both boys and girls?
Yes, these great educational and school related gifts are perfect for both boys and girls. Some items will have a theme that may not appeal to certain individuals tastes, so this means that you should look for a gift that fits with your kid's interests so you can be sure that they will love their gift.
Top 5 Back to School Gifts for Kids
1. Essential School Supplies Bundle
When it is time for your kids to get ready for a new school year then there are no better back to school student gifts then this Essential School Supplies Bundle, which comes with every possible stationary item that any kid could need for school. This is a stationary set that is perfect for every school project and will last throughout the whole school year, making it one of the best school supplies gifts available that is also great value. There are a fantastic variety of pens featured in this set with a lovely collection of highlighters, marker pens, crayons and colored pencils all included. Kids will love the variety of stationary that comes with this wonderful set as there are even scissors and glue sticks provided that are ideal for enjoyable craft sessions. No matter what grade your kid will be starting there is something for everyone included in this exciting set. This is also the ideal gift to impress all teachers, as this exciting stationary kit will ensure that your kid is the best prepared student in class. All of the items that are included in this stationary set has been selected for kids to use, making this the perfect gift to get kids excited about their new school lessons as well as being ideal for sharing with friends. If you are looking for the best back to school gifts for teens then this is the perfect school supply set for both girls and boys that everyone is certain to enjoy using.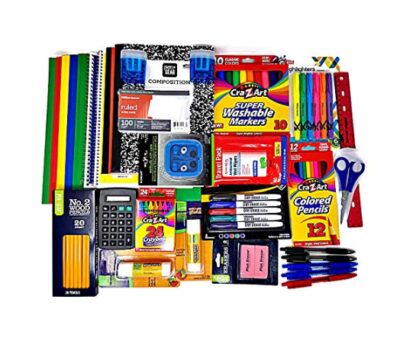 2. Little Kids Schoolbag
The first day of school is an exciting adventure for all kids that all parents want to celebrate with special first day of kindergarten gifts. What better gift to choose than one that will be loved by kids as well as being useful during their school day? This Little Kids Schoolbag is the perfect gift idea as it is practical for everyday use as well as having an appealing design that kids will enjoy. The bright yellow color of this cute giraffe bag will be loved by all young girls and boys with the friendly face on the front of the bag providing kids with comfort while away from their parents. These exciting giraffe bags make great back to school gifts as it has been designed with kids in mind and the choice of 2 sizes means that the bag is ideal for all kids from preschool age and up to the age of 7 years old. Kids will love the that main pocket of the bag is the perfect size for them to carry all of their school equipment, lunch and drinks that they require to get them through their day and there is even a handy insulated front pocket that is ideal for additional food snacks. The neoprene material that the bag is made from is lightweight and breathable, making the bag easy and comfortable for kids to carry and it is also repels water so it can be used every day and will keep all your kids belongings safe and dry. For added comfort the straps are adjustable so this bag will grow with your kid and you can be sure that this bag will get plenty of use. This really is one of the coolest first day of school presents that every kid will love.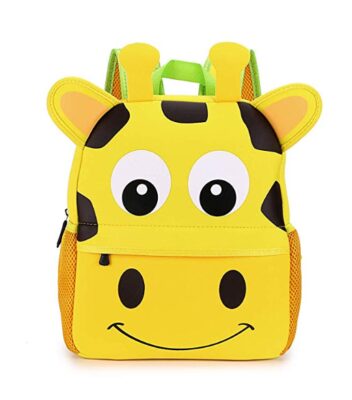 3. Neliblu Puzzle Eraser Cubes
If you are looking for a lovely gift that is suitable for kids who are about to start back at school then there are many great cheap back to school gifts that will be appreciated and enjoyed by kids. These Neliblu Puzzle Eraser Cubes are one such gift that are perfect for all school age kids. There are 12 of these exciting puzzle erasers included in the pack, making this great value gift the ideal solution for back to school gift ideas for kids, especially if you have multiple kids to buy for or want to share them with your kids friends. Each cube is made up of 6 different geometric shapes that fit together to form a cube, which all kids will find fascinating. Then as an added bonus each piece acts as the perfect eraser for correcting any mistakes on school work. Teachers will also approve of these puzzle erasers as they make perfect fidget toys that will help kids concentrate on their classes and kids will love that each geometric shape is brightly colored. Each puzzle is also pocket sized, so is ideal for kids to take out and about with them, which also makes them the perfect for everyday use outside of school. Parents will be reassured that kids will get great enjoyment from this simple Puzzle Eraser Cube making them perfect gifts for school kids.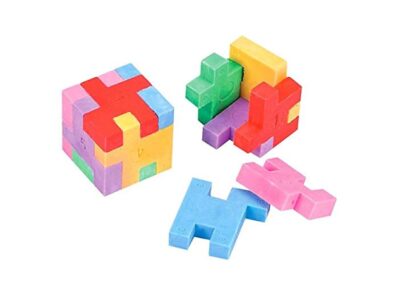 4. Livebox Personalized Notebook
All parents want to treat their kids to the best school presents and gifts before the new school years starts, so this Livebox Personalized Notebook is a fabulous gift idea that is also perfect for kids to use for school work. The sequin cover of the notebook with its lovely mermaid picture is sure to make this notebook a popular choice with all school age girls and boys. Kids will love that they can repeatedly flip the sequin cover to reveal stunning mermaid pictures on each side of the notebook. Additional fun can be had from playing with the brilliant sequin cover as kids can create their own pictures and even draw letters if they only flipping certain sequins, which will provide hours of entertainment. This lovely notebook is practical with its 160 lined A5 pages, so is the ideal notebook for kids to use as a personal journal or even for homework, making this one of the top cool back to school or college gifts. Kids will also find the padlock that is included with the notebook appealing so they can keep their notes secret. The compact size of this fantastic notebook means that it is certain to fit into every school bag and the notebook is lightweight so can be carried everywhere for maximum enjoyment. Alongside being one of the best student back to school ideas then this lovely notebook will be enjoyed by older kids and even adults, so is also a great gift option for anyone looking for an enjoyable notebook.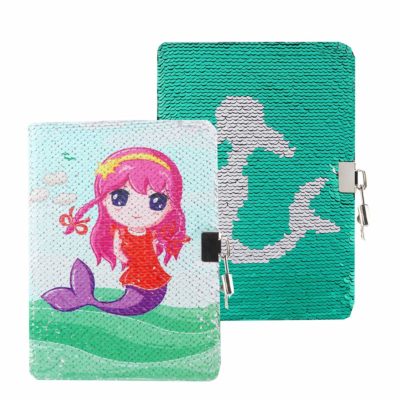 5. Flyme Anime Luminous Backpack
Anyone who is looking for special ideas for gifts to give kids starting back to school should consider this Flyme Anime Luminous Backpack as it is a great quality functional bag that comes with many appealing features that are perfect for school age kids and above. The highlight of this special backpack is that there is a luminous cartoon picture on the front that will light up during the dark for up to 6 hours as a result of the backpack being exposed to daylight for 10 to 20 minutes. While the cartoon is appealing to kids the luminous feature is a great reassurance to all parents as it will help kids to be seen in the dark. This great sized backpack is suitable for carrying a laptop, school work, clothes or any other items that kids may need for their day at school and is sure to have plenty of room to spare. Kids will love that the bag also includes a USB charger, so they can ensure that their phone never runs out of battery while they are out and about. This bag has been designed to be long lasting and comfortable for kids to wear with the padded breathable shoulder straps and the waterproof design of the bag. For safety, the bag also comes with a padlock that kids can use to prevent any of their belongings going missing and in addition there are even side, front and back pockets allowing the convenient storage of water bottles, phones and other small items. For any boys and girls who are returning to school this lovely backpack is one of the best first day of school that makes the perfect start to a new school year.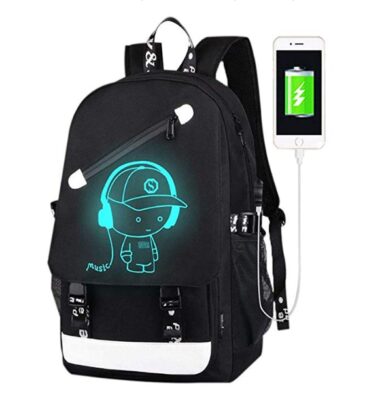 Best Overall Buy
The Essential School Supplies Bundle is our best overall buy as it a stationary set that comes with everything kids will need to see them through the new school year. This fantastic bundle of stationery includes a lovely collection of colored pens, pencils and crayons along with paper, scissors and glue, making this gift ideal for all school projects and crafts. Boys and girls will love the great variety of stationary that this set offers and they will enjoy sharing their pens with their friends. All school age kids will appreciate receiving this amazing gift before they start back at school. Overall this is a great value stationary set that is perfect for encouraging kids to study and enjoy being creative.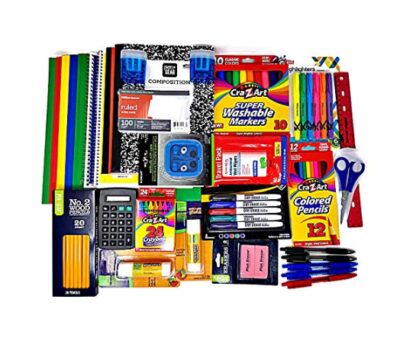 Best Budget Buy
Our best budget buy are these Neliblu Puzzle Eraser Cubes as they are great value with their 2 different uses. The pack comes with 12 erasers so they are also ideal for sharing with siblings and friends and kids will love that each cube can be used as either an eraser or an exciting puzzle toy. The clever design of each eraser means that each one is made up of 6 different brightly colored geometric shapes which all fit together to form a cube. So if you are looking for a great fidget toy to help your kid concentrate at school or you want a toy that is great for keeping them occupied while out and about then these Puzzle Eraser Cubes are the perfect option for you.