Choosing the best Kaleidoscope toys for your child is important and the difference between a good Kaleidoscope and bad one is very important. The unique patterns and images a kaleidoscope can create have made it a popular kids toy since the 1800's. It is still used to this day for it's easy to handle simple design and fantastic visuals that entertain and stimulate the creativity of a child. It can also be used as an educational toy for the curious girls and boys who want to learn how light and reflection work.
Best Pick
Budget Pick
Don't Miss
Also Consider
Fengirl Kids Classic Paper Kaleidoscope, Best Gift Idea, 3 Pack (Random Color)
Continuous Movement Kaleidoscope by Golden Island
Szsrcywd 2PCS Classic World Kaleidoscope, Magic Kaleidoscope,Best Birthday Gift for Children
Mudpuppy Solar System – 6.5" Tall with 2.25" Diameter – Colorful Kaleidoscope for Kids with...
Best Pick
Fengirl Kids Classic Paper Kaleidoscope, Best Gift Idea, 3 Pack (Random Color)
Budget Pick
Continuous Movement Kaleidoscope by Golden Island
Don't Miss
Szsrcywd 2PCS Classic World Kaleidoscope, Magic Kaleidoscope,Best Birthday Gift for Children
Also Consider
Mudpuppy Solar System – 6.5" Tall with 2.25" Diameter – Colorful Kaleidoscope for Kids with...
A kid kaleidoscope is one of the best toys to occupy your children in the car while you are on a long journey if they are prone to getting restless. These toys provide endless hours of entertainment as the images are never the same and unique geometric patterns are created with every spin.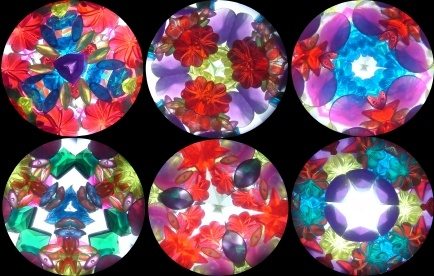 There are so many varieties of kaleidoscopes available nowadays ranging from build-your-own kits to beautiful hand-crafted pieces. These fun toys are very affordable and can be a great choice of a gift for kids birthdays and even better Christmas stocking fillers.
Considerations when buying a Toy Kaleidoscope for Your Child
Material 
The best choice is to get a kaleidoscope that is a tube made out of sturdy thick material and possibly have a plastic eyehole so that it does not break easily. If the small colorful pieces fall out they could become potential choking hazards for small children. There are endless types of materials these can be made of:
The tube can be of paper, cardboard, plastic, various metals, wood etc.
The eyehole is usually made out of glass or transparent plastic (sometimes suspended in liquid for fluid movement)
Objects creating the vibrant patterns are small pieces of colored plastic or glass, pebbles, beads, small bits of metal etc.
Age
The kaleidoscope recommended age for use vary, but in most cases, its a simple to use and most kaleidoscope are for kids aged 3 year olds and up. Take into consideration the size of your son or daughter and whether they will be able to hold and use the kaleidoscope. Otherwise, the kaleidoscope is a very simple and easy-to-use toy for all ages.
Visual Effects
The mechanics of a kaleidoscope is based on visual patterns created by light reflecting from colorful objects. There is no official warning for using it if you are sensitive to light or quickly changing images. Consider using it with caution if your children are susceptible to light.
Price 
Find where to buy kaleidoscope is usually easy and online is always the best way to get a good deal and a cheap price I say. There are places like Amazon that offer an array of Kaleidoscopes for cheap prices and all our reviewed products can be found on Amazon via our Amazon button, so where can I buy a kaleidoscope should be easy from here.
Top Picks for 2023
1. Fengirl Paper Kids Kaleidoscope
This kids kaleidoscope bundle for children is top rated amongst similar toys on Amazon. Its features and attractive vibrant colors allow children to be entertained for hours. This toy will stimulate the creativity and imagination of any little boy and girl. Having a set of 3 will encourage your children to share it with friends and learn how to be part of a community. Features of this kaleidoscope toy set:
Made from safe paper tube material
The surface is smooth and soft therefore comfortable to hold
Smooth to rotate the lens
A set containing 3 different kaleidoscope tube designs that compliment each other

2. Bits and Pieces Kids Kaleidoscope
A unique kaleidoscope kids design allows the patterns to be seen through both ends of the tube. This is a perfect gift for siblings. As well as that, this could be used as a children's party activity. Two kids have to watch the kaleidoscope patterns at once and try an describe it to each other. It can promote creativity and develop communication skills among kids. Features of 2-sided kaleidoscope toy:
Two lenses at either end of the tube
A clear center with colorful pieces in a liquid
9″ long
Includes a black 3×1″ stand

3. Golden Island Blue Kaleidoscope
One of the most entertaining kaleidoscopes for kids available on Amazon. The constant stream of glitter patterns provides endless soothing images. It is not necessary to turn it! It could be used as a party for a kids birthday or a Christmas gift for a glitter-loving girl.
Features:
Constantly changing patterns of glitter pieces
Glitter in a liquid stream
Very vibrant colours
Durable design
Top quality reflective mirrors inside

4. Multi Lenses Kaleidoscope
Any child that has a sense of adventure will love this Old Map Kaleidoscope. The different lenses will give your little one an authentic feeling of being an explorer. It is a great toy for children with a lower attention span as they will be able to change what they are seeing with different kaleidoscopic lenses. A great present for a girl or boy.
Features:
Multi-lens – 3 additional lenses
Each lens has a different effect – hearth and gems, stained glass with flowers, rainbow, and a telescopic lenses
7″ long

5. Toysmith Nature Kaleidoscope Kit
This is the best kaleidoscope toy set to promote your child's creativity. This children's set allows to fully customize the kaleidoscope tube, learn how it works by assembling it following instructions and place any items that you want to create never before seen patterns. This is the perfect educational toy for your boy and girl who loves constructing and creating.
Kaleidoscope toy kit includes:
Parts to create an 8.5" kaleidoscope
Blank pictures and pencils to create a kaleidoscope wrapper
Natural gemstones, glass marbles, minerals and dried plants to form a kaleidoscope
Detailed instructions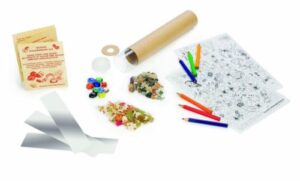 6. WED Rotating Kaleidoscope with LED Projector
A wonderful versatile kaleidoscope decoration for your children's bedroom. Kaleidoscope projector can be used as an outdoor decoration for children's parties and it can make your house walls look like a rainbow wonderland. It will definitely attract everyone from the neighborhood to come an admire. kaleidoscope projector includes: Lifetime is at least 50000 hours
Easy to install
Comes with a 15 V adapter and UL certification
Waterproof and can withstand any weather conditions
Ideal for outdoor and indoor use

Best Overall Kaleidoscope
The Golden Island Kaleidoscope is one of the best rated and reviewed kaleidoscopes on Amazon. This is a perfect gift for a girl or boy as it is compact and easy to grip. Any child would love the constant changing images and colors this toy makes.
I would suggest getting 2 or 3 for a kids birthday party and let the children enjoy describing the beautiful visuals they see in this bestseller kaleidoscope.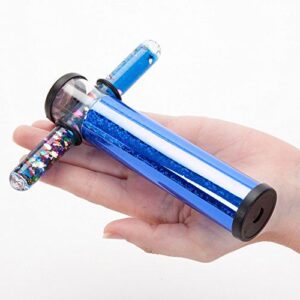 Best Budget Pick
It is always a good idea to buy in bulk and this Fengirl Kaleidoscope Set is your best savers choice. A wonderful set of 3 colourful kaleidoscopes that are made out of durable paper tube technology.
If you are looking to get a bunch of kaleidoscopes for a kid's party this set will save you lots of money and time by getting it delivered straight to your door.


Here are some other great choices:
Schylling Classic Tin Kaleidoscope
The Classic Tin Kaleidoscope For Kids, Just Twist And Experience A Vibrant Light Show
Each Turn Creates A Magical, Intricate And Iridescent Mosaic That Will Dazzle And Delight
Made Of Metal For A Timeless Tin Toy Feel That Is Lacking In Plastic And Cardboard Kaleidoscopes
Educational And Entertaining, Fostering Creativity, Imagination And Constant Fascination
iKeelo Classic Tin Kaleidoscope, 2 Pack Kids Educational Kaleidoscope Toy with Metal Body, Birthday...
✅ [Classic and Popular Since 1816]: First invented in 1816, the kaleidoscope became one of the ever-lasting childhood memory for both the old and...
✅ [Infinite Color Patterns]: Enjoy the infinite color patterns by just rotating the barrel. Each turn creates a magical, intricate and symmetrical...
✅ [Explore the Beauty of Symmetry]: Learn the beauty of symmetry with kids' own eyes with our kaleidoscope - A great educational toy for learning...
✅ [Build to Last]: Made of metal Tin, our kaleidoscope has a tough outer shell that is sturdy enough to withstand daily play and will not rust in...
✅ [ASTM Certified Kids Toys]: The ABS plastic lenses are safe, transparent, and toxic-free. ASTM-certified kaleidoscope is safe for both boys and...
Sale
Sale
HAPTIME Classic Kaleidoscopes Educational Toys for Kids Party Favors Ideas Stock Stuffers Bag...
Classic Toy -- The classic colourful kaleidoscope toy are perfect for kids, just twist and experience a vibrant light show, each turn creates a...
Educational -- Colorful image presentation and colorful cartoon appearance both help children to recognize colors,to engage children's imagination of...
Wonderful Gift -- This simple toy is a great and unique gift for your children or friends. Perfect for children birthdays, class rewards, prizes,...
Package Include -- 6 x kaleidoscopes different wrappers. (The wrappers of the kaleidoscopes is random, the wrappers of kaleidoscopes you received may...
Super Value -- You will get 6 beautiful kaleidoscope, one kaleidoscope cost less than 3 dollars.
Smartivity Kaleidoscope 3D Wooden Model Engineering STEM Building Toy for Kids Ages 6 and Up
Kids will be inspired when they build and see the ever-changing colors and shapes through this Do-It-Yourself scientific marvel
When the Kaleidoscope is complete, fill it with the 60 assorted beads (included) and see the colorful magic happen right before your eyes
Includes engineered wooden sheets, bands, green, red, yellow and blue walls, mirror strip, colorful beads, detailed instructions and all other parts...
Made from safe, non-toxic, engineered wood
Easy to assemble, no glue or tools required
Sale
Castle Instruments Handmade Brass Working 8 Inches Multicolored Kaleidoscope with Beautiful Leather...
✔️Size:- 20 cm Tall x 4.5 cm Diameter (Kaleidoscope)
✔️It's easy to play. You can see different patterns through the holes just by rotating its head.
✔️Different patterns can make children have different imaginations, and can also bring different inspirations to adults. Unique style polish is...
✔️It is suitable for all people, children, adults and the elderly.
✔️All people can not see the same pattern, this is the place of the toy artifact.
Sale
MAH Best Handmade Brass Kaleidoscope Nautical Vintage Antique Style with Stand Gift for Everyone...
Brass Kaleidoscope the best gift for your children & family.
Portable design, convenient to carry Antique Brass Kaleidoscope Ensures That the mechanisms inside are perfectly protected while providing Elegance,...
This is fully Handcrafted Vintage Navigational kaleidoscope. Antique Brass kaleidoscope is made of Premium Grade Brass, comes beautiful handmade...
The fully functional vintage toy kaleidoscope, perfect gift for kids or for anyone and any Occasion. It would make a wonderful usable antique Décor...
Size: 13 cm Tall x 3.7 cm Dia (Kaleidoscope)