Here, we have compiled a list of 7 of the best remote control boats for kids. They range in price and differ in the features they have, ranging from more basic options for younger children to boats capable of speeds of up to 20 mph for older children (and their parents!).
A toy boat is a great investment which will provide years of fun for all ages, therefore choosing the right one is important. Below, the characteristics of 7 boats have been outlined to help you make the best choice, based on you and your child's needs.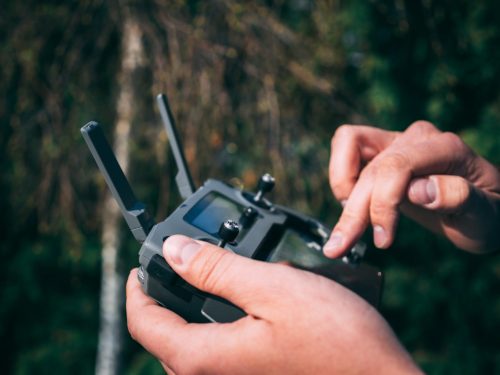 Considerations
There are many factors to consider when choosing a remote control boat for your child, including their age, your budget, and the features the boat has. Some of the boats featured here are best suited to younger children, whilst others are more for big kids and grown-ups, and are more like hobby items rather than toys.
Some RC boats are not suitable for use in salt water, therefore it is important to check if the boat you wish to purchase is suitable for use in the location you plan to take it. Many of the boats aimed at older children are too fast to use in a pool, so it's also important to check the maximum speed before buying.
AA Aqua Boat
The AA Aqua is a great option for kids and teens who want to play in the water. Perhaps one of the most useful features on this boat is its anti-capsize hull system. This ensures that the boat will right itself if it flips over in the water, which is great for a child who is learning to sail an RC boat for the first time.
This RC boat also comes with two batteries for double to sailing time. Kids will love speeding through the waters even longer with the AA aqua. When the battery is getting low or the boat is getting out of range, the boat will sound off an alarm to let your kids know it's time to bring the boat back to shore.
Altair Aerial is known for its affordable and high-quality products so this boat could be an excellent choice for the whole family to enjoy.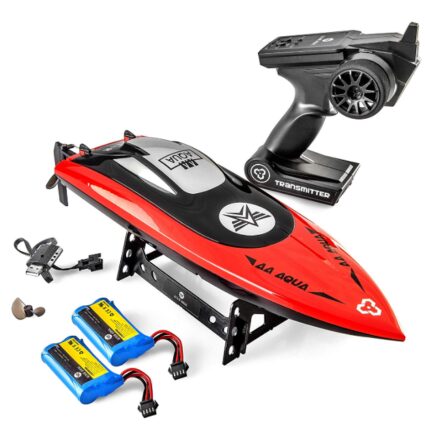 AA Wave Boat
The AA Wave is another great RC boat from Altair Aerial. This is a smaller RC boat model, but still has an amazing range of 390 feet. The AA Wave also travels up to 25 mph. Its compact size and slower speed make it a great option for a younger child who is just beginning to learn about RC boats.
Like Altair's other boat model, the AA wave is equipped with an anti-capsize hull system to help kids keep their boat upright in the water. It also comes with two batteries that last about 10 minutes, this gives your kids 20 full minutes of sailing around.
This model could be the perfect option for families with younger children that want an easy-to-use boat as they get started learning how to sail.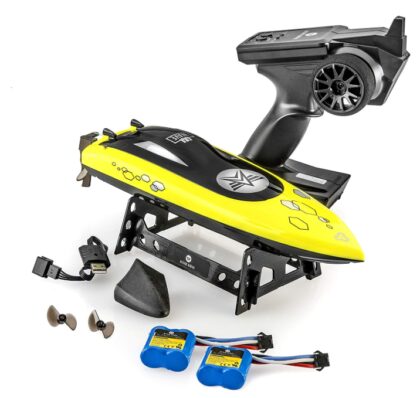 Power Venom Boat
The UDI001 RC boat has impressive features sure to be a hit with older kids and teens, such as a top speed of 15 mph and an extra battery to give double racing time. This is ideal, as each battery only lasts up to 9 minutes on a single charge. The USB charger means the boat can be charged at home, via a computer or even in the car.
The boat also boasts a low battery warning, meaning no more swimming into the lake to fetch a powerless boat! There are an impressive four channels, meaning siblings or friends can race one another. The boat is also able to flip itself over should it capsize, meaning no more lost races!
The Venom RC boat has a display stand to keep it in good condition between uses. It's important to note this boat isn't suitable for use in saltwater. This boat is a good mid-range choice with many impressive features making it a delight for both kids and parents alike!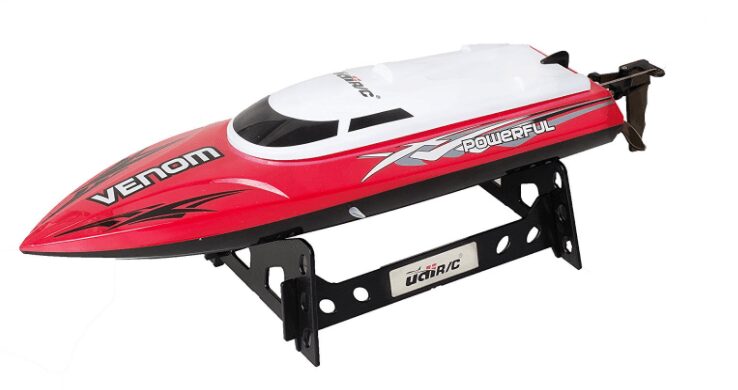 DeXop Remote Controlled Boat
This remote control boat has an impressive top speed of around 15 mph, and comes in an eye-catching bright yellow color, meaning it's certainly not to get lost in the pond! It boasts a range of around 100 meters, ensuring many exciting races can be held. This product has useful safety features – it will only operate in the water, and there is a stand for when it is not in use.
The main problem with the DeXop boat, is the limited battery life. Taking around 90 minutes to charge, it only provides 10 minutes of play time, making it best suited to those who just want a quick race. This boat is ideal for older children and adults, although with supervision younger kids can join in the fun too.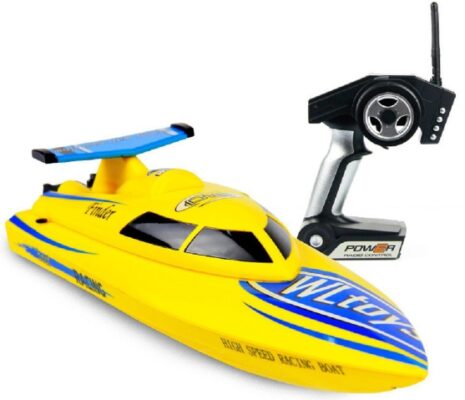 SZJJX RC Boat

The SZJJX RC boat has a top speed of around 6-7mph, and the control distance is up to 30 meters. Whilst these figures are less than some of the more expensive products listed here, they make this boat ideal for racing around a pool. Like many products listed here, the SZJJX has a short race time of around 10 minutes on a full battery charge.
This boat is recommended for ages 6+, and is safe for children this age thanks to the fact that it doesn't start unless in the water. Unfortunately, this boat only comes in one frequency, meaning it's not possible to race two of them. However, this is a good low-cost pick for a child looking for their first remote controlled boat, before progressing onto a faster model when their interest in the hobby grows.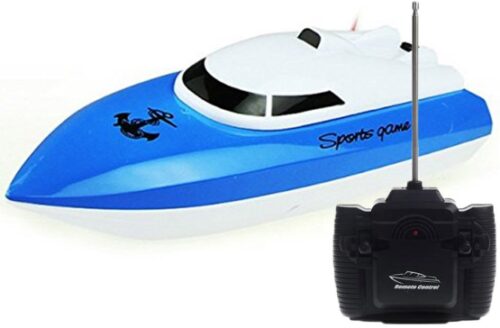 Remote Control Boats Set with Racing Pool
This fun boat and track set is the perfect choice for toddlers and preschoolers, or is a great gift for siblings who will simply love racing each other around the inflatable pond. There are fun obstacles to navigate around in the track, and it folds away for easy storage and transportation.
The boats could also be used out with the pool track to provide even more racing fun. The obstacles are great for practicing steering skills before moving onto a more advanced boat on open water. Overall, the bright colors and easy-to-use controller make these boats attractive to younger children.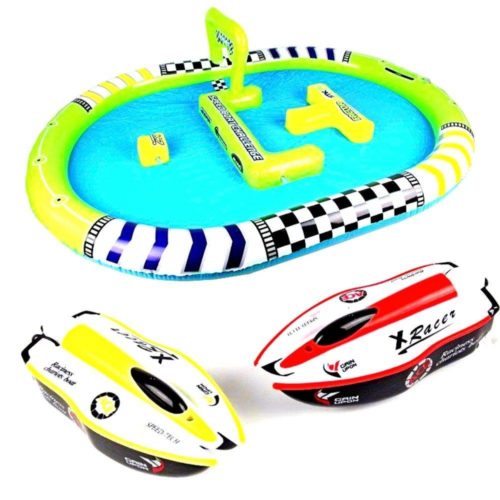 Kid Galaxy 'Morphibians' Amphibious Car

The Shark Amphibious RC vehicle is a perfect first remote control toy for kids, thanks to the fun shape and simple controls. The car can navigate all terrains with ease, ranging from sand to dirt to water. The range is not as far on this toy as the others reviewed here, however this toy is geared towards younger children so this likely won't be an issue.
It's possible to race two morphibians, but no more than two, due to the fact that they only come in two different frequencies. Therefore it's important to check before buying two different cars which frequency they run on if you plan to use them together.
The toy comes in a range of models from crocodiles to killer whales, so there's sure to be something to suit all tastes! The morphibian acts as more of a submarine than a boat, so it's perfect for crossing shallow creeks or using in the bathtub! This is an excellent budget toy, sure to provide hours of entertainment for toddlers and young children.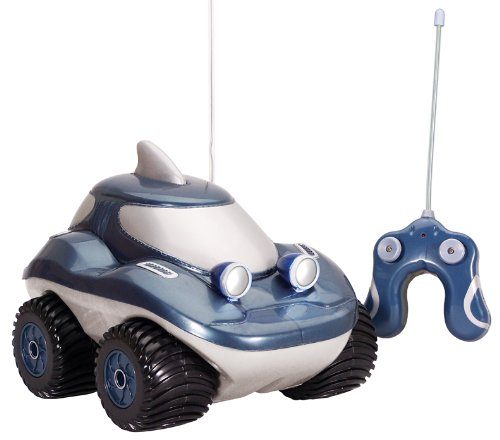 KingPow H100 2.4Ghz 4CH Remote Control Boat
This product boasts many impressive features making it perfect for older children or even parents! The long range of 150 meters means this boat is ideal for using on lakes or other large bodies of water. The H100 Tempo has an impressive maximum speed of nearly 20mph. This boat can run on one of four channels, making it perfect for racing with family and friends.
The charge time on this boat is shorter than some of the other products reviewed here, at 45 minutes, however the play time is also relatively short at up to 8 minutes. Spare batteries are available for this boat, so it's recommended to purchase one or two of these if you wish to play for longer periods.
The remote on this boat also boasts an impressive LCD display, showing the remaining battery life as well as an alarm to warn you when the battery is running out. Whilst it comes at a higher price than many RC boats on the market, the range of features make the Tempo well worth the money.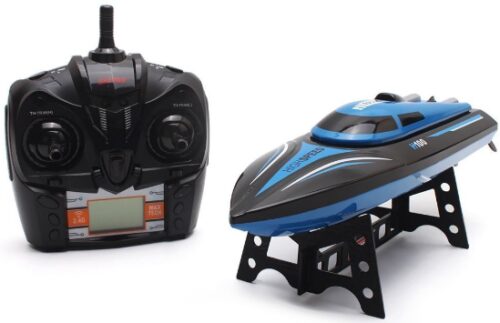 Blexy High Speed
The Blexy boat features a very impressive 150 meter range and over 18mph top speed. Therefore, this boat is also best suited to large areas such as lakes and ponds. The remote for this boat can be changed to suit left or right-handed people.
The charge time is around 100 minutes, which gives around 8 minutes playing time. However, replacement batteries are available to purchase separately to provide even more race time. This boat works on four channels, meaning it's perfect for enjoying with family and friends. This boat also has an automatic flip-over function should it capsize, and can also travel backwards.
Whilst this boat is quite fast, with a little help and supervision, children as young as 6 to 7 years of age should be able to learn how to use it. The impressive features mean this boat will be enjoyed by parents as well as children. Overall, this is a great boat with spectacular features, ideal for anyone getting into the hobby.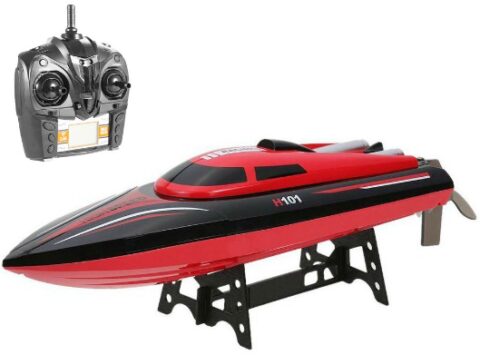 Best Overall Pick
The AA Aqua Boat is our pick for the best RC boat for kids. The boat has super features, so parents will also love playing with it! It has the longest range and highest speed of all the boats on the list, as well as the most channels.
Whilst it is one of the most expensive boats here, the impressive features make it well worth the investment. The Tempo is the perfect boat for anyone who is serious about getting into RC boat racing as a hobby.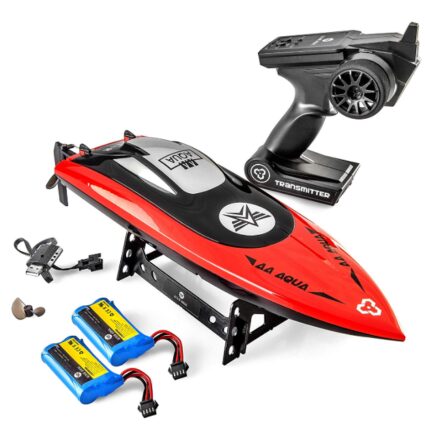 Best Budget Pick
The AA Wave is perfect for younger children or those looking to get into the world of remote control boats, and at the bargain price, it's excellent value for money. Whilst the features are not as impressive as some of the others on the list, it is the perfect first RC boat for kids.
The simple design of the boat will please younger children, and the smaller range and lower speeds make it perfect for kids. This boat will provide years of enjoyment for the whole family, making it an excellent budget pick.