Are you looking for fun junior bridesmaid gifts? Wondering what types of bridesmaid gift ideas are out there? Well, here we have reviewed some of the best options available with some even being personalized. We know that weddings are undoubtedly one of the most special occasions there can be. For those planning a wedding, there can be a lot to consider! From selecting the venue to creating wedding invites and of course, prepping the bridesmaids and guests for the big day. If you're searching for the best junior bridesmaid gifts out there, we have you covered in our guide below. From sentimental ideas that make great gifts to be treasured for years to come to practical gifts for the day itself, we've got lots of ideas for you. Before we present our top choices when it comes to gifts for junior bridesmaids, here are a few considerations to get you started.
Budget 
As one of the most expensive events of a lifetime, weddings require careful budgeting. While most will save well ahead of the planning to assign costs to every area needed, sometimes it doesn't hurt to save a bit of extra cash. When selecting gifts for a junior bridesmaid, you may want to consider going for a cheaper option. We've included some cheaper gift ideas in our guide below.
Age 
Always consider age when buying any gift, suitability here is important. However, when it comes to choosing this particular gift you should be extra mindful of age. Junior aged girls are going to have developed particular tastes in line with their personality most likely. Some may like pink, while others may find it childish. While every girl will have their own preferences, age does come into play.
Personality
Personality is a big factor! While weddings are all about the bride and groom, the bridesmaids play a key role too. Show your junior bridesmaids that you care by selecting something you know for sure they'll like. While it can be cute to get the same gift for each, you may want to mix things up here to add some extra personalization.
15 Best Junior Bridesmaid Gifts 2023
Now that we've given you an idea of the considerations to keep in mind before buying, we're ready to present our top junior bridesmaid gifts! You're sure to find something great below in our fantastic list based on the best-reviewed gifts out there.
1. Bridesmaid Charm Bracelet 
If you're searching for cheap junior bridesmaid gifts that are still sure to have an impact, this beautiful charm bracelet is the perfect option. The elegant design is guaranteed to wow the recipient and this piece will be treasured as a memory of the special day for years to come. Ready packaged into a lovely velvet jewelry pouch, this gift is a thoughtful idea that will look pretty with any style of bridesmaid dress too. The bracelet is silver plated and comes with glitzy heart charms and simple silver charms that read 'love'.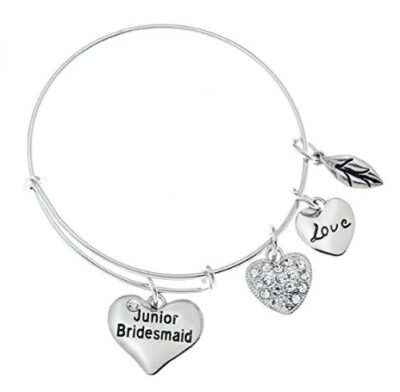 2. Beautiful Photo Frame
For a top-quality bridesmaid gift that will allow the special lady to frame her memory of the big day, why not go for this natural wood, engraved frame? In a portrait orientation and measuring 6 1/2″ x 8 1/2″, it's the perfect size for a pretty snap. Complete with a glass front and a back stand with an easel for table display, the frame can be used ornamentally or displayed on a wall. Junior bridesmaid gift ideas needn't be boring, this stunning frame proves so!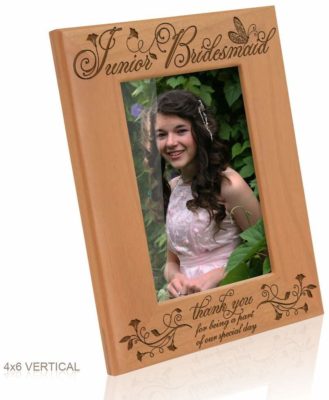 3. Stunning Junior Bridesmaid Dress
Help your bridesmaid feel like a princess on the big day with this beautiful sequin flower girl dress. Designed with a v front and v back, the dress is elegant and is sure to be adored! Offering a lovely tailored look, the dress won't break the budget and can be worn for any other special occasion too including a party or prom. The gold color will match with any metallic accessories and it's effortlessly luxurious too for a glam look.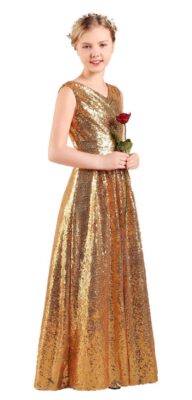 4. Cute Slogan Tee
This quirky junior bridesmaid gift idea is sure to be loved! The 100% cotton t-shirt is comfortable and a perfect garment to wear when having hair and makeup done. We love the cute printed slogan across the front, and it won't break the budget either. Lightweight and a classic fit, this tee is practical while being a great keepsake of the big wedding day too. What do you make of this lovely t-shirt for junior bridesmaids? As one of the most simple bridesmaids gifts out there, it proves that sometimes less is more!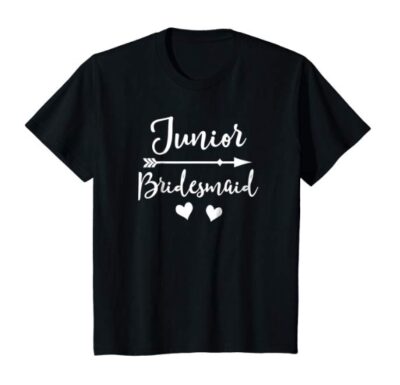 5.  Kimono Style Glitter Gown
Kimonos are stunning items of clothing and this pink kimono style robe is sure to impress! In a dusty pink, we love the satin fabric for an ultra-luxurious feel. Perfect to wear while getting ready, the robe can be kept and treasured to remember the special day. For a fun junior bridesmaid gift that is super girly and cute, this robe is an excellent option and you'll be surprised at the price tag too! We love the contrasting gold text with the crown graphic against the sheer fabric and are sure that your special lady will love it too…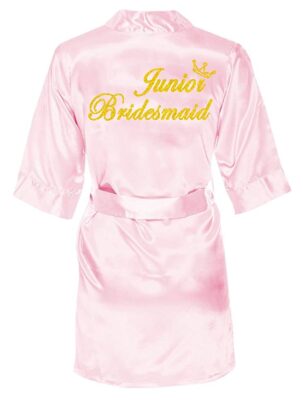 6. Pretty Jewellery Set
If you want to buy matching bridesmaid gifts for your girls, why not go for this pretty jewelry silver set? The rose gold coloring alongside Swarovski and cubic zirconia crystals are the perfect finishing accessory for the big day. Your bridesmaids will feel like princesses walking down the aisle with you wearing this set. After the special occasion, this set can also be worn for parties and proms, making it a practical gift too or it can be kept in its original box and stored away with other memories. In addition to making a great gift for a teenager, this jewelry set is also suitable for older girls too, meaning it won't go out of fashion with time.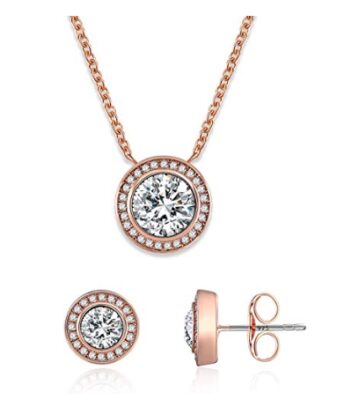 7. Jr Bridesmaid Drawstring Bag
Practical junior bridesmaid gifts don't get any better than this choice! We love this simple yet thoughtful gift, a pink drawstring bag with text across the front. It can be used to store items for the wedding day or to pack away accessories. Made using durable 210 denier nylon, the bag is the perfect color for any girly girl! This gift idea won't break the budget and is both pretty and practical too!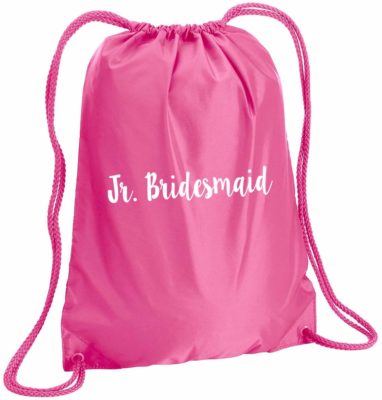 8. Rechargeable Handheld Light
This handy rechargeable rose gold vanity light makes a fantastic gift idea for jr bridesmaids! The small vanity mirror has an adjustable led light, perfect for applying makeup or getting ready on the big day.  Its portable, lightweight, and very compact size make it great for traveling too as it can be stored in any small bag, backpack, handbag, and cosmetic case. Your bridesmaids won't need to worry about battery life as once fully charged this handy gadget lasts up to 5 weeks. A grown-up gift for a junior girl that is sure to be used, this gift is great for any teenager.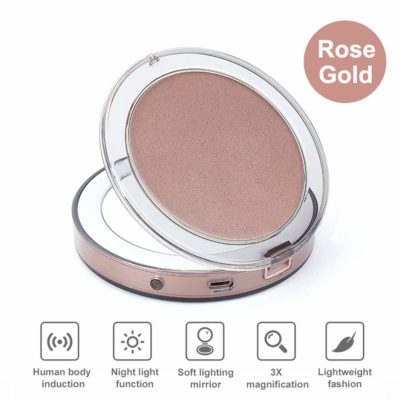 9. Initials Necklace
To gift your bridesmaid something super sweet and personalized, this stunning initials necklace is a great idea. We love the heart silver pendant and a little letter that goes with it. You get the option to select the initial of this necklace means that you can gift each bridesmaid the same piece of jewelry while making it have a special touch too. A lovely accessory for any junior bridesmaid that is sure to be treasured and worn again and again.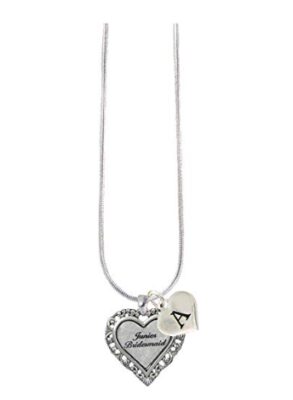 10. Keepsake Floral Journal
Journals are great gifts for anyone to help keep things organized. School projects, chores, and errands can all be stored safely in a notebook or journal, but if you're looking for an extra special design to gift to your jr bridesmaid, this floral journal ticks all the boxes! With 100 pages, the small blank lined book is an elegant way to keep organized and serves a practical purpose and looks super cute too. The colors on the front are girly and the delicate flowers are lovely to look at.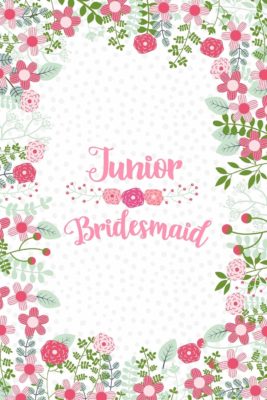 11. Personalized Makeup Pouch
If you plan on having your bridesmaid's makeup done on the special wedding day, why not go for a keepsake personalized makeup pouch to store the items used? For an extra personal touch, put the makeup to be used in the bag before gifting. Made using heavy-duty canvas fabric, this lovely pouch is also large enough to hold cellphones, sunglasses and can be used as a pencil case too. We think that this is one of the best junior bridesmaid gifts out there. The cute flower motif on the front is simple and looks beautiful alongside the personalized text!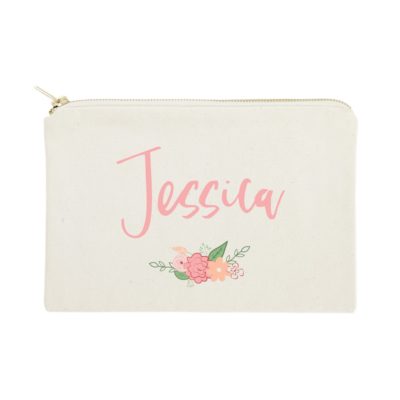 12. Embroidered Handkerchief
For a thoughtful keepsake gift, this embroidered handkerchief is an option that won't break the budget but is also top-quality in design. Express your love for the special lady with the handkerchief which features intricate lace detail. The poem is sure to touch the heart of anyone that reads it and this gift comes packaged in a presentation box to preserve the item and keep it as a sentimental memory. Junior bridesmaid gift ideas typically include sentimental gifts, but this lovely hankie is truly one of a kind.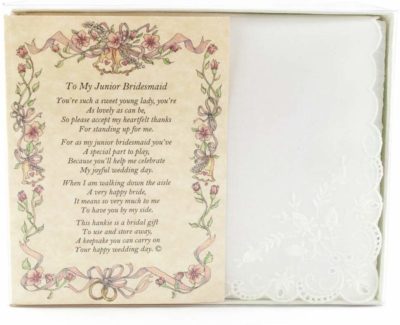 13. Tote Bag With Text
Every girl can make use of tote bags. Whether using them to carry shopping or supplies to school, there are plenty of purposes behind such a simple design. If you'd like to choose a gift that will be used over and over, why not go for this tote with jr bridesmaid text to commemorate the big day? Your bridesmaid will be able to place all of her sentimental memories from the big day inside of this bag or use it afterward. For a special touch, this bag can also be used as an alternative to a regular gift wrap option to present another gift.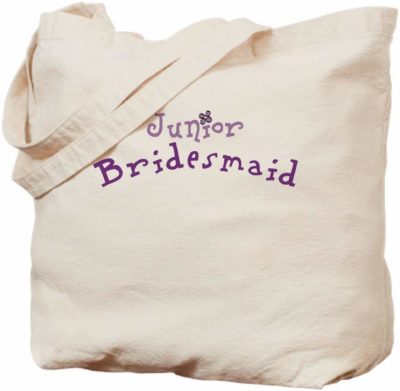 14. Sentimental Ornament
Ornaments are a lovely gift idea for lots of different occasions if you're searching for a suitable ornamental gift for a bridesmaid, this miniature boxed option is perfect. The  4.5″ ornament with a ribbon hanger comes packaged in a printed box that features a hand-drawn image of a bride and bridesmaid. The ornament is also hand-painted and features "Special Junior Bridesmaid" text hand-painted onto the base. This gift is small but is sure to have a big impact leaving your bridesmaid feeling loved and appreciated for her participation during your wedding day.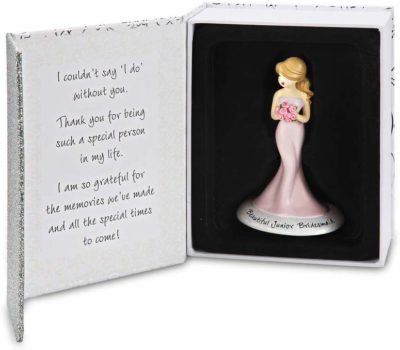 15. Faux Fur Shawl
Looking for a final finishing piece to complete your bridesmaid's outfits? Or, is your wedding in the winter? This faux fur shawl is luxurious and easy to wear making it a fantastic gift. It will look beautiful over the top of any dress and will help to keep bridesmaids warm too. If you want to give each of the girls a special addition to their outfit, this cozy shawl looks elegant and is practical also.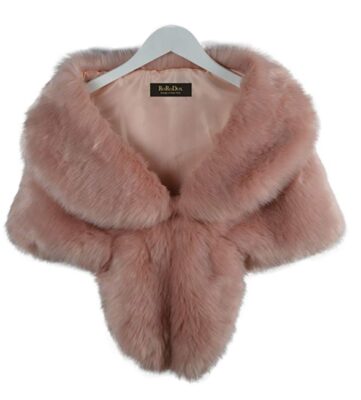 Best Pick
Our best pick from the selection above is this stunning sterling silver necklace that allows customization through the choice of initials. With glitzy gems around the heart that reads 'junior bridesmaid', your special girl will love wearing this piece of jewelry as it adds the perfect touch to her outfit on the day. Keepsakes make excellent gifts for all types of occasions and this pendant necklace is really no exception! It comes presented in a beautiful box and won't stain skin thanks to its quality which is great value for money too.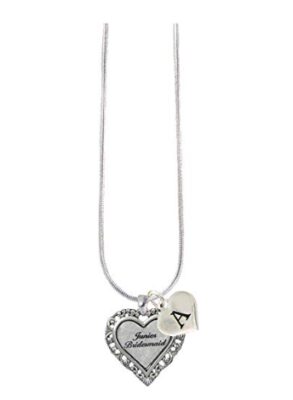 Best Budget Buy 
Our best budget buy is this wonderful slogan tee which won't cost too much and is sure to delight! Choose this as the main gift or present it with another gift of your choice, either way, it's a lovely way to remember the wedding day. The simple white text against the black tee makes it completely neutral and great for all types of personalities too and the material is super comfortable to wear. This garment can be machine washed for convenience and won't lose it quality over time unlike other T-shirts out there.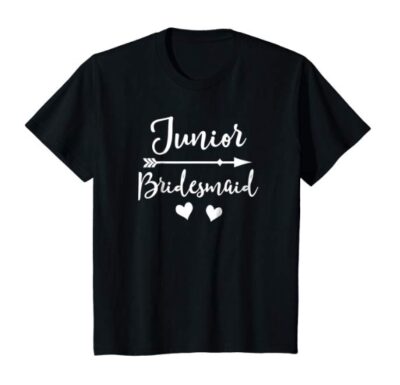 Now that we've come to the end of our gifts for bridesmaids guide, we hope that you've been inspired and have found an idea in the list above. No matter what you choose always take considerations into account beforehand to help you have a better idea and make the gift buying process a pleasure!