Kids love to explore the world around them, and what better way to get a close up look than with a magnifying glass for children? Though these scientific tools have traditionally been aimed at adults due to the delicate materials, there are now many available for kids to enjoy. Whether they use it indoors, examining their toys and home furniture, or enjoy exploring nature in the garden and outside, your kid is sure to love playing with one of these toys.

While they are playing, they'll be learning key skills like hand-eye coordination and motor skills. And of course, developing an interest in science and technology that is sure to serve them well in future. Even if they are not yet in formal education, they will love to learn more about the world around them and begin using scientific skills and tools to explore.
In this guide, we'll round up and review some of the best magnifying glasses for kids in 2023.  
Things to Consider When Buying a Magnifying Glass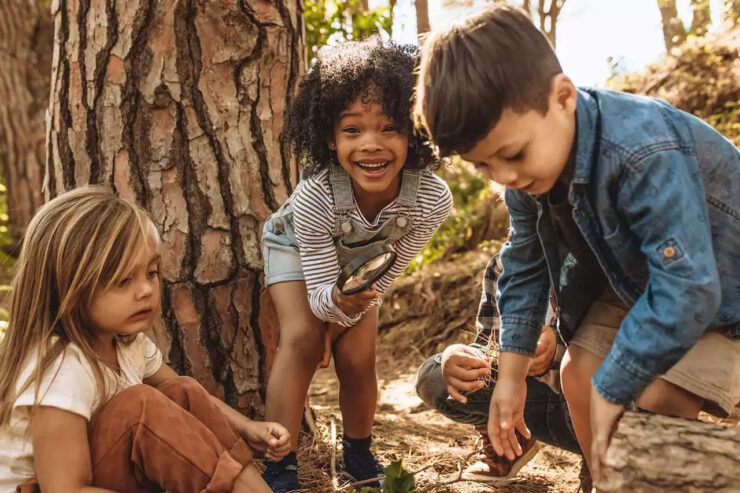 First, let's look at some of the key things to consider before making your purchase, whether for your own child or as a gift. There are so many available and of course you want to choose the right item for your family. By considering these factors you are sure to make the right choice.
Age: consider the age of the child you are buying for. Many kids' magnifying glasses are suitable from age 3 and up, but you will want to choose an age appropriate toy. The best buy for preschoolers would be simple and easy to hold. Older kids might enjoy something that looks more technical and scientific in style.
Material: there is a range of materials to choose from so select the best for the age of the child. For young kids, choose a material that is not breakable as they are likely to drop it a lot! You may also want to look for a plastic lens rather than glass for younger children.
Price: with so many available, there is sure to be a magnifier to suit every budget. But remember, don't compromise good quality for cost. The price will depend on the features and material. If you choose well, you will find a toy that will last and that your child can enjoy for many years to come.
Features: in this guide, you will find a wide range of options for your kid. Some of our best buys are mainly intended for use as toys, to encourage your child to develop an interest in science and exploration. Others have more complex features and higher-quality lenses. The best choice for you will depend on your child's age and the item's intended use.
Top Picks in 2023
1. Learning Resources Jumbo Magnifiers
This large magnifying glass set comes with a handy stand for storage. The set is designed for preschoolers aged three and up and are made of chunky plastic easy for little hands to hold. In bright primary colors of red, yellow, orange, purple, blue and yellow, they are visually appealing as well as useful. Each lens offers up to 4.5x magnification so your kids can get a close up look at the world around them.
The lenses are plastic too so you will not need to worry about breakages or damage. With the handy flip-out stand, kids can prop up the glasses and explore hands-free, so they can turn and move the items they are examining. The educational toys come with a stand so are perfect for the classroom or the home. Learning Resources also offers a range of complementary scientific toys to further develop your kid's interest and skills.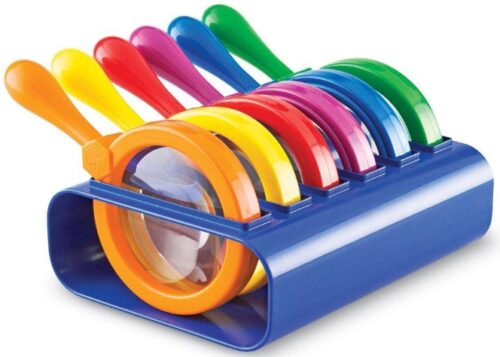 2. Melissa & Doug Shimmy Snake

Take a look at this cute nature-themed magnifying glass from Melissa and Doug! In the shape of a snake complete with forked tongue, your kid will get a real kick out of playing with it. Shimmy the snake is designed for little scientists, with a shatterproof lens and durable plastic handle. The snake's body is easy to grasp so it is a best buy for little kids interested in science. Melissa and Doug educational toys are built to last while teaching children essential skills through play.
With Shimmy, your kid will enjoy developing their observation and exploration skills and of course having fun with a cool toy! It is sized for preschoolers and is lightweight so they can carry it with them wherever they go. Shimmy is suitable for children aged four and up.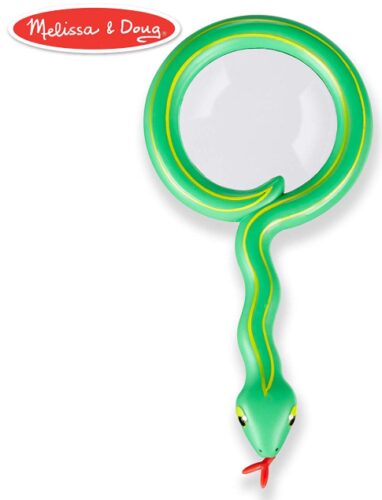 3. Dicfeos Shatterproof 3.5x Magnifier

This pocket magnifying tool from Dicfeos has a sleek design in black and mint green. At just 75mm lens size, the item is easily portable yet offers 3.5x magnification and crystal clear glass. The quality lens is durable and scratch-resistant, so it is ideal for kids who want to get out and about. The rubbery frame protects the lens from shattering and ensures it will not break. The clear glass lens offers excellent viewing quality without any distortion.
The handle of this tool is non-slip and soft, as well as being ergonomically designed as an ideal length for the user's comfort. The optimal grade glass lens features an inner plastic layer, meaning it is even more protected from breaking and damage. With the clarity of the lens, your kid will love using this high quality magnifying glass to explore nature and the outdoors. It weighs just three ounces so budding scientists can carry it around wherever they may need.

4. Melissa & Doug Pretty Petals Flower

Another great buy from trusted kids' toy brand Melissa & Doug, this flower-shaped magnifier is sure to impress your nature-lover! The plastic lens is surrounded by bright pink petals and the handle features primary colored stripes. A tiny pink flower attached to the end of the handle finishes off this fun and funky design.
Designed for little ones, this is intended to be used as a toy rather than a scientific tool. However, that will not stop the enjoyment! Your preschooler will love to explore the backyard with this fun and lightweight toy, looking through the lens to examine what they find. As the lens and handle are made from plastic, you will not need to worry about your kid damaging the magnifier. And it has smooth edges to ensure it will not scratch your little explorer. This toy is suitable for ages four and up.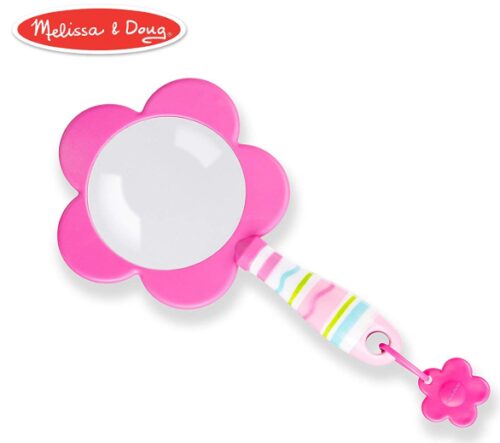 5. Super Z Magnifiers with Pens

If you're looking for a gift, this super cute pocket magnifying glass set is a fantastic choice! Not only are they pocket sized and bright fun colors, but they also contain a hidden pen that kids will love! At just 5", these magnifying glasses for kids are perfect for party favors, classroom gifts, school fair prizes, and play dates. Each toy comes in a bright primary color with a contrasting handle tip. Kids can simply remove the contrasting tip to discover a safe and washable pen, perfect for recording their scientific discoveries.
Your kids are sure to enjoy exploring with these sweet mini lenses. They are super lightweight so can be tucked into a pocket or bag. With the fun secret pen, children will love playing at being a detective, nature explorer, paleontologist and more. This set comes with 12 individually-packaged toys, so it is perfect for gift-giving and favors.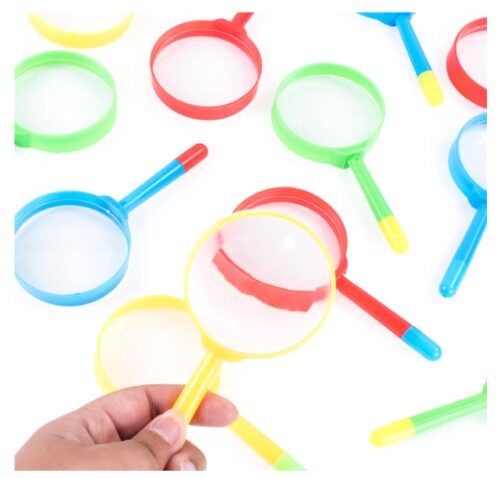 6. Outdoor Explorer Discovery Kit

With this outdoor explorer discovery kit, your little one will have everything they need to further their interest in nature! It contains not only a magnify glass but also binoculars, a flashlight, compass, safety whistle and handy bag to store all the essentials. The set also comes with a bonus 'Backyard Bugs' explorer journal, packed with facts about insects and space for your kid to write their own observations.  With so much packed in, the set is perfect for boys and girls to explore nature and the outdoors.
Kids will love finding out about the gear in this educational set, which supports STEM (science, technology, engineering and math) learning in a fun and imaginative way. Watch them observe bugs and birds with the toy binoculars and magnifier. They will enjoy learning cause and effect with the hand crank LED flashlight, which does not need batteries. The compass and safety whistle are sure to inspire an interest in being outdoors.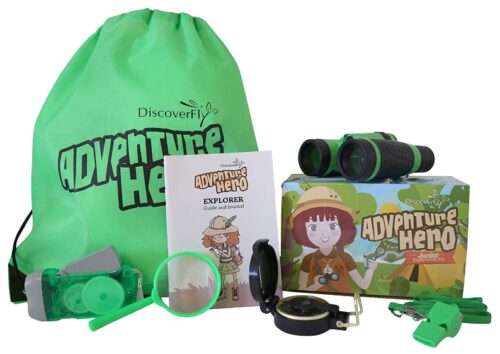 7. Crenstone Magnifying Glass Set

The Crenstone magnifier glass set is a best buy for parties, favors and games as it comes in a pack of eight. The jumbo size makes them perfect for toddlers and little children, and bright colors of red, white and yellow are sure to please. The handle is designed to be easy for small hands to hold. Each glass is six inches long with a glass lens of 2.5" in diameter. Little explorers will find them lightweight to hold and can easily look through the large lens to inspect what they find.
Whether you play with them inside or outdoors, kids will love exploring their world with this small magnifying glass set. The set of eight makes them ideal for play date games, preschool, prizes, party favors, or simply to keep as spares!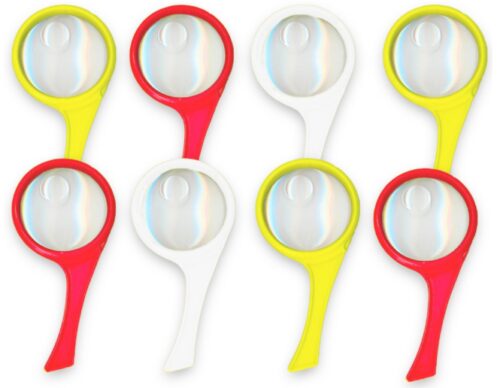 8. Insect Shaped Magnifiers Set

What could be better for kids to explore bugs with than these insect shaped toy magnifying glasses? With fun, brightly colored designs they come in the shape of a ladybug, bee, and butterfly. The fun insect shapes are cute and sure to appeal to kids. The high definition lens is designed for children to clearly view insects and explore the great outdoors. Each toy has a long handle, easy for kids to hold and move around.
They are made of high quality, non toxic and odorless plastic so they are safe for children to use. Your kids can get up close and personal with interesting bugs and creatures and will be able to examine them clearly with the HD lens. They are sure to love the fun designs and bright colors. These toys come in a pack of three, so they would make a great gift for any little one.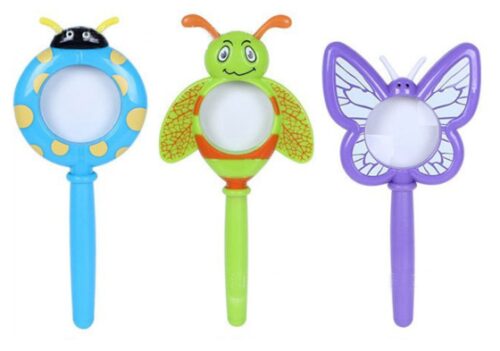 9. Kadaon 10x Magnifier Antique Style

Are you looking for a more traditional looking magnifier? If so, this antique style may be the best buy for you. It has a mahogany look handle and gold tone frame, looking smart and grown up. Your kid will love this traditional magnifying glass, which is also suitable for use by adults. It has an optical lens with 10x magnification, offering extra sharpness and clarity. It is perfect for reading small print or closely viewing small objects, inside or outdoors.
This item can also be used to focus light, for example to concentrate sunlight to start a fire when hiking or camping. The magnifier is lightweight and easy to carry, making it portable for adults and children alike. It comes with a small black storage bag so you will not need to worry about scratching the lens when it is not in use.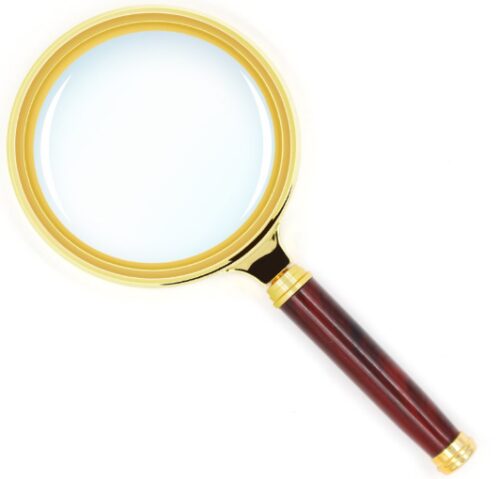 10. Nature Bound Large Magnifier Lens

Does your kid love being active in the outdoors, like hiking, camping and climbing? The Nature Bound Big Magnifying Lens Toy has a rugged and chunky design and is made for kids on the go. It has a chunky handle so it is perfect for little ones to grip and hold. Made from high quality plastic, it is durable and resistant to breaking. The lens is also made of plastic, designed to be safe for kids.
However, the lens is a great size for children and it has 4x magnification so it is clear and high quality. The toy also comes with a carabiner attached so you can clip it to your kid's belt loop, backpack, or shirt pocket. That means it is much less likely to be lost! Nature Bound toys are designed to encourage children to get out into nature and explore what the outdoors has to offer.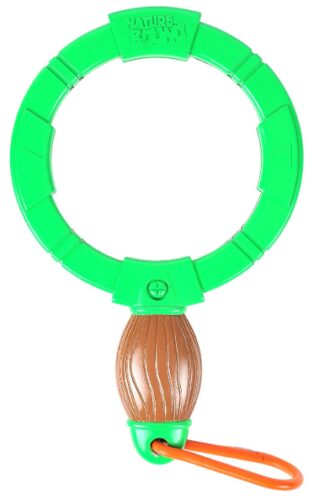 11. Learning Resources Magnifier & Tweezers

The Learning Resources magnifier and tweezers set is sure to encourage your kid's love of science and exploration. This learning toy helps to nurture young children to enjoy investigating the world around them. What's more, the set encourages fine motor skills as each tool has easy grip depressions indicating correct finger positioning when holding them. The toys are designed for children aged three years and up so you can help your preschoolers to get into STEM learning.
The tools are made from durable and washable plastic so you do not need to worry about your little ones taking them outside to play with. The edges are rounded, so there is no risk of scratching when using the toys. This makes them safe for all ages as well as for children with additional needs. The magnifier comes with a built in stand, so your kid can prop it up to take a closer look at bugs and interesting objects.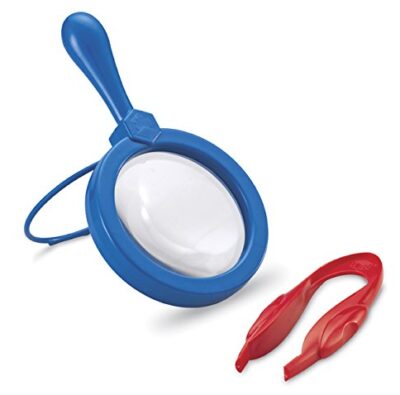 ,

12. Hape Nature Detective Magnifying Glass

Do you like to choose wooden and natural toys for your child? If so, you will love this Nature Detective Set from trusted natural toy makers Hape. It is made from sustainable bamboo and Green PE, plastic derived from sugarcane. With these materials, Hape aims to leave a better world for the next generations. The set contains a 4x magnifying glass and a two toned whistle, so your kid can have adventures outdoors with the tools they need.
The four times magnification means your little explorer can get right up and close to beetles, bugs, and other natural items with a clear and crisp view. With the two-toned whistle, your kid can alert parents and friends to their discoveries without frightening creatures away. The magnifier and whistle each have a handy wrist strap, which can be attached to your child's hand or to a backpack or belt loop. Your kid will not have to be concerned about losing their essential tools as they adventure outside!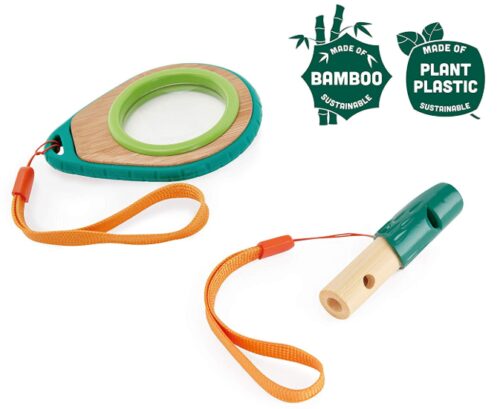 13. Jumbo Lighted Magnifying Glass

The Kid Exploria Bright Light Magnifier is the perfect gift for any little explorer. This premium quality tool is designed to encourage kids to explore and investigate the outside environment. And the ultra bright LED lights mean magnification is crystal clear even in low light and at night. Take your little one exploring at dusk and see what they find! Designed for children aged five years and up, the toy is made from reinforced ABS plastic to ensure it is durable and sturdy when your child is holding it.
The four inch diameter lens has an outer in reinforced plastic. It is shatterproof, so you do not need to worry about it breaking and hurting your kid. The large viewing area will delight little ones as they explore bugs, creatures, leaves and more through the magnifier. Children will find it easy to switch the LED lights on and off, encouraging independence and hand eye coordination.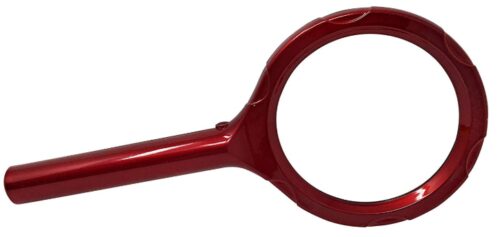 Our Top Pick

After reviewing all these great toys, we will now present our best magnifying glass. Our top pick is the Hape Nature Detective Set. What better way to teach kids about the importance of nature and conservation by giving a gift made from sustainable materials? The set is made from beautiful bamboo and plant derived plastic, and the company's mission is to leave the world a better place.
Of course, the toys are excellent for little children as well. The magnifier and whistle are rounded and easy for kids to hold and use. They are sure to enjoy exploring the outdoors with these fun to use, sustainable tools.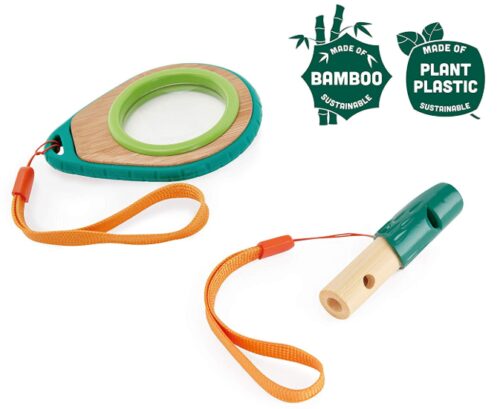 ,

Buying Guide
What are the Key Features to Look for? 
With so many kids magnifiers available, there are a number of features you may want to look for. Of course you could go for any of our picks that take your interest after considering the factors we outlined above. However, choosing a toy that has these basic features will ensure your little one gets the best use out of it.
Safe: as with any item for children, safety is the most important feature. Look at the materials of the magnifier and ensure they are safe for kids and non toxic. It is a good idea to look for a shatterproof lens so that your child is not able to break it and hurt themselves. You could also look for rounded corners to avoid scratches.
Durable: this is especially important for toddlers and preschoolers as they are more likely to drop and bang their toys. You will want to look for a tool that is built to last. Many of our picks have a scratch-resistant lens, which can be good for young kids.
Easy to use: kids are more likely to enjoy playing with a tool that they find simple to use. If a magnifier is easy for them to hold and use, they are sure to love investigating the outdoors.
What are the Uses for a Magnifying Glass?
A magnifier toy for kids has many uses and lots of ways to interest little ones and introduce scientific investigation. Perhaps they will enjoy exploring nature, looking closely at bugs and leaves, trees and plants. They may like to take it hiking or camping, while you spend time being active outdoors as a family. Kids can indulge in some role play fun, playing scientist, detective, fossil-hunter, paleontologist, and more.
Why not try making funny faces through the lens to encourage communication skills? Or look at some letters and numbers with the toy to see how they look when they are larger. You could even ask your little one to investigate your home furniture on a rainy day and find out more about what things are made of.
What Skills Can My Child Learn With Their New Toy?
Giving your child a magnifier can help to develop many different skills. And of course, learning through play is known to be excellent for young children! Through playing with a magnifier, your kid can:
Practice inquiry-based investigation and hands-on observation

Develop an interest in STEM, which is a big focus of primary grade education

Learn critical thinking skills

Use their imagination and play independently

Further an interest in the natural world and conservation

Grow gross and fine motor skills

Improve hand-eye coordination
Here are some other interesting choices: