Kids find binoculars fascinating and enjoy experimenting with them to find the best views. With binoculars for adults being heavy and bulky, what could be better than to get them a pair of their own? Kids binoculars have been designed to be lightweight, easy to carry and hold, while also being simple to use. They also often come in a great variety of colors making them more appealing than the adult versions. The top of the range kids binoculars are not just toys that produce a blurry images but instead they are good quality binoculars with competitive magnification that will bring any distant object into focus.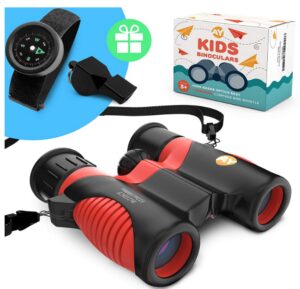 There are a great number of binoculars designed to be used by kids, so it can be difficult to pick the ideal one for your kid. When trying to choose the perfect product there are a number of questions that you need to ask to narrow down the search. What age is your kid? There are a number of binoculars that are suitable for younger kids that are simple to use but do not have the same level of magnification that some of the products for older kids have. Are you looking for a particular color? As there are a great range of color options available you should be able to find a pair of binoculars in a color that is appealing for your kid. Are you looking for any certain specifications? If your kid is active then you might be looking for something that is waterproof or does it need to be sturdy and protected against being dropped?
Regardless of which type of binocular you are looking for this article will take you through the best binoculars that are suitable for kids. This will help you make the perfect choice for your kid and ensure that they get plenty of enjoyment when using them.
18 Top Kids Binoculars 
1. Black Binoculars with Case
A versatile pair of binoculars by one of the leading brands, these Bushnell Falcon Binoculars are ideal for bird watching or for any sporting activities. At 21 ounces they are lightweight so can easily be taken out and about and the powerful 7X magnification makes them suitable for any use. With a 35mm lens diameter and an auto-focusing Porro prism these durable and long lasting binoculars for kids will be greatly enjoyed. Also suitable for use by anyone who wears glasses, as they have fold down eye cups allowing the binoculars to be safely used with lenses, ensuring that no scratches result. These great value kids binoculars are high quality so will always provide a sharp picture and are nice and compact for a small kids to use.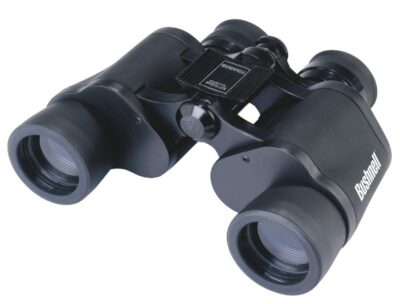 2. Kids Binoculars Set
These Kidwinz Original Compact Binoculars Set are ideal for all young boys and girls as their first pair of binoculars. They have been designed to be hard wearing as they can withstand being dropped due their rubber coating. There is even extra rubber around the eye pieces giving great protection and also making the binoculars more durable. Suitable for kids over the age of 3 years old these binoculars are the perfect fit for small kids but they still have a great 8X magnification and a high quality BAK4 prism so will provide a sharp quality view. These binoculars are easy to carry around with the handy neck strap and carry case so they are perfect for taking on days out. Safety has been taken into consideration throughout the design of these binoculars with rubber eye protection included to ensure that your kid will not get hurt while using them.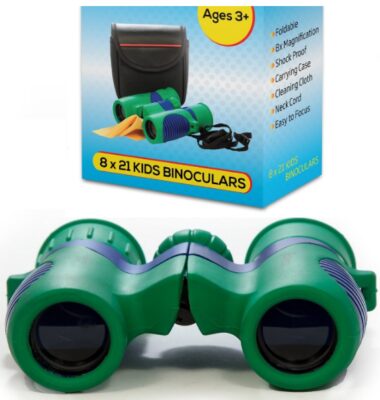 3. Kids Bird Watching Binoculars
If you are looking for durable binoculars that are ideal for young kids then look no further than these Bry and BVL High Resolution Binoculars For Kids. They have been designed to be safe for 3 year old kids use and have a surprisingly high performance standard, so are great binoculars that will easily produce high quality views. Available in a wide range of colors you kid will love the look of these compact binoculars. They are also lightweight so kids will be able to carry them comfortably when out and about and the useful neck strap and carry case make them perfect for traveling with. These binoculars are protected against damage by their rubber shock proof coating and the soft rubber eyepieces with a 22mm lens diameter make them comfortable to use for long duration. Kids will enjoy the fantastic 8X magnification that these binoculars offer and they would make the perfect gift for any active kids.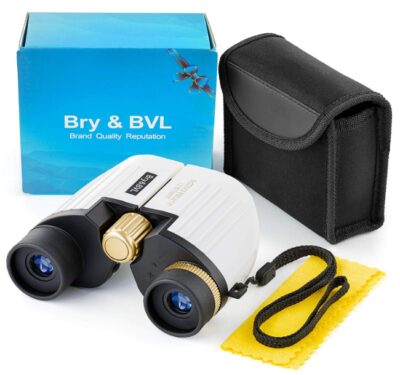 4. Binocular Explorer Kit for Kids
The ideal binocular set for kids is this 9 In 1 Mini Explorer Binocular kit that comes with everything an adventurous kid will need for exploring nature. This amazing kit comes with great quality binoculars that have 4X magnification and 30mm lenses that provides an adequate picture. They are shock proof with their rubber coating so will withstand being dropped and with soft rubber eye protection your kid will not get hurt while using them. There is also a flashlight with a self charging crank handle so no batteries are required. The great compact handheld battery fan is perfect for hot summer days and will ensure that your kid is kept cool. A multi-functional tool provides a thermometer, compass, flashlight, magnifying glass and whistle, everything needed for the great outdoors (walkie-talkies found here). There is an additional magnifying glass provided making the kit great for sharing with friends. Once finished with, everything can be safely stored in the carry case, which is also great for travelling with. This is the perfect kids binocular set that is both fun and educational.

5. Kids High Resolution Binoculars
An exciting binocular set that is perfect for every young explorer, these Real Binoculars For Kids by VOYAgers Group have everything needed for a perfect kids adventure. Suitable for kids over the age of 3 years old, every kid of any age will enjoy using this great set. The binoculars have been designed especially for kids to use so they are lightweight and compact, making them perfect for small hands, and with their shock proof coating they are durable, so will last for a long time. For parents peace of mind, these binoculars are safe for kids with their soft rubber eyepieces and scratch resistant lenses so you can be sure that your kid will not get hurt when using this kit. The binoculars may have been designed for kids but with an 8X magnification the fantastic viewing results will mean that everyone wants a go. In addition, this kit also comes with a compass, whistle and case making it a great kids adventure gift set.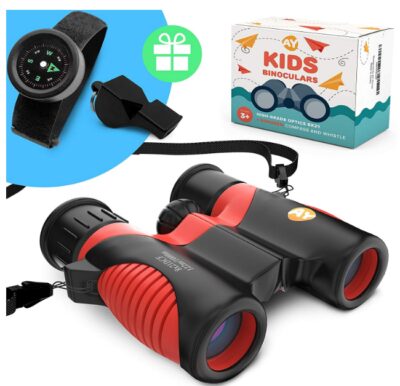 6. BESPIN Binoculars
These Binoculars for children are the perfect binocular set for anyone with an interest in the outdoors and exploring. With their exciting blue and black color they will be appealing to all kids and they will enjoy the easy ot hold grip pattern that has been designed especially for kids small hands. These kid friendly binoculars have great safety features with its shock proof rubber coating to protect against being dropped and the soft rubber eye pieces to protect your kids eyes when in use. The eye pieces are also suitable for use with glasses making these binoculars versatile for all. Suitable for kids over the age of 3, the width of the binoculars adjusts, so they will grow with your kid, providing long lasting use. These may be kids binoculars but they are certainly not just a toy, with 8X magnification and BAK4 prisms these binoculars will produce great quality images. Ideal for both boys and girls, everyone will love using these cool binoculars.

7. THINKPEAK Toy Binoculars
The perfect gift for any young kid that loves being outdoors, these Thinkpeak Toys for Kids are comparable to any adult binoculars. They are powerful and provide a clear view due to their 8X21 magnification and BAK-4 roof prisms but are also easy for small hands to work with an easy to turn focus wheel. If your kid drops these binoculars then you do not need to worry about damage as the shock proof rubber coating will protect against breakages. These compact and lightweight binoculars are suitable for all kids over the age of 3 years old and with an adjustable eye piece width they will grow with your kid. All possible safety features are included; with rubber eye pieces providing protection to your kids eyes and giving ultimate comfort for long duration of use. The handy double breakaway neck strap makes the binoculars easy to carry. Both boys and girls will love the appealing green and black color of these amazing binoculars.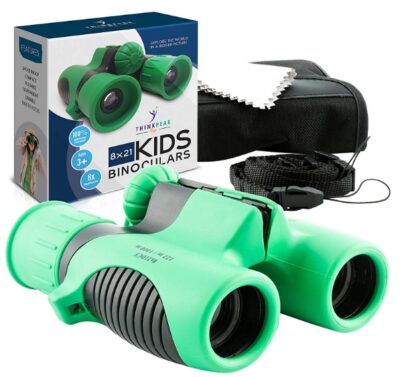 8. OutNowTech Compact Folding Binoculars
If you are looking for the ultimate binoculars for kids then these folding binoculars are a top choice. Your kid will stand out from the crowd with these bright yellow and black colored binoculars that will be appealing to everyone. These excellent binoculars have many attractive features with superior 10X25 magnification and BAK4 roof prisms giving sharp and clear images that will be hard to beat. The adjustable eye width means that they can be used by small kids, teenagers and can even be used comfortably by adults, making them great for family use. These are the ultimate outdoor binoculars that are weather proof so you can be sure that they are hard wearing and will not be damaged by splashes or rain. As you would expect from any kids product these binoculars are tough with their rubber housing to protect against knocks and drops. Perfect for taking out and about these binoculars are lightweight at less than 1lb, so you will not notice that you are carrying them.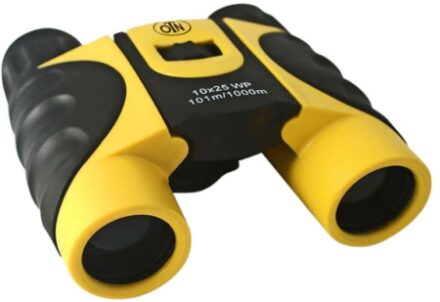 9. Bushnell Binoculars
These high quality Bushnell Trophy Binoculars are made by one of the leading brands so you can be assured that they are durable and will last. In a fantastic camo color that kids will love, they will be amazed by how these binoculars camouflage and blend into the background, perfect for all adventure games. Suitable for any outdoor activity in all weathers these binoculars are IPX-7 waterproof and fog proof so will not be damaged by bad weather. With 10X magnification and BAK-4 prisms these binoculars will provide a high quality, crisp pictures that will be hard to beat. The large central focus wheel makes these binoculars easy for kids to use though these leading binoculars are often used by experts so would probably be suited to the older kid, who would be able to use them through to adult life.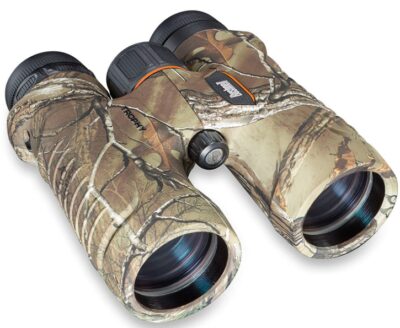 10. LontanoTech Kids Shock Proof Binoculars
These Compact Shock Proof Binoculars make the perfect first binoculars for children around 3 years old. With appealing light blue and pink coloring these binoculars for girls will encourage outdoor play and learning. These binoculars have great top of the range features with 8X21 magnification and BK4 roof prism that will produce a view that is clear and sharp. A great educational toy that will bring far away objects close to your kid so they can appreciate every small detail. These compact binoculars are easy to take out and about and are suitable for every outdoor activity, so will get plenty of use. Parents can rest assured that these binoculars are safe for young kids with their great rubber grip, making them easy to hold and the rubber eye pieces provide added comfort and protection while kids are using them. Suitable for kids over the age of 3 years old these lovely binoculars will make the perfect Christmas gift for kids.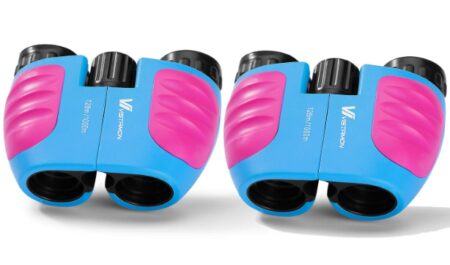 11. Childrens Professional Binoculars by PHELRENA
For anyone that is serious about the outdoors or sports then these PHELRENA Compact HD Professional Binoculars are the top option. With 20X50 magnification and BAK-4 prisms these high quality binoculars will provide superior images when compared with other kids binoculars and are even used by professionals. Probably better suited to the older kid or adult these top spec binoculars are slightly heavier than most at 1.51lbs but are still easy to carry and take out and about. As they are waterproof and durable with their rubber housing you can safely take them out in any weather or terrain and not worry about them getting damaged. A lovely appealing feature is the lightweight simple to use smartphone adapter that allows you to easily record views to give a long lasting memory that can be shared with others. Also compatible with most tripods there is not job that these fantastic binoculars cannot perform.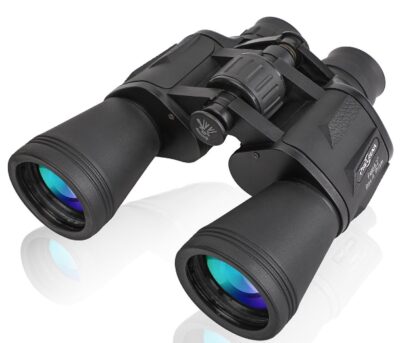 12. Binoculars for Younger Children by Selieve
It can be hard to find good quality binoculars that are simple for kids to use so these Selieve Toy Binoculars are a great choice. They are durable and hard wearing while also giving a seriously sharp view of faraway objects that kids will love. These bright pink and blue binoculars will also make great educational binoculars for younger kids that will be especially appealing to young girls too. Toy binoculars often do not have the ability to produce a decent view but these are an exception with their 8X21 magnification that produces a great image. As they are straightforward, these binoculars are suitable for kids to use independently and are perfect for all kids between 3 to 12 years old. You do not need to worry about damage if the binoculars are dropped as the outer rubber layer provides great protection and at 91g they are lightweight and ideal for kids to carry.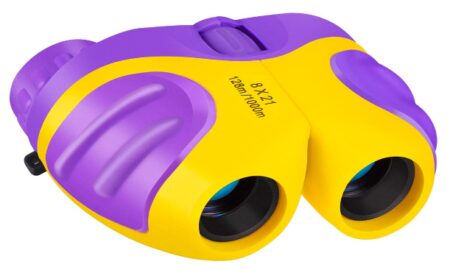 13. Kids Best Binoculars by Obuby
These Binoculars For Kids by Obuby are an ideal gift for young kids that will encourage outdoor play and exploration. They are also great for kids to use alongside adults and are perfect stimulating an interest in hobbies such as bird watching or star gazing. Every kid should have a pair of simple to use binoculars so that they can enjoy discovering faraway objects and with the 8X21 magnification that these Obuby binoculars offer, kids will not be disappointed with the result. Accidents happen but there is no need to worry about damage as these binoculars are highly protected with its shock proof rubber layer and waterproof features. These great binoculars come in a variety of attractive bold colors including a lovely bright red option, so there is a perfect combination for every 3 to 12 year old kid. A top choice for every kid that has great performance but is also easy for small hands to use.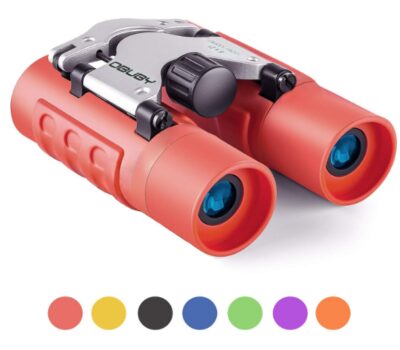 14. Kids Playco Binoculars for Exploring Outdoors
Let your kids be adventurous with these Playco Kids Binoculars, which are ideal for explorers and those that enjoy learning about the great outdoors. A lovely pair of binoculars in a bright blue color that both boys and girls will love. With a specification similar to most adult options, these binoculars have a 8X21 magnification, so kids can easily view objects at a distance in great detail. The USA accredited safety testing that has been performed on this product will give all parents assurance that it is safe for their kids to use. The rubber housing makes it easy for kids to hold, while also giving shock protection against the inevitable drops, making it great for 3 year old kids and older to use. These compact binoculars are perfect as a gift for kids that can be enjoyed by the whole family.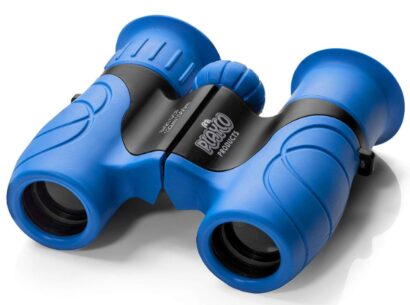 15. Kids HABA Terra Binoculars
All kids should own a pair of binoculars and these HABA Terra Kids Binoculars are the perfect choice for all younger kids. With 4X magnification they produce an adequate view for a small kid that means that the binoculars can remain simple and easy to use. These lightweight binoculars are the perfect fit for small kids and are particularly great for those 6 years old and over. They are also ideal for carrying out and about. With a handy carry case and break away strap kids will want to take these binoculars everywhere with them and they will love the attractive bright yellow color that will make them stand out from the crowd. This product has passed all relevant safety tests giving parents piece of mind that their kids will be safe while using these binoculars. A fantastic gift for encouraging educational development and learning outdoors.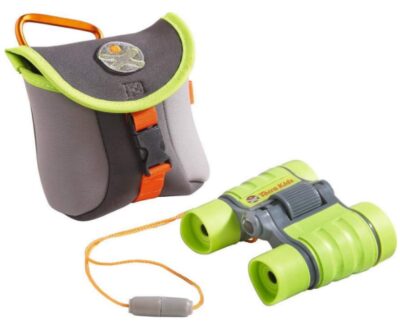 16. Powerful Binoculars by Adorrgon
If you are looking for binoculars with great performance for the older kid then these Adorrgon Powerful Binoculars are just what you are after. They are lightweight for their size and specification at 1.1lb so can be easily transported anywhere, ensuring that your kid will get plenty of use from them. With 12X42 magnification these binoculars will produce a quality view that will challenge many other binoculars. Also great for use in low light these are top of the range for night time outdoor exploring and as they are waterproof and fog proof they can be taken anywhere with no worry of them getting damaged. With 18mm eyepieces this larger eyepiece size will allow you kid to make full use of the great magnification that is unique to these binoculars. These are the perfect choice for any kid that enjoys science and exploring the outdoors.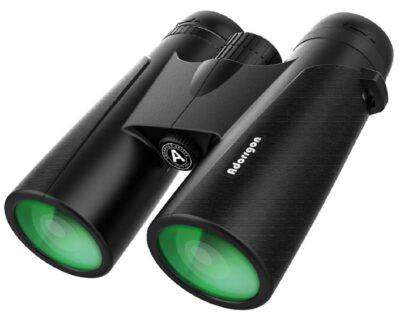 17. Pink Girls Binoculars
These Binoculars For Real Kids And Adults by YST Products are a great value option that still has a fantastic specification level. Get a great view of all far off objects with the 8X21 magnification and BAK-7 prisms that will satisfy even the most inquisitive of kids. The outer rubber housing provides grip for secure use and shock protection that makes them ideal for kids to use. The small size of the binoculars when folded makes them easy to fit in a pocket, so they are great for taking on outdoor adventures. The lovely pink color will make them appealing to girls and they will enjoy showing these stylish binoculars off to their friends. Easy and straightforward to use these binoculars are ideal for beginners as they will give clear images quickly.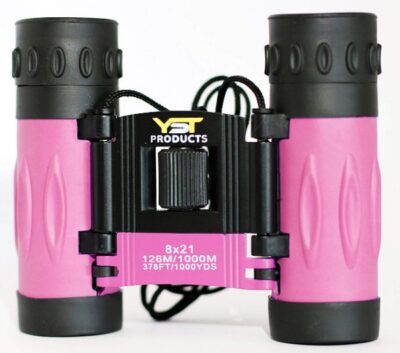 18. Kids Outdoor Exploration Set with Binoculars
The ideal gift for every young explorer is this Outdoor Exploration Set by Small Discover. Everything an adventurous kid could need is included in this set, which even includes these exciting binoculars with an impressive 4X30 magnification that kids will love. The outer rubber coating will also provide durable protection and ensure long lasting use of these binoculars. Kids will love sharing this set with friends and with a LED flashlight, compass, magnifying glass and whistle there will be no limit to the fun and enjoyment this set will provide. The set is easy to carry in the handy carry bag provided, which is also perfect for storing the kit when not in use. This is the perfect educational set for young kids that will encourage exploratory play outdoors and reduce screen time.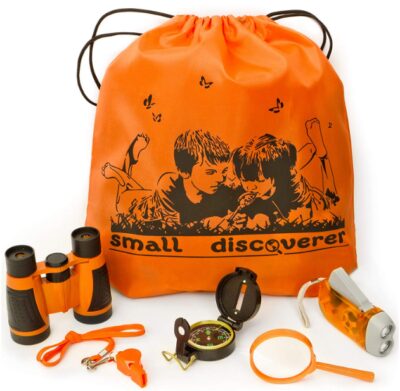 Best Overall Pick
Our best overall pick are these Bushnell Trophy Binoculars as they are perfect for an older kid that is looking for a top of the range great quality item. With 10X magnification these binoculars are suitable for all activities so your kid will not be disappointed with the product specification. They have an attractive camo coloring and handy waterproof and fog proof quality, so can be used in any weather conditions. A great pair of binoculars that will rival many adult designs.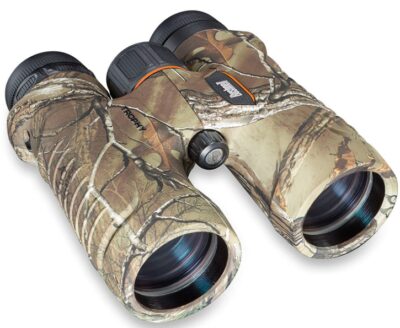 Best Product Buy
The 9 In 1 Mini Explorer Binocular kit is our best product buy as it is suitable for a young kid and simple for them to use, while still encouraging outdoor play and learning. The binoculars that have been specifically designed for kids has an adequate 4X magnification, meaning that they are simple to use and make the ideal first pair of binoculars. The kit also includes fun items such as; crank flash light, compass and thermometer enabling every kid to enjoy the great outdoors.