If you are looking for the best air hockey tables for kids then you are in the right place! An air compact table is a fantastic addition to your family games room and can help to bring parents and kids together for some lighthearted fun. Best of all, it is a screen free activity, which should really appeal to parents these days who find it hard to drag their kids away from electronic devices.
Whether you have a competitive side or just want some quality family time, air hockey is a great and wholesome activity. No longer just for arcades, you can bring the fun into your own home and select the best item for your family with the help of our guide. 
There are a number of home tables for playing with and choosing the right one for you can feel overwhelming. That is why we as parents have put together this guide complete with hockey table reviews, buying tips, and top picks so you can feel confident in your final choice.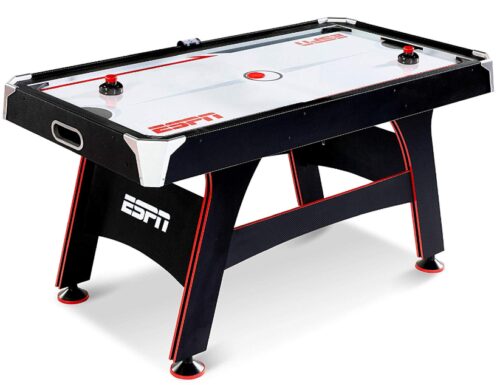 Considerations When Choosing Air Hockey Tables
First, we will look at some of the key factors to think about while planning your purchase so you can be confident in your chosen item. This can be a large investment so of course, you will want to take some time to think about how to select the right model for your family. 
Size: in this guide, you will find a wide range of sizes and it is worth thinking about where you will place the table in your home. Make sure to accurately measure your available space to avoid any mishaps once your item arrives! Whether you are looking for professional tables or a more compact model, you are sure to find the right choice for your family in our guide. 
Age of players: are you purchasing the table mainly for your kids or do you want to enjoy it yourself too? Think about the ages and heights of those who will be playing on the table and whether your shortlist will be suitable for them. If you have young children, a tabletop model may suit you better as it can be placed on a counter or flat surface at the right height for all players. 
Type: the two main types are a full size hockey table with legs and a tabletop model. There are advantages to each and the type you select will depend on how much space you have in your home. The tabletop models are designed to be packed away for storage when not in use. You will find plenty of choices of each type in this guide.
Durability: any large item for your family is an investment, so you will want to ensure it lasts well for years of use. Look for a table made from sturdy materials that will withstand enthusiastic young players! Make sure the construction is of a high quality and you will have a fun addition to your home that the whole family is sure to love.
Top Air Hockey Table for Kids
Now that we have looked at some of the key considerations before making your purchase, we will introduce a selection of the top buys available in 2023.
1. Harvil Hockey Table Game
The Harvil Hockey Game Table features a stylish wooden design. At four feet long, it is a great size for family games yet is made to save on space in your home. It has a number of upgraded features to offer the best playing experience, including a powerful blower motor with fast fan speed, wide goals with easy puck removal, and a stable electronic scoring unit. The L shaped legs are designed to provide stability and also contain adjustable levelers to prevent wobbling. The table comes with two orange pucks and two orange paddles so you will be ready for game play just as soon as the table is assembled!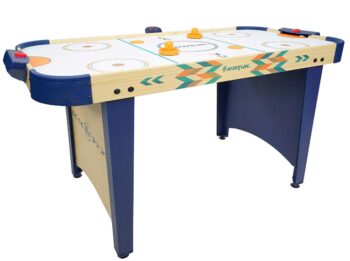 2. Playcraft Hockey Table
Ideal for younger kids, this tabletop model from Playcraft offers all the fun of air hockey in a smaller format. At 40 inches long, it is designed to sit on a table or other stable counter and is made from a sturdy MDF frame. This model is perfect for homes that are short on space and is designed to be used as a toy, ideal for entertaining young children. The set comes complete with pucks and strikers that are the right size for little hands. Due to its compact design, this would be a great choice for use when on vacation or for taking to friends' homes for a fun game night.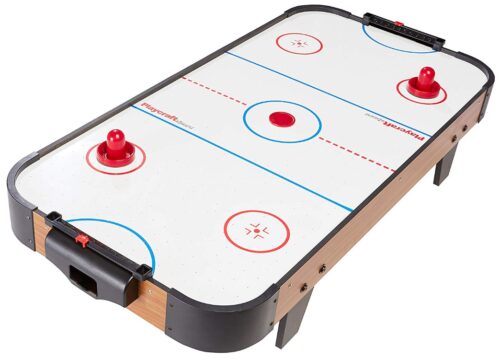 3. Black Air Hockey Table By ESPN
Looking for a top rated table? We would like to suggest you check out this choice from ESPN. It is a high performance table, complete with real airflow as well as an LED scorer and sound effects. The built in premium blower fan provides maximum air flow across the whole table, bringing a professional element to your game. This five foot long table will add a real wow factor to your games room with its high gloss table top for an incredibly smooth puck glide. Its five inch leg levelers will ensure a level playing surface each and every time you play. The LED scorer and realistic sound effects bring all the excitement of the arcade right into your home.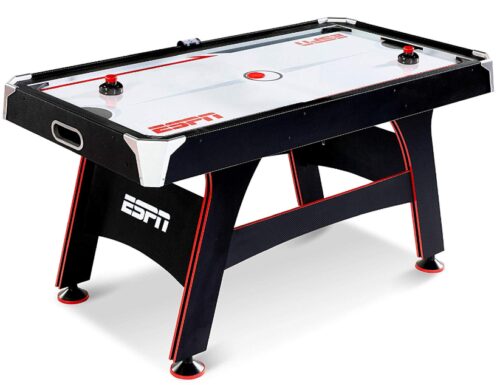 4. Electric Air Table With Accessories
The rustic wooden design of the Lancaster 84 inch table is sure to impress! It is constructed from sleek brown wood and its modern inspired design will complement any family games room. The chunky and cleverly designed leg system, complete with hidden leg levelers, ensures the table top is fully supported and stable during game play. The table features a traditional bead scoring system and is even large enough for four players to enjoy at the same time, which sets it apart from many other choices on the market. Its cool sound effects will liven up the game even more, and the table comes complete with four pucks and four pushers so you can get the fun started right away.

5. Air Powered NHL Hockey Table By EastPoint Sport
If you are seeking a professional air hockey table, look no further than this model from EastPoint Sports! With its sleek look and NHL branding, it would look at home in a games arcade yet is designed to fit into your family home. Engineered for long lasting play, this model features a scratch resistant table surface and power corners that protect it from wear and tear during even heated matches. Its impressive size means it can be enjoyed by either two or four players and the electronic scoring and sound effects really bring the game to life. This is a truly impressive table that will keep your family entertained for endless hours of fun and its sturdy construction means it will last for years of games.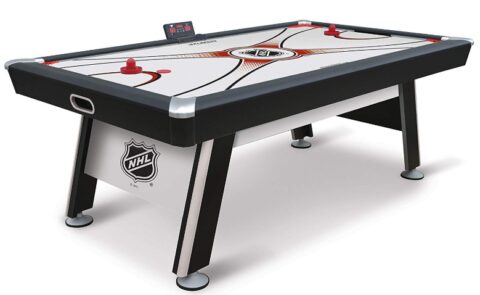 6. Air Hockey with LED Lighting Table
The Fire n Ice Table from Triumph Sports will bring a little something special to your games room. Designed to be played with the lights out, this cool table set includes light up pucks and pushers in red and blue for a truly thrilling game experience. When players score goals, the table corners will light up to add to the excitement. Bring a piece of the arcade home with this exciting set, which is sure to engage kids for some screen free entertainment. This 54 inch table features both electronic LED and traditional abacus scoring so players can easily keep track of the game status. The table's four leg cross braces mean it is kept stable while the game is in play. The Fire n Ice Table is sure to impress even the most jaded kid!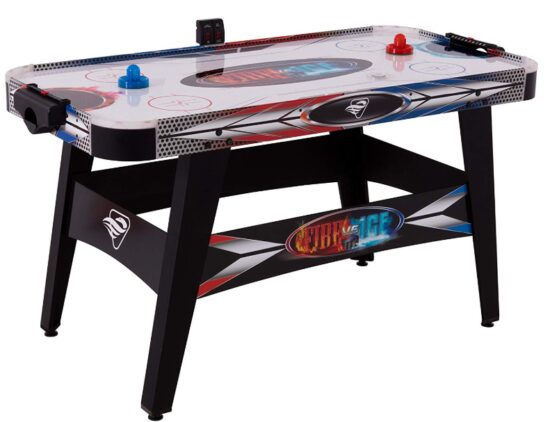 7. Choice Products Electric Table
Do not let the cute design of this tabletop model from Best Choice Products fool you, it is a powerful and hard hitting table! Powered by an electric 100V fan motor, air is pushed to the table top to create a smooth and frictionless surface for excellent game play. The table stands at 8.5 inches tall and is designed to sit on a counter top or other flat surface. This means that it would be a good choice for younger children since you can set it at the right height for players to reach. However, the table has been engineered to ensure suitability for kids and adults alike. The set comes with everything you need to begin playing as a family, including the air table, two pucks, and two strikers.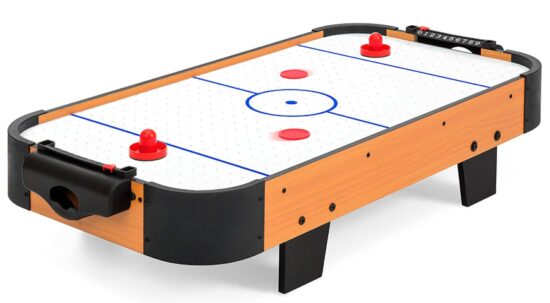 8. Kids Hockey Sports Table
This 40 inch table top air hockey set from Joola can be set up and ready to play in five minutes, so it is perfect for entertaining impatient little ones! Kids will be amazed by the fast action play on this miniature model, which will offer hours of fun. Powered by a high output fan that maintains even and continuous air flow, this set offers smooth game play and an arcade style experience. The padded feet keep your table or counter top surface safe and free from scratches even during the most competitive games. With two pucks, two pushers, and manual scoring, this compact set is perfect for families who are short on space but still want to add some fun to games nights.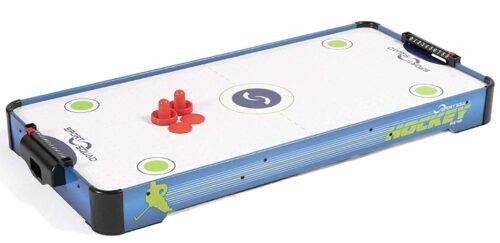 9. Mini Hockey Air Table
The mini tabletop hockey game from Rally and Roar can be set up in under 15 minutes, which means it is perfect for last minute games at parties, cookouts, and tailgate parties. All you need to do is attach the padded legs and goal boxes and you will be ready for a fun game! The set comes complete with everything you need to get the game started, including two mini pucks, two mini pushers, and two scoreboard options (LED electronic and slide). Its compact size makes it easy for kids and adults alike to play, and it can be tucked away for easy storage.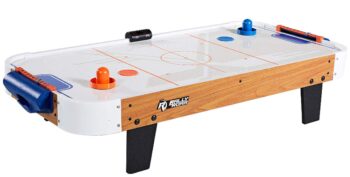 10. Air Powered Hockey Table By MD Sports
This super glossy and high performance model from MD Sports is bound to impress your kids! It features a scratch resistant and high gloss playing surface with stadium graphics straight out of an arcade. With a black and neon design, it will make a stylish addition to any family space. The inlaid LED electronic scorer features realistic stadium sound effects to add to the playing experience. The table is designed for sturdiness and durability, with full leg panel supports, reinforced playfield aprons, and top rails for additional stability. The 5 inch leg levelers ensure a level and stable playing surface for each and every game.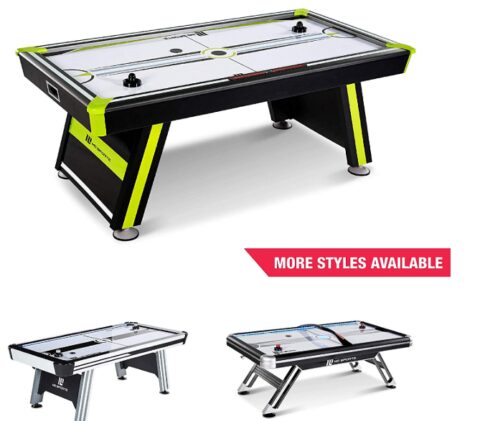 11. Arcade Air Flow Table By Atomic
Packed with a powerful 120V motor, the Top Shelf Hockey Table by Atomic is designed to provide maximum airflow for a frictionless playing experience. Its slick PVC gaming surface ensures high speed action matching arcade style play. The in built Lumen X technology illuminates play with multicolor LED lights, while high tempo music livens up the game. It features an impressive 82 inch by 41 inch playing surface, supported by four large and sturdy legs. The set also contains two LED pushers, two round pucks, and a hexagonal spinner puck, so you can begin the fun and games straight after set up.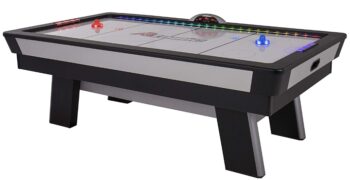 12. Indoor Table Hockey Game
If you are looking for compact hockey air table tops, this model from GoPlus could be an excellent choice. At 54 inches long, it is smaller than some of the others in our guide so would fit well if you are short on space. However, it is a fully self contained table rather than a counter top model, so offers excellent room for game play. This table is easy to assemble and disassemble and can be stored away if you prefer not to have it on display in your home. The four sturdy legs ensure stability while playing and the colorful graphics on the playing surface are designed to look like an ice hockey rink.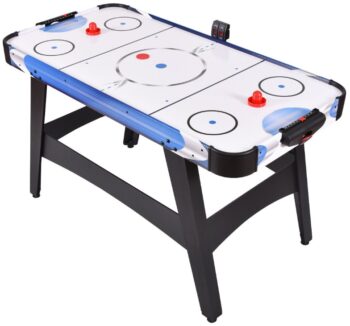 13. Table Top Game
This sweet retro design table edition from Point Games would be the perfect choice for families with younger children. Designed to emulate the fast paced game of ice hockey, its diminutive size offers safe and screen free entertainment for your kids. At just 21 inches long, it is suitable for even the youngest players to enjoy. This model has been engineered with child safety in mind, featuring rounded corners and premium high quality durable wood construction. The included accessories are designed to be large enough to be free from choking hazards. Best of all, it is extremely compact and can be quickly set up and packed away for space saving.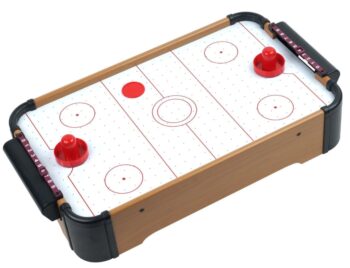 14. Junior Air Powered game
The Triumph Sports Overtime Hockey Table is designed for juniors to be able to learn and enjoy all the fun of this traditional arcade game. The air powered game play allows for constant back and forth fun that your kids are sure to love. At 48 inches long and 24 inches wide, it is the perfect size to fit in your kids' bedroom or your den and will not take up too much space. A great value choice, this model features colorful graphics and a choice of LED electronic or abacus style scoring so that players can easily keep track of the game. It is constructed from sturdy MDF and features cross brace leg supports to ensure stability during game play.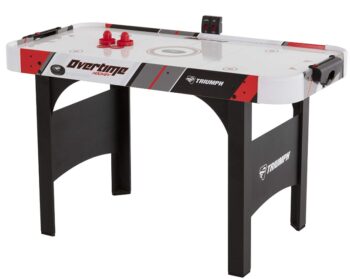 15.
Electric Scoring Table Game
If you are looking for a table that will jazz up your family home, check out the Carmelli Face Off table from Blue Wave. Designed to offer superior sturdiness and durability, it is constructed from extra thick CARB certified MDF material with a laminate coating. The reinforced L shaped legs and levelers make sure that the table remains stable on any surface during game play. With electronic scoring, players can easily keep track of who is in the lead during even the most competitive games. The fun hockey inspired graphics on this table bring the fun of the arcade right into your home. With fast and easy assembly and included pucks and pushers, your family will be enjoying hockey games in next to no time!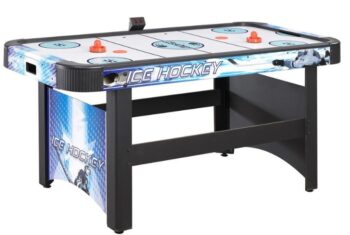 16. Indoor Table Sports Set
Another great choice for an air table top game is this model from Portzon. With rounded corners and durable wooden construction, it is designed with child safety in mind and can be enjoyed by young and older players alike. The table is made from dense fiber wood with a sleek and breathable playing surface optimized for dual airflow. It features an electric fan mounted underneath the table's surface, which makes the puck move smoothly across the field of play. Scoring is abacus style, with smooth manual scorers mounted along the board's edges. The mini pushers are made from environmentally friendly ABS material to ensure that they are safe, resistant to damage, and long lasting.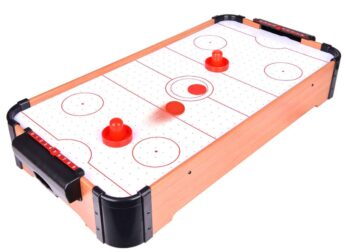 17. Wooden Table Top Hockey Game
For a choice that is a little bit different, take a look at the mini hockey set from Go Sports. Its rustic design and wide playing field are sure to appeal to kids of all ages, and it features brightly colored markings on the surface. The rink area is constructed from premium quality solid wood and is built to last. Instead of sliders, this model includes mini ice hockey sticks, which will keep the whole family entertained as they maneuver the puck across the rink! The smooth playing surface will withstand even the most heated games. Containing everything your family needs to start playing right away, this set is perfect for your next party or play date!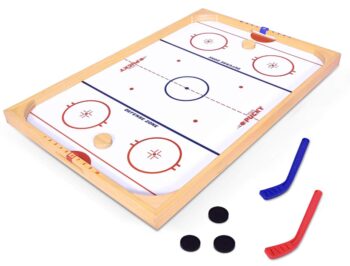 Best Overall Buy
As parents, we know that you will want to consider any item you plan to buy for your family home in great detail! Sometimes the amount of information and reviews out there can feel overwhelming, so we have selected our best buy to assist you in making your choice. Our pick for the best air hockey table for home is the Fire n Ice model from Triumph Sports. We have featured some fantastic tables in our guide but this one really stands out thanks to its fun and innovative take on traditional air hockey. This game is designed to impress with the lights out and would make an amazing addition to your games room. Players will marvel at the cool multicolor light up playing field, pucks, and pushers. The table itself is designed to be strong and sturdy, with four cross leg braces for additional stability. This is a fun and exciting table that will impress the entire family and is surely built to last.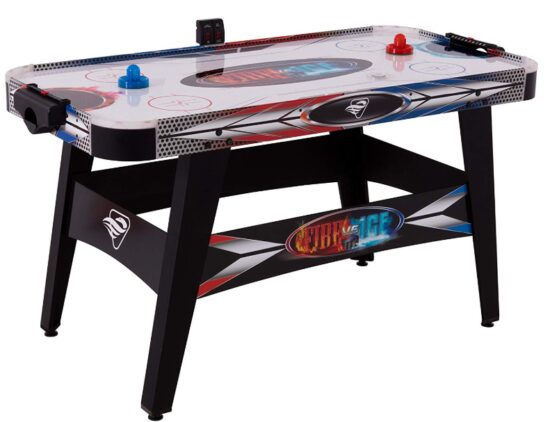 Best Budget Pick
We know that the budget can be tight when you have a family and even if it is not, parents always appreciate saving money where possible! When you have kids, there is always something to pay for, so spending a lot of money on a luxury item such as a games table can seem daunting. But do not worry, because we have selected our best budget buy so that you can bring some arcade fun into your home without worrying about the price tag. Our pick is the Blazing Air Hockey set from Point Games, which is a compact set perfect for whipping out when you need to entertain your kids at a moment's notice. Its rounded corners and chunky design mean it is safe for kids of all ages to play with, and its sweet size means it will not take up much room in your home. It is a great all round set that is sure to bring hours of fun to your home.