We all know that there can be huge benefits to having your child take music lessons or learn a musical instrument, but knowing how to choose the right one can get really confusing sometimes.
So, in this review, we look at the best kids flute that you can buy right now, in order to make sure that your little musician can get the best instrument for their learning to play flute musical adventure.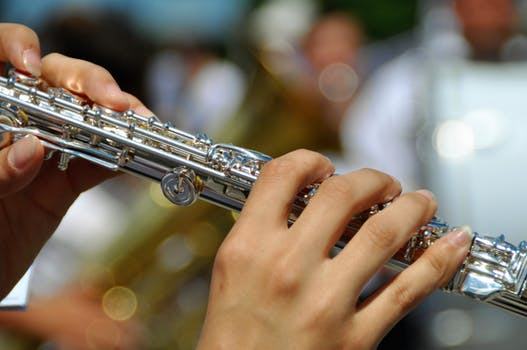 The flute is a real classical instrument that never goes out of style, and its one of the most popular for children to learn.  But even if you are a flute player yourself, it can be hard to pick out an instrument with so many on the market.
As a musician myself, it was really important for me to encourage my kids to start playing as soon as they were old enough, but we noticed that their natural desire to play would only develop if they had a good sounding instrument to work with.  So, for those who are not sure how to buy a flute, we've put together a review of some of the best flutes that we could find.
What type of flute is best for beginners?
Whilst anyone can become a good player with enough time, practice and a good teacher, the flute is one of the harder instruments to learn, and getting a professional-level concert flute for a beginner is going to be way too much for them to handle, as they are heavy and difficult to play. It'd be like buying a full-size mountain bike for a toddler rather than getting them a tricycle.
Thankfully, there are a number of very well-made beginner flutes which are specially designed to be easier to play yet still sound good.  They also tend to be lightweight, so younger children can play them comfortably.  We highly recommend you something specifically described as a beginner flute if your child is just starting out.  Once they are at an intermediate level, you can think about buying them a professional-level flute.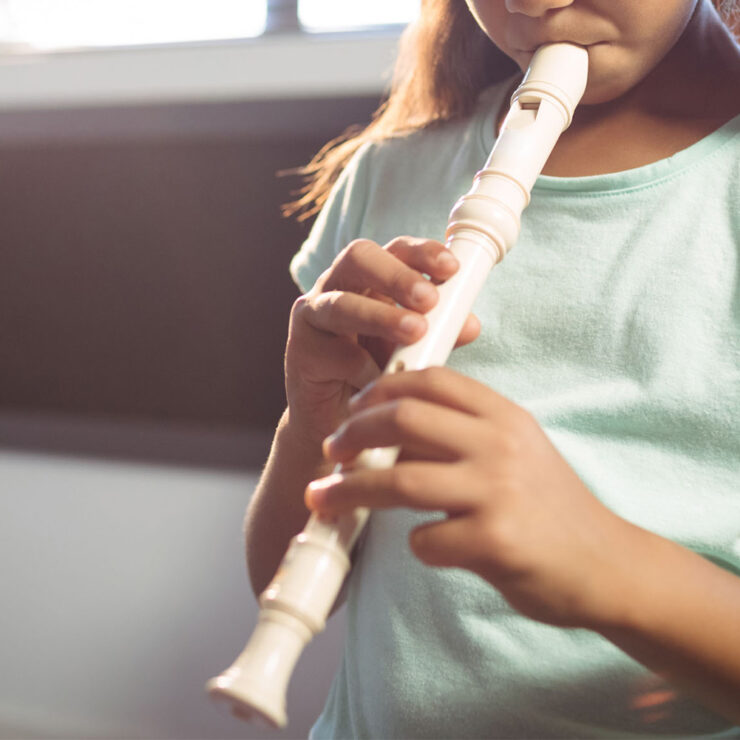 Flutes don't come in sizes, but you can get a curved head joint flute for a beginner.  These flutes bring the keys closer to the body, so they are easier for kids to reach.  You might also want to get them a piccolo or fife flute, as these are smaller than normal flutes.  There are also some smaller flutes called 'apprentice flutes' which are great for beginners.
You can also find some beginner flutes, such as the Pearl PF-505 and Yamaha YFL-211 , which can be upgraded, turning your beginner flute into an intermediate flute for a fraction of the price.  So if you know that your child is going to continue their flute studies (and we certainly hope they will), these make great purchases.
Top Picks for Kids
Best Beginner Flutes
1. Nuvo Pink Flute
Classical music doesn't have to always be traditional and conservative, and if your child has a bit of flair or is a little fashionista, this cool pink flute might be the instrument for them.  This straight head flute is made of sturdy A B S plastic, and it almost half the weight of a steel flute or metal flute, making it ideal for a young learner.  Despite being made of plastic, it still has great tone and intonation. 
The nice set also comes with a semi-hard carry case,  a mini kit of tools for the flute and bottle of flute grease for maintenance.
What we really love about this flute is the fact that it is fully waterproof and washable, so if you're kid want to play it in the rain or in the bath (and kids often do the strangest things), they totally can with this one!

2. Yamaha Student flute
Yamaha make some of the best instruments on the planet, and in particular they are known for making flutes which are both affordable and of very high quality.  This student flute for beginners will be a great way for your child to take their first musical journeys!
While they don't exactly come cheap, the benefit of getting a Yamaha is that you can be confident in its high quality materials and constructions, meaning that it will last a lifetime and, if properly maintained, never stop sounding brilliant.  So if you want to inspire your child to take music seriously, a great sounding flute is a must, and a Yamaha definitely won't fall short.  One of the best student flutes we've seen.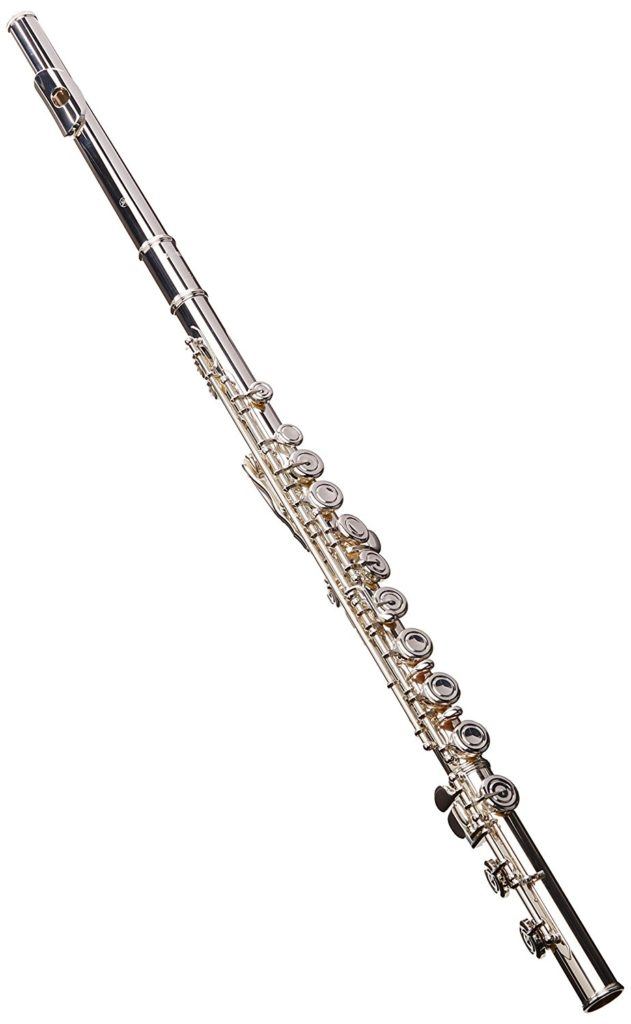 3. Gemeinhardt Student Flute
This brilliant flute for beginners will be a wonderful gift for any aspiring flute players out there.  This flute looks brilliant with its silver plated finish, and it sounds great too.  It has also been ergonomically designed for comfortable play by students, with its offset G key, so it will feel great in the hands of your little musician.  Finally, it comes with a 3 year warranty, which is always nice and reassuring.
Despite being one of the more affordable flutes on our list, this has a surprisingly rich tone and a lovely sound.  If you are thinking about picking up a starter flute for a young musician, this is a good and reasonably priced option.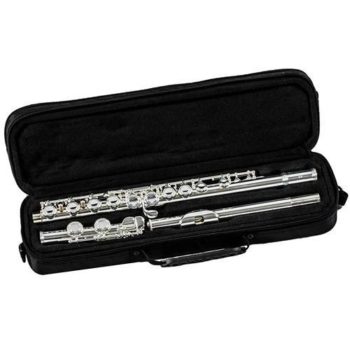 4. Taguka Flute Set
If you're in the market for a bargain on your kids, then we've got something great for you to check out.  This full set comes with a lovely silver colored flute, together with a hardshell  case, carry bag and a neat cleaning set!  This was definitely designed with kids in mind, and it has everything they need in order to take care of their new instrument and get back and forth between home and band practice without breaking it.
The flute itself is made of cupronickle, tuned to the Key of C and has 16 closed hole keys, just like as standard.  So if you're looking to get a great bargain on a flute set, check this out.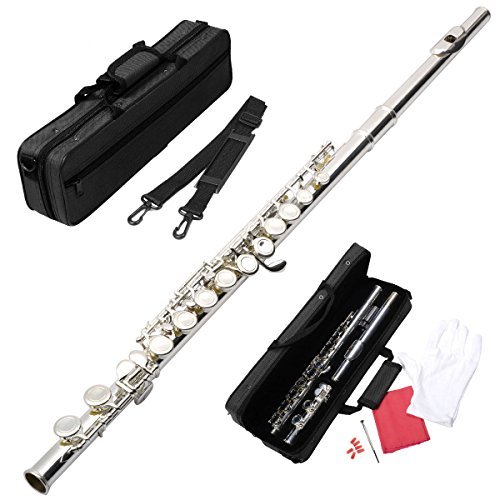 5. Sedona
Suzuki Style Beginner Flute with Curved Headjoint
If you have a very young child who is ready to take up the flute, this nice little package might be just what you are looking for.  It has a curved head joint to allow for easier play, and no trill keys or no foot joint in order to keep the weight down. 
It comes with a custom built case for full protection as well. This will definitely make the perfect flute for a 3 to 7 year old who is looking for something lightweight that also has great tone and play-ability. If your child is older or ready for a full sized flute, than this might not be what they want, as this is really made for younger children.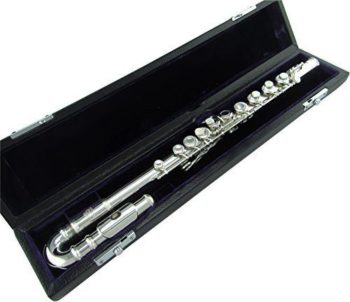 6. Blue Flute for Beginners
Does your child have a sense of style and doesn't want a silver flute like every other kid?  Then check out this cool blue flute for beginners.  Coming in the key of C and having both an offset G key and a split E key to make playing easier, this will make a brilliant student flute.
This has some great craftsmanship underneath that stylish blue exterior.  This great kids flute also comes with a light weight hard shell carrying case, a screw driver and a special cleaning cloth.  If your kid wants to learn flute but stay colorful and stylish while doing it, this might be the one for them.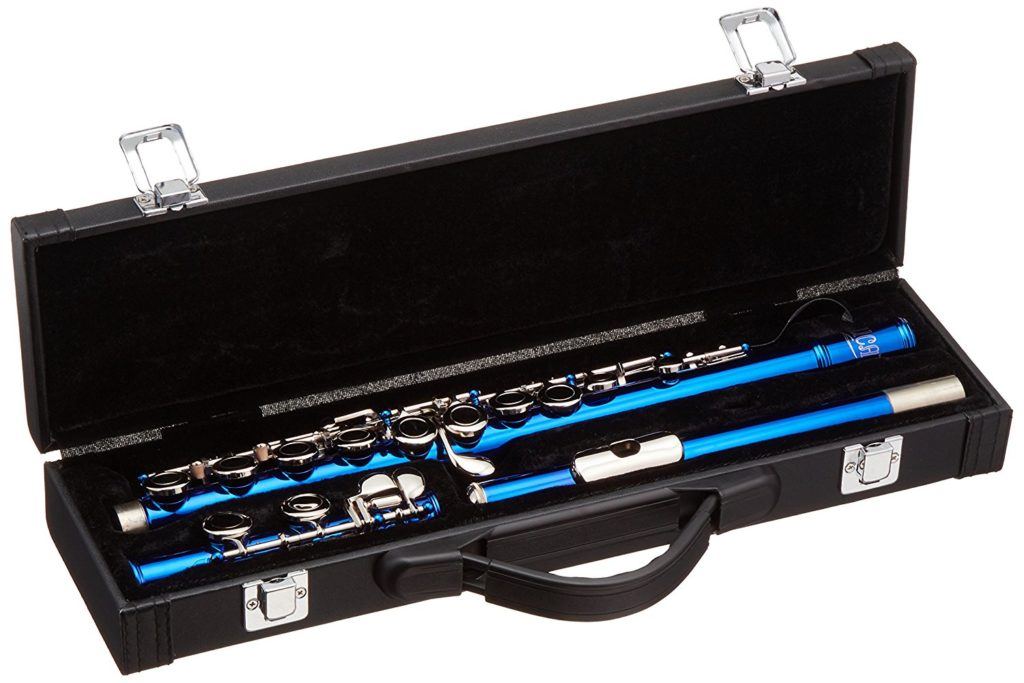 7. Yamaha Fife Flute
Fife flutes are a style of shorter, smaller flute that comes from Germany, and they make wonderful instruments for kids to start learning on.They are often used in marching bands but also in some Caribbean music.  Their small size also means they can be good child size flutes.
This particular flute has German fingering, two piece construction and is in the key of C, making it very child friendly.  It is also fairly inexpensive, so you could start your child off on this and then move them on to a traditional flute at a later time.  Also, as this is made by Yamaha, you can be sure that its construction is solid and it sounds great.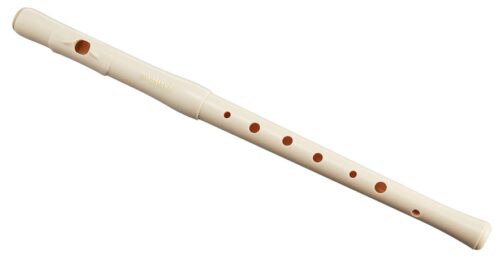 8. Gemeinhardt 1SP Student Flute
This Gemeinhardt student flute will make a wonderful instrument to introduce a youngster to the wonderful world of classical music. This flute is more than just a pretty exterior; it has some excellent intonation and response, so your child will get a lot of satisfaction from playing it. It has also been built with a few modifications to make it easier for kids to play, such as its ergonomically designed offset G key.
We also really love the fact that this flute comes with a 3 year warranty, so you're child is covered for a long time in the unlikely event that there is anything wrong with it.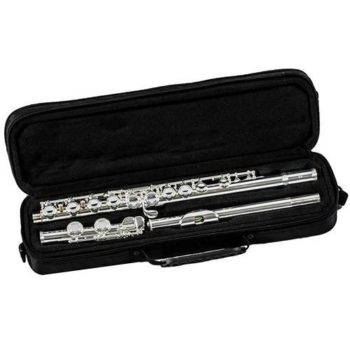 9. Medini Flute Set
This beautiful nickel plated flute comes at a very affordable price and has a lot of positive customer reviews on Amazon.  It is in the key of C, and has an offset G and Split E features to make it beginner friendly.
This great starter set also comes with a durable case, a cleaning kit and gloves. 
This is one of the most modestly priced traditional flutes we've seen, and it is definitely intended for those on a budget.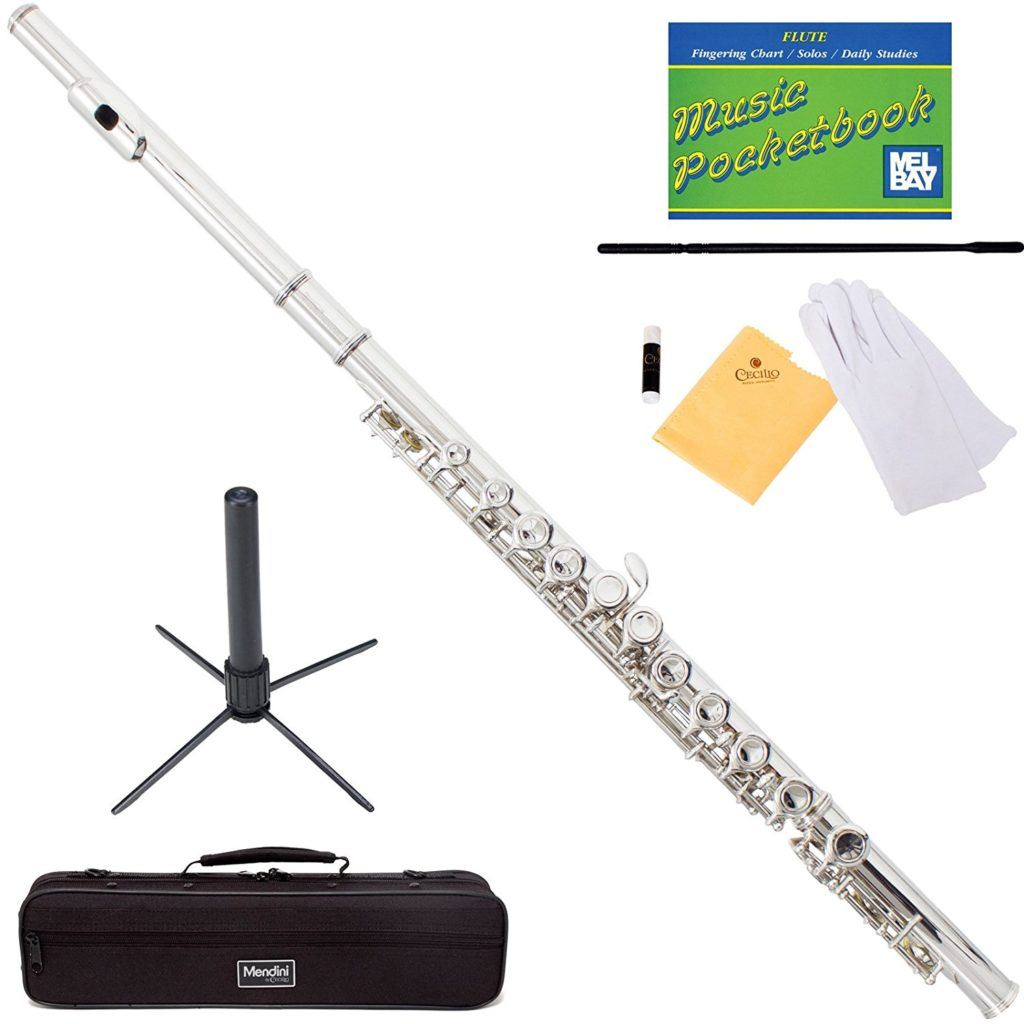 10. Mendini Piccolo Flute Set
Piccolo flutes are half sized flutes which originally come from Italy. These little flutes are used in full orchestras, and their small size also means that a kids piccolo flute is a wonderful wind instrument for a child to get started on.
This flute is in the key of C, which is the standard for learners.  It also comes with a cool little set including a case, cleaning rod, gloves and joint grease.  It is also Amazons best seller in Piccolo flutes.
Like the other Mendini flutes on this list, they are very modestly priced, and although by no means bad instruments, they are meant for people on a budget.  They are also great if you are not sure if your child is going to continue playing flute for a long time, so you don't have to spend a fortune on an instrument they might give up.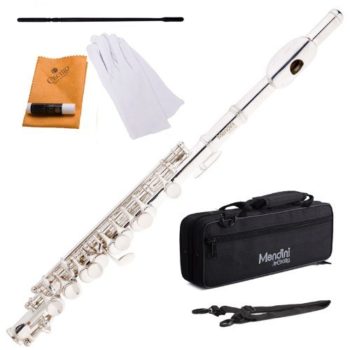 Best Flutes for Intermediate Player
1. Glory Flute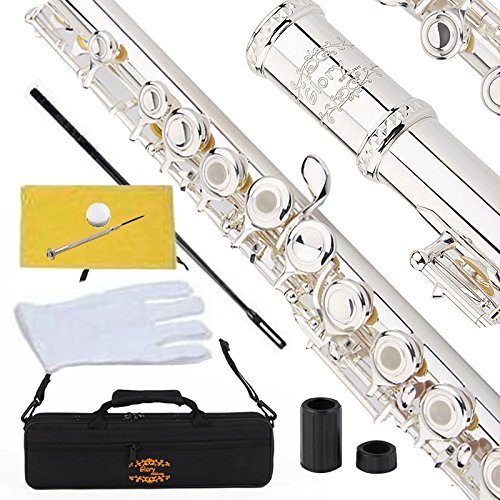 When its time for your child to move up to an intermediate flute, the Glory flute is a good choice to consider. The body is made of real cupronickel,  so the flute is both durable and great sounding.
It also comes with a such accessories as a tuning rod, grease and gloves.  It also comes available in a number of different colors, so if your child wants a gold flute or a blue flute, this is definitely one to look at.

2. Mendini Intermediate Flute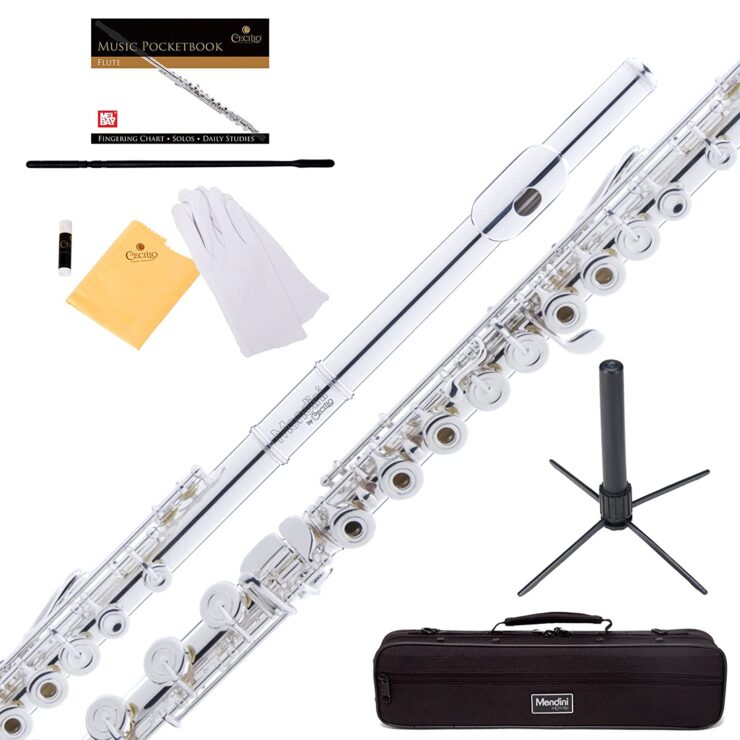 If you are looking for an affordable intermediate flute that's not going to cost you an arm and a leg, then Mendini might be the right brand for you.
This flute is great for families on tight budgets, and it has .  it also comes with handy accessories such as joint grease, cleaning rod and a hard shell carry case, adding even more value to this great package.

3. Yamaha Intermediate flute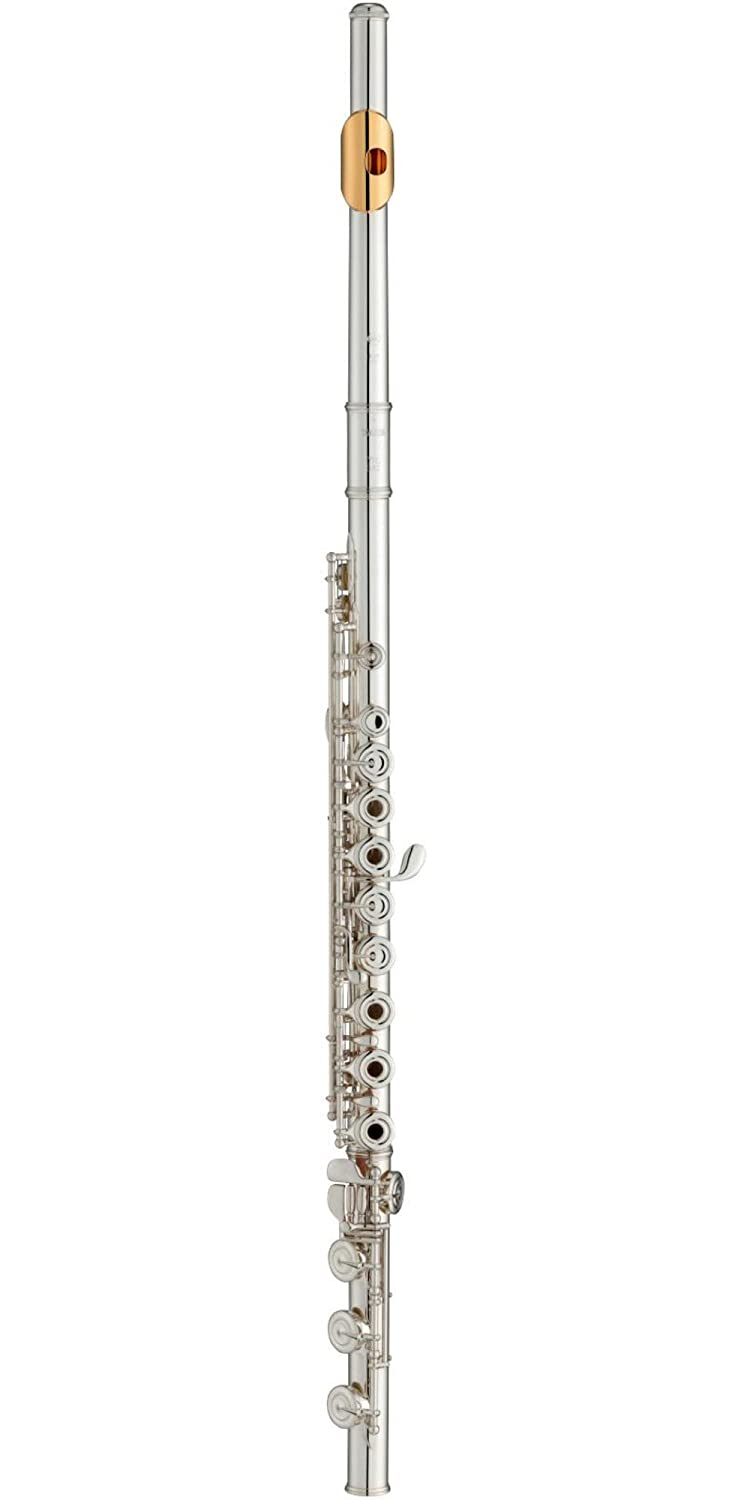 If your little maestro has outgrown their Yamaha beginner flute, why not get them a Yamaha intermediate flute to continue their musical journey?  Yamaha make some seriously high quality flutes, so if you started your kid on one, why not continue?
This is definitely not a cheap instrument, and we only recommend getting this if your child is serious about their flute playing and possibly considering becoming a professional musician when they grow up.

4. Azumi Atlus Flute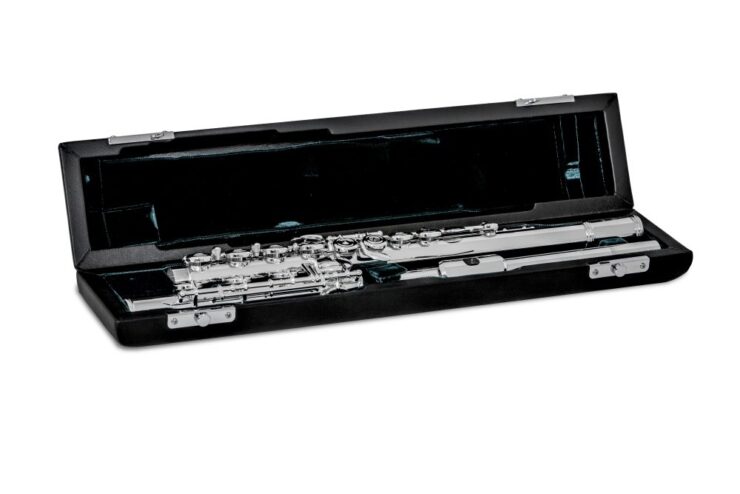 If your child is planning to making a living from playing the flute when they grow up and you want to buy them a high-level instrument, look no further than the Azumi.  Designed by acclaimed flute maker Shuichi Tanaka, this is perfect for a serious and ambitious flute player.
This flute has an absolutely amazing tone and sound, and it stays in tune effortlessly.
It certainly is not cheap, but you can be satisfied that by getting your child one of these, you are giving them one of the best flutes money can buy, and making a serious investment in their future as a musician. As such, we only recommend these for children who have made a firm commitment to the flute and are going to stick by it.

Irish flutes and Tin Whistles
1. Irish Brass Whistle
A tin whistle is not just for
folk music aficionados
, they are also wonderful instruments for kids to learn on.  This original Irish tin whistle is a great metal flute for both beginners and intermediates, and it is small, affordable and very portable so they can take it around with them wherever they go.
This will make a wonderful metal flute for someone interested in Celtic music. It also comes with a fingering chart and instruction sheet with several songs to get any beginners and students started.

2. Celtic Tin Whistle

This beautiful Celtic tin whistle not only looks stylish in is traditional green colors, but it sounds amazing as well.  This one in particular has its own with its own fingering chart and five traditional Celtic tunes, one each from Wales, Scotland and Brittany and two from Ireland, included in the box, so it makes a great metal flute for a youngster to get stared on.
The real bonus with these Irish flutes is that they are fairly inexpensive and easy to pick up, so if you don't want to splash out on a traditional flute right away, this will be great for them to hone their skills on before moving up.

3. Irish flute set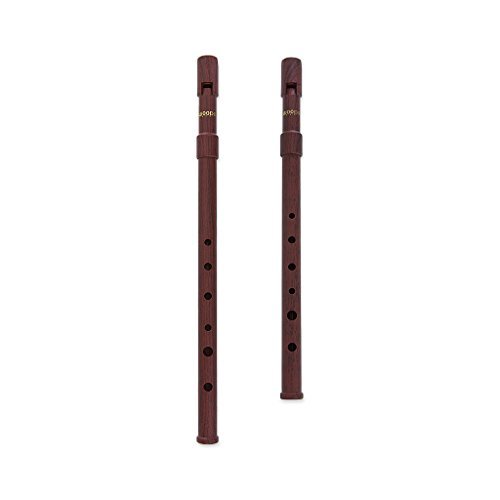 This brilliant Irish Flute set is much more than a wooden flute toy.  Perfect for beginners or students, the wonderful Gaelic tones of these two flutes, one in C and one in D, will fill your house with beautiful music and inspire your child to learn song after song!  They also claim to made of unbreakable materials, so you don't have to worry about it getting dropped or cracked.

Bamboo Flutes and Native Flutes
1. Dizi Flute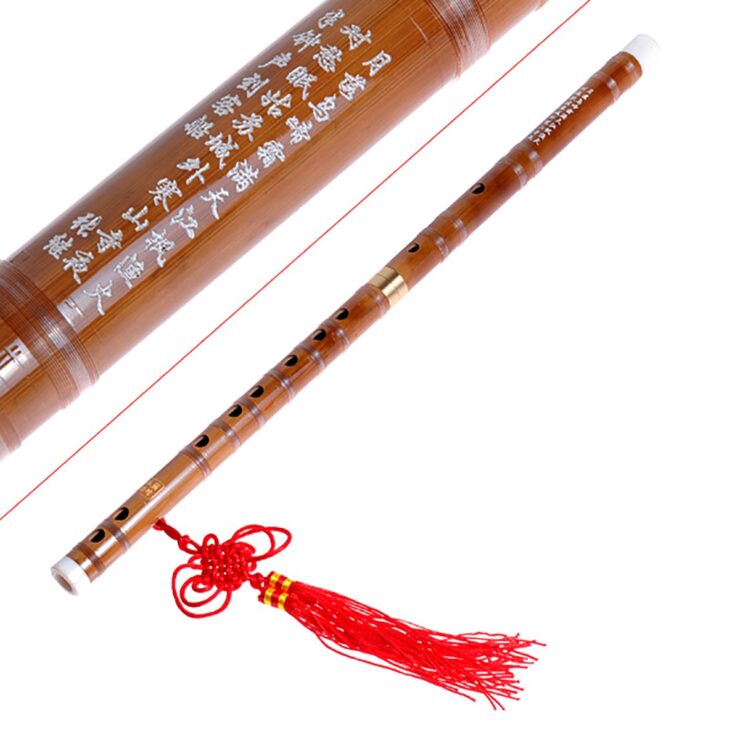 This is a very famous style of Chinese bamboo flute, and it has a very beautiful sound that has been used to great effect in many film sound tracks as well as Chinese opera.  This handmade flute is in the key of D, and it is made of natural bitter bamboo, which has been aged for three years in order to give it that perfect sound. It also comes with a nice carrying case and a decorate Chinese knot.
This is a very beautifully crafted and amazing sounding instrument. The only problem with buying one of these for your child is that it is going to be a little more difficult to find a good teacher and learning materials. Still, for kids interested in Asian and far eastern culture, it might be worth it as this will make a wonderful kids bamboo flute.

2. Japanese flute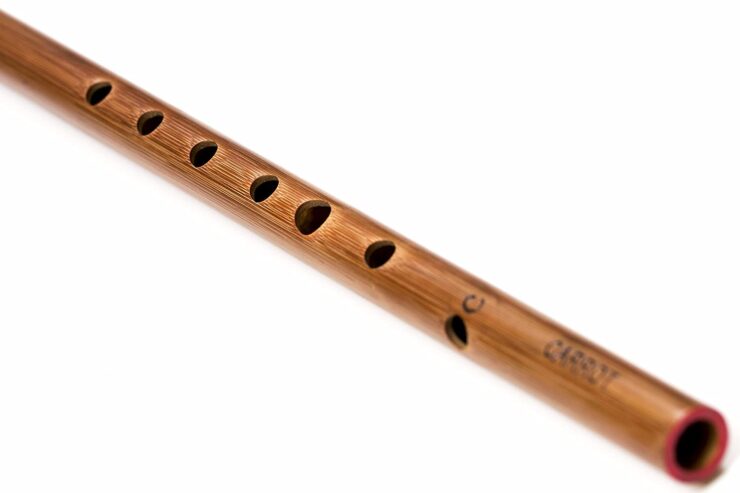 This traditional
Shinobue flute has been lovingly crafted from real bamboo and treated with non toxic materials and pain, which makes it both look and sound beautiful.  This one has also been crafted with beginners in mind, and certain elements, such as the placings of the holes, have been adjusted to make this easier to learn.

This also comes with a flute pouch and fingering chart.  However, we really do recommend that you also get a good teacher and some songbooks for your child as well.  This is perfect for any child wishing to learn a flute, but perhaps one who wants something a little different. 

3. Native Flute

Hand crafted with exceptional care from Jacaranda wood, this instrument has historical ties to the Inca, and it is used a lot in traditional Peruvian music.  So if your child is looking for a native wooden flute, this will make an great present for them.  It also comes in a stunning tribal carry case.
This gorgeous Peruvian native flute is sold in association with Novica and National Geographic, and comes with a special card stating its authenticity, so you are not only buying your child a brilliant sounding instrument, but a genuine cultural artifact that will get them interested in South America and broaden their horizons.

Recorders
1. Yamaha Recorder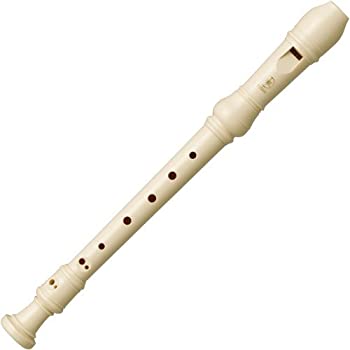 This wonderful German Style instrument was designed and built from the ground up with beginners in mind.  Coming in the key of C, it has a wonderful, warm tone that your kids will love to play, and you will love to hear as they progress through their lessons. They are also very easy to control and have child friendly intonation, so they make brilliant kids flutes as they can get a good sound out of them without too much strain.
This is amazons number one best selling recorder, and coming from Yamaha, you know that this is durable and great sounding.  If you want a kids recorder, you really can't go wrong here.

2. Colored flute Recorder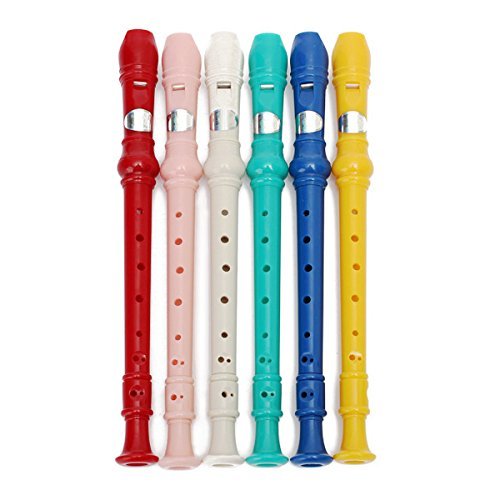 Is your kid expressive and a bit daring?  Would they like a flute but something that stands out?  A red flute? A purple flute?  Well these flutes comes in a whole range of cool different colors, making the wonderful presents for flute players will a bit of a wild side!
These resin recorders also sound just as colorful as they look, and your kid won't be disappointed with their sweet tones. They are crafted with an arched wind way for clarity of notes and improved intonation, and even come with a handy cleaning rod too.  This will make a great and colorful beginner recorder for a kid with a sense of style.

3. Yamaha
YRS24B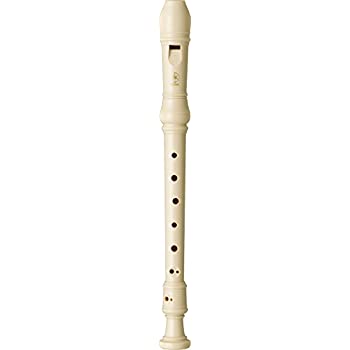 Another brilliant Yamaha recorder, the YRS24B is a great beginner flute for a child.  While other recorders may look almost identical, Yamaha models are truly some of the bets on the market place down to their many years of work designing improving and analyzing their instruments.
This sweet little 13-inch recorder gives sweet tones that will encourage your kid to keep playing. Also included are a carry bag and a set of instructions with diagrams on the correct finger positions, making it a great student recorder and perfect as a starter flute.

4. Soprano Recorder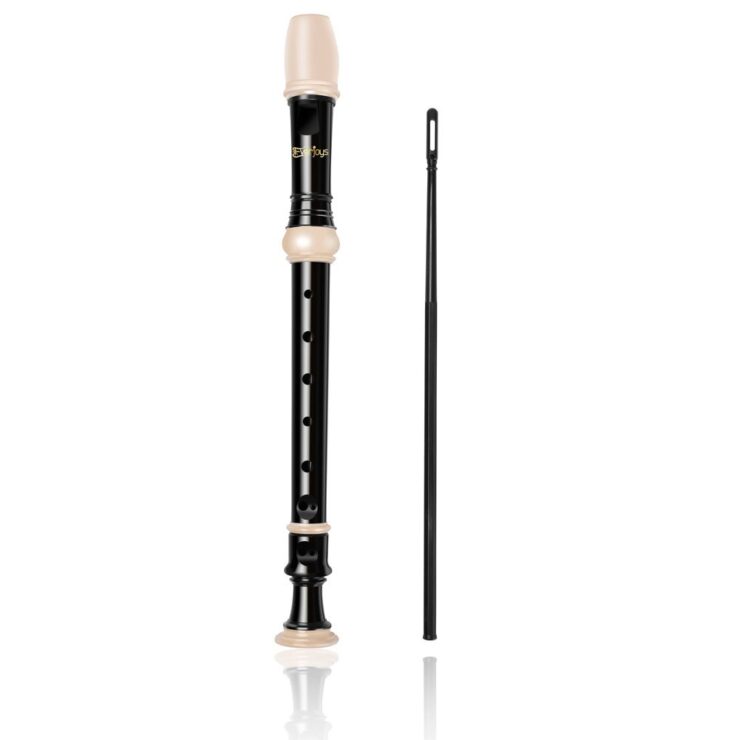 Coming in the key of C and with baroque fingering, this great little recorder is both simple enough for kids to get the hang of, but it also sounds good enough for them to keep wanting to play.
Its 3 piece construction means that it is easy to break apart to clean or transport, so they'll be no issue with taking this to school or to concerts. It also looks wonderful and professional, so your child won't feel like they are playing a toy wooden flute or anything like that.
This is also a great little package not only has a wonderful kids recorder flute, but it also comes with an instruction sheet, cleaning cloth, cleaning rod and a carry case, giving you great value for money.

Different types of Flute Accessories
In order for your kid to get the best out of their starter flute, they need a few accessories to be able to play and learn properly.  Here's what we recommend as essential:
Music Stand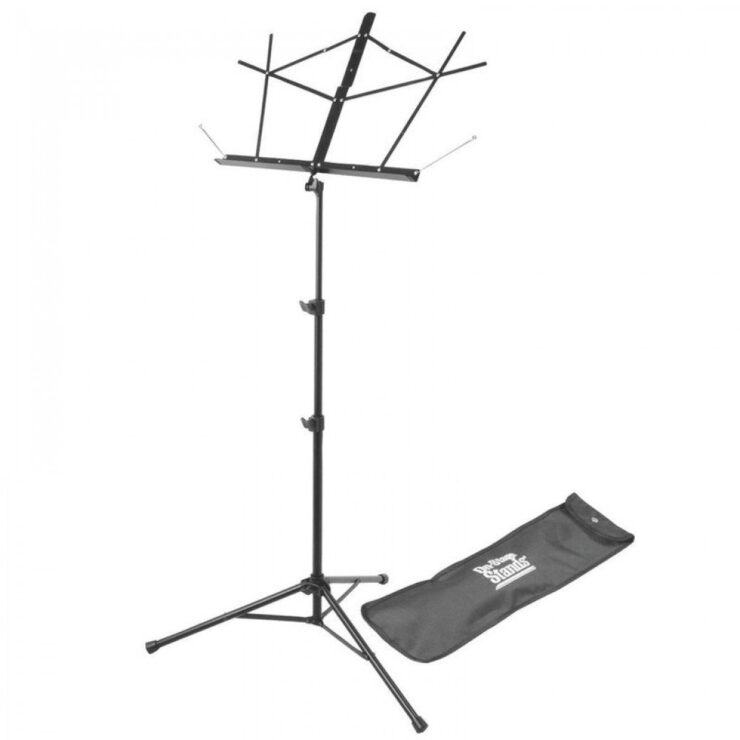 Whether you buy a metal flute or a wooden flute, one of the essential items your child will need in order to practice properly is a good music stand.  This will let them read the music properly as they play.
This stand adjust from heights of 20 cm to 60 cm, so its a great choice for a growing child, and it folds away neatly when not in use.

Cleaning Flute Kit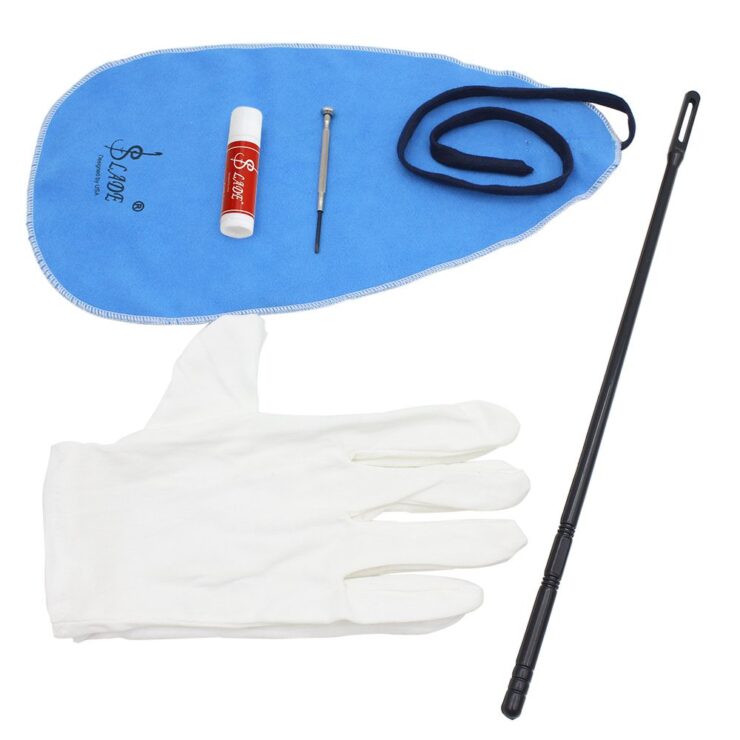 Any serious musician will tell you that proper cleaning of your instrument is absolutely essential, not just for hygienic reasons, but to ensure that it stays sounding good and doesn't deteriorate over time.  This great flute cleaning kit has all the essentials for your little maestro to keep their favorite instrument clean and clear from obstructions that might kill its sound.

Flute Bag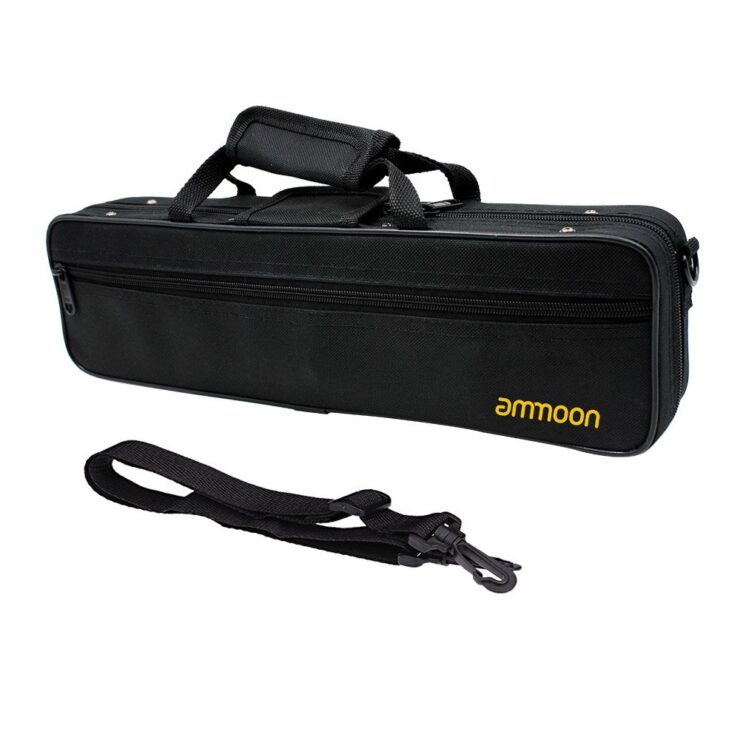 So you've just dropped some serious cash on a great beginner flute for your child.  The last thing you want is for it to be damaged when traveling between school, rehearsals or concerts.  A flute carrying case is a great way to ensure that your child can carry it our without damaging it, and this awesome soft case will do just that.
It is water resistant highly durable, and made with super soft padding, so you an be confident that your little musician's flute will make it to and from performances without a scratch.

Flute Case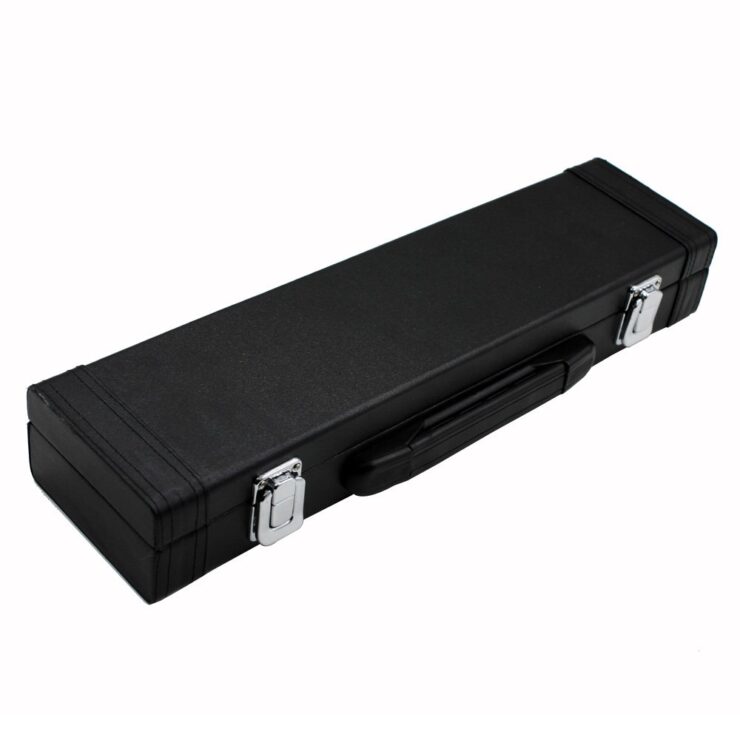 While a soft case will be great for traveling to and from school, there are going to be some times when a hard case for your children's flutes are really essential. For longer journeys, flights, moving house or for long term storage, a flute hard case is really essential for its added protection.
This great gig box has been specially designed for flutes and will give them some serious protection for those times when a soft case just won't do.  And when you think about just how much flutes cost, they need all the padding they can get.

Beginner Flute Music and Lesson Books



Investing in some good flute music for kids books for your flute player is a must.  While their music teacher might have some specific recommendations, its always great to have a few music books on hand in case they want to try some new songs, and here are some of our favorites.
Flute for beginners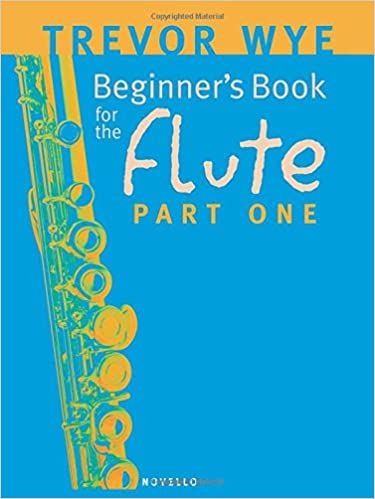 The Amazon bestseller when it comes to flute songbooks, this book by the celebrated instructor Trevor Wye takes a lot of the stuffy old fashioned drilling out of music teaching and injects a lot of fun and enjoyment in its place without compromising on quality.

Play Flute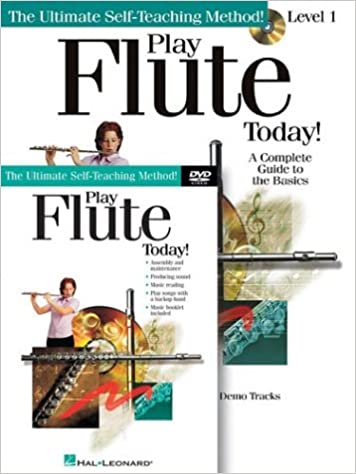 This is a fantastic beginner's pack for any flute students out there. This triple set of book, CD and DVD give you all you need to know to get started and has lessons covering reading music, cl;waning your flute and more.
The CD includes audio lessons as well as over 7o full-demo tracks. This is the perfect beginner flute book for someone who want to teach themselves or for a teacher to use.

Essential Elements Flute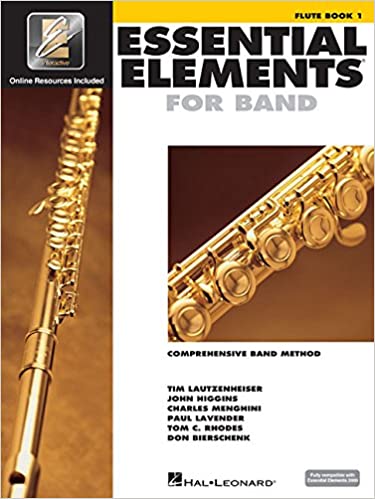 Essential Elements are one of the very best series of musical lessons, and their flute books are no exception to this rule.  Using both familiar songs and specially designed exercises, these music lessons teach kids musical pedagogy and theory in a fun way that is specifically designed to engage younger and beginner players.
This great book also comes with a CD Rom full of instructional videos and play along mp3s, and your child can also sign on to the EE online Library for more content.

Disney Beginner flute music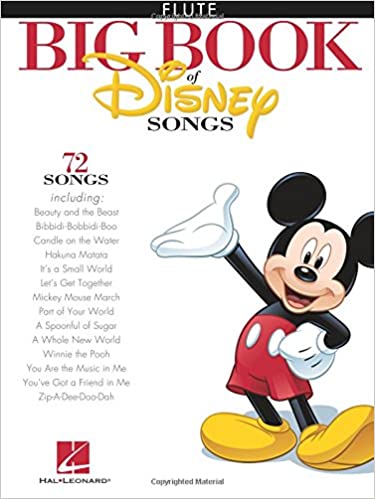 Are you looking for some flute music for little kids, perhaps a little Disney fan?  Well then we've got the music book for you. This enormous collection features over 70 classic Disney songs, including Beauty and the Beast, The Siamese Cat Song, A Spoonful of Sugar,   Winnie the Pooh, and more
This might be a little too simple for intermediate players, but this is great for beginners and younger kids, and of course, who doesn't love Disney?  Also available on Kindle.

Plastic Toy Flutes
12 pack of Plastic Toy Flutes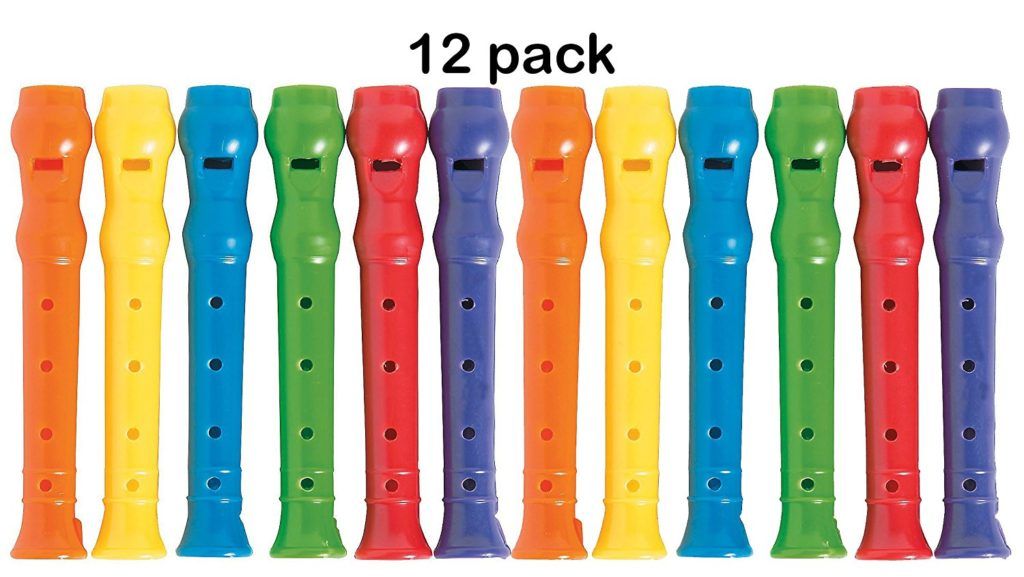 For younger kids who might not be ready for a real flute, a great way to spark their interest in this cool instrument is to get them a toy flute.  These cool sets of 12 plastic flutes are very bright and colorful, and you can be confident that they are 100% kid safe as are made of high-quality non toxic plastic that is  BPA, Phthalate and lead free.
This colorful assortment of toy recorders will be a great thing to bring to a party or special occasion where each child can get their own plastic flute instrument and start making some noise.

Toy Flute for Baby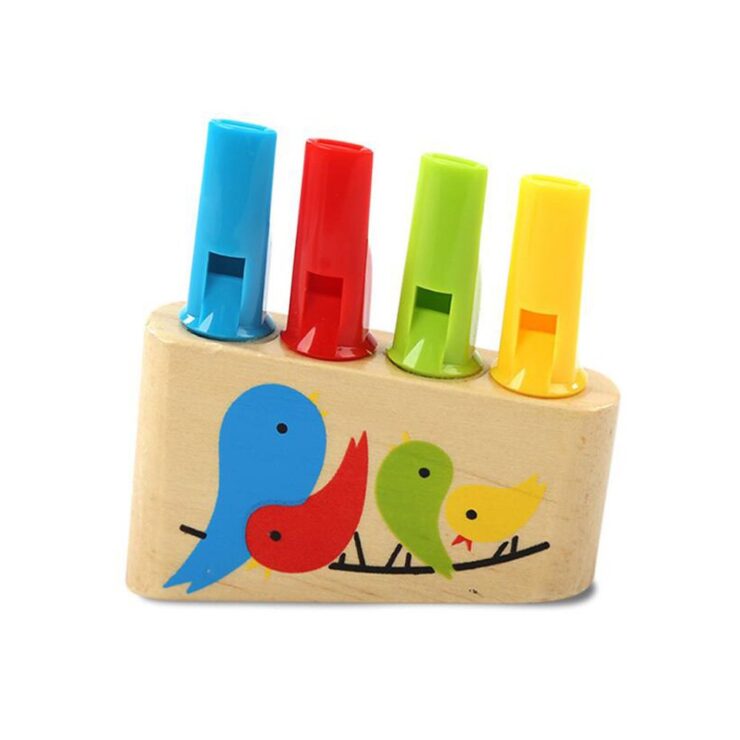 While we don't expect your baby to be able to play any Beethoven or Tchaikovsky, a flute toy for your littlest one can be a great gift for them to play with and help them develop an ear for music.  This cool flute in particular is great for babies as it is very simple and eay for them to use.  It has been specially made so that the sounds aren't too sharp for baby hearing, and even their soft little lungs will be able to have a good time with these.
These are also made of non-toxic plastic, natural wood and environmentally friendly paint, which is great as we don't want anything dangerous going in our baby's mouth.

Kids Toy Water Flute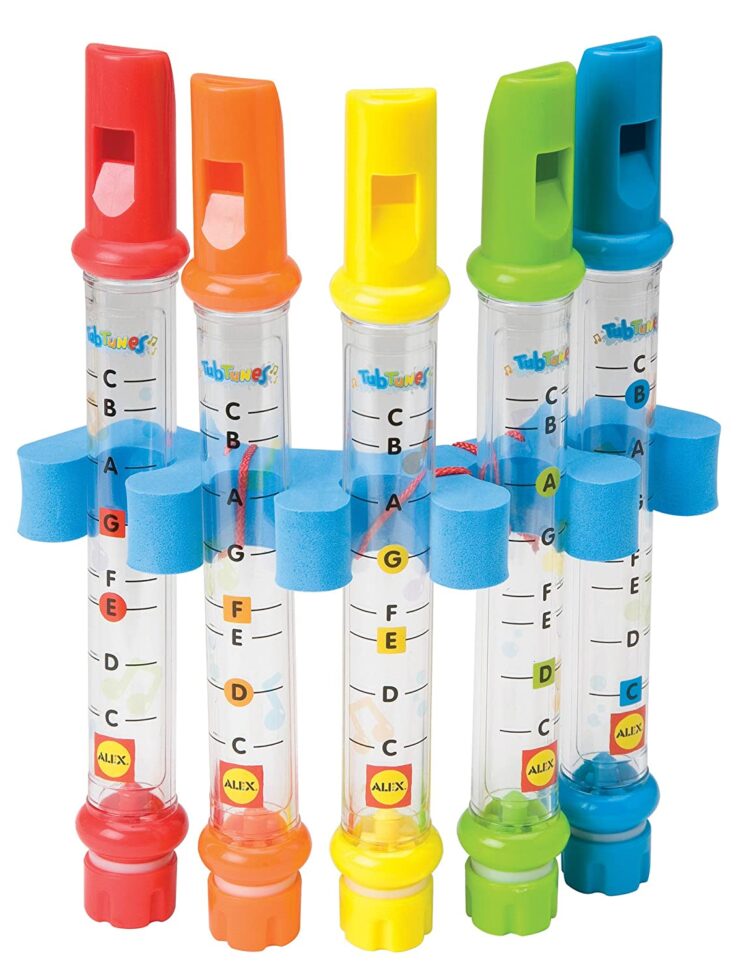 Now these are some of the coolest plastic instruments for kids we've seen!  Help make bath time and magical musical experience with these awesome kids flutes.   This set includes 5 different plastic flutes, and they make different sounds depending on the level of water that is in each of them, so this has a cool educational as well as musical side to it.
Even better, these flutes include waterproof song sheets for popular nursery rhythms    These song sheets are easy for kids to follow and give very clear instructions, so your child can start learning real songs every bath time! Recommended for children 3 years of age and older.

Build your own Plastic Flute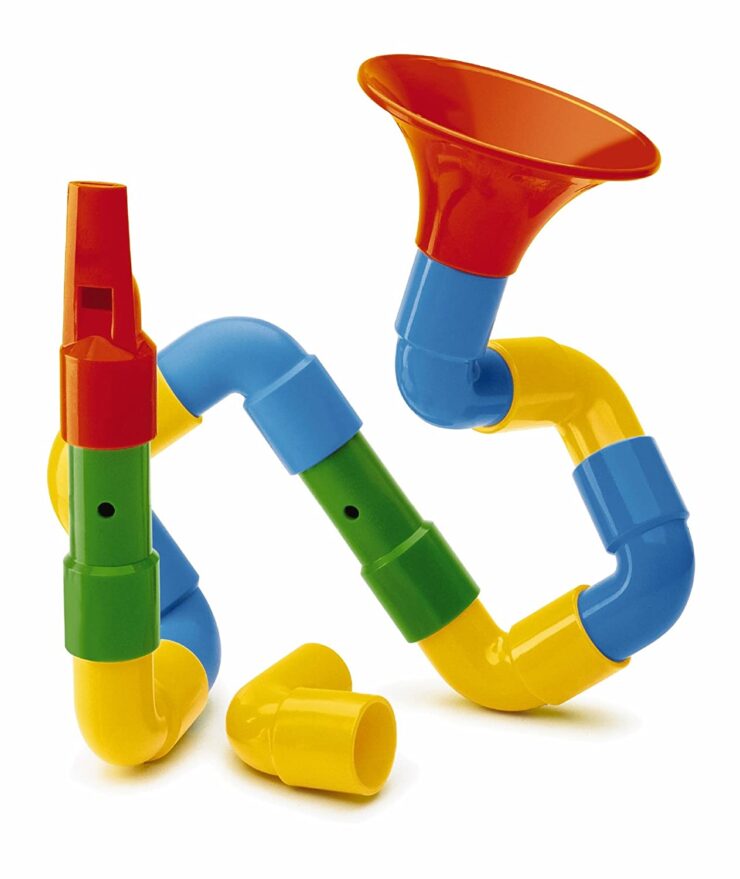 Let your child be the designer, builder and player of their own colorful toy flute with this wonderful set.  It comes with 16 interconnecting tubes, including a mouthpiece, trumpet end and twisting tubes which will let your child great the wackiest and craziest flute toys ever seen! Made entirely of top-quality ABS plastic this building set is unbreakable and meets the highest safety standards. This really is a great and multi functioning toy that will stimulate your child in many different ways.
This is also a very educational toy, as your child will begin to learn how different shapes and configurations of flutes can effect the sound that this kids musical instrument produces.  Furthermore, they can also make other instruments, such as a saxophone or a trumpet with this cool toy.

Plastic Slide Flute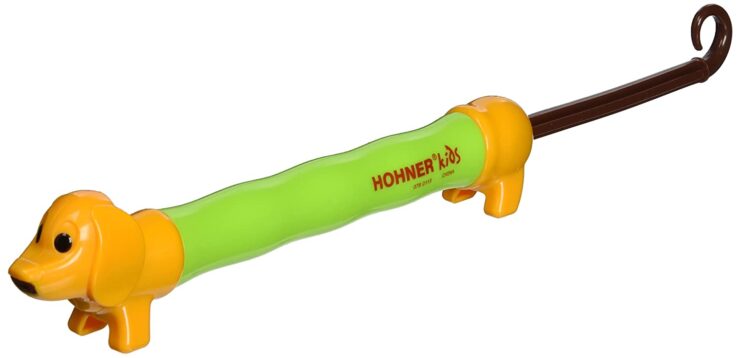 Another classic kids toy, this cool musical instrument for kids is shaped like a lovable sausage dog, and the note the instrument plays changes as they pull out the tail.  Children have been having lots of fun with these slide flutes and slide whistles for decades, and they are great for parties and special occasions when the kids get to go a bit wild.
While it might be difficult for your child to play any real songs on this, it is still a great toy to introduce them to music and spark their interest in the flute.

5 Fun facts about the flute
The 'flute' family is made up of a whole range of different flutes, which can vary a lot in sound and tone.  The piccolo flute makes very high, chirpy sounds, while the contrabass flute can make sounds so low that its almost at the limit of human hearing.
The oldest flute ever found by archaeologists was around 350000 years old
Historical figures like the great George Washington could play the flute
Flutes are made of all kinds of materials, such as metals, woods and plastics.
You need to blow harder than any other instrument into the flute, even the tuba!
Frequently Asked Questions about buying a kids flute
Types of Flute
Although commonly referred to as 'flutes', there are actually a huge number of different woodwind instruments that fall under this name.  We'll start by introducing you to some of the most popular flutes, so you can get an idea of the choices available.
Traditional flutes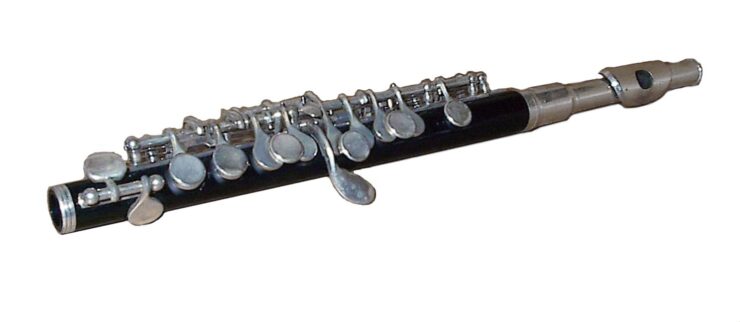 This is the instrument most of us would think of when we hear the word flute, and they come in a few different forms such as the piccolo flute and the fife flute.  They are commonly used in classical and opera music, yet also in western folk musics.  These are side blown flutes, meaning you blow into a hole on the side to make a sound. They are made of metal.
Recorder
The recorder is a flute with a whistle mouth piece, meaning that you blow into the end rather than the side.  They are popular flutes for kids as they are often easier to play and learn than a traditional flute.  They are usually made of wood.
Bamboo flute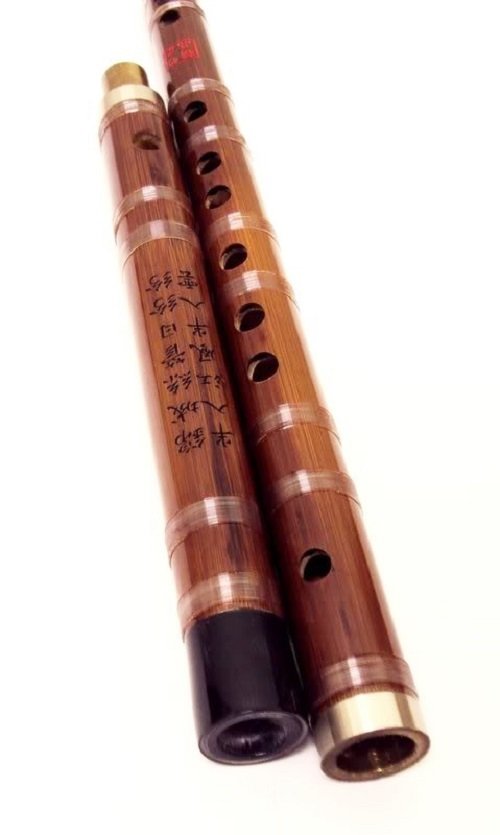 Mainly coming from the Asian countries, there are many wonderful varieties of bamboo flutes such as the Chinese dizi flute, the Japanese shakuhachi flute and the Indian bansuri flute.  They are a little quieter than metal flutes, and they have a more earthy, natural sound.  Some other wooden instruemnts, like rosewood flutes and kiowa flutes, are similar to these.
Irish flute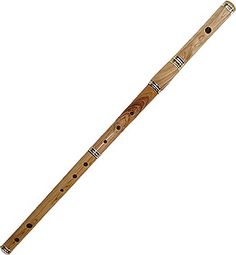 This is a simple wooden flute that is used in Celtic folk music. There is a metal version of this flute known as a tin whistle.
Electric Flutes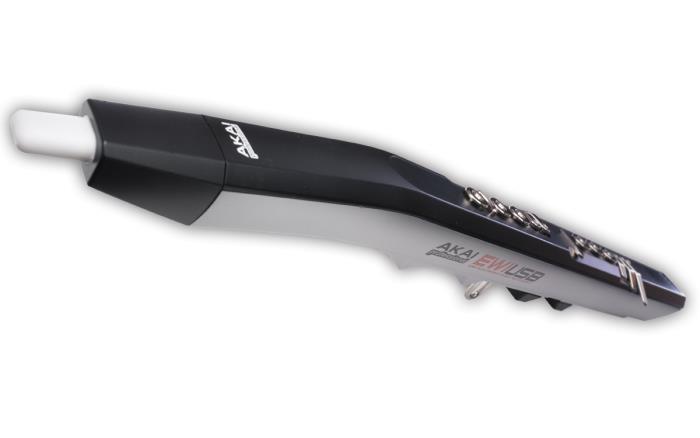 What most people call 'electric flutes' are actually called wind controllers.  Basically, they are midi controllers that can be connected to a synth or computer in order to play it like a woodwind instrument. They are not instruments themselves, as they play the synth or electric keyboard.
Top Flute Brands
With so many flutes out there and such a dramatic range of prices, it seems like a bit of a minefield choosing a kids flute; you want something that is good quality, but you don't want to break the bank just to get it.  That's why we recommend looking at flutes from the following top brands.  You can be assured that you are getting a high quality flute when buying from one of these companies.
Sonata
Atlus
Yamaha
Trevor james
Pearl
Jupiter
Elkhart
Flute brands to avoid?
For starters, definitely avoid anything made by stores like Walmart or Costco.  There are cheap factory made instruments which won't be crafted with enough attention or detail to sound good.
We've also heard concerning things about the following brands, so you might want to be cautious of them
Emerson

Buffet

Artley

Armstrong

Selmer

Bundy

Vito

Winston

Lark
Where to buy a flute for a child?
This is another question we get asked a lot – should I go to a music shop or buy a kids flute online? Well, it really is up to you as they both have advantages and disadvantages, and you can find children's flutes for sale at great prices in a lot of places
With going online, you have a huge range of choice, whilst the music store only has the items they stock.  Plus, although not all music stores are like this, we have heard tales of parents who didn't know a lot about flutes being convinced to buy excessively expensive ones after the expert in the music store convinced them, and they regretted it.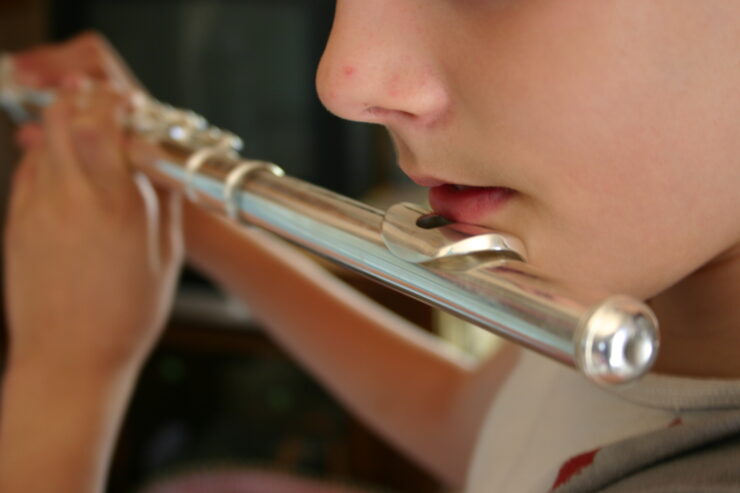 However, by going into a store, you can see the flute yourself, and your child can test it out to see if it is comfortable and sounds good.  Also, good music store staff will be able to give you sound advice, and help you find the best kids flute for your child, rather than try to con you into buying the most expensive thing they have.
We recommend combining the two approaches.  If you find a good looking deal online, see if you can find the same model in a store and check it out.  You never know, the store manager might offer you a deal if you can show them it cheaper online.  The reverse is also true; if you find something great in a music shop, have a look online to see if its cheaper.
There are a lot of flutes for sale on Amazon, so that might be a good place to start browsing.  One word of warning, be suspicious of cheap flutes, especially cheap beginner flutes; you always get what you pay for, and its unlikely that a cheap flute will sounds any good.
Which Key?
Just a word of warning, all flutes come tuned to a certain musical key, such as C, G or E.  We recommend checking with your childs music teacher in order to see which key to look for.  Generally speaking, though, most beginners learn on a flute in the key of C.