the latest Nerf blasters and guns are just as popular today as they have ever been. They are all high quality toys with exciting features and there is no other product available that can compete with these amazing guns. There is something for everyone, as the Nerf range is diverse with many options to choose from including, different types of gun blasters, Lazer blasters and Bow and Arrow sets.
All of the new Nerf toys will encourage your child to become more active, through imaginative play. There are many adventures to be had with these blasters that can be shared with family and friends. Through playing battles with others, your child will learn important team building skills, as well having fun. These toys are perfect for reducing the amount of screen time that your child is exposed to and allow them to develop through play. Many of these Nerf products are suitable for both beginners and experienced players, so your child will enjoy playing with their toy gun for a long time. With the ability to customize some of the gun blasters this allows your child to build on their existing toy and add their chosen extra features to make these ideal Nerf guns for a girl or boy.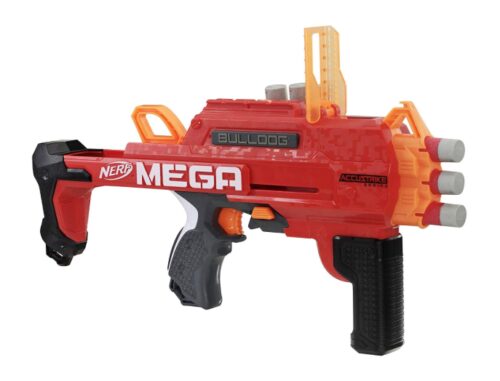 With so many products in the range how do you decide which are the best mega Nerf guns and how do you pick the ideal blaster for your child? This article is here to help you with this decision and will take you through the top of the range of Nerf toys, allowing you to pick the ideal gifts for kids.
Best Nerf Gun Mega Blasters
These top of the range mega Nerf guns are some of the best blaster and cool guns for kids and adults. We have reviewed a wide range, but all high-quality and ready to enjoy.
NERF DoubleBreach Blaster
When looking for the ultimate toy for adventurous play then look no further than this Nerf N-Strike DoubleBreach Blaster. This exciting pump action super mega Nerf gun can fire a dart up to an impressive 90 feet in the air, providing many hours of fun for your child. As a breach loading gun there is a side door that is opened to load the darts, enabling easy reloading. The gun is then primed by sliding the pump forward and then it is ready for action until the trigger releases the darts. For additional excitement 2 darts can be fired at the same time, one from each barrel, with a double barrel blasting action. The set comes with the DoubleBreach Blaster, 6 Mega Whistler darts and instructions. There is a place on the blaster to store the unused darts so they are nearby and ready for use once the loaded darts have been fired. As one of the best mega Nerf guns it will provide unlimited enjoyment for your child.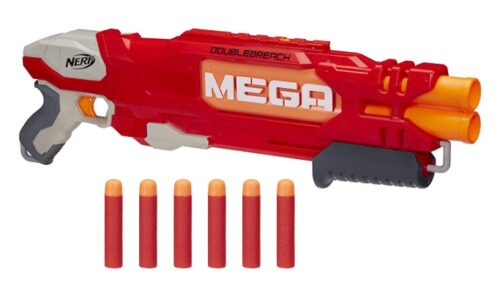 Fortnite TS-1 Nerf Blaster
This Fortnite TS-1 Blaster will be an essential toy that every fan of the Fortnite video game will want. Based on the blaster that is used in the video game, this replica gun is perfect for encouraging imaginative play and reducing screen time. A self powered blaster gun that is controlled using a pump action, meaning no batteries are required and the toy can be played with straight away. For added excitement 4 darts can be fired one after the other and with a handy storage area on the blaster, the spare darts are never far away. Along with the Fortnite blaster this set comes with 8 foam Nerf elite darts, for fun reliable play. Other darts may affect the performance of this blaster so the tried and tested Nerf elite darts are the recommended choice for reliable performance. This Blaster is suitable for ages 8 years and older. The Fortnite Blaster toy is the best mega Nerf gun that will provide hours of imaginative play.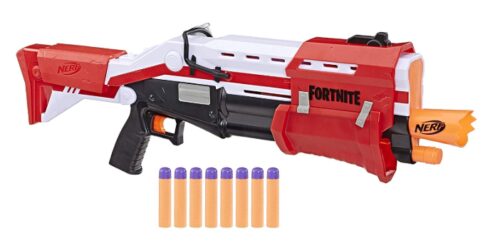 Nerf Lazer Blaster
The Nerf Lazer Tag Phoenix LTX Tagger Blaster makes the perfect Nerf toy for multiple players. The set includes 2 Blasters which are also compatible with other Tagger Blasters, so they ready to be shared with friends. There are no darts required for the Blaster, as an infrared light is used to tag other players, making it a mess free toy with no parts to go missing. Each blaster requires 6 AA batteries, which are not included in the set. If you are tagged during a game then the red dome on top of the blaster will flash and for the ultimate game experience the Nerf Lazer toy Blaster will recoil after firing and vibrate when tagged. For added detail there is an automatic ammunition reload effect, which all children will love. The game can be played as either a free for all mode or teams can be set up for a structured game. There is the option to set up each blaster for 10 or 25 tags depending on experience so experienced players can play alongside beginners on a level playing field. Suitable for children 8 years and over, there is endless fun to be had with all the family when playing with these Lazer Blaster Nerf guns.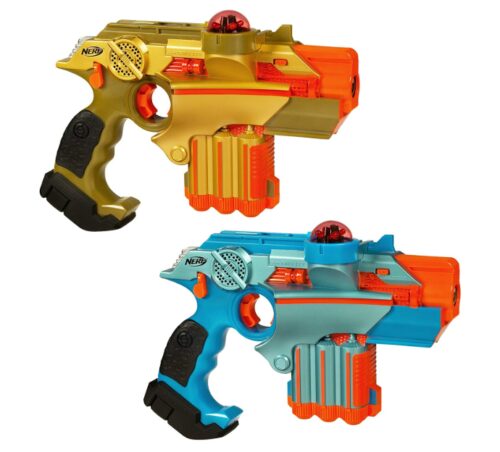 Nerf Strike Blaster
When choosing the ultimate Nerf toy for your child this Nerf N-Strike Toy Blaster will be the perfect option. The set comes complete with the gun and 6 Nerf darts so your child will be ready for action immediately. The Nerf foam darts have been tested for optimal performance and quality to provide an advantage for the battle ahead. There are also no batteries required as the toy is hand operated, perfect for long lasting play. The blaster gun itself has a rotating barrel that will shoot all 6 Nerf darts up to 90 feet in quick succession. There is also the option to slam fire all 6 darts at once for added excitement. The gun barrel is loaded by opening the side for easy and quick reloading, so the game will not be disrupted. This Nerf Strike Blaster is one of the best mega Nerf guns as it is simple and easy to use so will be the perfect first Nerf toy for any child.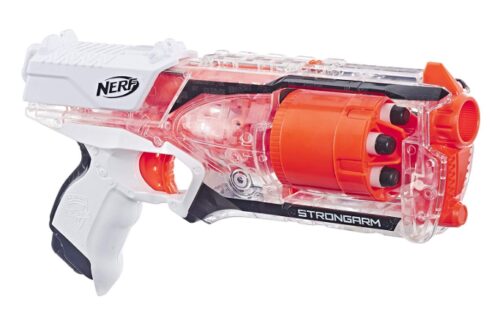 NERF Modulus Blaster Toy
This NERF Modulus Tri-Strike Blaster Toy is a top of the range Nerf blaster with endless possibilities, making it suitable for every possible shooting game. The set comes with the elite dart blaster, a range of darts and accessorizes. There are 3 ways to fire this blaster, with the dart blaster able to fire 10 darts one after the other or it can slam fire all 10 darts at once. The mega dart barrel extension can be added to enable the 4 Mega Whistler darts to be fired and for a long range target the missile launcher stock can be added so the missile can be used. This Nerf toy blaster is the best of all Mega Blasters and is suitable for every battle. There is the option to extend the set further using other Nerf Modulus upgrade kits which are compatible with the Tri-Strike Blaster Toy providing unlimited set ups. Suitable for children 8 years and over this exciting blaster toy will provide many hours of imaginative play and encourage your child to be active. This is the perfect toy for any Nerf fan and would make the ideal gift idea.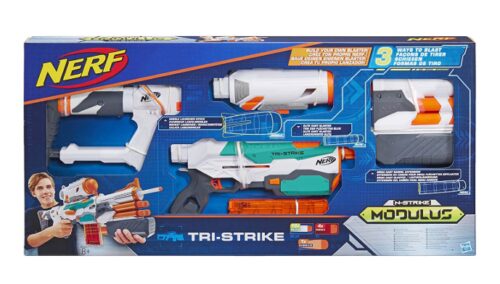 NERF Toy Blaster
The perfect toy for an adventure, this Nerf Vagabond Doomlands Toy Blaster will quickly become your childs favorite shooting toy. With a rotating barrel that fires 6 darts there is endless fun to be had with this blaster toy, which is the biggest mega Nerf gun. The darts are easy to load from the side of the barrel and are released either one after the other or all together with a slam fire action. The blaster toy has a clear side so the mechanism inside the blaster can be viewed, allowing your child to see how the inside of the toy works when it is fired. Included in the set with the toy blaster, are 6 Nerf Doomlands darts which have been designed for ultimate performance and quality. An exciting Nerf toy blaster that is suitable for children 8 years and over. The best Nerf mega gun that will encourage the development of your childs imagination and will provide many hours of action play.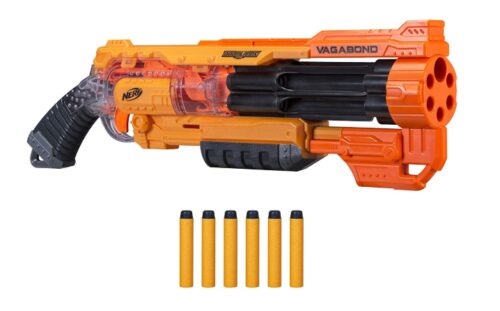 N-Strike Nerf Blazin Bow
If you are looking for a Nerf toy with a difference then this Nerf N-Strike Blazin Bow will exceed all expectations. It is a must have toy for both kids that are after a first Nerf toy or for a long time Nerf fan. The set comes complete with bow and 3 large foam arrows, so is ready for use immediately. This impressive toy can launch the arrows up to 40 feet providing hours of fun. There is even a place to store the arrows on the bow for convenience and allowing easy reloading. This Nerf bow has a realistic bow action and with a wing span of 20 inches every kid will enjoy playing with this toy. Once the bow is loaded, the arrow is launched by pulling and releasing the bow. Suitable for kids over the age of 6 years old, this Blazin Bow will quickly become your kids favorite Nerf action toy.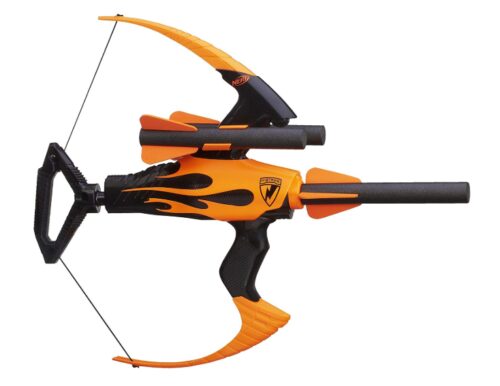 Nerf Battlescout Gun Blaster
The Nerf Modulus Recon Battlescout Gun Blaster is one of the best Nerf guns available and with exciting features unique to this gun it will entertain every user no matter how much shooting experience they have. This is a gun blaster with a difference as it comes with a 720p HD camera enabling every battle to be recorded up close and with every detail in view nothing will be missed. Though an SD card is needed to record photos or videos, along with 4 AA batteries, which are not included in the set. The gun blaster set comes with the gun, camera, a 10 dart indexing clip and 10 Elite darts, everything needed to get started and it is suitable for children over the age of 8 years old. The camera is detachable from the gun allowing other Modulus accessorizes to be added to the gun blaster allowing it to be customized. The most exciting of all Nerf Mega Series guns that will provide many hours of fun for every child.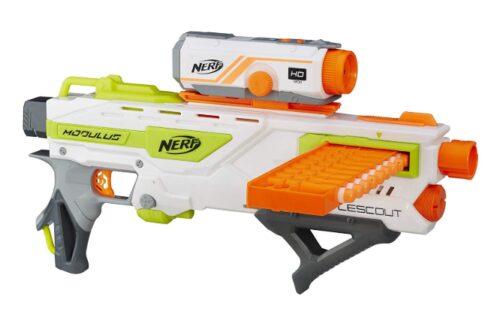 NERF Retaliator Blaster N-Strike
A gun that will be on every Nerf fans wish list, this NERF N-Strike Retaliator Blaster is a top of the range toy with endless possibilities. This 4 in 1 Retaliator Blaster can be built in 4 different ways and has 3 interchangeable parts. Other N-Strike accessorizes can also be added to the blaster for ultimate customization as the gun has top and bottom tactical rails. The set comes with 12 Elite darts that can be fired up to 90 feet providing plenty of fun and entertainment. There is also a barrel extension, assault grip and removable stock included making this the perfect set for a novice Nerf player as the set can be expanded as required. There is a quick reload clip enabling fast reloading of the darts and preventing any interruption to the game. The Retaliator Blaster is the best of the Mega Series Nerf guns and is suitable for children 8 years and over. It will provide hours of fun and adventure while your child builds their perfect Nerf blaster.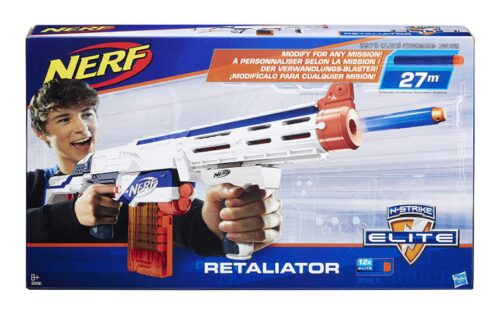 NERF Mega Bulldog Blaster
This NERF Accustrike Mega Bulldog Blaster is the ultimate gun for firing accuracy, providing an exciting Nerf toy to use in battles. This blaster gun comes with 6 Nerf Mega Darts that have also been designed as the best dart for accuracy, making this the combination to beat. The Mega Blaster is compatible with other types of Nerf mega darts if they are needed to be used during a game. This is a front loading gun with slots for 3 darts and there is storage space on the gun for the remaining darts, keeping them close to hand for quick reloading. Once loaded the handle is pulled back to prime and the trigger is pulled to release each dart, making it easy and simple to use. The gun modes can be easily and quickly changed by moving the grip, allowing the sight to be raised or lowered as required. An exciting mega guns Nerf toy that will be favored by even the most experienced Nerf player and it will give the team an advantage in every battle.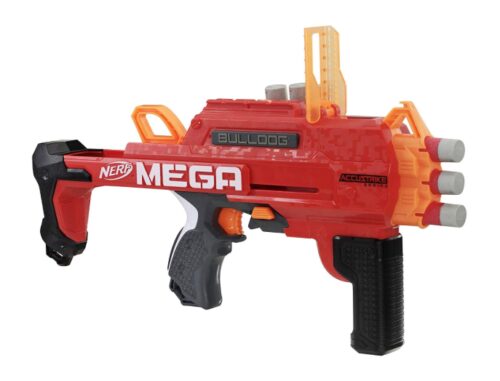 NERF Elite Hyper Fire Blaster
An impressive blaster toy this NERF N-Strike Elite Hyper Fire Blaster is a great addition to every Nerf collection. This Fire Blaster can shot darts up to 90 feet and can fire 5 darts in a second with rapid speed that will be the envy of every other opponent. For quick firing then the acceleration button needs to be pressed before pulling the trigger, making participating in battles exciting. This set comes with the Fire Blaster, 25 capacity dart drum and 25 Elite darts. The blaster does need batteries which are not included in the set. The top speed that the darts are fired at relies on fresh batteries. This Fire Blaster is not suitable for children under the age of 8 years old. Your child will love this Nerf blaster for its ability to rapidly fire darts at the desired targets giving them an advantage against any competitor.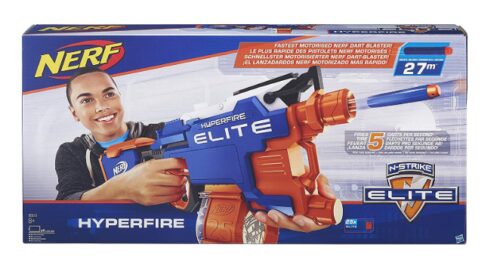 NERF Rhino-Fire Blaster
This NERF N-Strike Elite Rhino-Fire Blaster is a great quality Nerf toy that will provide hours of fun. The exciting blaster gun has a double barrel that can fire darts out of each one alternately. For added accuracy the set comes with a detachable tripod, enabling a steady shot to be taken. The set also comes with 50 Elite darts and 2 drums that each hold 25 darts. This motorized blaster gun allows the player to control the speed that the darts are fired at giving the ultimate battle experience. Though this Nerf gun does require 6 D batteries, which are not included in the set. For added excitement the darts can be fired up to 90 feet, allowing targets to be hit from a distance. A Nerf Fire Blaster that is suitable for children over the age of 8 that will be enjoyed by all players and provide many hours of entertainment.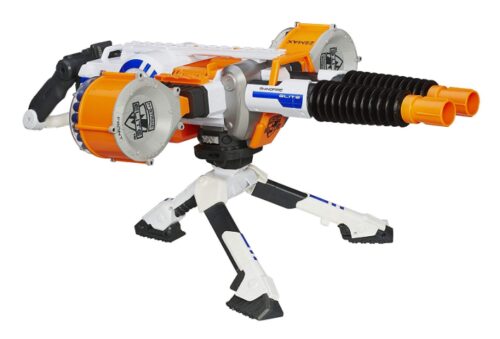 Best Buy
Our recommended best buy is the NERF Modulus Blaster toy, as it can be adapted for to the requirements of every child, while being a simple to use blaster for the novice Nerf player. For the experienced player it can be built up to be a complex as required. This unique product comes with the dart blaster and darts, enabling one by one firing or a slam firing of all 10 darts, for added excitement. The blaster can be adapted with the barrel extension, which allows the long range Whistler darts to be launched. Otherwise the missile launcher stock can be attached to enable the firing of missiles. There is a feature suitable for every mission, but if desired this best Nerf mega blaster can be adapted further with any compatible Modulus attachments. An exciting Modulus Blaster toy that will accompany your child through every mission and provide hours of entertainment.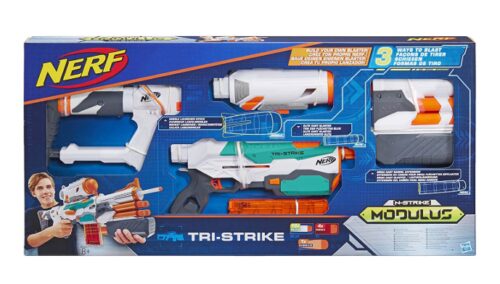 Considerations Choosing the Best Nerf Gun
With such a great range of guns and blasters they are the ideal toy for every child, but how do you pick the right one? There are a number of different types of guns available, from classic guns that fire darts, to bow and arrow sets. Are you also looking for a toy that your child can go on to add accessorizes too, making it a long lasting toy? There are different guns available that are compatible with Modulus accessorizes giving a wide range of possibilities.
Within the Nerf range there are a number of products that are only suitable for children over the age of 8 years old. If your child is younger than this then it is important to look at the recommended age range carefully so that you choose a product that is at a suitable skill level for your child to use. This will allow them to get the greatest enjoyment out of the toy. Every toy will have a recommended minimum age that should be checked before purchasing.
A factor that may need to be considered when choosing a toy may be how much is a mega Nerf gun? There are a wide range of costs for each of the different blasters, but there are items in the lower price range that have appealing features and that will make perfect starter sets for your childs first Nerf blaster. There are also more complex Nerf products with a higher cost range that are more suited to the more experienced Nerf player with extra gadgets and a more accurate shot. There is a Nerf gun available that is suitable for every child no matter what their experience.
What are the different types of Nerf gun?
The majority of Nerf guns are hand powered, meaning that they do not require batteries, so they are ready to be played immediately. The Nerf Lazers are a different type of gun that does require batteries as they use an infrared light to hit their target. Other battery powered Nerf products that require batteries usually have extra gadgets such as a camera or motorized blaster. So there is a mix of products for you to choose from depending on which features you are looking for.
There are some differences in the type of ammunition that each Nerf blaster uses. The most common type is the Elite dart that has been designed for maximum performance and quality. Alternatively, there are Whistler darts that are designed for high performance and they also whistle as they fly long distances through the air. For the biggest mega Nerf gun that has a missile launcher there are mega missiles available for the biggest impact. However, for the Nerf bow and arrow sets instead of darts they use foam arrows to allow the product to have a realistic bow and arrow action when the arrow is launched. The tried and tested Nerf ammunition has been designed specifically for each different product so that the player will have a fun and authentic experience.