Kids these days know all about automatic toy Nerf guns and its the talk of every school playground. They love these guns, creating battle scenarios and picking teams to have Nerf wars with. Now that these toys and popular activity has become a sought after game to buy, then as a parent, looking to buy a Nerf gun that is fully-automatic and has all the extra components to make your little boy or girl happy is essential!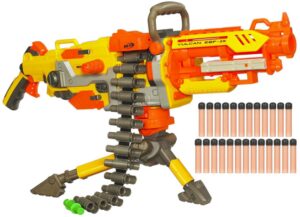 How to Pick the Best Automatic Nerf Gun
For young boys and girls its the machine guns of Nerf that leave them in awe. Fully automatic guns give players a much desired edge in the battlefield. It is a type of gun that will make the user a popular allie. So not only do kids get a powerful gun, they'll be a hero among their friends. 
Choosing the right automatic gun can be tricky as it depends on the child's type of gameplay and their age. 
Ie: do they prefer running and jumping around? If so something lighter and easier to carry would suit them best. Or are they more tactic and play a slower paced game? If so, they might prefer a bulkier weapon mounted on a tripod with a lot of power behind it. 
Another thing to consider is the weight of the gun, some are quite heavy or awkward to carry if the player is small. 
Additionally, shotgun style nerf play guns are harder for younger players to use and a machine gun styled nerf pick might be more suited.
Fully-automatic guns can be great for beginners whereas semi-automatic styled guns are better for teens or more experienced players.
Top Automatic Nerf Guns in 2023
1. Nerf Rhino Blaster
If you're looking for a gun to defend the base, this is it. 
This gun is designed to be setup on a mount and isn't really advised to be used as a 'run and gun' type weapon. If you have a big yard, this will be great.
Any kid will feel pretty powerful when sitting behind the Rhino-Fire blaster. It's rapid rate of fire will make you a scary enemy to battle against. Positioned in the right place, you'll have an easy time gunning your friends down using the mount below the gun as a support. 
Included you'll find two 25 round drum magazines, a removable tripod, 50 Nerf elite darts and the instructions.
On the top there is a tactical rail where you can attach your desired attachment. 
The magazines are easily removable and your youngster will not have any issues filling them up once used to.
Your son or daughters face will light up if they were to be given this as a gift because not only does it look impressive it performs amazing too. This is definitely one of the best fully automatic guns you can purchase right now.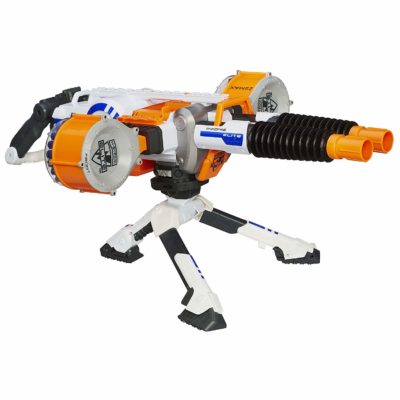 2. NERF Elite Titan CS-50 Toy Blaster
Similar to the gun above, this Elite Titan CS-50 packs a punch. With a Fully motorized with 50 dart drum your child will be impressed with the rate of fire at his disposal. 
He / she will be the life of the party, spraying down enemies in battle. The size of this gun makes it look impressive but will only be suited for kids aged 8 and above. 
The spinning barrel at the front adds to the effect. One downside is loading the drum can be quite time consuming.
But if your son loves films like The Terminator or something similar, this will make his eyes light up with joy.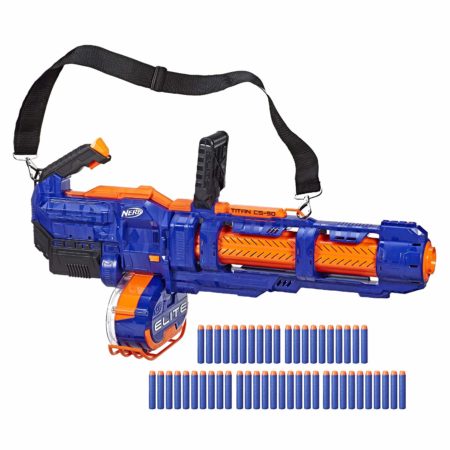 3. Adventure Force Enforcer Belt Blaster
This battery powered, rapid firing, air motorised belt blaster can shoot a target up to 80 feet away! This fully automatic green gun comes with 40 rounds of ammunition and can fire all 40 darts in about 30 seconds. 
So if you get caught out mid-reload it might be a good idea to invest in a Nerf melee weapon too.
The gun is slightly bulkier compared to other guns but players can get around this by using the handle which helps stabilize rapid fire blasts. The blaster features a hip carrying handle making it easier to hold and aim. This counteracts the bulky size that make other automatic blaster nerf guns harder to use.
The enforcer will be sure to give you an edge in any Nerf battle. So if you want to make an impression on the battlefield pick up the Adventure Force Enforcer today.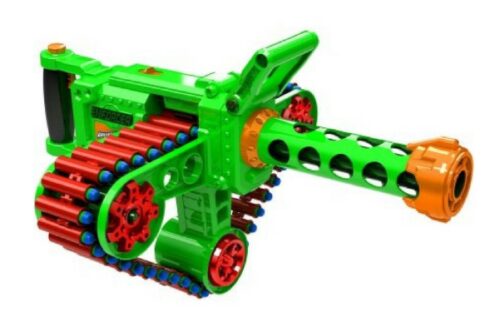 4. Nerf Rival Nemesis
If you want mobility and the ability to go toe to toe with one of the larger guns listed above, this is it. This small Nerf can hold 100 rounds, yes, 100 rounds!
Another cool feature is the rear & front iron sight, they are among the better sights you'll find on Nerf. This does have a tactical rails so there are opportunities to customize too. 
The gun comes in the colors blue & red, so you can buy two if you want to easily identify the gun. I.e buying one for your son and one for your daughter. Unfortunately there isn't many pink Nerf guns that are fully automatic. 
This is a fully automatic rapid blaster, making it the ideal weapon for those intense battles!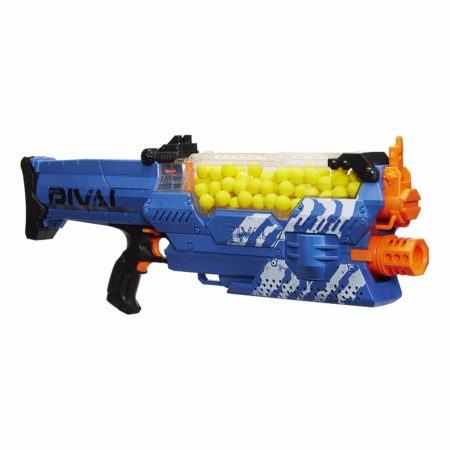 5. NERF Megalodon N-Strike Mega Toy Blaster
With this weapon, kids will get a buzz from the rate of fire and precision that this gun is capable of. The main feature kids love is the motorized design that ensures you can shoot rapidly. 
The rotating drum looks great too and definitely adds to the aesthetic of the gun. 
The gun doesn't jam at all either which is unusual because most guns have the odd issue here and there. That's a common problem across the board with all Nerf strike guns, but the Megalodon does not jam!
Making it an ideal weapon for a father son Nerf war or perhaps a Nerf battle at a birthday party.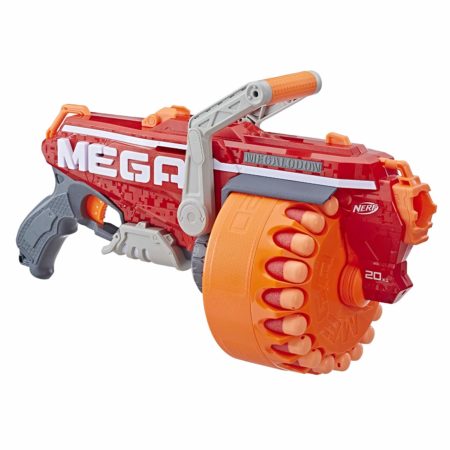 6. Nerf N Strike Elite DoubleBreach
This 2 shot spring blaster features a pump action firing mechanism that your kids will love. If they're looking for a short-mid range gun that looks the part, this is it.
Included in the box you'll find the Doublebreach itself, 6 Mega Whistler darts & the dart holder. The dart holder clips firmly into the side of the gun making your darts easily accessible. 
To load the gun, there is an orange slide on the side. This has to be pulled back in in order to place the bullets in the gun chamber. 
The gun has a front sling mount, so if desired you can attach a sling to the gun making it easier to carry. The grip is very comfortable too which allows the kids to move and shoot with ease. 
All of this combined makes the gun look and feel like a shotgun from their favourite game.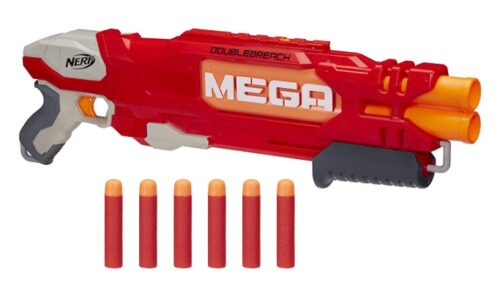 7. Nerf Rival Artemis
If you're after a powerful, lightweight gun that allows you to go toe to toe in battle, this is the one for you. 
This gun shoots Rival rounds instead of Nerf darts but don't let that put you off as the Artmesis has some incredible, durability and can shoot at a distance. 
A Nerf rival rail sits on the top of the gun allowing you to equip any additional attachments you might have. 
The rear grip is nice and bulky making it very comfortable and it also features a foregrip making the gun easy to shoot and aim. 
At the top you'll find a blue slider that slides back to the rear. This exposes the opening to the magazine, allowing you to drop 30 balls into the chamber. This easy access makes loading the gun very easy too.
Which is great for your more active player because the gun isn't large or heavy but can hold 30 rounds, enough to take out a surprised enemy team!
Smaller children might have an issue with cocking the gun back but your average 7 year old will be absolutely fine.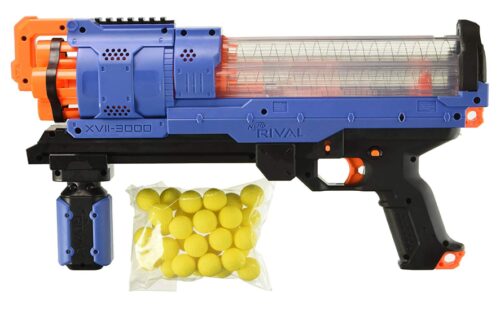 8. Hasbro Nerf Rebelle Powerbelle
This is the perfect gift for your daughter if she wants to keep up with her brothers in a Nerf battle. It's a fully automatic gun that fires up to 75 feet away and features a girly pink exterior. 
This gun would also go very well with the pink Nerf tactical vest in the link below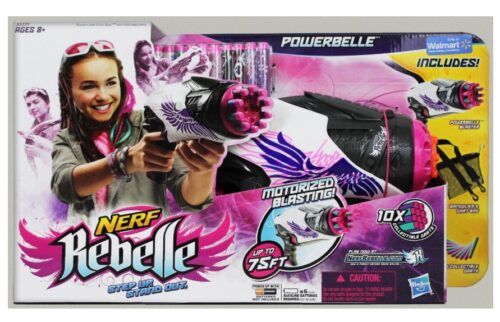 9. Adventure Scorpion Motorized Dart Zone
The adventure Scorpion is a lightweight, small, motorized gatling gun. It can fire shots up to 80 feet away at an impressive rate of fire. It looks great, shoots great and your child will be over the moon with it. 
A 12 year old will be able to hold it, no problem. A 7 to 8 year old will have to move on a slower pace but should manage it just fine.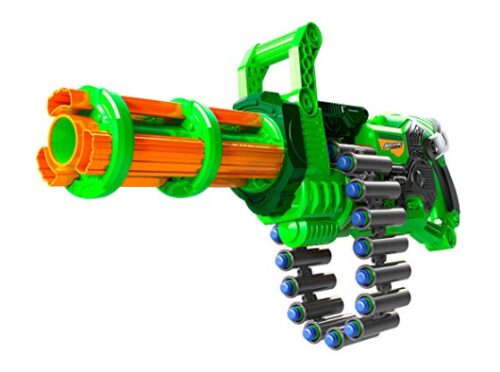 10. Nerf Official Laser Tag Phoenix
Not your average Nerf gun at all. The Nerf Lazer Tag Phoenix LTX Tagger gives you everything you need for an action packed battle. With a gun like this, the battle can take place anywhere. The garden, the living room or even down at the park.
Instead of foam bullets, your child will fire completely safe lasers instead. The guns are compatible and interchangeable too, meaning, you can invite more players to join in. A total of 6 players can play in one big free for all or they can team up instead.
What makes this gun great is the unique recoil system that engages with every shot. The gun will also make a rumbling sound and a vibration that lets you know when you've been hit.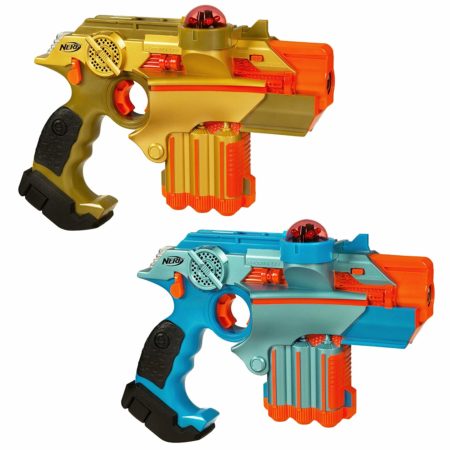 11. Strongarm N Strike
Up next we have the Strongarm N Strike. This gun has tremendous range and is highly accurate. It can shoot targets up to a whopping 90 feet (27 meters) away. So while it is a highly capable gun for any Nerf battle, it is also very simple to use
Not quite an automatic, its included in this list as it is the perfect side arm to protect yourself during those long reload times! 
The gun does not require any batteries, has a sturdy design and is easy to load. Thus making it a GREAT starter gun for newer or younger players and is probably one of the best semi automatic nerf guns out there.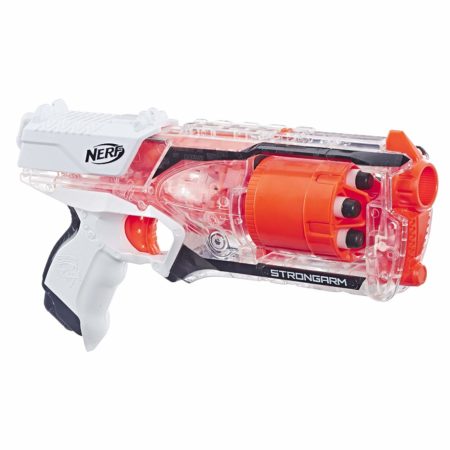 12. Dart Zone Powerbolt Belt Blaster
This slam fire only, belt fed blaster is very easy to set up and use. Another great secondary weapon.
Rather than using a trigger, users have to pull a priming handle back at the front bottom side of the gun in order to fire. This unique feature makes the PowerBolt Belt Blaster feel almost like a shotgun. This feature is bound to leave kids left feeling excited and hungry for battle.
This nerf semi automatic gun is designed to fire up to 80 feet away. However due to the pump action feature, it is at its most effective when used at mid to short range battles.
If you're looking for a semi automatic toy nerf gun with no batteries, this is it. It comes with two belts that can be loaded with 18 darts each. All in all, this is a great gun that's easy to use.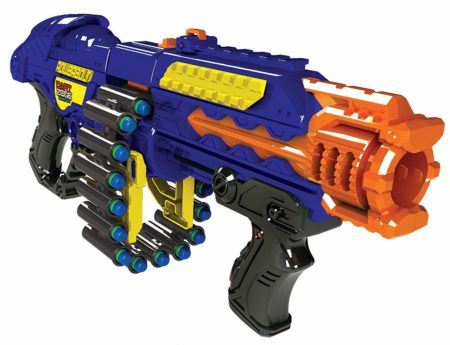 What is the Best Fully Automatic Nerf Gun?
Like we said above, the best gun depends on the users age, play style and size. 
If the user is a younger player, the Nerf N-Strike Hyper Fire is without a doubt the best gun to purchase. 
A teenager will certainly appreciate the Adventure Force Enforcer. It looks the part and shoots great. 
A 8-10 year old will be able to use the Adventure Scorpion Motorized Dart Zone gun. It looks like a gatling gun but is small enough that allows them to run about freely and still shoot comfortably. 
If the player doesn't mind defending the base or sitting in a stationary position the Rhino-Fire blaster is a great choice!
How to Use an Automatic Nerf Gun
We guarantee your face will ache with joy when you get your hands on an cool gun. Unleashing a ridiculous amount of bullets in a short period of time is extremely satisfying. 
However if your competitive side gets the better of you and you truly want to use your awesome Gun to your advantage you'll want to conserve ammo when you can.
With an automatic gun, you can empty your entire magazine in under a minute. The problem is, it can take a few minutes to load the magazine back up… That's if you have spare bullets on you, if you have to pick them up you will be out of action for a while. 
It's pretty easy to just aim and spray when you're wielding an automatic gun but to really gain an edge you have to be selective with your shots.