If you have a child who is into gaming, you'll probably want to ensure they are sitting comfortably as they play. It's important to maintain a good posture to prevent problems from developing later in life. That's why specially-designed kids gaming chairs are a great buy. Not only are they comfortable, they often have features to add to the gaming experience, such as speakers to fully immerse your child in the sound of the game, and some even rock and vibrate.
Considerations When Choosing a Kids Gaming Chair
There are a few things to think about in order to choose the best chair for your child's needs. First, their size and weight. Ensure the chair is suited to their size so they will be comfortable and well-supported. Also, look at the materials used and ensure they are durable enough to withstand the frequent use the chair is likely to see. Finally, look for any extra features, such as rocking, vibrations, or speakers. These might add more cost, but are desirable for some children, so it's worth looking into.
1. Amazon Basics Youth Recliner
The first game chair for kids that we have picked out is an Amazon Basics one. It is designed for children aged 5 years and over, and can hold up to 90 pounds, so it will last for many years before being outgrown. This armchair gives great support, and comes with a headrest and a coordinating cushion. It also reclines and has a footrest, so it's great for relaxing as well as gaming! The chair is easy to clean with a damp cloth, and it has a solid hardwood frame for maximum durability.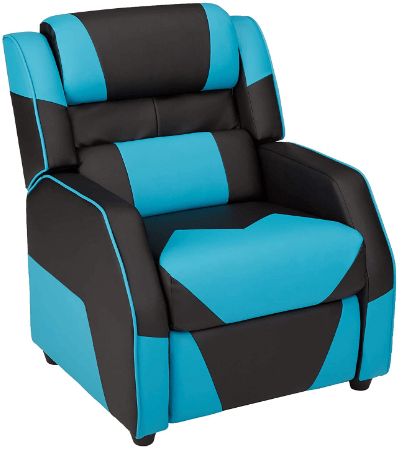 2. Birdrock Home 14 Position Floor Chair
Next up we have this cool Fortnite gaming chair which can adjust into 14 different positions ranging from 90 degrees upright to lying flat for a nap. It is made from memory foam and has plush fabric so it's very comfortable to sit on. As it lies flat, it is easy to store away when not in use if space is limited. When the chair is sitting at 90 degrees, it is 19″ wide, 23″ deep, and 22.5″ high, so it's ideal for most ages.
3. Ace Bayou X Rocker
X Rocker is an excellent brand when it comes to cheap video game chairs and this one has a durable leather finish which is easy to wipe clean. It can hold up to 275 pounds, so it's ideal for older kids and can also be shared with mom and dad. There's a headphone jack for immersive sound and there are controls to adjust the bass and the volume. This chair can connect to various consoles such as Xbox, PlayStation and even home theatre systems, so it is versatile and is sure to see plenty of use.
4. Witss Massage Chair
When it comes to kid computer chairs, this style is ideal for offering maximum support and comfort. It even vibrates for a comforting massage during use. It has a material similar to memory foam inside, and is coated with waterproof PU leather for easy cleanup. There are many different colors to choose from, so you can easily find one to match your child's bedroom, or pick out their favorite color. The backrest can recline from 90 to 160 degrees, so it's ideal for sitting upright or relaxing and getting comfortable. The chair also swivels through 360 degrees.
5. FDP Soft Floor Rocker
Our final gaming seat is this FDP floor rocker. It comes in a choice of four different color schemes and is lightweight and versatile. It's 4.5″ from the floor and can easily be taken from room to room by your child. The chair can easily be cleaned with a damp cloth or mild soap, and it has a comfortable rocking design for kids to enjoy chilling out on. It's suitable for children aged 3 years and up, and will last until they are a teenager.
Our Favorite Gaming Chair for Kids
After looking at five excellent picks, we have chosen the one which stands out as the best cheap gaming chair for kids overall. At number 3 on our list, the X Rocker is our favorite of all. It can be connected to most consoles and has a headphone jack so kids can hear the sounds from their games and really feel involved in them. The sizing is great, as it can be used by kids of all ages, and will last until they are teens or even adults. Finally, this chair is made from high-quality materials and is built to last, making it an excellent purchase.