Laptops are becoming more and more important for children, for completing their homework or learning vital computer skills for the future. In fact, it's almost vital for kids to have computer access at home, whether that's via a desktop or a laptop of their own.
However, when choosing between the different options available, things can become a little tricky. That's why we are here to help with this comprehensive guide to finding the perfect laptop for your child. As well as reviewing some of the best kids toy laptop, Chromebooks and a few tablets with keyboards, you will also find some FAQs to help guide your search in the right direction.
Considerations When Choosing a Laptop for a Child

First, decide what the laptop will be used for, as this will help you determine which capabilities it must have. If it's needed for homework and light internet research, basic specs should be sufficient, and so you can choose something at the lower end of the scale. If it will be used for gaming or watching videos in the free time between schoolwork, it might be necessary to choose something more mid-range.
The size and weight of the laptop is also important, as small children are prone to dropping heavy and bulky laptops! Similarly, if your child will have to take it to school, it should be light enough to fit in their bag easily without them struggling to carry it.
Also find out which operating system your child uses in school, and see if you can get the same one on their new laptop. This makes transitioning between home and school computers much easier, and means your child doesn't have to learn to use two different systems.
Best Kids Laptops in 2023
Now, let's take a look at some of the different laptops on the market which may be suitable for your child's needs.
1. Hack Coding Laptop for Kids
This so-called 'best first laptop' as rated by Parents Magazine is an excellent choice for teaching your child how to code. No previous experience is required, and it can also be used as a regular laptop complete with Chrome, Office, Scratch and more. The kids learning computer is 14 inches and comes with a 4GB memory. There's also an all-day battery, so kids can code and learn as long as they wish, without worrying about connecting to a power outlet. The Hack computer uses Linux Endless OS, and also includes parental controls.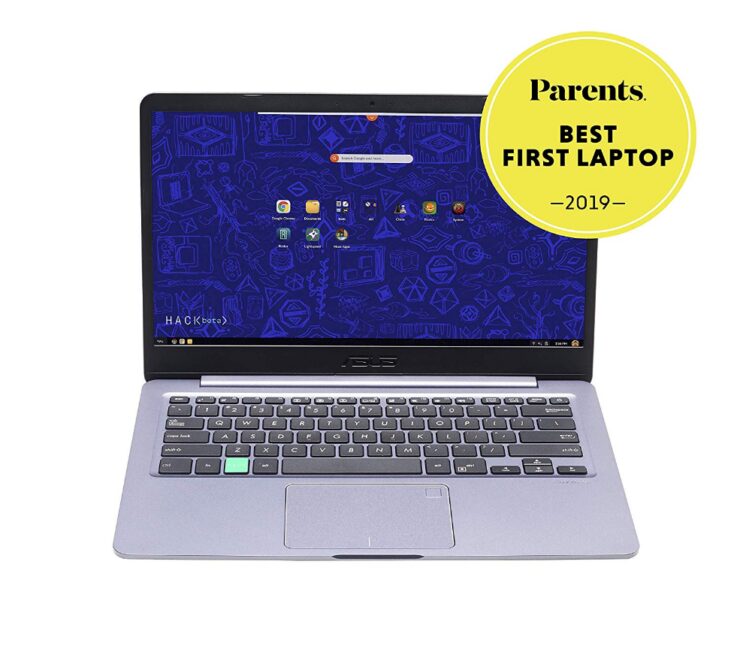 2. LeapFrog Touch Laptop
This LeapFrog toy laptop is an excellent choice for toddlers and younger children who always want to play with mom and dad's laptop. It can be used in two different modes – as a laptop as shown or as a tablet. Kids can use the touch tablet to send emails and play games, and even listen to music. In the laptop mode, there's a full keyboard with letters A-Z and numbers 1-10 so kids can learn to spell. The baby laptop can be programmed by parents to teach children how to spell their own name. This is a great toy for keeping kids entertained on the go, as it is portable and will keep them busy for hours.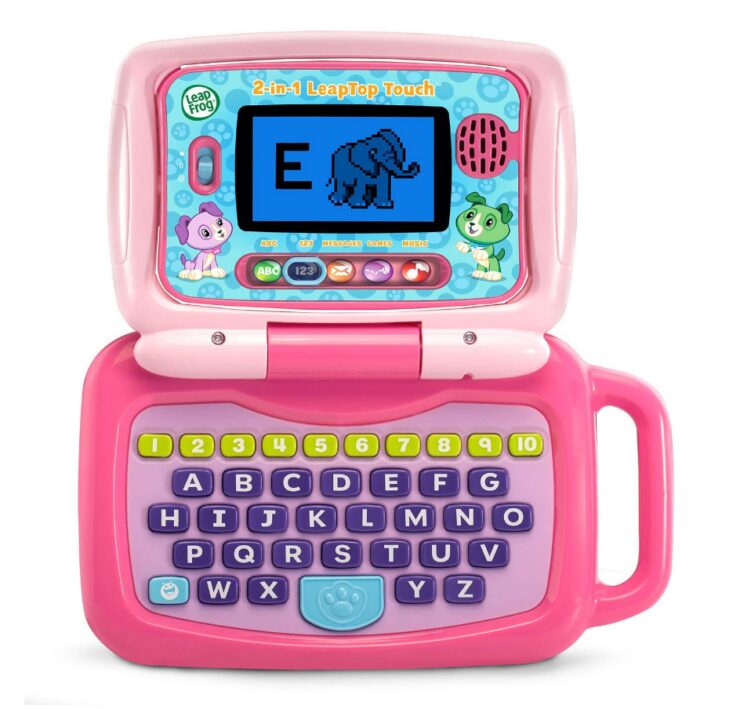 3. Tonoshi Tween Computer
This has been voted the best laptop for kids in 2023, and it has loads of great features which makes it highly suited to kids between the ages of 6 – 12 years old. It's a 2-in-1 computer, so it can also function as a tablet by removing the screen. It runs on an Android system, and comes full with learning apps, including those for coding.
There are parental controls on this childrens laptop, and it can be connected to the parent's phone to allow the child's screen time to be monitored. In terms of specs, the laptop size is 10.1 inches and it has 32GB memory, which can be expanded with a Micro SD card. There are also two cameras on the laptop, perfect for kids to capture selfies with their friends!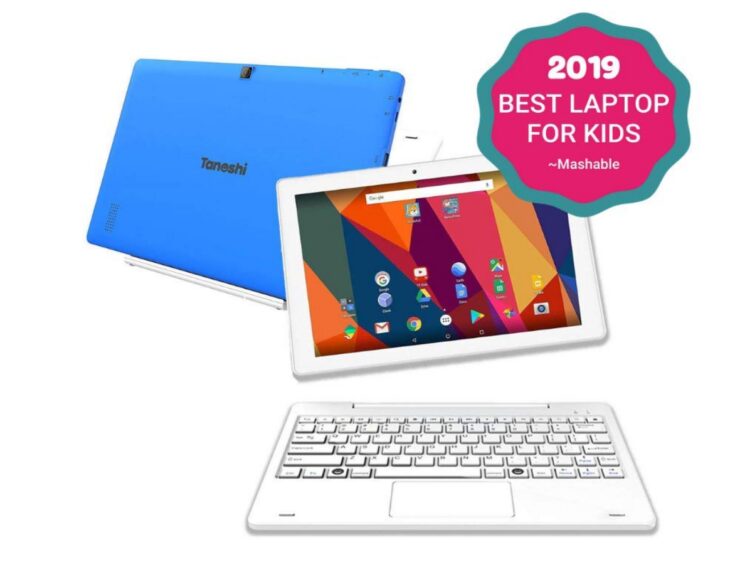 4. VTech Tote & Go
This is another fantastic toy laptop for children. It even comes with a mouse which is perfect for kids to learn basic computing skills. There are loads of educational activities built into the laptop, which help teach kids new words, shapes, animals and can also play 30 different songs in a variety of genres. The VTech kids laptop can be customized with various information, such as the child's name and age as well as their favorite food.
The screen on the toy computer isn't backlit and the contrast can be adjusted to allow for easy viewing in any lighting conditions. Kids between the ages of 3 – 6 years old will enjoy using this mini laptop, and it requires 2 AA batteries so be sure to stock up – they are going to want to use it all the time!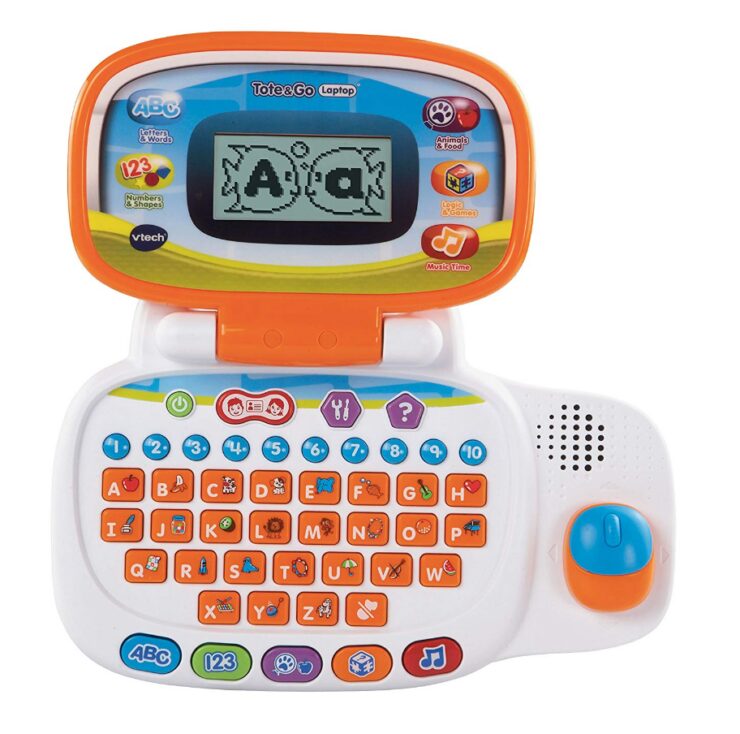 5. Ruggedized Asus Chromebook 11.6 Inches
This Asus Chromebook is ruggedized and water resistant, which makes it the perfect choice for kids. So, it can withstand being dropped from a height of around 4 feet, thanks to the rubber guards. There are also easy grip handles, and the laptop weighs just 2.65 pounds making it easy for kids to handle. This laptop has a unique 180 degree hinge, which means viewing the screen is easy at any angle. There's built in anti-virus protection which automatically updates.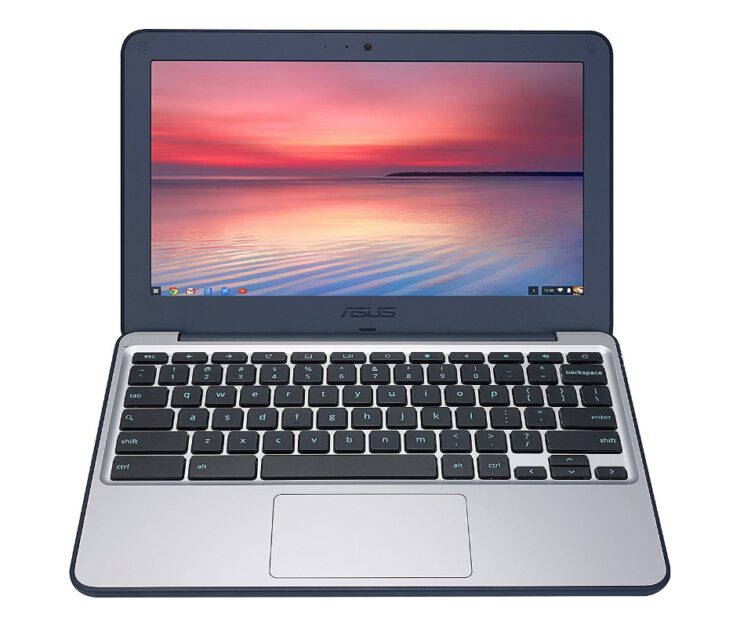 6. Discovery Kids Exploration Laptop
The Discovery Kids laptop is a good choice for kids who are not quite ready for a 'real' laptop quite yet. It comes with over 60 games and activities which can teach children about a variety of subjects, including math, geography and spelling. They can also play music from around the world which is sure to provide hours of entertainment.
This beginners laptop is excellent for teaching basic computer skills, as it features a full QWERTY keyboard as well as a mouse. All the games are included on the computer, so you don't need to make any additional purchases. Also, the computer is wireless, and runs on 4 AA batteries so make sure you have plenty in stock.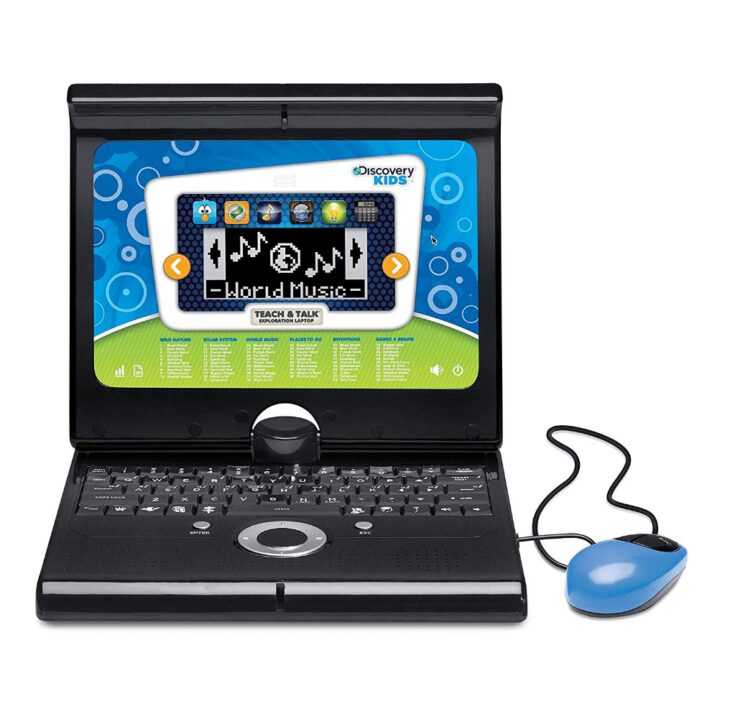 7. Samsung Chromebook
This Chromebook from Samsung is an excellent tool for kids to do their homework on. It has a HD display which measures 11.6 inches. It also has 16GB storage and 2GB RAM, which is sufficient for light use and browsing the internet, but not ideal for gaming or running multiple programs at the same time. It comes at an excellent, budget-friendly price so it's perfect for parents who don't want to spend a small fortune.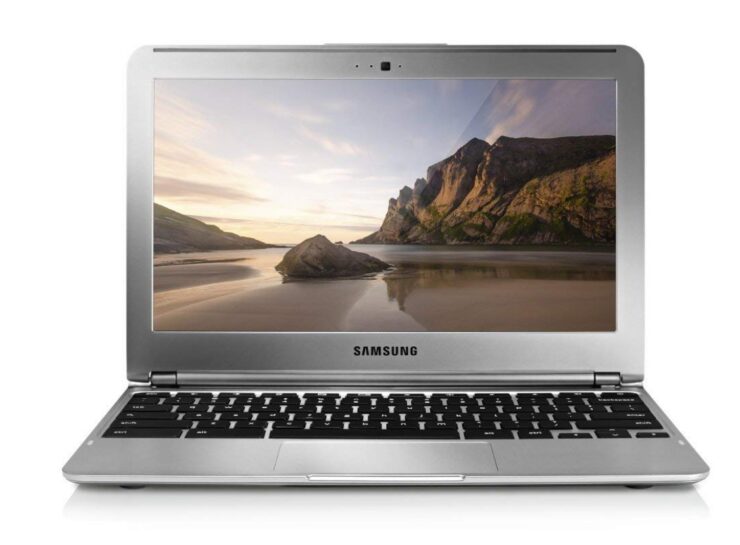 8. HP Stream Purple
This stylish purple laptop comes with Windows 10 and an 11.6 inch HD display. The display also features WLED backlight, which helps reduce glare in harsh lighting conditions. There's 32GB storage, as well as Micro SD and USB ports for expanding the storage if necessary. You'll also find a built in webcam and microphone on this laptop, making it ideal for Skype calling with friends and family. The HP Stream is thin and lightweight, which is ideal for kids as it's easy to transport from one place to another.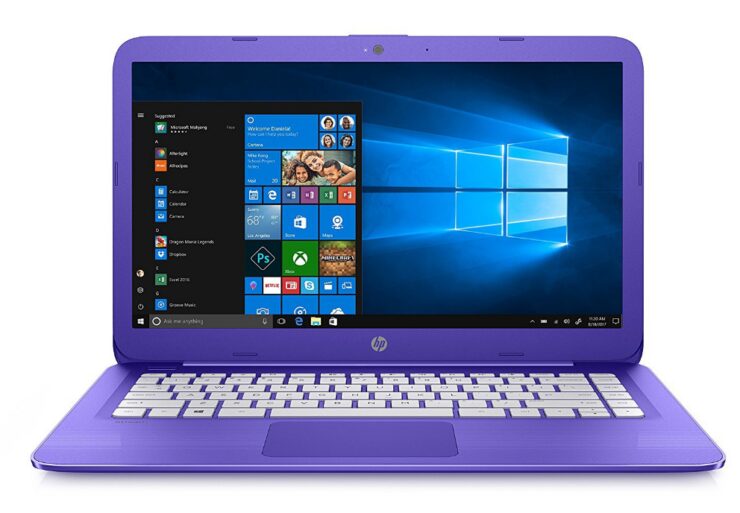 9. Asus Dual Core Chromebook
This is another great Chromebook which is excellent for kids, coming in at only 2.2 pounds it's easy for them to carry. It's fast and comes with great security measures, another reason why this is a good choice for kids. There's 4GB RAM, ideal for light multitasking and 32GB internal storage. The only downside is there's no CD drive – however this might not be a problem for modern kids who download all their music and software digitally! Finally, this laptop offers and impressive 10 hours maximum battery life – so they can take it out and about without having to find a power outlet.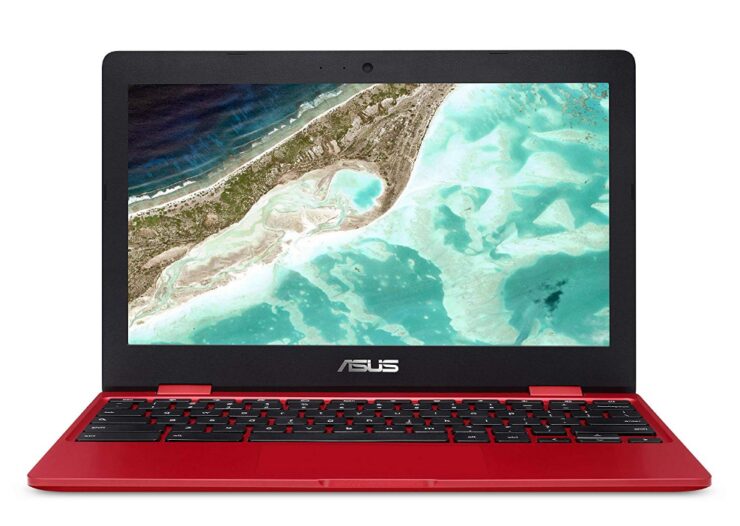 10. RCA Viking Pro Tablet 2 in 1
This is an excellent tablet for kids who are looking for the best of both between a laptop and a tablet. Whilst it won't fully replace a laptop, it can still be used in many of the same ways. It has a detachable keyboard for learning to type. Then, simply remove the keyboard to use it as a tablet. It comes in both pink and black color options, so you can choose the one your child will like the most. The specs on this 2-in-1 tablet are impressive – it has 32GB storage and a quad core processor. Finally, it has a 10 inch screen which is much more practical than the 8 inch screen more commonly found on tablets.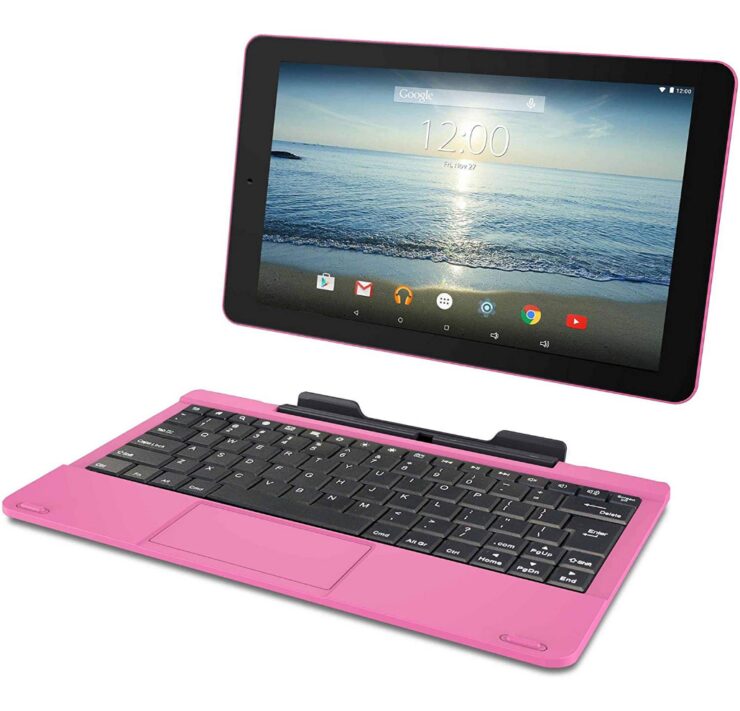 11. Samsung Chromebook 3
Here we have another great Chromebook packed with the usual fantastic features. It comes with a very impressive 11 hour battery life and anti-glare 11.6 inch display. It boots up quickly, and offers access to the Google Play Store. This can be used to download any apps your child might need, as well as media content for them to enjoy on their downtime. There's also a webcam for Skyping with friends, so this is the perfect laptop for both work and play! Kids will love the easy to use Google OS, and they will quickly pick it up even if they use a different operating system at school.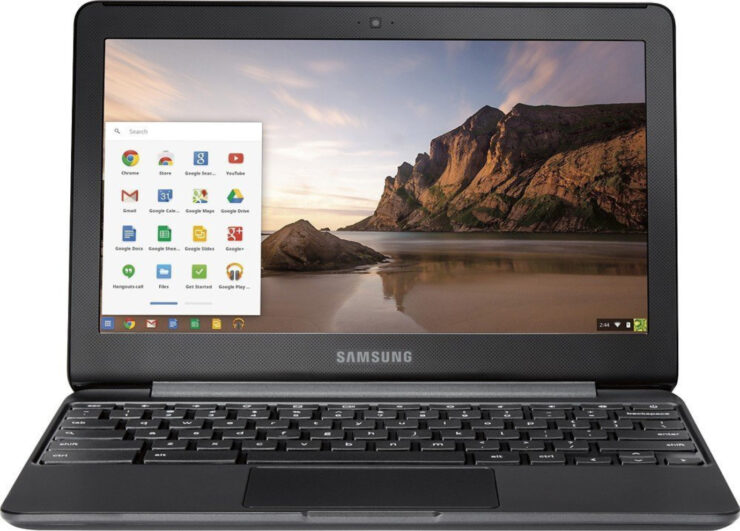 12. Acer Chromebook Touch
This is an excellent touchscreen Chromebook which has a 360 degree hinge allowing the screen to be viewed at any angle, and you can even prop the laptop up as shown below. There's the option to add a mouse or a case to the bundle with this laptop, so it's ideal for kids who are just starting out. The laptop comes with 100GB storage on Google Drive, access to the Play Store and Google Docs and Sheets included for kids to do their homework.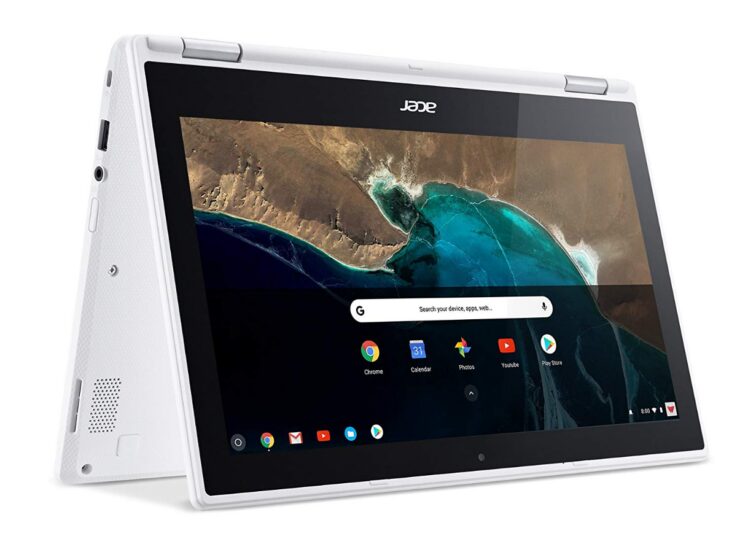 13. Simbans TangoTab with Keyboard
Here we have another 2-in-1 tablet which is excellent for kids. It has 2GB RAM and 32GB disk space, and runs on Android 8.1. It comes with a keyboard for typing, and also includes all the main Office apps ready installed, so kids can even work on their homework. There's an impressive 8 hour battery life, and the storage can be expanded to 128GB with the use of an SD card. The quad core processor means the tablet is ideal for multitasking. The tablet comes with a screen protector, so this is ideal for kids as it will help prolong the life of the screen.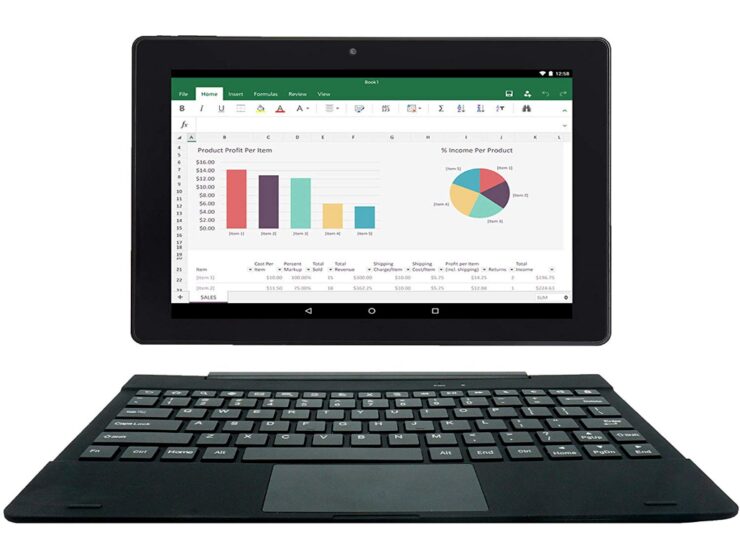 14. Acer 2018 Chromebook 15.6 Inch
This is a slightly larger Chromebook which still comes with all the usual fantastic features. There's a 15.6 inch display, backlit with LEDs, and the laptop also includes with a dual core processor. The Acer Chromebook has 4GB RAM and 16GB disk space. There are also plenty of options for adding external devices – 2 USB ports, 1 HDMI port and a headphone jack. However, there is not a CD drive on this laptop. Overall, this is a fast and reliable laptop which comes at an excellent price for parents who don't want to break the bank.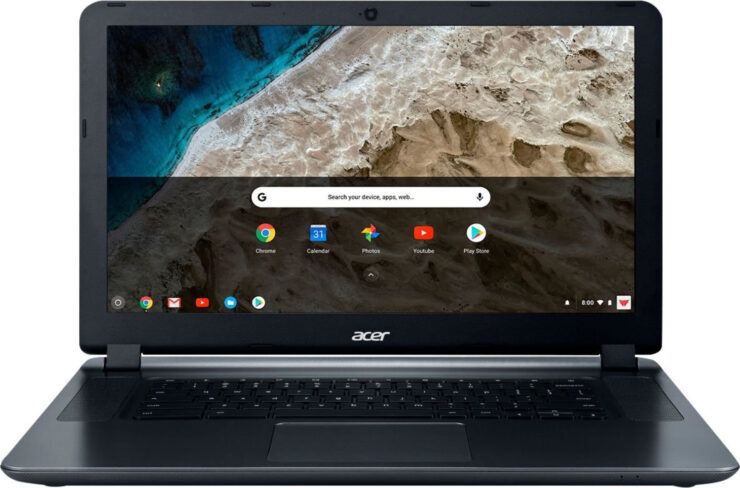 15. Acer Aspire HD Laptop
This is a high-spec laptop which is ideal for older kids or for parents and children who will share the laptop. The Acer Aspire has a 15.6 inch full HD display, 6GB RAM, 1TB hard disk drive storage and a DVD drive. Perhaps the most impressive feature of this laptop is the 13.5 hour battery life, which means kids can use it all day at school and home without worrying about looking for a power outlet. Overall, this is an excellent laptop, which is fast and powerful, with a stunning HD display. The impressive specs on this model means it can be used to enjoy fun laptop games in downtime, when not working on homework.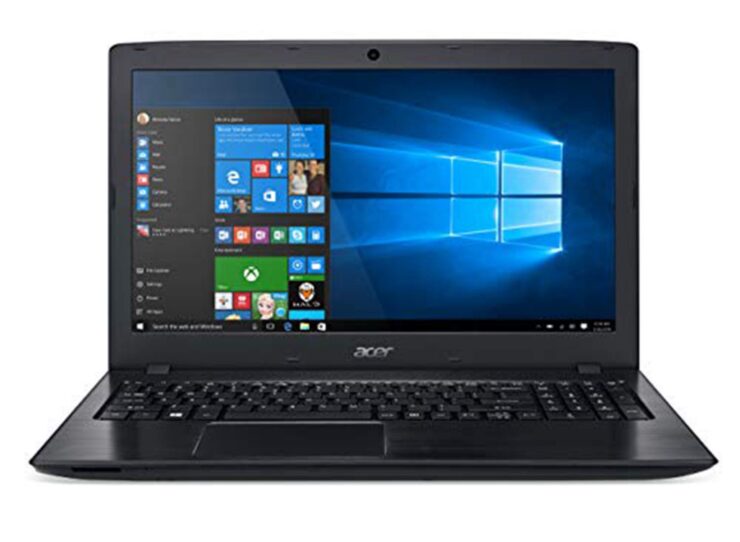 16. Dell Chromebook 11 Inch Laptop

This Dell laptop is excellent for parents who are looking for the best budget Chromebook for their child. There is an 11 inch display, multi-format media reader, 4GB RAM and 16GB SSD. The Chrome OS automatically updates to keep things running smoothly. The laptop weighs 2.9 pounds, so it's not too heavy for kids to carry and use.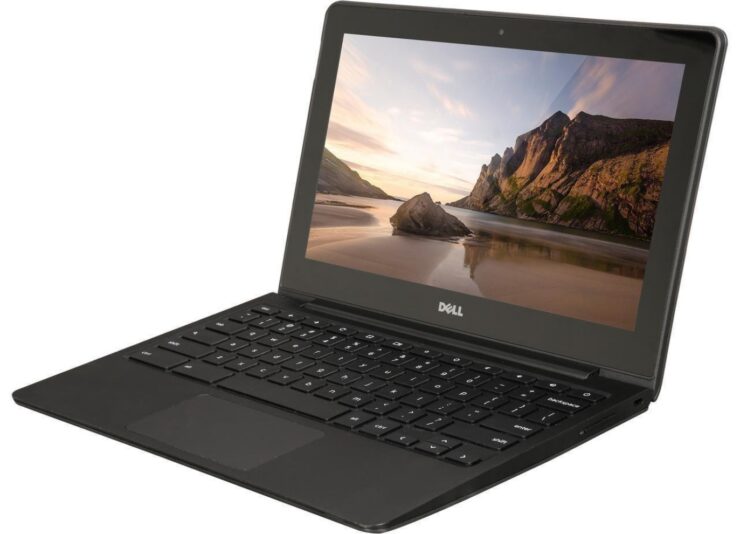 17. Acer Chromebook 11 N3060
Our final pick is another Chromebook, this time from Acer. It uses Chrome OS, which features anti virus protection which automatically updates to keep the laptop running smoothly. Of course, it includes many useful apps, as well as access to the Google Play Store to download many others. Kids can also find their favorite games and movies here, so this laptop offers the perfect balance between work and leisure. There's also an impressive maximum 10 hour battery life, to keep kids going all day long. Parents can use the Chrome parental controls to keep their kids safe when browsing the internet on this laptop.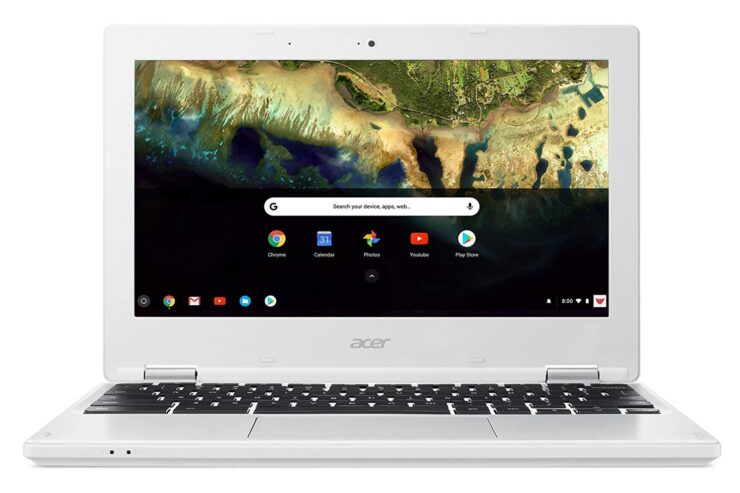 Overall Best Child's Laptop
With so many great picks on this list, it is difficult to choose which one is the best overall. If buying for younger children, Tonoshi's offering is an excellent pick. Being designed for kids aged 6-12, it is tailored to suit their needs and is safe and efficient. The Acer Aspire is another excellent choice with impressive features for the whole family to use and enjoy. Of course, Chromebooks are also great for kids, as they offer a large amount of Google Drive storage so they can access their files at home and at school, and also allow kids to download content from the Google Play Store. The best Chromebook might be the Acer Touch, with it's unique 360 degree hinge and touch screen.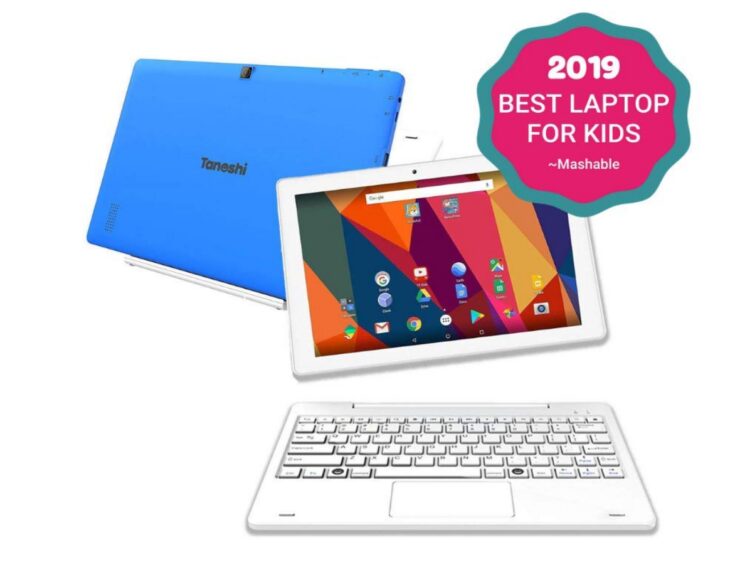 What Features Should a Kids Laptop Have?
It's important that your child's laptop comes with appropriate safety features and perhaps parental controls if necessary. Be sure there is anti-virus software installed, and set up internet security features to ensure they can't access any content which is not age-appropriate.
As discussed previously, it's also important a child's laptop is lightweight and not too large. Similarly, you might wish to look for a laptop which comes with a carry bag included. This will help your child easily transport it to and from school, or anywhere else they need to use it.
You might wish to look for kid-friendly features on their new laptop too and ensure it is easy for them to use. Also ensure they can sit comfortably when using their laptop, preferably at a desk, so they don't get a sore neck or back.
When Should I Get My Child a Laptop?
There is no set age when your child should have their first laptop, as it depends on the individual. For toddlers, it's definitely best to stick to 'toy' laptops which are less breakable and very simple to use. Once your child starts school, they will no doubt be learning to use a computer so this might be the ideal time to introduce them to using one at home, however they might not need their own one right away. Perhaps around the age of 8 years old, your child might be ready for their own laptop. Certainly by the time they start having more homework requiring the use of a computer, it's time to think about getting them one of their own.
Are Laptops Better than Tablets for Children?
Whilst tablets and laptops can be used for many of the same functions, a tablet cannot fully replace a laptop. Children need to use a laptop or desktop to learn proper computer skills, which simply cannot be achieved on a tablet. It's also important for children to learn to use a keyboard to type, which is not the same as using one on a touchscreen. Finally, children might be interested to learn coding, for which they will require a laptop or computer.