Kids today are growing up in a world that is full of new technology. Gadgets and electronics are constantly developing and moving forward. Children learn to use technology in the home from a very early age and continue while in education, with computers and tablets used commonly in the classroom. Kids are using more technology than ever before and finding their way around new electronics very quickly. That's why electronic gadgets can be such good gifts for kids of any age to enjoy. In this guide, we review some of the best electronic gifts for kids in 2023.
There are many choices available when purchasing electronics for kids, from cameras to drones or laptops. With so many options, it can be difficult to choose the best gift, whether for your own child or for another little one. Read on to find our comprehensive overview of some of the best kids' electronics available as well as many frequently asked questions about kids' gadgets.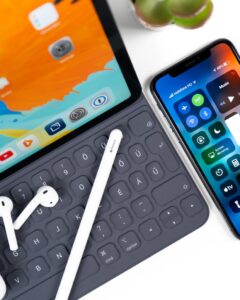 Things to Consider When Choosing an Electronic Gift for Children
The toy market is thriving and there are many items to sift through when you are looking for a kids' gift. Because of this, it is hard to know which is the best choice when entering a shop or carrying out an online search. In this guide, we will introduce some of the best electronic toys available in 2023, but first, let's look at the things to consider when making a purchase.
Safety: when buying any toy or product for children, it is essential to make sure it is safe. The safety requirements will depend on the age of the child, but it is a good idea to look for proof of universal toy safety testing and certifications. Particularly with electronics, parents will ensure the child cannot take it apart and harm themselves on wires.
Age appropriate: choosing a gift that is suitable for the age of the intended recipient will help to ensure the child has hours of fun playing with it. Even little kids can enjoy electronics if they are designed with age suitability in mind. At the bottom of this guide, you can find our top picks for different age groups, to help you make your purchase.
Price: if you have ever bought an electronic item, you will know they can be expensive. With so much going into the design and so many cool features, it is easy to end up spending a lot of money on a gift. However, there are options available for all budgets. Consider how much you would like to spend and then look for a good quality toy within your price range.
Type: for a gift to be well-received, it has to have the recipient in mind. Choose something that is sure to pique the interest of your child. Since many kids are used to consuming information, it can sometimes be hard to capture their attention for more than a few minutes! Many of our picks here are designed to offer open-ended use and hours of play and enjoyment. Whether they are interested in how things work, art and design, or making stuff fly, you will find something they will love in our guide.
Education: studies show that the best toys for kids are those that provide a learning experience. This does not have to be explicit, in fact children often learn best when they are playing. Many of the electronic toys available today are designed to stimulate learning, whether in engineering, coding, math, or more general skills like problem solving, cause and effect, and creativity.
Top Electronic Gifts for Children
Now, we will review some of the best Electronics for children, sorted by age and type to ensure you can easily find just what you are looking for.
Electronic Christmas Toys for Boys
You know the saying – it's never too early to start thinking about Christmas! With this range of electronic toys, boys and girls are sure to be delighted with what's under their tree. Read on to find our roundup of the best electronic vehicle toys to give your kid at Christmas.
1. Sharper Image RC Sports Car with VR
If you have a little car lover in your family, this remote control sports car from Sharper Image is an excellent buy. Remote control (RC) vehicles have moved on since the 1980s and 1990s and now incorporate all the latest technology. This item is a great example of that. It has a camera and virtual reality (VR) headset function so your kid can put themselves in the driving seat for a totally new experience! The sleek sports car has a camera at the front of the body. Place a smartphone inside the VR headset to use it as goggles and immerse yourself in the role of a race car driver! You can even save and download clips of your experience and share them with friends and family. This is a gift that is sure to amaze your child on Christmas Day.
This car looks very cool as well as offering a unique play experience. Modeled on an ultra-sleek luxury sports car design, it has an aerodynamic body with color accents. The LED headlights and brake lights really function so it is a great little replica.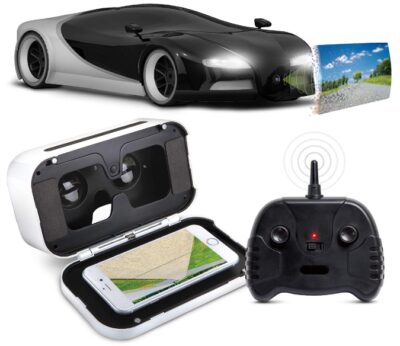 2. Remote Control Boat – High Speed
For boating fans, this incredible RC speed boat from Force1 is another great Christmas gift for boys and girls. Reaching speeds of over 20 miles per hour on pools and lakes, it is sure to impress kids and adults alike! Thanks to its sturdy design, it is easy enough for children to pilot and it has a self-righting flip capsize feature to ensure the fun keeps going. The auto correcting rudder means it will not sail off course, and the low signal warning will alert you when reaching maximum range. Take it along to a lake or pool and let your kid learn what it can do!
The boat is made from durable materials and has a premium single prop motor to power it. See how fast it can go and race other boats with no interference thanks to the four channel speed boat radio control. There is also an emergency stop function to preserve safety when in use. This toy is designed for children aged 14+.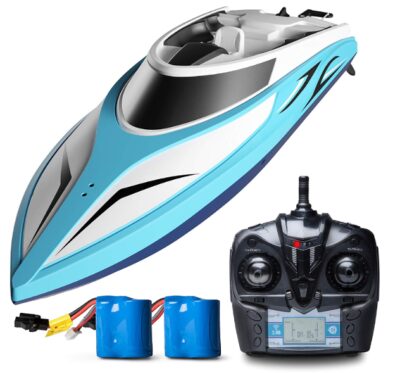 3. Syma Remote Controlled Helicopter
Budding pilots will be very excited to see this RC helicopter under the tree come Christmas morning! The S107G Phantom helicopter uses gyro technology to adjust and stabilize the aircraft in flight. This makes it easier to operate and the helicopter's flight more stable. Safety is paramount – the double protection ensures that the power is shut off automatically when choked. You can even fly this RC helicopter at night and enjoy watching the colorful flashing lights! Your kid can wow friends and family with their skills.
The helicopter is palm sized and features a lightweight aluminum frame, making it nearly impermeable to damage should it crash. The remote's three channels mean it moves in three directions. The lithium battery can be recharged in 50-60 minutes via USB cable. Great for adults and kids alike, this electronic helicopter is a perfect gift.


Newest Electronics for Kids
The world of electronic toys is developing constantly, with new items coming on the market all the time for kids of all ages. Technology is advancing all the time and toy makers are taking advantage of new features and designs to offer newer and cooler products. If you are looking for some of the newest gadgets for your child, read on to find our picks of the best.
1. Wireless Remote Control Jumping RC Toy
This cool electronic car will amaze even the most energetic of kids. It has a feature that makes it quite different from other RC cars: it can jump into the air! Watch it leap up to 31.5 inches while rolling quickly across the ground. This toy features a spherical body and jumbo wheels and its shape can be changed. The cool design will intrigue any kid. It can spin 90 degrees and 180 degrees in less than a second, as well as turning and moving forward and backward. With a running speed of 7 kilometers per hour, it will delight your kid as they race around after it.
The RC unit's anti-interference frequency allows for multiple cars to be controlled at the same time so your kid can enjoy racing different vehicles. The car even plays music and lights up as it moves, so it is sure to entertain the whole family!
,
2. Beginners Drone with Camera
Drone cameras have become very popular with adults over the past couple of years. Giving the ability to take amazing shots from above, it is easy to see why. Now your child can have the opportunity to practice their own drone photography with this product from KOOME. Though it is easy enough for beginners to operate, this drone does not compromise on quality. It features a 1080p HD camera that can take photos and video footage. Quickly capture your shots with the the trigger on the controller. This mini quadrocopter drone is easy to use but still powerful, with headless mode, altitude hold to lock the drone at a certain height, one key start and landing, 3D flips and three speed controls. It can also be operated by a smartphone to unlock additional features including voice control and 360 degree rotation. This drone is even foldable so your child can pack it up and take it with them wherever they wish to use it.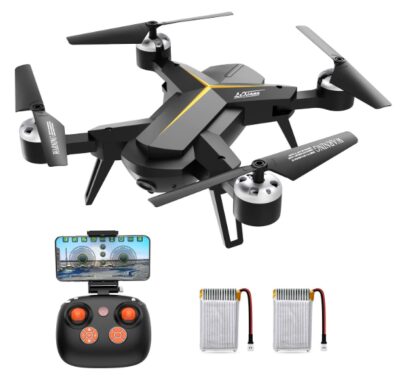 ,

3. SmartLab Toys Archi-Tech Smart House
The Archi-Tech Electronic Smart House from SmartLab Toys is a really unique gift for any child. Combining architecture with smart technology, this toy promotes STEM (science, technology, engineering and math) learning through innovative play. Kids have the opportunity to build their own house using 50 punch out construction and accessory panels, 20 posts, 10 base boards, 10 light and sound modules, and 8 wires.
Your kid can construct the house of their dreams or simply play around with the mix and match materials for hours of play that will encourage the development of engineering and design skills. Once your child has built the structure, they can wire it up with light and sound components to turn it into a smart house. Control elevators, garage doors, and alarms in this cool toy. Your kid can even add motorized trapdoors and drawbridges! The set comes with an illustrated activity book to help inspire your child's designs while teaching the basics of electronic circuitry. The book contains 20 projects to get your kid started. This set is suitable for ages 8 and up.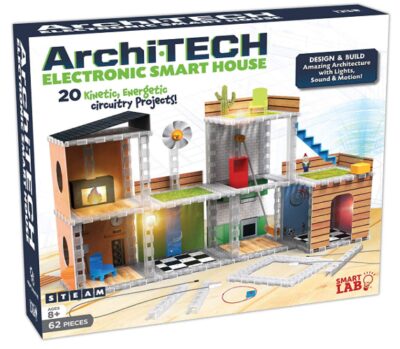 4. Snap Circuits Jr
For your mini electrician, this set of Snap Circuits Junior will provide hours of fun. Your child can build over 100 different working circuit projects without needing to solder or use tools. The 30+ component modules simply snap and click together to achieve a working circuit. The set is designed to give children aged 8+ the experience of building real circuits and to develop their knowledge of circuit design. The modules contain Circuitsafe technology, which is only found in Snap Circuit branded sets and they are clear and colorful so kids will love to build with them.
The set comes with a manual containing over 100 projects including a musical doorbell, a flying saucer, and a light police siren. Your child will love the opportunity to learn about electric switches, fuses, and different types of circuits. The set is compatible with other sets from Snap Circuits so your kid can combine the components to extend their play and learning.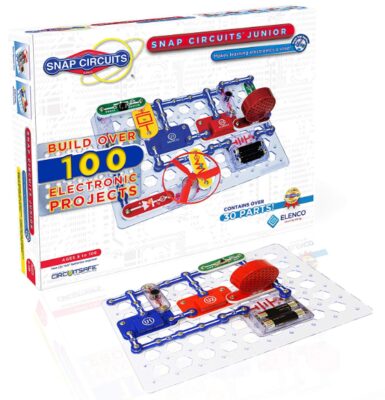 Best Electronic Laptops for Kids
These days, many kids are lucky enough to have their own tablet or laptop. They tend to be comfortable with digital technology as they are used to using smartphones, smart televisions, computers and tablets, even in their school environment. Kids can use laptops to play games, complete their homework, and learn new skills. If you are looking to purchase a laptop for your child, take a look at our top picks.
1. Hack The Coding Laptop
The Hack Laptop is designed to teach kids aged 8 and above to take their first steps in software coding. Software coding is a popular STEM activity for kids and many schools now include it in their curriculum. Coding can teach many skills to children, including creative problem solving, cause and effect, and logical thinking. The Hack laptop is a great introduction to coding and has even been named 'Best First Laptop' by Parents magazine and 'Best STEM toy' by Wired. This laptop is safe, ad free and virus resistant, so you can rest assured knowing your child is enjoying play without being exposed to inappropriate content.
With Hack, your kid will have the opportunity to play 'hackable' games, explore coding apps, and solve quests accompanied by characters inspired by history. There are new games released every month, so there will always be something to capture your child's attention and imagination.
,
2. Acer Chromebook R11 Convertible
If you are looking for a laptop with excellent features and specification, this Acer Celeron N3150 Chromebook may fit the bill. Ideal for older kids who may need a laptop for study and play, the lean Chromebook features Chrome OS, a Google operating system that updates automatically, offers virus protection, and boots up in mere seconds. With this option, your kid will have access to apps like Google Docs, Sheets and Slides so they can complete their homework with ease. From the Google Play store, they will be able to download apps, games, movies, TV shows, books, and magazines – they will never be bored again!
There is plenty of room to store all those finds, with built in offline access for the most important files and 100GB Google Drive space to back everything up in the cloud. With an HD touch display, 4GB memory, and up to 10 hour battery life, this laptop is sure to impress even the most tech savvy child.
,
3. Piper Computer Kit
Do you have a budding engineer on your hands? If so, this option is sure to please. The Piper Computer Kit 2 offers kids the chance to engineer their very own computer, then code the software to run it! The kit contains absolutely everything your child could need to construct their own mini computer and is designed for children aged 7-13 years. Working on the basis that kids engage more with hands on projects, Piper has designed this kit to capture your child's attention. There is so much opportunity to learn: from assembling and wiring the computer, to completing hands on coding projects.
The DIY computer is powered by a Raspberry Pi microcomputer, which kids combine with laser cut wooden pieces and electronic wires to construct their device. As they build, they are guided through engaging challenges to support developing problem solving skills. The device is loaded with PiperCode, drag and drop framework so kids can learn to code in an engaging environment. It even comes with popular game Minecraft and Python coding language so kids can continue to learn as they play and experiment.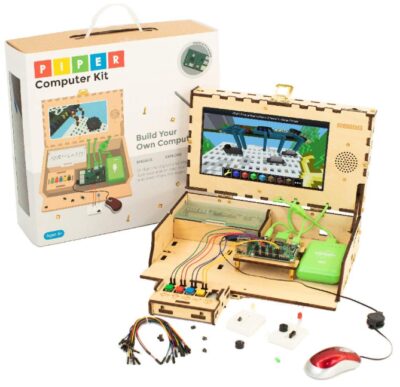 ,

Best Electronic Cameras for Kids
What kid doesn't want the chance to take photos just like Mom and Dad? There are many cameras made just for kids, so you do not have to share your own valuable device with your little one! You can still help to encourage a love of photography in your child, and help them learn the basics of taking photos. Here are our top recommendations for cameras made just for kids.
1. VTech KidiZoom Duo
VTech is well known for designing cool electronic devices and toys for little ones. Their Kidizoom Duo certainly does not disappoint. It is a real camera with a sturdy design so kids can use it without parents worrying about accidents and damage. Children are sure to love capturing photo and video of the things they find interesting. There is even a rear facing camera so they can take selfies, then add some of the built in photo effects, cartoon and collage effects to customize their images. Designed for kids aged 3 to 9 years, the Kidizoom Duo features Photo Optimization. This means that when your kid takes a photo, multiple shots will be taken and the best one automatically selected. Perfect for practicing photography!
The camera also includes 5 built in games with motion control, designed to engage young kids. Parents need not worry about too much game time though: the Parental Control feature allows you to set limits on play time for the inbuilt games.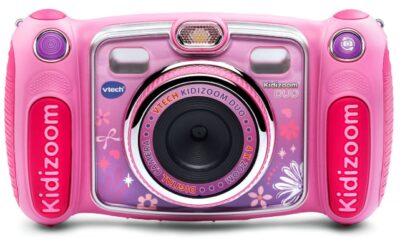 2. FujiFilm Instax Mini 9
For a retro style kids' camera, check out the Fujifilm Instax Mini 9. Perfect for gifting, it comes with two instant film packs, a camera case with adjustable strap, an album with space for 64 photos, a selfie lens, 4 colored filters, 10 hanging frames, 10 clips and string, 60 sticker frames, 5 plastic stand up frames, and a microfiber cleaning cloth. With so many fun accessories, your kid will love playing with this camera! It is a Polaroid-style instant camera so kids can start capturing photos in seconds and see the results straight away.
The set encourages kids to use their creativity by combining their instant photos with the accessory frames, stickers, and album. The camera is easy to use and comes with a built in flash and Fujinon 60mm f/12.7 lens to ensure clarity and vibrancy of the images. It comes in a range of cool colors so you are sure to find one to suit your kid.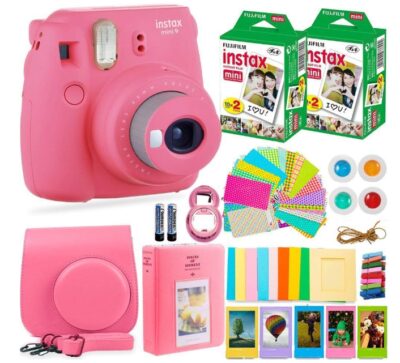 Best Robot for Kids
Robots have become one of the new must-have electronic toys for kids, with many children requesting one for a Christmas or birthday gift. Of course, this means there has been an influx of kids' robots onto the market in the past couple of years. As parents, we have selected some of the best robots for kids to share with you.
1. Wonder Workshop Dash Coding Robot
Experts tell us that the best toys are those that offer a learning experience for kids. The Dash robot from Wonder Workshop offers play based learning that extends and grows with your child. Designed to help kids aged 6 and up to learn coding skills, Dash arrives charged and ready to go with no waiting around, so would make a great gift. Dash works with voice commands, so is easy for kids to use and gives immediate feedback, helping them to learn cause and effect. The five free apps support kids to explore coding concepts like loops, events, conditions, and sequences.
Kids also have the chance to collaborate with other Dash users through Wonder League, a community that hosts challenges and encourages ideas sharing. Parents can support their kids to extend their learning even further with Wonder Workshop add ons like Building Block Connectors and Sketch Kit. Used in over 20,000 schools, Dash is an excellent educational robot that provides hours of play and learning.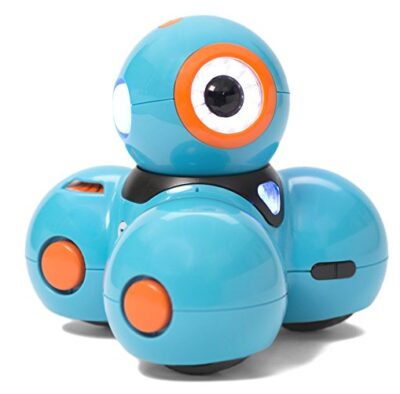 ,

2. Vector Anki Robot
Looking for a little helper? Vector Robot from Anki could be just the thing your family needs. Designed as a home companion ready to hang out and help out, Vector is powered by advanced robotics and artificial intelligence (AI). He learns as he experiences different settings and environments, and he has a vibrant personality he wants to share with your child! Vector is voice activated – just say "Hey Vector" and he will be alert and ready to assist. He can navigate independently and can also manage to avoid obstacles.
Vector can answer questions, take photos, time activities, tell you the weather, and more. He is connected with Wi-Fi, which means he updates automatically with new skills and features. You can even choose to connect Vector with your Alexa account in order to control smart home devices like speakers, thermostats, and lights; set reminders; add items to your shopping list; and much more.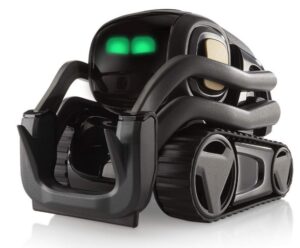 3. Sphero Mini Robot Ball
Sphero is a cool, sleek robot ball controlled by an app on your smartphone. Tiny but powerful, this robot can be used in many different ways, by kids or adults.Your child will love setting up games with the included accessories of mini traffic cones and bowling pins. They can drive the ball using the app and can choose joystick, tilt, slingshot and even face drive mode! Your kid is sure to enjoy trying out the Face Drive feature, which uses facial recognition technology to move the ball. They will love moving their head around to control the Sphero and watch it drive around in response. The Sphero can also be used as a video game controller with the app. There are currently 3 games available with more in development. With the Sphero Edu app, your kid can even start to learn coding basics. They will work out how to move the ball and input the correct Javascript code in order to reach the right outcome.
Just the size of a ping pong ball, Sphero contains a gyroscope, accelerometer, and glowing LED lights that will delight your child. Kids can also choose between colorful interchangeable shells to customize the Sphero according to their preference.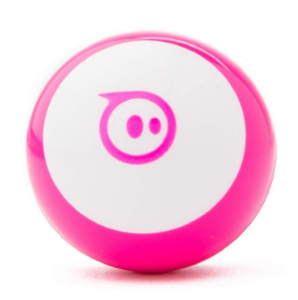 Best Tablets for Kids
Kids' tablets are almost ubiquitous in today's world. Many households own at least one tablet specifically for kids to use, whether to watch TV shows, play games, or learn new skills. Handheld electronic devices are a part of our modern world, and children can often use them as well as their parents! Here are some of our top picks.
1. Fire 10 HD Kids Edition
The Amazon Fire Kids Edition has been a popular tablet for parents to buy for their children. This latest edition, the Fire HD 10 Kids Edition is the largest, fastest kids' tablet from Amazon. It features a 10.1 inch full HD display, so your kids can watch their favorite shows in crisp definition. With a 10 hour battery, it will last even the longest road trips without the power running out. Parents will know how important that battery life is! And with 32 GB storage, parents can load the tablet up with apps, games, movies, and TV shows without worrying about storage running out. You can also add an SD card for an additional 256 GB of storage.
One of the most popular features of the Fire Kids Edition tablets is Amazon's promise to replace broken gadgets free of charge if your kids break it, no questions asked. With the Fire HD 10, your child has access to 1 year of FreeTime Unlimited, meaning they can download over 20,000 popular apps, games, videos books, Audible books, as well as educational content from PBS Kids, Nickelodeon, and Disney.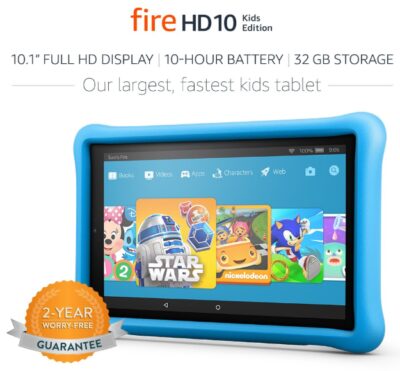 2. Dragon Touch Android Tablet
The Dragon Touch Y80 kids' tablet comes pre-installed with Disney content, so it is ideal for your little kid! Your child is sure to love the story books and audiobooks featuring their favorite Disney characters from films such as Beauty and the Beast, Frozen, Coco, Cars, Brave, Finding Nemo, Cinderella, Zootopia and Moana. There is a wide range of apps and games to choose from, and parents can control the install and access to ensure content is age appropriate for their kids. Using the pre-installed Kidoz app, parents can easily manage which areas and apps their children can access, and how long they can spend on apps, websites, and videos.
The Dragon Touch case is durable and designed to be kid proof, protecting the tablet against bumps and drops. It features a height adjustable back clip to prop up the tablet while your child uses it, leaving their hands free and ensuring a comfortable viewing angle.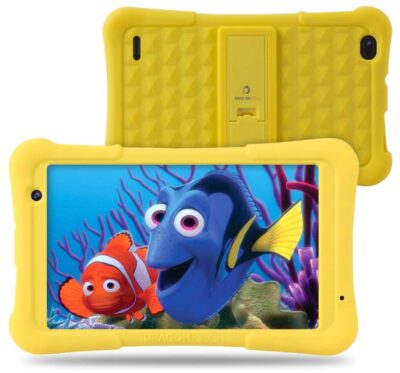 3. Apple iPad Mini
The Apple iPad is perhaps one of the most well known tablets on the market today. Known for being powerful, user friendly and offering a crisp and clear display, it's no wonder the iPad is so popular. The latest Apple iPad Mini can be a great option for kids. It has a thin and lightweight design, so it is portable and easy for kids to carry. It offers up to 10 hours of battery life, so children can watch, draw, and play to their heart's' content. The new version also supports Apple Pencil, so your kids can doodle, color, and write straight on to the iPad.
Whether kids are watching movies or reading ebooks, the 7.9 inch retina display offers incredible clarity in any light. The iPad Mini has two cameras – front and rear facing – and allows kids to shoot photos and videos in stunning HD. With a whole host of apps and games to choose from in the App Store, they will be entertained for hours.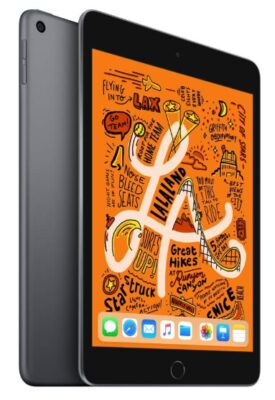 Tech Gifts for 5 Year Olds and Under
It is not just older kids who can enjoy playing with and learning about electronics. Toddlers and preschoolers are familiar with how gadgets work and their lives are often full of them, from TV to baby toys. There are now many electronic gifts for kids age 5 years and under. Here is our selection of some of the best.
1. Joy for All Companion Cat
Indulge your kid's love of animals with this incredibly lifelike cat by Joy for All. Your little one will adore the cat-like movements and sounds this toy makes. The electronic cat features VibraPurr technology, which makes it sound and feel just like a real animal. Watch as it opens and closes its eyes, lifts its paw, opens its mouth and moves its head and body around. Perfect for little kids, the kitty has synthetic fur inspired by real breeds of cat, which your child can even brush.
Designed as a companion pet, this cute and furry feline friend features built in sensors so it can respond to touch and motion. Your child is sure to be delighted by its realistic features, sounds and movements. Watch as your child pets and cuddles the toy and hear it purr in response. With the Joy for All cat, your kid can enjoy the benefits of owning a pet without the responsibility of feeding, caring, and vet bills!
,
2. VTech KidiZoom Smartwatch
For kids learning to tell the time, the VTech KidiZoom Smartwatch would be a great gift. Designed especially for little kids aged 4 years and up, the watch offers 55 digital and analog style faces. With two cameras, your child can take videos, photos, and selfies that they can then customize and set as watch faces. They will adore checking the time with this sweet pink kids' watch. The watch is splash proof so your child can play without damaging the toy.
More than just a time telling device, the KidiZoom Smartwatch features a game using augmented reality (AR) technology to allow kids to catch monsters in the real world. It also contains an inbuilt motion sensor with pedometer to count your kid's steps, active play challenges, and fun sound effects. With a USB cable, you can connect the watch to your computer to upload photos and videos, and download additional games and content from the VTech Learning Lodge. The watch's parental controls ensure you can set limits on play time.
,
3. Paw Patrol Me Reader
The Nickelodeon Paw Patrol Me Reader is an e-reader designed just for little kids! Help to encourage a love of reading with this fun device. Featuring 8 illustrated books with your kid's favorite Paw Patrol characters, your little one will love listening to the stories. The Me Reader Module reads the stories aloud at the touch of a button, complete with fun sounds, as your kid follows along in the book. This will help encourage independent reading among children, which leads to building confidence in early beginner readers. This hands on interaction engages young children as they grow in confidence. Watch as your child connects sounds and words with pictures and grows their vocabulary. This multisensory experience of sounds, words, and pictures helps to inspire kids' imaginations and stimulates a love of words and reading.
The Me Reader is very simple to use, which will help build your child's confidence with electronic devices. As the story is read, kids are encouraged to press the large and colorful buttons on the Me Reader, ensuring interaction as they get involved with the books.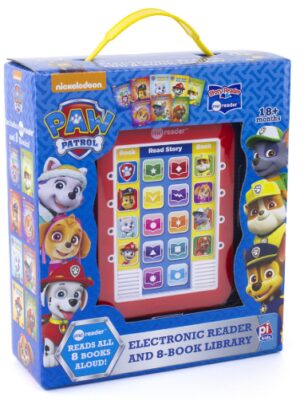 ,

Electronic Toys for 5 Year Olds to 12 Year Olds
At this age, kids are really starting to be curious about the world around them. In school and at home, they want to know how stuff works and get their hands on a wide variety of electronic gadgets and devices. Starting to outgrow the toys of earlier years, they may look for something more adult in design but still need to be entertained and delighted! Here are a few of our top picks for this age bracket.
1. Contixo Smart Puppy Robot Pet
If your kid is asking for a dog to be added to the family home, check out this amazing robot! The Puppy Smart Robotic Pet from Contixo is a hilarious and cute little friend for your kid. The perfect substitute for a real pet, the robot dog moves and sounds like a real pup but with no cleanup and feeding required! Your kid will have hours of fun teaching this toy new tricks and can impress friends and family with its amazing behavior. #
The smart robot features voice recognition, touch sensors, LED lights, a radio frequency sensor and Bluetooth speaker. Your kid can even play their favorite music with the pup while they play. Using the Puppy Smart app on a smartphone, kids can create and edit stunt routines for the robot dog to follow. They choose from a variety of stunt options and watch as the robot performs them. If your child chooses to play music through the dog's speaker, the pup will dance in time to the beat!
,
2. Huaker Kids Walkie Talkies
Adventure-loving kids will adore playing with these walkie talkies from Huaker. Though designed for children, they are powerful and are sure to impress with their range of 3 miles. Featuring integrated buttons, flashlight, and LCD screen, they are perfect for taking camping, hiking, and on any outdoor adventure. This kids' walkie talkie has crisp sound quality with adjustable sound level and a high anti interference function, reducing noise to make the sound clear.
The set comes with 3 toys, so you can use them with your child or let them have fun with their friends and siblings. With 22 channels and 99 subchannels of two way radios, each handset can communicate with multiple other walkie talkies. The integrated buttons and ergonomic design make sure the toy is easy for kids to use, and they can even combine the functions to expand their adventure. The handset is made from environmentally friendly materials and it complies with US and EU safety standards, so it is safe for kids to play with.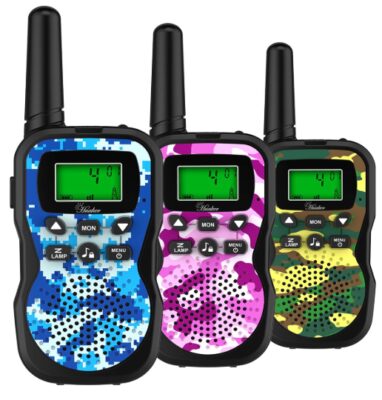 ,

3. Top Race Fully Functional RC Excavator
This one is sure to impress any gadget-mad kid! It is a fully functional RC excavator toy, heavy duty and an amazing replica. It is incredibly detailed, built on a 1:14 scale, and featuring powerful motors and heavy rubber track tires. This high quality toy is a must for any little construction lover, as the shovel is made of real steel so can actually dig! At 16 inches long and 9 inches tall, this impressive construction tractor is heavy duty and powerful. It features 3 separate motors on its digging arm, meaning the arm can move and dig in any direction. This makes it truly unique when compared with other RC construction vehicles.
Your kid can easily  transport sand, dirt, and other materials from one location to another with the heavy duty steel shovel. The excavator can move forward, backward, left and right, and its cab can turn in a 680 rotation. The powerful RC transmitter means your child can operate the vehicle from a distance of up to 100 feet away, making for endless play opportunities.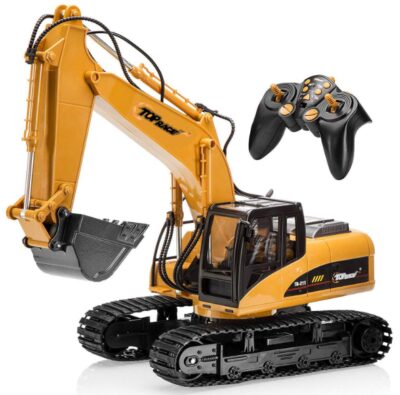 ,

Electronics for 12 Year Olds and Above
Moving into the tween and teen years, your kids is leaving behind their old toys and playthings and looking for more grown up devices. For this age group, music, video and games are very popular and kids enjoy spending time relaxing with friends outside of school. Read on for our recommendations of electronics for age 12 years and up.
1. JBL Flip Waterproof Bluetooth Speaker
Many tweens and teens are really interested in music and enjoy sharing their favorite songs with friends and family. This Bluetooth Waterproof Speaker from JBL is the perfect way to listen to music whether indoors or outside. It is wireless, streaming via Bluetooth from a smartphone or tablet, and the battery offers up to 12 hours of playtime. Delivering powerful stereo sound, it is compact with a sleek design. Thanks to its waterproof feature, it is ideal for use in all weather. Small yet durable, it is available in 6 colors so you can pick one to suit your kid's preference. The speaker can even be linked to others with JBL connect+ technology, giving the opportunity to amplify sound in a truly amazing way. This speaker offers crystal clear sound, whether listening to music or taking a phone call. The built in noise and echo cancelling features ensure calls are crisp and clear. It even comes with a storage bag, making it the perfect gift for children aged 12 years and up.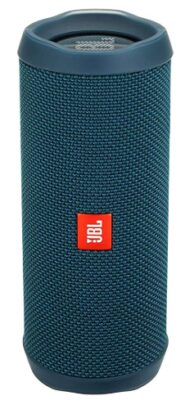 ,

2. Vankyo Leisure Mini Projector
For your budding movie fan, the Leisure 3 projector by Vankyo would be a fantastic choice. Connect it to a smartphone, games console, PC, TV stick or laptop and enjoy the incredible sound and image quality on the big screen. Your kid is sure to adore having a home theater where they can play video games and watch movies, TV shows, and sports games with their friends and family. With plug and play technology, it is easy to set up and begin using so your child can operate it themselves. It is portable and it comes with a customized bag for compact storage and transport. Kids will love having a big screen experience right in their own home!
The projector features updated LED lighting, offering 40% more screen brightness than other projectors. It supports high resolution and is ideal for home entertainment. The innovative cooling system disperses heat and noise suppression technology means noisy fans will not interfere with the viewing experience. In fact, fan sound is halved compared to other projectors. You can also purchase a tripod accessory for a more immersive home theater experience.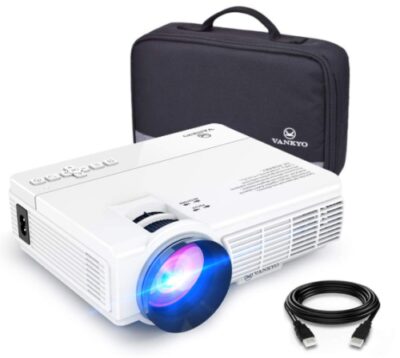 ,

3. Nintendo Switch Joy Con
Video games are always popular with kids of this age, and new games consoles are coming onto the market at a high speed. The Nintendo Switch is one of the latest games consoles and this Joy-Con set would be a great gift for any kid. The bundle includes the original Switch console and dock, plus Joy-Con controllers and strap accessories, a Joy-Con grip, HDMI cable, and AC adapter. The Nintendo Switch lets your kid play anywhere – with controllers at home and with the screen and Joy-Con handsets when out and about. Your child can play as a single player, or invite friends and family to share the fun with multiplayer games. The dock provides storage for the controllers and connects the system to your television. When you lift the Switch from its dock, it transforms into a handheld console so your child can play while out and about.
The Nintendo Switch offers a huge library of over 1000 games, so your child is not likely to get bored while playing! Your child will love to share the gaming experience with their friends by connecting up to 8 systems for a huge multiplayer gathering. Parents can have ease of mind, as the system features a robust set of controls. Parental control settings are built in to the system, and parents can use the free Parental Control app from Nintendo to limit games and purchases, as well as monitoring gaming time.
,
More Kids Gift Review Articles: