There are loads of cool and unique ways to make your pirate birthday party special this year. Sometimes you just need to get things sailing and with the wind in your sail, your surely gonna find some hidden treasure.
The best way to celebrate is with your children, friends, family, colleagues, and everyone in between. Kids of all ages love pirate themed parties and there are loads of party activities to keep them entertained. Searching for treasure is one for example and finding treats along the way or a final chest filled with chocolate gold coins is thrilling.
Throwing a birthday party, whether an adult or child, we know we all like dressing up. The older we all get the more of a big-kid we seem to become. Games for adults and kids are different however and finding a chocolate treasure for an adult is less exciting, but if the treasure had some bottle Jamaican rum inside it would be a different story.
Pirate themed work parties are on the increase and a great excuse to get a few drinks down and socialize when normally things are a little sobering, to say the least.
There many different ways to make your pirate party special and throughout this article, you will be flooded with ideas, images, and thought-provoking possibilities.
Pirate birthday party invitations
There are loads of cool party invitations and ways to invite all your guests. Here are some I've thought of:
Treasure map – Having a simple and easy to use treasure map of your house, for example, can get the excitement running high with loads of unknown hidden treasure waiting. Sometimes putting icons and skull-like signposts keep in theme and guide adults and children to the house. Another way to decorate is by having palm trees scattered around, skeletons and anchors, which can easily be made with cardboard and easy to see from the main road.
Scary skull invitations – Making your own pirate skull invitations are another good way to invite your guests and little children go crazy for them. By using glue, paper, and simple fabrics you will have your simple and cheap invitations ready.
Scroll that's aged – There are different techniques for making your pirate invitation look aged. Some put a light under the paper at a safe distance and the paper turn a light brown, which makes the A4 look like it's a pirate scroll. The technique for this is the brown off the edges and make sure to have written the invitation first.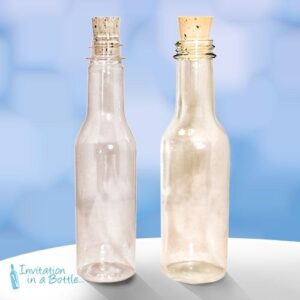 Another way is to crumple the papered pirate invitation. This combined with a print-out makes for convincing both child and adult alike 🙂
Message in a bottle – This is a stunning way to get the point made and a classic pirate message in a bottle will make sure they turn up, because if so much effort goes into the invitation then the treasure is worth seeking also…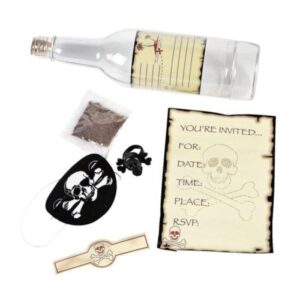 Create your own write-up pirate message
All the messages can have a pirate styled theme and an example is "Ahoy…This is Captain ……….We have a bounty of treasure in a far land and need a pirate to join the crew! Come join and have some fun on…………Birthday scavenger hunt"
Other pirate speak and wording sound like:
Ahoy
Set sail
Booty
Charter a course
X marks the spot
Caribbean ocean aroma
The effect of smell has always been a clear way of setting the scene and a human association with smell is fascinating when looking into the science behind it. This is why getting an "ocean breeze" scented oil to add to the pirate sea-like perspective will be going just that little bit more than anyone else has before.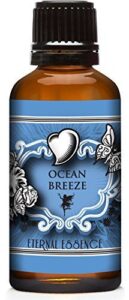 You can even scent the invitations and for anyone who knows what it is like to get a scented letter, it's a real please-er. First impressions are crucial these days with everyone sailing in their own direction and that's why these little touches make the difference. The little touch with scented oil and smell might just help them make that decision to come and cancel their other arrangement.
Personalized pirate picture
There are online companies that will take an existing photo of you or your child and put a pirate-themed background to it. This is sometimes cheaper and time-saving but still makes the guest feel like your really going out your way to make this a great party.
There are loads of pirate invitation possibilities and you can even get from Amazon, which have loads to choose from and at a budget price for those wanting to not spend a fortune.
You might wanna go all the way with this and with a pirate stamp to post you can. They will be shocked at just how personalized this is gonna be and with pirate postage stamps you can.
Pirate drinks
There are loads of cool ways to keep in the theme will deep blue's, Caribbean greens and sandy bottoms. Mock-tails or cocktails can be a great way to get everyone in the mood to have fun, especially with a punch poured out of a drum barrel for the parents.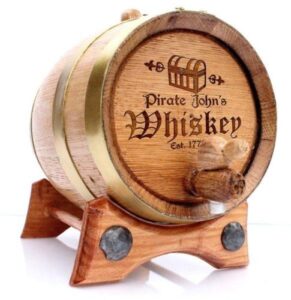 Here are some great pirate drinks to get the party started, but make sure to keep the adults and kids separate.
blue lagoon
bluebird
blue Hawaiian
Parrot punch
Make sure to get your pirate skull and bone ice cubes and keep in theme all the way. Children and grown-ups love this, especially when things heat up as the day progresses.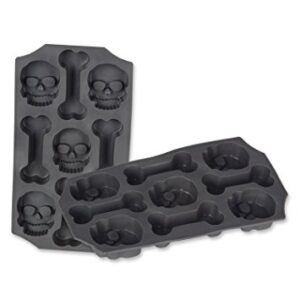 Pirate cups and goblets are another cool touches to make the party go on all night and the minimal effort is well worth the cost. Even the soft drinks look daring and risky with a skull holding the juice.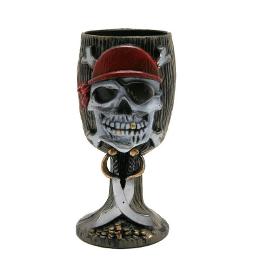 Food is important when at sea and a pirate must have some food to accompany his drink and with all the latest and greatest pirate themed gadgets you can shape, bake and create loads of fun-filled food.
Whether you're getting the kids to walk the plank or dig for gold there is always a way to reach the treasure. By treasure I mean food, let's get serious here parties are always about the food or is that just me? hehe…  🙂
As you know there is loads of different types of baking and food possibilities when preparing a party. Cookies, tarts, pizza's, fruit and bite-sized nibbles. All these can be shaped into pirate like skulls, bones, palm trees, flags, guns and even the parrot gets a shout out "Polly wants a cracker". Ok, crackers and cheese too then…
There are loads of cool baking and toasting stamps to make your children's day special, simple things like these go a long way. Another simple but awesome way to make sea-faring pirates come alive is through food and making ships with sails edible.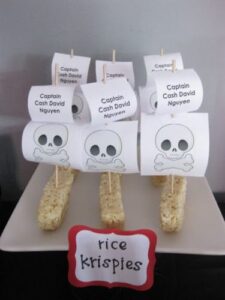 This can be easily done and just get inventive with attaching small sails to cocktail sticks. Then simply apply to food and fruit, which is always a favorite with kids.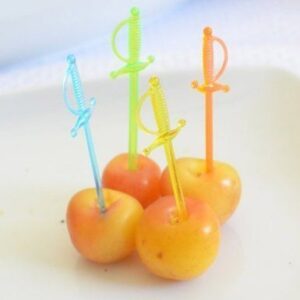 The cake always needs to be cut and with a pirate sword, you can get the child whose birthday it is to cut the first slice in true-pirate fashion.
There are loads of way to decorate your party and here is a list:
pirate miniature figures – great for decorating food, cake and anything your imagination goes to.
palm trees – every pirate most have a palm tree close by and their desert island surely has many, so should your party.
gold coins – fill the chest with loads of chocolate pirate golden coins. Kids love finding them as much as eating…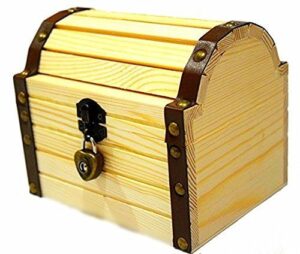 Pirate rings – great added touch to get with the theme.
Flags – easy to apply, highly effective for visual appeal and simply stick them in any food and it's officially a pirate conquered territory.
Cupcake paper – these wrappers hold the cupcake and once the cake is finished they will see a skull staring back at them.
Pirate candy – there is loads of different candy and sweets that can be bought easily and spread on the table or scattered for them to hunt down and find as true scavengers.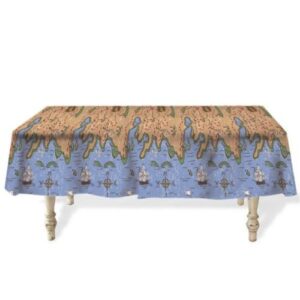 The pirate birthday party cake is the main event where everyone centers around and wishing a happy birthday. There are many ways to approach this and if you like to buy on a budget then you won't have an issue. There are loads of themed pirate cakes with soft-creamy sponge fillings, which go great with blood-red ice-cream.
Others might prefer making their own or buying from a cake specialist and these generally are a little more expensive and time-consuming, but well worth it also.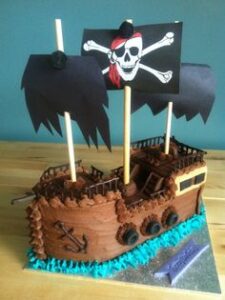 Decorations and styling
Finding the right party supplies is easy these days with everything being online. The typical pirate style of decoration is on an island with a cove and palm trees surrounding with sand under feet. This might seem impossible to achieve, but realistically kids can get close to the real thing with their imaginations.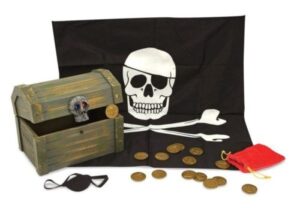 There are loads of different pirate party materials to decorate with and there are an abundance of kids pirate party supplies both online or mall. Here are some party decoration ideas I've thought of:
Fishing nets – these come in all sorts and shapes from cotton to synthetic materials. Some even come with crabs, lobsters, starfish embedded into the net themselves, which is really cool.
Cargo nets – These can easily decorate a plain wall to make the room feel you're on a ship sailing the seven seas.
Pirate pennant banners – there is always a need to have pirate flags raised high and these banners help keep the house stunning with style.
Feathered parrot – every captain should have his parrot and captain cook did, so should the birthday boy.
Skull with treasure decorative statue – sitting in the corner makes the plain seem dark and mysterious, which all kids get excited from.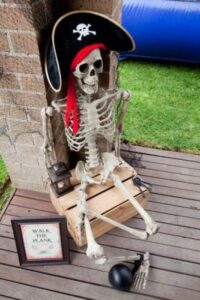 Gold coins – they can be bought really cheaply and placed both on the table or in a treasure chest. These come as plastic or chocolate.
Pirate flags – Every pirate ship has its flag and with some sailing high all around will be wary. Flags with the skull and bone image surrounded by black is a classic look and every party must have one.
Pirate boat steering wheel – is an added feature to make the room feel like it is a ship sailing on a new adventure.
Pirate ship silk drop – This is a great way to get each toddler and child their photo taken. This can also just decorate the room or a specific spot where all the partying is happening.
Balloons – These are fun and at the end of the party the kids are allowed to burst the balloons.
Red and white stripe table cover – Classic pirate color scheme and decorates any table to be a pirate feast, just make sure the captain eats first.
Birthday party activities and games
There are fun pirate games and with classics like musical chairs, you can simply call it musical islands or pirate wailing. The simple word-plays make the common seem like a new game entirely.
Every heard of passing the parcel or hot potato? These can be called "pass the cannonball" and with some themed music, the toddlers will be having a great time.
Here are some pirate birthday game ideas, activities and adventures are known to some as:
Walk the plank – as the game sounds it's about walking the plank. Split the kids into 2 teams and get a large blue sheet or tarp, a plank of wood and some images of sharks. The aim is to get to the other side, but as the plank gets smaller this becomes more of a challenge.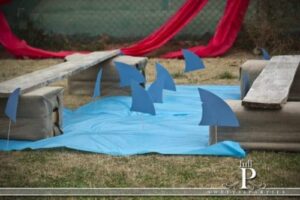 Here's captain Hook – Really simple and all they need to do is pretend to be like captain hook and the best of the bunch gets a prize.
Treasure hunt – As this sounds, scatter the treasure and let the kids find it. Sometimes a map and clues can be added in, but sometimes simple is best.
 Pirate party checklist
There are loads of ways to organize and plan a stress-free party. Some say its take 8 weeks preparing and you will have the perfect preschooler party at the end, but this also seems to work for kids of all ages.
The pirate plan checklist should include this:
Invitations – have been highlighted above and there are some great ideas mentioned.
Tableware – this includes; napkins, dessert plates, cups, cutlery, dinner plated, table-cloth, cake candles, cake topper, placements, utensils, and trays.
decorations – Chair covers, blow-outs, ceiling decor, scenes, standup, ribbons, helium, confetti, party hats, streamers, and centerpieces.
party favors – bags, candy, favor, boxes, and accessories.
Food – Ice, snacks, drinks, appetizers, cake, cookies, cupcakes and savory snacks.
Activities – party games, activity placements, costumes, prizes, music, pinata, entertainment (face painter, kiddie pool, bouncy castle)
Thank you – any way you feel is best…