Are you looking for the best smartwatch for kids and wondering which ones are the best on the market for children?
Smart watches are a relatively new staple of the modern era. They've only recently started to spring up in a cost-efficient manner, just 10 years ago technology this complex would've been worth thousands of dollars, now it's worth a few hundred at the most extreme ends of the spectrum.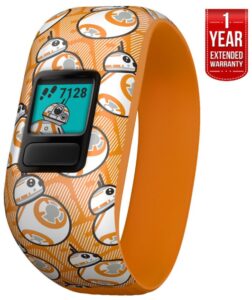 Smart watches come with a variety of benefits, they can track your sleep, track your calories burned, monitor your heart rate, let you answer calls on your phone and perform a whole other host of crazy tasks. 
They can be customised far and wide with special themes to give them a personalised feel, and there's a huge variety of manufacturers out there to choose from. Whether your kid has an android or an apple smartphone, there's bound to be a smart watch compatible with their phone that they will fall in love with. 
Has your kid expressed an interest in getting a smartwatch after seeing yours? You can pick a sturdier adult smartwatch and limit its functionality, or opt for a child's smartwatch designed to look more like an adults!
Maybe you want a smart watch with a gps tracker for kids for their safety?
Are you simply looking for one in order to ensure you can contact your kid easier or set handy reminders for them? There's a plethora of waterproof, sturdy kids smart watches that you can look into.

Some even have safety features such as "electronic fence" mode – this triggers an alarm and shows you your child's exact location if they wonder outside a set area! You can set it to the confines of their schoolyard during the day for peace of mind.
Here's our top Smart Watches and for normal kids watches you can check out our other review guide.
15 Best Kids Smartwatch in 2023
1.
Fitbit Ace 
The fitbit ace is a stylish, sturdy activity tracker for kids aged 8 and up. It has a wide array of features and a diverse functionality. It's showerproof and can operate between temperatures of -10° and 45° C. It's adjustable wristband can fit wrists between the circumferences of 4.6 to 6.1 inches.
It comes with a step tracker and activity + sleep monitor. It can even reward your kids with achievements and badges for reaching specific activity goals. Kids can even use these watches to message each other.
This watch also has child safety features, parental consent is required to configure the device. Afterwards stats can be synced wirelessly to an android or iOS device of your choice. 
Want to give your child an indicator of when to head home from playing outdoors? You can set an alarm on the watch which will vibrate when it goes off! It also displays time and has a customisable display. 
All sorts of reminders and alarms can be customised and configured to strongly assist with time management across all ages!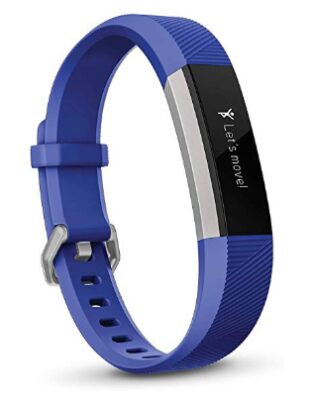 2. 
TickTalk 3
The TickTalk 3 is a really impressive smart watch for kids, it comes with an insane array of features that put it on par with most adult smart watches. These features include:
An instant messaging functionality with 2-way messages, allowing you to contact your child. They can respond with preset text messages such as "I'm on the bus" "I'll call you later" and more!
A GPS/Locator feature which, with the addition of 4g technology, allows you to see where exactly your child's location is. The locator even has a rewind feature which allows you to play back where your child has been. 
video calling functionality that allows you to have a face-to-face conversation with your child no matter where they are in the world.
Awesome, stylish wrist bands which can be swapped and replaced to your heart's content. This durable nylon wrist band compliments the watches waterproof technology very well, ensuring the watch is kept in good condition regardless of weather conditions. 
The customisable wristbands also pair well with the watches ability to change backgrounds to a custom image, giving the watch a more personal feel/
This watch is ideal for children who are slightly too young for a real smartphone yet, but grants you the same level of communication and benefits you would have if they were to have a smartphone. 
We would go as far to say its one of the best kids smartwatch on the market.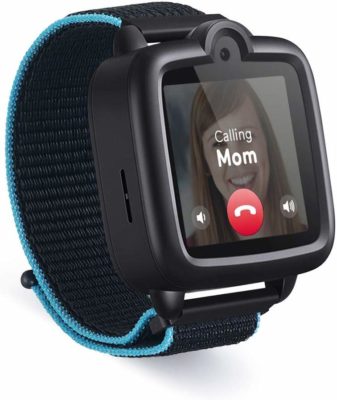 3. VTech Kidizoom
The VTech Kidizoom is chocked full of fun features including games, a voice recorder(complete with a voice changer) and even a video/photo camera with photo effects. 
It has a great amount of memory so your kid can store plenty of photographs from their amateur photography endeavours. It has a built in calculator too, so it can even be used to help with homework! 
Keeping in line with its original purpose (being a watch) it also has an adjustable alarm which can be used to wake up in the morning, or alternatively as an indicator of when to come home for lunch/to get ready for bed.
The clock faces are interchangeable and you can download a huge variety of new ones for added customisation.
The watches come in blue, green or pink colour – giving even more customisation to you and helping you pick based on your child's preference. 
This watch even comes with an augmented reality game called 'monster catcher' & a pedometer to measure steps taken!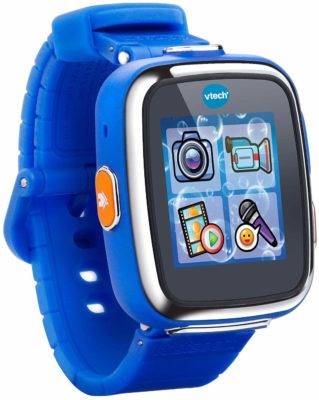 4.
Garmin Vivofit Jr. 
The garmin vivofit is a stylish, minimalistic step tracker. It comes in a variety of camo-style designs and has a staggering year long battery life with no need for a recharge! It has a water resistance rating (ATM) of 5, meaning it can even be worn whilst swimming. It has a 1 size fits all wristband which is stain proof. You can download an iOS or Android app which provides kids with fun and educational activities and challenges too!
The app has some cool key features, which include chore management/challenges, which can be rewarded with reward tokens!
The app also lets you add more than one child. It can help you keep track of their daily steps, how much sleep they get & other data regarding their daily chores/activities is all instantly synced to your smartphone of choice
This watch was built with younger children in mind, so it's sure to stand up to the trials and tribulations of youth!
So if you're looking for a waterproof smart watch for kids, this might just be the one you're looking for!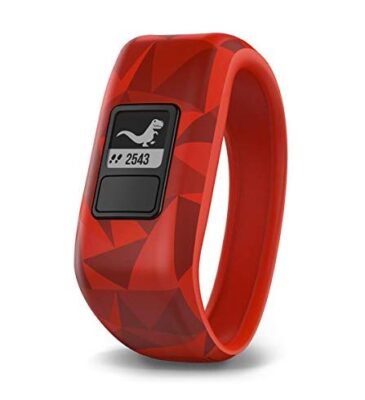 5. LDB Direct
The LDB Direct is an amazing smartwatch for kids, all of the bases are covered with this watch, with a lot of careful thought and consideration being put into the daily lives of kids. Parents can set a "class mode" which temporarily disables the smartwatch to prevent children from playing with it in class. 
This watch also allows you to establish an "electronic fence" on the devices GPS, whenever the watch leaves the boundaries of this fence, an alert is triggered and you can immediately find the location of your child. 
It comes in either blue or pink, giving you a bit of choice in tailoring it to your own kid.
This watch also has a SOS call functionality, allowing emergency calls to be placed in real time.
Apart from the outstanding safety features of this watch, it also has conventional functions. 2 way calls can be maid and voice messages can be sent and received!
It even has a functional camera, a working alarm system and a flashlight.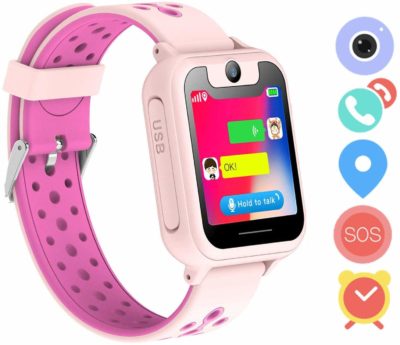 6.
OJOY A1 
This smartphone watch is ideal for children aged 4-10, The IP68 water resistance level means it can be submerged in up to a meter and a half of water for half an hour. It's compatible with SIM cards on the T-Mobile network, meaning it can handle conventional two-way phone calls. 
This is a fairly uncommon features of a kids smart watch and is incredibly advantageous in terms of being able to quickly contact your child at all times. It also allows kids to send and receive text/voice messages, it even has emoji support!
It has location tracking functionality, meaning you can track your child's whereabouts in the event you have difficulty finding them.
It comes with a calendar where you can input specific dates and events so your child can receive reminders. Never forget about an after school activity again!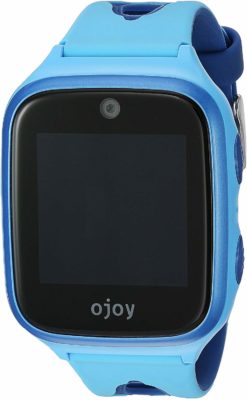 7.
Jsbaby
This stylish, adult looking smart watch is perfect for kids aged from 3 years of age right up to 12! It has a sleak, almost professional looking design and has a wide array of abilities and functions, including 2 way calling, text and voice messaging, a camera and even a weather forecast!
It also has an alarm clock, a SOS function and even has playable games!
Your kid is sure to never get bored with this awesome little device. Getting it in time for winter or summer doesn't matter, it'll bring them joy year round. Although the weather alerts may be a little bit handier to have in the winter so they know what temperature it is outside. 
It's built to look like a more 'adult' smart watch whilst still having the functionality and features of a childrens smart watch. This makes it absolutely excellent for anyone whose kids have expressed an interest in getting a smart watch after seeing their own.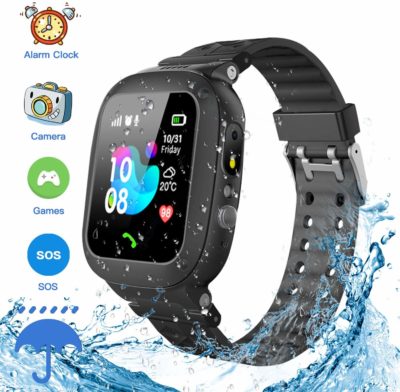 8.
Fitbit Ace 2
This fitbit ace2 is an excellent modern smartwatch for kids, it's a fitness orientated smart watch and as such allows you to track steps taken and minute active. 
It has an outstanding 5 days worth of charge in its batteries, less time on the charger means more time having fun!
The Ace 2 can be paired to a child-specific account which provides a limited interface. It can be used to challenge other kids to step challenges and there's even an option for basic 2-way text communication between watches. 
It also features a sleep tracker which helps you keep track of your kids sleeping schedule and ensure they're getting a restful night sleep to prepare them for the road ahead.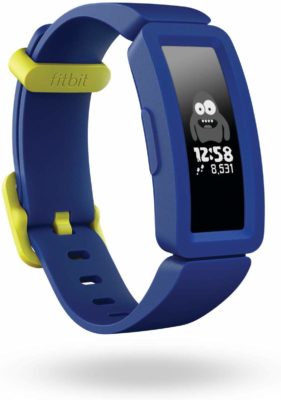 9. Amazqi
The Amazqi has an incredibly wide list of functions and functionalities, it's perfect for older kids and younger teenagers. It can be used to access social networking such as Facebook and twitter, place conventional calls and send texts. It also has an image viewer, a music player and practically any other function you can find in a modern smartphone can be found in this handy little watch. 
It doesn't need to be synchronised with a phone either, you can install a sim card and this watch can operate as a stand alone phone. Depending on usage, this device will last between 24 to 48 hours. 
A good little smart wrist watch for older kids.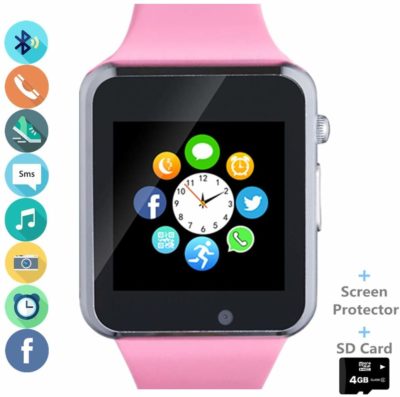 10. HuaWise
The HuaWise smart watch is packed with a whole array of funky graphics, fun features and awesome content to keep your kid entertained endlessly. 
The awesome, colourful design features a cartoonish logo and easy to read text. It's ideal for children between the ages of 4 and 12. It also has 7 different educational games, all of which help build your child's confidence in their problem solving skills, hand-eye coordination and processing speed. It's incredibly easy to use and comes with a manual for those still struggling. It's charged with a USB cable and has microSIM card support, meaning it can operate as a stand alone phone.
Some of the games included on this smartwatch include: Mario, Basketball, Ultimate Racing, Car Grab, 2048, Bee War & Pinball!
The battery can last 3-4 days on standby, which is particularly impressive as it only takes about 2-3 hours to charge.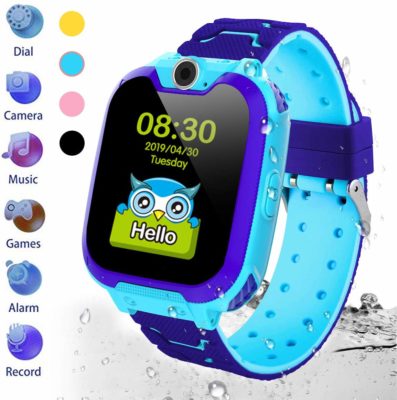 11.
L.O.L. Surprise
The L.O.L surprise watch is a cute watch that is ideal for younger girls, it has a cute pink design and a whole host of fun features – including 3 games, 2-way call functionality, a selfie cam (that can even take videos!), a calculator, a stopwatch and an alarm!
It also has an incredibly long battery life, meaning less time tucked away on a charger and more time having fun.
Perfect for your daughter, niece or any little girl who loves pink! Their little face will light up with joy as they see their stylish new watch.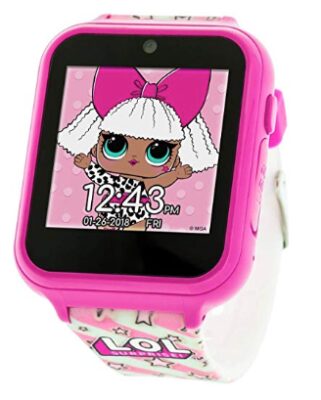 12. PROGRACE
The prograce is a really cool smartwatch. Despite being built specifically for kids, it has some really cool features you normally wouldn't find in a kids smart watch. Things such as a working flashlight and an FM radio. It also has a camera capable of rotating 90 degrees, transforming from a selfie cam to a front facing camera. Insert up to a 32gb micro SD card for awesome storage capacity. Transfer the card to a laptop or computer with an SD card slot or any working smartphone and you can upload the photos to social media!
Put music on the memory card and you can play music from the audioplayer!
It has 4 built in games, including an online ninja running game that's sure to captivate your kids attention for hours. 
Overall it's fun and sturdy design combined with advanced features is sure to provide hours of entertainment for your kid!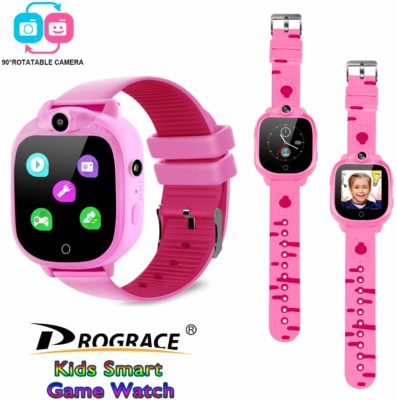 13. YAMAY
The Yamay is an incredibly great looking smartwatch, it has a high resolution screen and a wide variety of features and functions. It's perfect for teenagers and older children. Placing calls and tracking steps are of total ease on this handy device. It has a thick, adjustable rubber wrist band for extra security and is very lightweight and compact. 
The sports activity tracker has 14 different toggle-able modes than be enabled for tracking different activities. 
The pedometer is very advanced too, not only does it display steps taken, it can also display things such as calories burned, distance travelled, speed and heart rate!
The heart rate monitor provides continuous 24h heart rate monitoring. It even tracks your heart rate whilst you sleep!
It can be synced to an iPhones GPS system in order to provide map based navigation, all without the need to expose your phone to the world.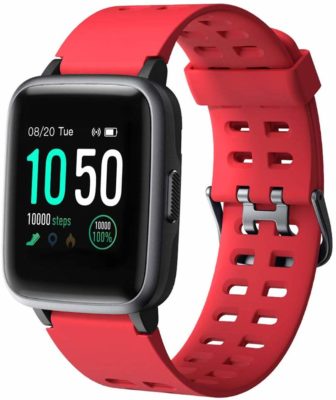 14. Trendy Pro
The trendy pro is a cool little fitness tracker designed for kids. It can be set up to provide vibration based alerts to remind you to exercise, or head in from a day of playing outdoors!
It's lightweight and waterproof, making it sturdy enough to withstand the active lifestyle of most kids. 
You can use it to set challenges for your kid to meet certain exercise goals. Turning fitness into a game can make fitness infinitely more accessible to your kid!
It can be synced to a fitness app on your own smartphone device in order to do things such as setting vibration reminders, setting goals for physical challenges & checking overall fitness progress.
The app can even be used to remotely control the inbuilt camera!
It comes with a spare wristband in a color that you can choose.
You can use the reminders for anything, from hydration reminders to after-school activity reminders.
It can even be configured to display social media, call & text notifications!
The app interface even has it's own integrated, fitness based social media system known as "strava". It allows you to tag family members and friends in fitness challenges monitored by the fitness tracker!
This all-purpose device is super handy if you're looking for something to help your child with time management, or even just something to encourage them to get out and be more physically active.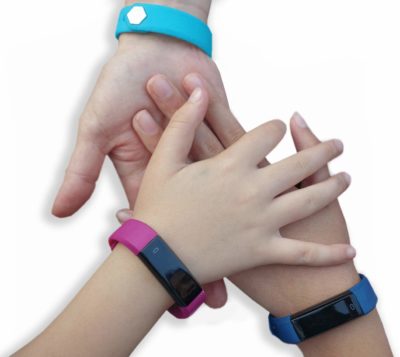 15. Garmin vívofit jr 2
We all know the battles of having to get your child away from the computer or the TV to try and get them outside. Its almost a chore for children to go and play outside these days but exercise is a vital component to remaining healthy.
Thats why we like the Garmin Vivofit Jr 2 as it encourages children to get outside and play. It also offers parents the option to incentivise chores too!
Theres a LOT of debate going around on whether or not its right to implement fitness tracking for your children but we will not go into that here.
Personally, we don't see a problem with encouraging your kids to get healthy by turning it into a game. This Vivofit Jr 2 is more about getting children to move rather than helping them to lose weight.
Whats wrong with that right?
You can reward them for doing chores by setting out rewards that they can get once they accumulate enough coins. How do you accumulate coins? Well you can give coins if they do certain chores, like 10 coins for making the dinner table or 20 coins for cleaning the dishes.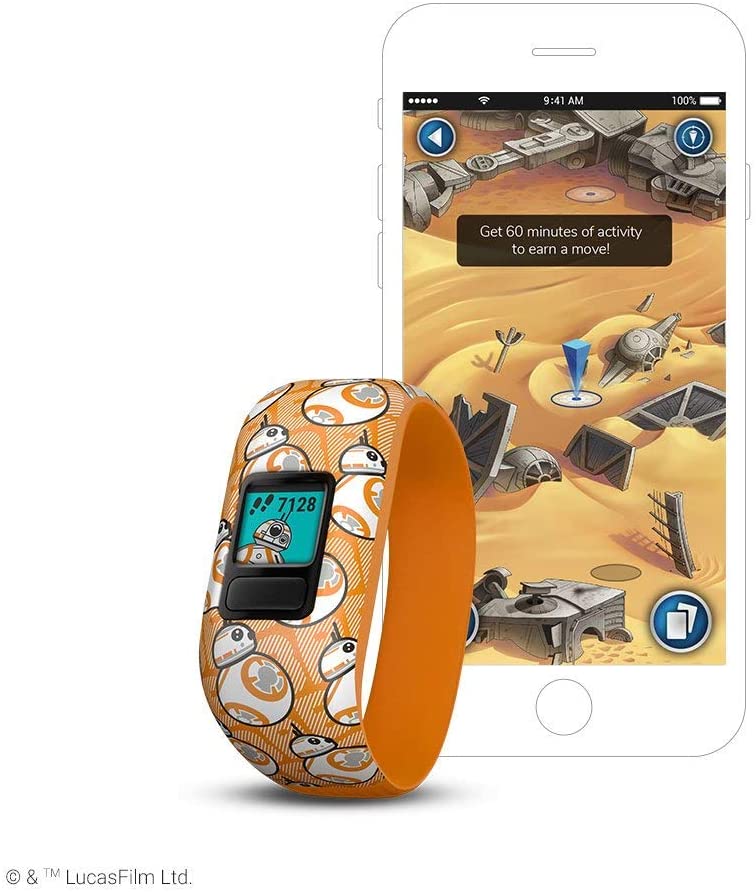 Summary
In summary, your best bet is to carefully weigh your options before picking a watch. If your children are younger should opt for something a bit more rugged. Waterproof with a reasonable level of protection from blunt force would be the best bet. If your children are somewhat older and more responsible – it's not unrealistic to provide them with a smartwatch that weighs more on the 'adult' side of things.
The benefit of a smartwatch designed for older children/adults is of course that it has full functionality. Meaning your child can contact you and you can contact your child at any time.
The downside is that smart watches with this level of functionality tend to be a lot more expensive, so if you believe there's a considerable risk of your child damaging the watch – you should opt for one more orientated for younger users.
Apart from functionality, charging time should be a useful factor in picking a watch. You don't want a watch that will run out of charge in 2 hours and take 3 more to charge. Pick a watch with well made, quality batteries to ensure that charge is retained for a reasonable amount of time.
If you plan on interfacing the smartwatch with a smartphone, it's important to check compatibility. Some smartwatches are designed exclusively with Android or iPhone phones in mind. If you own an iPhone but your watch is Android exclusive then you're going to have a difficult time interfacing with the device. (Unless you want to go to the trouble of emulating an android on your home PC/laptop)