Toddlers today are very accustomed to seeing phones, which is why you might have seen kids with Disney toy cell phones walking by, they are trying to be like mom and daddy. They are more familiar with technology than with any other generation and often know how to use tablets and mobiles better than their parents and grandparents!
While there are many conflicting opinions about the right age to buy your kids a phone, it is certainly no surprise that little ones love playing with them! One way that parents can feed their kids' curiosity is by buying a miniature phone for them. They will love pretending to be like the adults in their lives, 'talking' and 'texting' on their very own play cell phone!
While toy cell phones for kids are not a new thing – think of the classic Fisher Price colorful rotary phone toy – as technology moves on, toy makers adapt to offer items that reflect the world around us. So if you are looking for a phone toy for your little kid, read on. We have selected some of the best phones for toddlers to inspire you, and have compiled some tips to help you make the best purchase.
How to Choose a Toddler Cell Phone
When making any purchase for a little one, there are a few things you may want to consider. With any toy, safety should be the priority but you will also want to think about the age of the child you are buying for, to make sure they will engage with the toy and it will get their creative juices flowing.
Safety: make sure the baby toy cell phones do not have small parts or accessories that kids could remove and choke on or swallow. There are also a number of international regulations and standards that confirm toy safety, so it is a good idea to check that the toy conforms to these.
Age appropriate: a toy should be fun, of course, so think about the age of the child you're buying for. The best baby play phone might not be the same as the best toy cell phone for toddlers and it might also not be the appropriate toy cell phone for 6 year old. Children engage with toys in different ways, so make sure the item you choose is suitable for the intended recipient.
Features: as you will see in our guide, there is a lot of choice available! The phones have different features, from simple designs intended to look like the real thing, to more complex versions with built in learning games.
Best Toy Phones in 2023
1. Click n Play Phone
The Click N Play Phone Playset is a fantastic toddler play phone. The set includes a toy phone, toy remote control, and toy car keys on a key chain. The brightly colored set is sure to appeal to toddlers, who will love playing at being a grown up. These adorable toys are made of BPA free and non toxic material and have been tested to ensure they are kid safe.
They feature flashing lights and fun sounds to entertain your toddler and hopefully keep them away from your own phone, remote, and car keys. This playset has been designed to help little kids to practice their motor skills and develop their imagination. Toddlers of any age will love exploring the sounds and noises, sing along and playing pretend with this fun 3 in 1 set. They offer an exciting learning and fun experience and are definitely one of the best baby toy phones.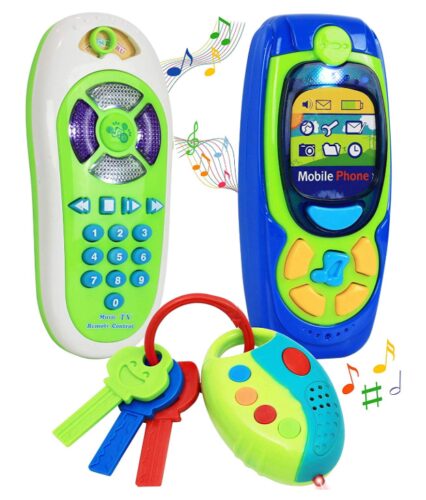 2. Leapfrog Chat & Count Phone
The cute Chat and Count Smart Phone from LeapFrog is a fun and educational choice. One of the best toy phones for 2 year olds, it features more than 15 learning activities focusing on numbers and counting, developing imagination, and social skills. When pressing the brightly colored number buttons, your toddler will see a cute dog character counting out the numbers 1 to 10 on the phone screen. If your little one presses the 'call' button, they can even swap voicemails with Scout or Violet, the doggy characters!
The music button will play fun songs when pressed, and your little one is sure to enjoy pretending that they have their very own cell phone. The Chat and Count Phone also teaches toddlers the usual social phrases to use on the phone, such as 'hello' and 'how are you?'. it is an amazing educational and fun chat learning phone.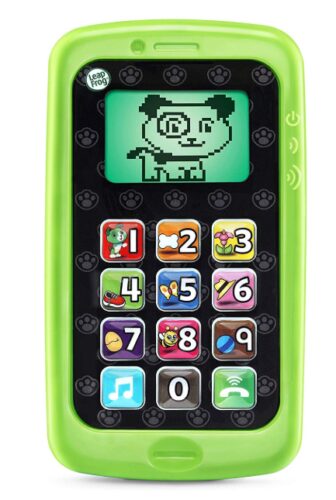 3. Joyin Remote and Phone Set
One of the most fun toy phones available for toddlers has to be this one from JOYIN. It comes in a bundle containing a realistic looking toy smartphone and a jumbo toy remote control. A great pick for best phone for 1 year olds, it is designed to be easy for little hands to hold and use, with giant colorful buttons and a large screen.
With the phone, toddlers can press buttons to learn about numbers and hear animal noise; play 8 different songs; press the camera icon to hear a shutter sound; and press the dial or end call button to play sound effects. The remote control features sounds and flashing lights as well as playing words in different languages to support language development. It is durable and made from 100% child safe ABS plastic so parents can be confident they are getting one of the best toy phones.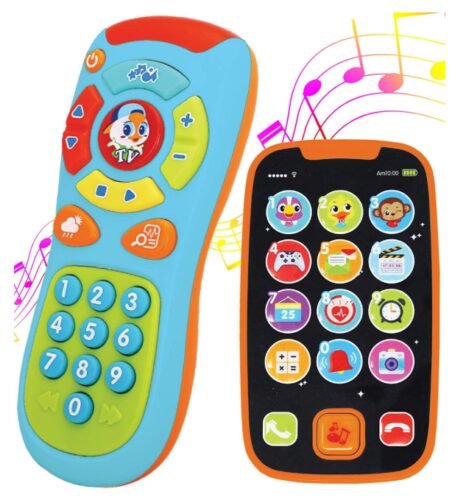 4. VTech Little Smartphone
VTech is a toy maker known for combining learning with electronics to offer fun and educational toys for kids and the Little Smartphone is another great addition to their range. This cute and colorful toy is one of the best pretend phones that will delight toddlers who love playing with mom or dad's phone – and will give them a chance to play with their own!
By pressing the number buttons, kids will hear friendly voices counting out numbers from 1 to 10, helping to aid number recognition and counting skills while pretending to make a vtech call . Toddlers can press the call button to light up the phone and hear the character say 'hello!'. The vtech phone toy also features two sing along songs and eight melodies that your little ones will love to listen to as they play games.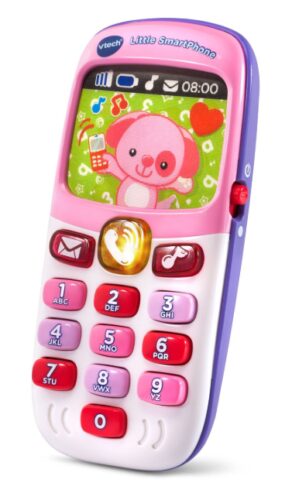 5. VTech Rock and Bop Music Player
Another great item in the VTech range is this Rock and Bop Music Player. Like mobiles for little kids, the toy music player offers hours of educational fun in a bright and colorful package. It comes with kid safe headphones that limit the volume and protect little ears. The toy player features 10 different musical learning games, introducing educational concepts like letters, numbers, animals, time, and musical instruments.
Your toddler can choose from over 100 musical tracks, songs, melodies, sounds, and phrases, so they are sure to get entertained for hours. They can even play songs in three different musical styles: hip hop, classical, and rock. The toy music player also has a remix mode so kids can choose different instruments to play the melodies and experiment with the sounds.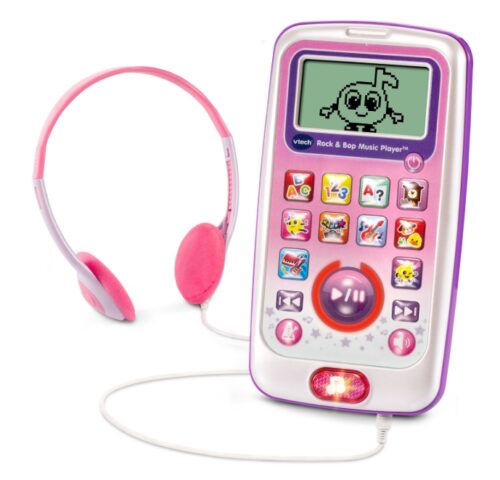 6. Infantino Flip and Peek Phone
Looking for flip phones for kids? The Flip and Peek Fun Phone from Infantino is a great choice! Little toddlers will love working out how to open and close this bright phone, and when they do they will get a surprise! The internal peek a boo mirror is sure to be a hit. With its compact and contoured design, it is easy for little hands to grasp and play with.
Suitable for babies aged 3 months and older, it plays realistic phone sound effects when the buttons are pressed. The phone also features phrases and greetings in both English and Spanish to help children learn words in different languages and help get them learning while playing . The Flip and Peek Fun Phone is available in bright pink, sleek teal, and vibrant green.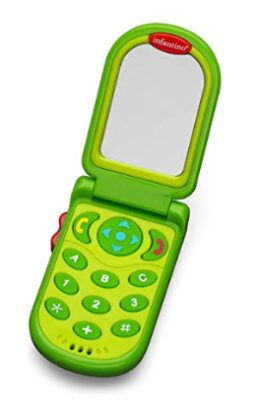 7. Disney Fancy Nancy Telephone
Are you looking for the best toy phone for a 2 year old girl? If she is a Disney fan, she will love the Fancy Nancy Telephone, with its bright colors and light up center. The well loved character Fancy Nancy is a 6 year old with a vivid imagination. In a classic rotary style design, it is full of fun features that any toddler is sure to love.
This toy telephone features a vibrant pink case with pastel pink, yellow, and turquoise accents. Kids will enjoy exploring these toddlers cell phones by turning the rotary dial. When the telephone button is pressed, your little ones will hear realistic sounds and French phrases just like in Fancy Nancy's world. The bilingual phrases are a great and fun way to introduce toddlers to another language and they are sure to love repeating the words they hear.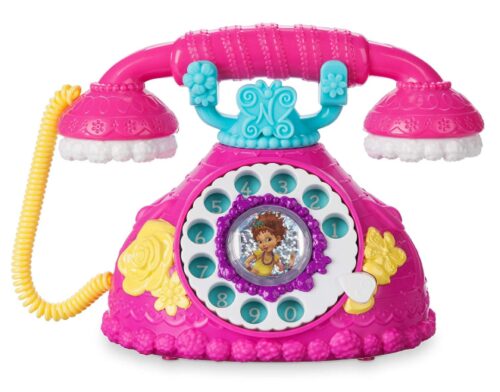 8. Dummy Cell Phone Set
Some children do not want toys, they want the real deal. They want to be able to play with mommy's phone, they want to throw dad's phone in the couch and have their cute mouths all over the phone. In situations like this, you would need a dummy mobile phone, one that looks and feels real. Real enough to convince your child into having all the fun in the world with it.
With these phones, kids will love playing with and exploring the fake screens, pressing the buttons, and having imaginary calls with their friends and relatives. This realistic toy cell phone is a perfect choice for your future business leader!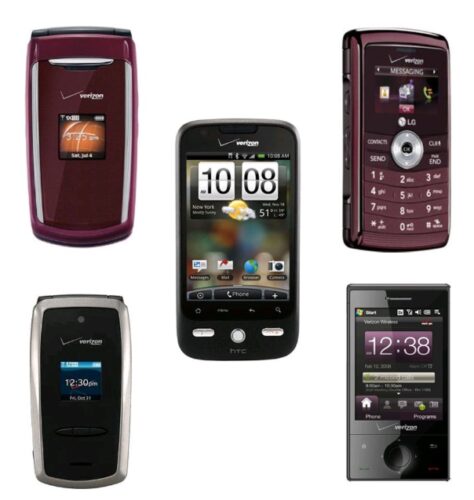 9. Replica iPhone X
If you have got a little one who will not be fooled by a toy, check out this pack of dummy cell phones from Unlimited Cellular. Fake phones for kids can be a great way for them to indulge in pretend play and let their imagination run wild. This set contains display models from Samsung, Casio, Nokia, Verizon, and Motorola, and each has a wide range of designs.
Set your toddler up with a phone just like mommy and daddy's, but without the risk of them running up a huge bill. Kids will love playing with this baby iphone toy and explore the fake screens, pressing the buttons, and having imaginary calls with their friends and relatives. This is one of those pretend phones that look real!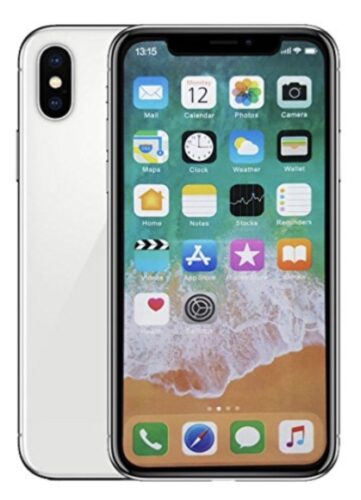 10. Kidz Delight Tech Set
The Kidz Delight Tech Toy Set contains everything your little tech head needs to entertain themselves. With a toy phone, toy remote control, and toy car key chain, the realistic looking set is sure to appeal to toddlers who love playing pretend. The smart phone has 18 touch sensitive icons, which play sounds and speech when pressed. It also flashes light while each sound plays, to stimulate visual and auditory development.
With the remote, your toddler can choose from 4 game modes offering the chance to learn about numbers in English, French, and Spanish. This is a great way to give your kid a head start in language development while learning in a fun and engaging way. The key chain features three colorful keys, each in a different shape. When pressed, the buttons on the keys make realistic sounds that are sure to delight your little one.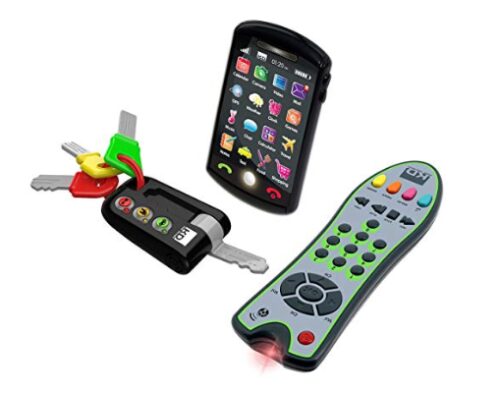 11. Learning Pad Fun Phone
The Learning Pad from Boxiki Kids is more than just a toy phone. It is an educational tool for toddlers and kids, focusing on teaching letters, spelling, numbers, and words in a fun and engaging environment. The Learning Pad is an exciting toy phone designed to help toddlers to learn critical thinking skills, teaching through quizzes and games. The perfect alternative to an electronic tablet for little toddlers, this pad is ideal for long journeys, airplane or car rides, or just playing with at home.
It is designed to be durable and sturdy, made from high quality materials, and is strong enough to withstand a lot of use from little kids. Designed just for toddlers, the tablet features more than 100 sounds, songs, and melodies, pretend voice activation and 3 educational learning modes. This would make a great gift for any toddler, as it is fun and supports the educational development of multiple skills. it is astounding learning phone to get your children to learn elementary skills in a fun way.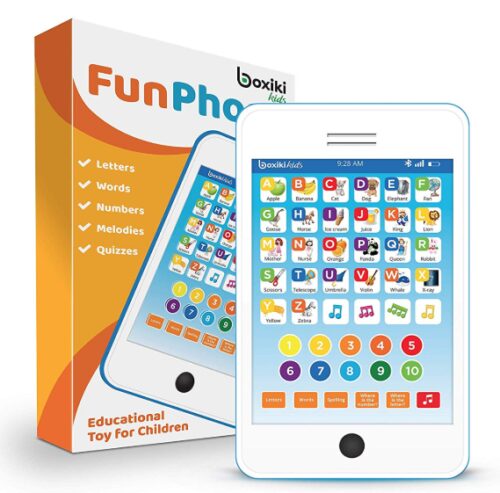 12. Fisher Price Laugh & Learn Phone
Fisher Price is one of the market leaders in baby cell phone toys and their brand is known for making fun, brightly colored toys that kids will love. With the Laugh and Learn Leave a Message Smart Phone, toddlers can record a 'voicemail' message and play it back, a feature that is sure to delight little ones! They can also play games with the eight interactive pretend apps, explore the emojis to introduce feelings and emotions, and play more than 75 songs and phrases.
Flashing lights complement the many sounds, which introduce numbers, greetings, and common phrases. Toddlers can pretend to call friends and relatives by touching the giant number icons, designed to be accessible for little fingers. These are fantastic educational pretend phones for little ones that will keep them engaged for hours of fun.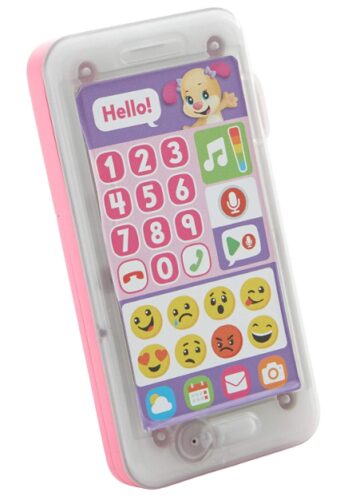 13. VTech Touch and Swipe
The VTech Touch and Swipe Baby Phone is another great electronic toy from this well known brand. Designed for infants and young toddlers, in particular, the phone features bright and vibrant colors that are sure to appeal to little ones. It is an educational toy that aims to introduce role play, pretend play, and hand eye coordination to babies and toddlers through its fun and interactive interface. The 12 built in pretend apps will light up when kids press them, providing fun feedback on cause and effect.
Kids will love playing with the pretend calendar, clock, and weather. The music screen plays 15 melodies and sing a long songs that toddlers are sure to enjoy They can even toggle between the app screen and the music mode screen using the fun slide button at the bottom of the screen. Another cool feature is that the home button saves your phone number so toddlers can practice calling home without the worry of racking up a phone bill!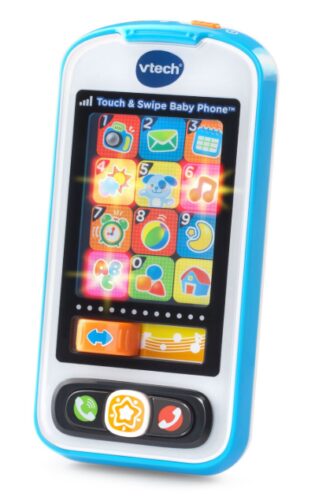 14. Coolle Cell Phone with Music and Lights
If you are looking for a baby cell phone, this item from Coolle could be the perfect choice! Its jumbo buttons and vibrant colors are sure to catch your baby's eye as they play with the phone. With voice content, music, and cute sound effects, it will entertain your baby as they explore the buttons and sounds.
The phone toy is designed to stimulate hearing development with its baby friendly sounds and voices, visual development through the different bright colors on the interface, and tactile development with different sizes and shapes to explore. They can also learn about cause and effect by pressing the buttons and finding out what happens! Babies love to play pretend even at a young age, and they will adore pretending to be just like the adults in their lives while interacting with this fun toy made just for them.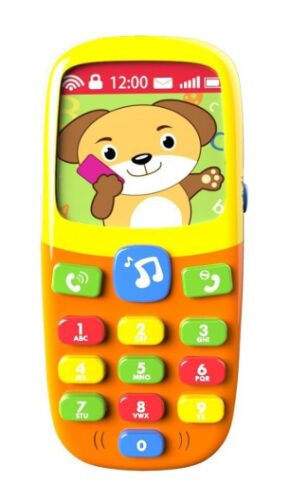 15. Peppa Pig Flip and Learn Phone
Need to find the best toy phone for a 3 year old? What could be better than this Peppa Pig Flip and Learn Phone from Wind Designs? Featuring the cute pig character that toddlers and preschoolers adore, this bright pink phone has lots to attract and engage little kids. Kids will love pretending to make and receive calls by pushing the bright multicolored buttons. They will be able to hear Peppa and other popular characters from the TV show, including Rebecca Rabbit, Candy Cat, and Suzy Sheep.
The camera button presses down to simulate taking a real photo, and there is even a quiz game that toddlers can play using the number buttons. Designed for toddlers aged 18 months and above, the Peppa Pig phone features a light up screen that imitates a real phone so that kids can become fully immersed in their imaginative play.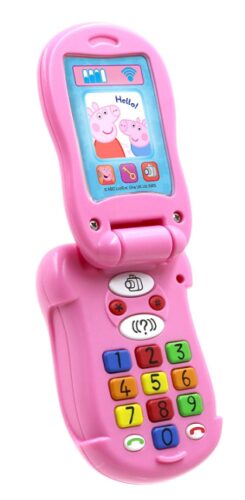 Best Toy Phone for Toddlers
We have presented a wide selection of choices and we will now select the latest toy phones for toddlers. We believe that the best mobile phone is the VTech Little Smartphone. It is a fantastic item, with a fun and engaging interface that is just the right size for babies and toddlers to hold. Kids will love having their very own phone to play games with, and the light up screen and holographic puppy image are sure to interest them.
As well as large buttons designed for little fingers, the phone features two sing a long songs and eight melodies to capture the attention of your toddler. It is excellent value for the quality of the product, and as it is made by a trusted brand, parents can buy with confidence.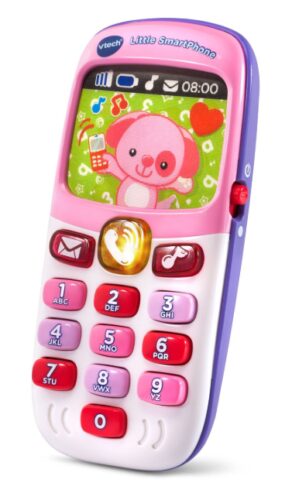 Where Can I Find a Toy Flip Phone for Kids?
If you are looking for a baby phone, a flip phone could be a great choice. Infants will love opening and closing the lid of the phone, which is easy for little hands to do. The Infantino Flip and Peek baby Phone is a great pick for this age, as it is chunky and designed to be easy for babies to hold. Babies will love seeing themselves in the peekaboo mirror, and the fun and bilingual phrases encourage early language development. It comes in three color styles so parents can choose which will best engage their little one.
What Age Should Kids Get a Phone?
This is a topic of much deliberation for parents, kids, and experts alike. While kids these days are very familiar with all sorts of technology, so are often keen to convince their parents to buy them a phone. Additionally, many kids do have their own phones from a young age, so when kids see their friends with a phone they are more likely to pester their own parents for one.
This is a decision that only parents can really make, as they know their own children the best. A few things to consider before deciding to buy your child a cell phone are: whether they really need one, whether they are likely to rack up a huge phone bill, and whether they will look after the phone.
How to Use an Old Cell Phone for Kids Games Only?
If you would like to use one of your old cell phones so that your kids can play games on it, the best way to do this is to remove the SIM card. This way, your kids will not be able to make or receive calls or access the internet via mobile data. The only way they can use apps and games with this method is by using your phone's inbuilt Wifi.
Take a look at these also: