Looking to buy some baseball gear for a kid who likes the sport? We all know that baseball is a loved pastime for a lot of kids growing up, wearing the jersey, and being just like their favorite sports star in the garden playing for hours.
When it comes to finding baseball toys there are loads to choose from, ranging from competing in the sport, ways to train and develop skills, or even just books of facts to raise the knowledge they have on the sport. This game can bring families together, through the love of sport sharing a passion for a team supporting them or playing for little league teams can provide lots of fun.
When choosing a gift there a lot of things to think about, especially when it comes to the team, here are a few things to consider before buying one of the amazing baseball toys below.
Considerations When Choosing Baseball Gifts
Experience – Toys that are designed to build skills in baseball should be at the level your child is or wants to be, something that is too easy is going to become boring and not help them advance in any way.
Style – The style of the gift can alter, some kids may be really into baseball but are not fully keen on outdoor sports, so something like a decorative light or a book of facts could be the better gift idea.
Training – Training is a big thing in this sport so that kids can excel in the area they want to focus on. It is important not to force anything on young kids but gentle encouragement in areas you believe they could work on will make them enjoy the sport even more as they see greater results in their own playing ability.
Team – The team is a big choice, no matter what the gift is even if it is the best thing in the world if it isn't the right team then it won't be the right gift. So it is good to find out what color your child team plays in and things related to them.
Top Baseball Gifts Ideas
1. FlyonSea Baseball Nightlight
These amazing nightlights are great baseball gifts for your kids if they have a keen love for anything baseball-related.  The touch control allows for 7 different color changes yellow, blue, cyan, white, red, purple, and white. It can be fixed on one color or set to gradual color change.
The base is strong with 10 LED beads, all powered by 3-AA batteries, or for constant power, you can connect via USB to a computer or plug. Simple and stylish a great gift for birthdays and Christmas, the perfect decoration and the change of color will match any room color decor.
This lamp is an amazing product and could even be great used in a cafe or bar so this can be enjoyed by not just kids, but adults with that keen interest in baseball.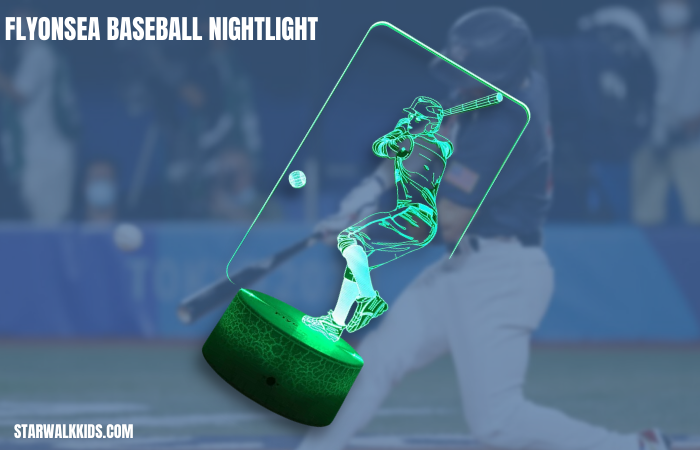 2. Schutt Baseball Helmet Desk Organizer
The Schutt Baseball helmet organizer is a great way to keep your desk neat and tidy. This functional desk caddie can hold anything from pens, pencils, highlighters, business cards, and other items you would find on a desktop.
A mini helmet design with outstanding craftsmanship from start to finish, the perfect fit to any desk. They can be featured with any team logo so is the ideal baseball themed gift for any sports fan.
The helmets also come in different colors, matching with your team's colored jerseys for that authentic design.

3. Kaskey Kids Baseball Guys
For kids who love anything to do with baseball, this box will inspire hours of creative role-playing fun. An educational toy that will start developing children's social, emotional, and cognitive skills from an early age, recommended for ages 3 and up. Also, a great tool for parents and coaches to show younger toddlers the rules, player positioning, and different plays of the game, a wonderful visual aid.
This 27 piece set comes in a sturdy storage box making it easy to travel with and a way for your kids to keep their toys organized. In the box, there are instruction manuals describing the basic strategies of baseball, the adjustable scoreboard for keeping track of the game, 24 baseball men in different colors making 2 separate teams, an umpire, and a 26 x 26-inch field which folds away in a compact way making it easy to keep inside this amazing storage box.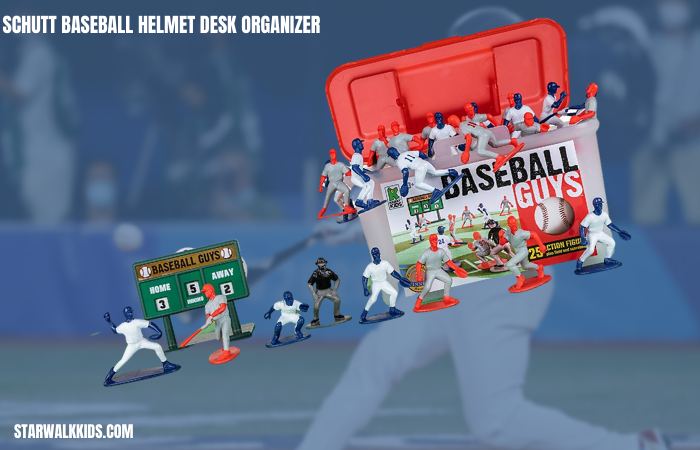 4. SKLZ Bullet Baseball
Balls themselves are great kids baseball toys, either for practicing their throwing and catching skills or how hard they can hit them. The Bullet baseball from SKLZ is the perfect pitching trainer for any skill level or age.
The ball can accurately measure the throwing power of up to 120mph from different range pitches changing from distances of 46′ to 60′ 6″.
It needs an LR-41 mercury battery which is included in the box.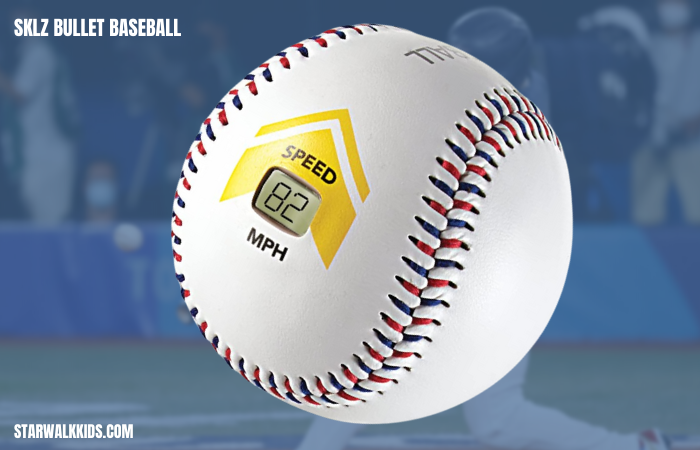 5. Under Armour Black Baseball Cap
Baseball stuff for kids can range from shoes, kits baseball cards, or even hats. This hat from Under Armor is great, made from 100% polyester, and easy to clean those tough stains as it is machine washable, retaining its shape perfectly.
The anti-odor technology in the fibers prevents the growth of microbes that cause bad smells you can sometimes get from sweating in hats completing sporty activities. The moisture transport system dries sweat really quickly, not leaving an uncomfortable head.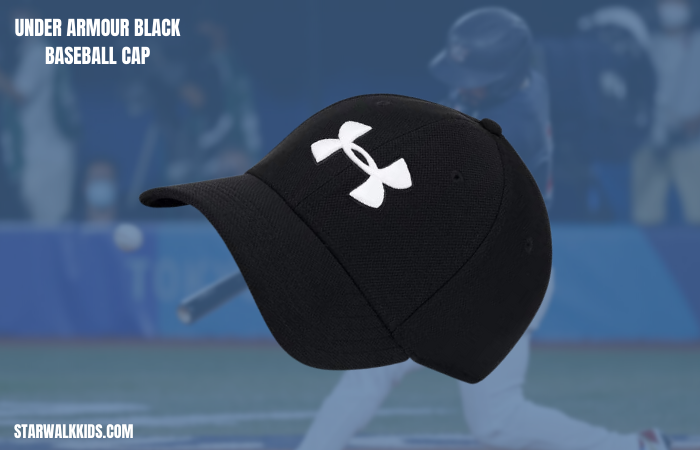 6. Mad Sport Stuff Baseball Socks
These socks are wonderful, adding a fun new look to the baseball field, coming in a variety of different colors that will match with any of your favorite team's jersey colors, a fresh take on the traditional sock style.
Accurate sizing will fit small kids from size 12-5 all the way to 12+ in adult sizes, so your little ones can match up with a dad as they play baseball on the field. Made from performance materials having moisture-wicking technology, blister control, arch, and ankle compression to reduce fatigue, double welt heel, and toe design, lightweight feel and odor bacteria control with infused Alphasan Antimicrobials. A quality product made in the USA with love.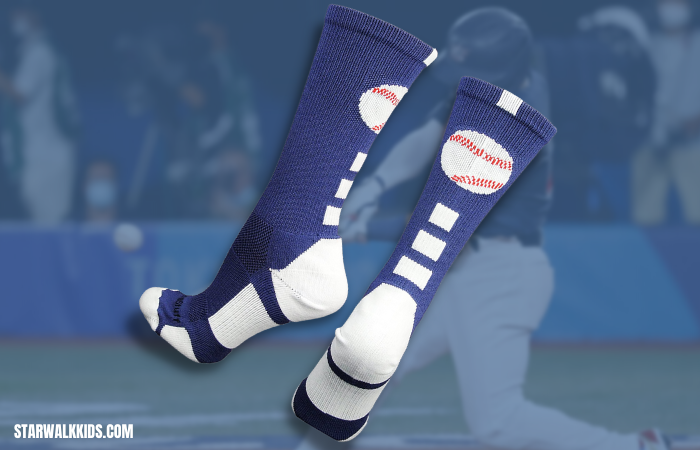 7. Franklin Baseball Pitch
Baseball toys like the Franklin Pitch baseball set are great for a hands-on way to improve the skills of your little ones when it comes to the world of sport. This auto ball feeder will fire multiple balls towards the batter, providing loads of swing action practice.
Made from durable ABS plastic, this easy to construct kit contains a 25-inch plastic bat which has collapsible, telescopic technology making it easy for tidying away. Three AERO-STRIKE plastic balls are also included making them safe and fun for the younger members of your household.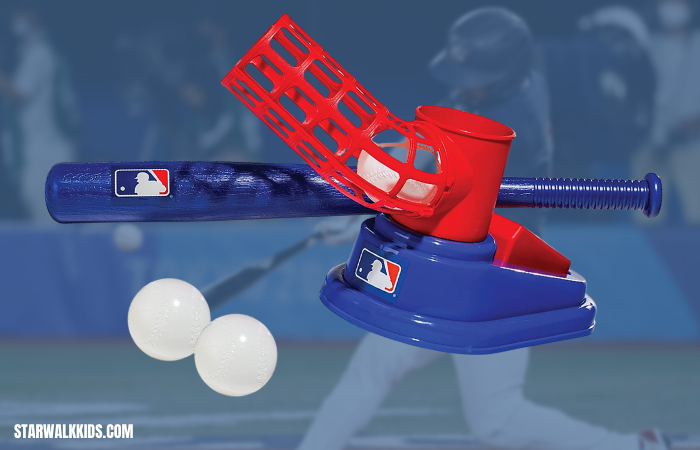 Read Also: Best Football Gifts for Kids
8. Custom Cotton Jersey
Made from 60% combed ringspun cotton and 40% polyester, these wonderful jersey shirts are made completely in the USA with the best materials. Customize your own jersey by adding your name and number, choosing your size and color, matching your favorite sports teams. These custom sports jerseys are made from high-quality fabric suitable for casual and sportswear alike.
The shirts are screen printed with state-of-the-art technology in digital printing, long-lasting and durable for any kind of sports. No fading will occur from using in the washing machine, inside out washing is recommended n a cool wash in order to ensure the prints last for a long time. It is also recommended that they receive air drying techniques rather than in the tumble dryer, another way to keep the prints looking fresher for longer.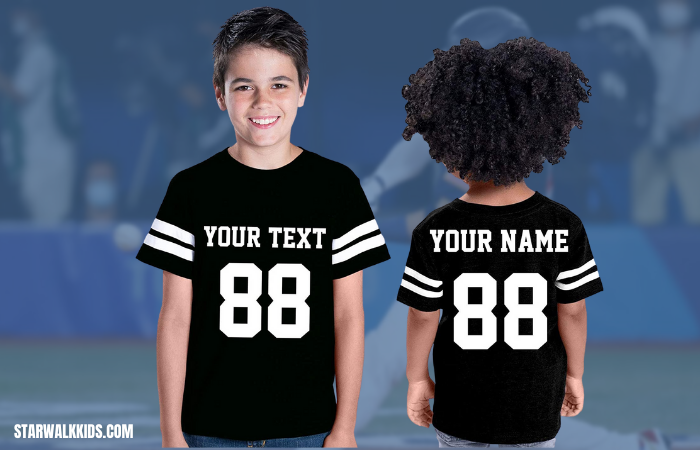 9. Franklin Sport MLB Teeball Starter Set
This all in one set comes with everything your child will need to develop their skills in the game of baseball. An easy to assemble set that comes with rubber throw down bases, pitch back net, and batting tee giving more time to play ball than set up the game area. Practice hitting, running, throwing, fielding, and much more with this all in one set, ideal for youth baseball players wanting to improve their skills becoming the complete baseball player.
Baseball stuff for kids like this is great, bringing the field to you, making it a possibility to turn any backyard or park into their own personal diamond baseball playing field. Lightweight and portable the components are strong and a good weight to carry around, taking them on trips out or on holiday or even just from the backyard back into the house.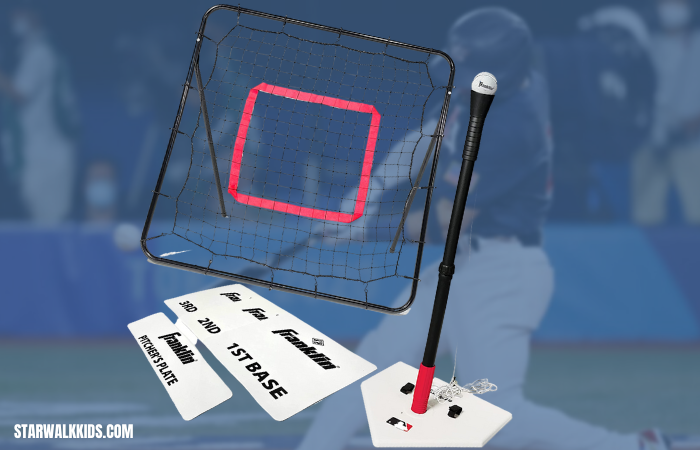 10. The Baseball Fanbook
Some kid's baseball toys are there for knowledge rather than playing the actual game. With the baseball fan book from sports illustrated kids your little ones will learn all the inside knowledge that real fans will love to know. The in-depth trivia will go into detail on stats, skills, lingo and random trivia so that they can impress their friends, family, season ticket holders, and even coaches.
Specifically designed for baseball fans aged 8 and above who already know the basics of the sport that they are in love with, but are wanting to become super fans. The chapters include Team Tidbits which give facts about every team in the league, Think Like A Manager which are essential strategies of plays in a well understandable way, He Reminds Me Of which is different comparisons of current players relating to legendary greats that have played the game over the years.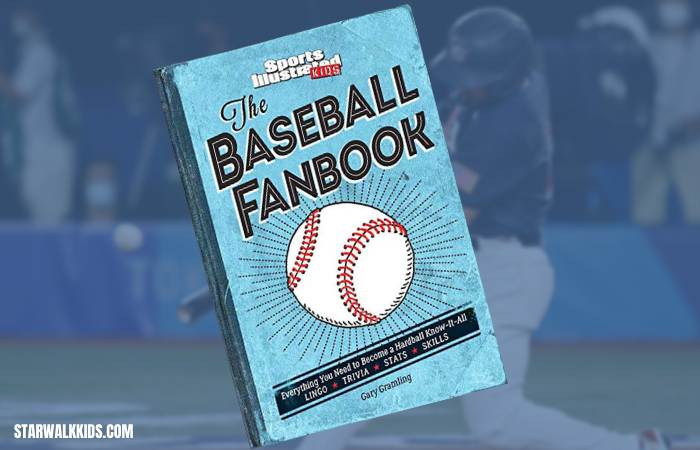 11. Reduced Impact Safety Balls
The safety ball from SKLZ is a reduced impact training ball that provides an authentic look of a baseball with a soft, cushioned design that will help young players build their confidence in catching these balls, reducing the fear about the impact. They have the same size and visual cues as a regular baseball providing effective training conditions when used. The set comes with 2 safety balls which are both standard baseball circumference of 9 inches.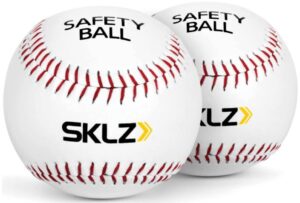 12. Franklin Sports Kids Batting Tee
This batting tee is amazing, it is designed to adjust with your child's growing years teaching them and improving their skills when it comes to batting. The hanging tee is specifically designed for young players, hanging the ball between 18 and 26 inches from the ground, using self-stick technology which will develop kid's hand-eye coordination, one of the main skills needed for this all American sport.
Once your child has grown enough or has improved, remove the hanging attachment to transform it into a traditional batting tee in a blink of an eye. The traditional tee also adjusts going from 25 to 36 inches in height. In this baseball set, there is everything you need to get your child started playing baseball. It includes a 21-inch plastic bat and 4 baseballs that have self-stick covers, providing you everything you will need to start playing. Perfect for kids aged 3 and above.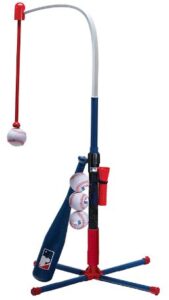 13. New Balance Kids Molded Baseball Shoe
These molded baseball shoes from new balance are great for kids on the field. They came in a variety of different colors, making them a favorite for any kind of kids. Made from 100% Synthetic materials these shoes are built to last, with rubber soles that add loads of grip when running around on the baseball playing surface. The shaft of the shoe measures approximately low-top from the arch providing a comfortable and sturdy fit, when the added pressure of running jumping and sliding around comes into play.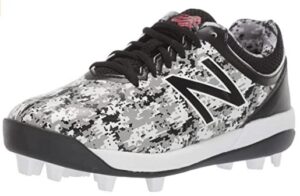 14. Franklin Teeball Performance Glove
This lightweight glove from Franklin is constructed with material that will offer maximum comfort, with a lightweight mesh making it easy to get used too for young players. Soft and comfortable makes this glove easy closing and no break-in time getting fully used to the glove that you can sometimes get from other designs.
It comes with a foam ball, giving your child everything they need to start catching practice right from the very moment they open the packaging. This is the perfect glove for first-time users giving kids the chance to practice their baseball throwing and catching skills. It comes in both left and right-handed throwing preferences so it is perfect for everyone, as it is also available in lots of different colors your kids will love.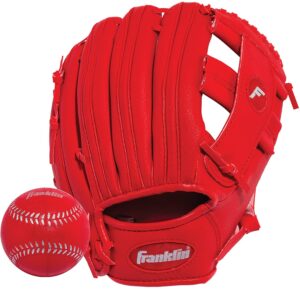 15. Oversized Foam Baseball Bat
Franklin Sports have produced this huge foam bat measuring 24 inches from oversized soft rubber with a blow-molded inner core, the perfect size, and shape for young kids learning to play baseball. Included in the set is a soft baseball larger than a regular-sized ball making it easier for kids to see and hit. The grip on the bat also features soft foam making it super comfortable on kid's hands when learning to play the sport.
Designed for kids aged 3 and above, the perfect way to introduce this amazing sport to your little ones. They will feel like they are one of the pros when they are representing the official MLB logos that are featured on the bat and ball.


16. Little Tikes Jumbo Baseball Trainer
The Jumbo baseball trainer from Little Tikes lets your children practice their throwing arm by using the inflatable target. Your little ones will learn hand-eye-coordination skills and be encouraged in active play. Within the box, there is 1 inflatable trainer that stands over 3 feet tall and 3 baseballs perfect for kids between the ages of 3 and 6 years old.
Adult assembly is required but it is an easy setup and is also really easy to store away when its time to stop playing in the garden. An air pump is required for inflation but is not included in the box.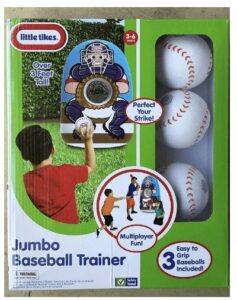 17. Aluminum Baseball Bat
The barracuda tee ball bat has a larger barrel than normal, 2 5/8 inches making a connection with balls thrown a little easier so that driven ball can be made with good contact. The bat is made from an aluminum alloy that is a durable, high-performance material, remaining lightweight and easy to control but giving that increased 'pop'.
The tape that is wrapped around the handle is extra strong, it has been designed to be extra tacky for the best grip, so small hands can control the bat with ease, creating good swings on the ball. Tests have been done with this bat to meet all USA baseball standards and are approved for league play. It has been designed to be used with soft-core tee balls, and youth baseballs. The long and lightweight design is fr increased pop and bat speed, measuring 25 inches in length but only weighing 14 ounces.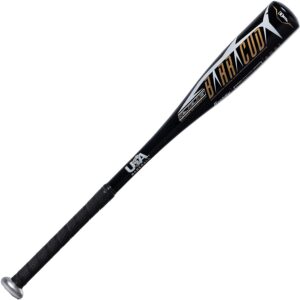 18. Nintendo Super Mario Baseball Cap
Baseball caps can be good for sports but also involve other interests that will get kids excited. This cap from Nintendo shows your kid's favorite characters in a colorful design that seems to pop out in a 3-dimensional form. Made from 100% cotton and has a 5-panel baseball cap design.
Not suitable for machine washing, so this hat must be cleaned by hand. It has a hook and loop closure with an easy-to-use adjustable snap design. A great feature is the inside sweatband that is great for those hot days in the sun, or when you are playing high intense sports. Designed for toddlers between the ages of 2 and 4.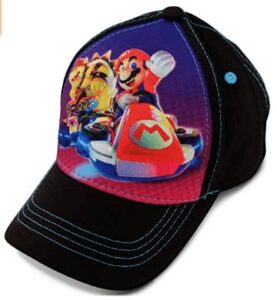 19. Customizable Eye Black Stickers
These customizable eye black stickers are great, just peel back and stick underneath the eyes. Made from non-toxic material that is safe to use on skin and will stay fixed for as long as you want them there. Fully customizable, just write anything you want on the stickers with the white pencil include in the set.
The eye stickers are designed to reduce glare from the sun so that you will be able to keep your eye on the ball when batting or catching from the field. Perfect for both kids and adults alike, as they provide a great purpose, adding a cool style to the look of any player.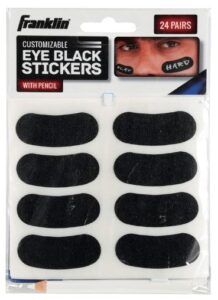 20. Easton Bat And Equipment Backpack
The Easton Bat backpack has everything you will need to store all your baseball goods. With brand new rubberized pullers, a fence hook for smart gear storage, dugout functionality, and updated sport utility configurations.
There are separate shoe compartments that are ventilated to stop any bad odors. An interior shelf is in the main compartment for the ultimate organization storage. Padded shoulder straps and back parts are there for comfort, there is also an amazing top pocket for personal storage items.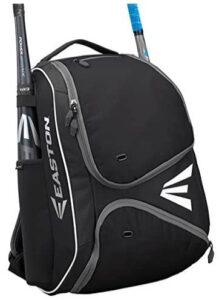 Best Buy Overall
The best overall buy is the kids batting tee from Franklin, an adjustable batting tee that will help develop young baseball players for years, with it being able to be adjusted as they grow in their early years. Once big enough your child can remove the lowered section and use it as a regular batting tee, providing a great practice tool. Designed for kids aged 3 and above, this baseball toy is a great way to get kids involved in the sport early.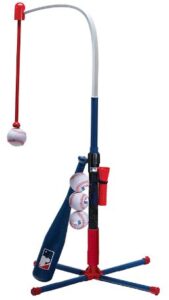 Best Budget Buy
The Kaskey kids baseball guys set for us is the best budget buy product in our line up. This set includes loads of different pieces to enjoy a fully role played game of baseball that your kids can enjoy for hours. A great gift for birthdays and Christmas that all kids will love. Even as decorations this set would be great, using the little baseball guys as birthday cake toppers or even desktop decorations.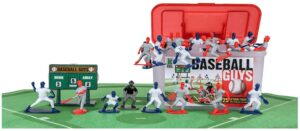 Gifts for Girls Who Love Baseball?
The SKLZ soft baseballs are great for girls who have a keen interest in the sport. They are designed to give children courage in catching and batting regular baseballs. They have a softer, more cushioned design that has less impact when being struck, or when being caught.
Visually and sized they are the same as regular balls so your brain will recognize them when it is time to start using the real thing. The box contains 2 balls so they can be enjoyed by more than one person, which is great in these kinds of team sports.
Gifts for Little Boys Who Like Baseball Cards?
The Schutt Baseball helmet desk organizer is great for boys who love baseball cards. The organizer has a section for pens, pencils, highlighters, and most things that you would expect to find on a desktop area, but most importantly there is a place to hold baseball cards in a neat and tidy fashion.
These Organizers are great as they come in a variety of different colors that will match with the colors of your favorite team, along with the logo of them.