3D printing has become very popular over recent years and continues to rise in popularity all the time. Even kids are wanting to get involved with this cool trend, which is why it's a great idea to look at a 3D pen for kids. They allow kids to easily join in and start making their own 3D models, without having to purchase an expensive 3D printer. What's more, these pens are really easy to use and are suitable for children as young as 6 years old.
Kids will have hours of fun getting creative and coming up with new ideas of what they can draw and make with their new pen. But, there are many different options to choose from, so how do you know which to buy? Read on below to find out how to pick the best, then check out our reviews of the top 3D pens on the market today.
Considerations Choosing 3D Printing Pens for Kids
First, there are a few things worth considering when it comes to picking out one of these cool pens for your child. Their age is the first factor – these pens do have parts that get hot, so your child needs to be old enough to know to keep their hands away from the heat. Some of the pens are suitable for younger users, but it's always a good idea to take care.
Also, think about the budget. You might find the most expensive pen isn't necessarily the best. Check out the different features each offers and decide which are the most important to have and make a decision based on this. Check what the filament is made from and that it won't give off nasty odors when melting. Also, look at what colors are available and how long it takes to harden, as kids might not be too patient at letting their model set before they want to start playing with it!
Best 3D Print Pens for Kids
Now we know a little more about choosing a 3D doodle pen, it's time to take a look at the different models which are on offer. We've chosen out the top ten so you have plenty to choose from.
1. 3Doodler Start
Our first pick for making 3D pen art is the Start from top brand 3Doodler. This one is perfect for all kids aged 6 and over, as it has no hot parts making it safe to use, even by little ones. The pen is really simple to use, as it has only one speed and one heat setting, and the plastic hardens quickly so there are no long waits for it to set. There is a compatible app with this pen, which gives loads of helpful advice such as stencils and interactive instructions, great for giving kids some ideas about what to draw. As well as the pen, this set includes a starter pack of the plastic strands – almost 50 in total and in various colors. There are loads of pen refills for this brand too, which makes this a good option to buy.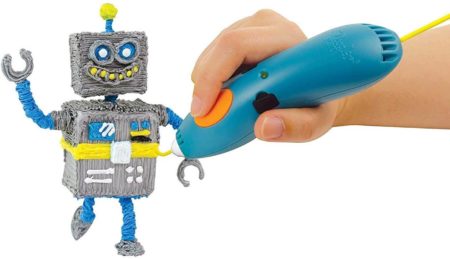 2. MeDoozy 3D Pen Set

This 3-D pen is suitable for preschool-aged kids and upwards, as it only has three simple buttons to learn to use. It's ergonomic for little kids to hold comfortably when using, and the nozzle doesn't heat up enough to cause burns if it is touched by your child. The nozzle is designed to prevent clogging and the pen is lightweight to hold. The pen has with it stickers to customize a cute animal face on the front, and it also comes with molds for making small shapes and patterns. The battery on this pen is rechargeable and gives up to two hours of use on a single charge. The filament included is PCL and doesn't give a smell when it melts, so overall this is a perfect set for young kids.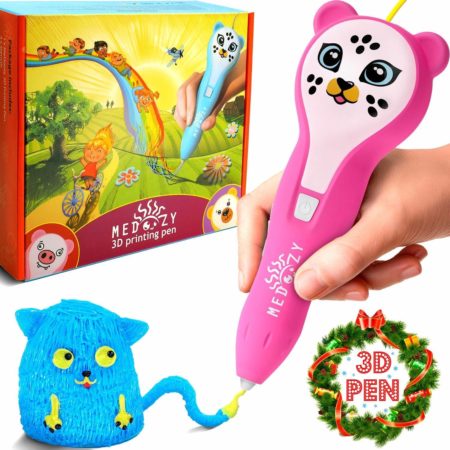 3. 3Doodler Pen Create+
Here we have another excellent pick from 3Doodler, this time it's the Create+. This one is great for older kids and teens, as it is more powerful, durable and reliable than previous models, yet it is still just as easy to use. It comes with 15 colors of plastic refills, so kids are sure to have hours of fun making different models in all their favorite colors. The filament which comes with this pen is non-toxic and very smooth to use, and as such it's recommended to only use this brand when the time comes to buy more. The pen won't get clogged up easily, so every drawing experience is fun. It offers the ability to adjust the speed depending on whether a small or large area is being covered, and the pen can also handle different types of plastic thanks to the temperature control.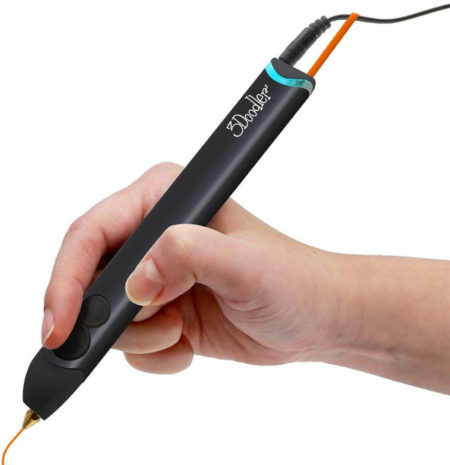 4. IDO3D Vertical

Here we have a budget-friendly set which is perfect for children over the age of 8 years old. It's slightly different from our previous picks in that it uses a blue LED light, rather than heat, to mold the plastic into different shapes. The set comes with three pens and one light, which is swapped between the pens when you want to change to a different color. The pens can be used to draw on flat surfaces or vertically, simply by moving the pen upwards away from the surface. Different effects can also be created by experimenting with the light, shining it onto the plastic which has already been released from the pen. You can also make layers for a thicker model. The plastic is easy to clean from surfaces and from the skin, so there's no need to worry about your kids making a mess with this.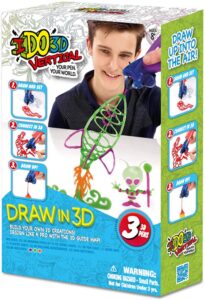 5. MYNT3D Professional 
This 3D drawing pen is perfect for more advanced users, as it has an adjustable temperature from 130-240C, and users can choose exactly which temperature they want between these ranges, to a single degree. The pen has an OLED screen to show the current temperature. It's also possible to adjust the flow of the filament, so it's great for making precise models with small details. The pen does come with with three colors of ABS filament, so you'll probably want to buy some more colors to go with it, to allow your kid to really get creative. The nozzle of this pen is replaceable, unlike on many other models.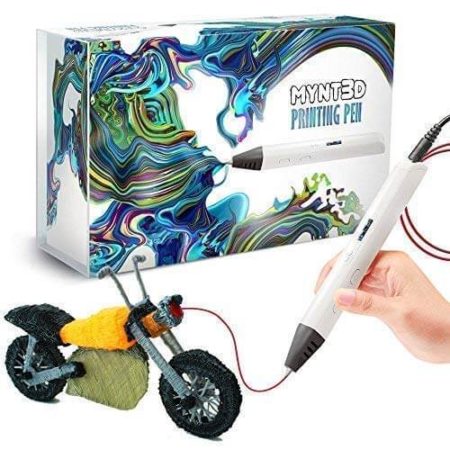 6. MYNT3D Super
If MYNT3D's pick above doesn't take your fancy, how about this model from the same brand instead? It has a slider to adjust the speed, offering excellent control even when drawing. The nozzle is virtually clog-proof, so no more frustrations when making a model. Three colors of filament are included with this pen, and the pen itself has a slim and easy-to-hold design. The tip of this pen gets very hot, so it's better for older kids who know not to touch this part.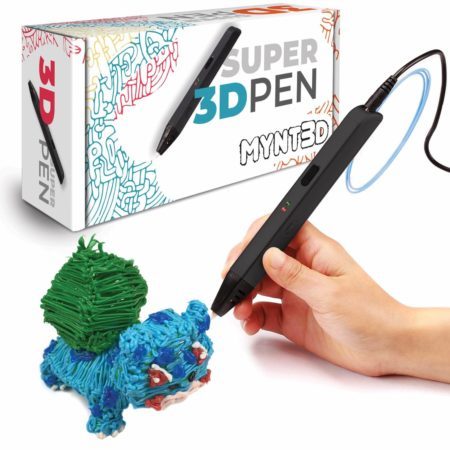 7. Iseebiz Pen
Next on our list of the best kids 3D pens, we have this one from Iseebiz. It comes with 16 feet of filament to get started with, and it is really easy to use as there are no adjustable controls. It melts the PCL filament at a lower temperature than some other similar pens, making it a great pick for younger kids. The only buttons on the pen are those for loading and unloading the plastic, so it's very simple for them to learn to use. The pen comes with a USB cable for power, and can also be used with a power bank for more portability.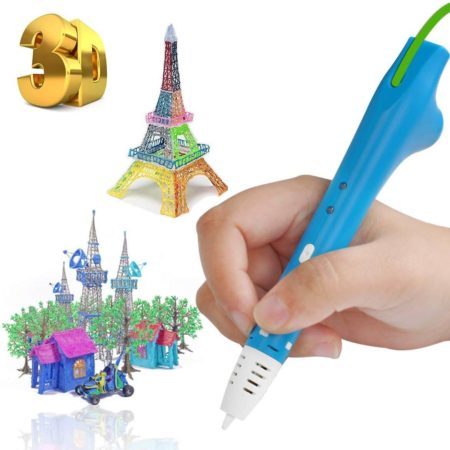 8. Sunfuny PCL Pen

Our next best 3D printing pen comes with an amazing 110 feet of filament refills, so it's sure to keep your kid busy for hours and hours! The pen is safe for kids, as it uses PCL filament, which melts at a temperature of 80C, compared to ABS which requires temperatures of around 200C to melt. This pen comes as a set with loads of great accessories, such as a drawing board, a carrying case, and a remover tool – everything a kid needs to start creating straight away. It's possible to control the speed at which the filament is extruded, offering more control over the types of patterns and effects created in the model. The pen can be charged with USB or a power bank, so it can be used just about anywhere.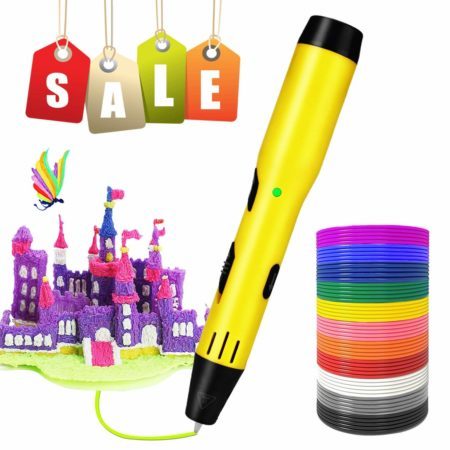 9. 3Doodler Start With Insect Toys
If you are looking for a way to really make 3D printing exciting for your child, this set is a great pick! As well as the pen, it comes with three 'hexbugs', which can be customized using the pen before being set to roam around! The set also comes with two mold sheets that contain molds for the various body parts your child might need to add to their insects. You'll also find five activities to work on with the pen, as well as almost 50 pieces of 3Doodler plastic in eight different colors. This is a great gift for kids aged 6 years old and above and is sure to be enjoyed for many years after this too.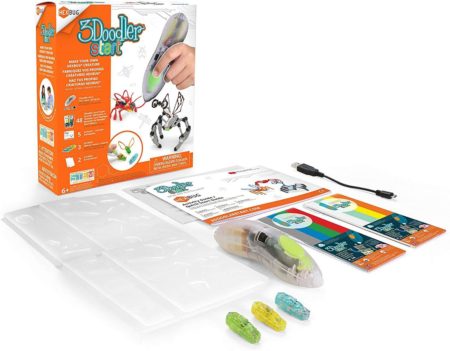 10. 3Doodler Start Essentials Set
Our final 3D pen review is another pick from 3Doodler, the Start Essentials set. This one is ideal for kids aged 8 years and up, and it's easy to use and doesn't get hot. There is only one speed and temperature setting, so it's a great choice for beginners – it won't take them long at all to learn how to use this pen. The plastic hardens almost instantly when it is released from the pen, so kids can make and draw anything they like! The 3Doodler website is full of tutorials, ideas, and free stencils that can be downloaded to help your kids get started with some creative ideas.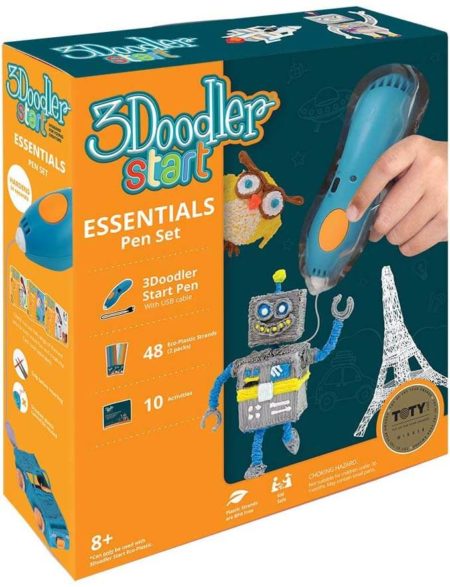 Best Buy
After checking out 10 of the best on the market, it's time to decide which is our favorite 3D art pen of all. We've decided to award the top spot to the MYNT3D Professional thanks to its range of awesome, impressive features. It offers precise control over the temperature, allowing different types of plastic filament to be used successfully. the flow level can also be adjusted, so kids and teens have a lot of control when using this pen, making it perfect for detailed and accurate models.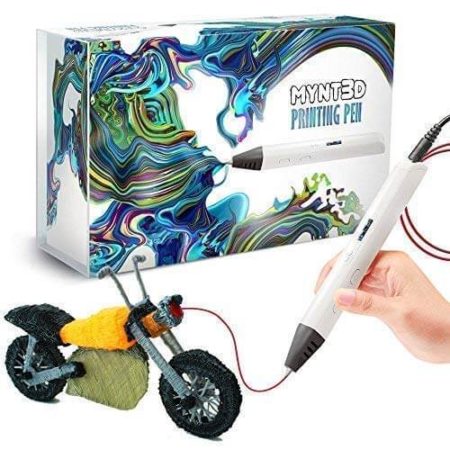 Best Budget
If you are looking for cheaper 3D printing pens, this one, which uses light to set the plastic, is a great choice. It has a very reasonable price tag and is a bit safer than the pens which use heat, making it an all-round great choice. The filling is squeezed from the pens into a model, whilst the UV light is used to 'cure' it, making it harden, rather than heating and cooling with most 3D pens. It's easy to use and there are endless possibilities of what can be created with it – kids will have hours of fun! Parents will love how easy it is to clean up the plastic afterward, too!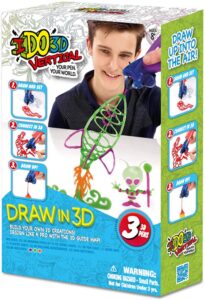 How Much are 3D Pens?
These pens range in price from around $45 up to $80, depending on the brand, features and any accessories which are included, such as extra filament.
How do 3D Pens Work?
Basically, these tools work by melting the plastic filament, allowing it to be molded into different shapes. It quickly solidifies again upon cooling, leaving behind a cool 3D model. The principle is much like that of a glue gun – these pens are really simple to use, and fun!
What Age Group are 3D Pens Designed For?
Most of these pens are suitable for children aged 6 years old and above and aren't ideal for younger kids due to the heating element. Some of the more advanced pens are better for older kids, so check the manufacturer guidelines before buying to make sure the one you choose is suitable for your child.