Choosing the perfect best friend gifts can be a stressful experience. You'll want to choose something really special to show your BFF how much they mean to you, but with so much choice out there, how can you decide which gift to choose? We're here to help with 25 amazing ideas which are perfect for giving to a special friend on their birthday, at Christmas or if you simply want to treat them to something nice. No matter what your friend is interested in or how much you are looking to spend, you will find loads of best friend gift ideas here.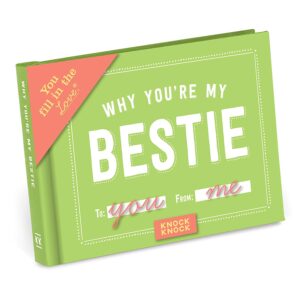 Considerations When Choosing Gifts for Best Friends
There are a few things which must be kept in mind when choosing gifts for friends. First think about their interests or if there is anything they need – practical gifts are always welcome! You could also choose something to represent the special bond you share with your friend – perhaps some matching jewelry or a personalized gift showing something meaningful in your friendship.
Also set a budget and decide how much you are going to spend on the gift before buying. It's easy to splash out more than planned when buying for a beloved friend!
25 Best Gifts for Best Friend 2023
Now we know what to look for when choosing between gift ideas for friends, let's look at some of the great options out there. We have chosen 25 different gifts to appeal to all tastes and budgets, some practical gifts and other customized gifts which might even bring a tear to your friend's eye!
1. Travel Organizer Wallet by Zoppen
The first of our girl gift ideas for a best friend is this useful travel wallet. It is great for keeping organized on trips with your bestie! The wallet can hold all your travel documents, including passport, boarding pass, credit cards and money. It comes in a huge range of color options, in fact, there are more than 30 to choose from. The wallet also has a pocket to keep your cellphone safe when traveling. Finally, travelers can be sure their identity is safe, as the wallet is fitted with anti-theft blocking shields to protect the card data inside.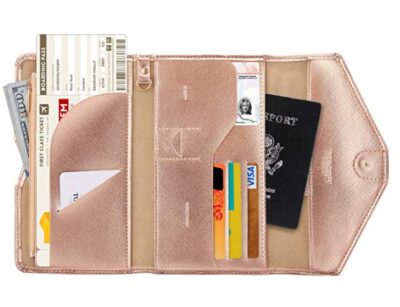 2. Microfiber Plush Blanket by Chanasya
This super soft blanket is an excellent gift for best friend who is feeling unwell or under the weather. It comes in a choice of colors and sizes, and each is lined with a sherpa fleece backing. The front of the blanket is printed with words of encouragement such as 'warm hugs' and 'healing energy', so your friend is sure to feel a lot better when they get wrapped up under it! The blanket is made from microfiber polyester so can easily be washed and also tumble dried. Your friend will love this girl or boy thoughtful gift!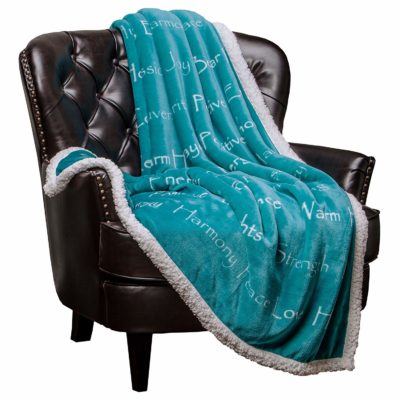 3. Qianse White Gold Plated Bracelet
This stunning bracelet is plated with white gold, making it one of the sweetest best friend birthday gifts. It is finely decorated with Swarovski crystals, and is based upon Cinderella's glass slipper, making this the perfect gift for a fairytale-loving friend. The bracelet comes with its own gift box ready for giving straight away. It can fit a variety of sizes thanks to the chain and clasp fastening, so you can be sure it will fit your friend just right. They will love to wear their new bracelet all the time, for both daily use as well as going out.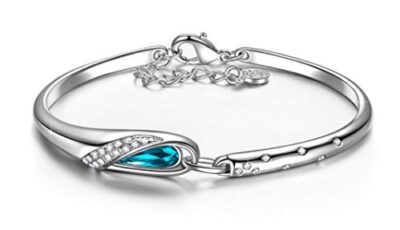 4.  Mkono Hanging Picture Display
This unique photo display is a great way for your friend to remember all the fun times you have shared together. It will look lovely hanging in her home thanks to the neutral coloring and wood design, and there is also a black variation available if this will suit your friend better. There are 25 clips included for your friend to attach their photos to the cords. However, to make this a really special gift, you could print some photos for her and have them on the frame ready for her.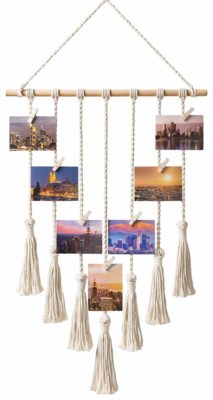 5. Imperia Heavy Duty Pasta Maker
Looking for fun and unique Christmas gifts for friends who love to cook? How about this pasta maker, which will allow your friend to make fine fresh pasta from their own home. It has a six inch wide roller and can be used to make either thin spaghetti or thicker fettucini, depending on the sauce which will be accompanying the pasta. You can buy more attachments which allow different shapes of pasta to be made, perfect if you know which your friend prefers. Hopefully she will invite for you for dinner!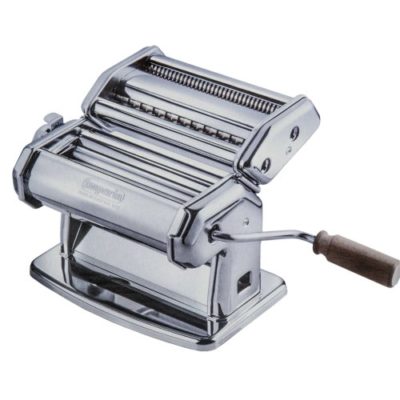 6. Fujifilm Instax Mini 9 Camera
Does your friend love to take pictures when you are out having adventures? Then this Fujifilm Instax camera is simply the perfect gift idea. There are loads of cute colors to choose from, and you can also add a starter pack which provides paper for the photos to be printed out on. The camera can be used for selfies, and it comes with a macro lens for close up shots too. The camera comes with a wrist strap and takes two AA batteries. Your friend will love to have their pictures printed as soon as they are taken, so they can be put in a scrapbook or displayed around the house – this is the perfect gift to give along with our hanging photo display in #4 above.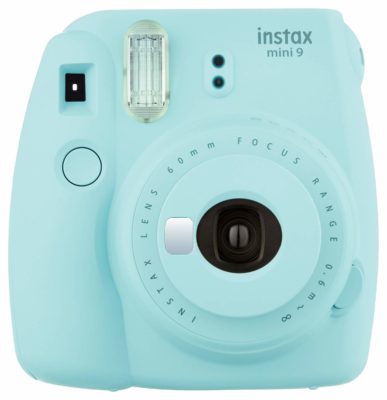 7.

Morse Code Gold Bracelet
Personalized jewelry is one of the nicest gifts for best friends, and this piece is really unique as it uses Morse code to spell out the name or message required. You can choose between 14k gold or sterling silver depending on your friend's preferences. The bracelet comes presented in a gift box so it is ready to give to your friend straight away. You can choose the length of the bracelet from six to 11 inches, so it can be worn on the wrist or ankle and will fit all sizes. You can choose up to 20 characters to be featured on the bracelet.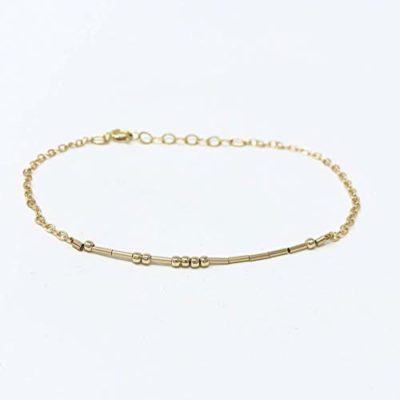 8.

Portable

Travel Tin

Scented Candles
Scented candles are classic Christmas gift ideas for friends, and this set is simply stunning. There are four candles in this set and they come in a lovely gift box, which has patterns to match the candles. Each jar has a lid, and every candle has a different scent – lavender, fig, lemon and spring flowers. The candles are made from soy wax which is totally natural and won't give off harmful smoke. This set is ideal for aromatherapy as well as for brightening up your friend's home.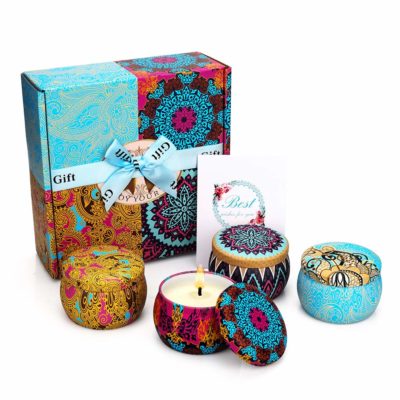 9. Skylet Stainless Steel Wine Glass Tumbler
These stylish, modern tumblers are excellent birthday gifts for best friend who likes to drink wine! The rose gold color is sure to appeal to your friend, however there are loads of other nice options to choose from. They are made from stainless steel so they are durable and won't break easily, even when dropped. They also come with a lid with a space for a straw, and they're insulated to help keep the drinks inside warmer or cooler for a longer time compared with a regular glass.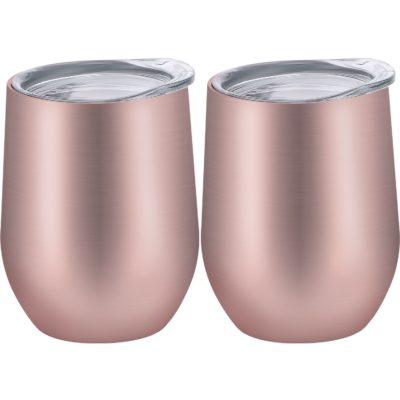 10. Sunflower Jewellery Inspirational Bracelet
This stylish bracelet is sure to inspire your friend and make them happy every time they wear it! There are loads of different messages to choose from, so you can pick one which most appeals to your friend. You can also choose different colors, and there's a matching ring available too. The bracelet is made from stainless steel and so can easily be adjusted to fit wrists of different sizes. It is designed to hold a hair tie, so your friend will always have one handy, and this also helps to keep the bracelet in place. Furthermore, it stops the hair tie from cutting into the wrist and leaving a mark – it's multi-functional!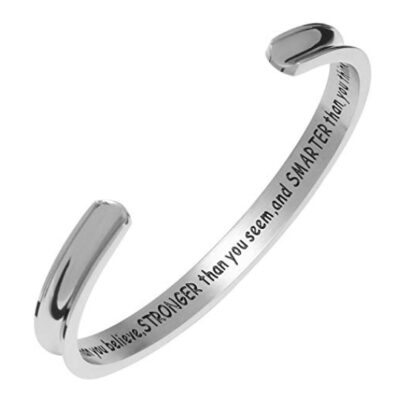 11. Instant Glass Coasters
These customized coasters are a lovely unique gift which can be bought in multiples of four, up to a total of 16. They are made from glass, and to make this an even better gift you can print out the photographs and have them ready for your friend to use. Why not fill them with special memories of you both together? They are sure to be a talking point of your friend's next party! They will love to see the pictures on their coffee table every day, and remind themselves of some of the fun times you have shared together.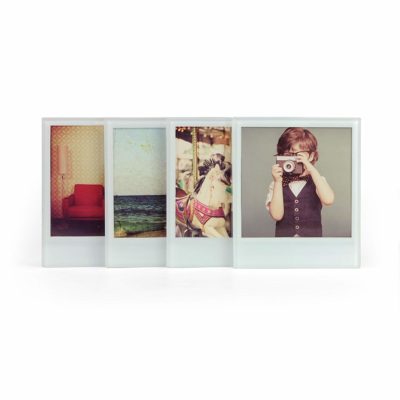 12. Repel Automatic Windproof Umbrella
This strong umbrella is a great gift idea for a friend who spends a lot of time outdoors. It is windproof and has one-handed automatic opening and closing function. It weighs under 1 pound, so it won't be a burden in your friend's backpack or purse. The umbrella features a Teflon coating which allows it to dry almost instantly when it is taken out of the rain. If you're looking for a practical gift, this could be just what you need.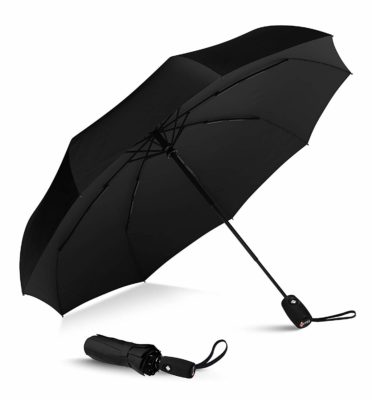 13. Dosmix Portable Bluetooth Retro Speaker
This stylish, retro radio speaker is one of the coolest birthday gift ideas for best friend. It looks just like an old radio, but actually functions as a Bluetooth speaker. It can be connected to Amazon Alexa, or plug in an SD card or AUX cable to play your favorite music. There are size retro colors to choose from, so you can pick which most appeals to your friend. The speaker can connect to devices over 30 feet away, and is small enough to be taken out and about.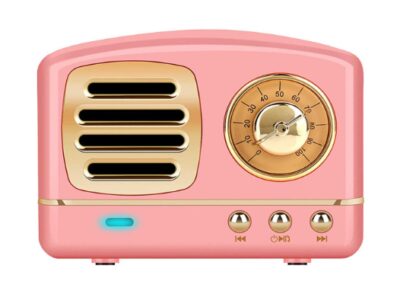 14. BALORAY Lunch Tote Bag
This stylish lunch bag is excellent for your bestie to use at work or when you go on fun days out together. It's designed to help keep food either fresh or warm for up to six hours, so she can enjoy a delicious and fresh lunch after a busy morning. There are loads of colors and patterns to choose from, including stripes and florals and many more. The bag can be kept in the refrigerator for even more freshness. It has a double zipper, sturdy stitching  and a durable handle to ensure it is long lasting. There's even a pocket on the front to keep keys or a cellphone handy.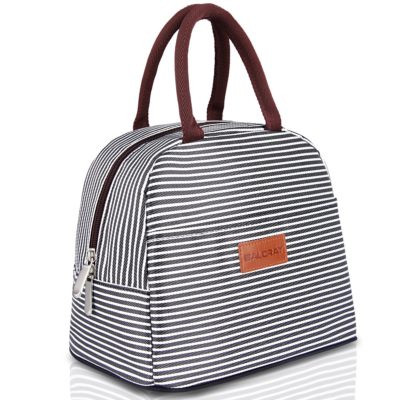 15. Grinb Pineapple Mug
This unique mug is sure to put a smile on your friend's face! It comes in three sizes – 12, 18 or 24 oz and comes with a matching straw for drinking from easily. The mug is presented in a box for easy gifting. It's made from solid copper and is coated with lacquer to ensure it lasts well and is durable. The pineapple mug is handmade, and is perfect for cocktails. So, why not give this as a birthday gift to help your friend celebrate in style!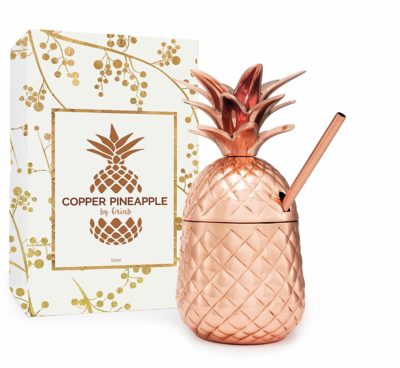 16.  Bread Bin by Now Designs
A bread bin is a practical gift which can be used every day, and this bright blue one is sure to brighten up your friend's home! It comes in two sizes and three different colors, so you can choose one to match your friend's sense of style. The lid is easy to open and there are small vent holes at the back to help prevent bread and other baked goods from going stale quickly.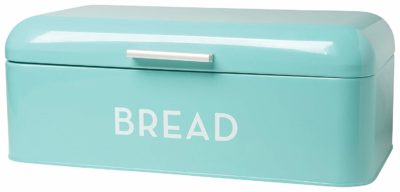 17. Joyjolt Martini Glasses Set
When it comes to birthday gifts for friends, you might be looking for something to help them celebrate the big day. That's why these martini glasses are perfect! There are four glasses in the set and each holds eight ounces of liquid. The base is heavy for a more premium feel, and to ensure the glass remains stable. The glasses can be washed in the dishwasher for easy clear up after the party!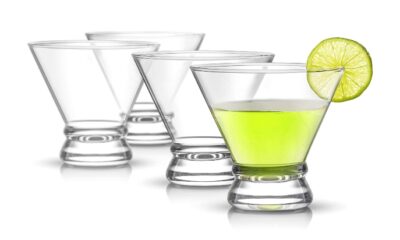 18. Bright Beam Goods Chevron Necklace
This stylish necklace is made from wood and has a sterling silver chain of 18 inches to fasten it around the neck. The disk with the design on is 1.75 inches in diameter, making this a great statement piece. It comes nicely packed and presented on laser cut card inside a protective sleeve, so it will look great when given to a friend. The necklace is hand painted using natural materials, so no two are identical!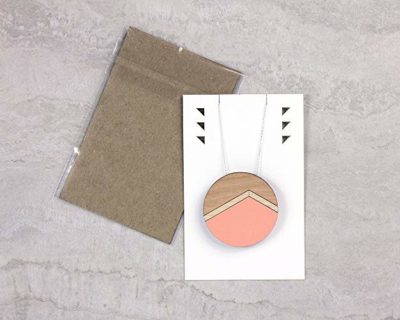 19. BelaDesign Ring Holder
If your friend loves wearing rings, how about this stylish ring holder? It's made from walnut wood and will look great in any room as a display piece. It also keeps rings safe when not being worn, so they won't get lost. This is a nice wedding gift for your friend to place her new ring on when she isn't wearing it! The base is brass for aesthetics and strength.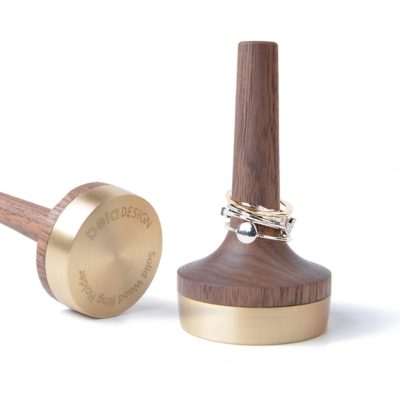 20. Freedom Mastery Journal
This planner is a great best friend gifts for those who love to be organized. It features 12 months from July – June, so it doesn't have to be given at the start of the year! It comes with a goal planner section as well as loads of stickers for organization. The journal is B5 sized and comes in various color options. It's excellent for increasing productivity and happiness!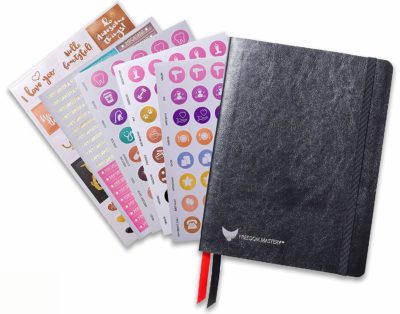 21. Ban.do Gym Bag
If your friend enjoys working out, this gym bag could be the perfect gift. It says 'take care' on the side so will remind your friend you are always thinking about her. Measuring 20 x 9 inches, it's the perfect size for everyday use. There's a space to pass headphones through so your BFF can listen to music on the way to the gym, and there are side pockets to keep smaller items handy.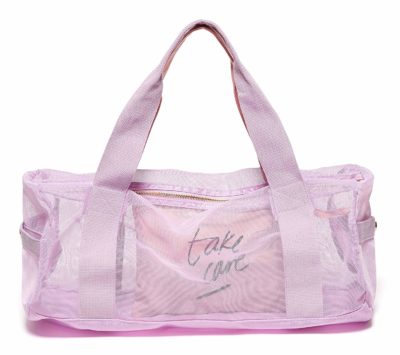 22. Evolution Salt Himalayan Bath Salt
This bath salt is perfect for detoxing and relaxing, and helps hydrate the skin leaving it feeling amazing. It also helps balance the pH of the skin which can help reduce dryness. It's anti-fungal and helps reduce aches and pains, so it's perfect for busy friends with stressful lifestyles. There are four scents to choose from, including favorites such as lavender and coconut. Your friend is sure to thank you for this useful gift.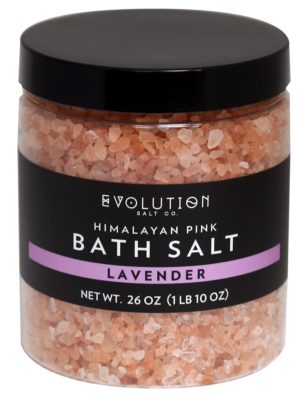 23. 

Knock Knock Love Journals
This book is a unique, one-of-a-kind gift which you can make for your bestie. It has fill in the blanks which you can use to tell your friend how much you love them. Simply complete a few words on each page and you have a totally personalized gift your friend will treasure forever. You can choose to make it sweet or funny, or a mix of the two – either way your friend will love it.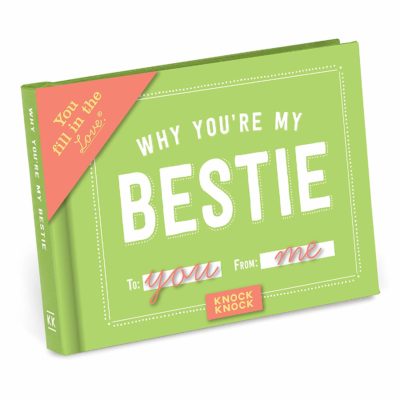 24. Ovalware Brew Maker
Does your friend adore coffee? How about this cold brew maker which will make her morning coffee much more interesting! It can also make iced team and holds 34 oz. It has a stainless steel filter so you don't need to use paper ones, making it environmentally friendly too. Hopefully your friend will invite you for a drink and you can enjoy this gift together!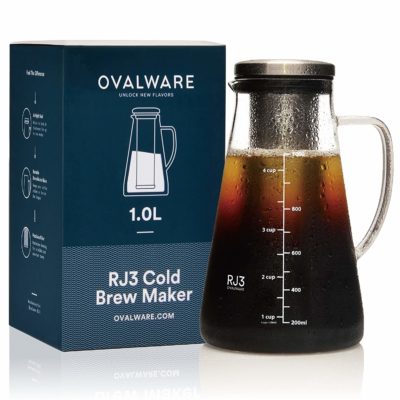 25. Bluboon Canvas Duffel Bag
This practical bag is excellent for weekends away – great for besties who travel together! It comes in different colors and prints and holds over 50 liters. It's made from canvas which is both soft and durable and has carry handles as well as a larger strap for carrying over the shoulder. There are loads of pockets inside the bag for easy organizing as well as a small external pocket to keep the cellphone or keys handy.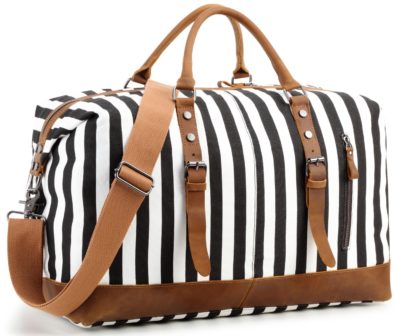 Best Overall Buy
The Instax camera takes the place as our best gift for a BFF! It's simply perfect for capturing memories of all the fun times you have together, and we love how the photos are instantly printed so they can be displayed on a wall or in a photo album. So, your friend can always look back at the special memories you have made together, rather than leaving the photos stored electronically where they are rarely seen.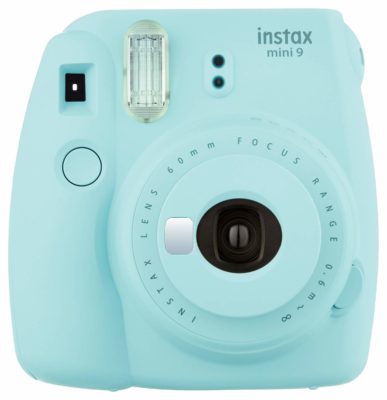 Best Budget Buy
This bestie book is excellent if you are looking for a cheaper gift but still with a lot of meaning. Your friend will love to hear what you think about her, straight from the heart. She will treasure this book forever, and it might even bring a tear to her eye!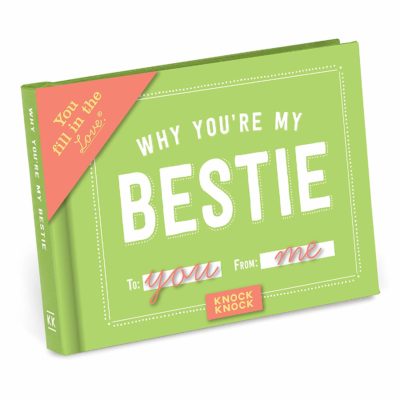 Gifts for Your Best Friend Who Has Everything?
Some friends are really tricky to buy for, and those who already have everything they could ever want certainly belong in this group! Some of our gift ideas above are excellent for those who have everything – our more personalized gifts are ideal. There are loads of other great ideas too – how about coordinates bracelets showing the location where you met perhaps? Your friend will love to have something to look back on and remember the fun times you have had together as friends – a photo album, scrapbook or other memory book/gift are sure to be treasured by your friend.
Best Gifts for Friend Who Is Really into Music?
You might not want to buy music for your music-loving friend if you don't know what she already has or what she is interested in. You could make a playlist or CD with their favorite tracks, or perhaps try giving them some new music you think they will enjoy. Or, you can choose something which shows off their love of music to the world! It could be a t-shirt or mug for example, with their favorite band or some musical notes on it. A really special gift for a music lover could be tickets for you both to see a band you love, in concert.
Best Gifts for Friend Who Are into Books?
Many of us have friends who love to read, so choosing a gift related to this interest is surely a great idea. If you don't want to simply buy her a new book to read, how about a first edition of her very favorite book? Or perhaps a special edition of her favorite childhood book? You could choose a signed book, or one which is nicely presented to make a really memorable gift. There are loads of gifts available for book-lovers, it doesn't have to be a new book! It could be something made from the pages of a book, such as a fan or a piece of art, or something showing how much she loves books, like some badges. Accessories such as customized bookmarks are a thoughtful gift for bookworms which are sure to be appreciated!