When looking for a special gift to celebrate a close friendship between 2 friends you should consider choosing a best friend necklace. These fabulous necklaces each have a pendant that is completed by combining all of the necklaces together, so each friend can carry a piece of the pendant with them every day.
Usually, these necklaces are made for 2 friends to share together but there are also a small selection of three best friends necklaces that can be chosen for 3 close friends to share. You may think that these necklaces are only for girls to share but there are also a lovely selection of necklaces that will also appeal to boys, so everyone can use these fantastic necklaces.
These necklaces are perfect for recognizing a true friendship and anyone who receives one of these beautiful necklaces will cherish this special gift.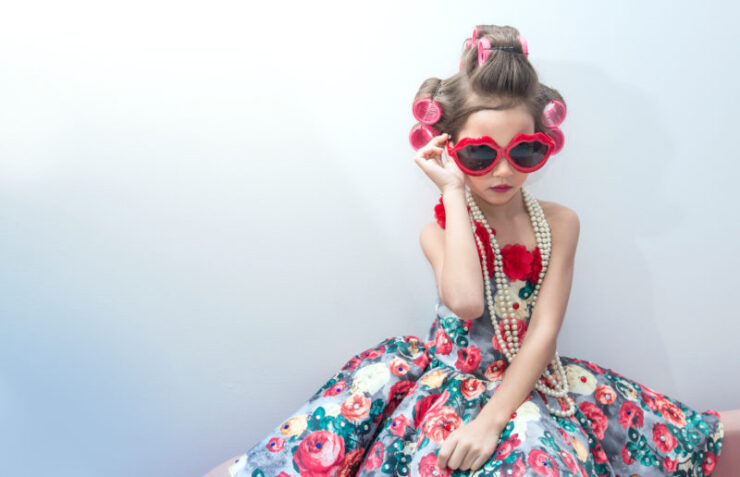 There are many of these lovely necklaces that friends can share for you to choose from, so this article will take you through the top friendship necklaces to help you find the perfect gift.
Considerations when choosing a friendship necklace
Firstly, when choosing one of these lovely necklaces you need to decide how many friends it is going to be shared with as some necklaces will be suitable for 2 friends to share, while others are aimed at 3 friends.
It is also worth considering if you will be giving one of the necklaces to a boy, as even though many of the designs will be appealing to boys some necklaces have a girly theme that many boys may not like. When you have chosen the perfect necklace the last thing that you need to ensure is that it is suitable for the age of the kid that you are buying it for and that the chain length is the correct length so that the necklace fits.
Top BFF Necklaces for Kids
1. Unicorn Friendship Necklace
When searching for special friendship necklaces you should consider this lovely Unicorn Necklace for 2 friends. This fabulous pair of necklaces each contain half a heart so when the pendants are combined they fit together to form a full heart, making this the perfect gift to share with your closest friend. Both necklaces also show a cute picture of a unicorn to bring each friend good luck and hope, which kids will find appealing.
The necklaces are made from a hypoallergenic material that is lead-free and nickel-free making them perfect for kids to wear who have sensitive skin and the 17.7 inch chain with an extender that is over 2 inches, makes each necklace the perfect length for all kids. Each friend will be able to tell their necklace apart as one is pink and the other is blue making these fantastic friendship necklaces the perfect gift to share between friends.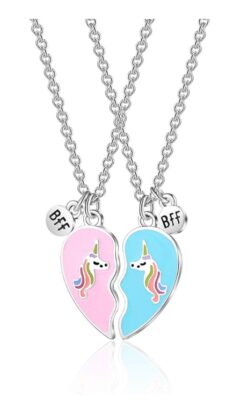 2. Disney Mickey and Minnie Mouse Set of 2 Pendant Necklaces
All Disney fans will love this Set of 2 Breakaway Pendant Necklaces with Disney's Mickey and Minnie Mouse, which are perfect matching best friend necklaces. When combined together the necklaces form a complete circle and when broken apart one half has the image of Mickey Mouse and the other has the image of Minnie Mouse, each with a small red heart.
The necklaces are made from high quality silver plated brass for durability, so are perfect for long lasting wear. Kids over the age of 12 years old will love each beautiful pendant with 18 inch chain link and will want to continually wear their special necklace. For a special touch these fantastic necklaces come in a gift box so are ideal for giving as a much loved gift. These lovely official Disney breakaway pendant necklaces make perfect boy and girl friend necklaces that each kid will cherish.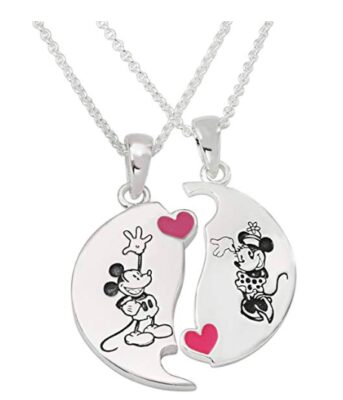 3. Melix Home Friendship Necklace for 2
Finding the perfect guy and girl friend necklaces can be difficult until you come across this Melix Home Friendship Necklace for 2. These necklaces are the perfect gift idea for special friends as the jigsaw puzzle style pendants fit together when combined but make stylish necklaces for each wearer when separated.
Each puzzle piece has a lovely quote inscribed saying either 'Side by side or miles apart' 'Best friends like us stay close in heart' making each one a special friendship necklace. These great necklaces also come in a top-quality gift box which provides the perfect presentation for these fabulous necklaces so kids will love giving one half of this necklace to a much-loved friend.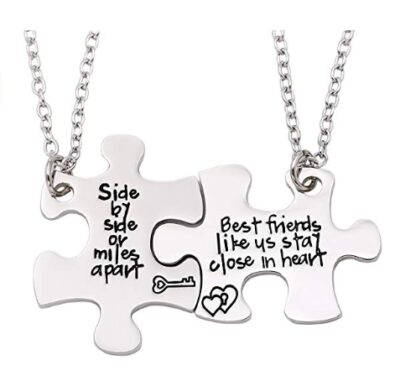 4. Top Plaza Best Friends Forever Necklace
There is great variety of matching necklaces suitable for 2 friends to share but very few necklaces that have been designed for 3 friends, making this Top Plaza Best Friends Necklace a unique option. When combined together the 3 necklaces fit as one to form a perfect heart, so when separated each pendant is a section of the heart with one word from the phrase 'Best friends forever'.
Each necklace is also decorated with a beautiful rhinestone with each one a different color, which provides the perfect finishing touch. With a chain of 20.5 inches these necklaces are an ideal length for all kids to wear, making this a special gift and the lovely gift bag provided is perfect for holding the necklace. These cool friend necklaces for 3 are ideal as a gift for 3 special friends that each one will enjoy wearing.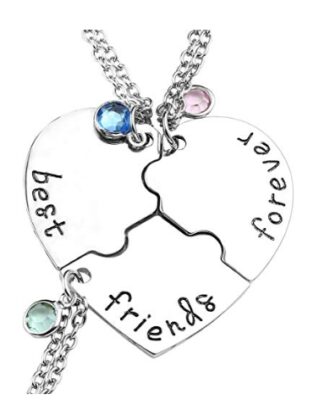 5. SkyWiseWin Half Heart Necklaces
For beautiful amazing friend necklaces for 2 you should consider these SkyWiseWin Half Heart Necklaces that are perfect friendship necklaces for great friends to share. Unlike most other necklaces which are often plain in color these 2 necklaces are bright and sparkly, so will be appealing to young girls. With one necklace being pink and the other purple kids will love the color choice and the dazzling effect this necklace set has.
Together the 2 necklaces forms a heart shape with each individual necklace breaking away as half a heart with either the tag best or friend. The necklaces have a 16 inch chain so are perfect for smaller kids and the 3 inch extender makes the necklace suitable for older kids to. This lovely necklace set makes a great gift for all special friends.

6. Dear Ava Best Friend Necklace
When searching for a gold best friend necklace then this Dear Ava Necklace is the perfect option. If gold is not your preferred finish then there is also the option of a rose gold or silver finish, so there is a style that everyone will love. This beautiful necklace has 2 interlinking circles to represent true friendship and close friends will love receiving this stylish jewelry as a special gift.
The chain is 18 inches long and has a 2 inch extender so will fit all kids and will grow with them into adulthood. This special gift comes with a lovely presentation box with an inspirational quote on the presentation card for the perfect finish. All friends will love receiving this fantastic necklace.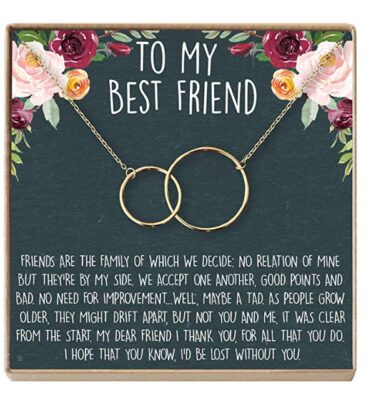 7. MignonandMignon Personalized Necklace
If you are looking for personalized friend necklaces then this MignonandMignon Personalized Necklace is the perfect option. This necklace makes a lovely gift idea for that special friend in your life, especially if there is a long distance between you and as there are 3 different color finishes that you can pick between, you can choose your favorite option of either silver plated, rose gold or gold to make the perfect gift.
The personalization for this necklace has an extra special touch, as along with adding each friends initials you can also add a picture of the states that each friend lives in for that ultimate connection. This lovely necklace will be a fabulous gift for your close friend that they will adore.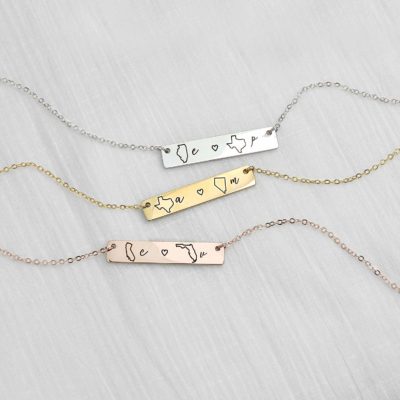 8. Matching Kitty Friendship Pendant Necklace
For special friendship jewelry this CoolSteelandBeyond Matching Kitty Friendship Pendant Necklace is a top choice. This unique necklace is perfect for friends who are cat lovers, as each necklace has a beautiful cat pendant, with one in silver and the other in black giving a stunning contrasting finish. When the pendants are combined the cats fit together perfectly to form a complete circle representing true friendship.
This clever necklace is a different style to all other friendship necklaces and has a wonderful finish that all friends will love making this the perfect gift choice. The necklace will fit all kids with a 23 inch chain length so you can be sure that all kids will get long lasting use of this stainless steel necklace. This is a stunning necklace that is perfect for sharing with friends.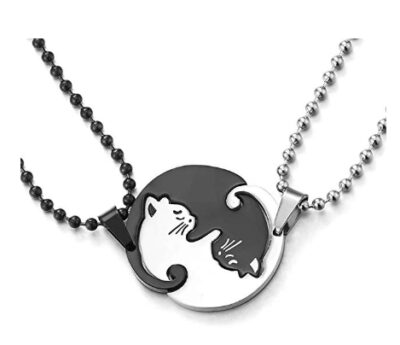 9. Norfian Necklace Set
This Norfian Necklace Set is the ideal if you are searching for cheap best friends necklaces with a fun design that is suitable for all kids. The set comes with 2 character necklaces with the tag line Best Buds with one word on each necklace, making it perfect for kids to give their friend as a gift.
One necklace has a fun milk pendant, while the other has a cute cookie pendant and each one comes with googly eyes to give each pendant a cartoon finish that young kids will find appealing. This necklace is also perfect for kids with allergies as the white gold plated chain is anti-allergenic so is safe for kids sensitive skin. This set of 2 necklaces makes a fun gift idea for all young friends.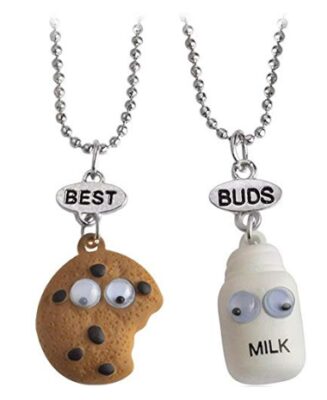 10. Lux Accessories Butterfly BFF Necklace Set
If you have a special friend that you wish to buy friendship jewelry for then this Lux Accessories Butterfly BFF Necklace Set is the gift for you. These BFF necklaces are perfect for friends as each lovely necklace is beautifully finished with bright color and stunning detail.
When the 2 necklaces are brought together they form a lovely butterfly and when apart each necklace takes half of the butterfly, making this a special gift for great friends. Each necklace also has the tag BFF added for a lovely finishing effect. This beautiful necklace is perfect for all friends to share and kids will love that each half of the pendant is matching for that extra special touch.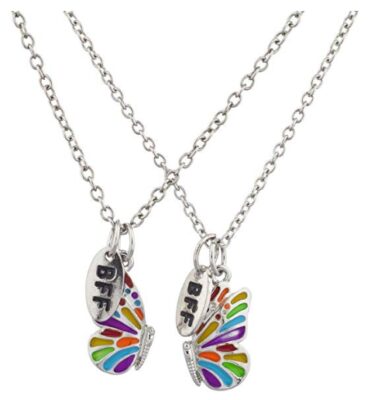 Best Overall Buy
This Disney Mickey and Minnie Mouse Set of 2 Pendant Necklaces is our best overall buy as they are great quality necklaces with a lovey Disney design that is perfect for fans of Mickey and Minnie Mouse. Together the silver plated brass pendants of each necklace come together to form a circle and apart one has the image of Mickey Mouse and the other has the image of Minnie Mouse.
Each pendant has a cute pink heart on it making each an ideal best friends necklace. These wonderful official Disney necklaces make a fabulous gift for your chosen friend, which is made increasingly special by the lovely presentation box that comes with this jewelry set.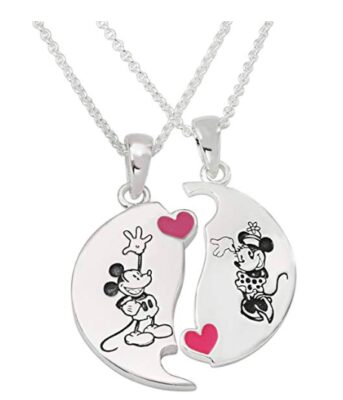 Best Budget Buy
Our best budget buy is this Matching Kitty Friendship Pendant Necklace as these cleverly designed pendants make the perfect gift for a special friend. Each pendant has an appealing cat design that all cat lovers will enjoy and when combined the 2 cat shapes fit together perfectly to represent true friendship. For a stunning finish the stainless steel necklaces have an attractive contrasting look with one necklace finished in black and the other finished in silver. These lovely necklaces make the perfect gift that all kids will love wearing.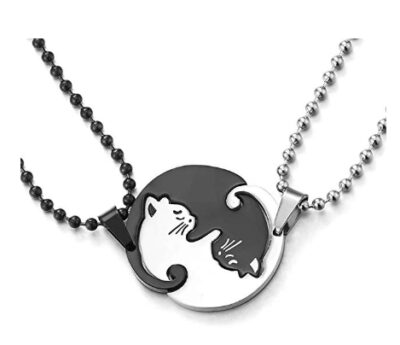 Where to get a best friend necklace?
These wonderful necklaces for a special friend can either be purchased in a store or on the internet. The benefit of using the internet when looking for the perfect necklace is that you will usually get the choice of a greater range of designs. If is also often easier and quicker to shop on the internet as you do not have to search through multiple stores to find the one that is selling your preferred necklace.
When were best friends necklaces made?
A necklace that can be shared between friends has been around for a long time, though this concept is not as well known when compared to the popular friendship bracelets. The brilliance of these necklaces is that there are now options for 3 friends to share a necklace together so you are not just limited to sharing between 2 friends making these sharing necklaces more versatile.
Giving your most trusted friend one of these beautiful necklaces is a thoughtful long lasting gift that your friend will cherish.
Where can I buy best friend forever necklaces for boys?
Among the necklaces with girly colors and graphics, there is a lovely range of friendship necklaces that are also suitable for boys. These wonderful necklaces can be purchased from jewelry stores as well as internet sites, usually at the same places that other friends sharing necklaces can brought.
There is usually a bigger range of products online if you are looking for something in particular, as many stores may have a limited range to their stock.
Take a look at these awesome picks available on Amazon today: