When it comes to decorating your children's bedrooms using a theme of something they are interested in will get the best reaction from them. Superheroes are a good place to start, the action-packed heroes provide loads of colorful entertainment and there is no one cooler than the caped crusader that is Batman! He has all the gadgets and vehicles providing lots of excitement captivating children all over, that is why Batman home decor is perfect for your child.
When it comes to Batman-related stuff for your children it is good to know what kind of thing they like and want in their room. There are a few considerations when it comes to these kinds of things so here are a few to think about.
Considerations When Choosing Batman Bedroom Accessories
Age – The age range of items is a big thing to think about. Batman isn't exclusive to young toddlers, so older children may still have a keen interest in this superhero. Decor and bedding could seem too babyish for older kids so finding items with a little more maturity may be better in this situation.
Budget – The price of the things you are purchasing is always something to think about, and when you are decorating your child's bedroom it should be no different. Stickers and decals related to the them you are choosing could be a great way of adding that new design aesthetic you are trying to achieve without having to completely re-furnish the entire room, saving you a bit of cash.
Practicality – The practicality of the item you are buying is something to consider, items such as curtains could have the perfect design you are looking for but don't offer much when it comes to blocking out the sun, or covering the window itself. Try to not be distracted by the design as there could compromise in other areas.
Best Kids Batman Bedroom Ideas
1. Franco Kids Batman Bedding
The Franco Kids Batman bedding is perfect for your children, made from 100% microfibers it is soft and comfortable to touch. The design has been printed in high quality, detailed ways to show a fully actin packed look in any children's bedroom.  The bold coloring that has been used makes this bedding create a cohesive look in any Batman themed bedroom. The bedding has a design on each side giving you little ones more choice in how they want their bedroom to look. Completely machine washable for easy care and the material is wrinkle-free making it a great choice for any child's bedroom. The print has been specifically designed so it won't lose any coloring after a wash looking brand new every time.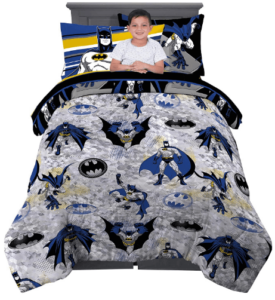 2. RoomMates Batman Wall Stickers
These amazing Batman wall decals from RoomMates will make any kids bedroom instantly contain a full Batman-inspired theme, including 31 different wall decal stickers such as Batman, his arch-rival The joker, the Batmobile, and loads of extra Batman related designs. Simply peel off the protective material on the back and stick to smooth clean surfaces. These decals are great they can be removed and repositioned without losing stick or leaving any residue from the glue, perfect for changing up the bedroom but leaving that Batman style in there. Made with quality materials in the USA.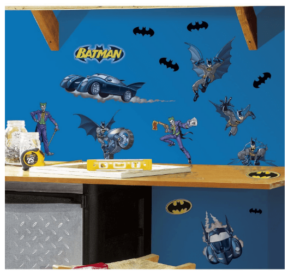 3. Franco Kids Batman Drapes
This curtain set from Franco Kids is the perfect decorative piece for any Batman themed bedroom. Made from 100% polyester the Batman design that has been used is action-packed bringing fun into any bedroom. The perfect piece for bedrooms, playrooms, or nurseries. The soft microfibre won't completely block out the sun but will provide enough privacy making them perfect for young children's rooms. The curtains are a great size measuring 63 inches in length and when put together 82 inches in width, this is a good size providing coverage for most windows in your home. The curtains have been designed for easy care with the material being completely machine washable, and don't worry about the design fading as they have been printed in the best quality way keeping them looking fresh and new after many washes. Wrinkle-resistant material makes them perfect for children's rooms.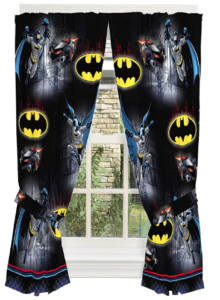 4. Collapsible Batman Storage Cube
The collapsible storage cube features a unique Batman graphic design. The cubes come in packs of 2 and are an amazing instant organization tool for toys, clothes, and more. The handles are reinforced carry handles making them easy to move around. The 2 cubes are 10 inches in size, and the soft canvas material has a structured frame around that will fold away for easy storage when they are not being used for storage themselves.

5. Warner Brothers Batman Stick Lamp
This decorative Batman lamp as a cool graphic of the Bat symbol. An easy to use on and off system just pull the chain once to turn on then again to turn off. the perfect choice for a desk dresser or side table. The lampshade is shipped upside down and will need to be flipped when being assembled. Light is not included in the box it comes in.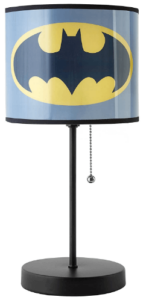 6. Franco Bedding Plush Batman Set
Franco Kids have created this plush Batman bedding set perfect for your little ones, made from 100% microfiber the Batman design that has been used will provide an action-packed, exciting time for when your kids are going to bed. You will make your children's bedroom a fun inviting place with this plush throw featuring DC Comic's Batman. The microfibre that has been used provides a safe and cozy feeling when wrapped around you, a high-quality material keeping kids warm and cozy. The perfect cozy addition to any occasion, the lightweight material is easy to carry around providing the comfortable companion for sleepovers, playing, camping, and traveling. An amazing travel accessory to be used at home or in the car, for napping or cuddling. This plush bedding Batman set is also great with its easy-care material, the blanket can be thrown in the washing machine with no worry of any colors fading or the need for ironing afterward. The wrinkle-free material makes this blanket a great choice for any child's bedroom.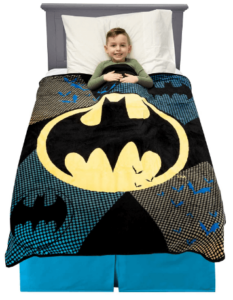 7. YODAFOOR Halloween Decoration
The dinosaur Batman Halloween decoration is the perfect nightlight upgrade for your child's room. The remote control is safer and saves energy with a multi-powered base making it convenient to use as it can be plugged into the wall or have 3 AA batteries inserted to power the lamp. A third option is connecting the lamp into a power bank making the lamp more portable. The lamp can also be used as a nursery night light, the dreamlike and weak level of brightness that comes from the lamp create an easy sleeping atmosphere and could be a great choice for any children who have difficulty sleeping. This dinosaur Batman 3D light would be the perfect gift at Christmas, New Year, Birthdays, or just about any holiday. Lots of different colors come from this light making it the perfect lamp for any bedroom regarding the color as it will match the room perfectly.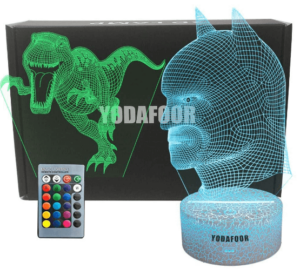 8. Batman Arkham Vinyl Clock
Fans of the Batman franchise will love this unique and original gift with a handmade record vinyl clock. It is the perfect combination of vintage style with your favorite movie art that will suit any kind of interior you have in your home. This amazing gift will be surely the envy of all of your friends when they take a look at your vinyl clock. This is the perfect gift for Christmas or birthdays, the record design is a high detailed version of the Arkham knight along with white bats.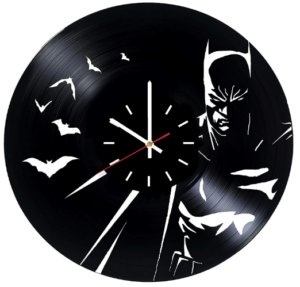 9. Warner Brothers batman Pop Up Laundry Bin
The Warner brothers Pop up laundry bin includes a unique Batman graphic and design, use this brilliant bin for laundry, or as a space for organizing things like toys, clothes, books, ad loads more. The handles make for easy transport and are reinforced for strength and durability. Made from 100% polyester with mesh siding. The sturdy frame is great as it collapses for easy storage when not being used. A good size measuring 13.5 inches in length, 13.5 inches in width, and 21.5 inches in height.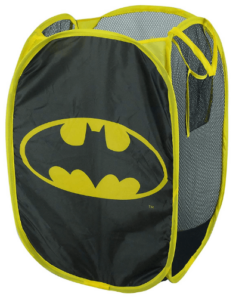 10. Batman Dream Catcher
This Batman wall hanging is a great size measuring 31 inches in total length and 7.8 inches circle diameter. The circle of the hanging is made from bamboo and net on the Bat display, and the ribbons are made from soft cotton showing they are premium materials. The bat dream catcher design is a cute style and makes the perfect room decoration creating a cheerful atmosphere for any room in your home. An amazing gift for Christmas, birthdays, and holiday occasions giving the gift of protection as the legend goes nightmares pass through the dream catcher and out of the window, while good dreams are trapped in the web, slide down the feathers and pass through into the sleeping person. A 100% money-back guarantee is provided if you are not fully satisfied with your purchase as the company believes the materials are made from the highest quality and shouldn't be compromised.  


11. Batman 12 inch Vinyl Wall Clock
For Batman bedroom ideas try this 12-inch vinyl clock, an amazing gift for any occasion such as Christmas, new years, birthdays, and any other holiday. This stunning clock has been cut out to show a design of Batman himself combined with the Bat symbol.  The vinyl record clock needs a AA battery o work but is not included in the gift set. Improve the look and feel of any home, bringing a vintage record to a more contemporary style making it perfect in any home with any home decor.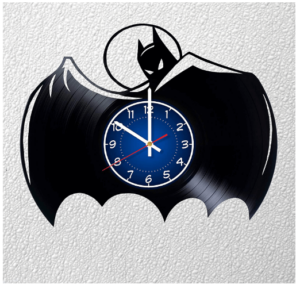 12. DC Comics Table And Chairs
This kid's table and chairs have been designed with a full Batman finish, perfect for kids who love adventures. Smaller size perfect for any activities your children may undertake such as eating, coloring, and finishing homework they have. been set at school. The set includes a table and two fold-away chairs and a fold away table that both need no assembly for easy storage. This kid's table is recommended for children between the ages of 3 and 6, with a weight capacity of around 81 lbs. A great size for practicality in your children's lives at this younger age measuring 24 inches in length and width with a height of 18.5 inches.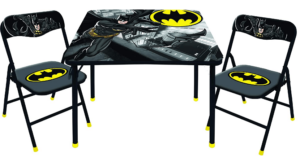 13. Nuova Batman Storage Set
Boys Batman bedrooms are only complete when they have the accessories to go with them. This storage set from Nuovo is perfect for storing clothes, toys, books, and loads more. All of the items come fully covered in Batman logs and designs and have been produced in the original black and yellow colorings. The storage trunk is the biggest item measuring 30″ x 16″ x 14.5″. The set also includes on sequin storage box containing all the fun your child will want and need. Change the look by simply wiping back and forth. The toy organizer bins come as a pair and will be perfect for storage on the floor or on shelves with a dimension of 10″ x 10″. The Batman hamper is a pop up organizer great for easy storage when it is not being used. there are two reinforced handles on the side for easy maneuverability carrying from room to room.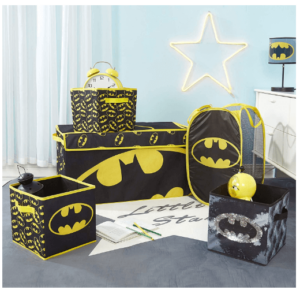 14. Super Hero Nursery Cushion
Superhero beds are never complete without cushions. This high-quality cushion is made from cotton and linen making it durable and soft to touch. Pillows liked this is the perfect decorative piece in any room for any superhero fan. The pillow is printed on two sides and only comes with one actual cushion. These gifts can be unique with custom text images and color making them the perfect gift adding that personal touch, simply sends a message before ordering to work out how you want it to look.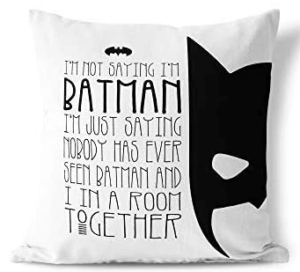 15. Spiderman Record Clock
This record vinyl is the perfect gift for anyone who loves superheroes such as Spiderman or Batman. The clock has been handcrafted for a unique look that will impress all of your friends. This clock will look amazing anywhere in the home, and in any house. The combination of vintage vinyl with a contemporary design lets this clock be welcome in any home. Open to custom designs so you can get your favorite scenes from the movies recreated in this stunning clock, making it the perfect gift for birthdays, Christmas, and new years.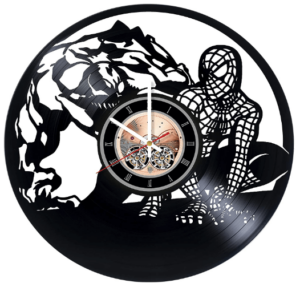 16. RoomMates Batman Logo Giant Decal
Designed and manufactured in the USA this set comes with 4 wall decals with an assembled size of 40 inches wide x 22 inches high. The decals are simple to apply, just easily peel off the protective surface n the back of the sticker and apply to the surface you desire. The decals are also removable and repositionable making new decorating projects easier than ever, switching around the stickers for a fresh new look. The glue technology has also been designed to keep its stickiness when being moved around and also not to leave any residue behind on the surface that it has been on. RoomMates have designed these decals to provide a way for people to decorate their rooms and homes in a quick, easy, and affordable way, in a manner that is creative and fun.

17. Batman Kurt Adler 10 Light Set
This light set is the perfect gift for any Batman fans, containing 10 Bat symbol lights that are perfect for fans of the new movies or even the original comics and tv series. The lights resemble the classic oval symbol shape with a black and yellow coloring. This set from Kurt Adler is an officially licensed product so quality can be assured. The wire is a 30-inch. lead with 12-inch light spacing between the 10 lights that are on the wire. These lights are great, they can be used in and outdoors, lighting up gardens or providing that extra detail to your children's Batman styled bedroom. The box includes 2 spare fuses and 4 spare bulbs just in case one of them stops working overtime.

18. Hiyagon Large Storage Basket
The storage basket from Hiyagon is a high quality, large basket measuring 19.7 inches x 15.7 inches in size. The premium material is a thick, quality cotton canvas that is lightweight and durable. These buckets are multi-functional being able to organize clothes as a laundry basket, or a place to store books, puzzles, clothing, socks, shoes, blankets, and so much more making and room look neat and tidy. The batman design is really cool with various silhouettes of his face all over the bucket. The basket also uses a collapsible design making it quick and easy to store away when not in use, the reinforced handles on the top of the bag also provide a strong and easy way to move this bin around the home.

19. Delta Children Deluxe 3 tiered Bookshelf
This amazing bookshelf has been fully kitted out in an awesome Batman design. Recommended for children aged 3 and above, this shelf has been made from quality materials and craftsmanship in a sturdy wooden construction. There is lots of room available as the 3 open shelves can hold books, toys and much more. The colorful artwork of Batman and Gotham city on the side panels will have any fan hooked right from the first glance making it a real favorite when decorating any children's room. It is a perfect size measuring 24 inches wide, 10 inches deep, and 37.5 inches in height. When the shelves have been fully assembled they are nearly 10 inches deep each and just over 11 inches high making them a great practical size to use.

20. Delta Children High Back Chair
This batman high back chair is the perfect gift to liven up your children's bedroom. It is recommended for children 3 years ad up holding up to 100 pounds in weight. The materials are high quality featuring a hardwood frame, padded seats, and faux leather coverings. Easy to clean, simply wipe away with cloths, mild soap, and water. A great addition to any Batman-themed room and you are also safe in knowing that this chair exceeds all safety standards that it has to meet.

Best Buy Overall
In or list we feel that the best overall buy is the Batman storage set from Nuovo. Boys Batman bedrooms are only complete when they have the accessories to go with them. This storage set from Nuovo is perfect for storing clothes, toys, books, and loads more. All of the items come fully covered in Batman logs and designs and have been produced in the original black and yellow colorings. The storage trunk is the biggest item measuring 30″ x 16″ x 14.5″. The set also includes on sequin storage box containing all the fun your child will want and need. Change the look by simply wiping back and forth. The toy organizer bins come as a pair and will be perfect for storage on the floor or on shelves with a dimension of 10″ x 10″. The Batman hamper is a pop up organizer great for easy storage when it is not being used. there are two reinforced handles on the side for easy maneuverability carrying from room to room.
Best Budget Pick
For us, the best budget buy is the wall decals from RoomMates. These wall stickers are Batman-inspired and include 31 different stickers. The decals contain characters Batman and The Joker in different action-packed ways, also including the Batmobile and the Bat Symbol. These stickers are a great way to bring a new theme into the bedroom in a cheaper way. Rather than completely buying an entirely new furniture set for the room, these stickers can spark energy and life into existing pieces around the bedroom. These stickers are also great as they can be reused, the sticky adhesive has been developed to be removed and repositioned without losing any stickiness that they have, also not leaving any residue from the glue behind when they are removed from a surface. Made from quality materials in the USA but can be imported anywhere for purchase.
What Color for Batman Bedroom?
If you are wondering what color you should choose when starting a Batman-themed bedroom there are a few options you can go with. If you are following the movie then dark colors like blacks and greys will work perfectly, they can simulate the style that is on the vehicles and suit that Batman uses. If you are not wanting a black room in your home and that's a little too dark for you, then using the design from the early tv series could be a great choice. Lots of blues, yellows, and been taking inspiration from robin's outfit using reds and greens. A lot of different options to take which is another reason to use a Batman theme for your child's bedroom.