Whatever the season, parents know that their children will always be served well by a good kids rain coat. You might live in a place where it hardly ever rains, but occasionally you get sudden thunderstorms, or perhaps you live somewhere where it literally rains all year around – either way, a good quality, well designed rain coat can be a godsend when your child is in the park, at school or on vacation. This helpful list will offer you a glimpse into the best kids rain coats in 2023…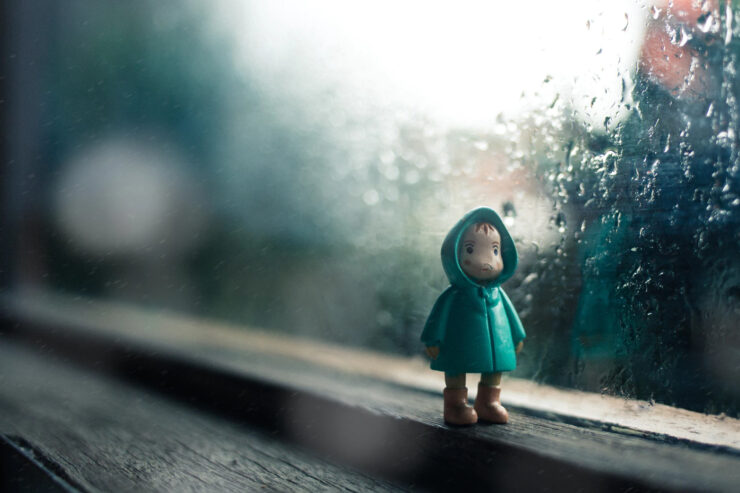 How to Pick the Best Kids Raincoat?
But how do you decide which raincoat is the right one for your child? There is so much choice out there and it can be difficult to decide. You need to consider the fit, the style, color and practicality. It really should be water proof of course and that is probably the most important consideration of all. When searching for boys raincoats, there are more choices than ever before and a much wider range of colors that you would believe, which means all tastes are catered for. Price is also something to think about, but thankfully they come to suit a wide range of budgets for all families. When it comes to kids raincoats – this guide will help you choose the best one for your child.
Best Rain Jackets for Kids in 2023
1. Columbia Girls Switchback Jacket
This design comes in five pretty sugary pastel colors and is made of 100% Nylon and 100% Polyester so it will endure for a long period of wear throughout your child's early years. It has a seamless zipper style closure and is made of totally waterproof materials so you can rest assured that when your child is caught in a sudden downpour, or if they are out on a jaunt and splashing in puddles, that they will be kept dry by this helpful waterproof jacket. The cuffs are elastic so they keep in an extra amount of heat and keep any rogue trickles of water away from the arms. Because there is a reflective edging on this jacket, it is safer to wear at twilight or in the dark, adding an extra element of safety. A really great girls raincoat that will serve well.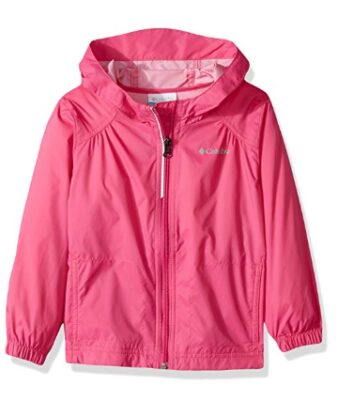 2. Lionvi Clear Rain Cape
More of a modern, tailored design, this clear raincoat is a more unusual choice, but still a great option. It is made of 100% waterproof fabric and also boasts that it provides protection from harsh or cold winds, keeping the wearer warm and insulated. It comes in a range of sizes up to age ten and the makers provide a helpful chart to figure out the correct size for your child. A lightwearing waterproof raincoat, it is transparent and is great to bring to outdoor events that you might bring your child to – it can be packed away easily in its own bag as well as having a poncho element and a sturdy hat brim to keep wind and rain away from the face. This would also be great for camping, family festivals or (unfortunately soggy!) picnics.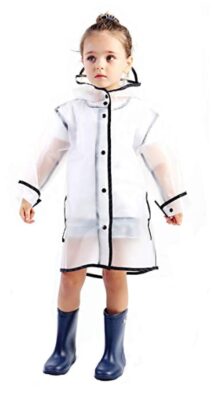 3. Yellow Dinosaur Jacket
This is a really fun toddler raincoat. So many children are amazed and enthralled about dinosaurs, so getting them a kids yellow raincoat in the style of a friendly dinosaur is a great idea. It has a cartoon dino that looks happy and fun, so it is fun for the child to wear, while at the same time being waterproof and protective for them. It has a clear hood and a hidden zipper so it looks stylish. Made of polyester, it isn't stiff or restrictive, so kids can run, play and jump in comfort, while still being protected from the wet weather. It fits sizes from three to nine years of age, and is easily transported around when not being worn as it comes with a helpful matching yellow storage bag that is also quirky  and fun. The makers offer a full warranty if you're not happy with this coat, so it's a good bet.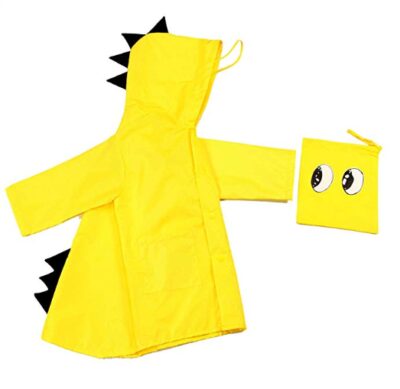 4. Hiheart Unisex Yellow Waterproof
Yellow seems to be such a popular color for kids clothing, and this kids yellow raincoat certainly meets that standard – maybe it is because yellow makes us feel happy when the weather is gloomy. Who knows? Either way, kids look really cute and sweet when wearing a yellow raincoat. This one has a Polyester outer layer, providing a waterproof shell and the lining is made of 100% cotton, so it is soft and comfortable on the inside while protecting on the outside. The coat is very versatile and can be worn during all seasons and in all weathers, because even if the weather is a little milder but your child still requires a coat, this jacket is breathable no matter what the weather is. It has a helpful zipper as well as sticky Velcro tabs, so there are no worries with this coming open during the rain.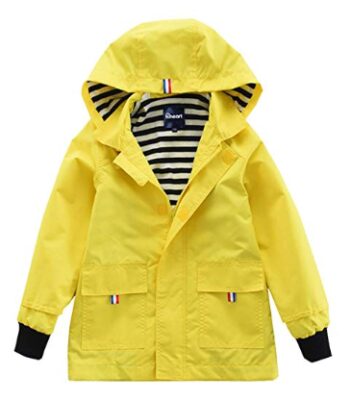 5. Arshiner Butterfly Coat
As girls raincoats come, this one is really pretty. It has just the right amount of motifs and decorations without being too 'busy' and comes in a range of eight gorgeous colors, to suit any style or choice. You might have two little girls and want to buy them matching coats, or even get them the same design, but in more varied colors, and you can do this with this jacket. Embellished with pretty flowers and butterflies, it is stylish and cute and is made of Polyester so it is fully waterproof also. It comes in a range of sizes, the largest being up to age six, so check the maker's size ranges before you buy, they have helpful measurements listed for your information, to help you choose the best one for your kid.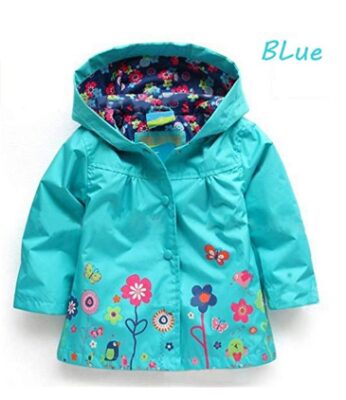 6. Yellow Duck Kids Jacket
We all remember Sesame Street, don't we? 'Rubber Duckie, you're the one…' is a song that we remember fondly from our childhood and duckies are an eternally cute motif for children's clothes. This cotton blended raincoat for kids uses the famous and popular duckie motif, and is made of great quality materials and has a nice inner lining to add comfort and softness. It has long sleeves and a useful hood and zipper to keep your child warm and comfortable when it is cold and raining. It is lightweight so can easily be folded away until it is needed. The inner lining is a pretty candy stripe design, so it is eye-catching and stylish, and when the sleeves are folded back a little it adds a nice pop of color.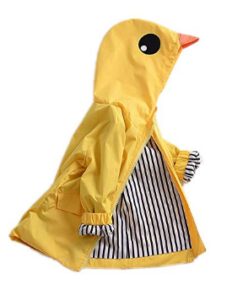 7. Jingle Bongala Waterproof Jacket
If you're on the hunt for the best warm raincoat for kids, this Jingle Jacket is a step in the right direction. Because it boasts a 100% Polyester outer layer, as well as a 100% fleece inner lining, there is way more added heat and warmth when bracing against cold weather. There are also reflection strips within this design, so it is safer to wear at night and during the darker winter months, offering higher visibility for safety. It comes in ten varied designs and colors, so there is a massive range of choice depending on your style and preference. It also has elastic cuffs to keep in all of that important body heat and also has useful pockets for storing items that you need to hand. A great jacket for all year round and a fun range of designs to suit every child.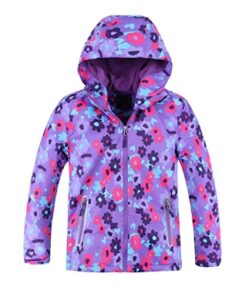 8. Hatley Girls Printed Jackets
What makes a great girls raincoat even better? When it is covered in unicorns, of course! Girls seem to go crazy for anything that has a unicorn motif, and this printed jacket offers several colors with the unicorn print, but also offers a range of other styles, with butterflies, daisies, hearts and more. It is made of 100% Polyurethane so it is completely water proof and has a toweling lining which is made of Polyester too, so there is a double layer of comfort and protection. There are two outer patch-style pockets and a helpful loop in the inside back to hang up without ruining the shape of the jacket. There are snap buttons so kids can easily open and close it themselves for a sense of independence and developing their skills and another added bonus is that you can throw it in the washing machine when it gets dirty and it washes well.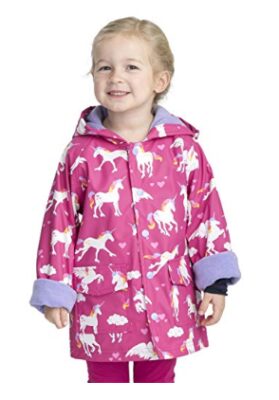 9. Children's Frog Raincoat
This adorable frog themed kids waterproof jacket is really fun. Frogs are another really popular icon for kids toys and clothing, and the fun aspect of this coat is that the frog's eyes are sticking up in a quirky, comical manner so it is extra cute and fun. It has a snap button closure so it is easily put on and taken off, and kids themselves will be able to pop the buttons closed without fuss. The company that make this offer a matching umbrella with the same frog motif so your child can have extra froggy fun splashing in the rain. The Polyester material that this coat is made from is very comfortable and allows the skin to breathe in all kinds of weather while still being totally waterproof.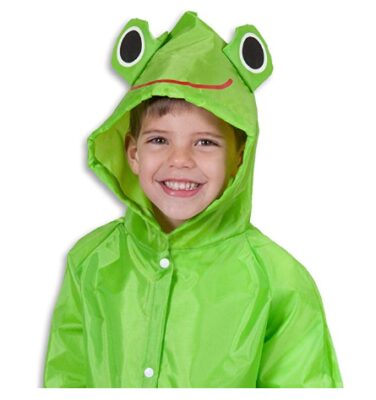 10. Dinosaur Print Raincoat
More dinosaurs! Kids just love them, don't they? This boys rain jacket is simply covered with cute, bright and vivid dinosaur images, that they will get lots of fun out of. The jacket also has useful pockets to keep the hands warm in poor weather but also for storing those all important items that little kids like to keep handy. It has a totally waterproof outer lining which is strong yet lightweight, but also has an inner lining in a mesh material which is really useful for all weathers, but particularly for rain and cold as you will be warm but your skin will feel protected also. It has a nicely shaped hood that won't fall down easily as well as snap closing buttons so kids will feel they can open and close this coat themselves. It is able to be machine washed too, so its a great jacket for any little one.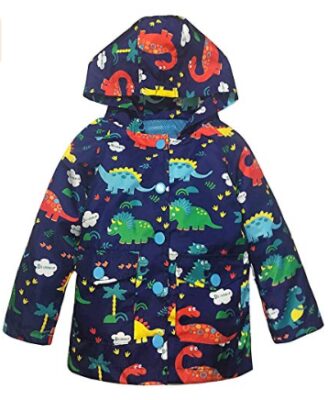 11. Lohome Rocket Rain Poncho
A raincoat poncho for kids is a really clever idea, because it combines all the great qualities of both items, the flexibility of a poncho with the waterproof quality of a real raincoat. This one is 100% fully waterproof and is made of Polyester which boasts that it is very quick to dry, so there are no worries about walking round in a soggy bundle after a rainstorm! It has cheerful, bright motifs and comes in four lovely colors, green, blue, pink and yellow so there is lots of choice. What is a really clever feature is the bag cover element, that covers over any backpack or school bag so that it isn't soaked when the rain falls and all your child's belongings will be totally protected and completely dry. It offers a one year money back warranty, and you won't be asked any questions. This is a comfortable, practical and cheerful item that your child will get a lot of wear out of.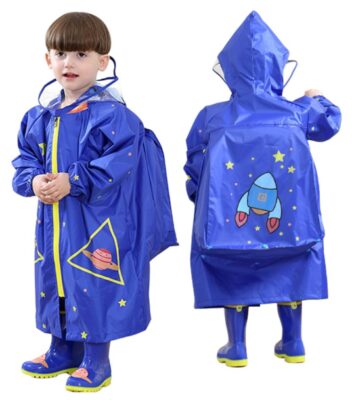 12. YNIQ Unicorn Print Coat
Unicorns, donuts, dinosaurs, stars and diamonds, all surrounded by a pretty, rich pink background are all featured in girls rain jackets from YNIQ. This one is really quirky and fun, with a real cartoon-like design, bound to stand out and look really adorable on your child. It has a waterproof outer fabric and this is complemented by a mesh inner lining that is durable and breathable. There are also useful pockets and the buttons snap closed, which means they won't fall off and are securely sewn in for your child to be able to use. The hood comes down for a decent length, so the whole head is fully covered and it will keep all the hair underneath totally dry. It is also able to be machine washed so if it gets particularly mucky or dirty, it can be brought back to life with a quick wash.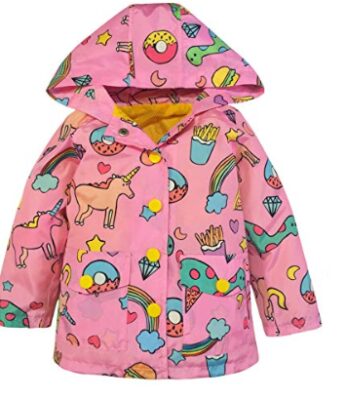 13. Fireman Raincoat
This boys raincoat couldn't be any cuter and is one of the best kids raincoat for hot weather also. Another design that can be washed in the machine, it is designed in the style of a fireman, so every little boy will have the delight and fun of pretending to be a real fireman during the rainy weather. They might even wear it during the summer just to feel like a fireman! It has a really nice shape and design and also boasts a mesh inner lining and a waterproof lightweight fabric on the outer shell. The buttons have a snap closure so they are easily opened and closed by little fingers. Fully waterproof, this would make a great fun yet practical gift for any child who loves firemen and firetrucks.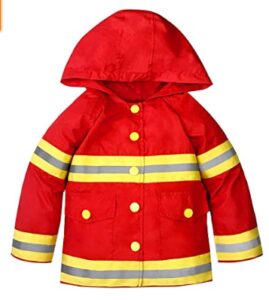 14. Mickey Mouse Lined Raincoat
This toddler rain jacket combines the practical aspects of a waterproof coat together with the fun and excitement of Disney characters. Your child will almost feel that they are going to a costume party when they put this fun raincoat on. It comes in a massive range of Disney character themes, from Frozen to Minnie Mouse, and even Darth Vader from Star Wars, so every child's interest is catered for. It has snap closing buttons and the outer layer is made of 100% Polyurethane. The lining is a mix of cotton and polyester, making it durable, breathable and good quality for any waterproof coat. It can be hand washed also, so while it can't be put in the machine, it can still be cleaned when your child falls in the dirt or gets splashed in the park.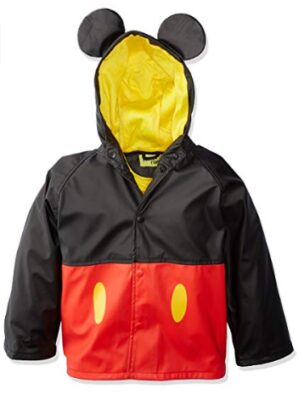 15. My Little Pony Slicker and Umbrella Set
You might be on the search for a kids raincoat and umbrella together as a pair, and this one with the My Little Pony motif is a great option. It has all the favorite characters, Fluttershy, Apple Jack and the amazingly popular Twilight Sparkle, so it is every little girls dream coat. Made of strong vinyl it is totally repellent of water and is designed with bright, eye-catching colors so while it is pretty it is also going to last a long time. It suits up to age seven and the umbrella is made of polyester and has a helpful Velcro strap to keep it closed when not in use. What little girl doesn't want a My Little Pony coat? This kids raincoat set is a great way to give them what they want and keep them dry and safe from the rain.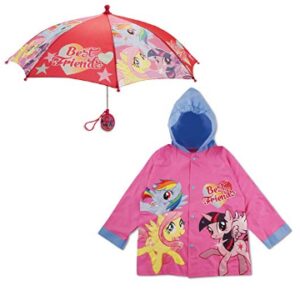 Top Kids Raincoat
Jingle Bongala Waterproof Jacket
On our list overall we felt the best raincoat for kids was the Waterproof Jingle Jacket. It just had so many options, choice and features that made it an excellent pick. The waterproof outer layer is great because it means total security against the rain and poor weather but the reason we particularly liked this jacket is because of it's inner fleece lining. This provides extra warmth and comfort when not only the rain is pouring, but when the cold winter winds are biting also. This came in such a wide range of designs and colors that we really liked the fact that there were so many to choose from and also the elastic on the cuffs and the practical pockets made this a real winner.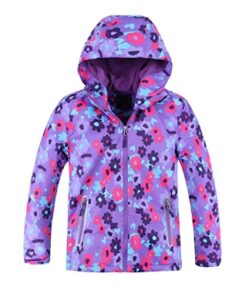 Best Affordable Kids Raincoat
Arshiner Butterfly Coat
When considering budgets and affordability, some parents have to think very carefully about what raincoat they can afford for their child, but ensure at the same time that they purchase one that is decent quality and won't let them down when they need it the most. The Arshiner Coat was a great affordable choice of coat because it doesn't break the bank but at the same time boasts good quality materials and a sturdy all-weather jacket for your child. There was a lot of choice in color also, and considering this is a more budget-friendly version, it definitely stands out as being a good affordable choice as a kids windbreaker for any type of weather.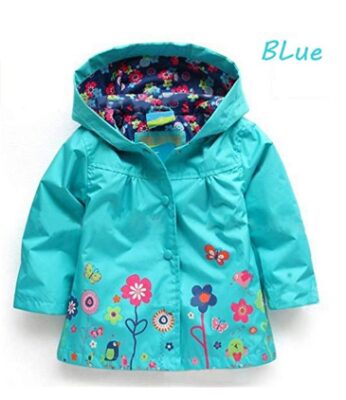 FAQ's
Where to Get a Duck Raincoat for Kids?
Duckie raincoats, as we know, are really popular. There is just something so cute about animal themed clothing for kids and the rain-splashing fun that can be had with duck-themed items is endless. You might want to buy a duck raincoat for a child of your own, or perhaps as a present for a little one in the family, either way there are plenty of places to find them. Online usually has the most choice, with websites such as Amazon.com bringing together all the various manufacturers and designers together in one place so you can compare and contrast prices. Other clothing stores in the mall or shopping district in your local area might carry duck jackets for kids, just pop in and take a look.
At What Age Should Kids Learn to Put on a Jacket?
We've all felt the frustration of trying to manhandle our child into their coat or jacket on a cold day, usually as we are already running late for our ventures into the world, and they squirm and wriggle and make it even more difficult. As they get older though, they are able to begin to understand the difference between the right way and wrong way round, right and left and up and down – this certainly helps them make sense of how to dress themselves, and they slowly gain independence. Typically a child should be able to manage putting on their own toddler rain coat around the ages of three or four. They might even be able to manage popping their own buttons or doing up their zipper.
Where to Buy a Kids Rain Jacket?
The best place to buy a kids rain jacket is online, for example amazon have kids raincoat and jacket options in their hundreds. You might think, hang on, how can we make sure that the jacket is a good fit for my child if we can't try it on before we buy it? There is little worry about this problem, jackets always come with a good size guide so if you measure your child correctly before ordering, you usually won't have any difficulties getting the correct fit. Also, if there is some issue about sizing or shape when it arrives, most companies are very good at managing refunds and returns.
How to Wash a Kids Jacket?
Yes, it will get wet. It is designed to get wet frequently. But quite often a kids rain coat will also get mucky, have food stains or even stains that you can't identify – typical kids! But it is usually very easy to keep them clean. Many are machine washable and those that aren't can usually be washed by hand or wiped clean. They tend to be made of quite resilient material anyway, so it is a fairly low-maintenance clothing item for children.