We all know that every child loves playing with toy figures. Especially one that looks the same as their favorite cartoon and movie characters. Therefore this review is going to specifically talk about the best Batman toys for kids.

Batman has always been one of a lot of peoples favorite superhero. What makes him among the greatest of all time is how he doesn't actually have any superpowers yet still is considered as a superhero. However, he has many cool gadgets and equipment that he uses to advance his natural fighting abilities. This is what enables toy companies to be able to make a lot of different cool action figures and toys about him. This makes it become extremely difficult to choose and get your hands on the best ones for your kids if your knowledge about Batman is limited. By continuing to read this article we will not just make you aware of the best Batman toys but also what you should consider before making a choice to buy one.

Considerations When Picking The Best Batman Toy
Below we have listed some of the possible cool gadgets that Batman is known to have. This should make you aware of which toy would be best to buy for your kids based on the number of gadgets the action figure comes with.
Batarangs – These are the cool and sharp Frisby type of weapons shaped into the famous Batsign which Batman throws at his enemies
Cape – All Batman action figures should come with a cape as this is Batmans signature item to his Batsuit. Although some types wouldn't expect to have any such as its robots or futuristic Batmans.
Grapple – Batman is known not to be able to fly but can move around building to building in the air with his long and strong grapple gun.
Utility Belt – This is where Batman stores all of his other cool gadgets so they are easily accessible and do not get in the way.
Mask – All of the coolest superheroes have to hide their identity for many different reasons and Batman is one of them. Therefore no Batman toy for kids should come without his mask
Best Batman Toys for Kids
Bandai 'INJUSTICE' Batman Action Figure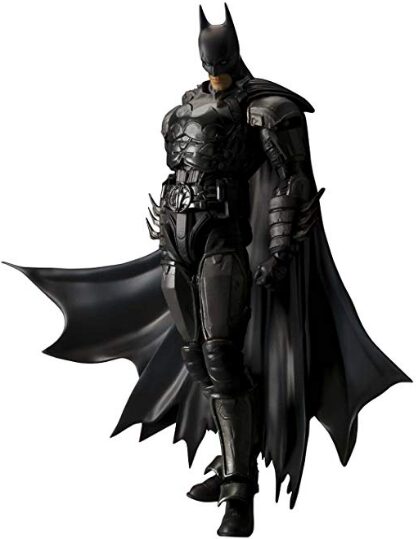 We first begin with one of the coolest looking Batman action figures. It is designed to look the same way as Batman appeared in the 'Injustice: Gods Among Us' video game for the fans who love to play it. This means that some people this is not just a play toy, but can be a very rare collectible action figure too.
This premium batman toy for kids comes with two sets of hands. One set is designed to hold and play with the famous 'Batarangs' whereas the other set of hands hold the Bat grenade and the grapple gun.
This high quality Batman action toy is sculptured in the most specific detail your eye can fathom. As well as this, its range of movements designed so that he can be put into many different action looks.
One last thing you must know is that Batman's arch nemesis (The Joker) also has its own action figure made to look the exact same way he looked in the game. This will allow kids to recreate the game using their own imaginations and also give a better set for the toy collectors.
Imaginext Batbot Extreme Figure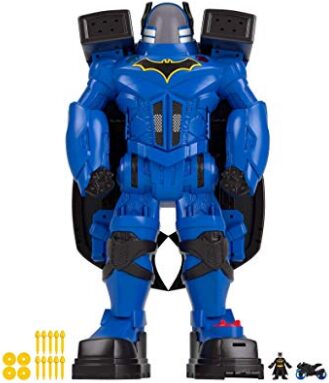 All serious Batman fans would know how cool it would be to get their hands on the Imaginext Batbot Extreme Figure. This has the potential to make any kid go crazy with excitement as it stands at an incredible 30 inches tall and goes as wide as 16 inches. Although it is not as tall as an actual child of at least the age of 3 years, it still is considered as a lifesize version which kids usually treat as their best friends as well as just a toy.
It has the ability to change your child's voice as well as it coming equipped with a pair of foldable wings, projectile launchers and a cool motorcycle. As well as this, the fists are designed to perform super punching action just by squeezing the trigger.
The bot includes a miniature Batman figure which can either be played with inside the robot or separately with its motorcycle. It is made small enough to fit in the elevator to take it up to the head of the robot. As well as this, the figure is able to stand on the bots shoulders to allow it to blast the projectile launchers.
This would make an amazing gift for children that would definitely receive plenty of hours of use. However, we have to warn you that it weighs around 12 pound which isn't really heavy but can still cause a lot of pain if it was to drop on your child's feet as it is made from hard plastic material.
Batman Kids Voice Changer Mask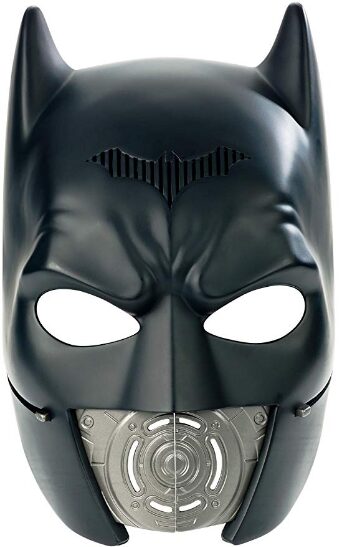 If your child loves the Batman superhero, then they will definitely love to play Batman himself with this mask. Made in just one size of 12 by 8 inches, it is able to fit the face of any child from the age of 4 and above. With an adjustable clip-on strap to securely keep it in place so it doesn't fall off.
The most interesting and exciting feature about this mask is that it can change the voice of the person wearing it into Batmans voice. Allowing your child to feel more mysterious and even more like Batman. They can go on plenty of wild adventures feeling like Batman himself.
To make it more interesting, this cool mask has a built-in speaker that speaks over thirty famous Batman words and phrases. As well as the intimidating screw-face iconic Batman mask design at the front, these words and phrases help to make your child become more fearsome.
This mask is designed to put the safety of your child first with the grey re-breather chamber at the front of the mask. They're able to easily slide the chamber doors open with a sliding toggle on the side of the mask.
The last thing to know about this Batman toy mask is that it needs AAA cell batteries to function which come included in the package.
Batman Spy Gear Utility Belt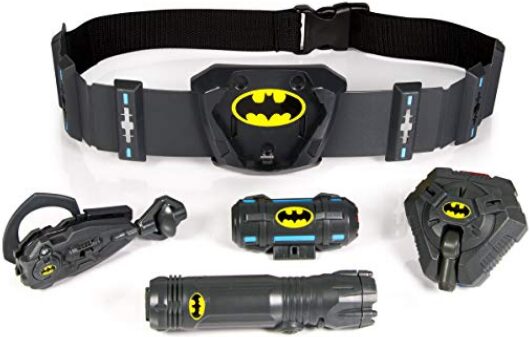 Can you imagine how cool it would be for a child to play with gadgets? Now imagine them playing with The famous Batman gadgets with this Batman Spy Gear Utility Belt. Not only are they able to store gadgets with this belt, but it can actually be used as an actual belt to fit any child with the adjustable straps. This means it would go really well with other Batman costumes that you can buy separately.
The belt comes with three different gadgets including a Batman listener, Batman distractor and a special light. It is not rocket science to figure out what these gadgets do as the name describes this already. The listener lets you hear sounds from far away, the distractor plays a loud noise to scare the bad guys and the light shows an awesome bat signal on the wall. As well as this, the belt is equipped with a motion sensor that lets you know if any danger is getting too close to you.
What you must know is that it does require five AAA batteries (not included) and four LR44 batteries which come included in the pack.
Dawn Of Justice Kids Batman Cape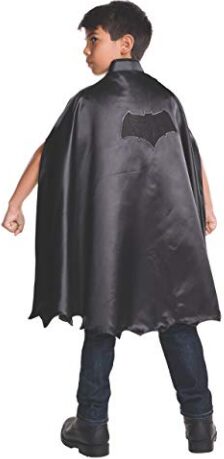 The Dawn of Justice Kids Batman Cape is the most simple yet fun kids toy on this list. Made from fine polyester material, this wonderful cape is able to go well with any child Batman play costume.
Weighing just 7 ounces, it feels as light as a cloth so you won't have to worry about it dragging down your child. However, you must know that measuring just 36 inches long, it is not designed to reach the floor when your child puts it on. Although with it being 16 inches wide, your child can use it as a protective shield to cover himself up with.
It has a velcro strap at the neck to give it a quick and easy way to put on. This makes it also incredibly easy to take off at the same time for extra safety just in case it was to get caught in something as your child is playing with it.
Kids Batman Play Costume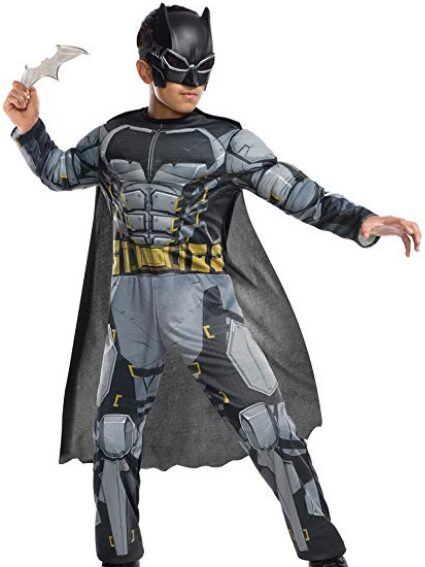 Can you imagine what it would feel like to actually play as Batman himself? Kids are now able to dress up completely as Batman with this play costume.
Unlike the real hard and gadget-filled Batman costume, this one is designed to be more delicate to the wearer's body due to the way it's made. It is made from complete polyester material with a stuffed polyester fiber chest to give it a more bulky look.
Made to look really cool with high quality artwork done to it including a foam printed belt and mask. Also, the detachable cape comes with it too so your child can wear it as he feels comfortable.
It is designed to be a jumpsuit that covers the whole body from neck to ankles. This is perfect to keep your child warm on the cold nights of Halloween. However, you must be careful when buying it as it does come in different sizes to best fit your child.
We understand that children can get messy therefore it can be easily machine washed without affecting any of its padded features.
Batman Toddler Power Wheel Quad
This toddler power wheel is a great toy that all kids would enjoy riding on. With it being designed with the safety and preferences of toddlers in mind, it is surely one of the best Batman toys to buy.
The colors and graphics it has printed on it look real and cool enough to be appealing to any child's eyes. This can potentially make them always want to jump on it when they see it. As well as this, it's hard and strong wheels make this toy able to drive outdoors and indoors too. Making this a cool toy to take with you on picnics too.
It is operated by pushing on one button to make it go and also stop too meaning they may not want to be assisted with this. This allows them to develop confidence and build on their motor skills which make this toy very helpful.
Unlike riding a bike, this quad is able to keep them balanced so they have time to figure out how to ride it without falling off. With a built-in footrest, they're able to easily get on and off it by themselves as well as use this for a more comfortable and safe ride.
To add to the safety, it is only capable of going a speed of up to two miles per hour. This is fast enough to keep them excited and slow enough to be really safe at all times. However, the negative thing is that it is only able to go forward and not be but in reverse which some parents weren't really pleased about.
The dimensions of it are 16 x 26 x 17 inches which means it has enough space for any child from 12 months to three years old.
However, we must warn you that it doesn't come with any child protective gear such as elbow pads, knee pads and a helmet. Although your child looks cute without them, we would recommend that you buy them to add extra safety and protection.
DC Universe Batman Beyond Action Figure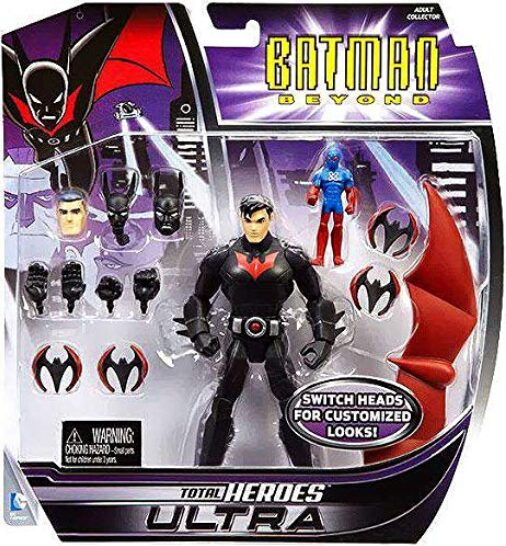 Not many kids may know about this version of Batman but it is surely one that we must add onto this list. It is designed with the theme of the same Batman from the 'Batman Beyond' animated series. In these series, Batman is no longer played by Bruce Wayne but by a teen called Terry Mcginnis as it is based in the future where Bruce had retired and passed the job down to his successor.
A lot of real Batman fans would already know about this which makes this a very fine collectible toy for them. Whereas some may not know and would use this as a very cool action play toy due to it's equipped accessories.
This Batman toy for kids comes with four different heads to choose from to give it different looks for different situations in your child's imagination. These include two batman masks and one head of Bruce Wayne as well as a Terry Mcginnis head so they have the option to choose who they prefer.
As well as this, it also comes with three different pairs of hands to make it have different action moves. With four Batarangs, another small action figure of a different hero and a cool detachable red wing accessory to allow it to fly.
Although this toy may be small at a height of 10.6 inches, it is still one of the most expensive Batman action figure you can buy due to it being so rare.
It is also recommended to be played with by children from as young as 12 months. However, we advise you supervise them carefully as it does come with really small parts that can cause them to choke if they ate them.
LEGO Juniors Batman Figure and Cave Building Kit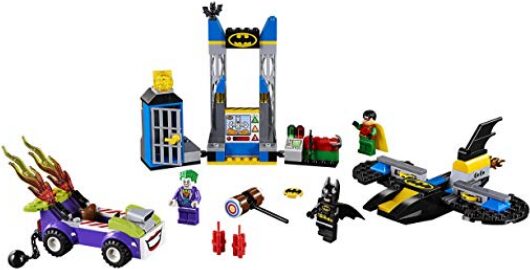 Lego Batman has recently become very popular among the toys that kids enjoy playing with. There has also been a movie about this which made the sale of these toys so much higher. Meaning these play toys are very cool to get your hands on for kids to play with.
With this set, you are able to build the most amazing Batcave that includes the famous Batman view screen as well as a jail cell to capture Batmans all time foe, The Joker.
This set comes with three small figures, Batman himself, The Joker and Robin. Along with this, you will receive 151 pieces of Lego to build the Batwing Jet and the cave with. These pieces can also be added to other pieces of Lego that you can buy separately to make a better set.
Ideally, we advise not to give this Batman helicopter playset to any child under the age of 4. This is mainly due to it having small pieces that a child under this age can be tempted to put in their mouth.
The Dark Knight Batman Motocycle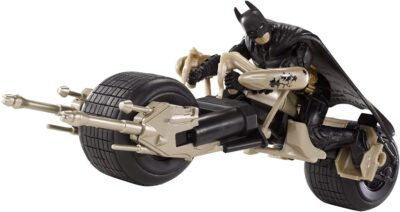 Everybody who watched the film Batman: The Dark Knight would know how cool the motorbike scene was. It took everyone by surprise with the level of action Batman went through to try and capture the bad guys.
With this toy version of Batman and his motorcycle, your kids are able to reenact the scene in their own way. Batman is able to be made to ride over any surface with the cool thick and durable tyres.
As well as this, the motorcycle is equipped with two long and thin missile launchers to pretend fire at the bad guys.
One thing you must know is that Batman and the bike are attached together, therefore, they cannot be played with separately. Some parents found this a put off to buy it for their kids as children usually want to be able to make the figure jump on its accessories.
It is able to fit in the hands of all small kids with a length of 11 by 7.5 inches. Although It is still Recommended for children of the age of 4 and above due to its potential hazards.
Arkham Knight Batman Action Play Figure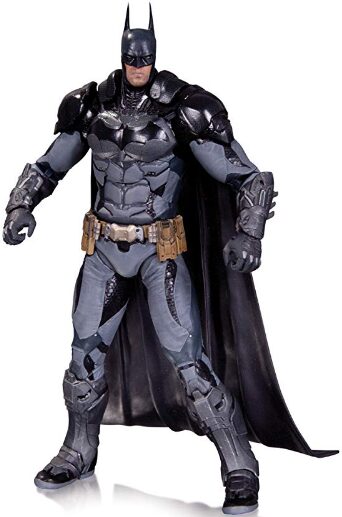 This fascinating Batman Action Play Figure is a very cool toy for kids to play with. It has been designed with very high quality detail to look the same as how Batman looked in the Arkham Knight video game. All of these details are big enough to see clearly as it is as tall as 6.75 inches.
Not only this but this version is a rare limited edition type due to the game being very famous. This is why it is budgeted at the higher end of the market with the price and also is popular amongst a Batman toy collection. Therefore it would be difficult to see these types being available often.
FAQ's
Best Overall Pick
The toy that we have decided is the best one to buy for your kid is the Imaginext Batbot figure. This decision was made based on all the cool feature and play that this toy can bring to a child. The fact that it can shoot missiles and also has a smaller batman figurine allows a child to let their imagination run wild with both types of toys. Whereas with the other sets on the list only come with one type of toy which reduces limits their imagination. Also, most parents that reviewed this toy said that their child would spend hours with this toy and wouldn't want to go anywhere without it.
Best Budget Buy
The Toy that we would recommend you buy if you have a smaller budget than others but want to make the most of the toy you choose is the Batman Play Costume. Although this is cheap and doesn't have any cool accessories with it, it is still the only one that lets your child actually become Batman himself. This can allow endless possibilities of imaginations for them to roleplay with.