Basketball is a great team sport that is perfect for kids to play, as it will encourage them to be more active. As a busy modern family it can be difficult to keep kids active with the lure of screen time but by offering the chance to play an exciting sport such as Basketball can help change this. However, when playing sport it is important that your kids have the correct footwear to provide them with adequate support and keep them comfortable throughout the session. There is a large range of shoes suitable for Basketball that kids will love, with different performance qualities and top of the range styles and colors. Your kid will be sure to find their ideal pair of shoes perfect for Basketball. We also have a range of basketball hoops for kids reviewed if you want to buy some basketball gear.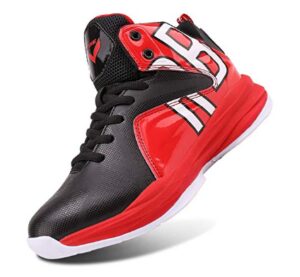 There are a great variety of light up shoes that can also be worn while playing Basketball are available to choose from, making it difficult to decide on the perfect shoes, so this article will take you through the popular options so that you can find the ideal style for your kids.
Top Basketball Shoes for Kids
 1.  High Top Youth Air Force Shoes by Nike
If you have a kid that loves playing Basketball then when searching for the ideal footwear you should consider these High Top Youth Air Force Shoes by Nike. These great shoes have been designed to look stylish while also allowing the wearer to perform to the best of their ability. All Nike Air shoes for kids are high quality and made to last but these Air Force shoes have additional qualities with a hook and loop strap around the ankle for extra fit security. Your kid will love how comfortable these leather shoes are and with the use of Nike's Air Sole unit they have the ultimate cushioning experience, making them the ideal option for Basketball. The rubber outsole of the shoe is perfect for providing traction, giving the wearer control over their feet, even while playing sport. This durable shoe comes in a variety of sizes so are great for growing feet and should be considered as a top option for all kids who play Basketball.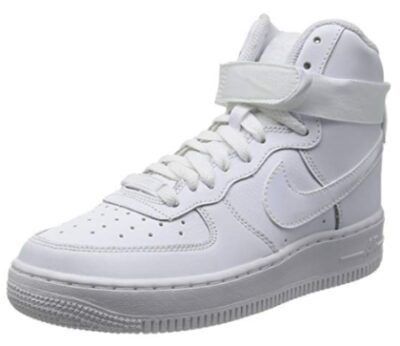 2.  Kid's Hoops by Adidas
All kids want to have the latest shoe designs, so they will love this Kid's Hoops Shoe by Adidas, which has the latest fashion style while also being a good practical shoe for active kids. The familiar 3 striped logo and Adidas name has been added to the shoe, so along with the smart black and white coloring with red highlight, this will be the shoe that all kids want. This great kids Basketball shoe is functional with its sturdy rubber outsole providing grip, perfect for sports, and its EVA midsole provides the ultimate comfort with its lightweight cushioning. Available in a range of kids sizes that starts with toddler sized shoes, this Adidas shoe has a predictable regular fit with an Ortholite Float sock liner to provide maximum comfort to the wearer. This synthetic shoe is perfect for kids to wear to play sports and they will be able to perform at their best every time they wear them.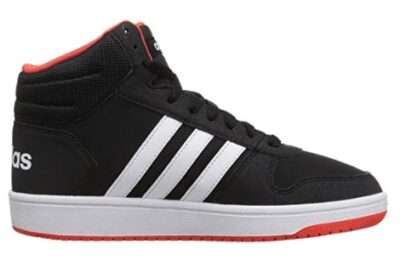 3. Team Hustle Shoe by Nike
These Kids Team Hustle Shoes by Nike are a top of the range cool shoes suitable for playing Basketball that boys and girls will love wearing. These stylish lace up shoes come in a smart black color with a striking white sole. They have the Nike tick logo and silver Nike writing for an appealing finish that will make your kids the envy of all the other kids on the basketball court. These great practical sports shoes have a unique hook and loop fastening over the mid part of the shoe for ultimate security. Designed for maximum comfort, there is a lightweight foam cushioned midsole enabling your kid to wear these shoes for long periods of time. There is no worry of slipping when wearing these shoes as the thin outer sole is made from rubber to provide the grip needed during sport sessions. They are great for kids of all ages as they are available in a wide range of kids sizes from young to older kids. A lovely leather and synthetic shoe with a foam mesh that will keep feet feeling comfortable whilst being wearing. All kids will love wearing these fantastic Nike sports shoes.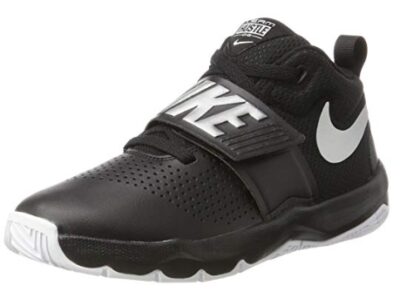 4. Under Armour Leather Basketball Shoes
A great looking pair of lace up Under Armour Leather Shoes For Basketball that are great for both boys and girls to wear. With a wide range of different sizes available there is sure to be the perfect size for your kid. You cannot go wrong with these cool black shoes with a stand out grey stripe on the side of the shoe and white logo for contrast. These cheap Basketball shoes for younger kids will be ideal for sports with their sturdy rubber sole with outsole that has a unique tyre inspired pattern to give superior grip and traction. Have piece of mind that these stylish shoes will also provide the ultimate comfort for your kid, with the soft foam padding round the ankle of the shoe and the Micro G cushioned foam midsole for top protection during impact. These shoes are breathable with a great upper mesh lining to keep feet feeling fresh even during the most intense of sport sessions. These are the perfect kids shoes for Basketball and other sports that will keep your kids feet feeling comfortable and supported at all times.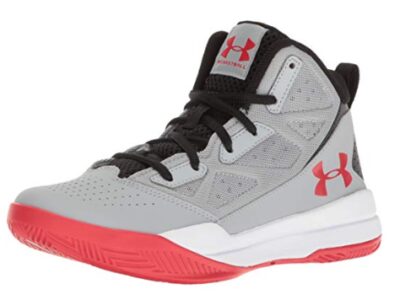 5.  Kid's Pro Spark Shoes by Adidas
Another fantastic pair of shoes by the popular sports brand; Adidas, which are suitable for Basketball and other sports. These Kids' Pro Spark Shoes have a range of kids sizes to choose from and with their good true to size fit you will not be disappointed with the performance of these shoes. There are even little kids size 3 Basketball shoes available for toddlers. A simple appealing design, these slim black shoes have the familiar 3 stripe Adidas logo on the side of each shoe, in a bright contrasting white color, making this shoe really stand out. This synthetic lace up shoe is good quality, as you would expect from one of the top sport retail brands and this straightforward design is suitable for both boys and girls. Made to be breathable, these lovely shoes are good for spending hours playing sport as they will keep your feet feeling cool at all times. With a cushioning midsole these shoes are comfortable for all to wear. Kids will enjoy the simple look of these great training shoes that are durable and suitable for general sports purposes.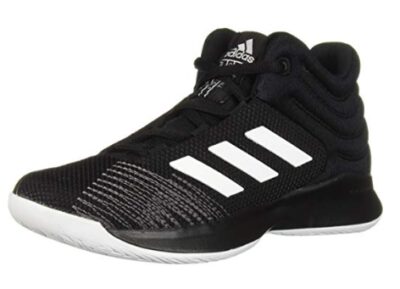 6.  Kid's Show Out Shoe by AND1
Stand out from the crowd with these amazing Kids' Show Out Shoe by AND1 that have a fun look but have also been designed to be a top performance shoe. With a good choice of sizes these training shoes will be suitable for most kids, so are a great option for all kids that love playing Basketball. As one of the market leaders in design the lightweight finish to this footwear is ideal for kids but there has been no compromise with comfort or fit security. They have a EVA midsole that provides cushioning and comfort to the wearer, while also being lightweight. These striking white, black and light blue Basketball shoes for teens are appealing to all and will make other kids on the Basketball court envious.

7.  Unisex Basketball Shoes for Kids by  Adidas
These Basketball Unisex Shoes Suitable For Kids by Adidas are another example of a great pair of training shoes that kids will love. Girls especially will find the sporty but fun design appealing and these purple shoes for kids will be popular throughout the Basketball courts. With a low profile style these lace up shoes have a sturdy rubber outsole to provide good grip when playing sports. The mesh outer material keep these shoes breathable and fresh, which all wearers will appreciate. The antimicrobial Ortholite sock also helps keep feet feeling cool and fresh, so are ideal for use during intense Basketball games. There is no need to worry about comfort when wearing these shoes as the cushioned midsole provides plenty of protection from landings. These top of the range Adidas shoes feature the iconic 3 stripes on the side of the shoe and white Adidas writing on the back for easy brand recognition, so if you are looking for a popular shoe then look no further than these fantastic sports shoes. A great reliable pair of shoes that are lightweight and durable so are perfect for active kids.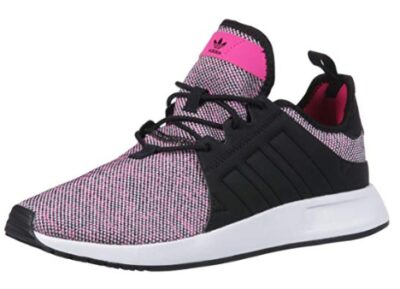 8. Team Hustle Shoes by Nike
It can be difficult to find good quality sports shoes that are a good fit for preschool aged kids but these Team Hustle Shoes by Nike are an exception, as they have a great range of sizes for toddlers and young kids. An attractively designed shoe with subtle grey coloring and a striking pink Nike tick, which young girls will love. These Nike kids shoes ideal for Basketball are not only pretty but they are also very practical sports shoes and will be in perfect place on the Basketball courts. As a lightweight shoe they are great for kids but they still have plenty of support with the unique hook and loop strap over the mid point of the shoe giving a great fit and maximum security to the wearer. There is a thin rubber outsole that provides great grip while playing so you can be confident that these shoes will not let your kid down, while the great cushioning of the midsole ensure that the shoes are comfortable to wear for long periods of time. You will not go wrong with choosing these top of the range shoes for your kid as they will get much use and enjoyment out of these great shoes.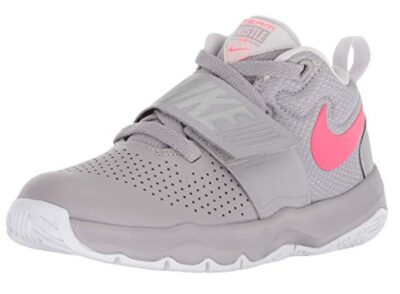 9.  High Top Sneakers by WETIKE
These High Top Sneakers by WETIKE are an attractive brightly colored shoe that all outgoing kids will love. These red and black shoes good for Basketball and other sports have been designed to perform. Your kid will certainly stand out from their friends with these stunning sneakers. As well as being a great fashion sneaker they are lightweight and durable, perfect for active kids. Made from smooth leather the bright color will never fade, keeping them looking as good as new. With mesh panels and antibacterial liners the sneakers are breathable, so will keep feet cool at all times. With an EVA midsole there is great cushioning provided so the wearer will be comfortable even when jumping during Basketball games. They have a unique wider fit for greater side to side stability and the flex grooves makes sure that the shoe allows flexibility and movement during use. The rubber outsole is wear resistant for long lasting use and the herringbone traction pattern provides great protection against slipping. Kids will love these out going shoes that will definitely attract attention on the court.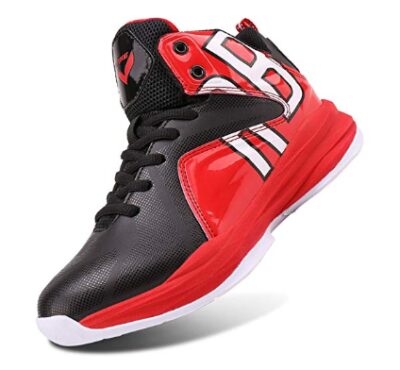 10. Grade School Jet Shoes by Under Armour
A stylish pair of Grade School Jet Shoes by Under Armour that will be enjoyed by kids across the Basketball courts. With a great range of sizes available for all kids, you are sure to find the perfect fit for your kid. This synthetic shoe has an appealing dark blue color with bright pink sole, so all girls who play Basketball will jump at the chance to wear these shoes. With an unique traction pattern on the rubber outsole these shoes will provide the ultimate grip and prevent slipping during sports sessions. They are comfortable, as the EVA midsole provides great cushioning even while wearing for a long duration. This great shoe will also keep your kids feet cool and fresh during hot competition with the ventilated mesh panels making the shoe breathable. These Under Armour shoes are a great choice for any active kid who enjoys playing Basketball, as they will not let you down.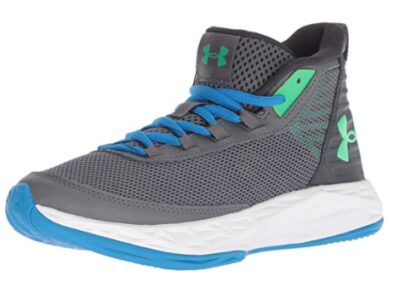 Best Overall Pick
Our best overall pick are the High Top Youth Air Force Shoes by Nike, as these great shoes amazing for Basketball are both stylish and practical for participating in sports. With Nike's Air Sole Unit these shoes have the ultimate cushioning so are comfortable for wearing whilst playing sports. You do not need to worry about your kid slipping while they are wearing these training shoes as the outer rubber sole has traction to prevent this. Unique to this shoe is the hook and loop fastening around the top of the shoe to provide stability and security to the wearer. Overall these fantastic shoes will perform to the highest levels when on the Basketball court.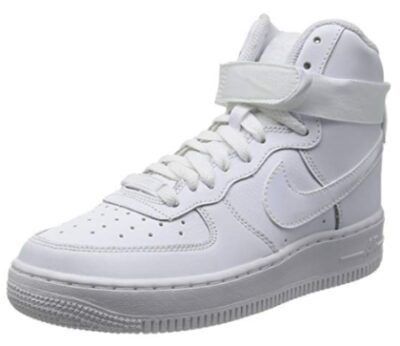 Best Product Buy
The Kids Team Hustle Shoes by Nike are our best product buy as these good quality shoes are great for sports including; playing Basketball. These shoes have an attractive design with appealing silver Nike writing over the hook and loop strap, making the shoes stand out from the crowd. They are great performance shoes with a cushioned midsole which provides great comfort and a rubber outsole to prevent slipping. The hook and loop strap over the mid part of the shoe provides good security to the wearer so they can concentrate on winning the game. A lovely Nike shoe that comes in a good variety of kids sizes so are suitable for all kids sporting needs.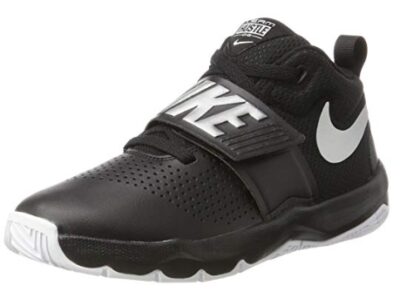 More Related Kids Shoe Articles: