Are you looking to buy a kids fitness tracker? In this review of the best fitness bracelets and trackers for kids you have 11 of the latest products that are ideal for children of all ages.
In today's society there is a trend for children to be less active and to spend less time outside than is recommended. This sedentary lifestyle is encouraged by the ready availability of computer games and TV programs. A fitness tracker could be the answer to providing the motivation for your child to look at their fitness and to increase their exercise levels in a fun way. Many of the options available allow the child to set goals and help them to achieve them, making the child more likely to persevere with their exercise activities.
There are many different products available on the market today and it can feel overwhelming trying to pick the right one. This guide looks at the best fitness devices available and provides you with the information to help you choose the ideal tracker for your child.
Things to Consider Before Buying a Fitness Tracker for Your Child
When choosing an appropriate tracker it is important to look at the features each one offers to make sure it is suitable for the age and requirements of your child. What are the reasons for them wanting one? Do they do a specific sporting activity that they want to record? Maybe they want to improve their exercise levels and improve their health? It may be that your child is starting to become independent so you are looking for a device that enables you both to stay in close contact.
There are trackers available for all ages. With this in mind, it is always advisable to check that the strap of the device will fit your child's wrist to avoid any disappointment. Always look at the features offered as this varies between different products and also check that any devices that the tracker may connect to are compatible.
11 TOP FITNESS TRACKERS FOR KIDS
1. Kids Activity Fitness Tracker
This Trendy Pro Activity Tracker Bracelet is suitable for all of the family and good value for money. It is easy to use and has been designed with kids in mind, and there is even a getting started video specifically aimed at children. This stylish device has a slim wrist band that is soft and comfortable to wear and easy to adjust. The wrist band fits from 5.9 inches to 8.27 inches, so will even fit most adults. A black strap comes as standard with the bracelet but an additional strap can be chosen in either, blush pink, dark blue, purple or aqua/turquoise, to add a touch of personalization for the user. There is a handy inbuilt USB charger, which means no cables are needed when charging the device. The bracelet is also rainproof no need to worry about the device getting wet.
The fitness features included, really encourage a healthy and active lifestyle for children, with the use of goal setting and reward charts that all of the family can join in and use. The comprehensive activity tracker records your daily steps, calories and distance traveled, as well as sleep tracking and sedentary reminders. The bracelet has some useful additional features including remote camera control and find phone function giving this bracelet a role in everyday life. It can connect to your phone or tablet by Bluetooth or the VeryFit 2.0 app or VeryFitPro app. This allows the bracelet to receive call, text and social media notifications. This is a great purchase for older children and teenagers and is something all of the family will want to use.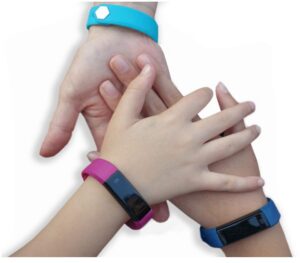 2. LETSCOM Waterproof Tracker Bracelet
The Letscom Fitness Bracelet ID115 Plus HR is a good basic all round device that is probably more suited for an older child or teenager. It is available in a number of colours including, black, blue, pink, green, purple and red, with a colour to suit every childs taste. With a 0.96 inch OLED touchscreen and wrist sense, this bracelet will impress the most active of kids while being reasonably priced. It has a inbuilt USB charger making recharging the device easy and simple and with a powerful battery life of 7 days you will rarely be having to charge this tracker.
The fitness features of the bracelet can monitor activity for an impressive 14 different sports providing daily activity information which includes, heart rate, distance traveled, steps taken and calories burnt. It has an IP67 waterproof grading that is suitable for using in rain but not for showering or swimming. The data collected can be synced with your smartphone via the VeryFitPro app enabling easy access to your data and monitoring of your fitness goals. The bracelet can receive call, text and social media notifications and with remote camera control these additional features would be appealing to any child.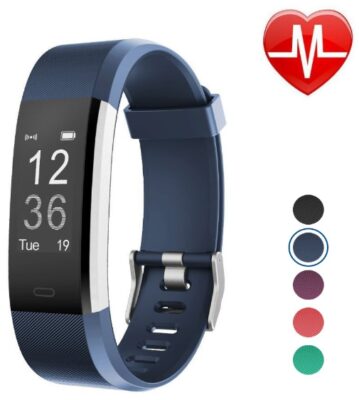 ,

3. Kids GPS Fitness Tracker
An appealing Kids GPS Fitness Tracker Watch with a number of parental safety features to improve child safety when venturing outside. This watch is available in either pink or blue and more suited for the younger child. It has an IP67 waterproof grade and can be used in water up to 1 metre, though it is recommended that the device is not used in hot water. The activity tracker can record steps, distance traveled and sleep, encouraging young children to lead an active life. The watch also has some nice additional features to appeal to the user including a built in camera, though it can only save one photo at a time, and a maths game.
The parental features advertised by the watch includes a location finder that uses GPS and LBS to allow parents to monitor the location of their child. Parents can also set up a safe zone for their child which notifies the parents phone if the device goes outside of this region, providing extra peace of mind. This watch can also make and receive phone calls from up to 10 numbers enabling you to keep in close contact with your child. There is also a SOS button that the child can press in an emergency and non disturb function that can be set, which ensures that your child will not be disturbed by the watch while at school. This device does require access to a 2G network and also the purchase of a speedtalk SIM card to enable all of the functions to work. The contract for the SIM does increase the overall price for this device. Generally this is a good first fitness tracker watch with useful features to enable parents to monitor their child from a distance.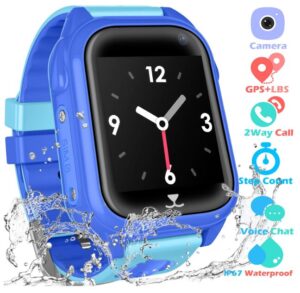 4. Lintelek Waterproof Smart Watch Tracker
The Lintelek ID130PLUS HR is a smart and stylish sports tracker suitable for any member of the family, including older children and teenagers. Available in black, red, purple, blue and navy there is plenty of colour choice. It has an IP67 waterproof grading meaning that the device is rainproof, but not suitable for swimming or showering. This watch has an long battery life between 5-7 days but when it does need charging, like other similar devices, it too has a inbuilt USB charger. It is also has a remote camera function included which is an useful extra feature.
This sports tracker has an impressive range of heath monitoring features with daily activity and sleep monitoring over 24 hours and dynamic heart rate monitoring. It also has a comprehensive 14 sports modes and GPS tracking for complete fitness monitoring. The device can be synced to your smartphone using the VeryFitPro app so you can receive call, text, calender and social media notifications making the smart watch functions useful throughout the day and with the option to set up to 10 alarms you will never miss an appointment again.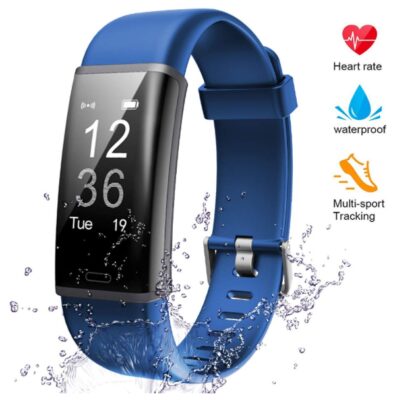 5. YAMAY Children's Fitness Tracker
This YAMAY Fitness Activity Tracker is both stylish and practical with a wide range of functions. It has an attractive 0.96 inch HD colour screen. The design of the band with it dual colour options will be a firm favourite with every child. The bracelet come in a variety of different colours including, black/red, blue/grey, pink/white and purple/pink. The lightweight, slim fitting wrist strap is adjustable from 5.5 inches to 8.3 inches enabling it to comfortably fit most children and teenagers. It has 14 sports modes and it has a IP68 waterproof grade so can be used when swimming and diving making it suitable for even the most active of children. The sedentary reminder will also encourage your child to remain active throughout the day. The device continuously records to provide sleep, heart rate and activity data, including steps, distance traveled and calories burnt.
The smart watch functions are also appealing with call, text and social medical notifications sent to the device when synced with your smartphone through the VeryFitPro app. It also has a wrist sensor system, the ability to set up to 10 alarms and remote camera control, so along with the long battery life of 5-7 days and inbuilt USB charger this is a very practical and desirable option for older children.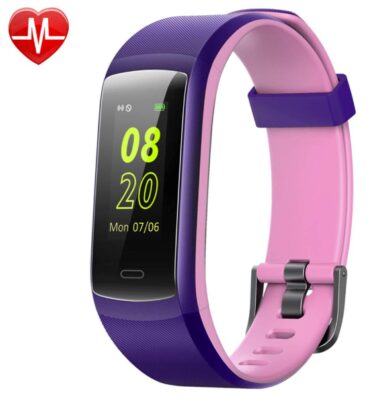 6. Kids Sport Tracker
A stylish Kids Sports Tracker with multiple top of the range features that has been newly styled for 2023. It is more expensive than some other available options but worth spending the extra for the range of features that are offered. It has a large 1.55 inch HD LCD colour touchscreen, which can be used in glare, enabling the user to make the most of the smart watch features. It connects to smartphones and tablets by Bluetooth connection, enabling calls to be made and received and allowing text, emails and social media notifications. This device also has the added extra of SIRI virtual assistance support and being able to play music.
This sports tracker would be enjoyed by older children especially active or health conscious teenagers who also like access to the latest technology. The health features of the sports tracker monitors blood pressure along with heart rate and sleep monitoring and allows the user to set daily goals. The device also has GPS tracking and pedometer function to give comprehensive information on number of steps, distance traveled and calories burnt. The fully adjustable dual colour silica gel strap is designed for comfort and is fully adjustable to fit all, making it a versatile option for all of the family.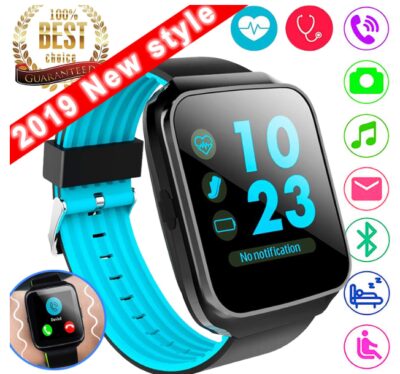 7. Girls Pink Activity Fitness Step Counter
This Lintelek ID115U HR Step Counter is very appealing to girls of all ages with its slim and lightweight pink strap that is comfortable to wear. This bracelet also comes with an additional black strap. As one of the cheaper options available it comes with all of the basic smart watch features and fitness monitoring functions. It is also IP67 waterproof, so you can continue wearing the bracelet in rain, though it is not suitable for swimming or showering.
This step counter syncs with your smartphone using the VeryFitPro app, which allows the device to receive call, text and social media notifications. With a long battery life of 4-6 days and an inbuilt USB charger this is a very practical option. It does have some additional functions with an alarm setting and a remote camera feature. The bracelet continuously monitors heart rate, records distance traveled and monitors sleep making it an ideal first activity tracker for either younger children or those starting out in sports.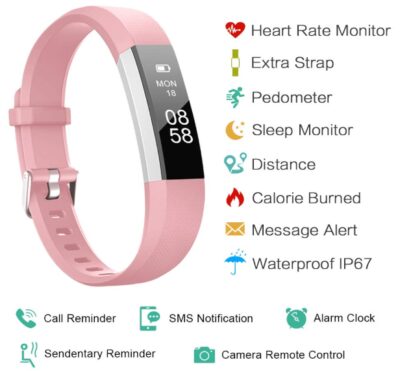 8 Smart Kids Tracker for Boys and Girls
A Smart Activity Tracker for young children that is available in blue or pink. It is waterproof and can be used for swimming which is very appealing for young children. It has a number of parental features including, a location tracker, ability to set a safe area and an emergency SOS button for maximum child safety, giving parents peace of mind while their child is away from home. The location tracker uses GPS and LBS enabling parents to locate the device both inside the home and outside. There is a non-disturb function that can be set for while your child is at school to stop notifications from the watch, enabling your child to study without any distractions.
The watch is appealing to children with its touchscreen, built in camera and phone functions. Phone calls can be made directly from the device and up to 10 phone numbers can be added. The device can be synced with a parents phone using the SeTracker 2 app. Fitness tracking features such as a step counter and distance monitoring can also be set to help encourage your child to be active. A SIM card is required to enable the functions of this watch to work and though the watch comes with the SIM card for free there is the additional commitment of a monthly contract.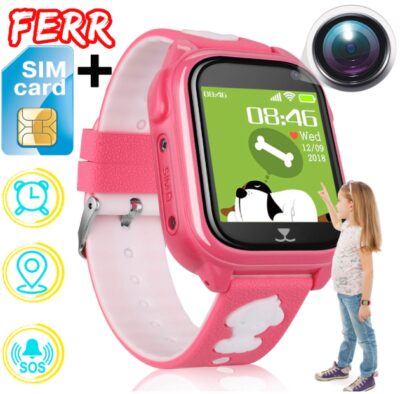 9. MoreFit Waterproof Activity Tracker
This MoreFit Activity Tracker has an adjustable dual colour strap and a large colour screen. The strap can be adjusted from 5.8 inches to 8.5 inches making it suitable for most children. This bracelet has the added bonus of being IP68 waterproof graded so is the perfect option if your child likes to go swimming. It continuously monitors sleep and dynamic heart rate, which are shown as charts, allowing health and fitness to be easily tracked in a daily activity journal. This activity tracker can help you set daily activity goals to help you achieve your exercise aims. There is even a stop watch included to help you reach these goals. Health has been considered throughout the design of this device with drink and sedentary reminders set. There is even the option to set 5 additional alarms for your own personal use.
With the ability to receive phone calls, texts and social media notifications the smart watch features included with the device will help your child keep up with busy daily life. The remote camera and the wrist sense function are nice extra features and the long battery life means that this tracker can be enjoyed for longer without having to worry about charging the device. Overall, this is an appealing activity tracker that is fairly priced for the range of features offered.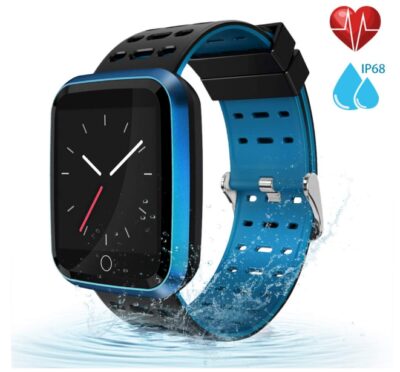 10. Girls GPS Smartwatch Wrist Tracker
This fun designed GPS Smartwatch Wrist Tracker is aimed at younger children with child safety in mind. It comes in either a pink or blue colour. This watch has many parental features to help put minds at rest when giving your child some freedom. It uses triple positioning using GPS, LBS and WIFI to enable the most accurate tracking of your child. There is the option to listen remotely and to set a safe zone giving you the ability to closely monitor your child at a distance. The watch also enables two way calling and up to 10 phone numbers can be saved, there is also an SOS button feature that your child can use in emergency situations, allowing you to stay in close contact with your child.
A SIM card is required for this watch and this will need to be purchased separately to enable use of all of the features. A smart feature of this device is the ability to set a non disturb mode where the notifications from the watch are switched off to prevent disruption to your child while at school. This watch is not all about parental monitoring as there is a camera and games included, to appeal to younger children. The additional features of a pedometer, flashlight and alarm clock gives this smart watch tracker plenty of selling points.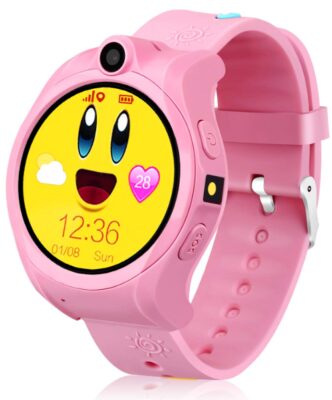 11. Stretchy and Adjustable Tracker
This Garmin Vivofit jr. 2 Stretchy Tracker has an appealing colour design for young children and with a stretchy wrist band it is designed to easily fit and be durable which is perfect for active kids. This product does not need recharging as it has a battery that is guaranteed to last for at least 1 year, a great idea for children who don't want to have to wait for their watch to recharge. As well as being durable, this watch is also suitable for swimming, so no need to take it off when going in the water. The activity tracking functions of this watch are pretty basic with a step counter, sleep monitoring and the recording of 60 minutes of activity a day, though this would be more than sufficient for the requirements of most young children until they are ready to progress onto a more advanced fitness tracker. There is a free app that the watch can be synced with that parents can use to send chores and to give rewards, an interesting way to make the daily chores more exciting. This is a good option for children who have grown out of the younger parental trackers but are not quite ready for the more advanced versions.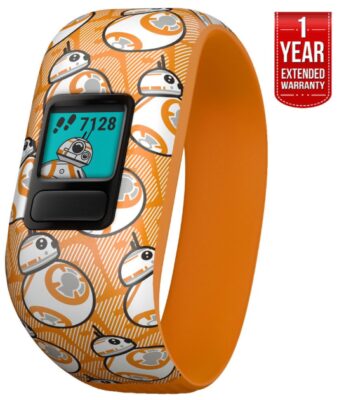 Best Over Pick
The Kids Sport Tracker is the best overall fitness tracker as it has a wide variety of features and comprehensive fitness monitoring. It is more expensive than some other options available but the additional features gained make it an appealing fitness tracker and worth the extra cost.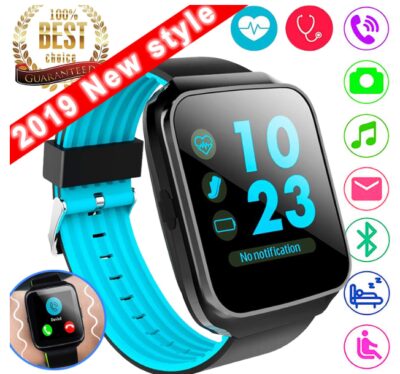 Best Budget buy
This Lintelek ID130PLUS HR is a good budget option fitness bracelet. It may be within the lower price range but it has all of the basic fitness monitoring functions as well as appealing smart watch features. It is available in a number of colours and with its long battery life and rainproof feature it is a good value fitness bracelet.