In many households, cats are considered a part of the family and often have the privilege of sleeping inside the bedrooms and living rooms. There is nothing wrong with that, but if you are expecting a baby, you need to rearrange some parts of the rooms, child-proof them, and get the best cat-proof bassinet.
List of Best Cat Proof Bassinet
Shopping for this item is not a particularly difficult endeavor. Since safety comes first, you need to get a bassinet with a firm canopy that will not easily cave in case your cat decides to jump on it.
There are other interesting features to keep an eye on, so to help you find an ideal product, we have made a list of some of the best cat-proof bassinets you can get on today's market.
1. Dream On Me Karley Bassinet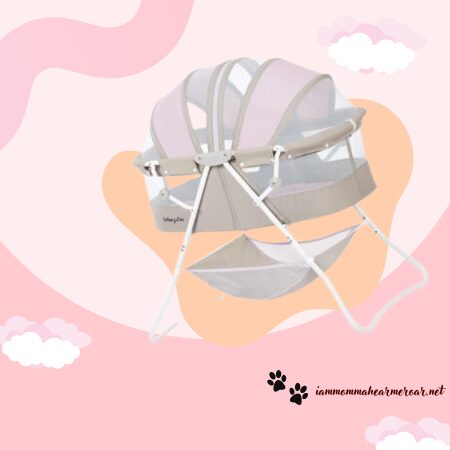 This light and versatile bassinet comes from the Dream On Me Store and is available in 14 different colors for you to choose from. It is an excellent, well-constructed product that comes at a very affordable price.
It has a very sturdy canopy, so you do not have to worry about your baby's safety in case you own a cat in your household. The bassinet features a lightweight aluminum frame which is very practical when you want to move it from room to room.
Assembling this product is effortless since you do not have to use any tools, and it boasts a quick folding mechanism. Very practical and convenient, this bassinet can be used both indoors and outdoors.
The bassinet is very spacious, and its adjustable double canopy keeps the bugs or any other unwanted visitors from your child's personal space.
It is made of soft, baby-friendly polyester foam fabric that is washable. Furthermore, the bassinet comes with a dual-sided 1-inch thick mattress and a large storage bag so you can keep all the baby essentials in it.
2. Lamberia 3 in 1 Bassinet for Baby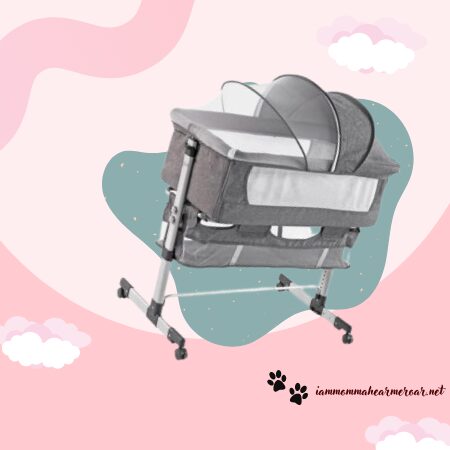 This Lamberia's bassinet is available in gray and beige colors, and it can function as a standalone bassinet, side sleeper bassinet, or you can simply attach it to an adult bed. It also comes with a removable and breathable mosquito net and storage bag in which you can put all the baby essentials.
Lamberia 3 in 1 bassinet is an excellent choice for newborns up to 18 months of age. It features a sturdy iron and aluminum frame and is also equipped with wheels and brakes so that you can roll it around easily.
The bassinet features soft, baby-friendly fabric with both sides breathable mesh design for your baby's comfort and carefree sleep. The mattress is soft, pressure-resistant, and can be easily removed and washed in a washing machine.
You can also adjust the height of the bassinet on 5 different levels. It features retractable feet with safety auto-locks so that you can use the bassinet with numerous regular beds. It is quite easy to assemble, portable, and grants excellent protection and comfort for your baby.
3. Baby Bassinet, RONBEI Bedside Sleeper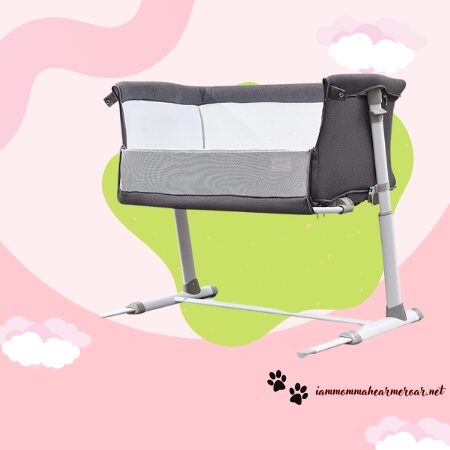 Coming from the Ronbei store, this bassinet/bedside sleeper is available in dark grey and light grey colors for you to choose from. It weighs mere 9 kilograms, and it is quite portable and adjustable so you can secure the best possible comfort for your little one.
This bedside bassinet is created using only soft skin-friendly fabrics that are excellent for your child's skin. It meets all the safety standards, so you can attach it to an adult bed and hang around and play with your little one.
The height of this bassinet can be adjusted on a whopping 9 levels, which will suit most bed heights. With its retractable feet, you can use it on any bed that does not have the space underneath or the ones that have space under the bed frame.
The open mesh sides are designed with incredible attention to detail and allow your child even more breathable comfort. Sheets are machine washable, and the side fabric design can be easily removed. Assembling this bassinet can be done without the use of any tools, and it can be done in just a few minutes.
4. ComfyBumpy Travel Bassinet for Baby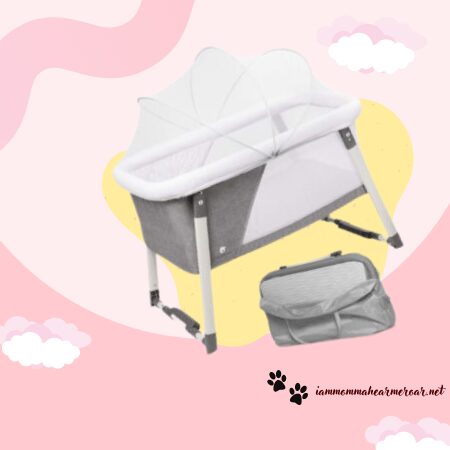 This ComfyBumpy's travel bassinet is manufactured from the ground up to provide your baby with stability, security, and safety. It features a strong steel frame that ensures that your child is always safe.
This ASTM-approved bassinet is suited for babies that weigh up to 25 lbs (11.3 kg). It also features breathable mesh walls for added safety. The bassinet is very easy to assemble, and it can be done in just a couple of minutes without the use of any tools.
Although it possesses a strong metal frame, it is lightweight, portable, and can perfect for traveling. It also comes with a storage bag so that you can put all the baby's essentials in it.
You can also adjust the modes the bassinet is working on. You have a stable mode and rocking one that is quite convenient and enables your child to sleep soundly in any situation. The bassinet also comes with a soft mattress, washable fitted sheet, urine pad, and mosquito net that can be removed easily.
5. Dream On Me Lotus Bassinet & Bedside Sleeper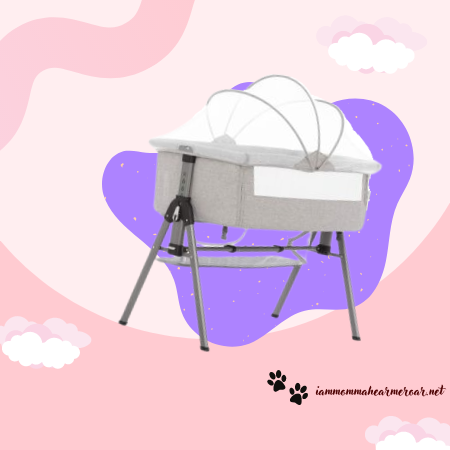 This is another excellent bassinet that comes from the Dream On Me store. It is available for purchase in 6 different colors and is a perfect choice for nursing moms and parents who want to share their room with babies for the first couple of months.
The Lotus bassinet features 4 adjustable height levels, so you can easily set it up to the height of your bed. Your back will surely be grateful for this feature because it makes picking up and laying your baby down quite effortless.
The design of this product is sturdy, but this does not compromise on its lightweight, so you can easily set it up and move it around from room to room. You also get a carry bag to store the baby essentials in it, which is quite useful, especially if you decide to take this bassinet on a road trip.
The bassinet also has mesh panels on both sides, which ensures that the baby gets smooth airflow and grants parents a good view of the baby. When you decide to take the bassinet outdoors, you can easily attach a mosquito net canopy that is effective for keeping insects, cats, and other unwanted visitors out of your baby's personal space.
6. Primo Cocoon Folding Indoor & Outdoor Travel Bassinet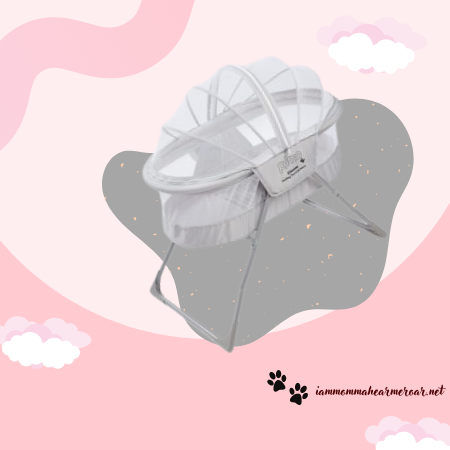 This compact and lightweight bassinet come from the Primo store. It is highly stable and provides your baby with ultimate comfort, breathability, and quality nap time. It weighs slightly less than 10 lbs making it very portable, and comes with a carry bag which you can wear on trips.
Primo Cocoon bassinet features an adjustable mesh canopy that will keep your baby safe from curious pets and various bugs and insects. The bassinet also boasts a unique folding design and snap-on legs, making it convenient to set up pretty much anywhere in just a minute.
This bassinet uses only high-quality materials that are baby-friendly and skin-friendly. It is made of 100% polyester, which you can hand wash with cold water and mild soap. Do not bleach, dry clean, or tumble dry, because it will certainly damage the fabric.
Primo Cocoon is suitable for babies that weigh up to 20 pounds. It also comes with an included mattress that is very comfortable for newborns and provides them with excellent, carefree naps.
7. TCBunny 2-in-1 Baby Bassinet and Bedside Sleeper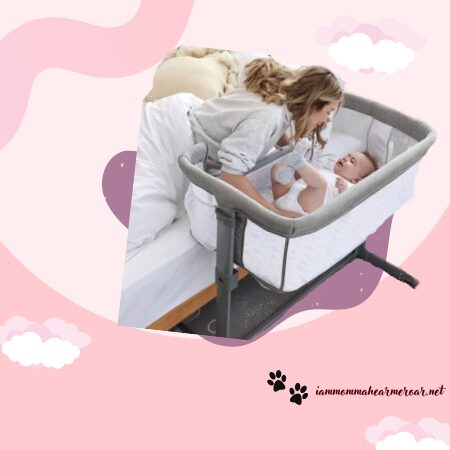 TCBunny bassinet provides your babies with a safe sleep space that keeps them protected from various pets and insects. It is compact, lightweight and you can easily move it from room to room. TCBunny also comes with a travel bag, in which you can store all baby necessities conveniently.
The bassinet can easily and safely get attached to an adult bed using strong straps that leave absolutely no gap. It safe and stylish sleeping solution for your newborn, but most important is the fact that it is fully ASTM-approved.
You can also choose one of 5 adjustable height levels, which is more than enough for attaching the bassinet to any regular bed. It features a tilt angle, which is very convenient and prevents the child from refluxing.
TCBunny 2 in 1 bassinet also comes with breathable mesh walls that ensure suitable air circulation, which adds even more safety. A padded mattress has patterned cloud sheets that are easily washable and offer comfortable sleeping space for your baby.
8. Serta iComfort Hands-Free Auto-Glide Bedside Bassinet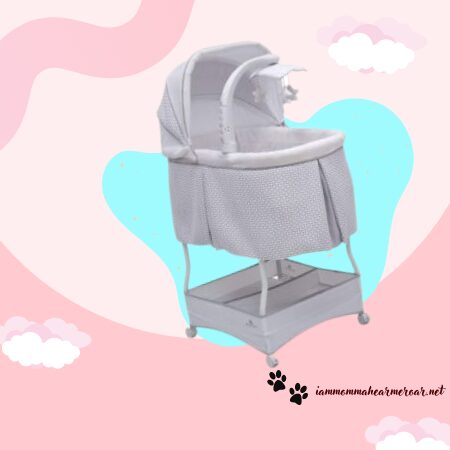 Coming from the Delta Children Store, this bedside bassinet provides your child with all the necessary features that ensure quality and safe sleeping space. It comes with spinning toys, nightlight, twinkle lights, and soothing music that will ease your little one in sleep.
The mattress pad features a layer of firm and comfortable foam and water-resistant properties. The bassinet boasts roomy storage space, in which you can put child's toys, bottles, sheets, etc.
It is equipped with wheels that do not damage your floor and are very convenient when you want to move the bassinet to another room or take it to the park. This product puts safety in the first place, and it is JPMA certified and meets all ASTM and CPSC standards.
This bedside bassinet also comes with a removable and adjustable canopy, so your child is always protected from curious pets, mosquitoes, and numerous other insects.
9. HALO BassiNest Swivel Sleeper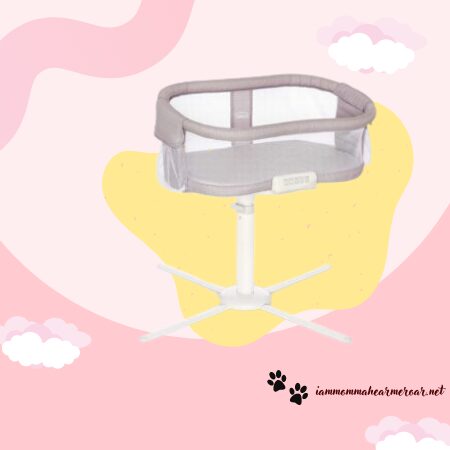 Halo BassiNest is an award-winning bassinet that provides your child with ultimate comfort and takes safety to another level. It is available in four different colors you can choose from and has pockets on the sides in which you can store baby bottles, toys, and other goods.
This bassinet features a 360 degrees swivel, and it is designed to stand at the level of the bed, which is very convenient, especially for breastfeeding moms. It provides your baby with various useful features such as soothing sounds and vibrations that largely contribute to a good night's sleep.
The four-point base grants extra stability, and it is easily adjustable from 22 to 34 inches. It is perfect for small spaces since base legs can be neatly tucked under the adult bed and require mere 32 inches clearance from the wall.
The mesh walls are breathable and see-through, which grants excellent air circulation while also allowing you to keep an eye on your little one at all times. It is an excellent bassinet and is suitable for babies that weigh up to 20 pounds.
10. Evenflo Loft Portable Bassinet, for Boys & Girls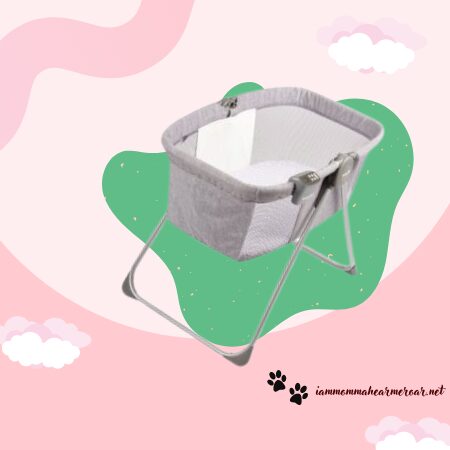 Coming from the Evenflo store, this soft and comfortable bassinet is suitable for newborns that weigh up to 20 pounds. It is full of excellent and convenient features such as a Bluetooth connective speaker, which you can use to play your little one some soothing sounds to ensure a quality, carefree sleep.
It features a sleek folding design, and the sheets are very easy to wash. This product is designed for flexible use, meaning that you can easily move it around from room to room, take it to the park, or pack it up for a road trip.
Evenflo Loft portable bassinet is manufactured using top-notch, soft, and durable materials. All the mesh panels grant your child excellent breathability and visibility, so he or she can sleep safe and sound.
The bassinet is lightweight, and the way it can be easily collapsed makes it excellent for travel. Nightlights are very convenient and can soothe the babies if they wake up in the middle of the night. It is a great product overall and definitely worth checking out.
Read Also: DIY Baby Onesies
How to Choose the Best Cat Proof Bassinet?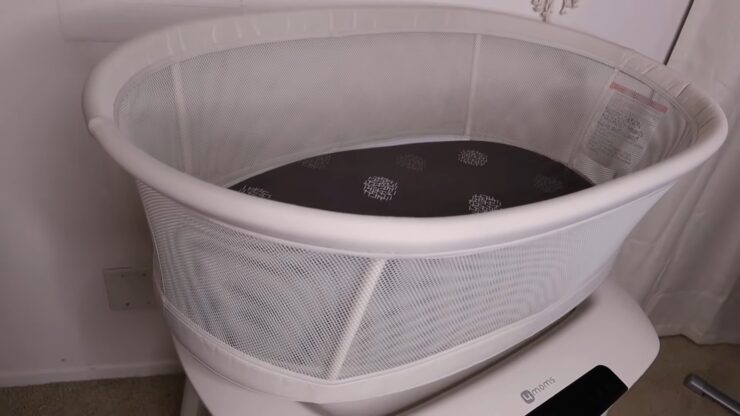 To get the best cat-proof bassinet, you need to consider some very important features along the way to get the best value for your money. Apart from the pet and insect protection, it should also have comfy mattresses that are completely baby-friendly. We have listed some guidelines you should follow when browsing for this product in the section below.
Canopy
Now, this is the most important part of shopping for a cat-proof bassinet. Pick the one that features a mosquito canopy net or cat cover. These covers will keep your baby from harm's way, not only from curious pets but from mosquitos and other insects as well.
Weight limits
Checking the weight and age limits when shopping for bassinets is of the essence. Most bassinets are built to support the weight of a baby that weighs between 20 and 25 pounds, and they can typically be used for 6 months.
Mattress
Mattress quality is one of the essential things to keep an eye on when purchasing bassinets. Make sure that it is made of high-quality materials that provide your child with sufficient comfort.
Added Features
If you are looking to buy a bassinet, you should take into consideration what extra features it might bring you. For example, some products come with Bluetooth speakers that you can use to play soothing sounds for your child or nightlights that will calm your baby if he or she wakes up in the middle of the night.
Portability
One of the biggest advantages of the bassinet should be portability. It will allow you to take it with you on the road trip, or just simply move it from one room to another. Look for the bassinets that are equipped with wheels that do not damage your floors.
Frequently Asked Questions

Do cats tend to jump in bassinets?
Yes, they do, since they do enjoy playing and lying on soft and cozy surfaces. To prevent your pet from harming your child, buy bassinets that are equipped with sturdy canopies that will not budge under the pet's weight while still being breathable enough to allow suitable air circulation.
Do cats pose any danger to the baby?
They will never intentionally harm the baby, but being social animals as they are, they love to introduce themselves to your newborn, so it is best to cat-proof your baby's cradles and bassinets to prevent unnecessary problems.
Are bassinets safe?
Absolutely. They provide your child with comfortable nap time. For added safety, the bassinets are equipped with breathable and, in some situations see-through mesh walls that allow good air circulation.
Final Words
As far as the newborns go, safety and comfort must always be a number one priority, which the bassinets we have listed will provide you with. If you share a bedroom with your cat, this product is a must since it provides your little one with sufficient protection.
Ponder on pieces of advice we have given you, read customer reviews, and seek second opinions because only then will you make an educated choice and buy the best cat-proof bassinet for your money's worth.
If these weren't enough, check out some other picks from Amazon also: