If you have decided that you would like to buy an electric drum set for your child but are not sure where to start, you've come to the right place. We have compiled a list of our favorites, which are suitable for children of all ages and abilities.
We have chosen some more basic options which are ideal for very young children, as well as more 'grown-up' models which are perfect for those looking for something more advanced. These drum sets are also ideal for sharing with older siblings, or even parents.
An electronic drum makes the perfect choice for parents who want to introduce their child to a musical instrument in a fun way. Even from an early age your child will love to play around with a drum kit. Electronic ones are perfect because they create very little noise compared to traditional kits. They also take up less space making them perfect for parents with limited room at home.
Considerations
There is a lot to think about when choosing the perfect electric drum set for your child. Here are some of the most important things to bear in mind when shopping:
Age – Think about how long you want your child to be able to use their drums. Some are suitable for younger children so won't last as long, but some of the more advanced models may be too difficult for younger children.
Features – Review the features of a few different products before making a decision. Make sure it has everything your child will need.
Electric or traditional – There are a lot of reasons why you should choose a digital drum kit over a more traditional one. However, in some situations a 'normal' drum set may be preferable and you should carefully consider which style would be the best suited to your child. There is equipment available to transform your acoustic drum set into a digital one if you really want to get the best of both worlds.
Materials – There is a choice of two main materials for the surface of the drum pads – either rubber or mesh. Each offers different advantages and disadvantages, so you should do some research to see what best fits your child's needs. Rubber pads tend to be a bit smaller and more compact, and are also more budge-friendly. Mesh heads are much more similar to traditional drums, and feel much more realistic. This makes them a great choice for a child who might move on to playing acoustic drums.
Pyle-Pro PTED01 Drum Kit
This is a great table-top electric drum pad with lots of features to impress your child. It features 7 drum pads and 2 pedals, making it perfect for intermediate players. It's possible to connect this kit to a PC, and your child can also record their creations for future use.
The digital drum set can be used with the mains adaptor, or it can run on batteries. This means your child can take their drums and play anywhere they go. It's perfect for those living in small apartments where a full-size kit isn't an option – it has volume controls and there is a port to attach headphones to, making it almost silent.
The Pyle electronic drum set is perfect for kids aged around 8 and above, although teens and adults will also enjoy learning how to use it. Younger kids may also be able to play with a little help, or if they have already had experience on other drum sets. There are over 200 percussion voices, so your child will never run out of new sounds to experiment with.


Alesis Nitro Drum Set with Snare
This is a great full-size electronic drum kit perfect for older children. There are different ways to use the kit – it can be plugged into speakers or headphones, and can also be connected to a computer. This means your child can download software to practice and improve their ability to write their own music.
The pads are supported by a set of four aluminum posts, meaning your child can play as hard as they like without anything moving. The height of the set is adjustable, meaning it can comfortably be used by young drummers as well as their parents.
The Alesis electronic drum comes with everything you need to get started – all you need to do is find the perfect stool for your child to sit at and they'll be ready to rock. It includes hundreds of sounds and tracks built-in for your child to practice with.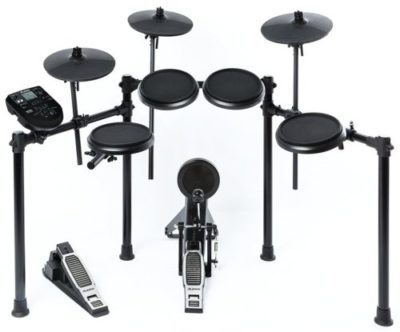 Portable Drum Pad
This roll-up drum pad is perfect for kids who want to learn how to play the drums but have never tried before. It is ideal for use anywhere, as it can be powered by either batteries or USB. It comes with a recording function for your child to reply their masterpieces. The output can either be via headphones or a speaker, meaning your child can either share their music with others or practice quietly, for more flexibility.
There is an MP3 input, meaning a track can be played in the background for your child to drum along to. This is a great way to help them practice and improve – they can start with easy tracks then gradually build up to something more complex.
A drum pad like this is perfect for parents who want to get their child into music but haven't got much space to store large instruments. It can be easily rolled up and stored away after each use. It comes at a great price too, meaning it's perfect for young children who may lose interest relatively quickly.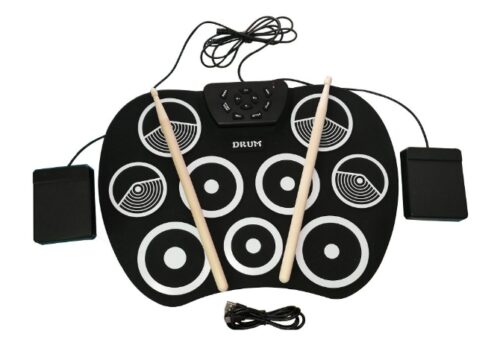 Rockpals Roll Up Drum Pad
This electric drum pad is perfect for practicing anywhere and everywhere! It is great for younger children, as it is not too heavy. The pad is also waterproof, meaning it's can stand up to a few minor accidents. It operates on a rechargeable battery, which gives up to 10 hours of play time on a single charge.
Like many electric drums, this pad can be used with headphones for quiet practice. They also have built-in speakers if your child wants to play out loud to show everyone what they can do. This makes it great for those who don't have access to standalone speakers – the in-built ones offer great sound quality.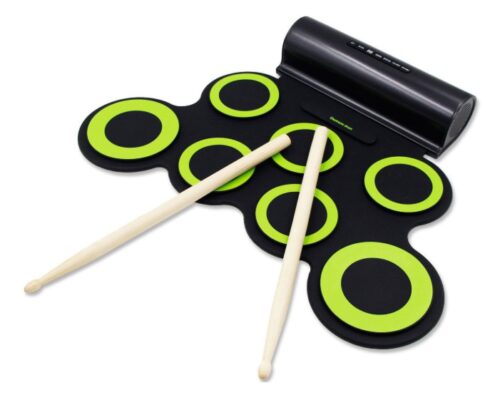 Pyle PED021M  Electronic Drum Set 
This 7-piece digital drum kit includes everything your child needs to get started with learning to play properly. The set can be customized to suit your child's preferred layout, and it is fully height-adjustable.
The Pyle electric drums are great for beginners who want to improve – there is a metronome built in to practice timing and keeping a rhythm. It also features built-in drum sound kits, and an LCD display to monitor your controls. The kit can be connected to either headphones or an external speaker – perfect for quiet practice or for performing.
The kit features an AUX input, allowing your child to play along to their favorite songs, or even create their own. It is great for those who want to play traditional drums but don't have the space – it takes up much less room, but still offers a great, natural feel.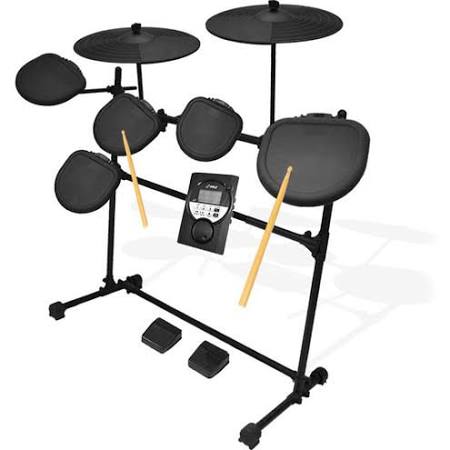 Alesis Forge
This Alesis 8-piece electronic drum set is perfect for kids looking to seriously learn how to play the drums. It can be used with headphones or speakers, or can be connected to a laptop to use with music software. This is a great way for your child to create their own music and really learn how to compose a track.
It comes with a control panel which gives the option of 70 drum kits and 600 sounds, so your child is sure to find something to suit their style. There is also a built-in metronome with this kit, to help keep your time perfectly.
These drums are perfect for really learning how to create your own music. It has the capacity to input your own .WAV files, and to output your creations to a USB.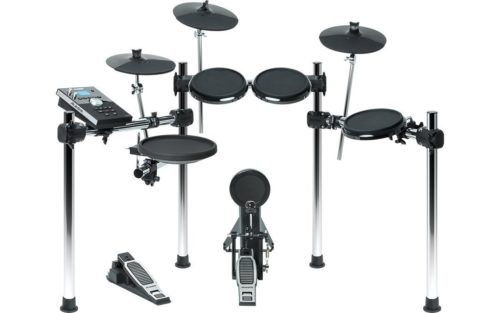 Rock Jam Roll Up Drum Kit
This roll-up pad is perfect for beginners, as it is inexpensive whilst still offering some great features. It is an ideal introduction to drumming before moving up to a full-size kit. It comes with 9 drum pads and 2 foot pedals, to ensure plenty of choice and variety.
If you really want to save money, there is the option to have the kit without the built-in speaker. This is also ideal, because you can connect headphones or an external speaker depending on the situation. The pad can easily be rolled up for storage, or for taking out and about to practice anytime. This is why this bit of kit is a great choice for kids who get bored when visiting family for example.
The portable drum pad includes everything necessary to get started right away – it comes with drumsticks and a power cable. This makes it very efficient to run – it won't eat through batteries like some other models which don't have a power cord.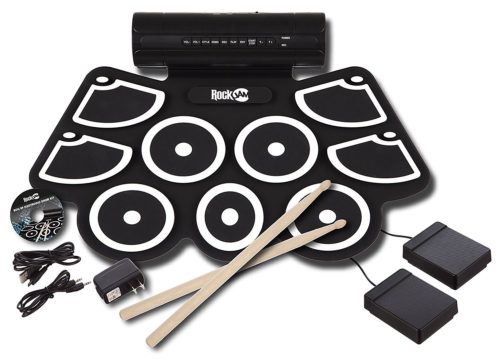 Yamaha DTX522K Electronic Drum Set
This electronic drum kit from Yamaha is ideal for those who are serious about drumming. It comes with a USB interface which allows software and virtual instruments to be connected. It also allows for MP3 players to be connected, so your child can play along with any song they choose.
The kit features 8 pieces, including 2 foot pedals, giving plenty variety. There are over 100 sounds to choose from, meaning your child will never get bored with experimenting with this kit. The set is quick and easy to assemble and very sturdy. It includes everything you need to build it up and start playing straight away. 


Alesis CompactKit Drum With Footswitch Pedal
This is a great portable digital drum for children of all ages. It offers realistic sounds and great features, which will make it popular with beginners and more advanced players alike. There are 7 drum pads and 2 foot pedals, giving your child lots of control over the sound.
It is possible to record your compositions with this kit, making it perfect for those who want to compose their own music. There is also a built-in metronome to assist with this. The kit comes ready to use straight from the box – drumsticks and an AC adapter are included. However, it can also accept 6 C batteries for music on the go.
The Alesis portable electronic drum comes with a huge range of voices and songs built-in, making it perfect for all styles and skill levels. There is also the ability to connect via USB, meaning it's possible to use the kit with computer software for even more possibilities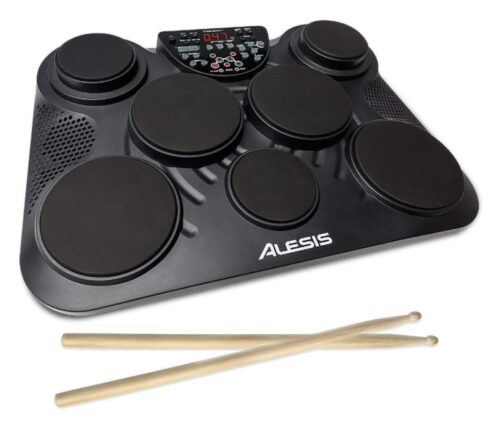 Best Overall Buy
For kids who are serious about learning to play the drums and need something with a great range of features, the Yamaha DTX522K is the ideal kit. This brand is well-known for producing high-quality digital drums, so you can be sure the kit will last a lifetime. It is adjustable meaning it's perfect for kids of all sizes, and parents can share it, too. There is a range of connectivity options. This means it's great for composing, as it can be connected to a laptop running music software. The Alesis Nitro is perfect for those who want to become great at drumming and making their own music.


Best Budget Pick
If your child is just starting out with the drums and you don't want to spend too much money, the Rock Jam roll up pad is a great choice. It is inexpensive whilst still offering all the features a beginner drummer needs. It comes with all you need to start playing right away. The pad is great for practicing anywhere as it can be used with built-in or external speakers, or headphones for quiet playing.