If you are looking for the perfect brass instrument for your child to learn, the French horn is a good place to start. If you're searching for a first musical instrument for a younger child, a kids xylophone is a great choice. For school age children who wish to try a stringed instrument, a ukulele is a fun choice, or why not try a children's musical guitar? However, in this review, we have chosen a range of different models of horn and similar instruments, from toys for toddlers to more serious instruments for older children.
Considerations When Choosing a Toy French Horn
It's a good idea to think about whether or not the horn is the ideal instrument for your child. Make sure to choose something suited to their skill levels. A proper instrument is a great choice for older children, but for toddlers it's probably best to stick to a plastic toy version. You might also wish to look for a music book to teach your child how to play their new instrument.
Odoria 1:12 Scale Model Horn

This cute, miniature horn is perfect for any young player looking for a perfect replica of their favorite instrument to go in their dolls house. It stands at just under 2 inches high, making it just the right size and scale for many doll houses. It would also make a great decoration for a young musician's bedroom. There is a range of other instruments in the collection too, perfect for a musical doll family!
The replica horn comes with a display stand and a case to keep it protected. The details on the horn are excellent, and it is sure to look amazing in a traditional dollhouse setting.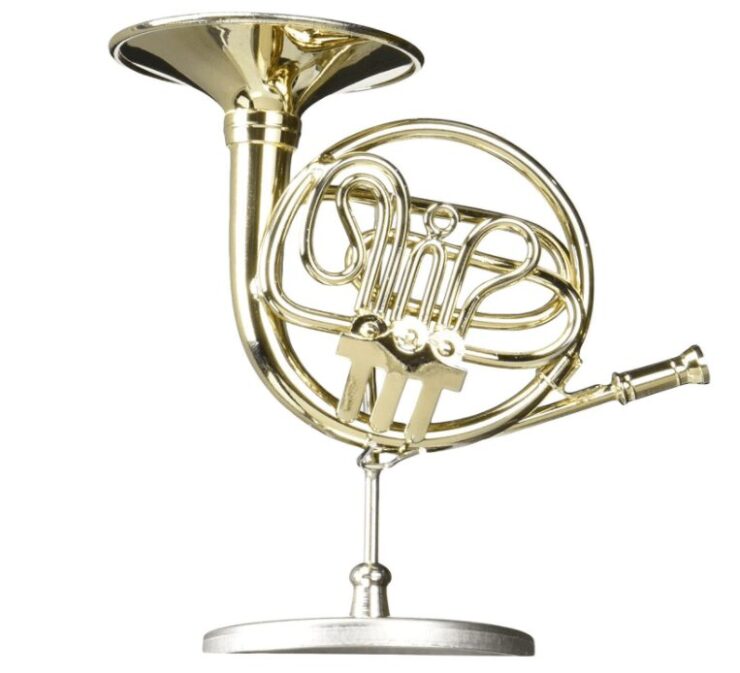 Fancy Toys, Toy French Horn
This toy horn is ideal for toddlers and preschoolers. It can really be played, and has 4 color coded valves. The instrument is made from plastic, but has a shiny silver finish to make it look more like the real thing. It's just the right size and weight for young children to hold and play easily.
The toddler instrument isn't too loud, and if the child tries to blow harder or press all the buttons, it gets quieter rather than louder. This is great for parents who are tired of their toddler making too much noise all the time! The buttons are easy for young children to press – kids will quickly learn how to create their own melodies with this fun toy!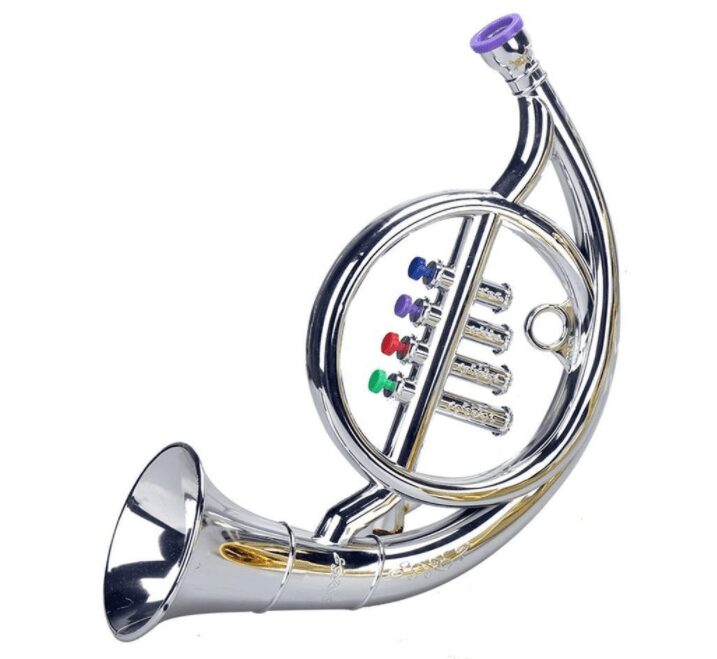 Kazoobie 206K Metal French Horn 
This fun musical toy is a cross between a kazoo and a horn. It is shaped like a horn but played like a kazoo. The instrument is made from metal, with a plastic mouthpiece. The kazoo measures around 10-11 inches in diameter, making it the perfect size for children around 3 years old and above.
The metal kazoo would make a great, unique addition to a kazoo band, or could be used to accompany someone playing another instrument to create a fun family band! If a parent or older sibling plays the piano, the little one will love getting involved with an easy to play instrument like this kazoo. The kazoo also works well with an instrument such as the ukulele or guitar and might even be great with a banjo!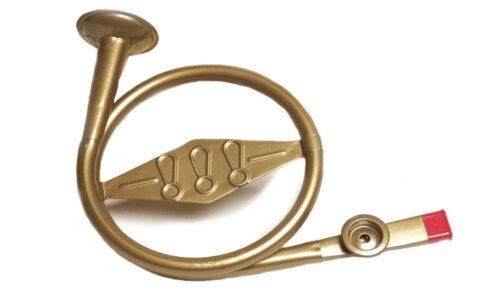 Click n' Play Metallic Kids Trumpet
There are loads of cool trumpets for kids, but this one is great because it features color coded keys which can be used to play the songs which are printed on the back of the box. The toy trumpet is made from plastic, but has a shiny silver finish to make it look more appealing and realistic.
The plastic kids trumpet is ideal for children who are considering learning to play the instrument properly when they are a bit older. It's great for practicing holding the instrument properly, as well as pressing the keys at the same time as blowing. The trumpet gives a nice sound, and parents will be glad to know it isn't too loud!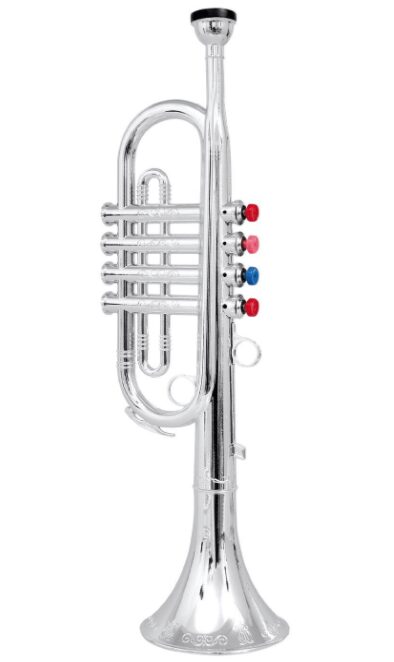 Blue Jazz Toy Saxophone, Trumpet and Clarinet
This toy saxophone set is great for siblings or friends to share, to start their own band! Each instrument has 8 color coded and numbered keys, which allows children to easily learn how to play the 10 pieces of music which are included in the set too.
Both musical toys measure around 16 inches long, making them the ideal size for children around 3 years old and above. The kids instruments can be used to make up original songs, so they're great for children who will be learning to play in a brass band when they are a bit older. They're a great choice for parents looking for a cheap instrument for their kids to start learning on – it won't matter so much if they decide they don't enjoy playing.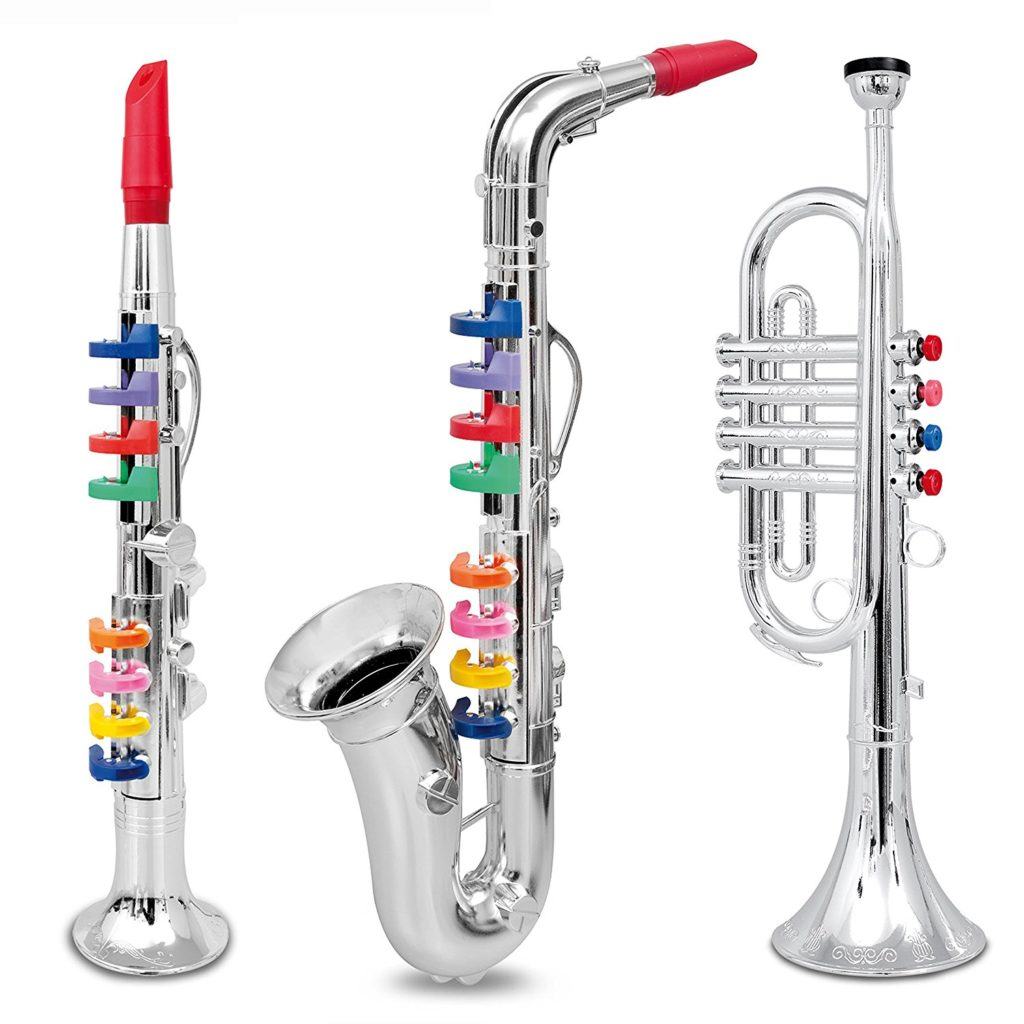 Best Budget Buy
Fancy Toys toy horn is a great choice for parents who aren't looking to spend too much. It's easy for younger children to play, and its great practice for those who might learn to play the instrument properly later on. The plastic instrument is easy for little ones to hold, and the mouthpiece can easily be cleaned between uses.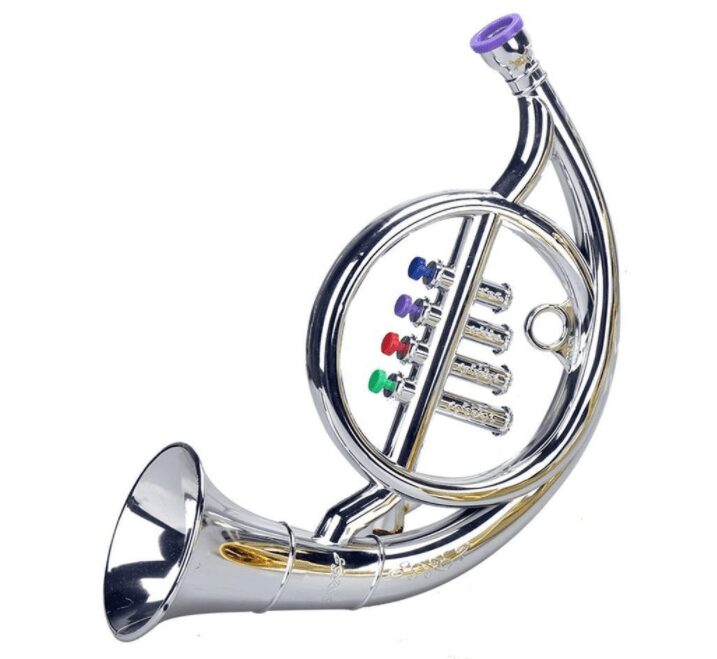 Overall Best Buy
The saxophone and clarinet set is the perfect choice for young musicians. The instruments make learning to read music fun and easy, and are perfect for any young duo to share. The instruments make a great sound, which won't get irritating to parents. They're the perfect practice instruments for children who hope to one day join the brass band, or just start their own little band with friends.