When it comes to making music there is one instrument that has always been a favorite by kids and adults alike, and that is the guitar, especially the electric-powered guitar. They come in all different shapes and sizes pen to any kind of kid and their interests. Different style guitars will adhere to certain sounds and styles of the genre so that is something to think about. They can also be an educational tool when it comes to those developmental years such as hand-eye coordination and hand dexterity. Music can be therapy and just something to concentrate on so it is something that you should try and get your child interested in.
There are a few considerations you need to make before you go out and purchase a guitar, they have a lot of differences so can sometimes not be the exact thing your kid wants, so here are a few thoughts you should think about before purchasing.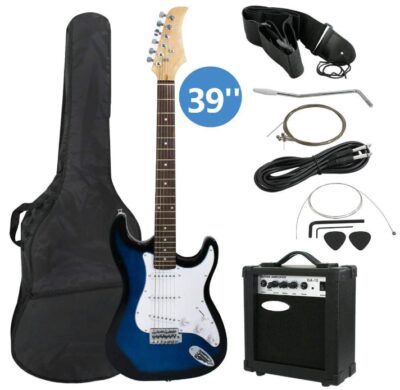 Considerations When Choosing a Kids Guitar
Size – The size of the guitar is a big thing, full-size guitars could not be the best first guitar as it would be difficult for small hands to adjust to make it hard to complete some chord positions and extensions. Smaller guitars are good for the first time, this will help develop hand dexterity through the growing years of your child working their way up to a full-size guitar for a more enjoyable process of playing.
Style – Style of guitars is something that will be a big thing in what kind of music your child will want to play. Ranging from acoustic for more chilled out relaxing songs, or sometimes folk styled genres. Acoustic guitars are not to be mixed up with classical guitars, they are both acoustic children's guitar instruments but the classical style is more of a traditional shape and typically uses a different material strong for a warmer sound, and. have a wider fretboard on the neck. If your child is more interested in rock music and similar styles then the electric-powered guitar is going to be the best choice, with an electric style guitar you will also need accessories such as an amplifier and leads.
Budget – Guitars range from below $100 up to $1000s upwards, so there is loads of choice depending on what skill level your little musician is at. Electric guitars can be a little bit more expensive too because after buying the guitar you will need to buy an amplifier, leads, and then potentially guitar pedals for different kinds of effects. There is so much choice out there when it comes to guitars, and musical instruments in general so it is really how much you want to spend in comparison to the skill level making it worth the purchase price.
How to Play Electric Guitar for Kids?
Electric powered guitars can be a frustrating task for kids and beginners alike, but these first-time guitars are the best way to begin. The smaller sizes allow dexterity easy to build in the fingers making chord shapes and changes an easier task building up more skills when progressing onto the full-size instrument.
What Electric Guitar Strings are Best for Kids?
Steel wound strings are the best to use, they will provide a bright clear tone when played through the amplifier and will also resonate making notes have a wonderful sustain when they are played. Nylon strings are available but are mostly combined with acoustic guitars, as the magnet that is within the guitar pickup on the electric instrument provides the sound source through the polarity and magnetic connectivity.
Best Electric Guitar for Kids
1. Pink Electric Guitar
A guitar of this size is the perfect way for beginners and kids to fully engage with a brand new instrument. The 30inch guitar is a great size for smaller hands, and also larger hands that don't have the developed dexterity needed to complete chord shapes and moving into different positionings. This kind of guitar is amazing for building hand-eye coordination, strengthening fingers, and even delving further into the world of music creating greater love and understanding. The shape of the guitar is the classic s-type guitar, which is an immediate attraction as it is something kids will have seen if they have watched anyone play guitar. The material is an all-wood construction with steel strings and a glossy finish that is. strong and durable, looking good for endless jam sessions. In this starter electric powered guitar bundle, there are loads of accessories such as a guitar strap, spare strings, and loads of extra guitar plectrums. It also comes with an amplifier and a lead so your little ones can plug and rock out straight away. Recommended for children 6 years and above but would also be a great beginner's guitar for anyone learning the fundamentals of guitar playing.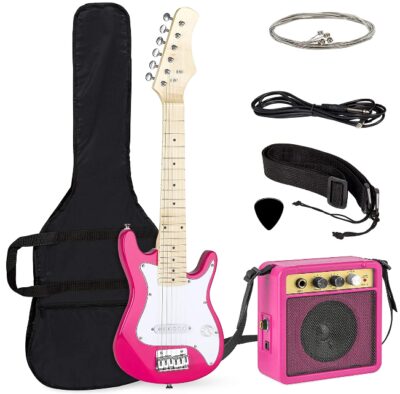 2. Best Choice Products Electric Toy Guitar & Microphone
With this toy guitar and microphone set, you can encourage your child's creativity and imagination with this thrilling toy set including a guitar, amplifier, and microphone all finished with cool rockstar decals. Grow musical interest within your child strumming along to the music on the pretend strings, and remixing songs with the whammy bar system. This children's guitar has wireless connectivity between the amp, letting kids simply press buttons on the guitar playing one of the 6 demo songs available. Kids can even rock out and perform their favorite songs with the AUX input allowing you to play your songs from your device. A kid-friendly design that is strong and durable with no sharp corners or edges causing any hazards, recommended for children aged 3 and up.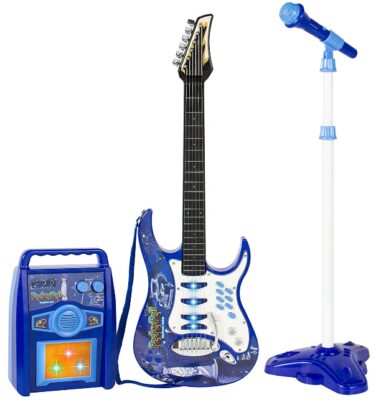 3. Rise by Sawtooth Guitar with Accessories
The Rise guitar by Sawtooth guitars has a basswood body and maple neck. The neck also comes with a maple fretboard, great for sliding up and down with ease and dot inlays which are great indicators to know which fret you're on which helps you know which note you are playing. Smaller than the standard size guitar with a 24inch length, it comes with an adjustable bridge that will help change the action of the strings for different styles of playing. The adjustable bridge will also be great for setting up the international of the guitar which will help keep it in tune all along the fretboard. Chrome hardware comes as standard which will continue to perform great results after yours of use. Inside the kit includes a guitar, a beginner's amplifier, a strap for the guitar, a gig bag, pitch pipes, guitar leads, 3 sample plectrums, and an online lesson which is loads of stuff to get your young ones fully invested in this amazing musical instrument. 


4. Dimple Kids Electric Interactive Guitar
The interactive kid's guitar from Dimple has over 20 interactive buttons and controls that light up for ultimate fun. there are tempo and volume controls, different modes, 8 notes, 3 musical functions, and loads more giving hours of musical fun. A great educational toy for young children in those developing years, as music helps to grow children's minds in a new creative way. Requires 5 AA batteries to work which aren't included in the box. This is one of the best children's guitars, perfect for small hands. The hand motion-detecting pad begins to play when it detects a moving hand, there is large, easy to use buttons and completely safe construction, making this guitar perfect for all ages. Designed for kids aged 3 and above, but this toy will bring fun to the whole family making you want to start learning the real instrument.



5. Glarry Electric Beginner Guitar
The electric beginner's guitar from Glarry is the perfect gift for you or a friend to introduce them to the world of guitar playing. The set comes with a load of accessories such as an electric-powered guitar, amplifier, guitar bag, shoulder strap, plectrums, tremolo arm, a guitar lead, and a spanner tool. A complete instrument that is ready to go as soon as it leaves the box. Made with strong materials that will give your guitar those warm tones, and also when cranked up will produce those rock sounds that every guitar player wants to achieve. The basswood material will be great for years to come, lasting along as you need before you feel an upgrade is on the cards. A portable gig bag is provided for the guitarist on the move, perfect to take to class, perform, or go to rehearsals with your bandmates. This amazing guitar from Glarry has standard-sized string spacing and smooth neck for fantastic touch when playing.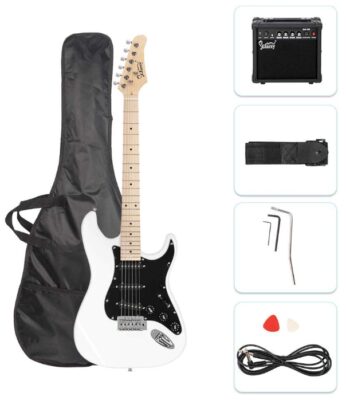 6. Stedman Electric Accessory Kit & Guitar
The Stedman electric-powered guitar accessory kit is a 30-inch guitar in length, with 21 frets, the perfect right-handed guitar for kids, the ideal guitar for beginners. It has a double-cutaway design in the body, making reaching the high notes along the maple neck and maple fretboard easy for soloing. The body of the guitar has a single-coil pickup and a volume control knob. This brilliant mini electric guitar is also fully complete with chrome hardware and a chrome alloy bridge. This kit comes with a battery-powered 5-watt amplifier that needs a 9V battery for power which isn't included. It also includes a guitar lead, picks, pick holder, gig bag, strap locks, a strap itself, and extra strings which is everything you need to get started on your musical journey. The gig bag is made from nylon and is great for the traveling musician going to gigs and rehearsals, also making storage tidy and easy for when you're not playing the guitar.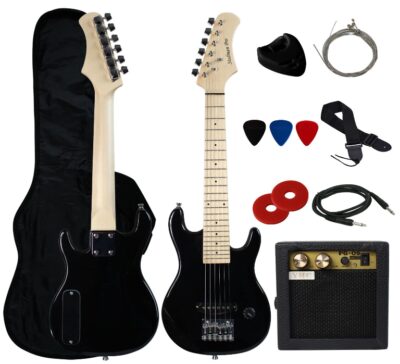 7. Winzz Real Electric Beginners Guitar
A great gift idea for your kid is the double-cutaway style mini electric-powered guitar. It is 30 inches and has 21 frets, the perfect scale size for children between the age of 4 and 10. The bright colors will attract your child's curiosity into this awesome musical instrument. The body and neck are made from high-quality materials having a completely solid body and a maple fingerboard with chrome hardware. The single-coil pickup is loud and responsive, providing real power to the amplifier. There is everything you could need to be on the way to making music with this all in one kit including a gig bag, extra strings, guitar lead, strap, 2plectrums, a wrench, and the amplifier. The amp requires a 9V battery to be powered, but that isn't included in the box.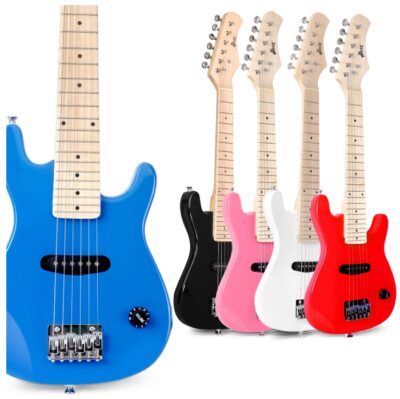 8. RuiyF Electric Toddler Guitar
With the toddler guitar by RuiyF help inspire your child into the world of music at an early age, and also develop those essential skills such as hand-eye coordination, and motor coordination. Suitable for children between the ages of 3 and 4, this electric guitar toy comes with a backstrap making it easy to carry and play along with. Your little ones will feel the joy of playing this wonderful small kid's guitar with the flashing lights and fun sounds. Powered by 3 AA batteries which are not included in the set.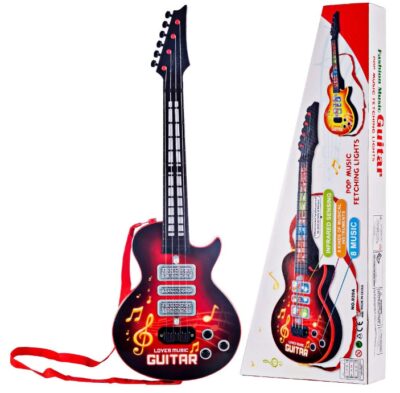 9. aPerfectLife Kids Electric Educational Guitar
These electric educational guitars will be a family favorite for years with the high standard materials used, smooth touch, and great printing technology used making this mini guitar toy look and feel amazing. It requires 2 AA batteries to work which are sold separately. the guitar will keep your little ones entertained for hours with the 8 songs that correspond with the 8 buttons on the fingerboard and the 4 different modes you can choose from like standard, music, instrument, and famous music mode making it feel like the songs are continuously playing, just like the real thing.  An inviting design with colorful lights and colors that attract babies' attention without hurting their eyes. The volume is adjustable so there is no need to worry about any excessive noise bothering the neighbors. This kind of educational toy will bring the love and joy to your child in their early years, providing a life long appreciation of an amazing art form encouraging early developmental skills, self-esteem issues, and use of their creativity through imagination.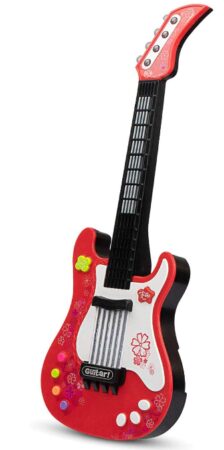 10. 3/4 Size Guitar package
This amazing 3/4 Size guitar package comes with everything that you could need at an unbelievable price. The bundle includes a guitar, guitar amp, guitar bag, cable, and strap giving a strong start to your child's guitar journey. This guitar is the perfect size for travel when your kid is hooked, as this scaled-down version is 3 inches shorter and 2 inches narrower than a full-size guitar. Not like an acoustic guitar, the body has a double-cutaway making it easier to reach the higher frets for those awesome guitar solo's. Available in a range of different colors, sunburst, black, white, red, and purple. Don't worry if your child is left-handed either as there are left-handed models available as well.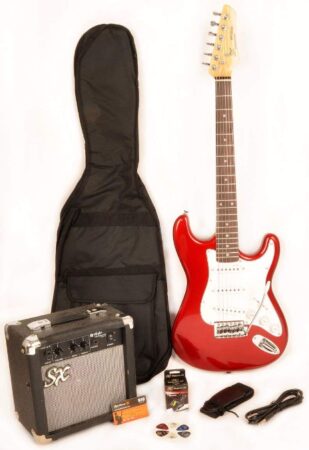 11. Sanmersen Electric Instrument Guitar
The Sanmersen kids guitar is amazing, it has 3 modes which change between 3 different instrument sounds developing kid's sensitivity of music, creating interests and differentiation of the variety of sounds instruments can make. This toy is the perfect way to get kids comfortable performing and develop skills and interest in guitars. From the rhythm that comes from the fingers, lights will follow with a flash, and the unique infrared sense will bring a whole new experience to your kids. The flashing lights will attract children's attention, inviting them to play with this amazing musical toy which will also help develop their motor coordination and hand-eye coordination skills. This toy is made from high-quality, environmentally friendly materials that are durable and non-toxic providing safe kid-friendly play. This toy is designed for children over the age of 3 years old and is the perfect gift for Christmas or birthdays training future musicians on their road to stardom.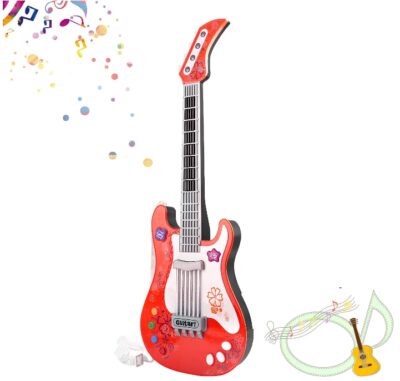 12. Raptor 30 Inch Electric Blue Guitar
The starter electric-powered guitar from Raptor is a 30inch, lightweight guitar that is easy to hold for your child's smaller hands, making it easier and faster for them to learn chord shapes and moving along the fretboard changing notes and chords. A solid basswood body has been used to bring a warm tone to the sound, and also materials that are strong and durable. The neck and fretboard are both made from maple wood, which is also strong but offers a smooth finish ideal for moving up and down the neck. This youth guitar from Raptor is built with quality and care in mind so your child will enjoy playing as soon as the box is opened. Includes a 3-watt guitar amp, strap, lead, Raptor picks, and a gig bag to carry around for musicians on the move.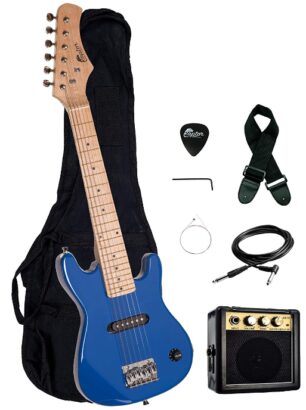 13. Ultimate Electric Guitar Package
The Raptor youth guitar is designed for your little rockstar. Measuring at 30 inches in length, the EP3 from Raptor has a lightweight design that is built so your child's hands will have no problem gripping this amazing musical instrument. Designed for kids ages 3 and above from quality materials such as the basswood body and maple neck and fretboard, this kind of material quality is that you would find on full-size instruments letting you know these are high-quality guitars. The package includes everything your child will need to start playing and performing right from the get-go, even on the move with the 3-watt kid's amplifier that clips to a belt for complete maneuverability. The complete package contains a gig bag that is great for storage and transport, a guitar lead, a strap, an adjustment tool, replacement strings, and exclusive Raptor guitar picks.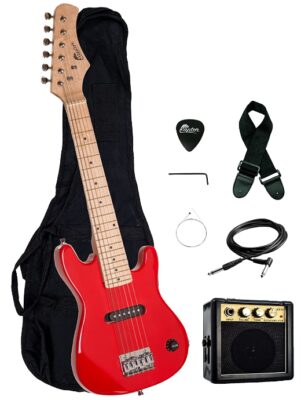 14. Stedman Guitar
The Stedman guitar for beginners has everything that you would need to start playing as soon as the box has been opened. Including a guitar, an amplifier, guitar lead, plectrums, strap, gig bag, and wrench for any alterations you may want to make when you become more familiar with the guitar and its workings. The short shape is ideal for beginners making chord shapes and note changing easier than standard size guitar. The body of the guitar features a single-coil pickup and a volume control knob which is great for a guitar of this size. The amp is a battery-powered 5-watt amplifier to boost up the volume and crunch of your playing. A set like this is the perfect way to go from music lover to musician with all you need in one convenient package.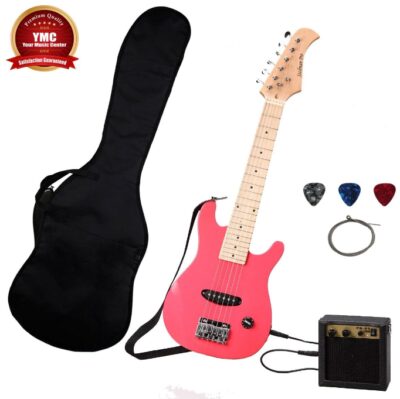 15. Smartxchoices Beginners Electric Guitar
The Smartxchoices guitar for kids has a solid hardwood body that crates warm natural sounds when paired with the bright steel strings on the high-quality rosewood fretboard. the fretboard sits on a maple neck that is durable and attractive to players of all skill levels. This guitar is brilliant with its ultra-thin design making control easy to handle playing sat down or stood up. In the kit comes an amplifier that is small and portable, easy to carry and move around. For the traveling musician or just easy storage, there is a nylon gig bag that comes included. A classic Stratocaster design is classy and stylish, but also practical as well with the double-cutaway body reaching higher notes on the fretboard make playing everything from rock and roll to the blues easier than ever. The perfect beginner's guitar, ready to use straight out of the box, great for both kids and adults wanting to start this musical journey going from music lover to musician finding a new appreciation to the songs they know and love.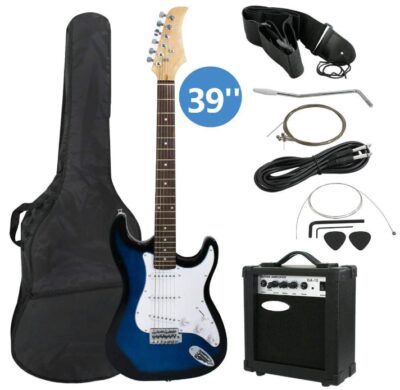 Best Buy
The best overall buy for us is the Electric beginner's guitar with an accessory kit from Stedman. This bundle contains everything your child will need to start their musical journey right from opening the box. The kit contains a guitar, a battery-powered amplifier, guitar lead, spare strings, strap, and plectrums, everything that anyone will need to start on their musical journey learning this amazing instrument. The small reduced size allows an easier and faster learning speed, making chord changes and shapes easier to understand and master.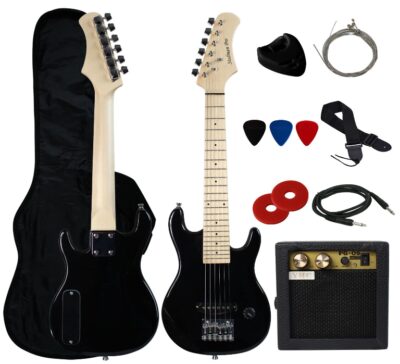 Best Budget
When it comes to value for money the best guitar in our list is the Best Choice Products toy guitar and microphone. Ideal for younger children, giving them an early interest in the world of music, and also providing them with the platform to gain courage in performing using the guitar and microphone. The guitar doesn't have any strings just buttons that will be easier to use for toddlers, not leaving them frustrated and eventually uninterested in learning this amazing musical instrument.