Are you looking to find a cough syrup for your child that will relieve them of their cold or fever? In this review, you will find out we recommend using to help reduce symptoms and get your little one on the road to recovery and reduced discomfort.
It is nerve-racking watching your kid coughing and suffering from symptoms of cold and flu. As a parent, it's normal to want to reach out to the nearest pharmacy to find the best cough syrup for your child. After all, we would do anything to make our kids feel better.
Though the FDA, since 2008, had issued a warning that cold and cough medications are not healthy for kids; but research has shown that more than 60% of parents still give their kids these medicines.
Given the warning from health professionals about cough syrups for children, manufacturers have tried to make these medications as harmless as possible with little or no harmful ingredients added to the medication.
For parents though, the safety of their kids is above any other consideration. This review is a comprehensive look at the best cough syrups for children so that getting a safe medication to ease your kid's pain is stress-free.
Criteria for Selecting Best Cough Syrups for Children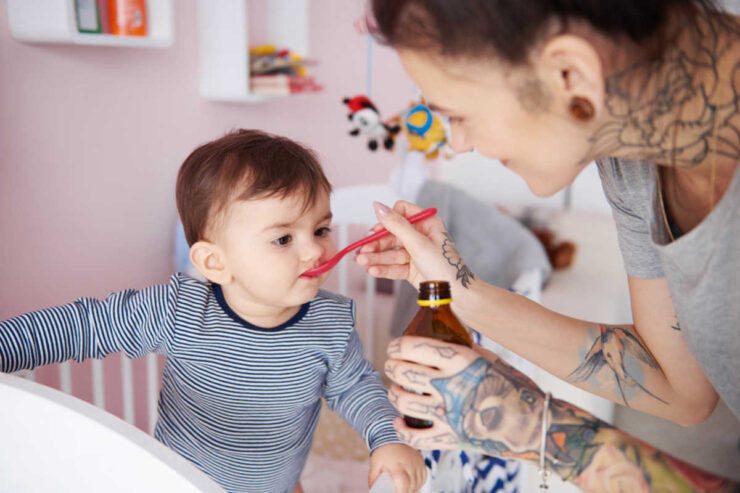 There are so many cough syrups for kids all begging for attention and promising to deliver results beyond your expectations. But we went behind the hype and looked at the substance to verify some of the claims. We wanted to make sure all the drugs that made the review delivered on their promises and also ticked the following boxes:
Flavor and taste – It is simple really; children would willingly take great-tasting drugs. You don't want to have a battle on your hands when it's time to give them their dose.
All the drugs that made the list tasted great. The flavors were varied but the bottom line was children would not be reluctant to take any one of them.
Potency – The main query here was unambiguous; does the cough syrup work as well as it is supposed to?
Medications that brought relief either by reducing the cough or stopping it completely really grabbed our attention. The best were those that worked all through the day and night enabling the child to have a good night's sleep.
Additional points were given for those medications that could effectively tackle all the symptoms of cold and flu.
Homeopathic medications – Due to concerns about how some chemical ingredients used could pose health risks to kids, medications made from whole or partly natural ingredients were preferred.
All-natural products don't contain chemicals or additives that could harm children. So these make them safer for use.
The syrups on the list not made from natural ingredients are, however, completely safe for children and scored high marks in other areas. As usual, though, parents are advised to consult a pediatrician before administering the drugs to their kids.
Reviews – Users' reviews are some of the best tools for weeding out mediocre products. These are the informed opinions of parents who had bought the drugs for their kids.
Drugs with too many bad reviews were immediately dropped from our list.
Top Cough Syrups Reviewed in 2023
1. Mucinex Children's Multi-Symptom Cold Syrup
Mucinex Children's Multi-Symptom Cold syrup is a great, alcohol-free cold and flu medicine suitable for kids of all ages. The remedy comes with a dosing cup and the very-berry flavor guarantees your kid would take it without a protest.
In addition to controlling cough, it quickly relieves other cold and flu symptoms such as stuffy nose, chest congestion, and mucus buildup.
The special formulation of expectorant, cough suppressant and other active ingredients in this syrup makes it a great medicine to have at home.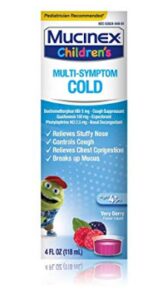 2. Children's Motrin Dye-Free, Ibuprofen Fever Reducer
The berry-flavored Motrin syrup is almost the perfect cold and flu medicine for kids between the ages of 2 and 11. It is great for relieving symptoms of cold and flu such as a sore throat and stuffy nose.
It contains 50 mg of Ibuprofen making it great for relieving fevers, headaches, aches and pains that are also a common feature of cold and flu. However, because of the presence of Ibuprofen, you might need to ask the child's doctor about the correct dosage before giving it to toddlers.
Not recommended for kids with stomach aches, the effect of the drug can last up to 8 hours. This ensures your child would have a good night's sleep if taken before bedtime.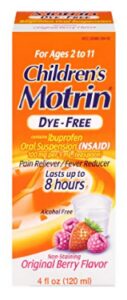 3. Zarbee's Naturals Children's Cough Syrup
Zarbee's Natural Children's is a wholesome children cough remedy made from Ivy leaf extracts and flavored with dark honey.
In addition to containing the proper mix of ingredients to alleviate coughing and to clear mucus in kids, it also contains vitamin C and zinc to help support the immune system of your child. And with the dark honey added to it, your kid's dry throat would be soothed in a jiffy.
Recommended for kids 1 year and above, the natural cold and flu remedy is free of drugs, alcohol, dyes, artificial flavors and gluten.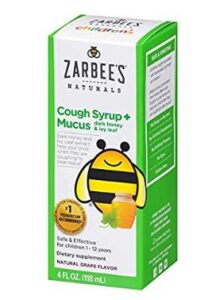 4. Advil Children's Pain Reliever with Ibuprofen
Advil's fever and pain Reliever for kids provides long-lasting relief from the symptoms of cold, flu and fever with a relatively smaller dose of the medicine.
Just one dose of the white-grape flavored liquid suspension is enough to provide up to 8 hours of relief from fever, minor aches, headaches, and toothaches; all symptoms of common cold and flu.
It is suitable for kids between the ages of 2 and 11. It contains no dyes or alcohol and due to the presence of Ibuprofen, it is advisable to seek the doctor's recommendation on the right dose for toddlers.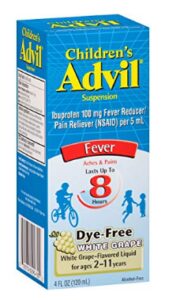 5. Dimetapp Children's Cold, Allergy and Nasal Decongestant
Dimetapp Children's cold syrup is a multi-symptom syrup formulated to relieve cold and allergy symptoms in kids.
The grape-flavored medicine contains phenylephrine HCl to relieve nasal congestion and antihistamine to provide temporary relief from upper respiratory symptoms that cause runny nose, sneezing, and itchy watery eyes.
This alcohol-free cold and flu medicine comes highly recommended. It is suitable for kids of 6 years above for fast relief of flu and associated symptoms.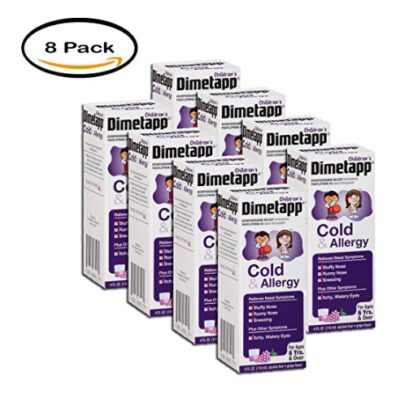 6. Robitussin Children's Long-Acting Cough and Cold Relief
Robitussin Children's cough and cold relief is a long-lasting cold and flu remedy specially formulated to provide up to 8 hours of relief from the symptoms of cold and flu.
Also suitable for adults, the syrup contains chlorpheniramine maleate and dextromethorphan HBr to relief upper respiratory tract symptoms and to suppress cough respectively.
The fruit punch-flavored syrup contains no alcohol. It should not be used to sedate a child. And if the cough contains too much phlegm, be sure to ask the doctor before giving it to your kid.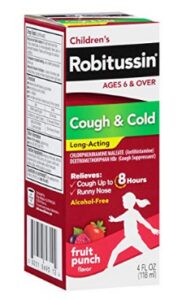 7. Integrative Therapeutics Homeopathic Cold Medicine
Integrative Therapeutics Homeopathic cold medicine is a proprietary extract of Pelargonium sidoides specially formulated to head off the symptoms of cold and flu from becoming very severe.
The active ingredient, known as African geranium, acts quickly to address the underlying cause of the symptoms. This facilitates a speedy recovery from a cough, nasal congestion, sore throat, cold, and other upper respiratory tract irritations.
The medicine is cherry-flavored, contains no alcohol, and is suitable for both kids and adults. Other ingredients include citric acid, natural flavors, aronia juice, fructose potassium citrate, and purified water.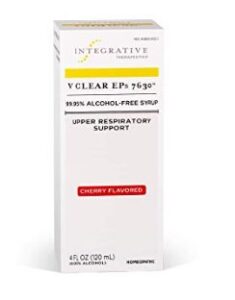 8. Nature's Way Umcka Cough Max Relief Syrup
Nature's Way Umcka Cough Max Relief syrup is a non-drowsy, multi-action cold and flu medicine for the relief of symptoms such as cough, chest congestion, sore throat, and bronchial irritations.
Made from English Ivy leaf, the soothing syrup contains Pelargonium sidoides and five other supportive active ingredients to not only relieve common cold, cough and cold symptoms, but to also speed up the recovery time.
The cold remedy that originates from traditional South African medicine also contains maltodextrin, sorbitol, vegetable-sourced glycerin, lactose, and purified water.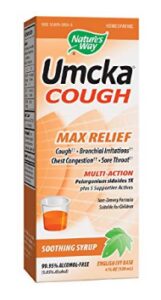 9. Honey Gardens Elderberry Syrup With Apitherapy Raw Honey
Honey Gardens Elderberry syrup capitalizes on the famous efficacy of elderberry in treating colds, coughs, and flu. Traditionally, homemade elderberry has been used for hundreds of years to treat or prevent cold and flu symptoms including cough.
This elderberry syrup combines organic elderberry with raw honey, propolis, and organic echinacea. The result is a super-concentrated formulation packed with antioxidants, vitamin C and anti-inflammatory substances to boost the immune system to help suppress cold and flu symptoms.
A spoonful of this great-tasting medication is enough to coat and soothe your child's sore throat and ease them to a restful sleep all through the night.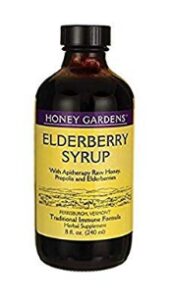 10. Zarbee's Naturals Baby Cough Syrup
A factor that makes Zarbee's baby cough syrup great is that it was founded and formulated by a pediatrician with an intimate knowledge of what babies really need.
This product is specially made for babies two months and older. It was made using English Ivy extract with an agave base to ease the passageway during bouts of coughing by kids.
The pack contains an easy-to-use syringe making it easier to administer the right dose to your kid. The syrup itself contains no artificial flavors and sweeteners, harsh chemicals, and fillers.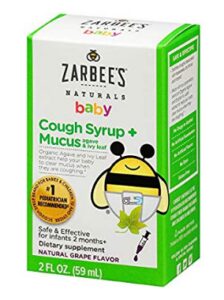 11. Hyland's 4 Kids Cold and Cough Day and Night Value Pack
Hyland's 4 Kids Cold and Cough syrup formulation takes a 24-hour approach to the treatment and control of cold and flu symptoms in children.
The value pack comes with a daytime medication to provide children with relief from nasal congestion, runny nose, sore throat, sneezing, and coughing. And in the evening or before bedtime, another dose suppresses incessant coughing, sore throat, chest congestion, and sneezing so your kid can have a good night's rest.
The homeopathic formulation contains no ingredients or chemicals that could be harmful to kids and is completely free of alcohol.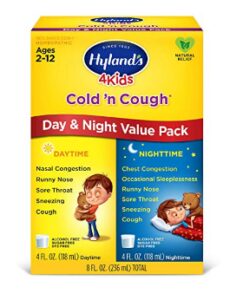 12. Children's Tylenol Cold, Cough, and Runny Nose Oral Suspension
Children's Tylenol is a highly-recommended medication for the treatment of cold and flu symptoms such as headaches, aches and pains, cough, sore throat, and sneezing.
The formulation contains an ibuprofen and aspirin formulation that is able to temporarily reduce fever and provide relief at night for a good night's sleep.
This medicine is made specifically for children between the ages of 6 and 11. And to ensure kids don't have any problem taking it, it is grape-flavored and very gentle on the tummy.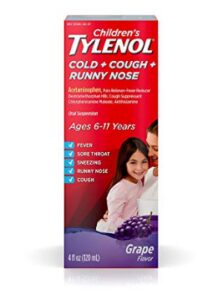 13. Nature's Way Sambucus Elderberry Syrup For kids
Nature's Way Sambucus Elderberry syrup for kids combines the anti-inflammatory properties of flavonoids and the immune-boosting powers of elderberry to provide relief for kids under the influence of cold and flu.
Also containing plant polyphenols, the syrup is able to suppress cough and relieve sore throat. The syrup was made using a solvent-free extraction method to ensure that the flavonoids have maximum potency.
This great natural medication is however not suitable for kids with autoimmune disease due to the presence of echinacea. Apart from that, it is a great medication and kids between the ages of 1 and 12 would find the berry taste really nice.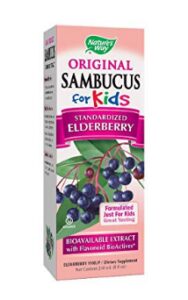 14. Nature's Way Umcka ColdCare Children's Cherry Syrup
Nature's Way Umcka ColdCare syrup is a homeopathic, alcohol-free children's cold medication formulated to speed up recovery and reduce the intensity and severity of cough in kids.
Made from traditional pelargonium roots sourced from South Africa, the syrup is quickly absorbed by the body to hasten relief from nasal congestion, sore throat, bronchial irritations, and other symptoms of cold and flu.
The medication is made especially for kids 6 years and above. Your kid would definitely love the cherry flavor, and fortunately, it is not a habit-forming drug.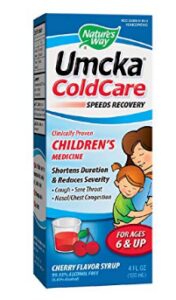 15. Wellness Basics Children's Pain and Fever Relief Acetaminophen
Wellness Basics Children's Pain and Fever Relief Acetaminophen is a dye-free pain and fever reliever containing all the essential active ingredients for the relief of cold and flu symptoms like sore throat, aches, toothache, and nasal congestion.
The grape-flavored suspension, suited for kids between 2 and 11, contains enough acetaminophen to offer fast, effective relief you can always rely on.
It is ibuprofen, aspirin, and alcohol-free and is formulated with an enhanced dosing system making accidental overdosing almost completely non-existent.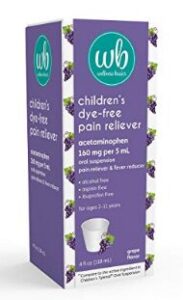 16. Sambucol Black Elderberry Original Formula
Sambucol Black Elderberry is a natural, organic formulation that effectively uses the natural health benefits of the antioxidants to boost the minute system and promote general well-being, especially in kids down with cold and flu symptoms.
The product has a natural berry flavor which is a hit with the kids. The great tasting syrup, developed by a virologist, is free of gluten, artificial flavors and sugars, and alcohol.
Sambucol Black Elderberry syrup can be used together with other cold and flu medications. Independently and taken regularly, it is a great supplement not only for the prevention of cold and flu but also as a preventive medication.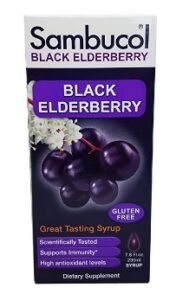 17. Zarbee's Natural Children's Daytime & Nighttime Cough Syrup
This Zarbee's children syrup would be especially welcomed by parents as it is formulated to give relief at night from flu and cold symptoms for children to sleep blissfully.
The nighttime syrup contains small amounts of the sleep-inducing melatonin which helps children fall asleep almost naturally.
The daytime syrup, on the other hand, is laced with dark honey to give it a great taste while also providing relief from incessant coughing, sore throat, running nose, and nasal congestion.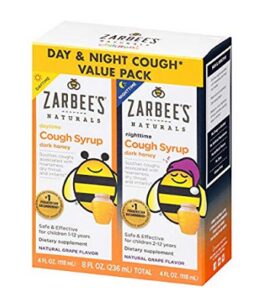 18. Gaia Herbs Black Elderberry NightTime Syrup
Gaia Herbs Black Elderberry NightTime syrup is an awesome-tasting, immune supplement to give relief to kids suffering from the debilitating effects of cold and flu symptoms.
Suitable for kids between the ages of 6 and 12, the syrup is made with organic elderberries that are processed immediately after harvest. This ensures the active ingredients are highly potent to achieve the expected results quickly.
The syrup is alcohol-free and contains calming herbs, lemon balm, and California poppy to aid a good night's rest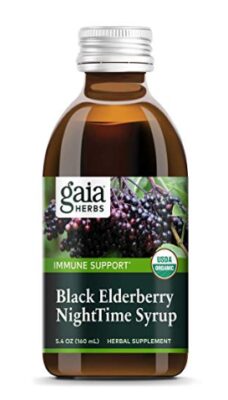 What to look for in a Cold and Cough Syrup for Children
It is easy to buy the wrong type for kids especially if you don't know what to look for. Sometimes your choice could be based on the awesome packaging or the relatively cheap cost. Some parents even settle for medications with high price tags believing erroneously that a higher price must equate to quality.
If your kid is suffering from the symptoms of cold and flu and has been coughing for some hours, you might want to take the following into consideration before choosing a particular medication:
Read the package – The rule of thumb here is clear-cut: the pack must include all the ingredients in the drug. If there is nothing on the package, check inside for a small leaflet. Most drugs have them.
This should contain the ingredients, directions on how to use the syrup and so on. If you can't find the active ingredients on the package or the leaflet, it's best to look elsewhere for another drug. It is very important you know eat you are giving your kid.
Medications with aspirin – some of the cold and cough medicines have aspirin in them to alleviate aches and pains. But stay off these types of medications if your kid has a viral infection or is just recovering from one.
Research has linked it with Reye's syndrome. This is a serious condition that causes vomiting, seizures, and loss of consciousness in children
So cough and cold medications are completely off-limits unless the kid's doctor says otherwise.
Medications containing antihistamines – in cold and flu syrup for kids, antihistamines are there to alleviate sneezes and sniffles. Independently though, they are used to treat allergies and allergic reactions in kids.
But the guidelines for using antihistamines for managing cold and flu symptoms are different from the guidelines for using them to treat allergies. It is not advisable to give your kid cough syrups with antihistamines if they are already using it for the treatment of an allergy.
Your best bet here is to have a chat with your child's doctor on the best way to proceed.
Acetaminophen and Ibuprofen – Both these ingredients are added to some cold and flu syrups especially in Tylenol medications to alleviate pain and fever in children.
Children younger than 6 should not be given cough syrup containing ibuprofen unless with the recommendation of the doctor.
Also, if the kid was on acetaminophen medication, it should be stopped forthwith to avoid giving them a double dose, and invariably an overdose, if the suppliment contains it.
Effective dose – The label must include the different dose for kids of different ages and sizes. You must look at it carefully and stick to the recommendation on the label.
However, if your kid is bigger or smaller than the average weight of a particular age group, you would need to give them a slighter larger or smaller dose respectively. Again, if you are not too sure about it, do have a discussion with the child's doctor.
Honey – some medicine contains honey not only to improve the taste but to act as an effective cough suppressant as well as to soothe a sore throat.
However, if your kid is less than 12 months old, you should avoid cough syrups containing honey as children that young are at risk of contracting botulism through honey.
Multi-symptoms cough syrups – It is only in the worst-case scenario when your kid is afflicted with all the symptoms of cold and flu that you need to buy multi-symptoms cough syrups.
If your kid is exhibiting just one or a couple of symptoms, there is no need to get them. Here, a medication that is indicated for coughing alone is good enough.
Emergency Home 'Treatment' for Coughing Without Using Cough Syrups
An occasional cough that doesn't interfere with sleep or the child's daily activities is nothing to be unduly worried about. Coughing is just the body's way of forcefully clearing the airways and lungs of foreign objects.
But if you feel concerned, like a normal parent, and want to do something to stop the coughing, below are some ways to bring relief to your kid without necessarily using cough syrups
Using steam can bring relief to mild coughing in kids. Take your kid to the bathroom; close the door and windows and then turn on the hot water. Make sure the water does not drain away.
Allow the bathroom to get really steamy and remain in there with your kid for about half an hour.
There are several ways you can expose your kid to steam apart from using the bathroom. You just need to be creative about it while making sure there is no risk of suffocation for the kid
Give the kid water or juice. These would help to soothe the kid's throat and hopefully stop the coughing.
Don't give them carbonated beverages or citric juices though. These can irritate the areas in the throat that are raw from the coughing.
Spray a cool mist humidifier in the room at night
Encouraging the child to blow their nose often would help a great deal. Blowing the nose helps with decongestion and decreases the amount of post-nasal drip inevitably minimizing the cough.
In all the methods above, if coughing persists for more than half an hour, you'd have to call the child's doctor and have them recommend an appropriate cough syrup.
Categories of Kids Cough Syrups
Cold and Cough syrups for kids are not all the same. Some of them target specific symptoms, while others are deployed to treat a combination of symptoms.
Below are the various categories of syrups for kids:
Expectorants – In cold and flu medications, expectorants help to loosen the mucus by increasing the hydration of mucus plugs making them more liquid and therefore easier to expel.
They contain guaifenesin, sodium citrate, and ammonium chloride and have proven to be very effective in children.
Decongestants – These help in alleviating symptoms like a stuffy or a runny nose. Medications with decongestants contain ingredients such as phenylephrine and pseudoephedrine. Though very effective, they sometimes induce hyperactivity or irritability in children.
Suppressants – Since coughing is the body's reflex mechanism of getting rid of irritants in the lungs and airways, suppressants are not ideal in children's cough medicine. But exceptions can be allowed if the coughing interferes seriously with their sleep or daily activities.
Examples of suppressants found in medicines include dextromethorphan and codeine. They are known to cause nausea, drowsiness, vomiting, and constipation; that is why they are not recommended for kids except in exceptional circumstances and with the doctor's recommendation.
Mucolytics – These are almost like expectorants as they target the mucus, breaking them down and making it easier for the body to expel them.
Bromhexine and acetylcysteine are two common examples of mucolytics. However, kids younger than 6 should never be given medications containing bromhexine.
Demulcents – Demulcents protect or coat the airways by providing a moist protective layer making breathing and coughing less painful. And by lessening the irritation felt in the airways, they reduce the frequency of coughing.
Common demulcents include honey, sugar, and glycerol.
Conclusion
It should be emphasized that giving your child cough syrup should be done only if the coughing and other symptoms are persistent. And with the recommendation of the child's doctors of course.
If the coughing gets to the point you must administer cough syrup to your kid, the products in our review would be perfect. Simply select the one that is suitable for your child taking into consideration their age and the symptoms.
Have a look at the following list and find out which are the best selling cough syrups on Amazon: