The right motorcycle is essential if you want your child to have the time of their life riding. There are loads of different motorcycles to choose from and the aim here is to share some of the great options available in 2018.
Motorcycles are great and my husband takes me out on his all the time and therefore we decided to get our little one starting out to have the same options that we get so much pleasure from. Most of the motorcycles for kids are not meant to gain huge speeds and have safety in mind in the design. Some are faster than others, but here I have decided to share the ones that are safe and reliable, hopefully guaranteeing all a good time on their motorcycle.
Why Choose a Kids Motorcycle
Motorcycles are a great way to get your kids out the house and outdoors playing, feeling the wind in their hair and developing spatial awareness skills. Nowadays everything is mobile or iPad and people are constantly on the move. The more your child gets to grips with handling life and it's complexities the more suitable and adaptable they will be no matter what life throws at them! Personally, the freedom me and my husband feel on the road is something I want to share with my son Harry and after seeing him dart around on the motorcycle the more I feel I made the right choice.
Different Types of Motorcycles Available
There are loads of bikes to choose from and below I have put together a review of the best I have come across and hope you find one your child will love. They each have a unique theme and offer a different style of riding, but where they are all similar is that they are battery powered.
If you want your kid to have fun in the outdoors, we have just the thing. The best dirt bikes and motorcycles for kids of all ages. Enjoy!
Lil' Rider FX 3 Wheel Battery Powered Bike
This little beauty is themed as a cop bike and is great fun for those outdoor days when your child wants to play cops and robbers. The wheels, gears, and lights are solid plastic construction ensuring a sturdy ride with up to 66 lbs. The Lil' rider is one of the few cheap motorcycles for kids. This police motorcycle for kids is one you must get if you want your kids having fun.
The battery is 6 volt and includes a charger as standard, which is quickly recharged. I had this for my 3-year-old and he was the soul of the party whizzing around with his friends a classmates from school, full of laughter and kids horse-play.
I personally didn't have him use a helmet, but I recommend one as standard just encase your child gets a little over excited and hasn't mastered the corners yet. The grip is solid and will not let them down, but just a word of warning none the less. This is a great motorcycle and comes highly recommended, especially at such an affordable price.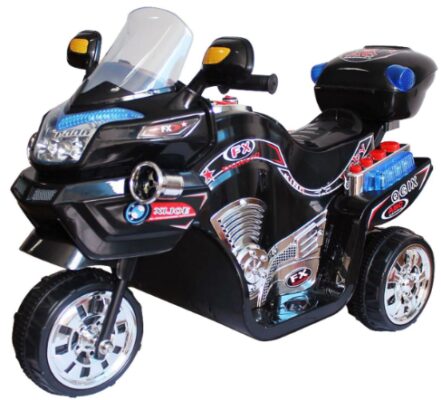 Apollo Kids Dirt Bike Motorcycle for kids
This is one of the best kids dirt bikes, this motorbike for kids is just ideal for boys. Motorcycles like this for replicating the adventurous feel of driving an actual motorcycle. and 4 year olds especially would discover their love for the outdoors with this beautiful motorcycle for kids. This kids dirt bike is one of the best on the market as it comes fitted with single cylinder engine with hydraulic disc brakes.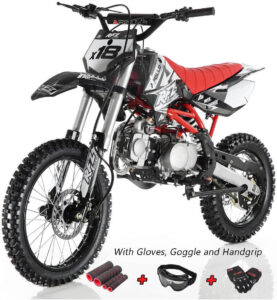 Electric 3 Wheel Power Bicycle
This bad boy motorcycle is head turning in the world of children, it's vibrant in color and unique in style, it boasts "here I am" and will keep all the kids intrigued. Unlike the previous cop themed bike, this isn't for a kid wanting to be a cop, but rather the robber.
The bike with its 6V battery will allow the wheels to spin fast and he will buzz around the patio laughing and having fun. The price is similar to the last and is a great starter motorcycle with great grip and no need for wheel braces.
The three wheel design is solid and well-balanced, bright in color and with built-in music, so make sure the music is applicable and fitting to the theme of the bike "born to be wild" might be suitable.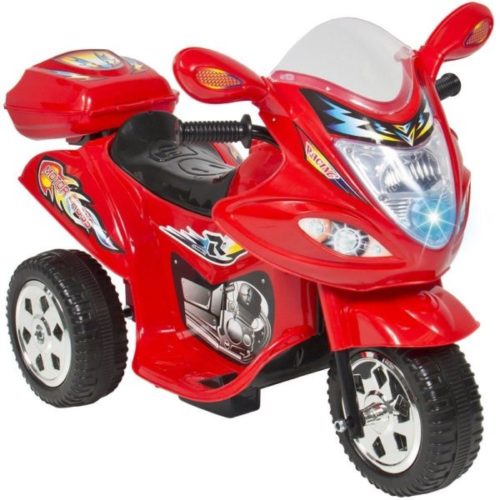 SYX MOTO Gas Powered Kids Mini Dirt Bike
The SYX Moto Dirt bike is one of exciting motorcycle for 7 year old boys and above. Dirt bikes like this give a ride experience only rivaled by real motorcycles. The SYX moto dirt bikes are all a kid would ever want, the bikes offer a real 2 stroke engine. These dirt bikes would see to it that your child satisfies his want to explore the outdoors. With its realistic aesthetic and advanced funtionality, this is a dirt bike you would want in the hands of your child.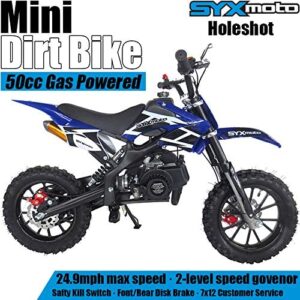 Pulse Performance Products Chopster E-Motorcycle
This is the latest electric motorbike in this review and with only 2-wheels it's loads of fun. The motorcycle is designed for children who are slightly older and the manufacturing guideline age is 8 years old and above.
The motorcycle is powered by a 100-watt motor and with an instant throttle. This has loads of torque for having a ride around. The bike comes with a peg that folds down to rest the motorbike and the high-handlebars makes this easy to handle. The chopper look is classic and reminds me of the Harley Davidson chopper. Another thing this chopster has with the Harley Davidson chopper is the quality of the ride, nothing on your mind, just the winf through your hair as your kid braves the road on arguably the best toddler motorcycle in the world.
The tires on this motorcycle are dual air-filled and are smooth when rode over bumps. The metal high-tensile frame is strong and can resist the roughest terrain with breaking.
The 24-volt battery is rechargeable and lasts up to 40 minutes of ride-time. The weight of the bike is light and only weighs 120 pounds, which is easy to transport.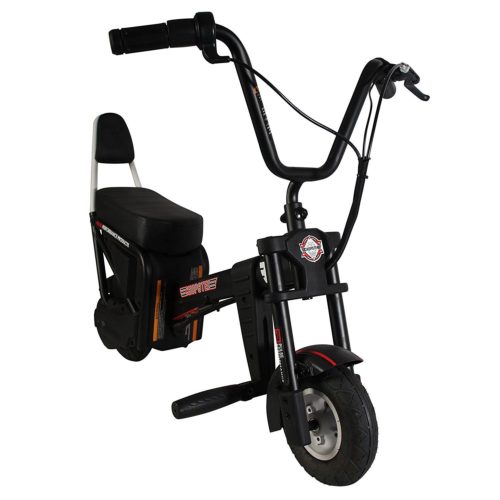 Girls Police Motorcycle – Pink
This kids motorcycle is a real head turning with its pink-themed girl low rider feel, it's a peach if ever I've seen one. This too is a cop them but for ladies and if you have boy/girl twins then you're in luck with this. The forward motion has 2 speeds and includes a reverse, which is handy if she finds herself in a tight spot.
learning to become spaciously aware is fundamental to children's development and people who say "women are bad drivers" can hush themselves, but with this kinda motorcycle they will learn to be the elite on the road.
This is aged for 5-9 years of age, but I think even a developed 4-year-old would be fine. This has a similar sound function as others and lights too, which will keep them entertained for hours. I highly recommend this for those young aspiring lady motorcyclist, so give this a go.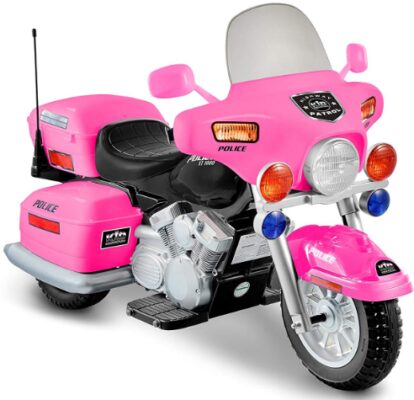 Little Vintage Indian kid Motorcycle
This is a stunningly beautiful bike and has stabilizers built-in automatically which accommodates for the youngest riders aged between 2-5. The 6V battery is similar to the first two and will keep your young ones safe, whilst also have a great time outdoors riding around but without the need of a helmet.
The wheels are sturdy and kids of all capacities can feel safe. The movement can go 360 degrees, forward and back. The lights shine and will give a point of focus to make sure even as night approaches they have a clear line of sight. This motorcycle is on the high-end of the price range, but is very aesthetically pleasing to the eye and will give countless hours of fun to your little one.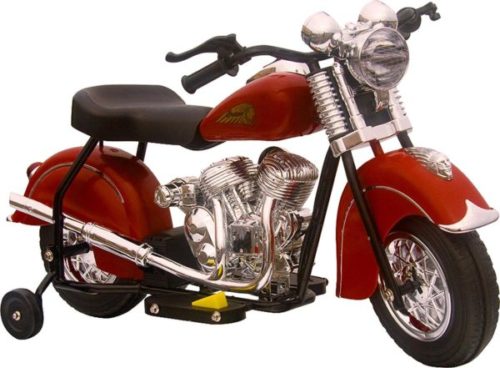 Rosso Motors Motorcycle for Kids 49cc Gas Mini Pocket Bike 
This is a stylish top of the range bike with all the latest style features and design. The "fast and the furious" look is very appealing and will naturally help your kids hand-eye coordination without the dangers involved in the process.
The 49cc bike is EPA-approved and 2 strokes. This is for the more advanced rider and can reach speeds of up to 20 mph, so be wise in selection. I choose this bike because there are kids out there who can handle such a machine, but it's not for the faint heart.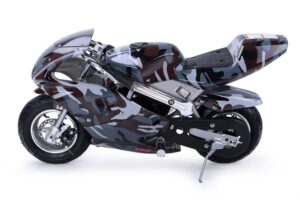 3 Wheel Chopper Trike Motorcycle by Lil' Rider
This chopper is a cool looking motorcycle and is easy to ride for kids. The design is stunning and the kids go crazy the first time they ride this motorbike. The 3-wheel motorcycle design is a classic chopper, which is similar in comparison to the 2-wheeled bike, but this is much more stable.
Lil' rider is well-known for manufacturing great kids ride-on-toys and this motorcycle in another example of why they are the best. The color and tone of the bike remind's me of movie "easy rider" with the hippie biker lifestyle.
This motorbike can be ridden anywhere as long its wheels can ride over the bumps on the road surface. The kids only have to press the pedal down to move the bike forward and let go to slow down. The battery is rechargeable at 18-watts and the top-speed is 3 Mph, which is 7-Mph slower than the fastest motorcycle in this review the "Chopster E-Motorcycle".
The recommended age for this bike is 4 years old and above and is very easy to handle and maneuver for children. There is a reverse option for turning the motorbike around and headlights, which turn off and on with a flick of a switch. Overall this motorcycle is another great buy for parents wanting to surprise their children either for Christmas or birthdays.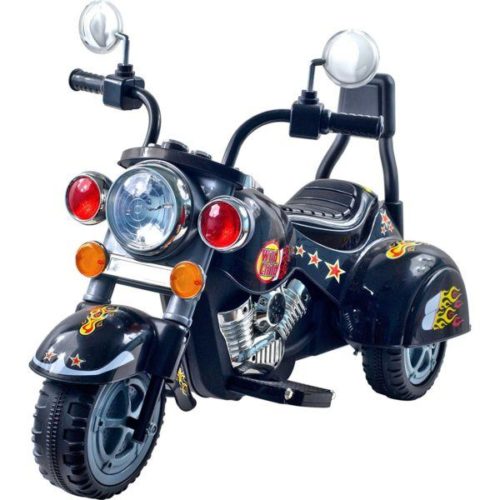 MIGOTOYS Trike Motorcycle for Kids
This is a great little electric trike for kids aged as young as 1 year old. It offers realistic motorcycle noises sure to delight your little one. There is also a button to press to sound the horn, to make the driving experience even more realistic for toddlers.
The bike is driven by the accelerator pedal, and can also go backward at the press of a button. This makes the bike really easy to drive for even the youngest children. The attractive design is sure to be a hit with both boys and girls.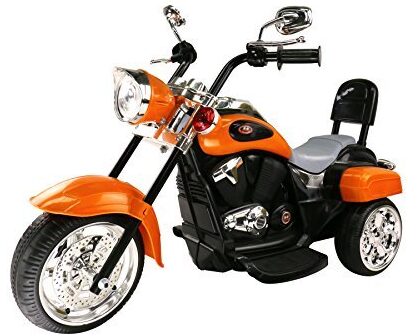 BMW Licensed Ride-On
This BMW motorcycle is ideal for children aged up to 6 years old, or weighing up to 60 pounds. It has 3 different speeds, controlled by a button on the dash, and can also reverse. The motorcycle even features stability wheels for young drivers who don't have perfect balance yet.
The ride-on motorcycle toy has loads of fun features sure to impress young children. There are buttons on the dash to make the bike play music, play engine sound effects, or to activate the horn. The motorcycle also has working headlights and a realistic looking BMW key control.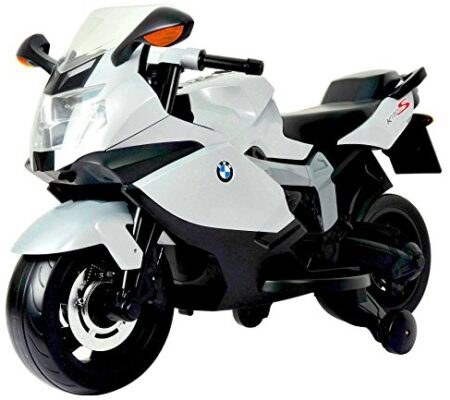 Best Choice Products 6V Dirt Bike
This ride-on electric dirt bike is perfect for younger riders, as it comes with training wheels. The training wheels on this dirt bike is unlike other. It reaches speeds of up to 3km/hr, so you can be sure your youngsters will be safe when riding.
The ride-on motorcycle features an AUX jack, so your child can plug in their device to play their favorite tunes as they drive around on one of the best kids dirt bikes ever! It also features working headlights and can hold kids weighing up to 44 pounds. The dirt bike is powered by a 6V battery, and it comes with a charger so your kids will be ready to ride in no time.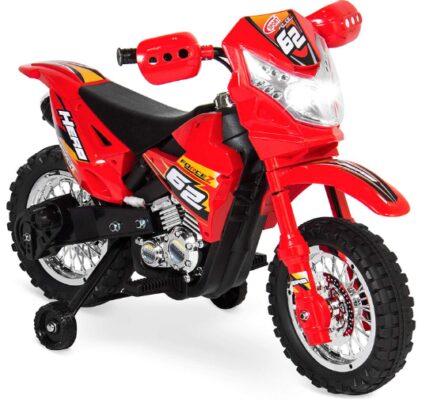 BMW S1000RR Electric Ride-On Motorcycle
We often get questions like "What is the best dirt bike for a 4 year old?" or "Can a 3 year old ride a motorcycle?". The answer to both questions is the BMW S1000RR. This motorcycle ride-on is ideal for 3-4 year olds. It has a top speed of 2.5 mph, and can run for up to 45 minutes on a single charge. The motorcycle also boasts rear suspension to ensure your child is in for a comfortable ride.
The motorcycle toy has realistic details sure to be loved by kids of all ages. These bikes look just like a miniature version of a real BMW – kids will love to be just like their motorcycle-riding parents. It also features a working headlight and a front disc brake. The bike requires a few AAA batteries for the sound effects, so make sure you stock up so your child will be ready to ride straight away!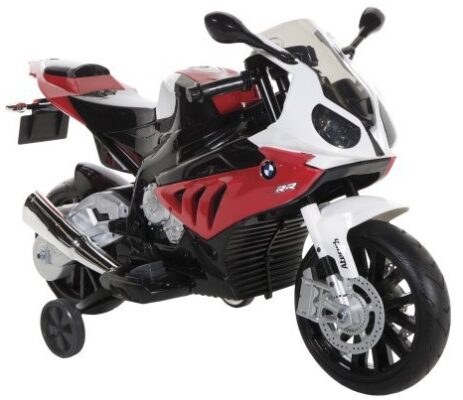 Best Overall Pick
The best in my humble view is definitely the ladies pink bikes simply because it's a little frisky and stands out, but I do like it for its features both in look and design. The bike has different speeds and can reverse too, which is a good skill developer. For a boy equivalent I would choose the Injusa's Repsol wind motorcycle, simply cause it is also a great bike and with like-for-like controls and mechanics it's a sure thing for fun and good times.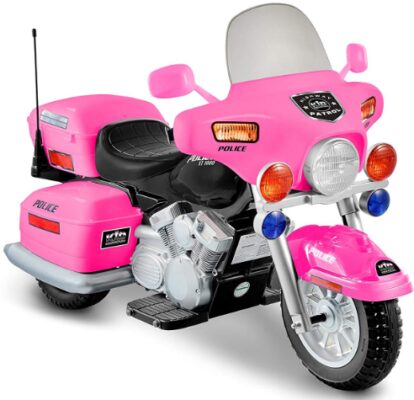 Best Budget Pick
The electric 3 wheel power bicycle is on the cheaper end of the spectrum and is a great motorcycle for the price, its fun, easy to use and does most of what the younger kids bikes can do. With its 6V battery it will ensure a fun ride and leave your little-one happy and content at the end of a good day.