Like all good parents, you know that choosing which toys to buy for is not just a simple matter.  Obviously, you want something bright, colorful and fun that will capture their attention.  But you also want something beneficial to their development, to help them learn. That's why more and more parents are looking into buying little robots for toddlers.  We've been a bit 'robo crazy' recently at StarWalkKids. You've already given seen out great ideas for robot pets and remote control BB8s, so now its time to look at some robot toys for toddlers.
Benefits of robot toys for toddlers
Robots have been popular as toys ever since they hit the market.  But they are much more than just cool playthings.  Robotic toys for toddlers actually have many pros which positively impact your child's development.
They spark creative thinking:  Robots present children with a world that actively engages their imagination.  Even for young toddlers, toy robots will bring out their creativity, as their young minds will start to think about machinery that moves, the difference between animate and inanimate objects, and about what is real and what is not.  You might think this is too complex for your 3 year old, but these thoughts will start racing through their mind, helping them build their creative muscles.
They inspire creative play:  Having toys that react to your kids is not just a luxury.  Toddlers are learning about how the world works, especially cause and effect.  Toys that react to inputs and move and make sounds help the toddler to grasp this concept, and they will be creative in how they play with them. Thus, these robotic inspire them to be more creative in their play.
They make kids interested in technology:  You'll see your toddler is on a mission everyday to discover the world around them.  With a robot toy, your little one will be interested to see how it works, the lights, the gears, the moving parts etc.  Even at their early stages, these robot toys will help your child become interested in technology, and that little electronic toy they had as a child could be their first step towards a career in science or engineering.
They are cool:  There's no denying it – robots are cool.  From R2D2 to Wall-E, robots have been a firm fixture of our culture for decades, and kids love them.
don't just take our word for it.  There are a lot of interesting articles online, like this one, which advocate bringing robotics into early childhood education.  Why not give your child a head start with a robotic toy?
Considerations
You should be think about the following as you decide which robot toy to buy for your toddler.
Age range:  Although a lot of toys are broadly advertised as being 'for toddlers' we [pay special attention to the recommend age range, as some things with moving or removable parts might be a little dangerous for younger kids. what is suited to a 2 or 3 year old might be a little unsuitable for a 1 year old.
Size:  Again, you want to make sure that whatever you are buying is the right size for those delicate little hands.
Safe materials: as with any toddlers toy, we want to make sure that this robot toy is made of safe materials.
Durability:  Another key concern.  We don't want our toddlers snapping bits of the robot off and putting them in their months, so we only buy durable and well-made toys.
Educational value:  The best toy robots are not just cool and colorful.  They should have functions which encourage learning, even if they are very simple.  Do they play sounds when certain buttons are pressed?  Can they be assembled and disassembled? What do they do that helps my toddler learn?
Our Favorite Robo Toys for Toddlers:
For Younger toddlers (3 months old to 3 years old)
Bright Beats
Bright Beats are some of the best robots for toddlers available as they are both cute and functional.  Your kid will fall in love with this thing just by looking at it!  However, its got so much more. Your child will clap and dance along as Bright Beats spins and flashes its lights to the music it plays.  It has different interactive modes, rewarding your child for singing or clapping in time with more complicated light shows, or it can simply play as a dance party for your kid.  Even better, your child can record itself and let bright beats remix their voice.
Overall, it helps with physical, cognitive and social development,  and its wonderful music will keep your toddler in happy spirits
For 3 months and over
4 different modes of play
introduces them to letters, colors and words
helps with coordination by having your child clap along
batteries required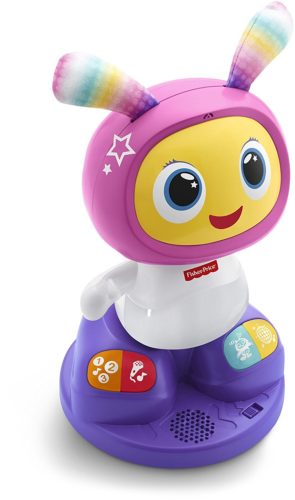 Cogsy Learning Robot
Cogsy is much more than just a pretty little robot.  He is designed to give your child a fun learning experience.  He dances, moves and shakes as he responds to your child voice and teaches them about numbers, words, telling the time an so much more.  You kid turns his dial in order to play games and puzzles designed to teach them basic lessons.  Cogsy is a little rascal though, and he moves his arms and shakes in a hilarious way to keep your child laughing.  All in all, Cogsy is a wonderful robot toy who will give your child a lot of fun while helping with their cognitive development at them same time.
For 2 years old and over
Durable design
volume control for quieter play
highly educational
batteries included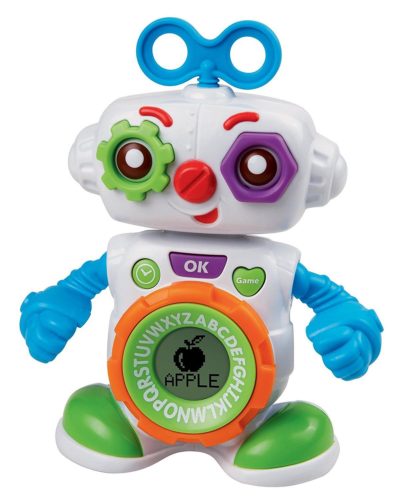 V-tech Puppy
This little robot puppy is a wonderful toy for your toddlers.  It walks and barks, and can do all kinds of things depending on which buttons your toddler presses,  Even better, your toddler will feel like they are training a real dog, as shaking his yellow bone makes him do tricks.  The V-tech puppy's functions are fairly simple, but he's still a great educational toy.  You can also be confident in his robust and strong build; your little one won't be breaking off and swallowing any small parts.
A brilliant toy robot for a younger child.
For 1 years old to 3 years old
Very interactive
Durable build
Batteries included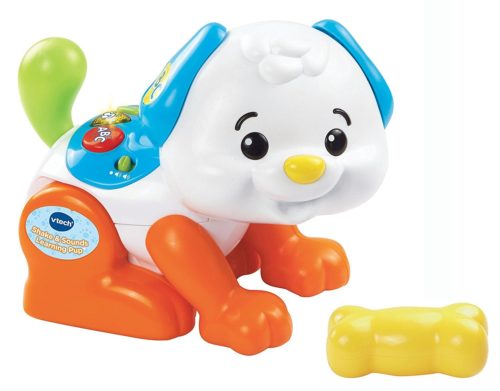 Count and Build Tobot
A firm favorite with little builders and future construction workers out there.  Tobot is a great toy robot which helps kids learn not only about building but also about numbers and colors.  It also comes with a cute little toy wrench and bolt.  Tobot doesn't have any electronic parts, although that might be a relief to some parents.  You'll never have to comfort your child when their robo buddy runs out of batteries.
For 2 years and over
no batteries needed
helps with numbers and colors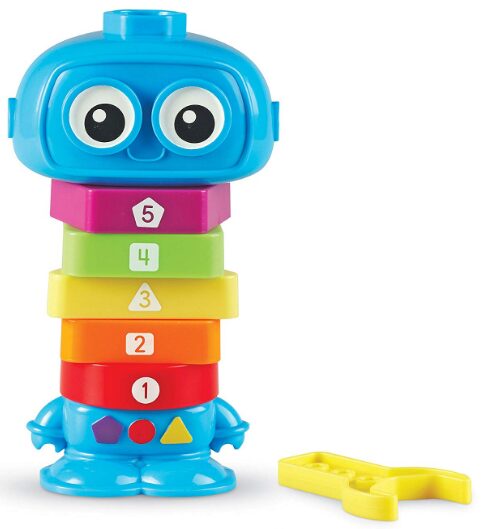 Wind Up Toy Robots
Not everything for your toddler needs to be super educational.  Sometimes, you just wanna let them have their own fun.  What could be better than a set of wind up robots for that?  Let your kids make their own fun and have their own adventures with this nice little pack of 4 wind up bots.  You'll be surprised at how much these little guys move. These make great little distractions for those times when your toddler is acting up.
For 3 to 20 months
4 wind up robots
Lots of movement – arms legs and all
Great fun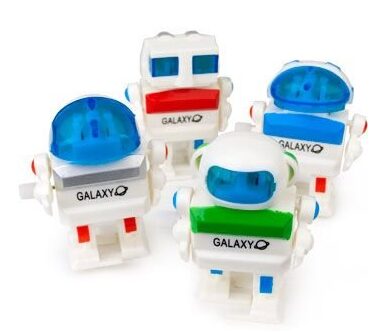 For Older Toddlers 3 Years old +
Code-A-Pillar
This rad little caterpillar robot works on so many different levels. Made of a motorized head and different body segments, your child will learn to combine the segments in different orders to get different results, like going forwards and backwards and turning.  All the time, the flashing lights and eyes will have your kid in wonderment.
It may not seem like it, but your child is actually learning the basics of coding through this robotic little critter.  Who knows, maybe one day they'll be a computing genius thanks to this nifty little robotic friend?  This is one of our favorite robot toys for toddlers and is very educational too.
For three years and over
Very educational
batteries not included
extra/replacement segments can be bought individually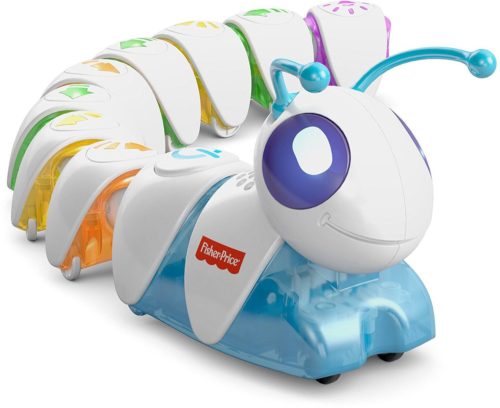 Touch and Learn Mathematics Robot
This neat little toy robot is a great tool to help you child with learning mathematics and problem solving.  Operating it through its touch pad screen and its LED lights, this robot toy has 4 different game modes to make math fun again.  Using the touch screen also helps with hand eye coordination and leaning to use computer systems. Finally, it helps with listening skills and number recognition.
Parents can also be confident that they are buying a great product as this was Creative Child Magazine's Top Toy of 2015.
For 3 years and over
Helps with maths and problem solving
4 different game modes
Touch screen
Batteries included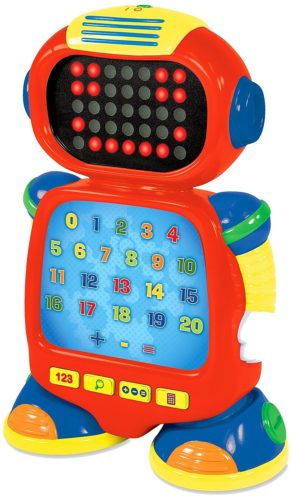 Teach 'n' Tag Movi
Fisher Price's Movi has become one of the most popular toy robots for toddlers we've ever come across.  This thing just has so many features.  It can roll a long the floor and  move around 360 degrees.  It has an LED save that shows many different expressions.  It comes with 3 different game modes, and different games in them.  In these games, kids learn by doing.  Simple games like 'green light/red light' get kids thinking about actions and movement, and while others ask them to get silly and show of their dance moves.
Overall, they'll have a blast with this toy robot and learn a lot in the process.  Just remember you'll need a smooth floor to get the best out of it.  Check this vid to see how much your kids will love this toy robot.
For 3 years old and up
moves in 360 degrees
3 game modes and 6 different games
60 + facial expressions
Batteries included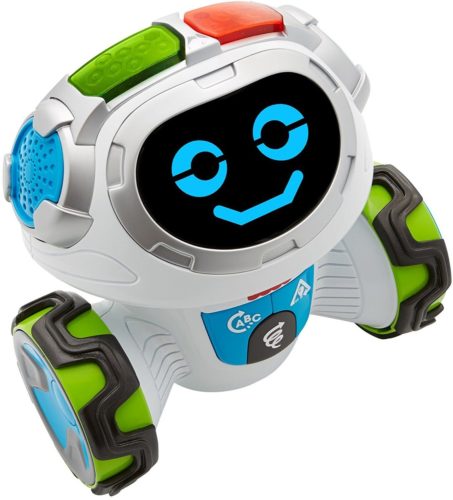 Best Overall Toddler Robot
If you want a robot toy for a younger toddler, you're going to be hard pressed to find something better than the Bright Beats.  We love this cute little robo critter, and the way it gets our toddlers up and dancing around, having fun but also learning, is incredible.  There's a whole range of other Bright Beats products from Fisher Price too, so you can always expand.
For any kids over 3 years, we'd recommend Movi.  This little guy is just endless amounts of fun, and its built-in games will tire your little monkeys out long before they tire of this great toy robot.
Best Budget pick
For budget picks, under 3 years can look into having a blast with the Wind up Robots, as these simple little packages pack in a surprising amount of fun.  Plus, your kids can use them to craft their own adventures and explore their creativity.
For toddlers 3 years and up, we've pick the Mathematics Robot.  It may not be the all singing, all dancing robot some of its peers are, but as a fun educational tool that helps with maths, you can't go wrong here.
We hope this guide has been helpful to you in giving you suggestions on the best robots for toddlers on the market.