Once upon a time, little girls had dolls, and it's fair to say that those dolls weren't particularly realistic. When it comes to types like Cabbage Patch Kids, the authenticity of real-life babies isn't really the main concern, but if you are looking for a baby doll for your own child that is much more true to life, then you will be pleased to discover that the efforts to make real looking baby dolls is much greater today than it has ever been.
Dolls remain extremely popular these days, with a market so wide and varied it can be hard to choose which talking doll to go for, so to help you out in your own doll buying efforts, we have put together a fun guide that not only tells you what you should be looking for in your perfect choice but also some actual suggestions of popular examples on the market right now.
Considerations When Choosing a Babyalive Doll

There are lots of things to consider when thinking about fun with Babyalive dolls. Are there cheap Baby Alive dolls for sale? Do you prefer boy Baby Alive dolls or twin baby dolls? Which dolls come with the best accessories? Which Baby Alive is real as can be? How much are Baby Alive dolls in general? All of these questions are important and something to keep in mind when browsing the market. Doll games are more popular now than they have been for years, making it a better time than ever to take your pick. Without further ado, here are the best real Baby Alive dolls available in 2023. We have made the effort to pick a nice diverse range in terms of style, theme, and price.
Best Baby Alive Dolls in 2023
1. Real as Can Be Baby
With more than 80 life-like expressions including babbling, giggling, chatty noises, and gurgling, the Real As Can Be is one of the most fun and interactive real baby dolls on the market. She turns her head when her owner calls to her, naps when she is cradled, and even wiggles when she is tickled. The doll comes with a range of beautiful accessories including a removable outfit, bib, blanket, pacifier, and a magical bottle with disappearing milk. She would make a great by by baby for any child who wants to have a friend to keep them occupied in the crib.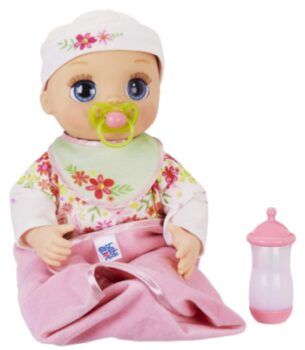 2. So Many Styles Baby
One of the most popular Babyalive dolls right now, the So Many Styles baby comes complete with a set of mix and match clothes that allow your own little one to become a fun fashion designer. She drinks her bottle and wets her diaper for that really authentic and interesting by by baby feel, and she also comes with 16 stick-on style accessories that can be used almost like makeup to give the doll a different look every day. She even comes with a set of accessories ready for a puddle party, with a raincoat and rain boots, and on the complete flipside, a pair of sunglasses for summer fun too.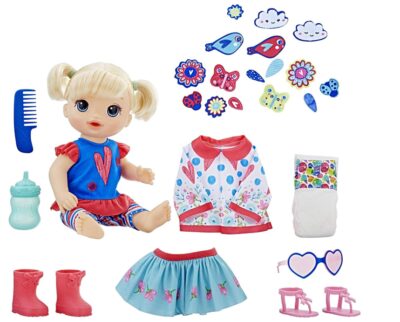 3. African American Real As Can Be Baby Doll
A hugely important element of modern Baby Alive go bye bye dolls is the notion of a doll to represent all shades of humans. This beautiful African American edition is a wonderful source of representation not just for children of color but for children of all backgrounds to enjoy a multicultural toy set. She makes real baby sounds and comes fully equipped with all of the relevant accessories like pacifier, bib, blanket, removable outfit, and all important disappearing milk bottle. The way she wiggles and giggles make for really fun interaction.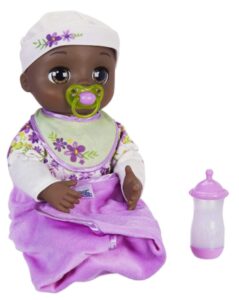 4. Baby Go Bye Bye
If you are looking for a doll that is a little bit more active than the others, then this one is the doll for you! She crawls just like a real toddler and does a lot of reacting. The baby will react to a rattle, a tickle, and also speech and sounds with movements. Just like any good quality doll, she also drinks from a bottle and wets her diaper, and she even comes with an on-the-go Baby Alive stroller carrier so your child can feel like a little parent too when you go out on trips together.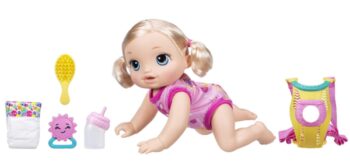 5. Sweet Spoonfuls Baby Girl Doll
Get your child interested in the process of eating and drinking properly with the use of this great doll. Sweet Spoonfuls encourages kids to mix the provided powdered doll food with water in order to make fun looking meal for their toy companion. You get to feed her with a special spoon as well as help her drink water from her bottle, and she will 'reward' you with all of the normal bodily functions that a small baby gives its parents! Included with the doll are two packets of food and a fun small blender with a hand crank and bowl.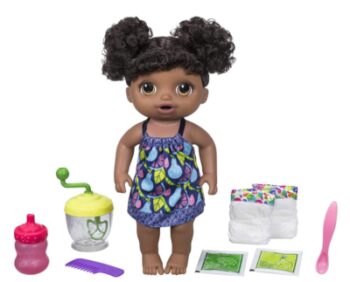 6. Ready For School Baby
This is the perfect toy to buy for a child who is getting to the age where they need to learn about and get ready for school. This pretty girl comes with a school themed dress and a fun little pretend notebook. She also has her own hairbrush that can be used to experiment with different going to school styles that you might be able to transition into your own child's hair for school too. If you have a little one who needs to start getting excited about the new school year, then this doll can be a great toy to start that enthusiasm.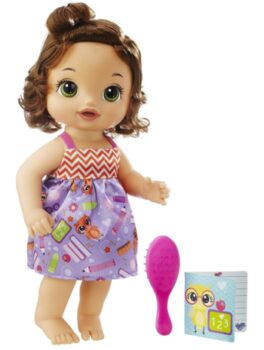 7. Face Paint Fairy
If something a little more fantastical and magical is what you have in mind, then the Face Paint Fairy is definitely the perfect choice. This beautiful doll comes complete with magical face paint that is revealed when it comes into contact with ice water. She also does the normal functions like drinking from a bottle and wetting her diaper. A lovely fairy dress completes the look, along with a wand and wings like any true fairy should have! The face paint feature is something that can be reused again and again, bringing months, even years of joy to your little one.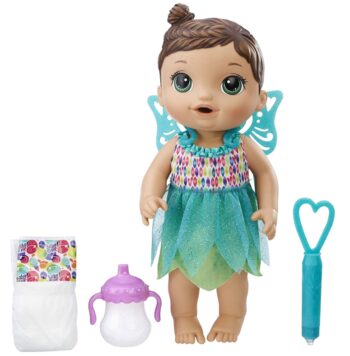 8. Potty Dance Baby
If you're looking for a doll that can help to bring out the talkative side in your little one, then Potty Dance Baby is the best choice. She holds more than fifty fun phrases in both mommy and daddy modes, and you can choose either the English or Spanish language. When she decides it is time to go potty, she says so, and you are provided with a progress chart with stickers for keeping the baby clean and washed after each potty trip. It's a great way to help educate your own child on toilet behaviors.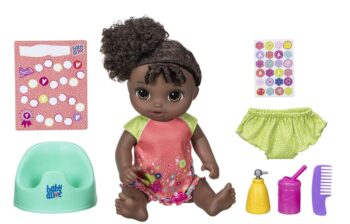 9. Cupcake Birthday Baby
This blonde beauty is a designed to represent the perfect birthday party guest, complete with a gift box and teddy bear present! She comes dressed in a really beautiful party outfit that looks and feels more special than the normal doll's dress, and she even has an adorable tiara to wear to make sure she is the real princess of the party. Your child can organize their own party with two invitations included to give out to whomever they please, plus a plastic cupcake with two different topping options. This doll really is the life and soul of the party!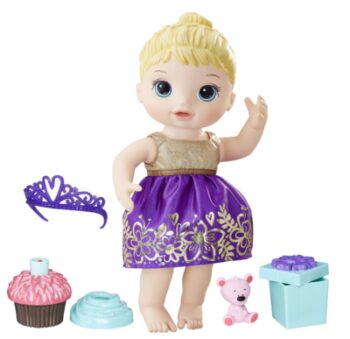 10. Magical Scoops Baby
It's safe to say that all children love ice cream, so why not get yours a doll that loves ice cream just as much as they do! The lovely girl comes complete with an ice cream cone, scoop, and a sprinkles shaker for that extra touch of authenticity. Of course, it's not all just about the ice cream. This doll also arrives with a brush so that your little one can enjoy styling her hair and getting her ready for an imaginary trip to the ice cream parlor. It is a fun food-related doll that can encourage kids to be excited about the preparation and act of eating when they might be going through a stage of being fussy at dinner time.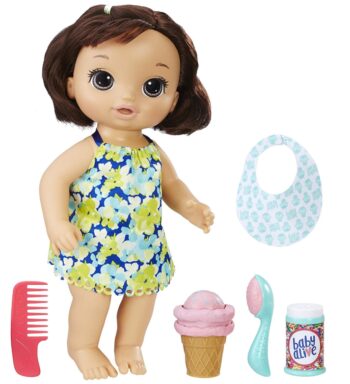 Overall Best Buy
In our opinion, the best buy out of these ten options is the So Many Styles baby doll. The reason for this is because it comes with so many different and interesting clothing accessories, accessories that might cost extra to buy for some of the other dolls. It is a great base level doll that can have accessories added to it without looking out of place or out of date, meaning that you can use the So Many Styles baby as a 'starter' doll. The design of the doll caters to adding a lot of different accessories and outfits that can be bought separately. It is a great doll to start a collection.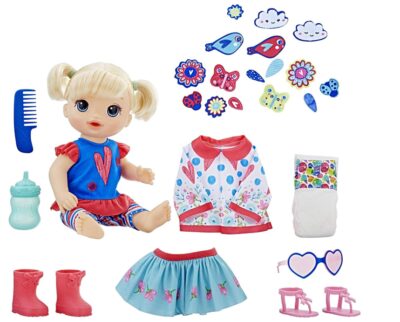 What are the Different Types of Babyalive Dolls?
As you can see, the main types of these dolls include a wide range of specialist abilities and purposes. There are the dolls that ingest water and food substances and replicate human bodily functions, there are the dolls that talk several different phrases and react to sounds and movement from their owner, and there are the dolls that are themed in a distinct way to appeal to a child's specific interests like food, or fashion, or artistic face painting. More often than not, you will be able to find a doll that features a combination of these elements rather than just one, and this makes the dolls a lot more versatile than many other kinds of toys that are available on the market in other genres.
At What Age Will My Child Enjoy These Dolls?

Every child develops at a different rate in terms of their hand-eye coordination, imagination, and interest in human like toys, so ultimately it is up to the parent or guardian to decide when the time is right to gift one of these dolls. As a general rule, however, it is often recommended that these kinds of dolls that come with certain small accessories are most suitable for children who have reached at least three years of age. At this age, the potty training elements will be most suitable, along with a decreased risk of choking hazards with the smaller separate parts.
What Can My Child Learn From These Toys?

These dolls are designed in such a way that they are just as educational for children as they are plain fun. From a long list of things that can be learnt from the dolls, some of the most popular and important are potty training skills, basic human care activities like washing, drinking, and eating, tenderness through having something to look after like one of their own, and even language skills thanks to the wide variety of phrases that the dolls are programmed to say as part of the playing process. Your child can also learn how to brush and style hair gently, along with the ability of picking out outfits to wear.
Are These Dolls Suitable For Boys and Girls?

There is no doubting that the vast majority of doll toys are fashioned to represent female babies, but that doesn't mean that they can't be enjoyed by either sex. Think about it this way, it's 2023, and you wouldn't dream of stopping a little girl from playing with a toy car, so why should this line of thinking be any different when it comes to a boy that might want to have fun feeding a doll or mixing up powdered foods for it to consume. There is absolutely nothing to state that boys should be prohibited from playing with baby dolls, in fact, there is a lot in some of the examples mentioned above that boys could stand to learn just as much as girls.